The spooky season is coming! Although Bandung is not as lively as elsewhere during Halloween, you still can celebrate it with your friends and family. There are still some spots that you can visit and be hauntingly festive! Below, we will give some recommendations about where you can celebrate Halloween.
Halloween Treats at Holiday Inn Bandung Pasteur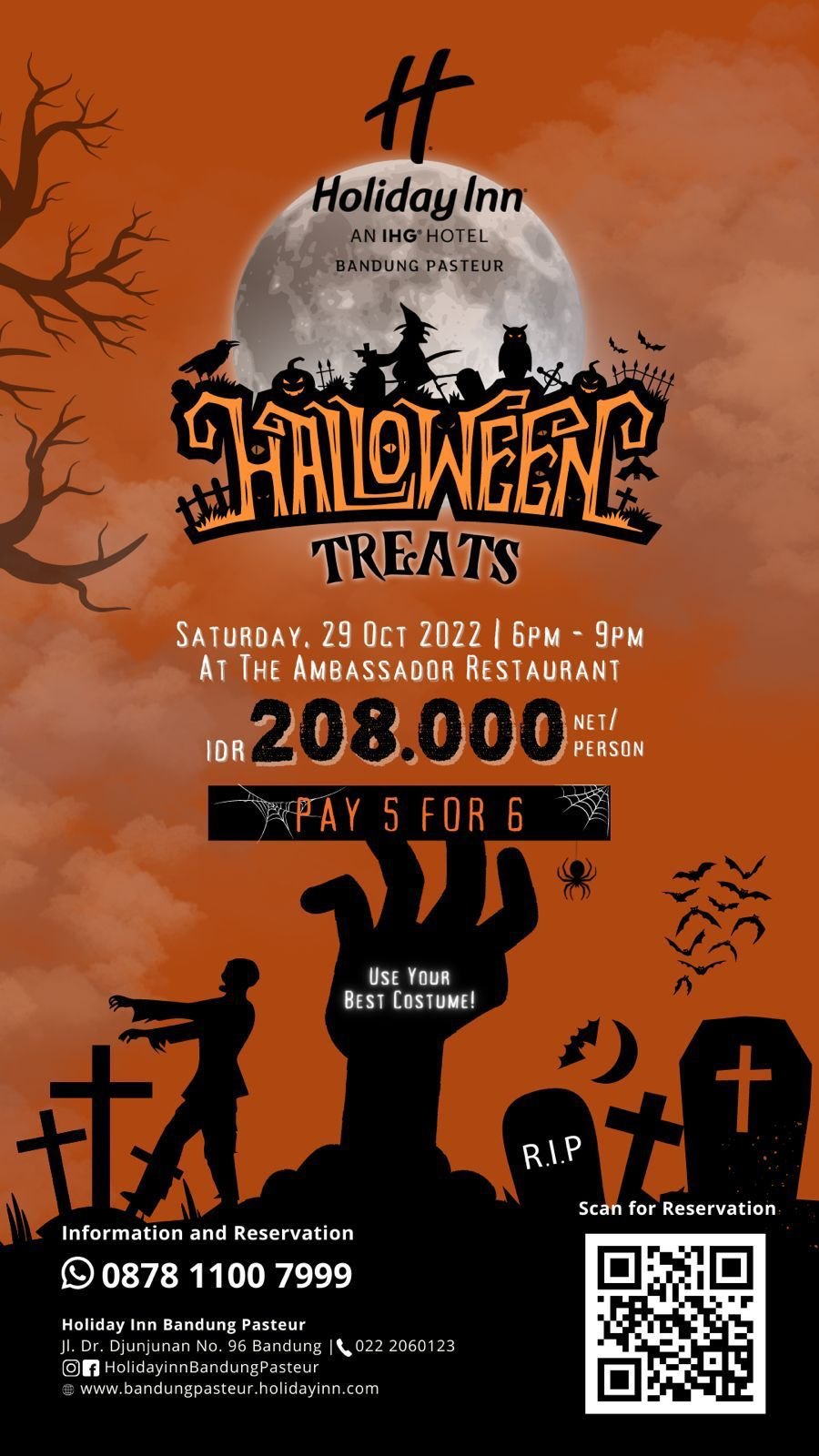 Prepare your guts to survive on a spooky night and enjoy an all-you-can-eat dinner on Halloween Treats with a horrific atmosphere. Feelin' spooky already? Hurry up, book now!
Limited Seat Only
The Ambasador Restaurant
Jl. Dr. Djunjunan No.96, Bandung
P: (022) 2060123
Instagram
Website
PROSTergeist Night at Mercure Bandung City Centre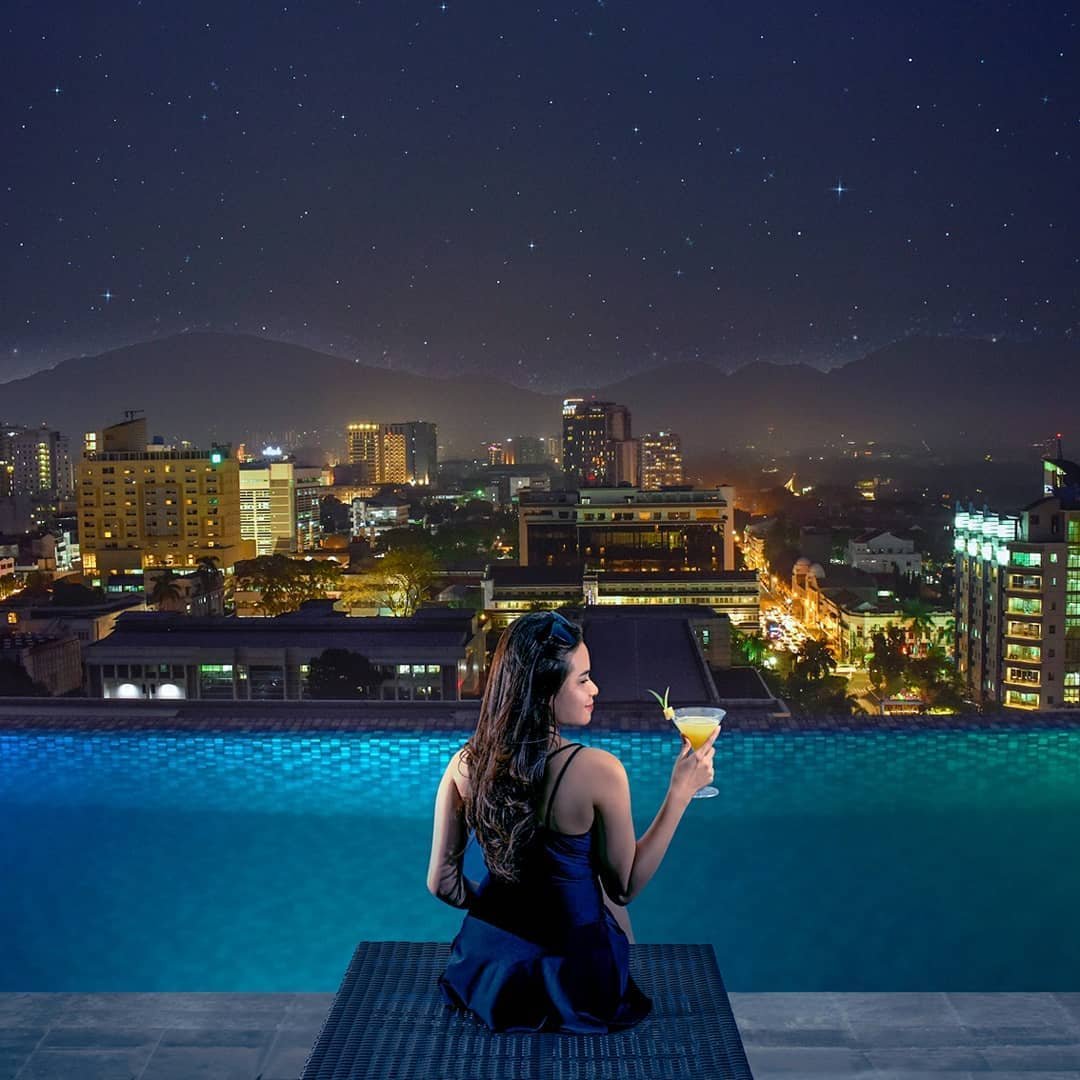 Let's celebrate Halloween on the rooftop with the most beautiful infinity pool in the middle of Bandung. Also, enjoy a western BBQ and a free welcome drink (beer or mocktail). Enlivened by performances from live music or DJ performances that will make the atmosphere even more exciting!
Mercure Bandung City Centre
Jl. Lengkong Besar No.8, Bandung
P: (022) 30008000
Instagram
Website
Halloween Hungry Pumpkin at Cihampelas Walk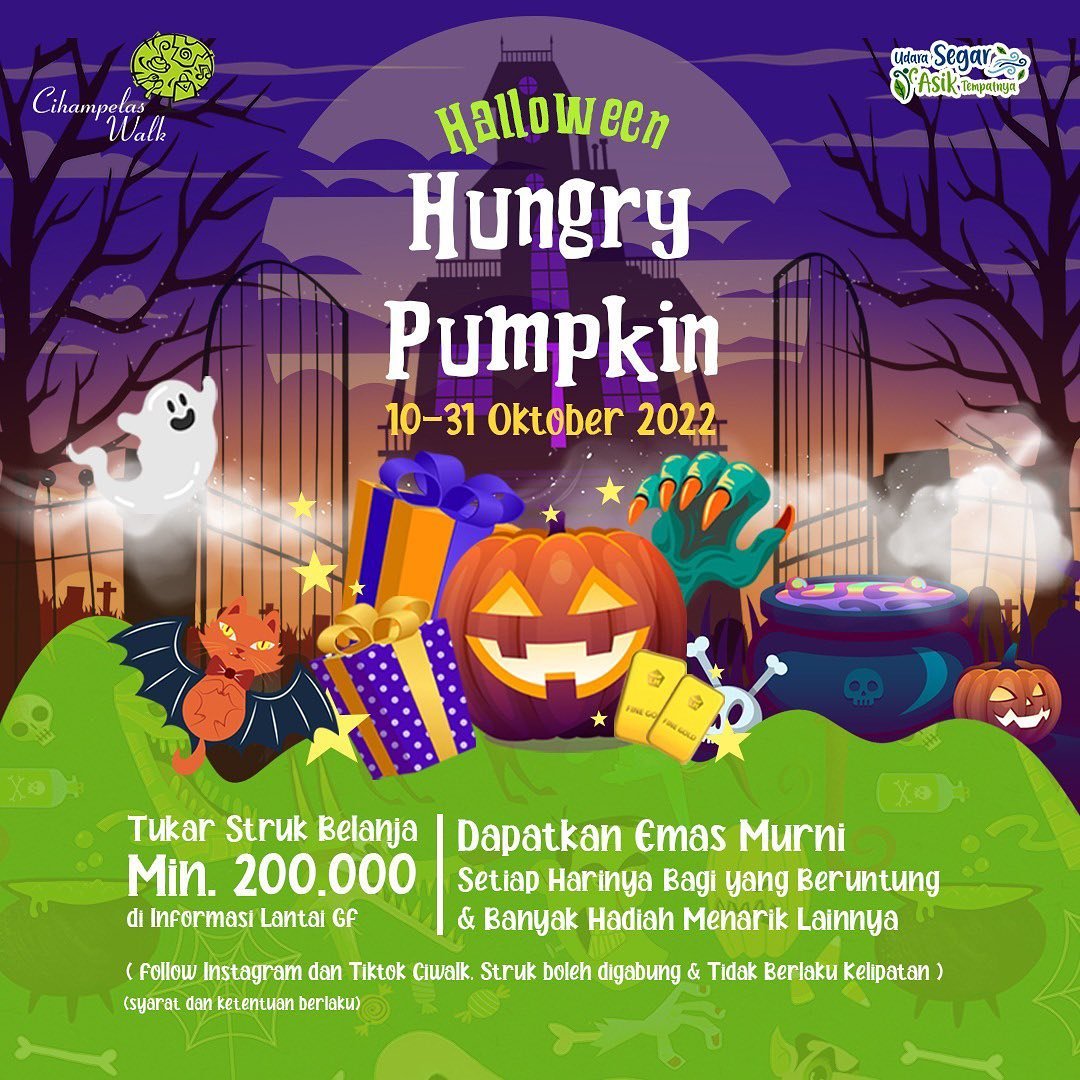 Let's shop at Ciwalk and get a chance to get gold from inside the pumpkin! Spend a minimum of 200 thousand and exchange the receipt to get this opportunity. During the Halloween period, there are also thematic installations that you can use to take pictures.
Cihampelas Walk
Jl. Cihampelas No. 162, Bandung
Instagram
Salsation Halloween Costume Party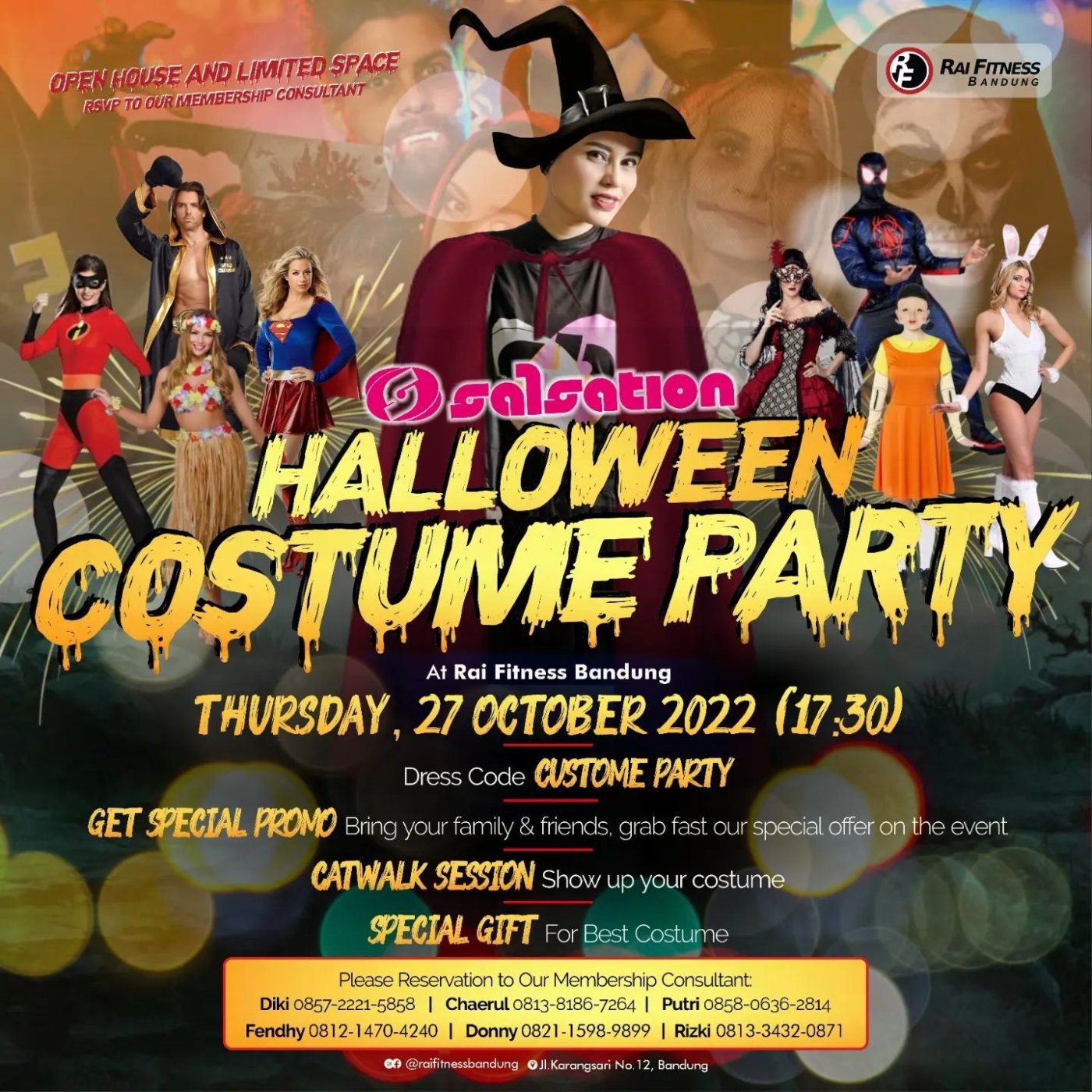 Fitnessmania, let's celebrate the SALSATION HALLOWEEN CUSTOME PARTY event. Also, get membership promos and personal trainer promos at this event. This Class slot is limited! Come register yourself now.
Rai Fitness Bandung
Jl.Karangsari No.12, Bandung
Instagram
For now, here's the list. In the next few days, we will continue to update the list with more content and information. Stick around!
Cheers of Fears at Janevalla Bandung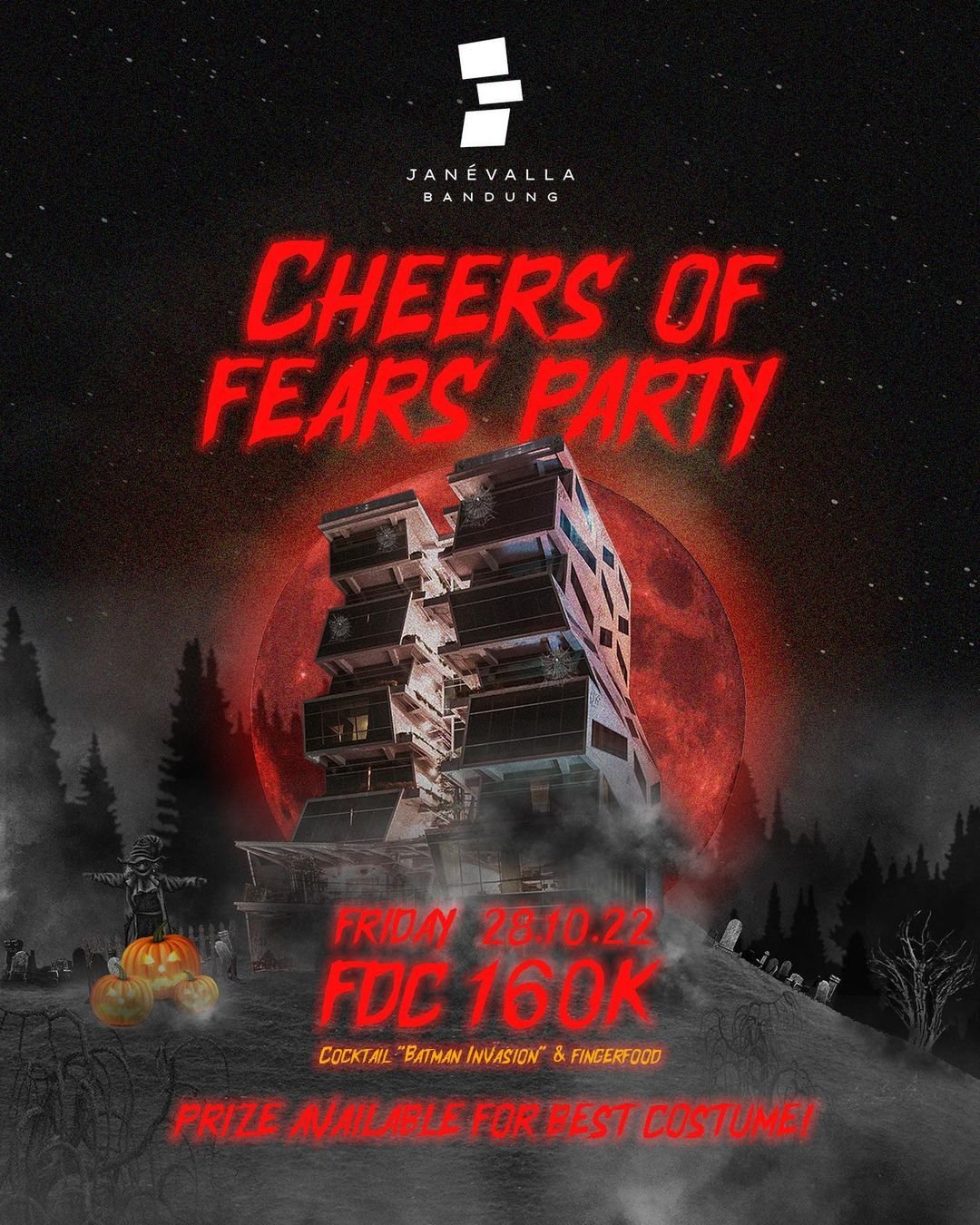 In a matter of days, Halloween will soon haunt BANDUNG! Rooftop Janevalla Bandung Presents "Cheers of Fears" Halloween Party on Friday, October 28, 2022. Prepare your best scary outfit to win the best ghost in the country award and get 1 voucher for 1-night stay in Deluxe Room. 
Janevalla Bandung
Jl. Aceh No. 65, Bandung
Instagram
Website
Bear The Brunt at de Braga by ARTOTEL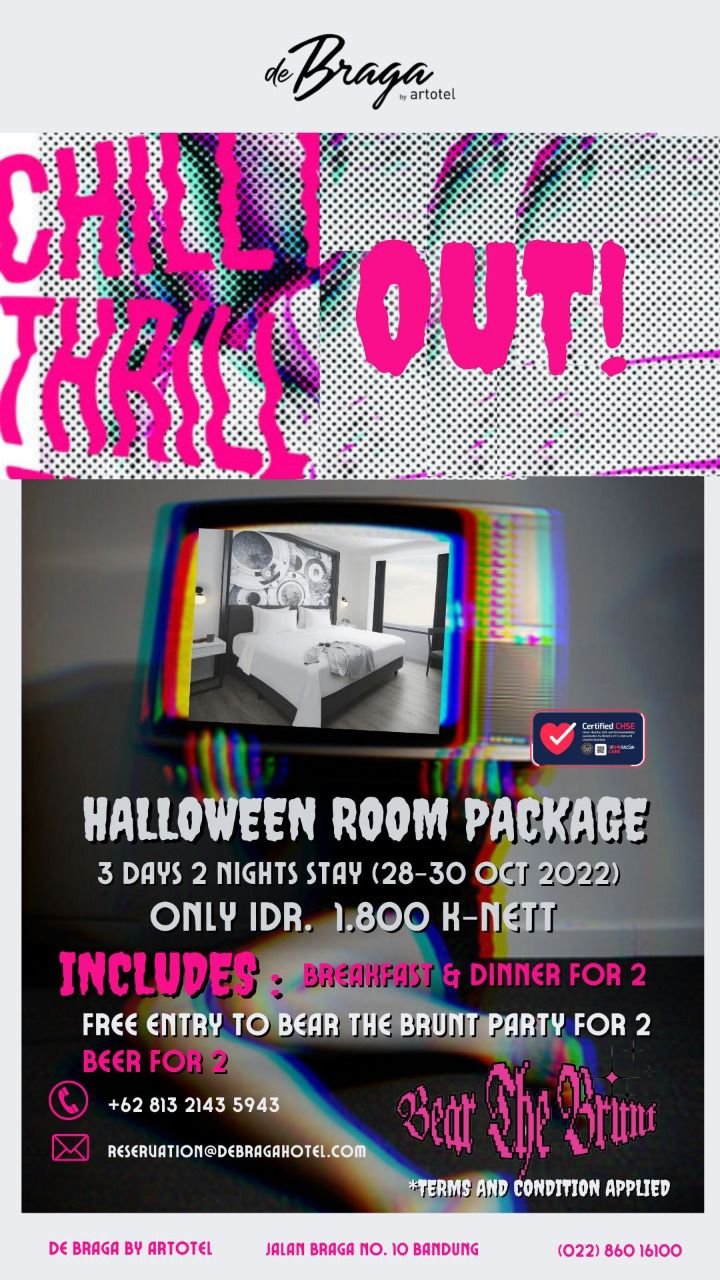 Enjoy a 'one-night-only', 'stars aligned' kind of night at the basement of de Braga by ARTOTEL. This time, they are bringing back characters and sound that have been isolated cities apart, a reunion too long overdue. It's night purely for reconnecting with each other and music.
de Braga by ARTOTEL
Jl. Braga No. 10, Bandung
Instagram
Website