Experience the wonders of nature in the best way possible with a glamping adventure. Enjoy a hassle-free camping experience at these top glamping sites in Bandung, providing the perfect escape from bustling city life. Situated not too far from the city, the serene vibe is sure to leave you in awe as soon as you arrive. Take a closer look at these exceptional glamping options in Bandung!
The Best Glamping Sites in Bandung

/ Tempat Glamping Terbaik di Bandung
1. Namu Hejo
Namu Hejo offers a refreshing glamping adventure, where you can relax by the riverside amidst the beauty of nature. The spacious tents, with UV protection, offer comfort and protection from the sun. Each tent comes with four mattresses, sleeping bags, and pillows, along with a delicious breakfast for four people. The glamping site is conveniently located at the finish point of the rafting track, making it a perfect complement to the exciting rafting package offered. 
Namu Hejo
Pangalengan, Bandung 
P: 0813-1980-3107
Instagram
2. Over Easy Glamping Site
Located just 20 minutes from the Dago area, Over Easy offers glamping accommodations with complete facilities, making it the perfect place for your relaxation and healing time. Each tent provides a comfortable bed with a bed cover, a private bathroom with a water heater, and a wide range of amenities. Moreover, it is a pet-friendly place! so you don't have to worry about leaving your pet at home. An additional advantage is that staying here contributes to planting one tree, making your stay even more meaningful and eco-friendly.
Over Easy Glamping Site
Jl. Bukit Buniwangi No.4a, Bandung
P:  0821-2424-2994
Instagram
 
3. Glamping Legok Kondang
Glamping Legok Kondang offers a perfect blend of nature and comfort. With up to six types of units, each tent provides a wide range of facilities, including a private bathroom, hammock, and even a private pool. The spacious area also offers shuttle transportation from the parking lot, alleviating any worries about having to walk a long distance or carry your luggage to the site. For an even better experience, try their Luxury Royal Suite type, where you can enjoy a relaxing time in a Jacuzzi.
Glamping Legok Kondang
Jl. Kurunangan, Bandung
P: 0813-1817-9889
Instagram
4. Six Luxury Cabin & Cafe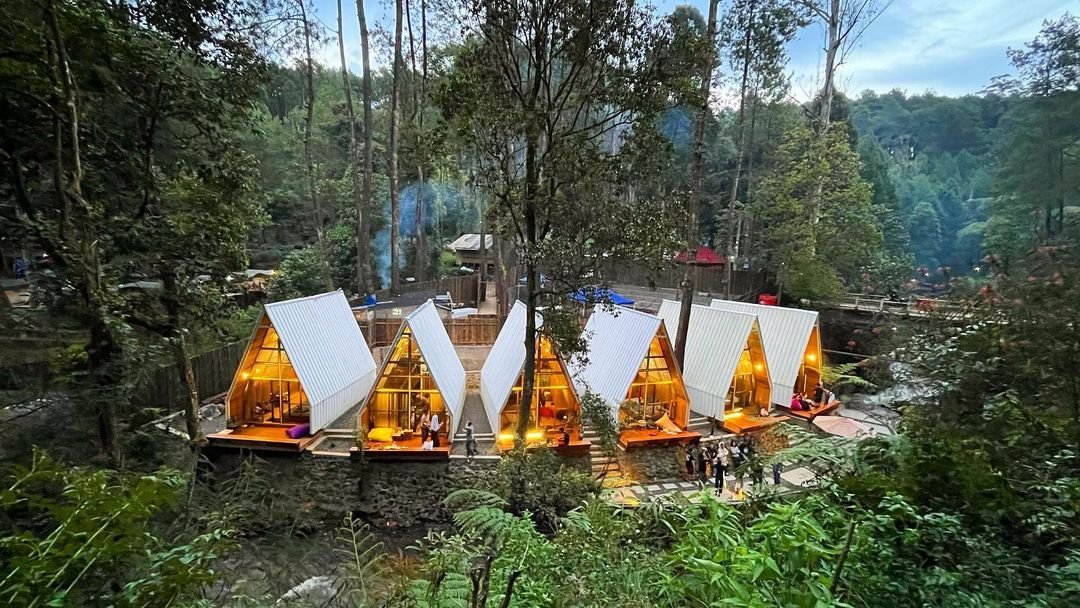 Set amidst a pine forest, Six Luxury Cabin & Cafe offers a tranquil riverside retreat. As they say, the sound of flowing water is incredibly relaxing. Here, you can enjoy a relaxing time with your friends or loved ones while the beautiful view surrounds you. Each cabin is equipped with complete amenities, including a private bathroom, a double king-sized bed, and, of course, stunning views of the river and lush greenery from your room.
Six Luxury Cabin & Cafe
Pulosari, Bandung
P: 0882-0026-39286
Instagram
5. Tangkal Pinus
This glamping site is exceptional, whether you are bringing your own tent or opting for the easy Manja camp or Family camp package. Among the facilities they offer are a tent with three mattresses and three sleeping bags, pillows and blankets, a tent lamp, and a ticket for a photo session with the alpacas! Additionally, the premises provide a cute cafe in the middle of the forest, so you can enjoy your morning coffee without any worries.
Tangkal Pinus
Genteng, Bandung
P: 0895-3366-66900
Instagram
Also Read
---
---
6. Mulberry Hill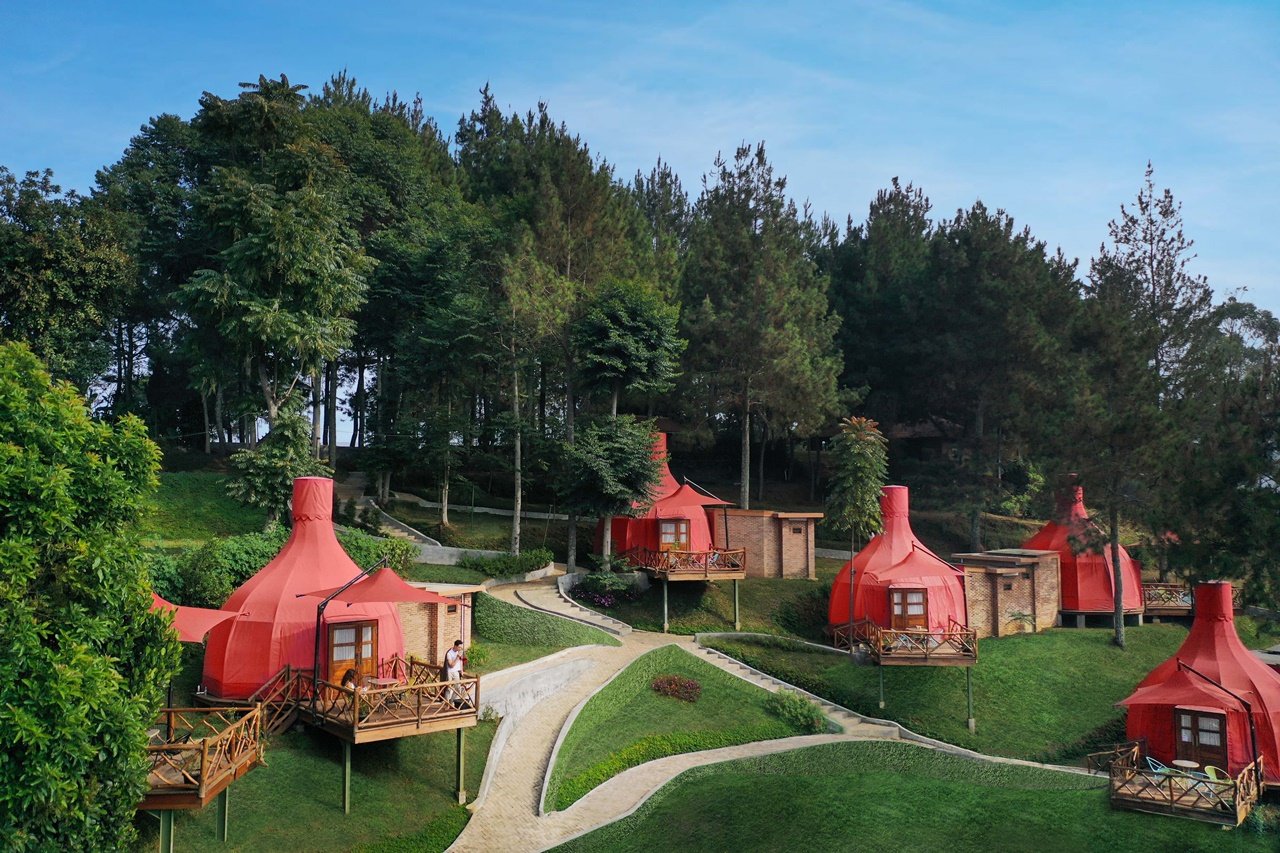 Mulberry Hill by The Lodge offers a unique and charming camping experience with its onion-shaped tents. The accommodations are not only visually delightful but also well-equipped, featuring private toilets, televisions, and air coolers to ensure comfort throughout your stay. Whether you're a seasoned camper or a first-timer, Glamping Mulberry Hill provides a perfect blend of glamour and nature, making it an ideal choice for a memorable getaway. With picturesque surroundings and thoughtful amenities, this glamping site promises a refreshing escape from the hustle and bustle of everyday life.
Mulberry Hill
Jalan Maribaya Timur No 1, Bandung
P: 0811-2339-876
Instagram
Website
7. Sonten Resort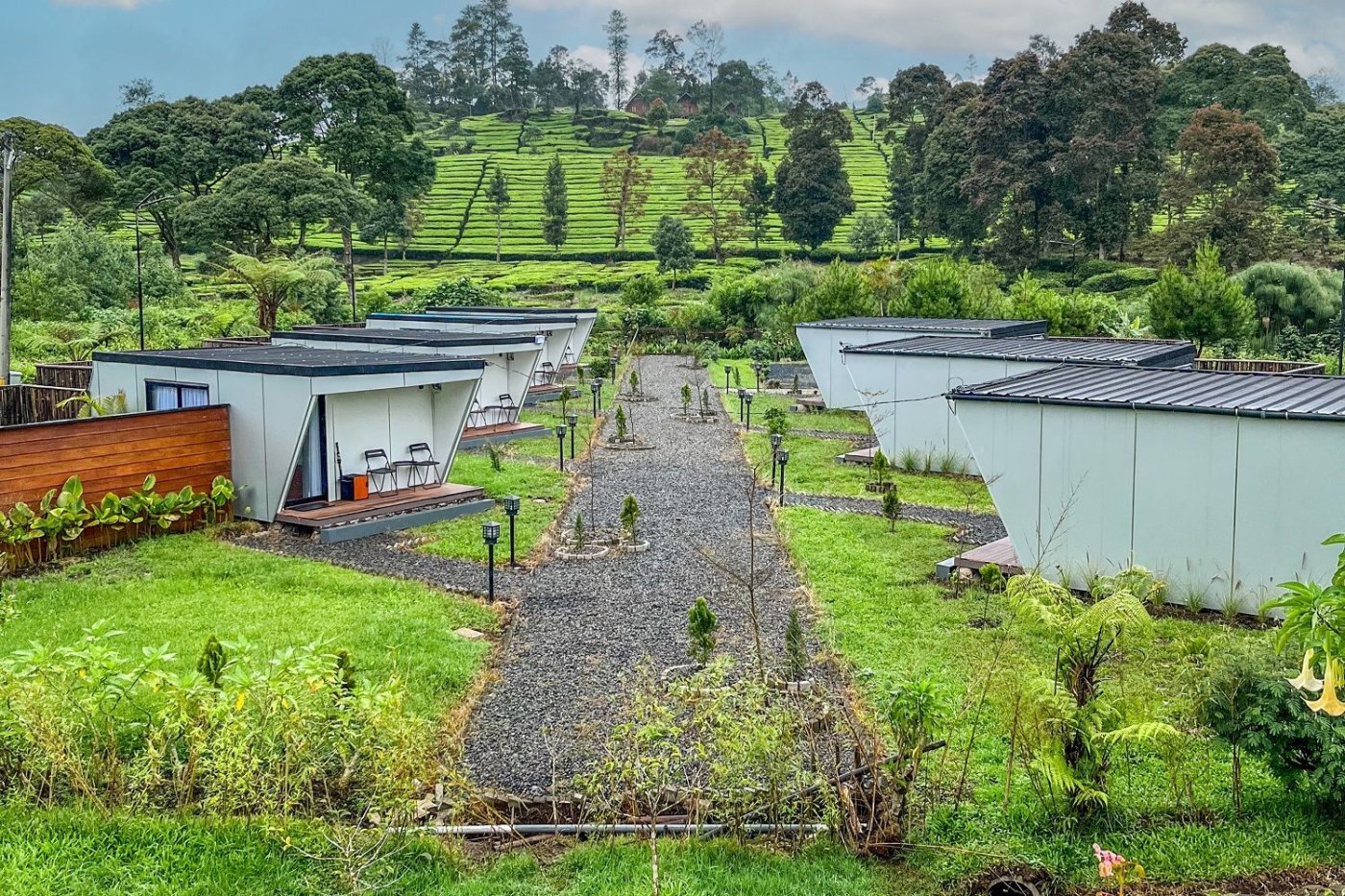 Nestled amidst the tranquil beauty of lush tea plantations, Sonten Resort offers a captivating glamping experience with its seven intimate cabin units, each accommodating up to four people. The concept of clustered accommodations adds to the charm of the resort, providing a sense of togetherness and privacy at the same time. One of the highlights of Sonten Resort is the well-maintained and comfortable private hot water pool, perfect for unwinding after a day of exploration!
Sonten Resort
Jl. Raya Ciwidey - Patengan No.946, Bandung
P: 0811-2000-255
Instagram
8. Mountain Cabin Bdg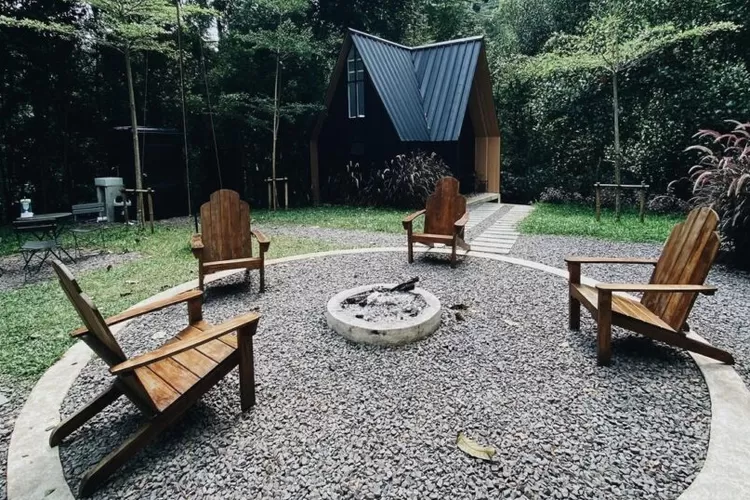 Mountain Cabin is the perfect destination for a private and healing retreat with family, friends, or a loved one. The serene setting offers three distinct cabins, each with its own unique features. Inside every cabin, you'll find a comfortable queen bed and a sofa bed, a smart TV, Wi-Fi, a terrace, and a toilet equipped with a water heater. For an elevated experience, Cabin 3 comes with a mezzanine room featuring a double bed and a luxurious Jacuzzi! Rest assured, Mountain Cabin prioritizes your comfort and safety, as the entire area is under 24/7 security surveillance.
Mountain Cabin
Jl. Buniwangi No.80, Bandung
Instagram
9. Luxcamp Bandung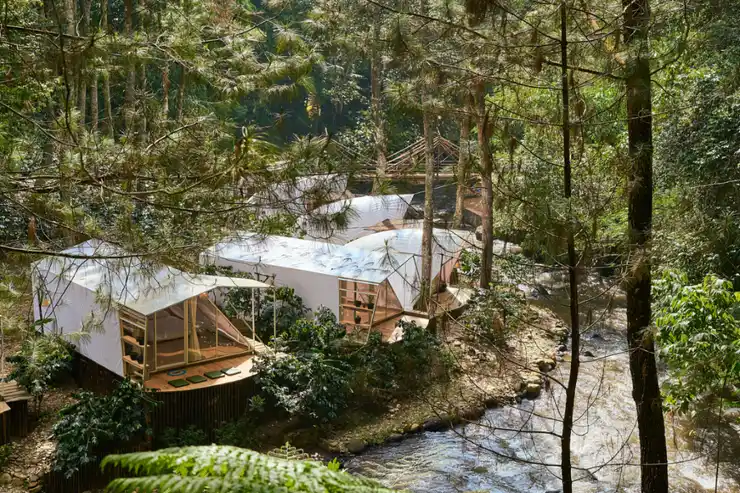 Luxcamp offers an unforgettable glamping experience that will create lasting memories. With a variety of tent types available, including snail tents, square tents, and family tents, each one provides a wide range of facilities and beautiful views of pine trees and tea fields. Besides the comfort and complete amenities, Luxcamp has to offer, they also provide exciting activities such as rafting, hiking, and the unique opportunity to pick coffee beans from the surrounding area.
Luxcamp Bandung
Pulosari, Bandung
P: 0812-8008-6339
Instagram
10. Dusun Bambu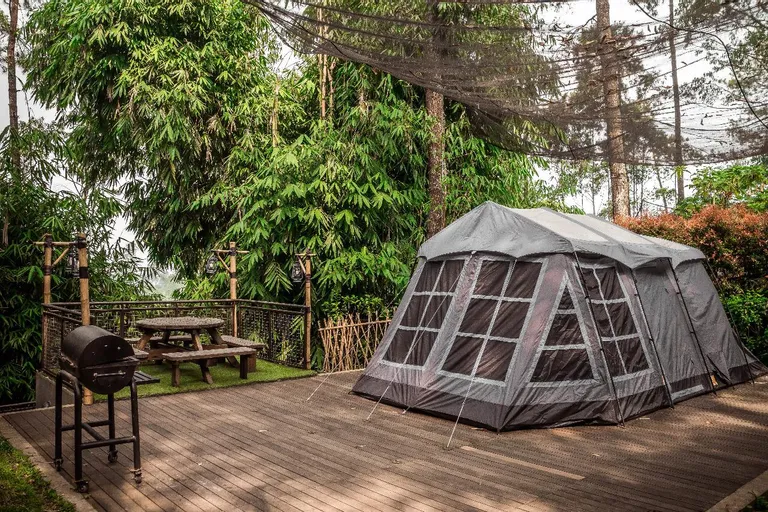 Famous as a one-stop destination, Dusun Bambu not only provides a restaurant and resort but also offers a unique glamping site called Sayang Heulang. Embracing an endless nature view with fresh air, the facilities include a private camp area, a bathroom, BBQ and seating area, Wi-Fi, a bonfire, and an array of other amenities. After enjoying an intimate BBQ night, take a leisurely walk around the Taman Arimbi, and indulge in a fun ride along Danau Purbasari!
Dusun Bambu
Jalan Kolonel Masturi KM 11, Bandung
Instagram
Website