Have your wedding ceremony more special surrounded by lush greenery and fresh air at these beautiful outdoor venues.
1. InterContinental Bandung Dago Pakar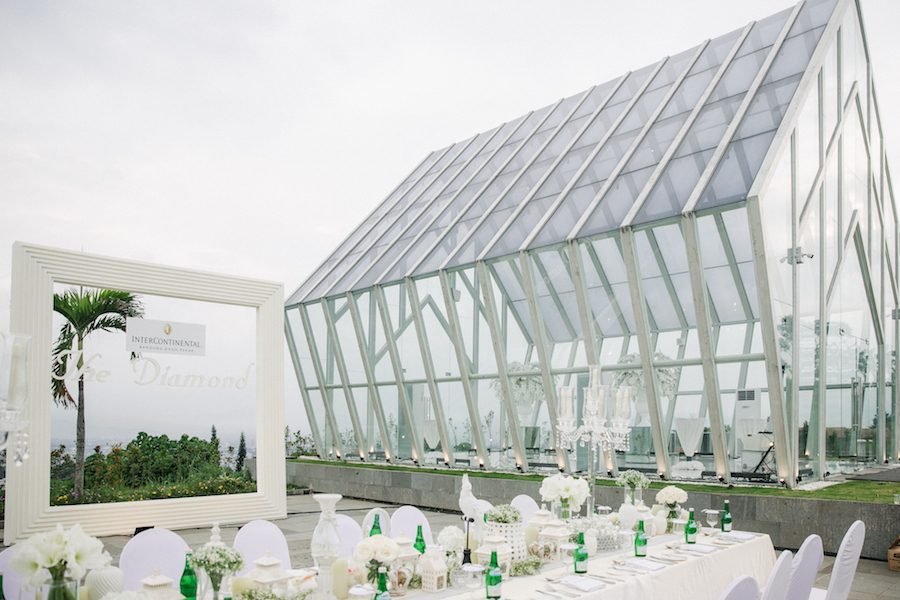 Known as one of the International five-star luxury hotels in Bandung and surrounded by the Mountain View Golf Course, InterContinental Bandung Dago Pakar offers the most romantic location for your special day. Hidden behind its elegant and luxurious façade, you will find a delightful and romantic ambiance, stunning natural views and lush green spaces.
Jl. Resor Dago Pakar Raya 2B, Resor Dago Pakar, Bandung
P: (+6222) 87806688
Website
Instagram
2. Bumi Pancasona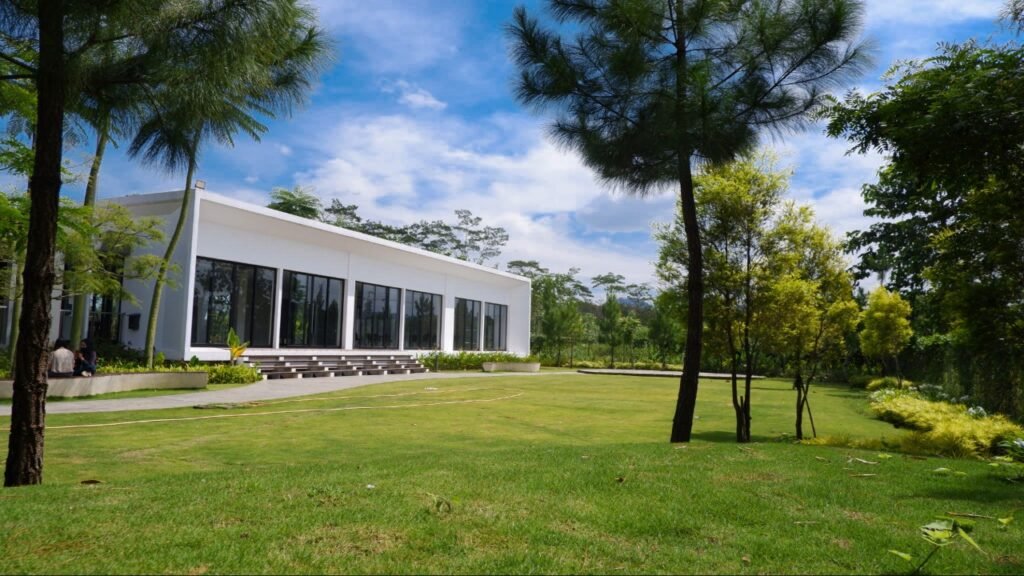 Celebrating your special moments in an intimate way is the right choice to share with special people. The Hive Bumi Pancasona is your best choice as a venue to hold your moment. Having 1000 meters cubic for outdoor area and 264 meters cubic for indoor area and surrounding with the open air and trees make your moment seem natural. Just 15 minutes from Padalarang Toll Gate, The Hive Bumi Pancasona is reachable. Free parking, makeup room, and disinfectant two times make sure your intimate moment will save. Visit Instagram to find more @thehive_pancasona or take a look at the website at HERE.
Gelap Nyawang Kav 3, Kota Baru Parahyangan, Bandung
Phone: 022 - 2110 2818 | 081224174503
Website
Instagram
3. Bumi Sangkuriang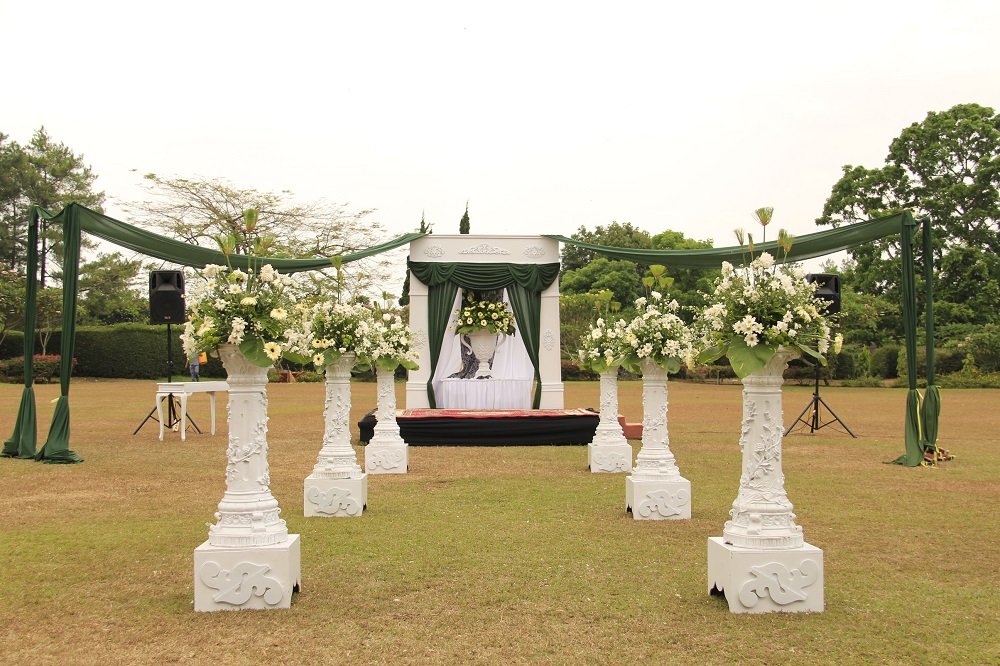 Bumi Sangkuriang is one of the oldest function buildings in Bandung, yet still local's one of the most favorite places for an event. Still maintaining its vintage style, Bumi Sangkuriang equipped with spacious ballroom, as well as an outdoor area. This hotel can also accommodate a garden-themed wedding with exceptional service.
Jl. Kiputih No.12, Ciumbuleuit, Cidadap, Bandung
P: (+6222) 2032661
Website
Instagram
4. The Papandayan Hotel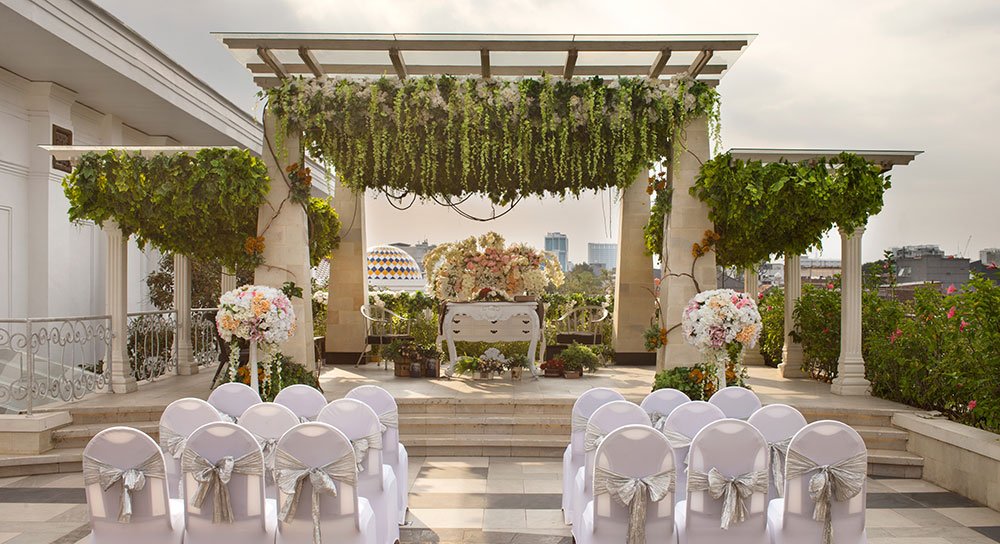 Your wedding venue is more than just a stage-of-the-day, it's the place where memories are made. Experience the romance, beauty and extraordinary moments at The Papandayan romantic chapel and find the perfect setting to commemorate the beginning of your happily ever after. HB Grill Garden Chapel is styled with natural elements of stone, wood, and art and is located beside the swimming pool giving your guests fresh and relaxing scenery. HB Grill Garden chapel can host up to 150 people.
Jl. Gatot Subroto No.83, Malabar, Lengkong, Bandung
P: (+6222) 7310799
Website
Instagram
5. Gedong Putih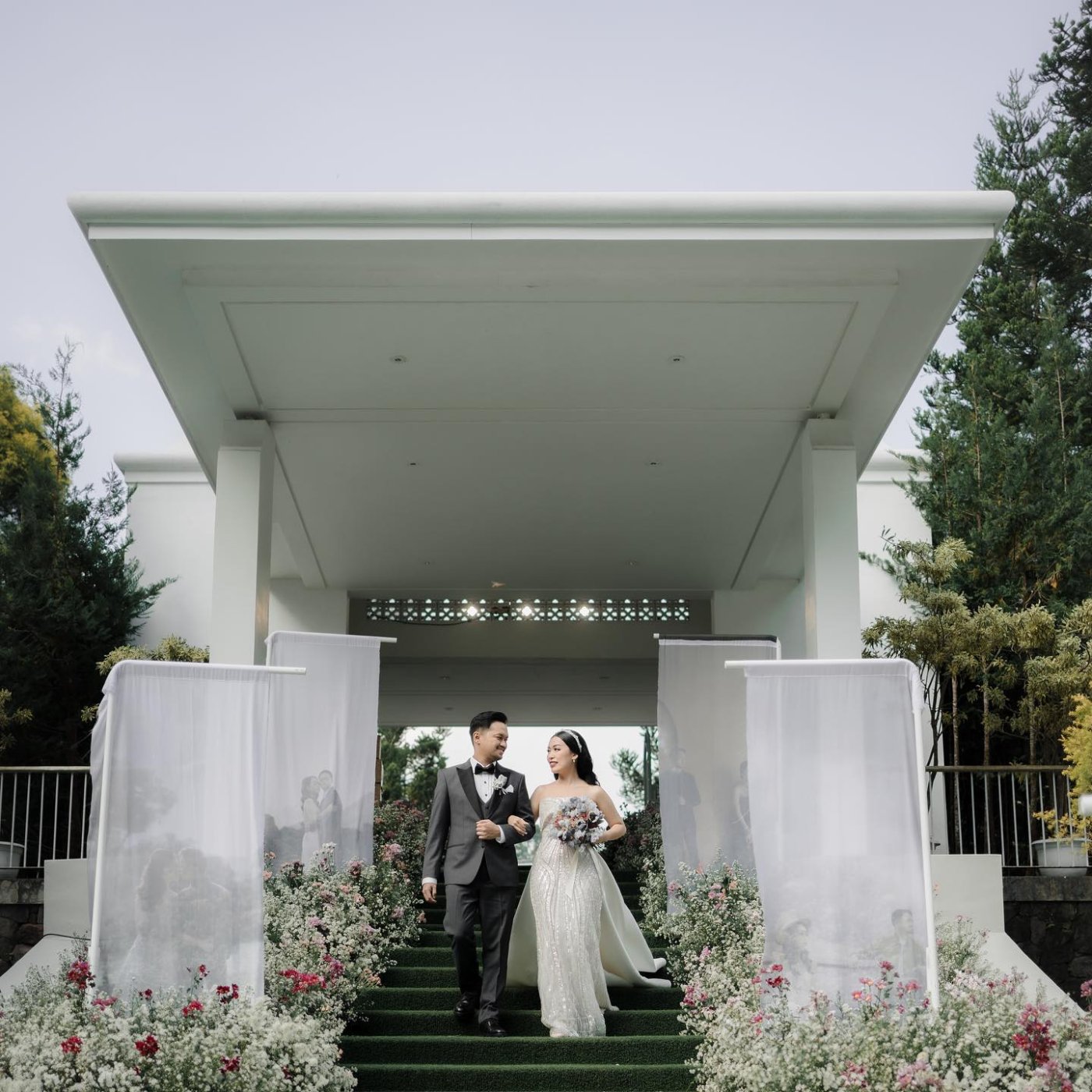 Gedong Putih exists in a slice of private property in Bandung highlands, right in the middle of landscaped lush greenery, surrounded by the panoramic view overlooking the majestic Mount Tangkuban Parahu as the focal point of the remarkable scenery and backdrop to your memorable events. Gedong Putih shows a modern take on the Landhuizen or country houses from the Dutch East Indies era – having a white façade and using vernacular architecture to give better air circulation. Measuring up to 1600 square meters of synthetic grass as the grounds of a five-star luxury outdoor venue, Gedong Putih is also equipped with a total of three, 350 square meters of indoor facilities with their own unique mood and settings to facilitate different functions properly. Ranging from intimate gatherings to a grand garden wedding party, Gedong Putih will provide the perfect place to be the setting of your monumental milestones along the journey of your life.
Villa Triniti, KM. 4,7 No. 88, Jl. Sersan Bajuri, Cihideung, Parongpong, Bandung
P: (+6222) 2785124
Website
Instagram
6. Peta Park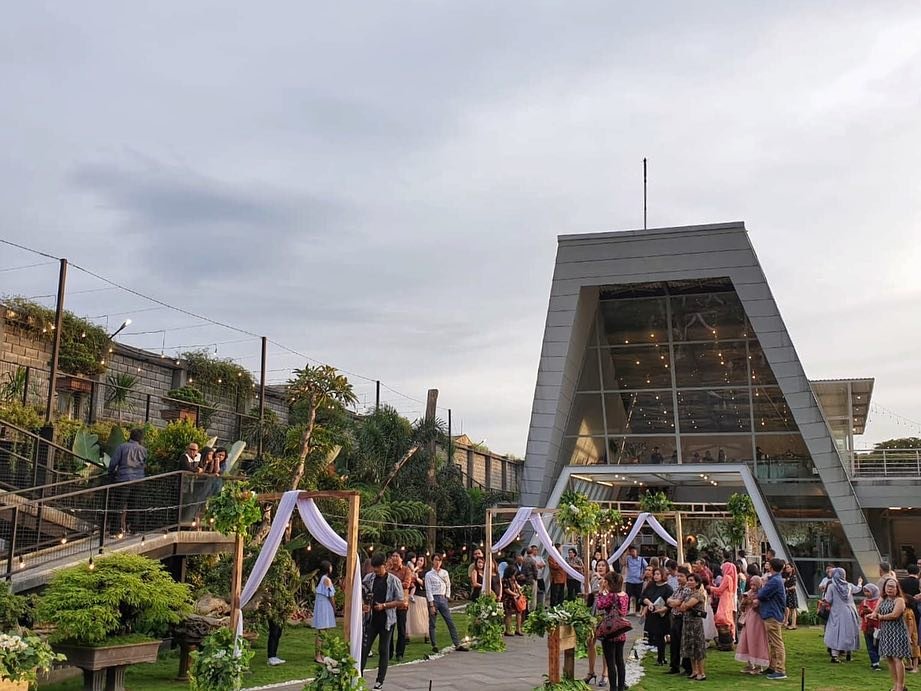 After being renovated and concept-revamped, Peta Park now is one of the most hyped function places in Bandung. Open for any thematic events, from a small community gathering, school events, birthdays, engagements, to an intimate wedding. Have your special moment in its outdoor area while overlooking the lush green park view and city's breezy air.
Jl. Peta No.229, Suka Asih, Bojongloa Kaler, Bandung
P: (+6222) 20560735
Instagram
7. Sheraton Bandung Hotel & Towers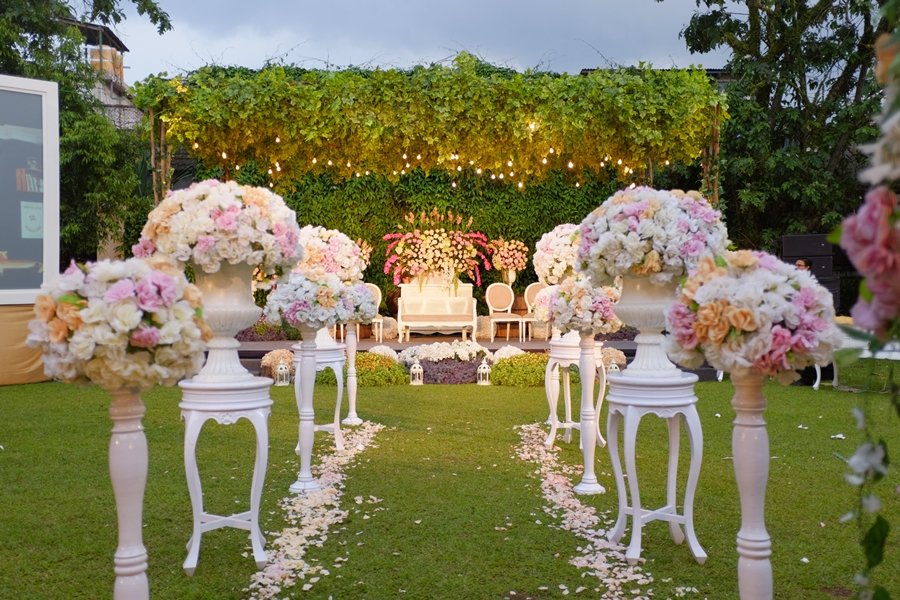 With an area of 620 sqm, the towers garden area can accommodate up to 1200 invited guests. Towers Garden has two areas that can be used both or one, according to the number of guests invited. Even though it's full outdoor, there's no need to worry about rain. You can rent tents and wooden floors to protect guests when they mingle or eating the food.
Jl. Ir. H. Juanda No.390, Dago, Coblong, Bandung
P: (+6222) 2500303
Website
Instagram
8. Hilton Bandung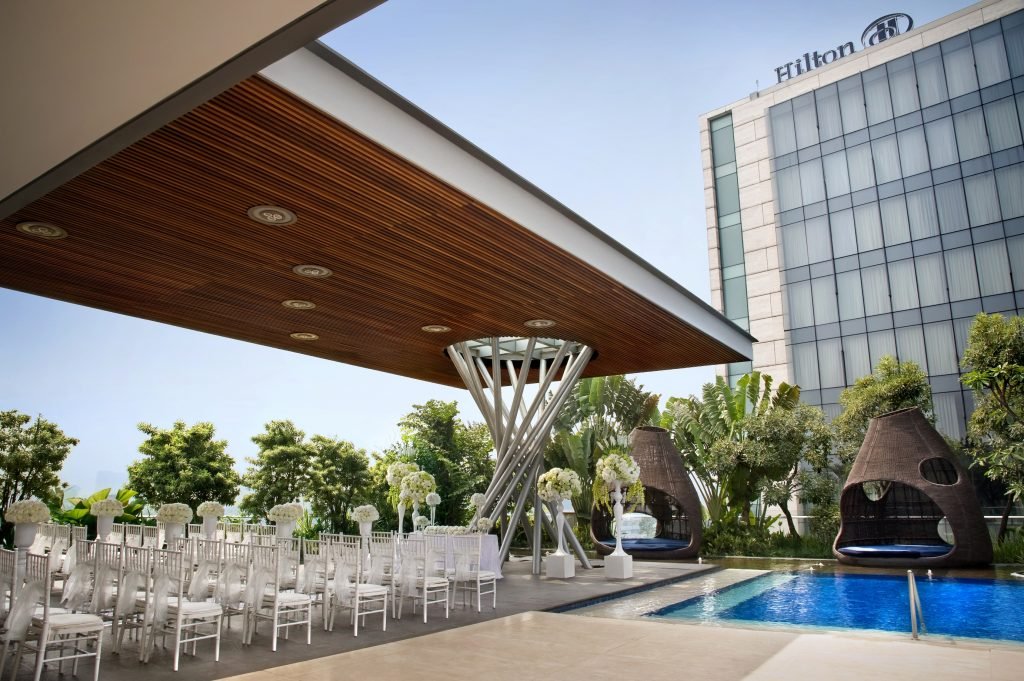 Strategically located in the city center, Hilton Bandung equipped with unique spots. Including magnificent majestic stairs for once-in-a-lifetime pre-wedding photos or garden by the private outdoor pool to celebrate the most important day of your life. Combined with the hotel's reputation for special menus, customized services, and luxury accommodations, they are all designed specifically for you to start home life with a truly memorable day for you and your guests. For something more personal, the 6th-floor poolside rooftop terrace with spectacular city views can accommodate up to 250 guests. Can be combined with the Panorama room which has ceiling-high windows and is close to Fresco Restaurant, allowing you to hold celebrations which combines indoor, outdoor and restaurant.
Jl. HOS Tjokroaminoto No.41-43, Arjuna, Cicendo, Bandung
P: (+6222) 86066888
Website
Instagram
9. Maxi's Resto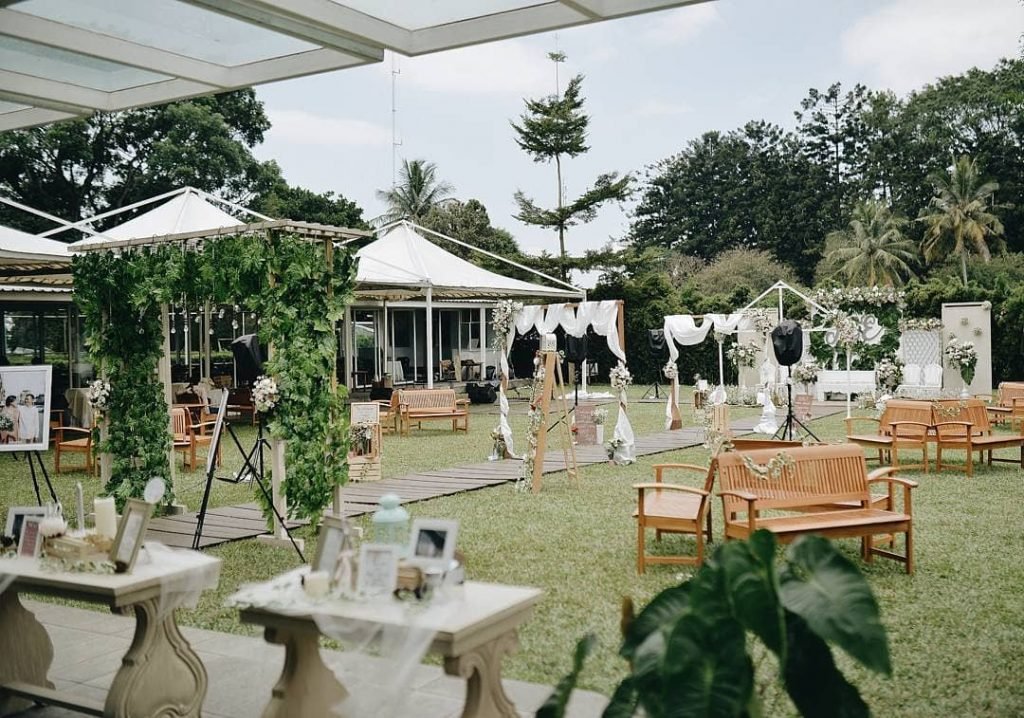 Maxi's Resto is one of the many colonial concept buildings in Bandung that still stands beautifully until now. The place has a spacious outdoor area which perfect for your garden themed wedding or engagement. Maxi's Resto also accommodates your event needs with a trusted and professional event specialist.
Jl. Gunung Agung No.8, Ciumbuleuit, Cidadap, Bandung
P: (+6222) 2032666
Instagram
10. Padma Hotel Bandung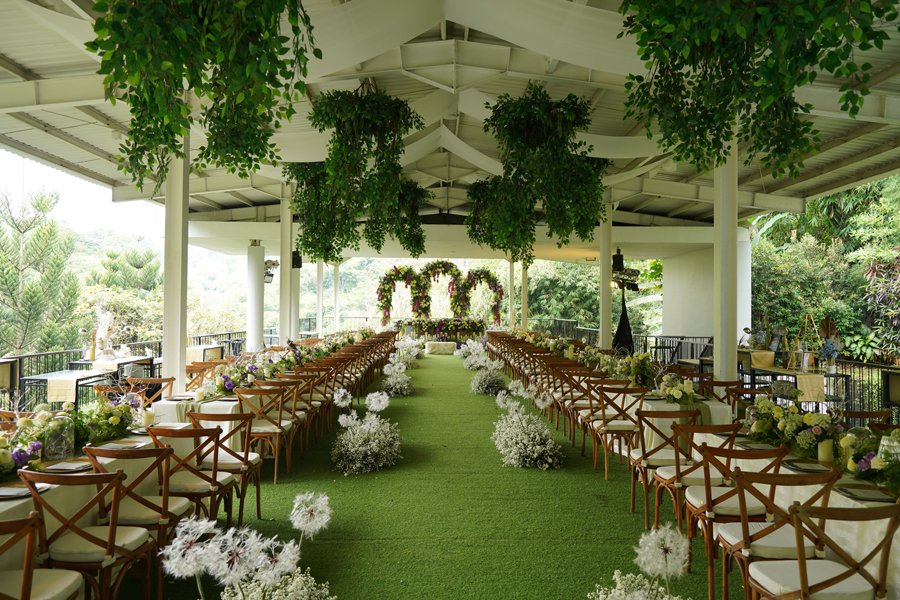 Carve the most beautiful story of your life at Padma Hotel Bandung. Its distinctive Champaca Wedding Chapel will execute every moment of your dream wedding perfectly with romantic touches and refined elegance. Located in front of the luscious green scenery, Champaca Wedding Chapel is a perfect place when you say 'I Do' with nature as the witness. The hotel's dedicated wedding specialist is always ready to assist you with every single detail that will turn your dream wedding come true.
Jl. Rancabentang No.56-58, Ciumbuleuit, Cidadap, Bandung
P: (+6222) 2030333
Website
Instagram
11. Swiss-Belresort Dago Heritage Bandung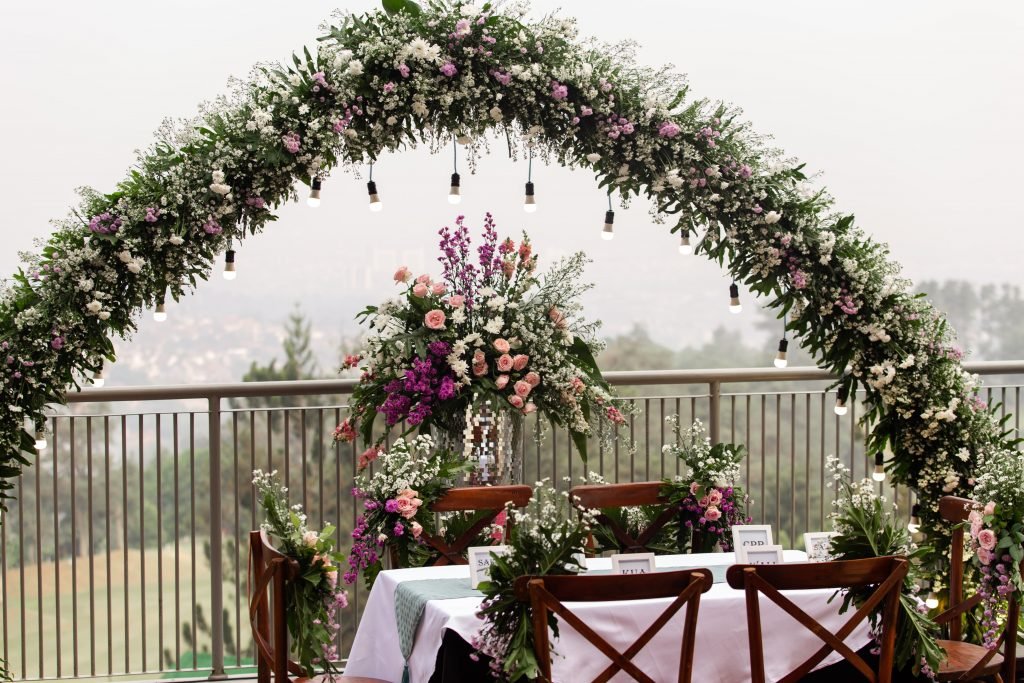 From exchanging vows to the intimate wedding reception, one of your priorities will be finding just the right venue for your big day! Swiss-Belresort Dago Heritage Bandung is the perfect venue for creating the ambiance of romance and a magical wedding through our tasteful cuisine and is graced by impeccable Swiss-Belhotel services. The hotel's wedding packages cater to everyone, be it for engagements, wedding lunch or dinners and even wedding anniversaries.
Jl. Lapangan Golf Dago Atas No.78, Cigadung, Cibeunying Kaler, Bandung
P: (+6222) 20459999
Website
Instagram
12. Horison Green Forest Resort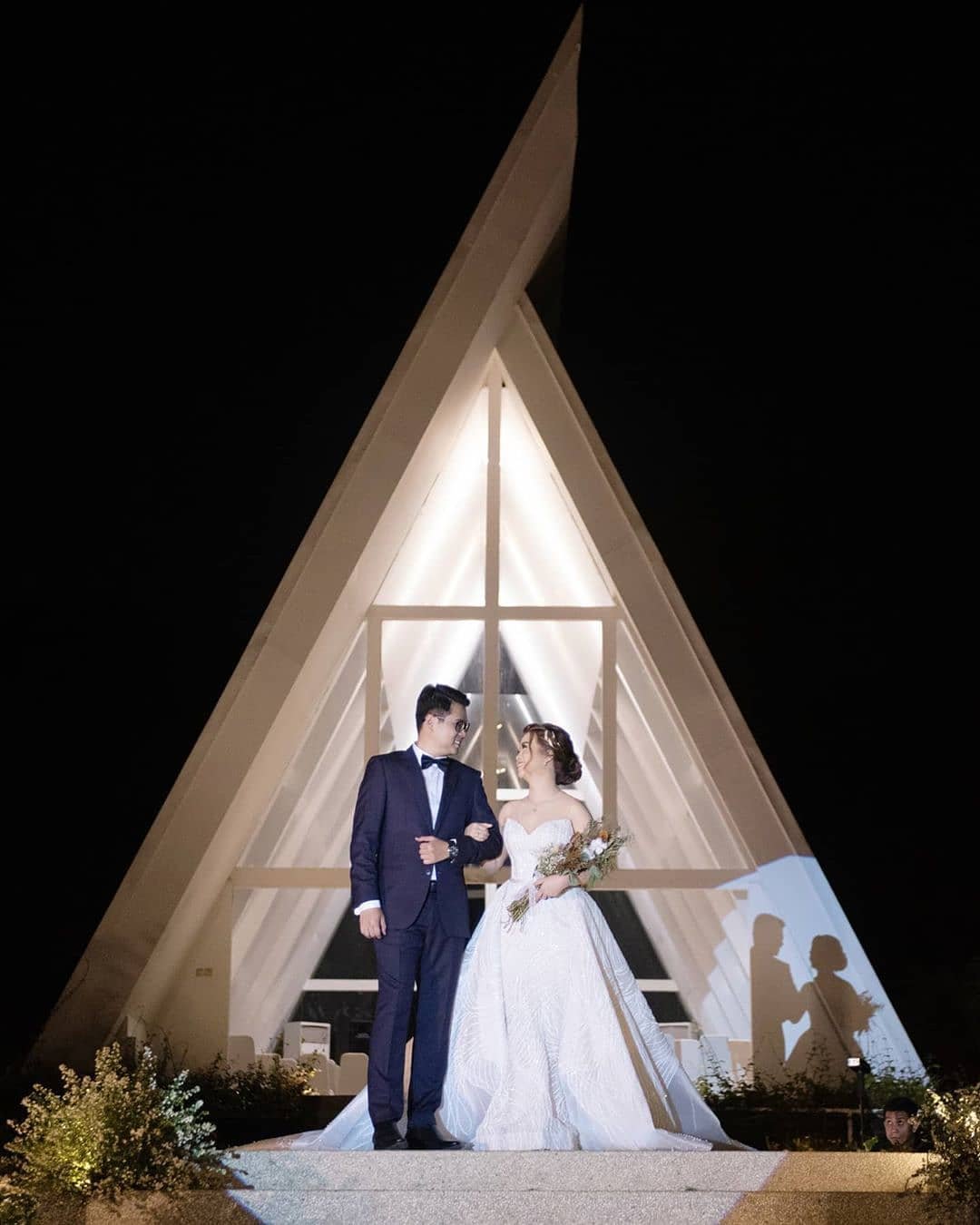 As a hotel with a romantic feel, Green Forest can certainly be a beautiful location for holding outdoor weddings. Here is an iconic chapel that can be transformed into a romantic wedding venue. Thanks to its location in the hills, your wedding will be accompanied by cool air and a beautiful panorama.
Jl. Sersan Bajuri No.102, Cihideung, Parongpong, Bandung
P: (+6222) 2787939
Website
Instagram
13. Crowne Plaza Bandung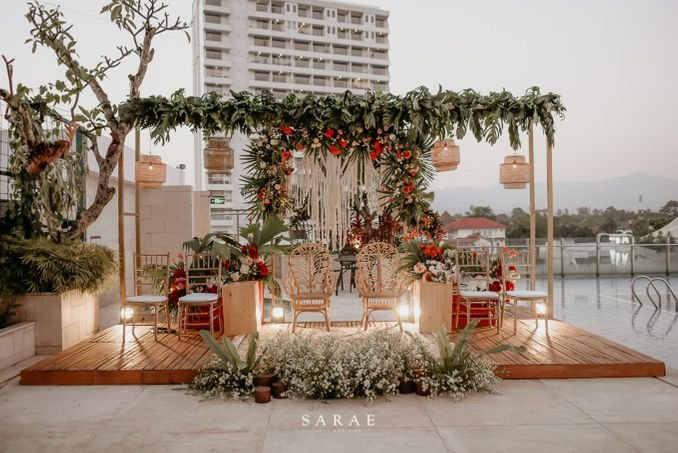 Timelessly beautiful intimate and romantic wedding at the Crowne Plaza Bandung with various of function room that can be a perfect venue for your dream wedding in Bandung, such as an elegant Braga Ballroom, semi-outdoor wedding at Mountain View Poolside Bar and Resto, and many more. Our impressive service and top-notch catering are also other secrets for your unforgettable moment.
Jl. Lembong No.19, Bandung
P:(+6222) 30002500
Website
Instagram