It may be a bit tricky to find a good restaurant with great live music in Bandung, however, the city is full of creative and talented artists that offer great performances. And you shouldn't miss that! We create this list for you, so you can enjoy some great live music for your evening in Bandung:
Rekomendasi Tempat untuk Menikmati Musik Live di Bandung
1. Holywings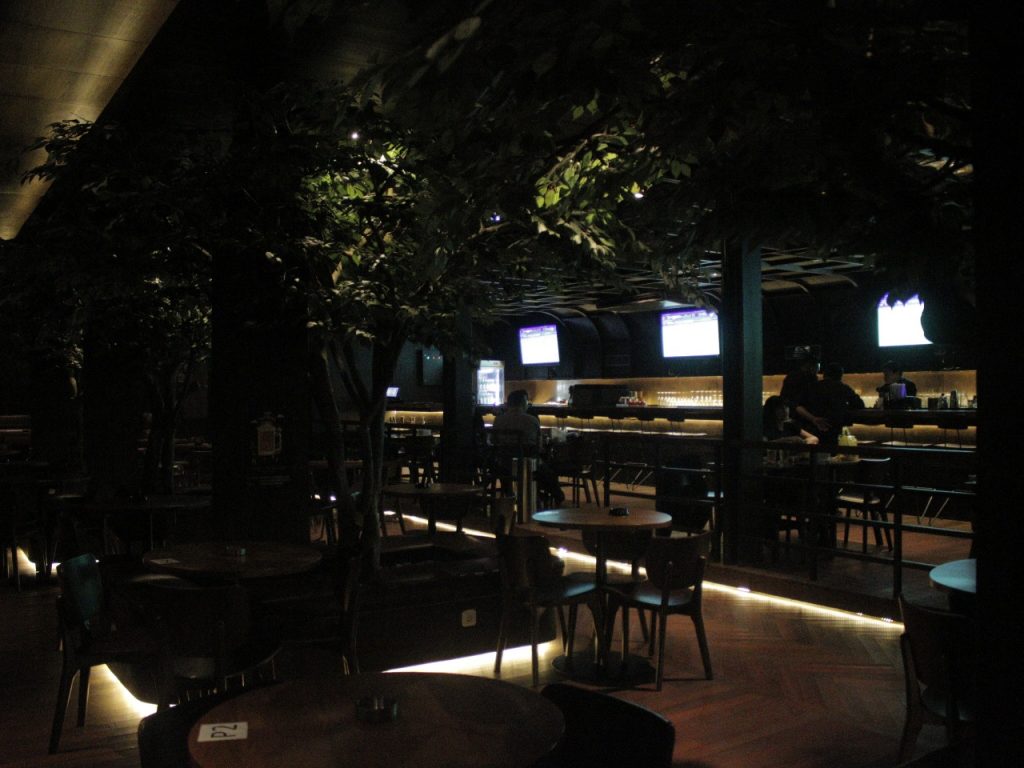 Holywings Bandung
After opening in Jakarta, Tangerang, Surabaya, Makasar, and Medan, this time Holywings launches its first outlet in Bandung, which is also the tenth outlet in Indonesia. Holywings Bandung is an ideal place to enjoy live music. With a chic design that incorporated classic woods, space is very comfortable. Of course, they also serve a great selection of food and drinks. Despite opened since October 2018, the Grand Opening will be held on 7th November 2018 by inviting RAN. Holywings Bandung is open everyday from 4.30 pm to 01.00 am, with live music starting from 9 pm – 12 am.
Holywings Bandung
Jl. Karangsari No. 10, Pasteur
Sukajadi, Bandung
Ph. 08111341168 (WA Only)
Instagram: @holywingsindonesia
2. The 18th Restaurant and Lounge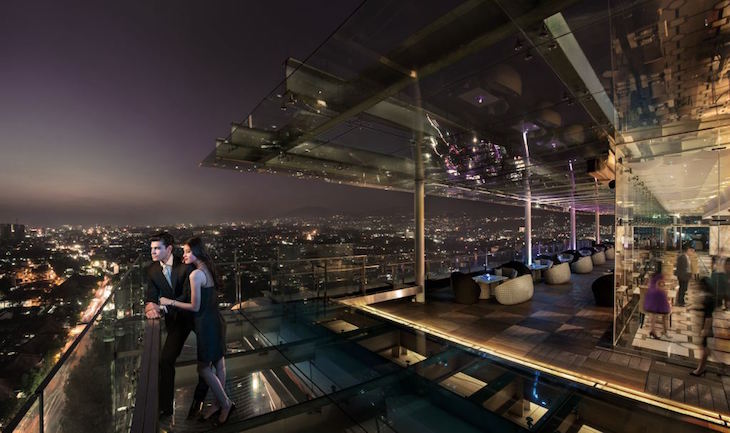 The 18th Restaurant
Located on the 18th floor of the Trans Luxury Hotel Bandung, The 18th Restaurant and Lounge offers a chill bar experience and an elegant dining hall. Enjoy superb international cuisine with a five-star service, while enjoying a sweeping view of the city from above. You can enjoy live music entertainment every day except for Wednesday from 7.30 pm to 10.30 pm.
Jl. Jendral Gatot Subroto No.289, Bandung
+62(022) 8734 8888
[email protected]
https://www.thetranshotel.com/
3. The Stone café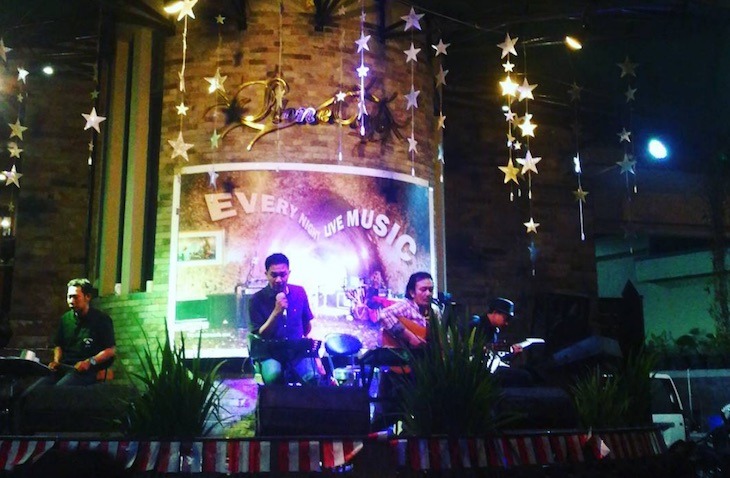 The Stone Cafe – Live Music in Bandung
Live music at The Stone Café is played every night from 7.30 pm to 10.30 pm on weekdays, and until 11 pm on the weekends. The restaurant interior is a clever mix between east and west, highlighting traditional wooden huts, balcony with a mesmerizing cityscape, and the indoor mansion. The menu at The Stone Café also offers a variety of Asian and Western dishes.
Jl. Rancakendal luhur no. 5.
(Gerbang Dago Resor)
Dago Atas, Bandung.
022 – 2500577
https://www.instagram.com/thestonecafe/
http://thestonecafe.com/
4. Skylite Bistro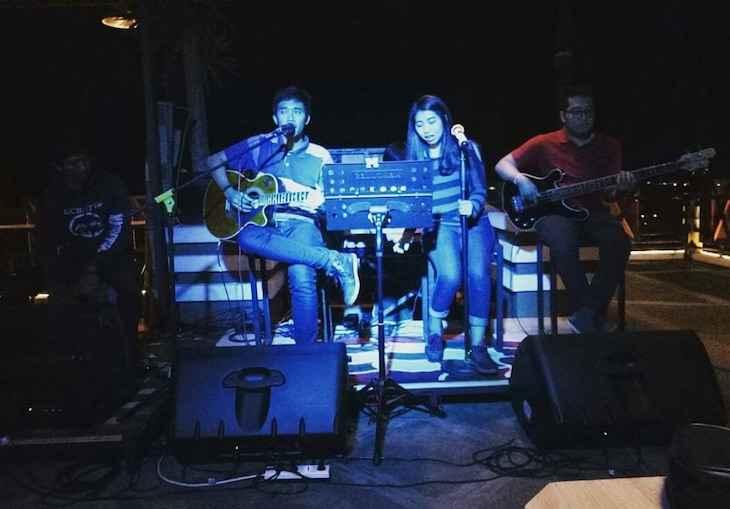 Skylite Bistro
When the day is already late and you feel like chilling, Skylite Bistro offers food, beers, shisha, and live music in Bandung all night long! The menu consists of western favorite dishes such as Chicken buffalo fire wings, pasta, and Gordon blue. But it also packed with Indonesian menus such as the popular nasi goreng and roti bakar. For the list of bands and live music schedule, follow their Instagram! Sun – Thu 15:00 – 00:00, Fri – Sat 15:00 – 02:00
Jalan Bojong Koneng Atas.no 22
022 86868653 / WA 081317865458
IG: @skylite.bistro.id
5. La Baraga Café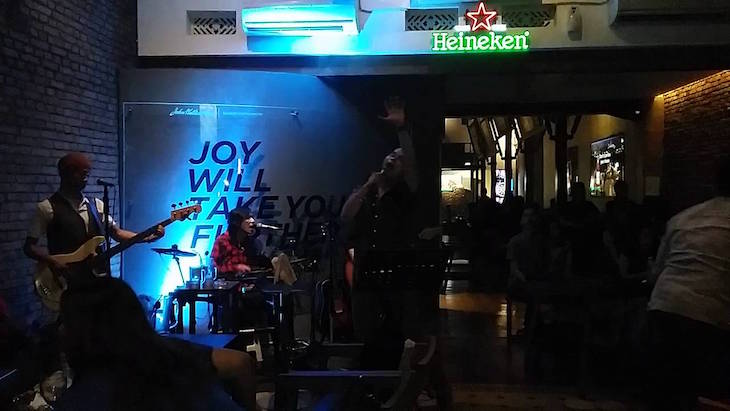 La Baraga Bandung
Within the hip lane of Braga street, enjoy good food and good entertainment at the popular Braga Café. The place has spaces for a restaurant, karaoke rooms, and a lounge. What's more, the foods are affordable and served in a decent portion. The live music is available from Tuesday to Sunday from 9 pm. To note, the place can be quite crowded and load on the weekends.
Jl. Braga no.54, Bandung
+62 22 4238398
IG: @labaraga
6. Cakrawala Sparkling Nature Restaurant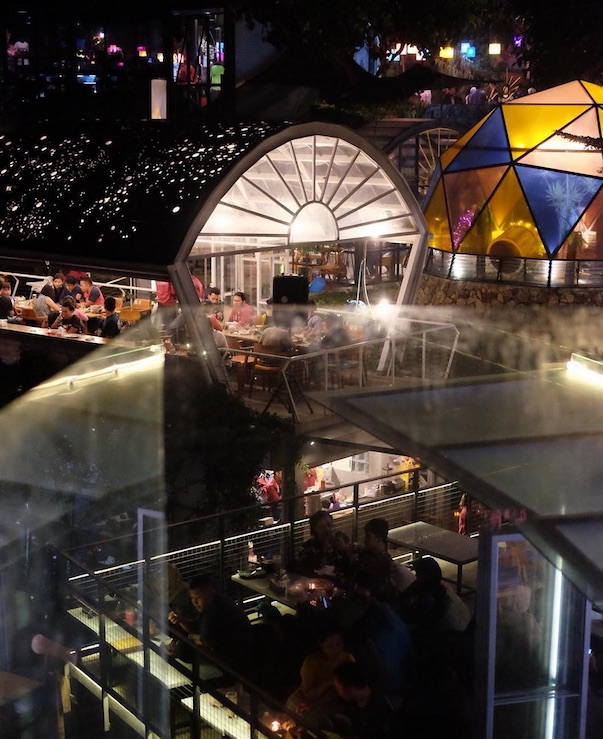 Cakrawala Sparkling Nature Restaurant
Serving music every day with a beautiful natural view, Cakrawala is a unique space where you can have one of a kind dining experience. It has several dining spots with its own highlight. During the evening, the place gets even more adorable with fairy lights decorating the whole venue, making it a wonderful place to enjoy live music in Bandung The Indonesian dishes at this restaurant is recommended. But they also offer some classic Western and Asian food. Mon – Fri 08:00 – 21:00, Sat-Sun 08:00 – 23:00
Kawasan Wisata Punclut
Jl. Pageumaneuh No. 57
+6281910464695
IG: @cakrawalaresto
7. Four Play Café & Resto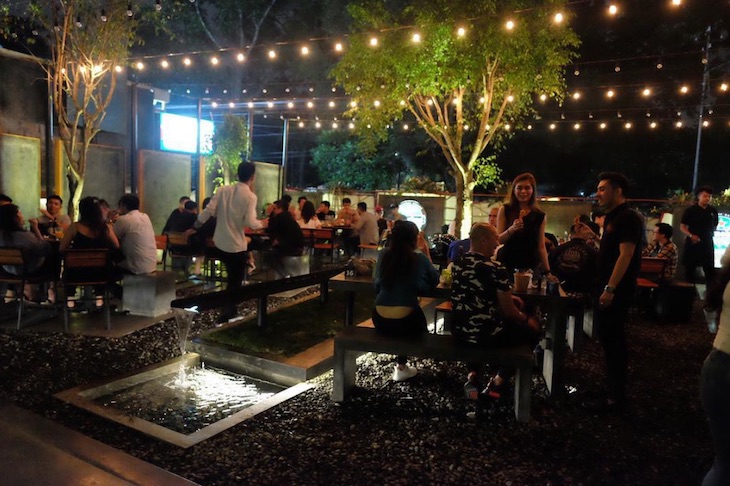 Four Play Bandung
Live music is available from Tuesday to Saturday at Four Play Café & Resto. Those who prefer more beats so they can dance, also enjoy DJ performances after live music on Friday and Saturday. The restaurant is great for hanging out with friends over beers and good vibe. Open hour : 3 pm – 2 am.
Jl. Cilaki No.65, Citarum, Bandung
085920000202
IG: @fourplay_bdg
8. Cocorico Café & Resto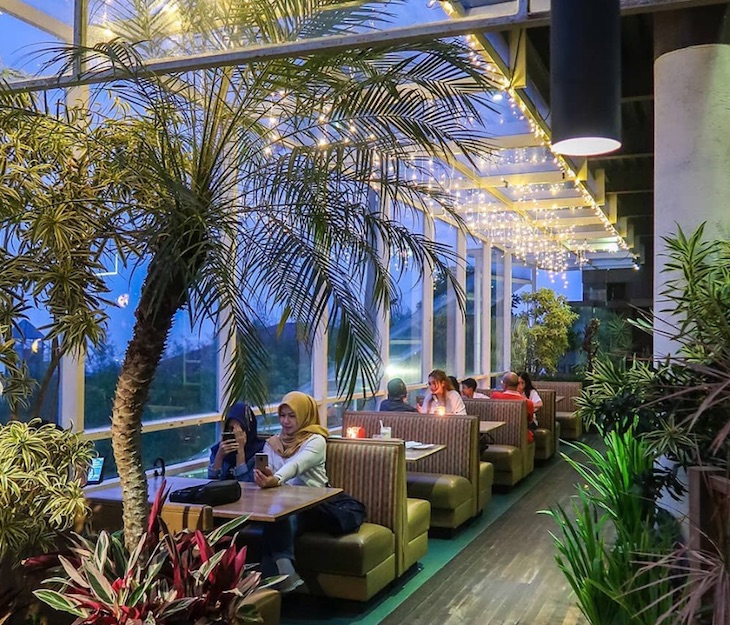 Cocorico Fantasy Garden Bandung
The green restaurant is humble, but treasure a magnificent view that can be seen from their rooftop. Cocorico serves decent Western & Indonesian cuisine, with a lot of promo going on. During the day you will be able to see the mountain view, while in the evening the city will show itself to give you an amazing panorama. Live music is held on Friday and Saturday. Open hour: 11 AM – 11 PM
Jl. Bukit Pakar Timur No.19
Ciburial, Cimenyan, Bandung
(022) 2503262
IG: @cocoricofantasygarden
9. Bober Café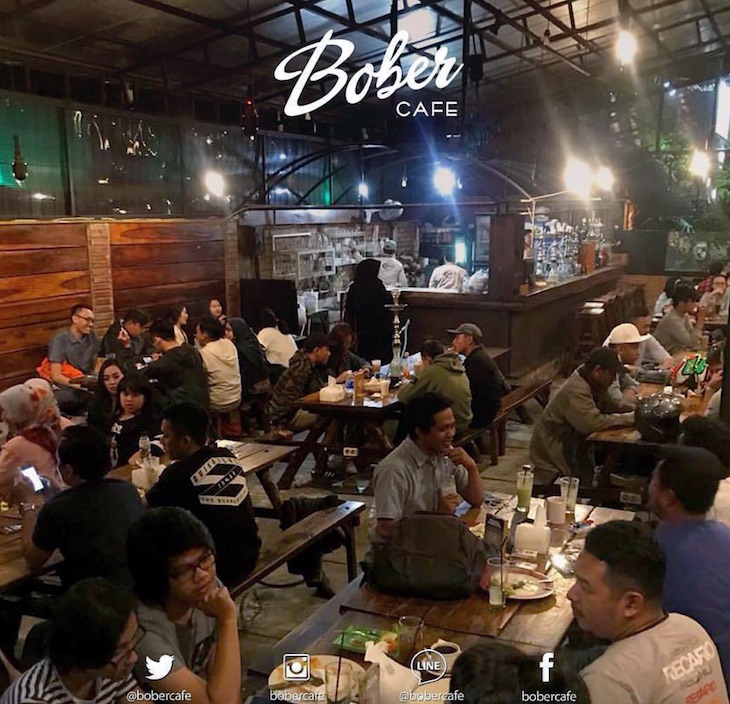 Bober Cafe – live music in Bandung
The popular 24 hours café in Bandung, Bober Café serves many kinds of entertainments including live music and stand up comedy during the weekends. The menu is delicious and affordable, so it often packed by the youngsters. Opened since 2004, now it has three outlets in Bandung and one in Batukaras. Check out what bands are playing today on their official Instagram account.
Jl. Riau 123
022.7234295 / 0878 21483088 (rsvp)
IG: @bobercafe
10. Troy's Bar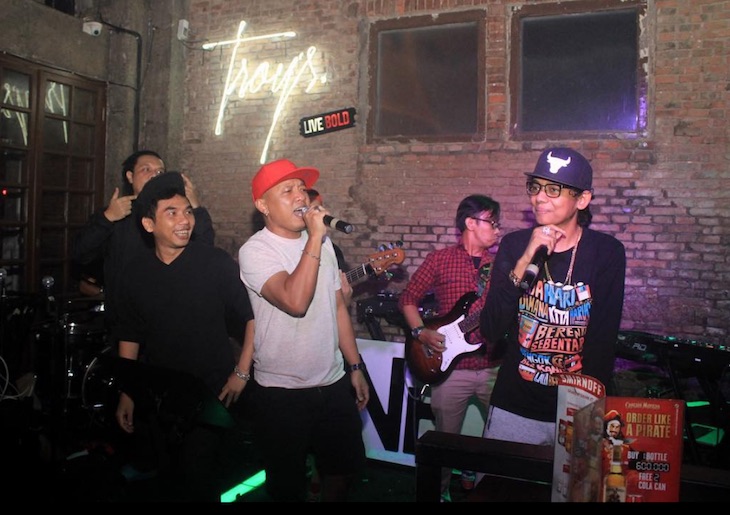 Troy's Bar
A live bar in Bandung that is great for dining, drinking, and chilling. Troy's bar opens from 6 pm until late every day. The performances are ranging from DJ to live band. The price of the food is affordable, so you will be able to enjoy the night with a happy tummy. Order their snacks and choices of drinks to get the night rolling
Jl. Tamblong No. 34, Sumurbandung, Bandung
(022) 877 893 72
IG: @troysbar
11. Sate Koja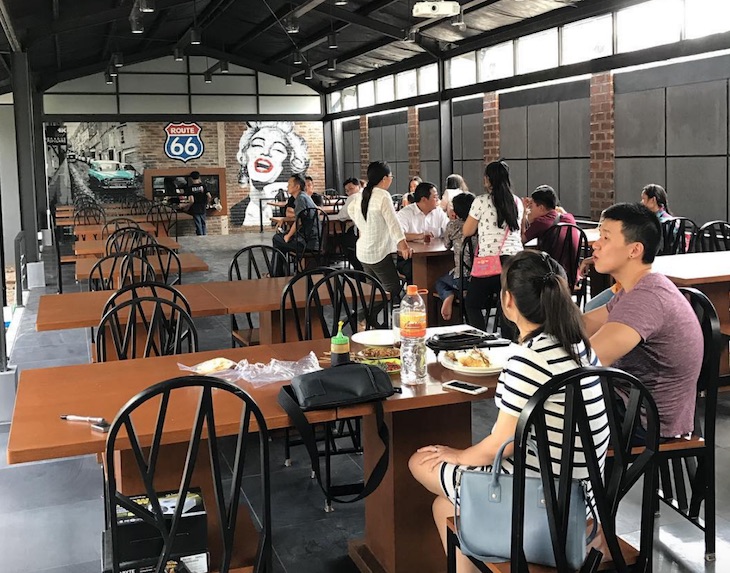 Sate Koja Bandung
This satay house in Bandung has live music every Tuesday, Friday, and Saturday to keep you entertained! The food is authentic and tastes amazing both as snack or dining. Don't miss their signature Sate Koja hotplate with peanut sauce and Sate Maranggi. Other Indonesian classic food is also recommended. Mon-Sun 10:00 – 22:00.
Komplek Mekar Wangi
Jl. Mekar Utama No. 111C
022 42821962
IG: @sate.koja
12. Kampiun Bistro Bandung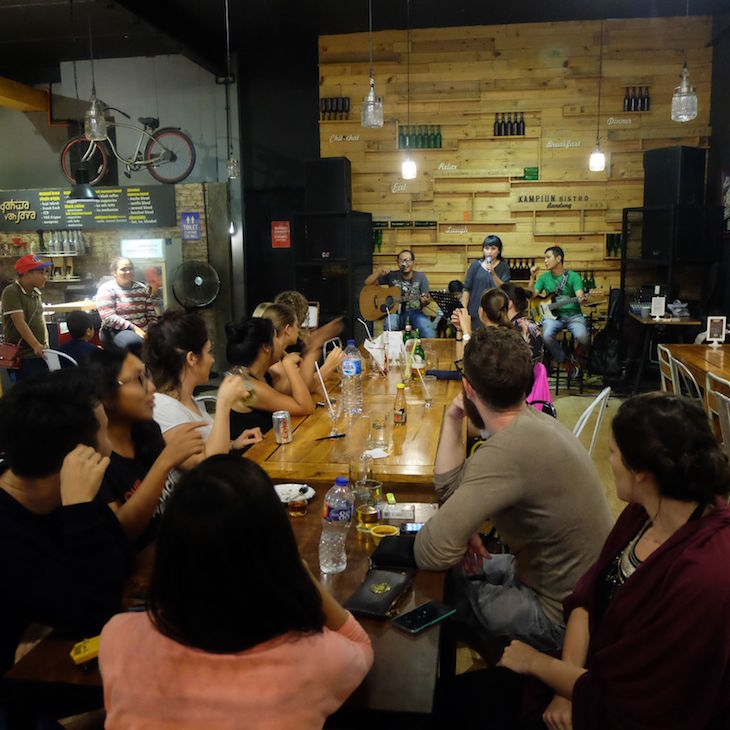 Kampion Bistro – live music in Bandung
Enjoy a combination of modern and classic at Kampiun Bistro Bandung. The place is located strategically near Bandung Train station, and popular among the community as a great hangout space with high-speed wifi connection. The western and Asian cuisine is served with a friendly service. To watch the live performance, visit them on Wednesday to Saturday.
Kebon Kawung No. 24, Bandung
(0622) 24202769
[email protected]
http://kampiunbistro.weebly.com/