Bandung, known for its vibrant culture and stunning landscapes, also boasts a fantastic array of water parks that cater to every water lover's dream. Whether you're seeking heart-pounding water slides, lazy rivers to relax on, or wave pools to surf, this list will take you on a journey through the top waterbooms in the city. Here are the best waterparks you should visit:
The Best Waterparks in Bandung / Taman Wisata Air Terbaik di Bandung
1. Wahoo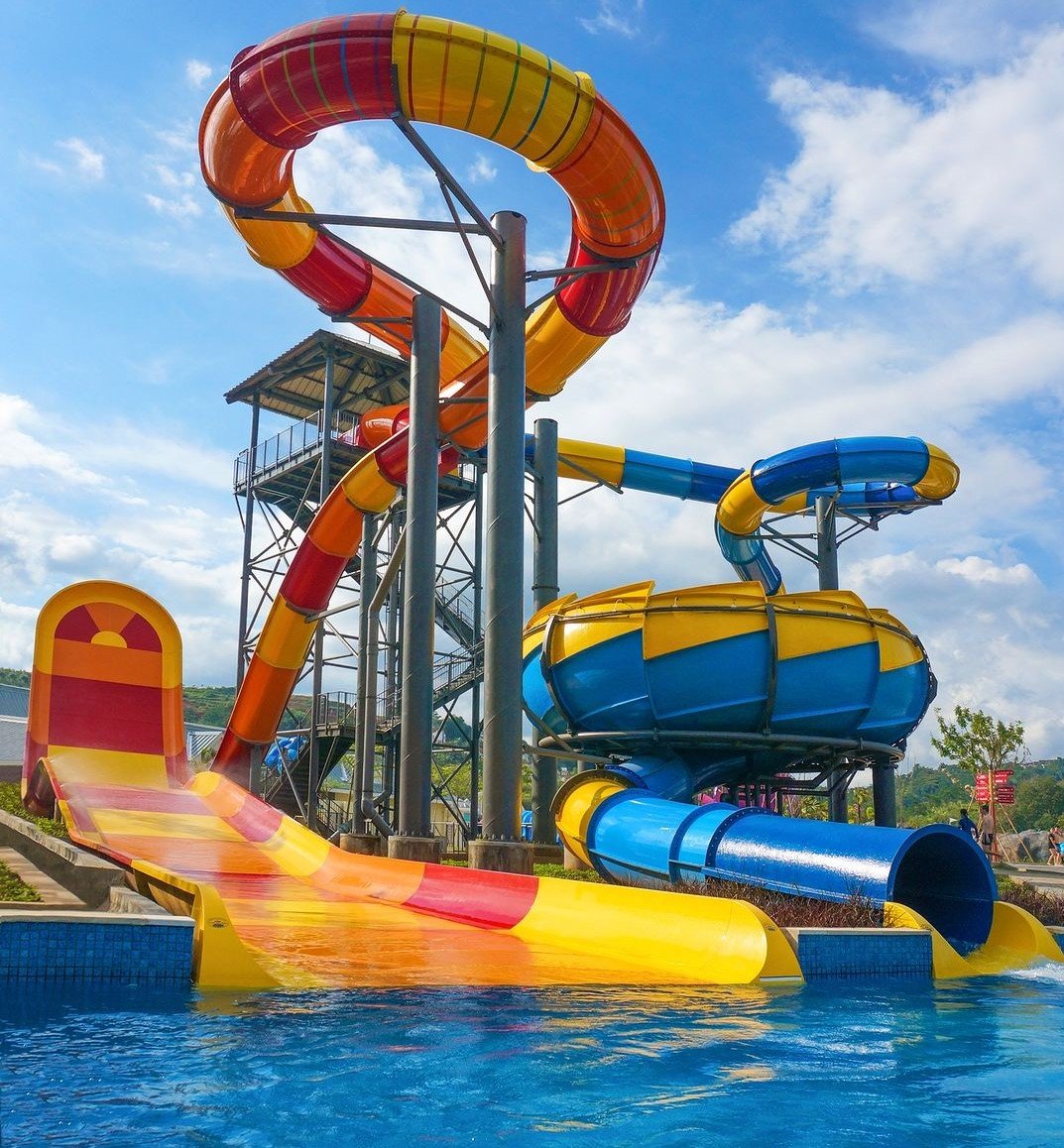 The newest water park in town and the biggest one, Wahoo, offers an exhilarating experience with a perfect blend of thrilling attractions and refreshing aquatic fun. With an array of heart-pounding water slides, lazy rivers, wave pools, and play areas, Wahoo caters to visitors of all ages, making it an ideal destination for families seeking an exciting day out. The park boasts a wide range of facilities, including safety lockers, gazebos, sun loungers, and a first aid room, ensuring visitors' comfort and safety. Wahoo promises a delightful escapade that leaves guests with unforgettable memories of joy and excitement.
Wahoo
Jl. Pancatengah Parahyangan St No.1, Bandung
P: 0811-2110-1000
Instagram
Website
2. Karang Setra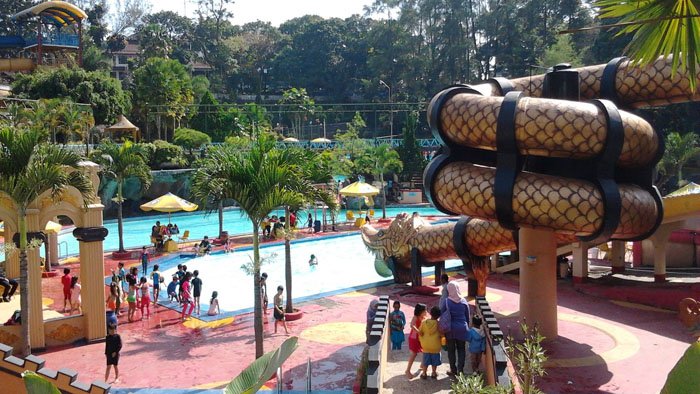 Karang Setra is a renowned water park in Bandung. The expansive area provides ample space for visitors to have a satisfying and enjoyable time. Formerly used as a practice area for swimming athletes, Karang Setra is now the perfect destination for your swimming day. The affordable prices attract a large number of visitors. Here, you can experience both exciting rides and enjoy leisurely swimming activities.
Karang Setra
Jalan Sirnagalih KM.4,5 No.15, Bandung
P: (022) 2035272
Instagram
Website
3. Kampung Batu Tektona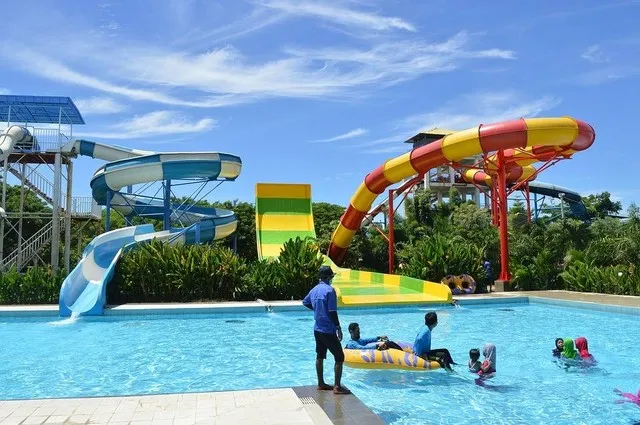 Kampung Batu Tektona is an excellent destination if you're seeking an exciting water park experience, particularly if you're visiting with children. The park features a spacious pool area with a variety of options, including a pool designed specifically for children with slides, a whirlpool equipped with tires, and a wave pool resembling a beach setting. Moreover, thrill-seekers can enjoy the exhilarating high slide with multiple slide choices.
Kampung Batu Tektona
Jl.Raya Banjaran, Bandung
P: (022) 85939653
Instagram
Website
Also Read:
---
---
4. Panghegar Waterboom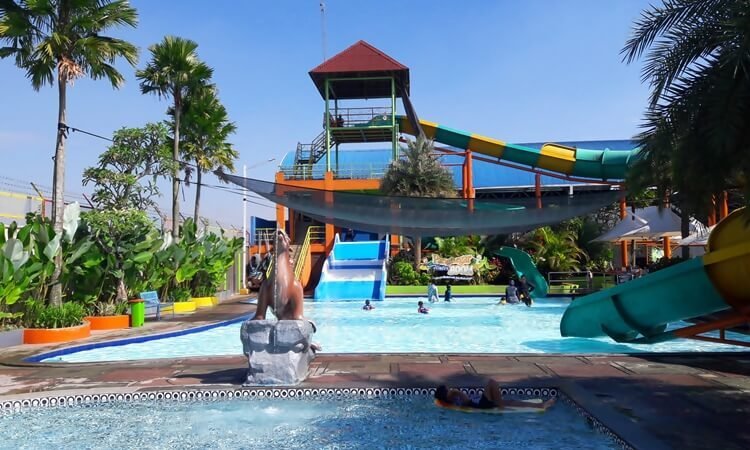 Panghegar Waterboom is an exceptional water park that guarantees an unforgettable aquatic adventure for visitors of all ages. It offers a wide range of thrilling activities, from high slides that cater to adrenaline enthusiasts to a semi-olympic area for those seeking a more relaxed swimming experience. Additionally, the water park provides a convenient food court where guests can enjoy a satisfying meal after their fun-filled water adventures. 
Panghegar Waterboom
Jl. Mengger Tengah No.37, Bandung
P: (022) 5227001
Instagram
Website
5. Margacinta Park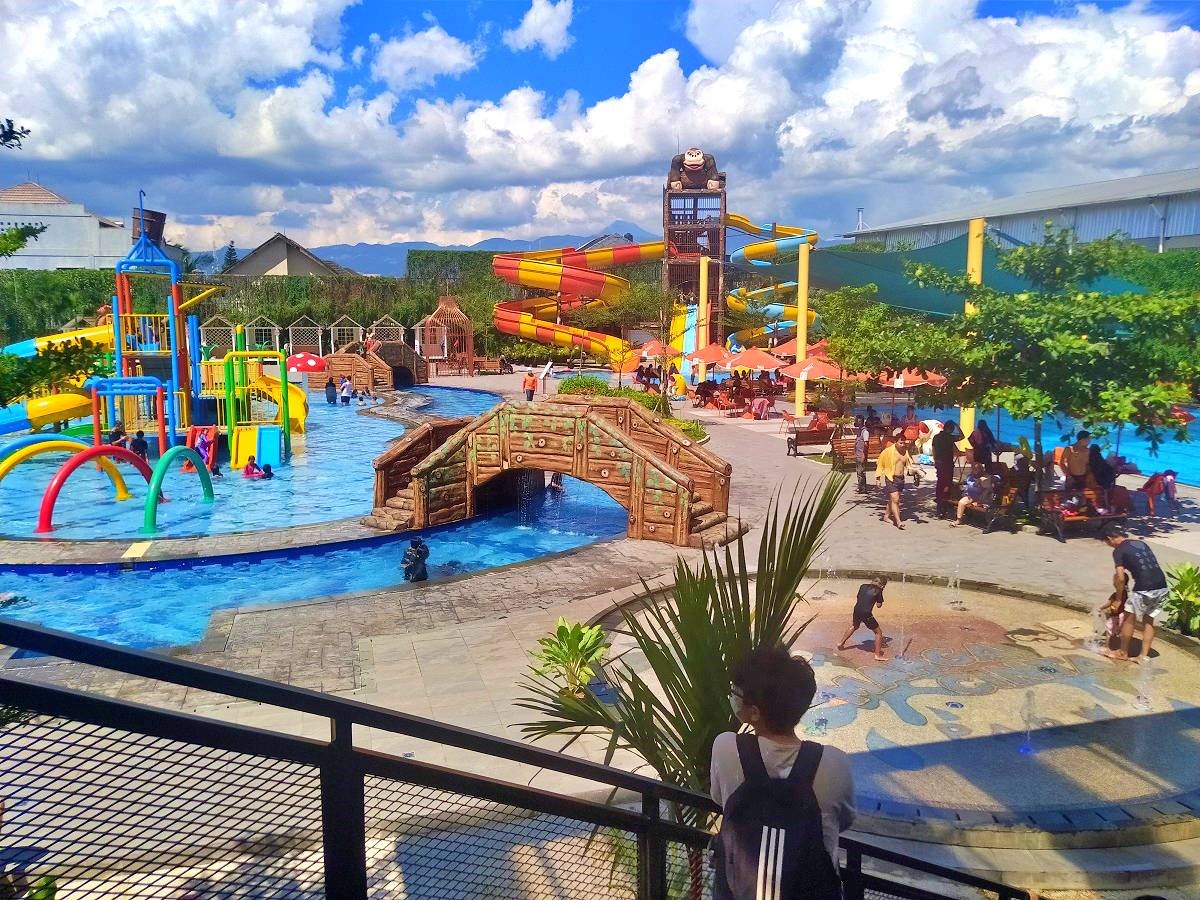 Margacinta Park is a delightful tourist destination situated at the heart of the bustling city of Bandung-Buah Batu. Boasting a wide array of attractions, the park offers a refreshing Waterpark and the enchanting Storyland Family Recreation Centre. With a blend of water-based excitement and enchanting storytelling adventures, Margacinta Park provides a perfect escape for locals and tourists alike seeking a memorable and enjoyable day out in Bandung.
Margacinta Park
Jl. Margacinta No.98, Bandung
P: 0812-2710-6290
Instagram
6. Pesona Nirwana Waterpark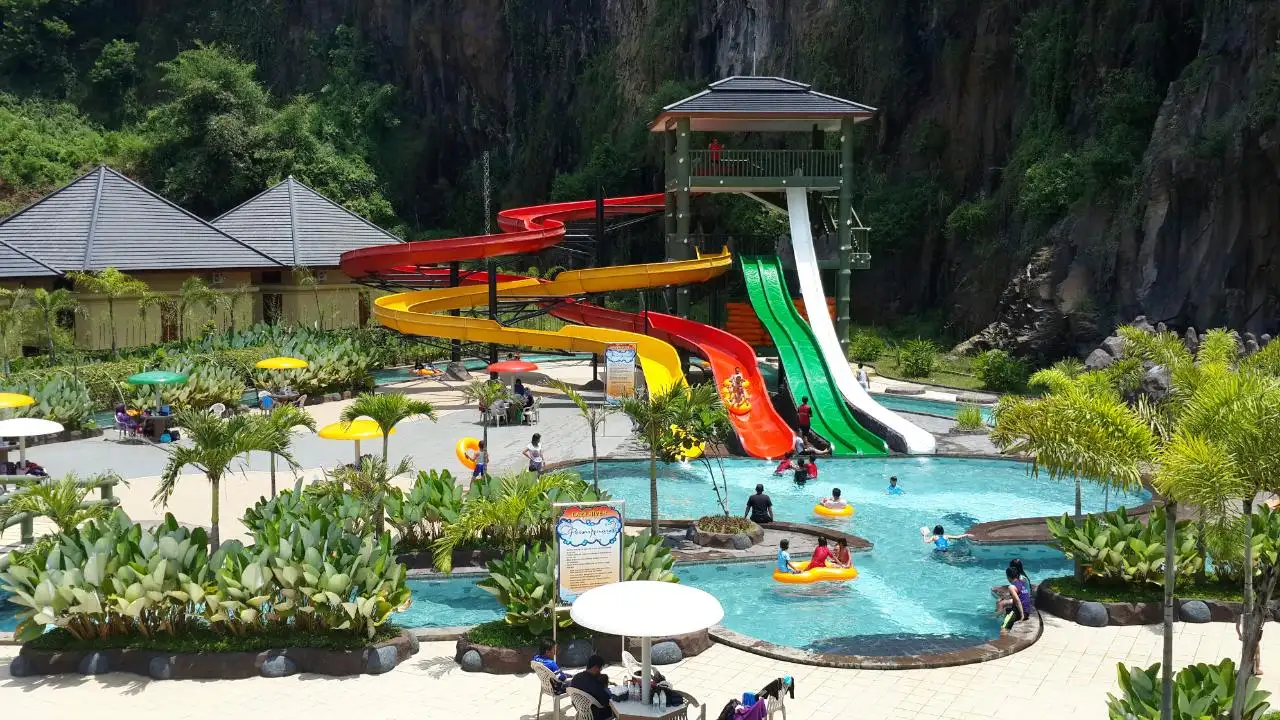 Pesona Nirwana Waterpark is an exciting and playful destination that offers a fantastic aquatic experience for all visitors. What sets Pesona Nirwana apart is its breathtaking scenery, with a natural cliff towering near the pools, providing a stunning backdrop for water activities. For those seeking a memorable and visually captivating water park experience, Pesona Nirwana is a must-visit destination that promises both enjoyment and stunning natural beauty.
Pesona Nirwana Waterpark
Jl. Terusan Cibako, Bandung
P: (022) 5882000
7. Oasis Siliwangi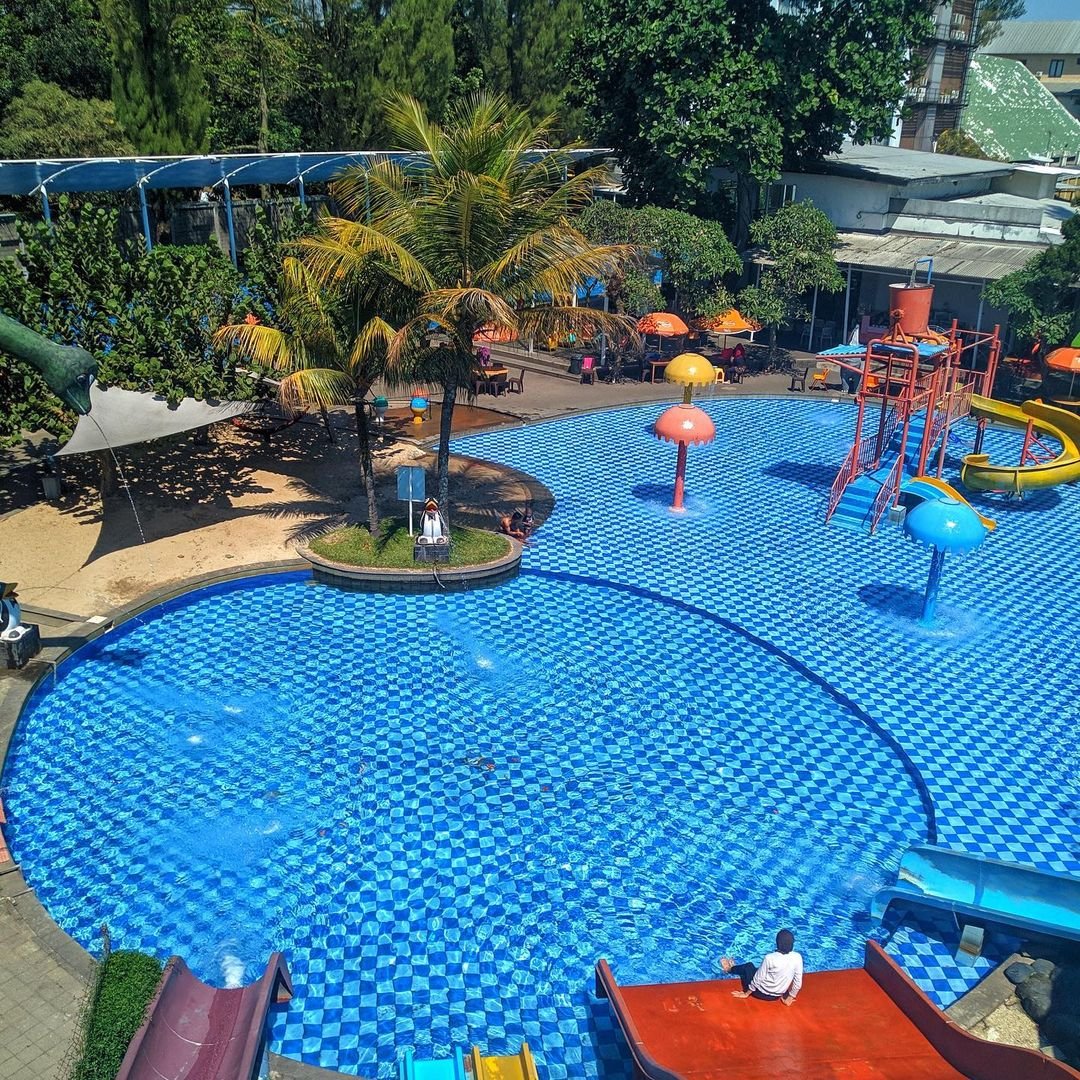 Oasis Siliwangi is a fantastic destination that features a heated outdoor Olympic swimming pool and a thrilling water park. The waterpark offers an extensive selection of attractions, ensuring an exciting experience for visitors of all ages. Among these attractions, you can discover two exhilarating Giant Sliders and two Mini Sliders, ideal for those in search of adrenaline-pumping water adventures. Moreover, the inclusion of a sand pool for children adds to the park's family-friendly ambiance, creating a perfect setting for a complete and enjoyable holiday with your loved ones. 
Oasis Siliwangi
Jl. Lombok No.10, Bandung
P: (022) 4222016
Instagram