Bali is undoubtedly the holiday destination for all kinds of travelers. From solo travelers to family vacationers, the island of the Gods has all sorts of family-friendly activities to choose from.
We've listed several family-friendly activities to try for the school holiday!
Bali Family Guide For Younger to Older Kids Fun Activities. Keeping Family On The Go and Creating Moments Together. 
Learn About Wildlife at Bali Zoo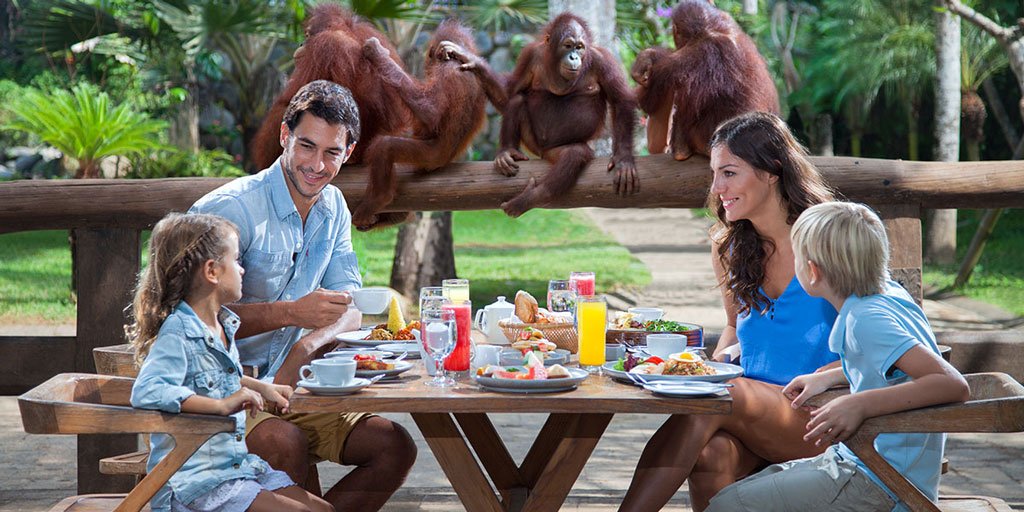 Bali Zoo is the ideal destination to check off your bucket list of wild animal activities since you can go on a lion safari, feed a tiger, and get cozy with an orangutan. Getting Zoological at the Bali Zoo is about more than just having exotic animals in eco-friendly habitats, or giving guests an immersive and hands-on experience. Also don't miss the morning zoo tour with your personal zookeeper to meet the zoo's other animal residents.
Bali Zoo
Jl. Raya Singapadu, Singapadu
www.bali-zoo.com
IG: @balizoo
Get Cozy with The Birds at Bali Bird Park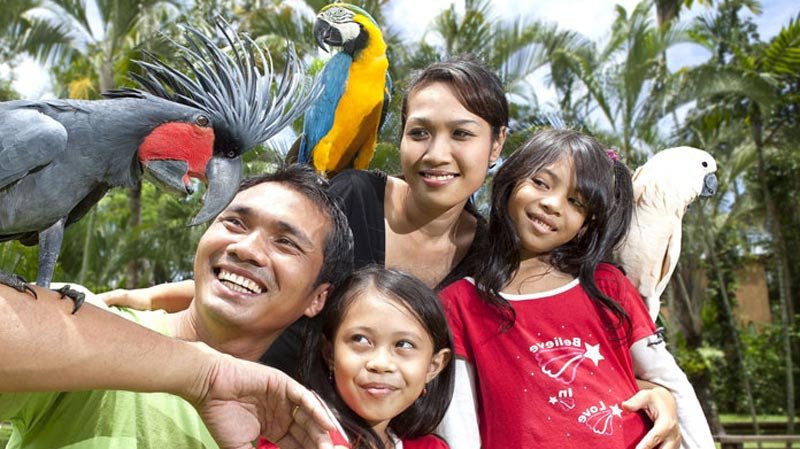 photo credit: Bali Bird Park
You simply can't miss a family outing with feathery friends at Bali Bird Park. With about 250 species and 1000 birds, many of which are indigenous to Indonesia, as well as exotic kinds from Latin America, Africa, and Australia, there is a lot to see and learn. Bali Bird Park is separated into zones that imitate its species' native habitats, are replete with local plant life, and are critical to the protection and conservation of Indonesia's endangered species.
Bali Bird Park
Jl. Serma Cok Ngurah Gambir Singapadu, Batubulan
www.balibirdpark.com
IG: @balibirdparkofficial
Book "Ubud tour and bird park"
Take On The Slides at Waterbom Bali
Bali's first and biggest waterpark has been around for almost 30 years and successfully maintained its park very well. With more than 20 slides to choose from, a day in Waterbom Bali is guaranteed to keep your children happy and busy but also gives time for parents to relax. Cruise along the Lazy River or get your adrenaline rushing with extreme slides such as Climax or Smashdown 2.0, and little children can enjoy playing at the water fort in the Funtastic Kiddy Area.
Waterbom Bali
Jl. Kartika Plaza, Kuta
www.waterbom-bali.com
IG: @waterbombali
Paragliding in Tandem Bali
Paragliding is truly a gift for any traveller, the opportunity to observe the island of the Gods and admire its incomparable beauty, seen exclusively from a bird's eye view. Paragliding is truly a gift for any traveller, the opportunity to observe the island of the Gods and admire its incomparable beauty, seen exclusively from a bird's eye view.
Shop & Play at Tamora Gallery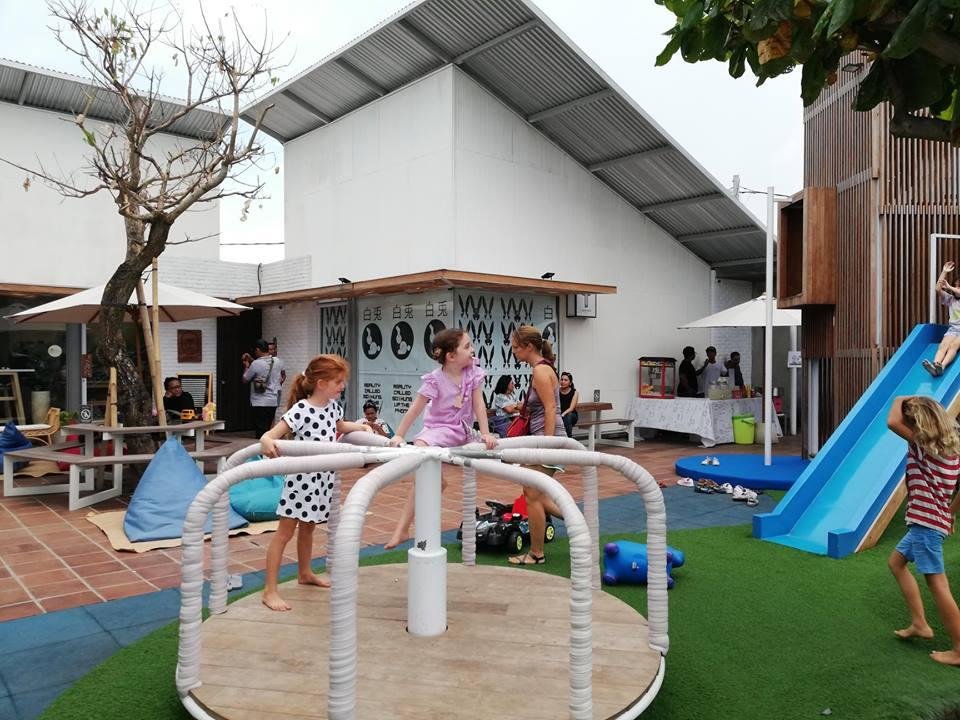 photo credit: Tamora Group
Tamora Gallery is one of Canggu's busiest spots and the perfect family destination. Parents can chill at one of the shops or restaurants available while waiting for their children. At the park, children can play at the immersive outdoor playground, equipped with a towering jungle gym, slides, tunnels, an artificial hill, a merry-go-round, swings, a see-saw, and a park-like area.
Tamora Gallery
Jalan Pantai Berawa No.99, Tibuneneng, Canggu
www.tamoragroup.com
IG: @tamoragallery
Pottery Making at Sari Api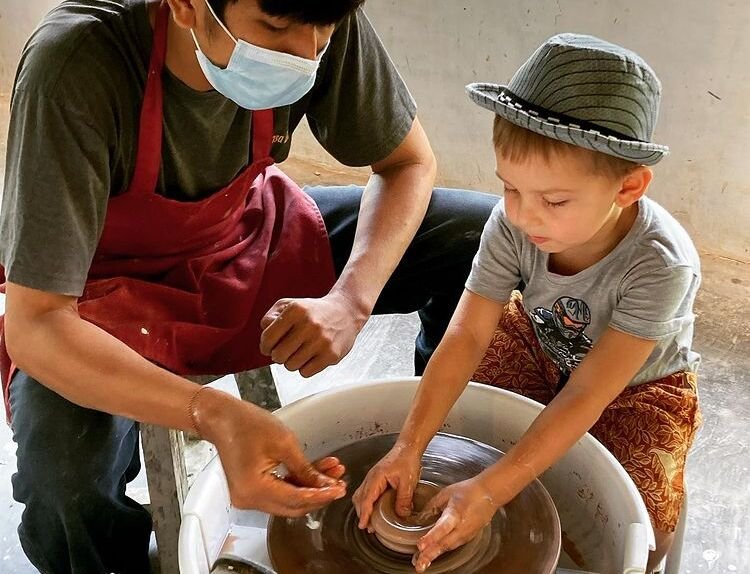 photo credit: Sari Api
Let your children get their hands dirty but in a good way! At Sari Api, children as well as adults can participate in their pottery-making class. With the simple task of making a small bowl or a mug, children will also be taught on how to shape the clay on the wheel. You can also take home your masterpiece and show it off to your friends and family back home.
Sari Api
Jl. Suweta, Ubud
Tuesday – Saturday from 9:30 to 16:30
Contact: +6281 338 814 973 (WA only)
IG: @sariapiceramics
Cycling with Ubud Cycling Bike Tour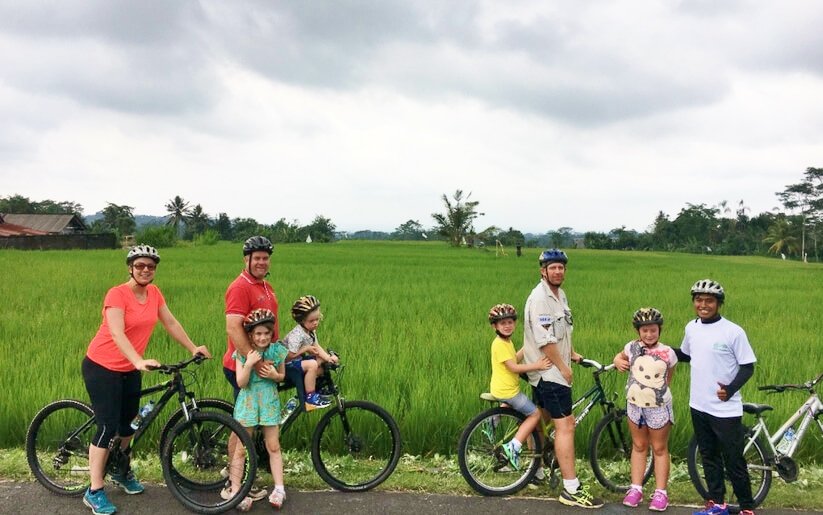 photo credit: Rolling Along With Kids
Finding activities to do in Bali with kids that are suitable for the entire family is always a challenge. You may be concerned that the activity will not be suitable for all ages, depending on the ages of your children. A Bali cycling trip is one of the nicest activities to do with kids. Younger children can even participate in the tour, as the tour operator can provide you with a toddler seat that is fitted on the bike. The tour also consists of other educational activities such as visiting a local school, an organic plantation, and a waterfall experience.
Learn to Surf with Bali Surfing Lesson
Surfing is a thrilling experience, and your children will enjoy their time at the beach. But remember, it is best to hire a local professional to teach them how to surf. Bali Surfing Lesson has a class for children from the age of 7 to 15 years old, all of their surf coaches are patient and pay close attention to your children. They will assist your children until they can stand up safely on the board.
Book "Surfing in Bali at Wave House"
Bounce Bali
Jl. Pantai Berawa, Tibubeneng
www.bouncebali.com
IG: @bouncebali
Balloon in Bali

In your childhood you must have dreamt to become a cosmonaut, or to fly to the moon, or to make a journey on an air balloon. We don't know if you managed to travel into space when you grew up, but the rise on an air balloon can make anyone. To do that go to Ubud, the heart of Bali, where the professional team will meet you. On a big air balloon you will rise over 50 meters above the ground and float over the rice fields, villages and tropical woods. You will be delighted with the view, revealed from above! An air balloon ride perfectly fits romantic date or family vacation.
Rafting in Bali - Exciting Things To Do
Buggy Adventure in Bali

Buggy is an experience of extreme driving on small cars with high cross-country ability and power on specially prepared tracks for your best drifts. The route has an abundance of turns, slopes and ascents and a variety of surfaces: sand, stones and clay. The total length of the race is 2 or 3 laps, the length of each lap is about 5 km. Feel the energy, adrenaline, and control over the power of the car — this incredible experience will stay with you for a lifetime! After the ride, you will have a delicious lunch at a local restaurant. On the territory of the center you can take a shower, swim in the pool or just relax with a view of the jungle and rice terraces. You can also visit the Mason Adventure Chocolate Factory shop and taste natural Balinese chocolate.
Sea Cruise and Coral Fishing in Yacht Bali
Enjoy mild sea wind, salt water splashes and views of the coast... Escape for one day from the fuss and feel the enveloping happiness and freedom of sea travel. All this you can experience on a comfortable boat during an eight-hour sea cruise to Nusa Penida and Lembongan islands. You will try coral fishing, snorkeling and have a delicious seafood lunch in the restaurant on Nusa Lembongan island (not included). The islands are about 40-minute drive away.
Book "Sea cruise & coral fishing on the yacht"
Helicopter Tours in Bali
Check our more Bali Holiday Family Fun Packages