When you're on a holiday with the family, sometimes you need some me-time or couple-time away from the kids. Luckily for you, now there are plenty of great kids' clubs and playgrounds in Bali. Not only will they have an amazing playground theme but the child takers will also help to take care of your child and entertain them. 
Rekomendasi Klub dan Taman Bermain Anak Terbaik di Bali
 

The Best Kids Playgrounds and Clubs in Bali Hotels

Have a stress-free holiday with your kids by choosing the right hotel for your family in Bali

 
Westin Family Kids Club in The Westin Resort Nusa Dua 
As a luxury family resort, The Westin Resort Nusa Dua, Bali offers an assortment of complimentary facilities just for kids. The Westin Family Kids Club, our resort's hub for children, is a supervised center complete with games, toys, and enriching activities to give parents complete peace of mind. Renowned as one of the most family-friendly resorts in Bali, the resort boasts a spacious outdoor playground, while our kids' club features fun activities such as face painting, kite making, fishing, movie night, stargazing, and much more to cater to children between the ages of 4 and 12. Other than playing and learning, we ensure the well-being of young guests with our Discover Kids program's delicious and nutritious meals. Embodying our values as a family hotel, The Westin Resort Nusa Dua, Bali offers plenty of activities for the entire family to enjoy, from cycling tours around Nusa Dua, Balinese dance lessons, water volleyball, and fruit carving.
The Westin Resort Nusa Dua, Bali
Phone: 0361 - 771906
Website
Opening hours: 9.00 am – 9.00 pm
Jungle Kids Club in Hilton Bali Resort
Renowned for its family-friendly concept, Hilton Bali Resort manifested its passion and dedication by providing Jungle Kids Club for kids aged 4 to 12. Jungle Kids Club is the resort's supervised playground that features indoor and semi-outdoor areas with a mini treetop playground, a trampoline, and a climbing wall for your little one's enjoyment. Their trampoline and wall climbing facilities will enable children to jump around and climb using secured lines under the watchful eyes of the resort's trained team. Our 8-meter climbing wall is designed to resemble real rock and is well-equipped with safety features to provide the safest way for your kids to climb. Jungle Kids Club also offers daily activities that are specifically designed to engage children in an active way. In its indoor area, there are simple arts and crafts, books, PlayStation, and board games for children from 6 to 12 years old. Some activities are also done in a group so that the kids can make new friends during the holiday.
Hilton Bali Resort
Address: Jl. Raya Nusa Dua Selatan
Contact: 0361-773377 ext. 88218
Website
Opening hours: 9.00 am – 5.00 pm
Meera Kids Club in Movenpick Jimbaran

Meera Kids Club at Mövenpick Resort & Spa Jimbaran Bali offers a vast array of healthy, fun and educational entertainment options for children ranging from 4 – 12 years old. Children below 4 years old can enjoy the facility with full supervision from parent or legal guardian.
Activities include sports like children aerobics, yoga, stretching, as well as cultural activities. Outdoor fun is also available with multiple children pool activities. Children will also be kept busy with our arts and crafts enjoyment like painting, jewellery and kite making; all within a dedicated child-safe play area. Meera Kids Club opens daily from 9.00 am to 6.00 pm. For reservation please contact us via phone +62 361 4725777 or email.
Movenpick Bali Jimbaran
Jl. Wanagiri no. 1, Jimbaran
Phone: +62 361 472 5777
Website
Mookiland Bali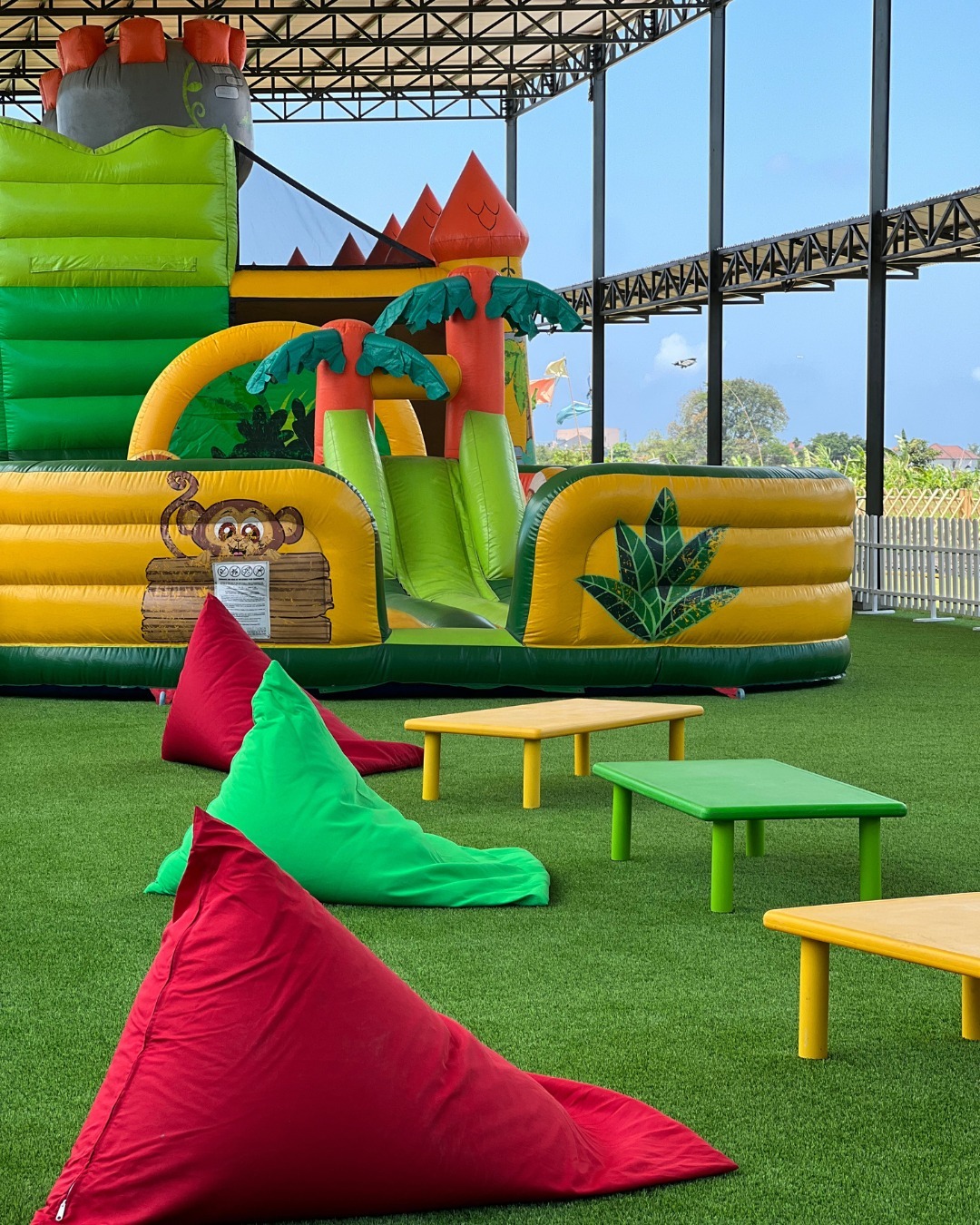 Before gracing the beautiful island of Bali in 2023, Mookiland originated as an indoor playground brand operating since 2016 in Jakarta, Indonesia. Collaborating with major malls and event venues (Lippo Mall Kemang, Kota Kasablanka, Taman Anggrek, Summarecon Bekasi, Gandaria City, Ciputra World, Living World, PIK, Palembang Icon), Mookiland introduced non-permanent children's play areas. Presently, their focus shifts to the exciting "Mookiland Family Park" project in Bali: a sprawling 5,000-square-meter outdoor park with thrilling attractions for both kids and adults. Including a 500-square-meter semi-covered area, ideal for sunny days or light rain, and a restaurant for relaxed family moments, Mookiland aims to be Bali and Indonesia's premier family-friendly destination.
Jl. Raya Kedampang, Kerobokan Kelod, Kec. Kuta Utara, Kabupaten Badung, Bali 80361
Website 
Instagram 
The ANVAYA Kids Club in Kuta

The ANVAYA Kids Club is our dedicated childcare facility designed for our young guests aged 4 to 12 years old. The club is fully supervised and secure, with ample recreational space for age–appropriate and culturally enriched fun, with both indoor and outdoor activities on offer.
The Anvaya Resort Kuta
Jl. Kartika Plaza, Tuban, Kuta
Phone: +62 361 2090477
https://www.theanvayabali.com/en/attraction/detail/2-the-anvaya-kids-club
WOLLY Kids Club & Game Center in Padma Resort Legian
Exclusively for in-house guests aged 4 – 12 years old, Wolly Kids Club provides supervised indoor and outdoor spaces for kids to play, interact, and relax. supervised activities like arts and crafts, Fun Yoga, Balinese Dancing, Towel Origami, Duck feeding, Turtle Feeding, Fish Feeding, Canang sari Decoration, Paper origami, and Bingo Games. Open daily, 9AM – 9PM
Padma Resort Legian
Jl. Padma No. 1 Legian - Bali 80361 Indonesia
Phone : +62 361 752 111
Email: [email protected]
https://padmaresortlegian.com/facilities/wolly-kids-club-and-games-centre.php
Play@Sheraton in Sheraton Bali Kuta Resort
Play@Sheraton's concept is based on a simple goal, EDUTAINMENT, combining educational entertainment for the kids to explore their creativity. The kids club aims to facilitate intellectual stimulation and fun through engaging and captivating daily games and activities, exploring Bali's culture, community, and people. Programs are provided for two different age groups: Kids Zone (3-5 yo) and I'm an Explorer (6-12 yo). Play@Sheraton also features an outdoor playground as well as a kid's pool to keep kids active, and energetic and experiment with playing in the outdoors. We also believe that eating well is essential for growing children and we provide a healthy kid's menu that is nutritious, making both parents and kids happy.
Sheraton Bali Kuta Resort
Sahid Kuta Lifestyle Resort
Phone: 0361 - 8464888
Website
Opening hours: 11.00 am – 8.00 pm
Wonderland Kids Club at Four Points by Sheraton Bali Kuta
Kids Club-themed wonderland has a wide selection of activities designed to stimulate and entertain children from 3 to 12 yo complete with a Miniature Marketplace, Play Kitchen, Tree Houses, and make-believe river. Kids can build Lego masterpieces, play house with dolls or slide down from the tree house overhead into a pool of balls, all in a safe environment. Kids can while away the hours getting involved in fun-filled activities like photo sessions in Balinese costumes, arts & crafts, and Balinese dance lessons. To catch a break, kids can enjoy the exciting camp area complete with miniature picnic tables, and LED TV with the latest child-friendly movies. And to satisfy the appetite, Kids Lunch offers delicious and adorable all-time favorites fortified with vitamins and fibers. Also, the cooking class P.I.M.P (Papa! I Made Pizza) is available for the kids to learn interactively with the pizza maker step-by-step of making your very own crafted well-baked pizza with IDR 95,000++ per kid and Decorate Your Own Sundae Program with Gelato and up to 6 choices of topping for only IDR 35,000 net per kid. P.I.M.P (Papa! I Made Pizza), Kids Lunch and Decorate Your Own Sundae are chargeable activities and required one-day booking in advance.
Four Points by Sheraton Bali Kuta
Contact: 0361-8496606
Website
Opening hours: 10.00 am – 5.00 pm
Kupu-Kupu Kids Club in Bali Dynasty Resort
The Kupu-Kupu Kiddies' Club is renowned as one of Bali's best Kids' Club facilities. The Kids' Club area is divided into two sections with the ground floor air-conditioned kids' club catering for ages 4-12 years, whilst the first floor is The Den Teens Club catering for those aged between 10 and 16. Recently these two areas undergo major upgrades with the re-theming with a new Superhero and Disney theme, removing the mid-room partition to allow more space for the activities, replacing the toys and games, and introducing several kids activities offering a balance of fun and education for the children. Both facilities are provided free of charge. The Den features Internet, Wii, Play station, X-Box, Movies, Pool, Table Tennis, and Table Soccer. The Den Teens Club's wall was also repainted with fun graffiti to give it a fresher look. Adjacent to the kids club is the Kids Water Fun Zone with its' giant tipping bucket, two mini waterslides, pull ropes, water curtain, tipping cone, bubbler jets, hose jets, water cannons, and tipping troughs enabling the kids to have hours of fun. To the north of the Kids' Pool is the baby pool with its mushroom water fountain and beyond that is the new kids' play area with swings, a climbing frame, a seesaw, slides, and table tennis.
A professionally trained team of staff is on hand to ensure the utmost safety and security of children with a full, action-packed list of activities that enable parents to enjoy a relaxing break.
Bali Dynasty Resort
Address: Jl. Kartika Plaza, Tuban, Kuta
Contact: 0361-752403
Website
Opening hours: 9.00 am – 6.00 pm
Roxity Kids Club in Kuta
Family holidays always translate to 'fun fun fun' for kids at Hard Rock Hotel Bali. For the little ones, Roxity will keep them happily occupied with an assortment of activities and games by experienced staff.  From Lego Building, Art & Craft activities, Play-Doh modeling, Balinese Dancing, Treasure Hunts, and Pizza making to Sports Games and Rock Climbing.   There is always something exciting happening at:
Roxity! Join the Roxity Kids. Creating fun from 9 am – 6 pm.
TABU Teens Club is open from 10 am – 6 pm.
Lullaby Playroom is open every day from 10 am - 5 pm.
Hard Rock Hotel Bali
Contact: 0361-761869
Website
Opening hours: 9.00 am – 6.00 pm
Waka Waka Bali in Furama Xclusive Seminyak
Underwater-themed indoor playground for children aged 9 months and up
Located at @furamabali FuramaXclusive Seminyak
Open daily 9am - 6pm
Furama Xclusive Seminyak
Address: Jl. Arjuna No.88X, Legian
Phone: +62 361 737400
https://playatwakawaka.com/home/bl
Play by COMO in COMO Uma Canggu 
Play by COMO Space is designed to inspire purposeful and creative child-directed play for children aged four to 12, with carefully selected toys, books, games and art materials. The Play Space is open daily between 9.00am and 6.00pm. Toddlers under four must be accompanied by a babysitter or parent at all times.
Como Beach Club, Echo Beach, COMO Uma Canggu, Jl. Pantai Batu Mejan, Canggu
Phone: +62 361 620 2228
WA. +62 811 3821 4845
https://www.comohotels.com/bali/como-uma-canggu/experiences/play-by-como
Cubby House Kids Club and Day Care in Finns Rec Club
Cubby House Kids Club provides a lively and stimulating environment where children can play and learn at the same time. Located at Finns Recreation Club.
Finns Recreation Club
Address: Jl. Pantai Berawa, Canggu, Tibubeneng
Phone: +62 361 8483939
https://www.cubbyhousekidsclub.com/
Parklife Kids Club in Canggu 
Parklife Kids Club offers a fluid mix of indoor and outdoor play, with a daily schedule of creative and engaging activities for children ages 3+. Kid-friendly haunt in a rural setting, featuring play areas, cultural performances & global cuisine.
Address: Jl. Raya Uma Buluh No.15, Canggu
Phone: +62 818-0511-3200 
https://www.parklifebali.com/ 
https://www.instagram.com/parklife_bali/
Lalaboo Kids Playground & Cafe in Denpasar
It's a proper playground with good quality of toys. All the things here are kids friendly. 
Address: Batu Mekaem, Jl. Kertanegara No.114, Bina Permai, Ubung Kaja, Kec. Denpasar Utara
Open Daily 10AM - 9PM
Phone: +62 877-7117-7786
Instagram