Bali, the enchanting island paradise, is ready to pamper families on vacation with its idyllic landscapes and warm hospitality. When it comes to choosing the perfect family resort in Bali, the options are endless. To help you make the most of your summer vacation, we've curated a list of the best family-friendly resorts with thrilling water slides and pools that promise endless fun and unforgettable memories. From lagoon pools to splash zones, these resorts offer something special for everyone. Get ready to slide and dive into the best of Bali's family resorts!
Best Family Resorts with Water Slide Pools in Bali
Apurva Kempinski - Embrace Balinese Culture in Nusa Dua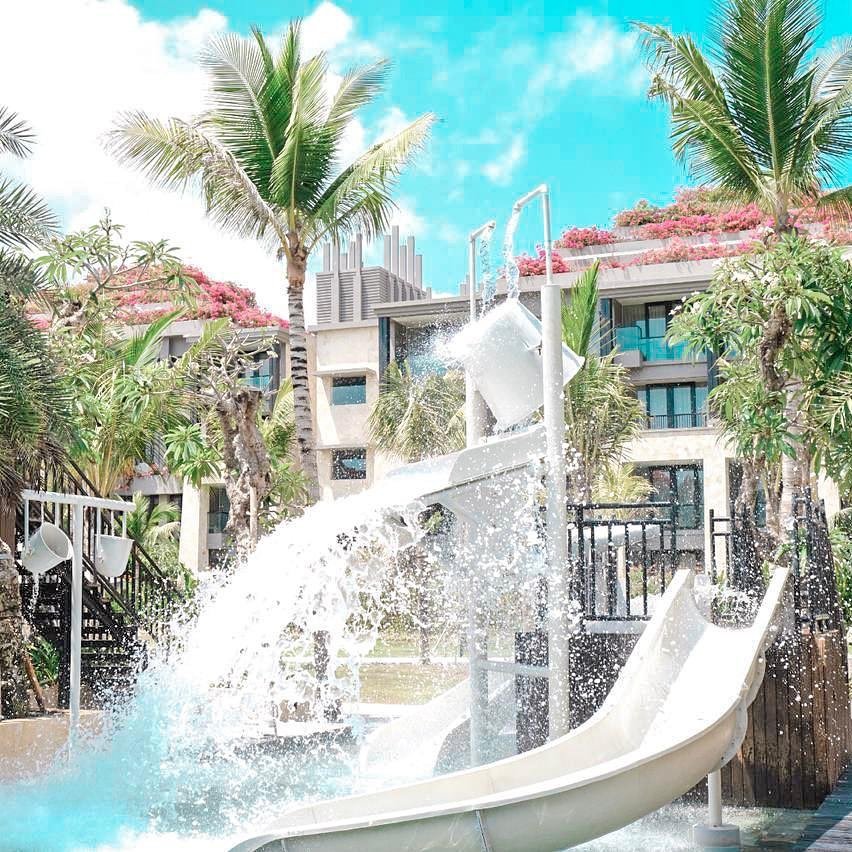 The Apurva Kempinski resort invites guests to immerse themselves in authentic Balinese culture amidst the picturesque Nusa Dua area. With 475 rooms, suites, and villas, the resort offers privacy and a chance to strengthen bonds with your loved ones. The 60-meter-wide swimming pool, complete with thrilling water slides, is set amidst tropical parks, offering stunning views of the Indian Ocean. Children can also enjoy a separate pool adjacent to the main one, ensuring a complete summer experience within the resort's boundaries.
Jl. Raya Nusa Dua Selatan, Benoa, Kec. Kuta Sel., Kabupaten Badung, Bali 80361
Phone: +62 361 209 2288
Website
Instagram
Bali Dynasty Resort - Unique Layout for Every Need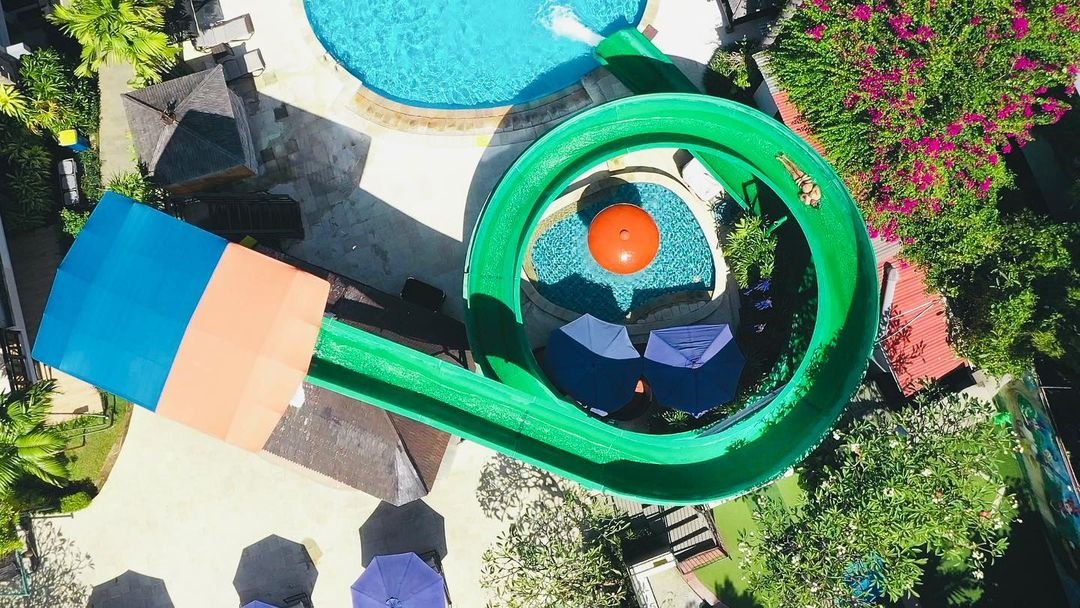 For families of all sizes and preferences, the Bali Dynasty Resort offers a unique and practical layout at a competitive price. Boasting a 56-meter water slide that flows into the kids' water park, the resort goes the extra mile to keep the little ones entertained. With six additional kids' pools featuring a Water Fun Zone and a Giant Waterslide, teens and younger kids will find their own slices of paradise. The resort even offers specially designed rooms for families of up to six guests, with kids under 12 eating for free.
Jl. Kartika Plaza, Tuban, Kec. Kuta, Kabupaten Badung, Bali 80361
Phone: +62 811 3803 522
Website
Instagram
Grand Hyatt - Ultimate Family Bliss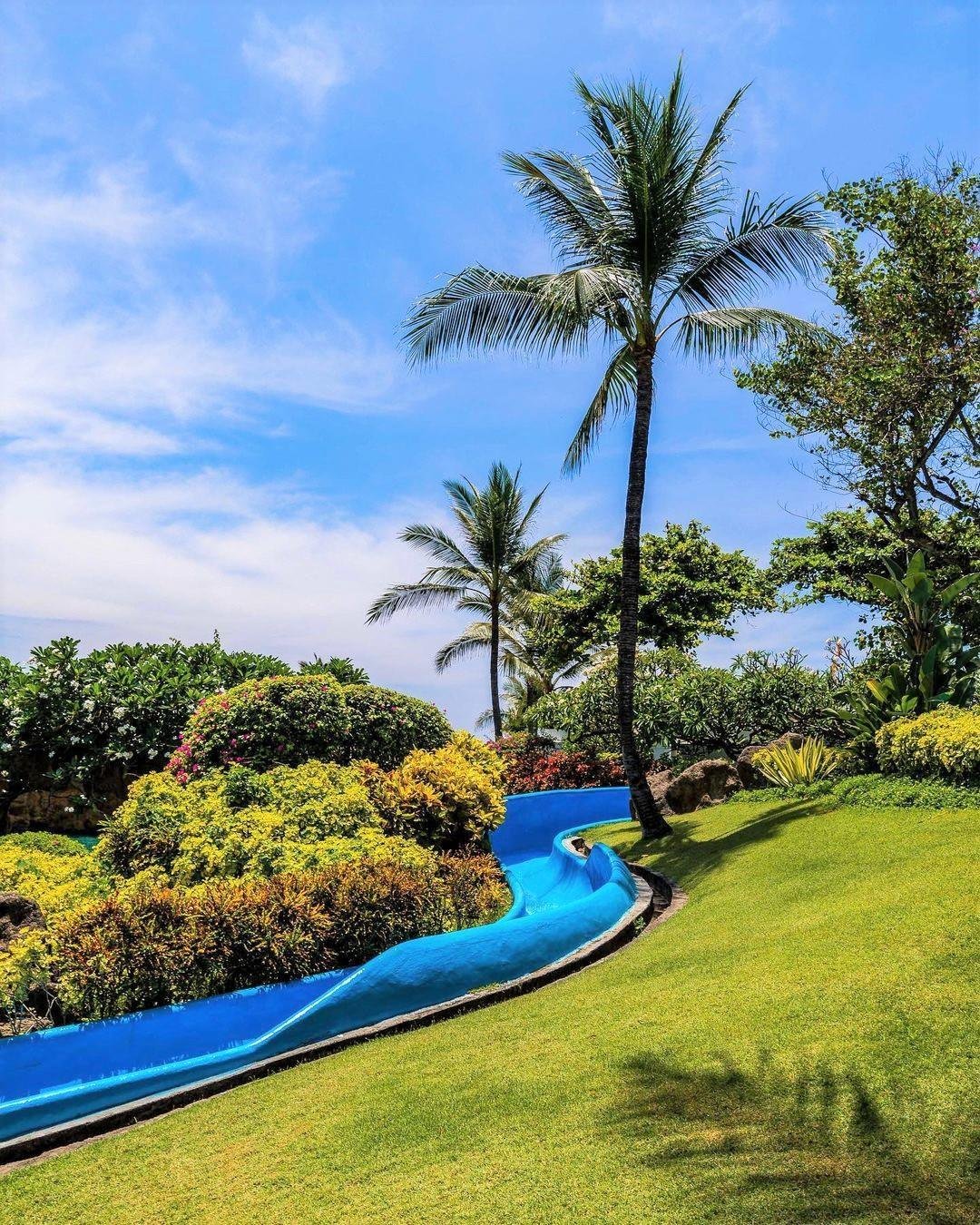 The Grand Hyatt promises the ultimate family bliss with its five swanky pools, each catering to different preferences. While the lagoon pool offers breathtaking ocean views, the Balinese-featured pool transports guests to fabled lands. Kids can revel in their splash extravaganza at the River Pool, complete with slides, lush surroundings, and lily ponds. For a more memorable experience, opt for the brand new Family-Themed Room, where little ones can embark on a fantastic journey during their stay.
Kawasan Wisata Nusa Dua BTDC, Jl. Nusa Dua, Benoa, South Kuta, Badung Regency, Bali 80363
Phone: +62 361  771 234
Website
Instagram
Hard Rock Hotel - Where Entertainment Meets Adventure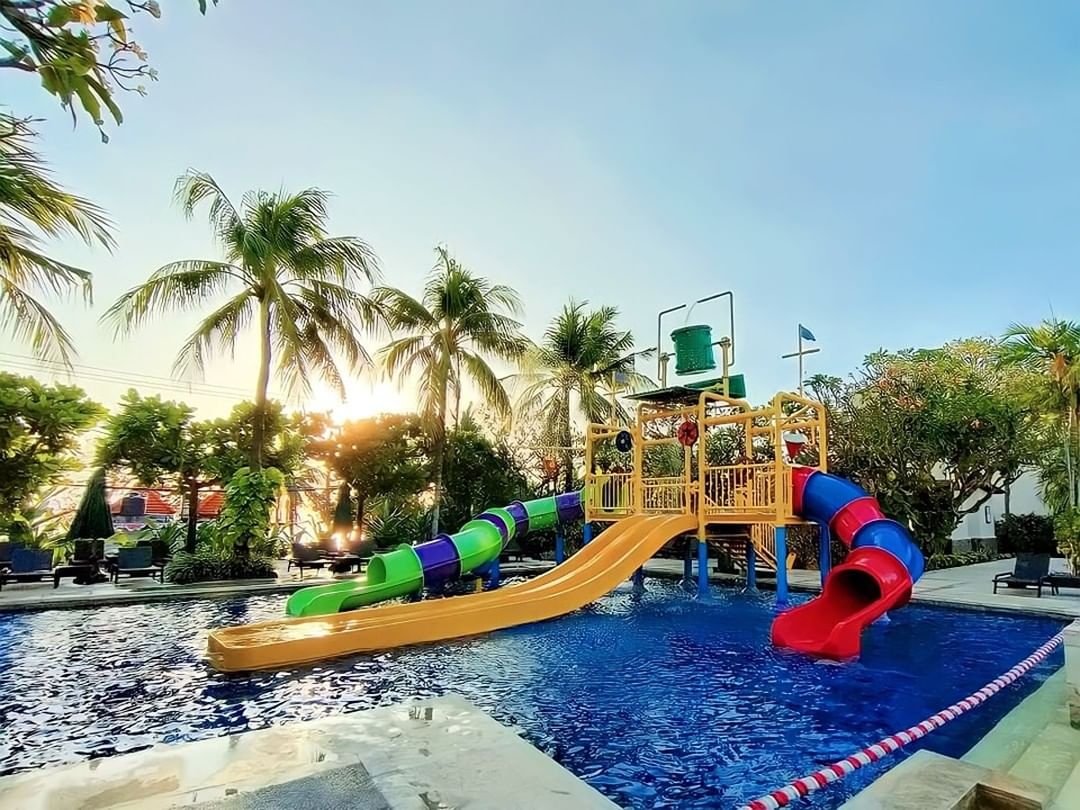 Nestled in the vibrant heart of Kuta, the Hard Rock Hotel stands as Bali's leading entertainment hotel. Its largest free-form pool on the island is equipped with heart-pounding water slides, ensuring a thrill for all ages. While the Hard Rock Cafe is famous for its music-themed decor, the resort offers much more, with dedicated kids' clubs like LULLABY Playroom, TABU Teens Club, and Roxity Kids Club™, guaranteeing endless fun for your little rock stars.
Jl. Pantai Kuta, Banjar Pande Mas, Kec. Kuta, Kabupaten Badung, Bali 80361
Phone: +62 623 6176 1869
Website
Instagram
Movenpick Jimbaran - Luxury and Play for All Ages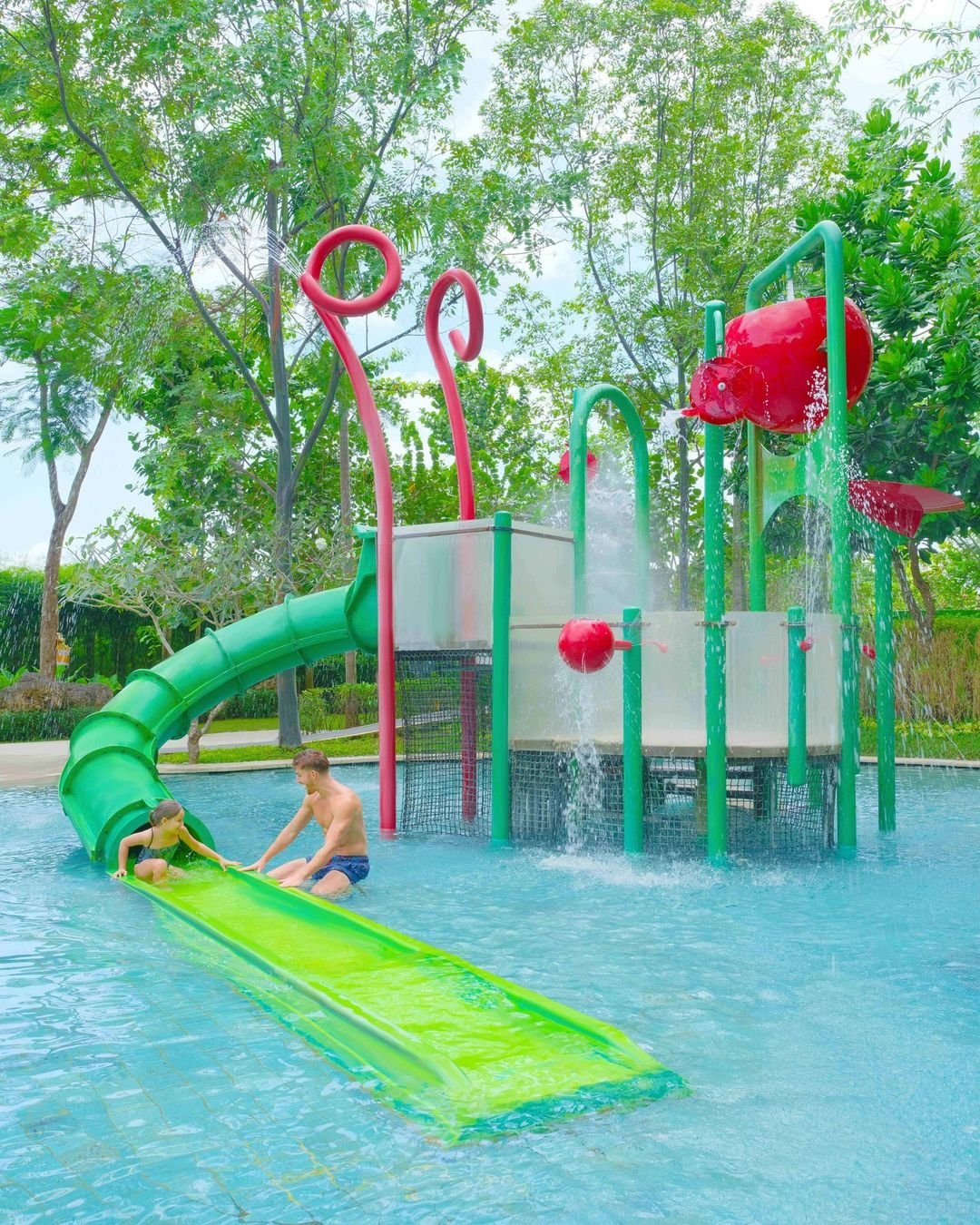 Movenpick Resort and Spa Jimbaran is a haven for families, with luxury rooms and amenities catering to toddlers and teenagers alike. The resort boasts four outdoor pools, including a children's pool with water slides and fun water features. The kids' club, Meera Kids Club, is a thrilling pirate-themed zone with play areas for various age groups, ensuring that both indoor and outdoor playground experiences are thoroughly enjoyed.
Jl. Wanagiri No.1, Jimbaran, Kec. Kuta Sel., Kabupaten Badung, Bali 80362
Phone: +62 361 472 5777
Website
Instagram
Padma Resort Legian - Pools Galore in a Tropical Oasis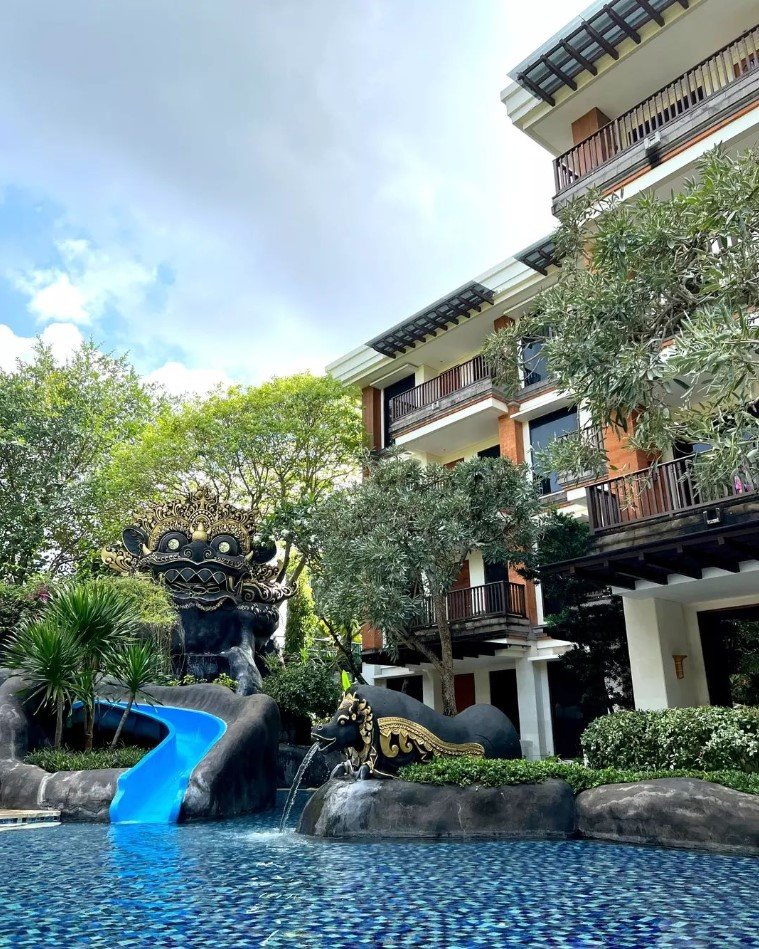 Close to the beach and the airport, Padma Resort Legian offers an abundance of sun, sand, and sea. Its five different pools, including a family pool with multiple slides and a mushroom fountain, ensure endless fun for the little ones. Amidst expansive gardens, adults can indulge in relaxation at the adults-only infinity pool with a swim-up bar. Meanwhile, kids remain engaged at the well-equipped kids' club, ensuring a memorable and carefree vacation for the whole family.
Jl. Padma No.1, Legian, Kec. Kuta, Kabupaten Badung, Bali 80361
Phone: +62 361 752 111
Website
Instagram
Prama Sanur - Beachfront Bliss with a Family-Friendly Touch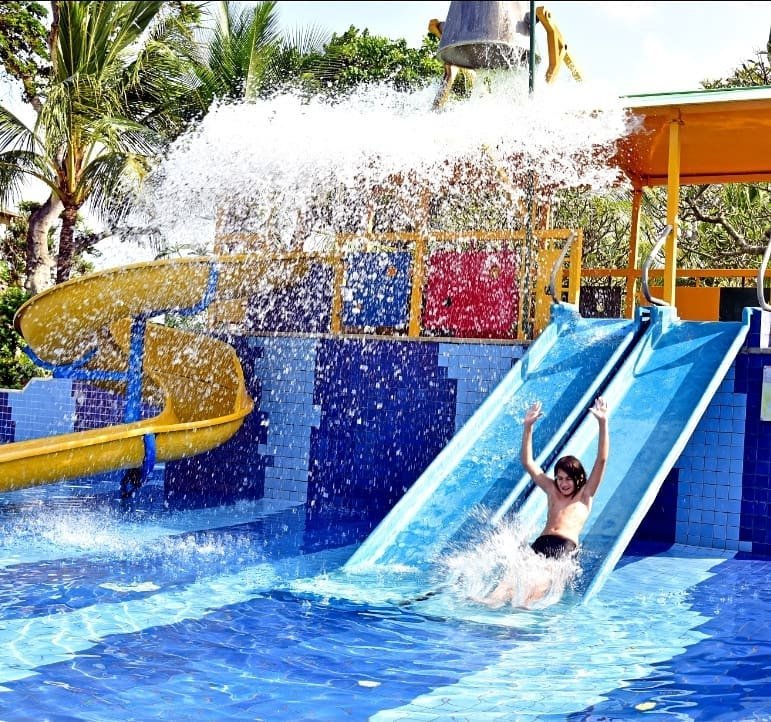 Nestled on Mertasari Beach, Prama Sanur Beach Bali offers plenty of beachside excitement. During low tide, children can explore the marine life around the marina. The resort's two outdoor pools, including a splash zone for kids, keep everyone entertained. The kids' club ensures parents have some alone time while the little ones enjoy various activities. Additionally, Prama Sanur boasts tennis and volleyball courts, spa services, yoga, and a fitness center.
Jl. Cemara, Sanur Kauh, Denpasar Selatan, Kota Denpasar, Bali 80228
Phone: +62 361 288 011
Website
Instagram
RIMBA by Ayana - Double the Fun, Double the Adventure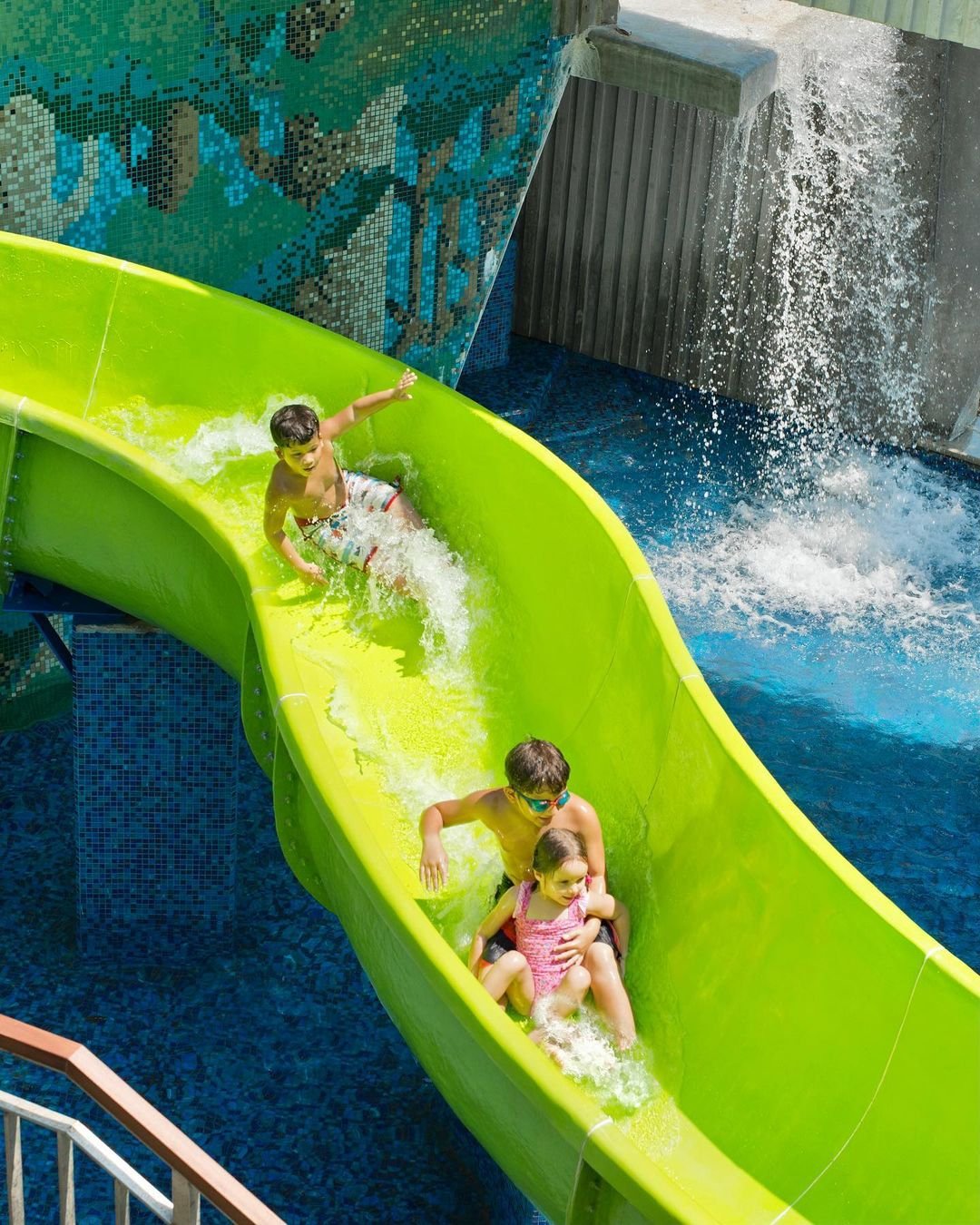 RIMBA and AYANA, two incredible resorts, offer access to each other, making for an unparalleled family experience. RIMBA's lower pool features a thrilling green water slide, taking kids through a cascading waterfall, leading to the famed kids' club. AYANA's pool boasts two slides, perfect for endless fun. Expansive gardens, a stunning tea lounge adorned with orchids, and breathtaking sunsets from sunken lounges complete the dreamy family vacation.
Sejahtera, Jl. Karang Mas, Jimbaran, South Kuta, Badung Regency, Bali 80364
Phone: +62 361 846 8468
Website
Instagram
The Westin Resort, Nusa Dua - Serene Sanctuary by the Indian Ocean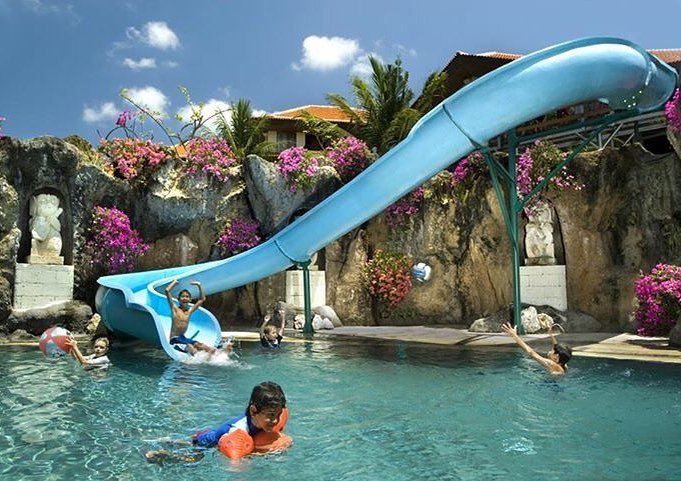 Facing the white sand beaches of the Indian Ocean, The Westin Resort Nusa Dua offers a tranquil Balinese getaway. The sparkling freshwater pool features a breathtaking water slide, providing hours of fun for the whole family. With challenging watersports, tennis courts, and the Westin Family KidsClub, there's never a dull moment at this delightful resort.
Kawasan Pariwisata Nusa Dua, BTDC Lot N-3, Nusa Dua, Bali 80363
Phone: +62 361 771 906
Website
Instagram