Indonesia is a country that is renowned for its stunning landscapes, vibrant culture, and diverse marine life. One of the best ways to explore this beautiful country is by embarking on a cruise, and the best kind of cruise to experience in Indonesia is a Phinisi cruise.
Phinisi is a traditional wooden boat that is made by the Bugis people in South Sulawesi. These boats are crafted entirely by hand, using traditional techniques that have been passed down through generations. The result is a stunning vessel that is not only beautiful but also functional and well-equipped for exploring Indonesia's many islands.
There are many Phinisi cruises to choose from in Indonesia, but some of the best include:
Indonesia Best Phinisi Cruises, The Ultimate Luxury Travel Experience, The Best Liveaboard Indonesia
1. Ayana Lako di'a
Comprises 9 elegant bedrooms to accommodate up to 18 VIP passengers promises to enhance your holiday, as well as serve as a 5-star venue for weddings, honeymoons, private celebrations, and corporate events. A getaway aboard with AYANA Lako di'a offers options of day excursion packages for a shorter trip with AYANA's aqua fleet to visit Komodo's most fascinating island destinations, including Komodo National Park, pink sand beach, island hopping, traditional fishing village adventure, or a sunset tour to a floating island inhabited by thousands of flying foxes.
Find out more on this cruising adventure inclusive of world-class dining, air-conditioned accommodation at their website and Instagram account.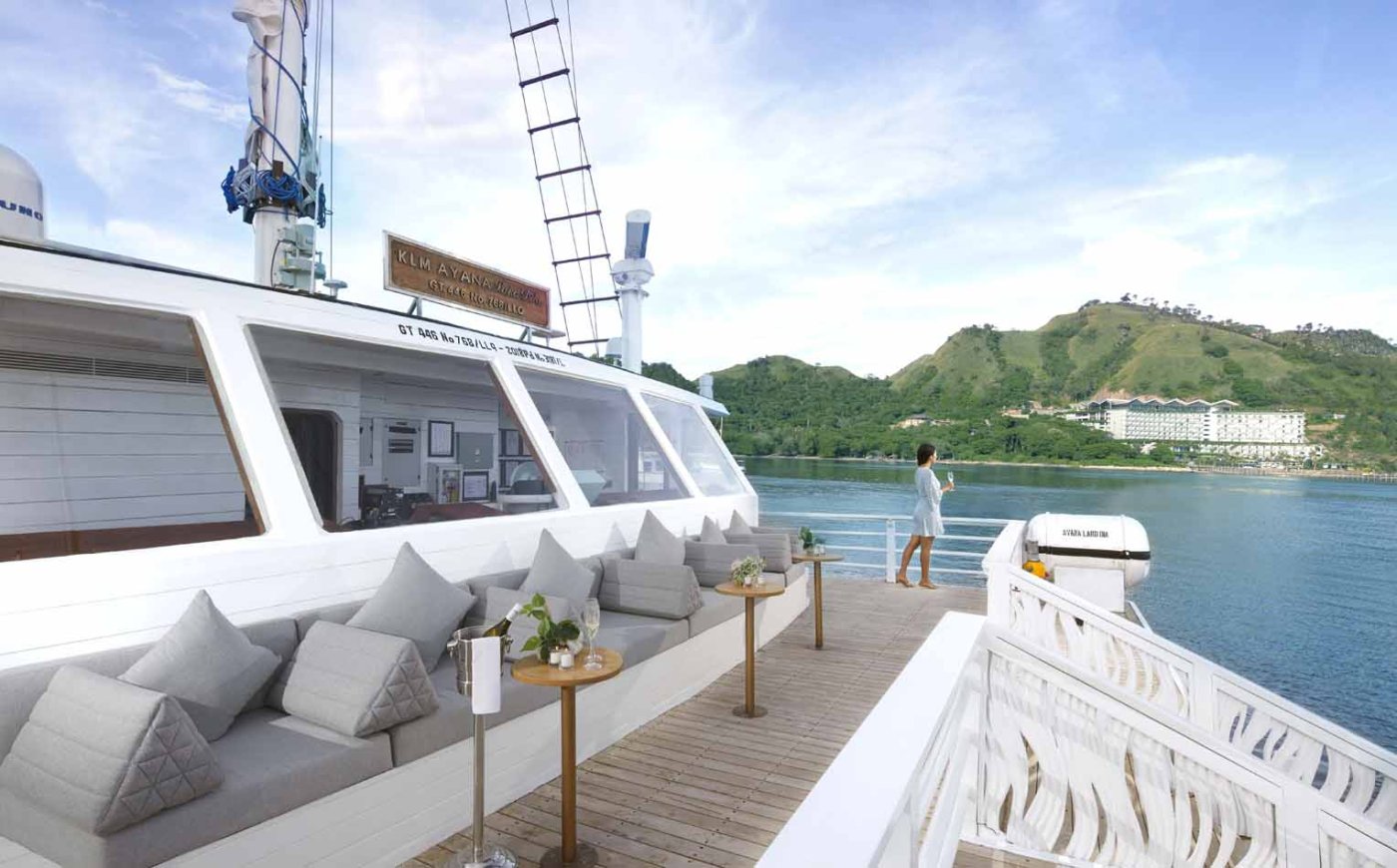 Ayana Lako di'a Upper Deck
2. Jakarta Phinisi
Plan your intimate gatherings be it a birthday party, anniversary celebration, or a corporate outing. Trizara Group Indonesia has launched two Phinisi Cruises, DeKartini & DeSartika – that set to sail daily from the Jakarta Bay. Each of these beauties can be booked for a private event and tailor-made based on your inquiries. There are three cruise packages for you to choose from or should you like to go on board for a day in the sea and wrapped up by enjoying Jakarta's sunset, this also can be catered by a professional, highly-skilled, certified team of 20 crews who are on board to sail you through the day.
For further information, please visit their website or contact [email protected].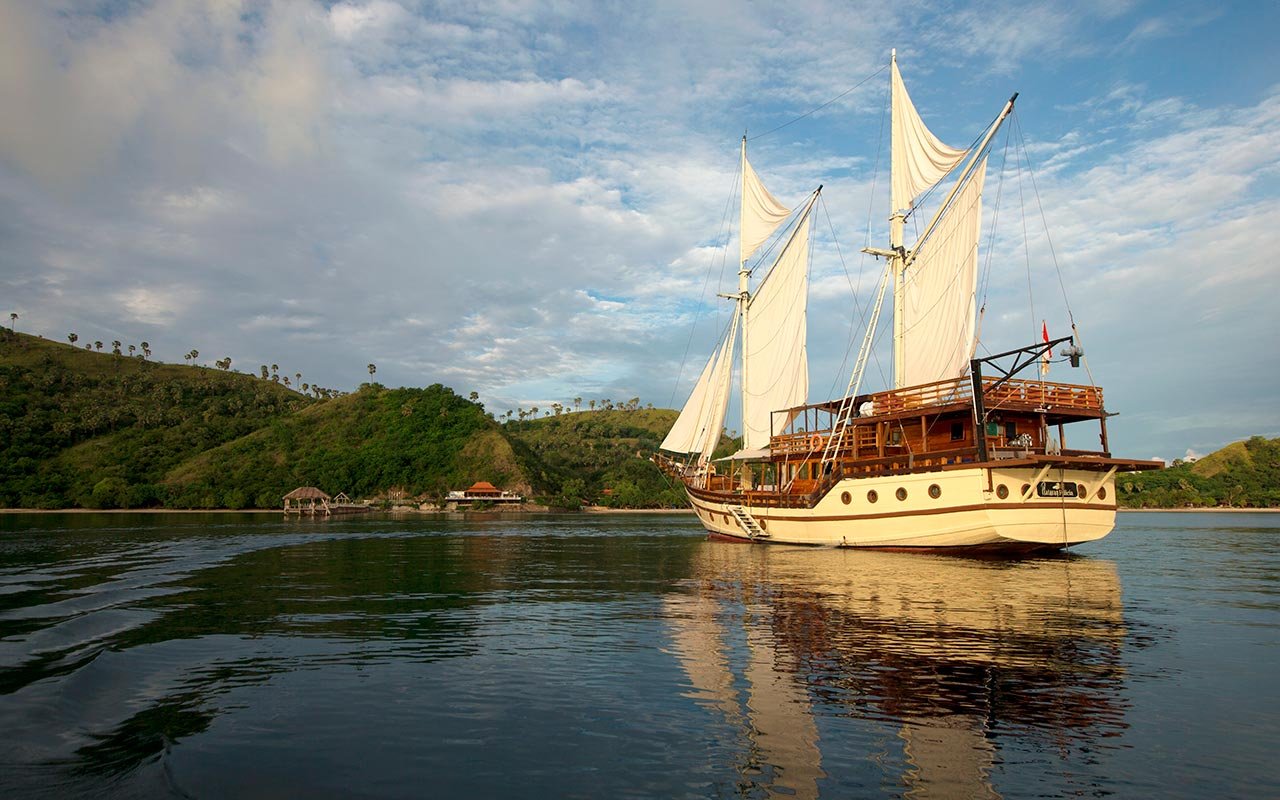 de Kartini – Jakarta Phinisi
3. Plataran Private Cruises
Sailing the seas around Flores and the Komodo Island, Menjangan Island, Bali Straits, and Thousand Islands in Jakarta Bay, Plataran Private Cruises offer incredible journeys through some of the most exotic destinations in Indonesia.
Experience a private, intimate, and an unforgettable day trip or luxury liveaboard experience on Plataran Private Cruises' eight luxury yachts, equipped to make your journey exceptional with luxury cabins, full kitchen facilities, and the warm pampering by the experienced crews.
Plan and book your luxurious aboard experience through their website or follow @plataranresorts.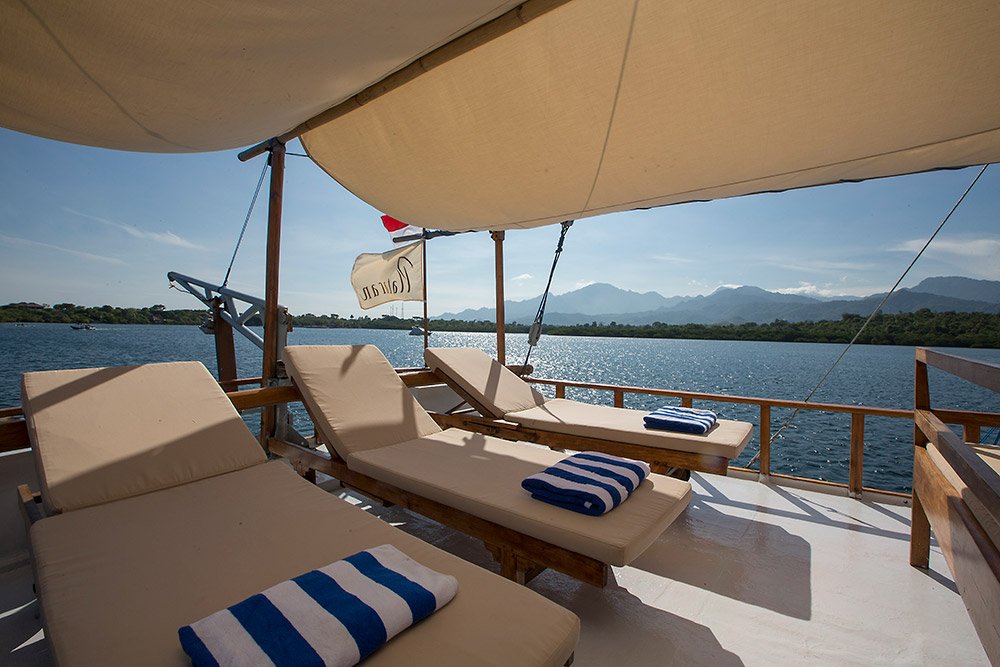 Plataran Private Cruises Sun Lounge Deck
4. Prana by Atzaró
Cruising aboard on this luxurious phinisi cruise, you will explore the paradise waters of Komodo National Park, The Spice Islands, and Raja Ampat.
The nine opulent suites and 900-sqm of luxurious living space across four decks are completed with beautiful fine dining, a wellness-focused spa, spectacular yoga deck, cinema under the stars, and professional crew to provide the best of service. Sail onboard with Prana by Atzaró and enjoy the ultimate luxury liveaboard experience, with your every unique travel need met.
Visit their website and follow @pranabyatzaro to explore more!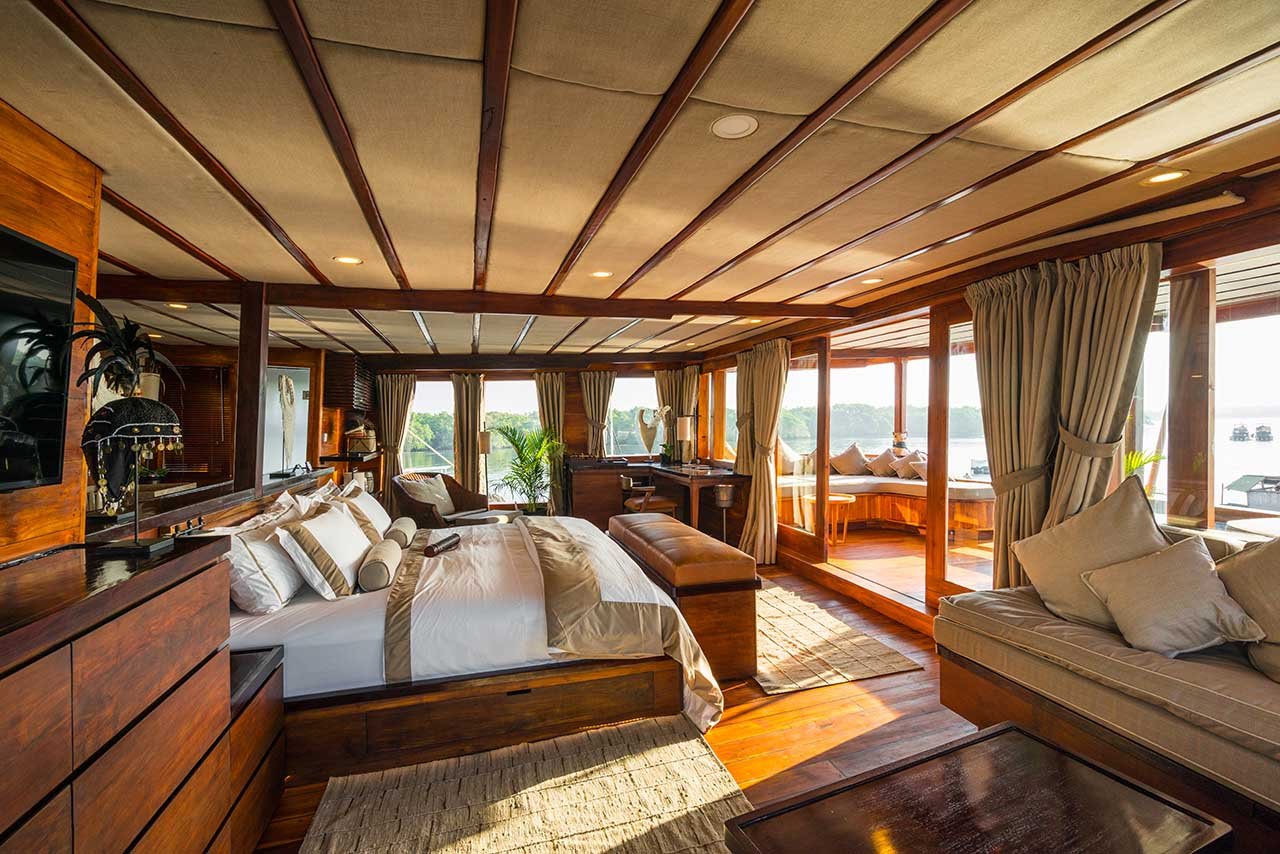 Prana by Atzaró Opulent Suite
5. Samara Phinisi
Samara Phinisi will take you on a luxury cruise to explore Komodo Island and the surroundings. There are two phinisi yachts start from 23-metre with air-conditioned en-suite cabins sailing from Labuan Bajo to the island of Komodo National Park with full facilities and services that will guarantee your leisure time in safety and comfort.
There is a covered area for dining, as well as a terrace on which you can relax and take in the incredible natural surroundings. All your meals are prepared by their culinary team and lots of activities for guests to enjoy during the trip including a visit to secret beaches and pristine sites – you'll never want the cruise to end.
For further information, please visit their website or check their Instagram account @samara.liveaboard.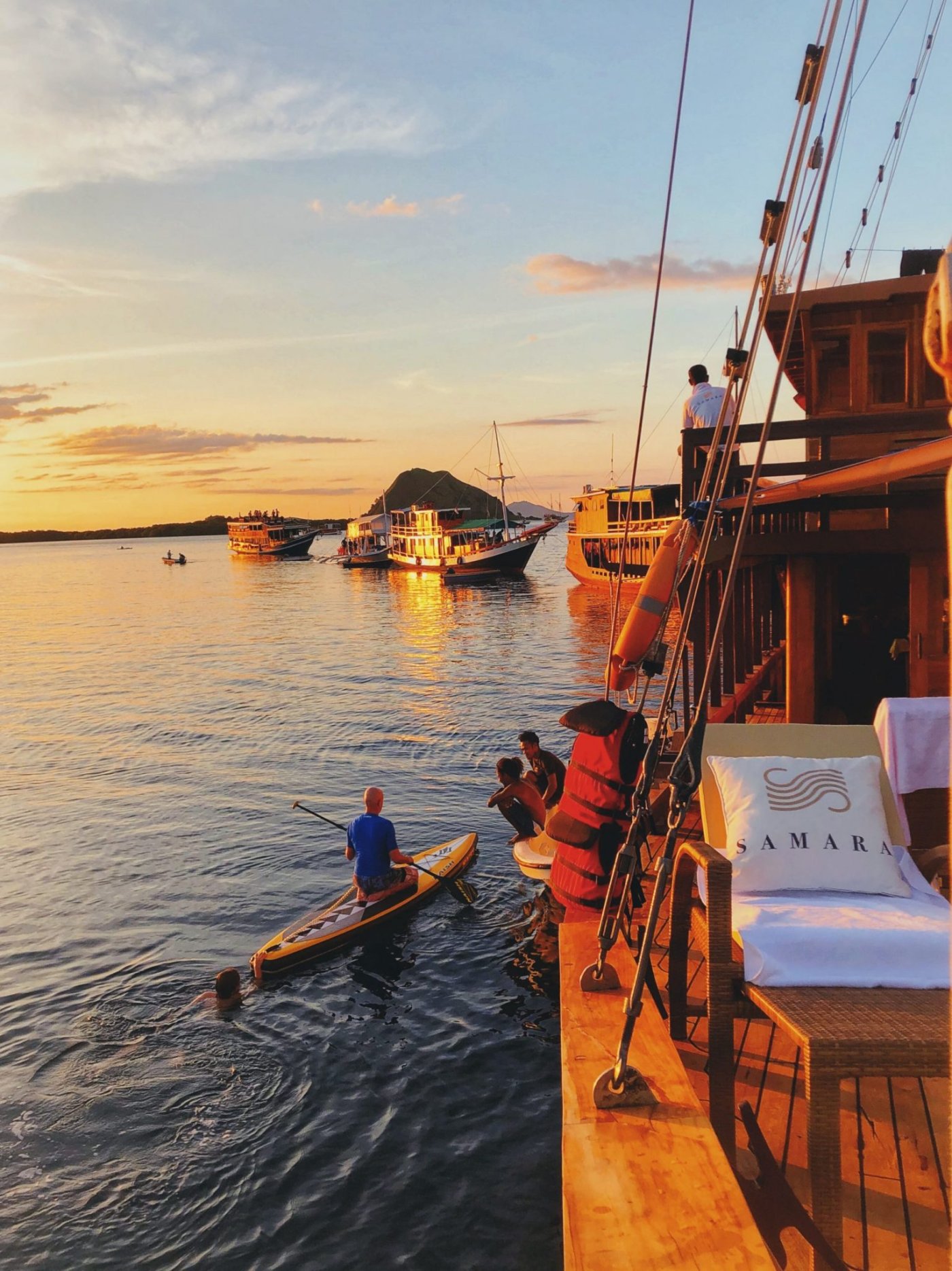 Samara Phinisi