Why you must visit Flores? Here are some reasons why… Flores (from the Spanish word meaning "flowers") is part of the immense chain that comprises the archipelago of Indonesia. Lying close to the equator, Flores is a long, narrow and rugged island marked with dramatic volcanoes and beautiful mountain lakes and forests.  We list the most prominent attractions that are commonly referred as Flores, but in fact part of the larger East Nusa Tenggara province:
1. Three colored Kelimutu Craters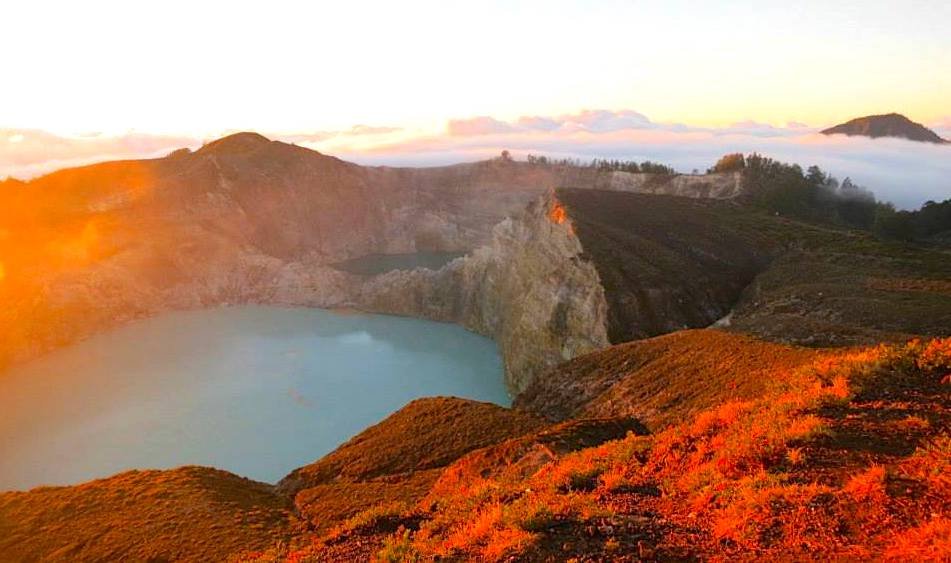 Located about 50 km east of Ende, Kelimutu is the must visit place in Flores. The name refers to both the national park and the active 1,690 meter high volcano that has three different-colored mineral lakes on its peak. The color changes with the varying mineral release from the crater, and its color would change periodically from red, turquoise, green, to dark green.
2. Wae Rebo Village, Ruteng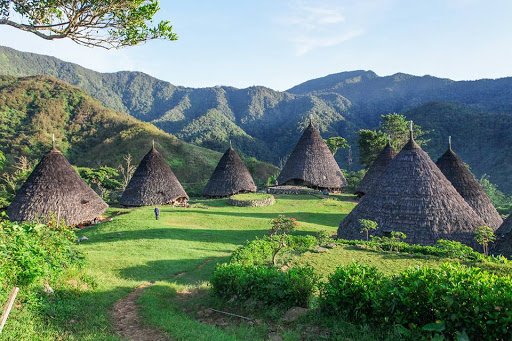 About 1200 meter high above sea level in the Manggarai district, lies the indigeneous village of flores called Wae Rebo. It is home to 7 cone shaped houses that has been home to its people for more than 19 generations. In these houses which symbolize the people's cosmos, they perform their daily lives far from the maddening crowd. To reach this village, you must trek approximately four hours by foot from the lowland. This village is one of the many destinations that is more popular to international tourists compared to Indonesians, so you will more likely to see westerners visiting this village instead of domestic tourists.
 3. Bena Traditional Village, Bajawa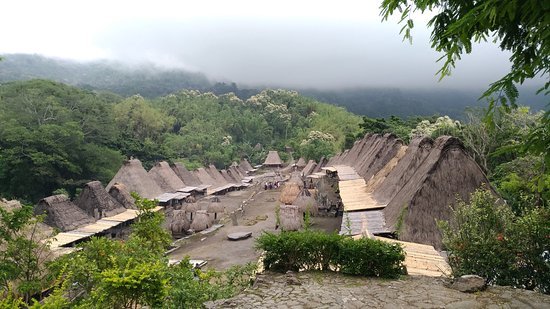 Visiting the traditional Bena village in Bajawa is like going back to the stone age. The village consists of two parallel rows of traditional, high thatch-roofed houses. Visible in the center of the village are ngadhu and bhaga, pairs of shrines – one for each clan of the village – representing the clan's ancestors. Another distinct feature is the megalithic formations in the village center.
 At the end of the village, elevated on a small hill, a viewpoint with a Virgin Mary shrine gives you the opportunity to have a bird eye's view over Bena and a wider view of the beautiful surrounding landscape. In this village, visitors can also buy locally crafted ikat, or tie-dyed woven cloth.
 4. Batu Cermin Cave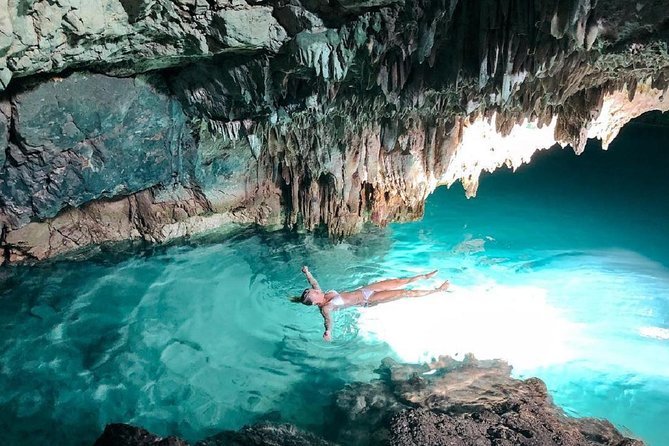 Photo taken from https://rentvillahotel.com
Batu Cermin or 'mirror stone' is a cave in a dark stone hills located at outskirt of Labuan Bajo, West Manggarai. The name comes from when sun ray comes through a hole in the tunnel and then bounces on the stone walls that again reflect small lights to other areas inside the cave like a mirror. It is located east of Labuan Bajo harbor, approximately 4 km off city center. Tour operators usually sell this trip as part of the Labuan Bajo tour.
 5. Komodo National Park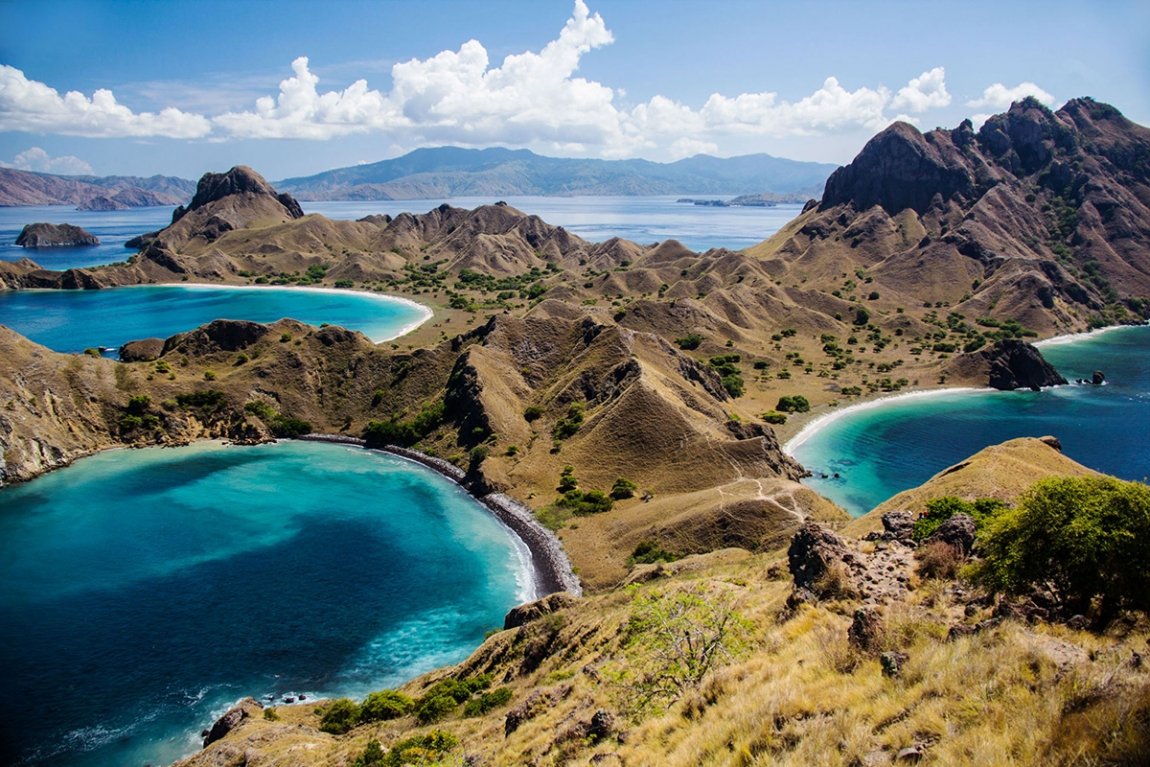 Photo source https://cruisingindonesia.com/dive/komodo-national-park
The Komodo National Park includes three major islands, Komodo, Rinca and Padar. Initially the main purpose of the Park was to conserve the unique Komodo dragon and its habitat. However, over the years, the goals for the Park have expanded to protecting its entire biodiversity, both terrestrial and marine. It has since been declared a World Heritage Site and a Man and Biosphere Reserve by UNESCO. This national park also has some of the best underwater view in the area. Any tour to Komodo will start and finish in Labuan Bajo, the main transportation hub for the whole province. To get there, you can take one of the 5 to 7 flights daily from Bali to Labuan Bajo. From Labuan Bajo, you can join an organized tour or charter a local boat to get to the national park.
 6. Blue Stone Beach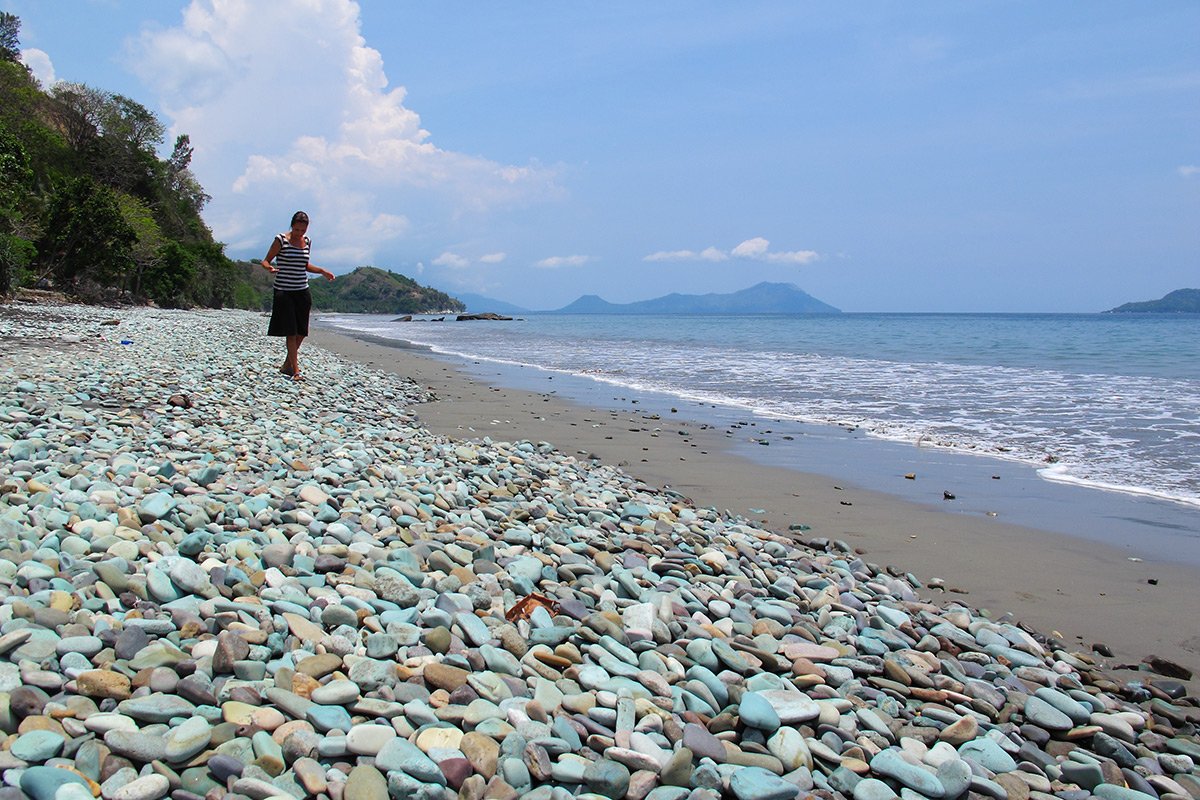 Photo source https://www.contemporarynomad.com/blue-at-blue-stone-beach/
If you travel to Ende, pay a visit to the unique blue stone beach, one hour away from the city. A natural wonder just a 1 km from town where vibrant blue stones are washed up on the beach. The beautiful blue stones have provided jobs for people in the area as the stones are are exported to Japan and other countries to be used for stone gardens or home decoration material.
 7. The Flores 'Ikat'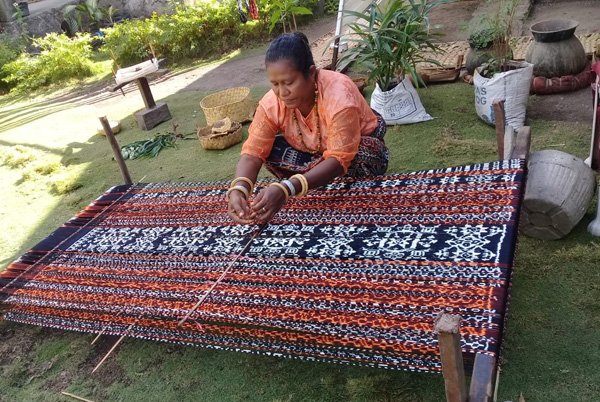 Photo source https://www.flores-indonesia.com/weaving_village_maumere_watublapi.html
Not just its unspoilt natural landscape, the legendary reptile, and the indegenious people of the region, Flores is also home to one more world-renowned treasure: wonderfully Ikat Hand-Woven fabrics, crafted by the finest hands on Flores. This traditional work of art can be found in many towns across the island such as in Maumere, Sikka, Ende, Manggarai, Ngada, and Lembata. Each area has its own distinctive motifs and patterns as well as color preferences. The difference in the designs and colors represent the variety that exists among the sub-ethnics, customs, and beliefs of the people of Flores. In some villages you can see how they are made, and purchase them straight from the hands of the weavers. Although many still use natural dye and hand-woven some ikats are now chemically dyed and therefore can be a lot cheaper too.
8. Easter in Larantuka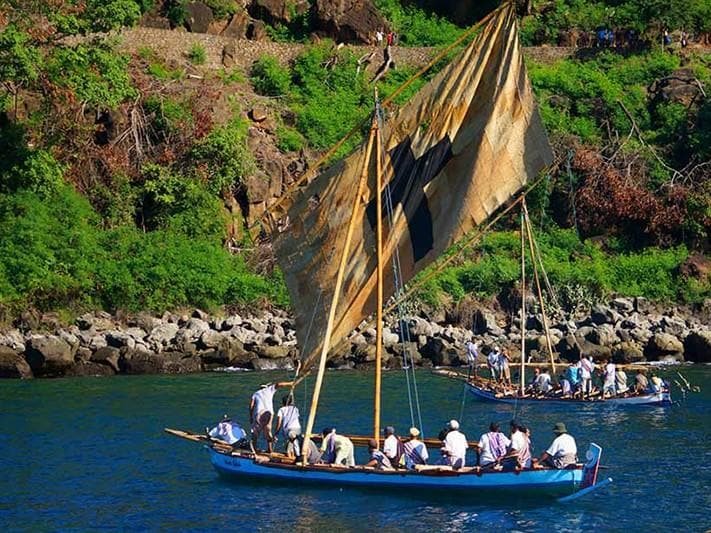 Photo source https://www.indonesia.travel/my/en/event-festivals/semana-santa-solemn-easter-holy-week-rites-in-larantuka-east-flores
With the strong Portuguese influence since the 16th century, over 90% of the population of East Nusa Tenggara (dominated by the islands of Flores and Sumba, along with West Timor),  is Christian, with Flores almost entirely Catholic. In the town of Larantuka especially, easter is celebrated intensely, with a famous processing that draws thousands of locals. The tradition is of Portuguese origin and is a few hundred years old, they even have a prayer in Portuguese. On Easter Friday there is a procession of dozens of boats in the sea, following a canoe carrying a statue. If you want to join, try to get on the free boat supplied by the local government. Be careful for the overcrowded boats and pick one with the less amount of people.
 9. Pink Beach, Komodo Island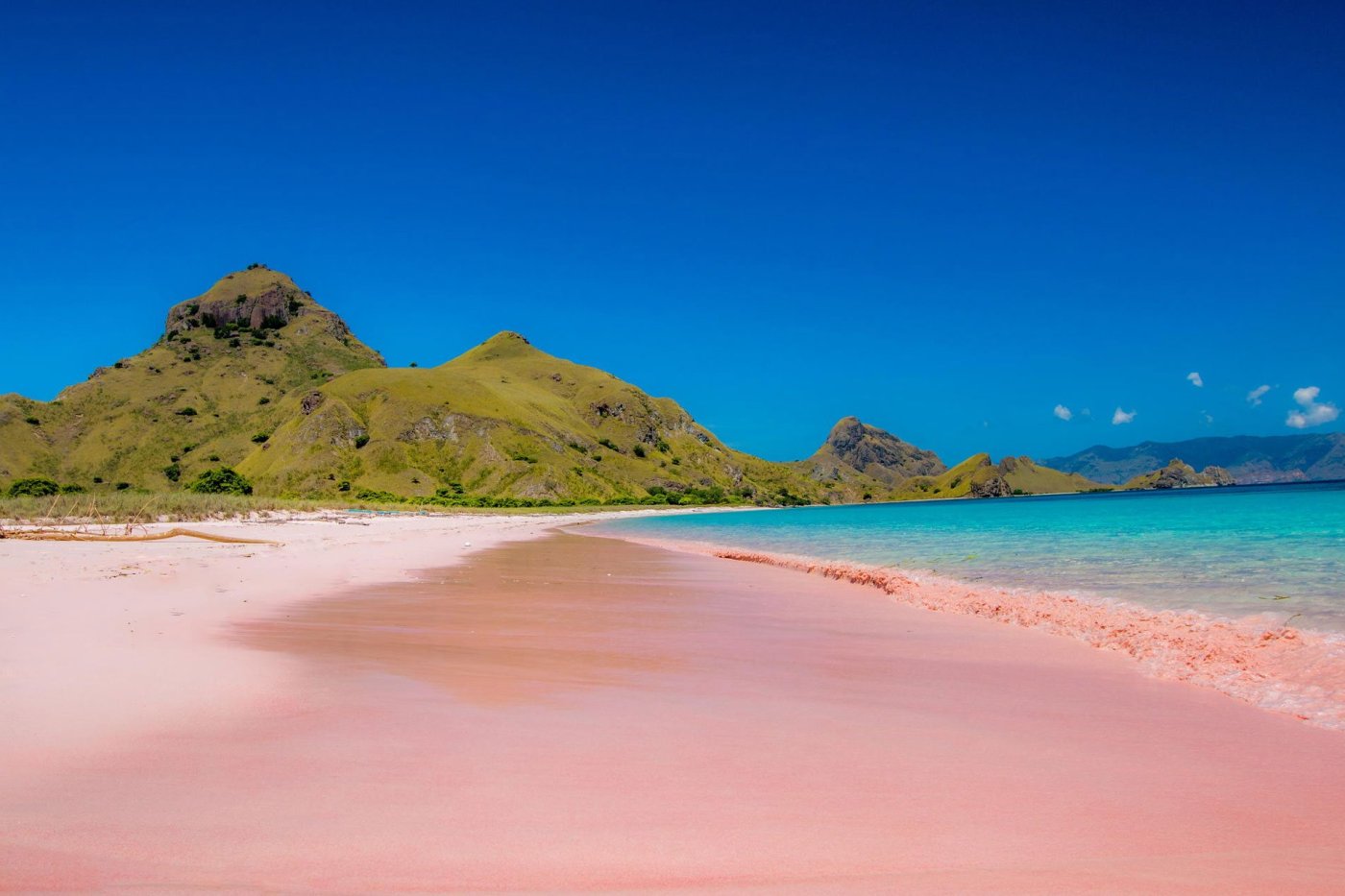 A clear blue sky above, with fluffy white clouds drifting lazily across. Rolling green hills, covered luxuriantly in thick vegetation, interspersed with high, rocky cliffs. Calm, clear waters, tinted by the colorful corals beneath its surface, and alive with the movement of a hundred species of marine life. Last, but not least: a stretch of soft sand, but not white, not black, but PINK!
Pink Beach, or Pantai Merah, as it is aptly named, is one of seven pink beaches on the planet, and is just one of the many amazing features of Komodo Island. As pink beach is an uninhabited and fairly remote area, most tourists opt to stay in Labuan Bajo for proper accommodations.
 by Diana Tri Wulandari