Accor, a world-leading augmented hospitality group, is pleased to introduce Grand Mercure Lampung. Residing in the tallest building in Sumatra, above the soon-to-be-opened Grand Mall, Grand Mercure Lampung delivers modern flair, with a fresh cultural perspective for discerning guests, representing a momentous milestone in the province's hospitality industry.
Proudly located on the main boulevard of Bandar Lampung, near the city center, Tugu Adipura, Grand Mercure Lampung stands as an opulent urban icon, gracing the skyline with its towering 198-meter presence. Brought to life by the skilled mind of architect Budiman Hendropurnomo, who possesses a profound understanding of Indonesia Culture. The property has been meticulously designed to reflect the essence of Lampung city and seamlessly blends modern and lavish nuances.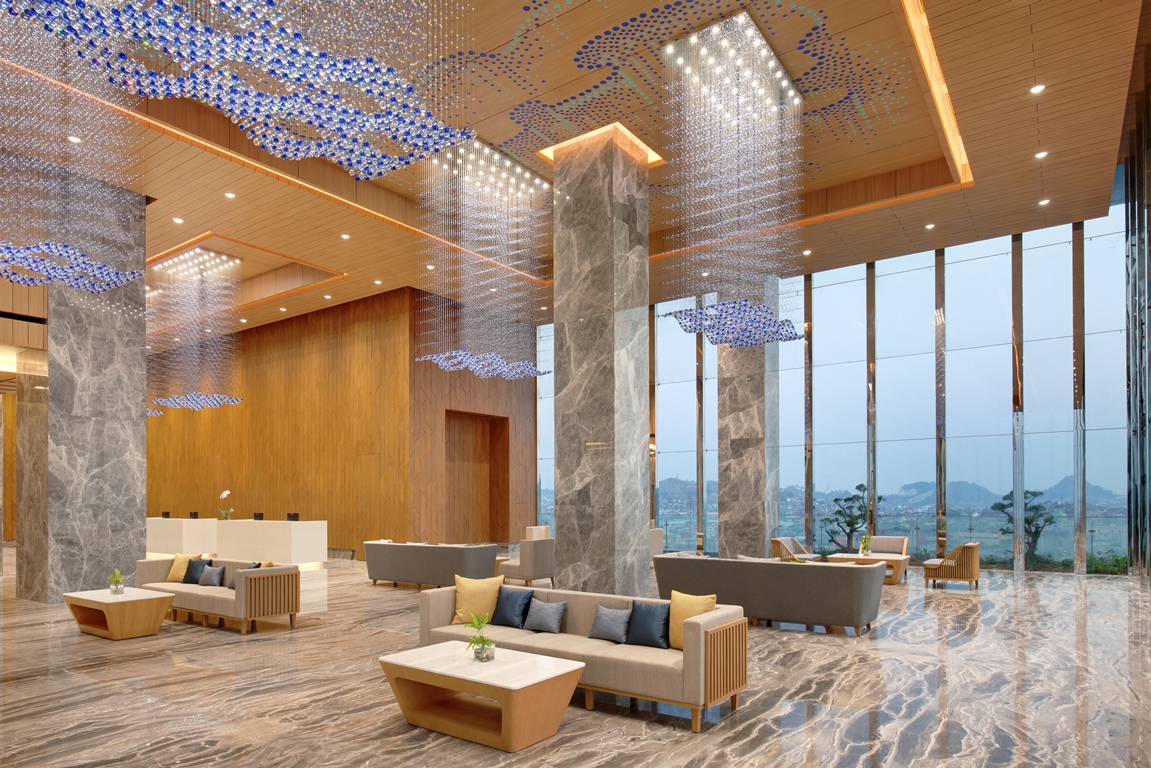 Garth Simmons, Chief Executive Officer of Accor's Premium, Midscale and Economy Division Asia said, "As we proudly unveil our second property in Lampung, Grand Mercure Lampung marks a significant milestone for the Grand Mercure brand. This venture represents our commitment to delivering unparalleled hospitality, seamlessly blending local charm with global standarts. We wholeheartedly welcome our guests to embark on a new era of discovery and premium experiences in Bandar Lampung."
Grand Mercure Lampung features 344 contemporary rooms, ranging from superior to suite, as well as a Penthouse. Adorned with cutting-edge amenities, the rooms promise memorable moments with cherished ones, with the highlights being the Pool Suites, a rarity in Lampung. This exclusive sanctuary showcases a private outdoor swimming pool, a luxurious bathtub, a living room, and meticulously crafted modern amenities, ensuring guests an exceptionally unique experience.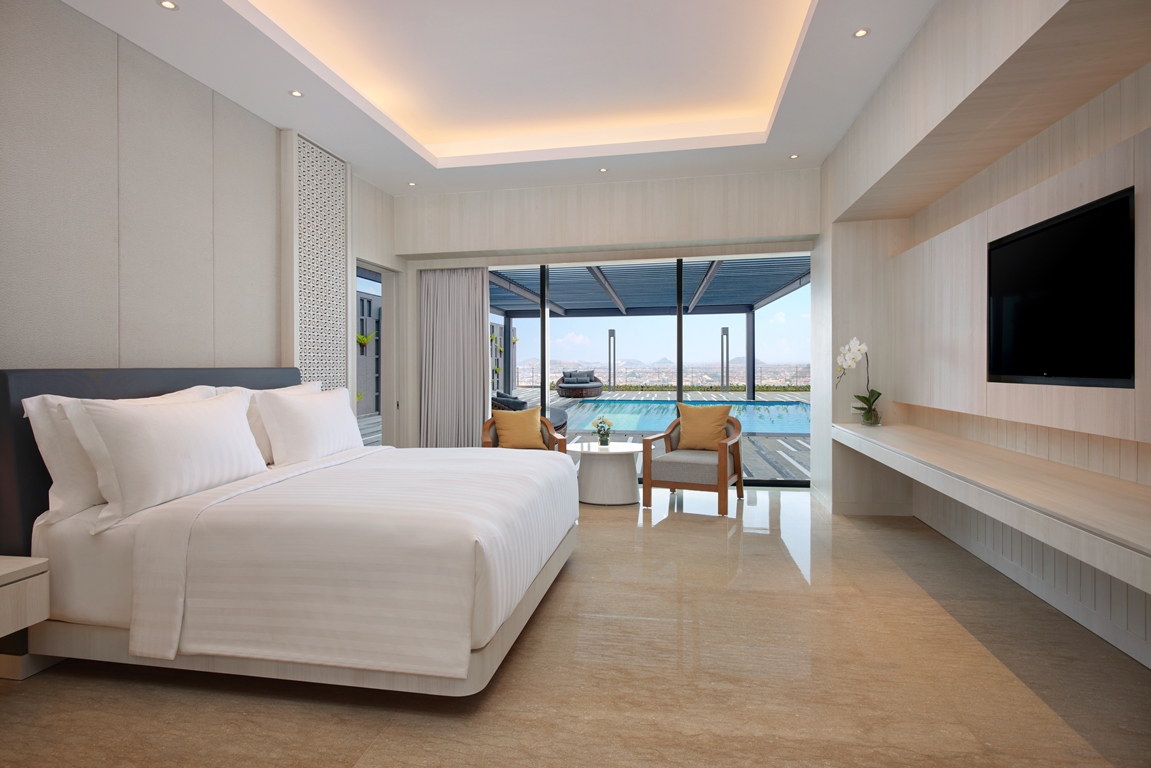 The Penthouse boasts an expansive primary bedroom featuring refined interiors and two more exquisite bedrooms. The suite provides exclusive access to a private indoor swimming pool, a state-of-the-art fitness facility and an awe-inspiring 360-degree view of the city. Staying in this remarkable suite will awaken the senses and undoubtedly be an unforgettable retreat. 
The hotel's dining venues and lounges provide the ideal setting for socializing and relaxation. Starting from the 5th floor, the Flamboyant Restaurant offers breakfast, lunch, and dinner menus, featuring a delightful selection of Indonesian, Western, and Asian cuisines in a captivating live-cooking atmosphere. On the same floor, the Lobby Lounge, with its grand interior and welcoming service, is the perfect choice for guests wanting to enjoy quality time with loved ones while savouring eclectic menu offerings.
Nestled at the highest tier of Grand Mercure Lampung, Sora Lounge stands as the epitome of elegance in Lampung. With 360-degree panoramic vista views of Bandar Lampung, the Sora Lounge is the epicentre of sophistications, an exclusive dining concept that is sure to impress.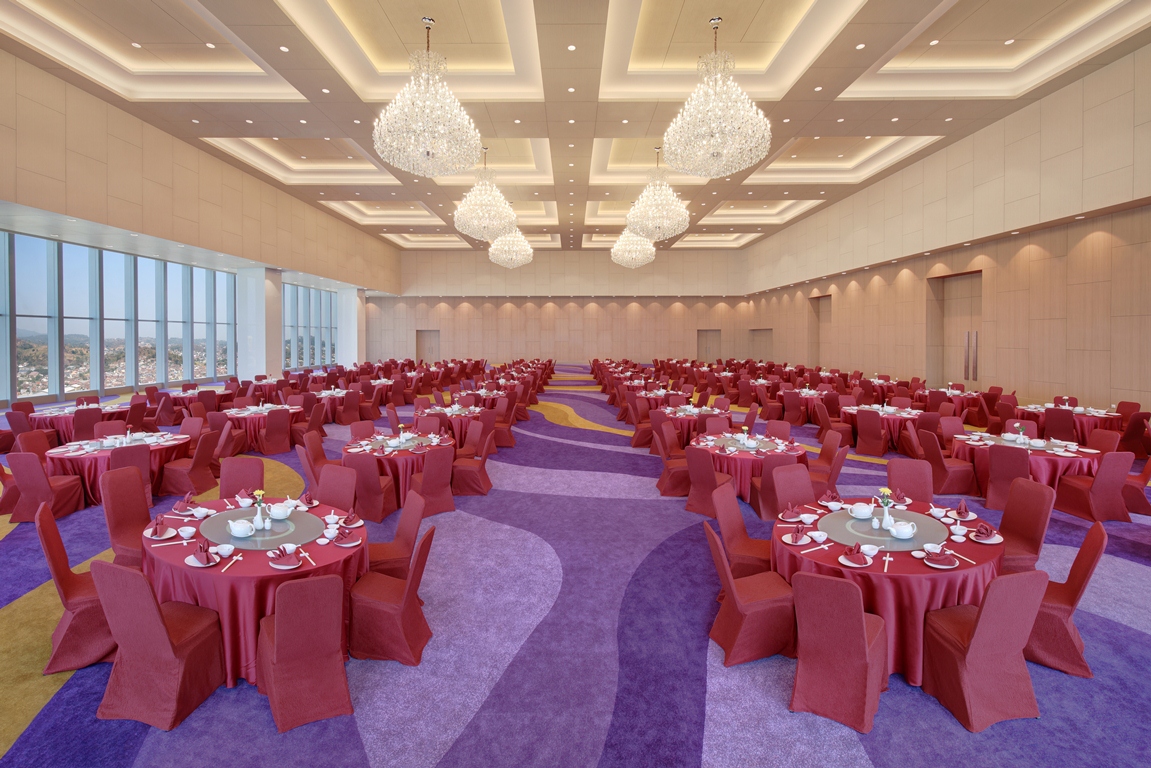 Grand Mercure Lampung furthermore provides a variety of event spaces, including one Grand Ballroom, two Ballroom, and 11 meeting rooms. These versatile spaces position Grand Mercure Lampung as the quintessential venue for celebrating special occasions, hosting meetings, and conducting corporate events. The Diamond Grand Ballroom, a crown jewel among Lampung's hospitality venues, can accommodate up to 1800 guests, offering a spellbinding city panorama and a vast modern Videotron screen, ensuring an unparalleled event experience.
On the hotel's 8th floor, guests can embark upon a sensorial wellness journey. A contemporary swimming pool will immerse guests in serenity as they sip on their drink of choice. A meticulously appointed fitness center awaits fitness enthusiast who wishes to maintain their active lifestyle. Additionally, guests can indulge in an exclusive spa that provides an array of holistic relaxation treatments to enhance their stay.
"We are delighted to extend a warm welcome to guests at Grand Mercure Lampung, where culture and exceptional service come together seamlessly. Situated strategically in the heart of Bandar Lampung, our hotel aims to redefine hospitality by combining modern elegance with timeless charm. We eagerly anticipate offering our guests an unmatched experience, embodying the essence of the Grand Mercure brand as a gateway to authentic local encounters, and unparalleled comfort." said Thomas Evvard, General Manager of Grand Mercure Lampung.
At Grand Mercure Lampung, guests can take advantage of ALL-Accor Live Limitless, Accor's lifestyle loyalty program, which provides access to rewards, services and experiences. Becoming a member of ALL-Accor Live limitless is both simple and free of charge. To join, visit the website all.com and access a range of benefits and rewards that enhance your travel experieces.
Grand Mercure Lampung is the ninth Grand Mercure hotel to operate in Indonesia and Accor's second property in Lampung. For more information, please visit the hotel website at all.accor.com/hotel/9778.