With over 600 artworks permanently exhibited, Museum Pasifika in Nusa Dua, Bali offers a unique blend of Asia-Pacific Premier Art with Western and Asian fine arts. Philippe Augier, the founder of Museum Pasifika really wants to showcase the region's styles and forms for all to study and enjoy. The first of its kind in this part of the world to bring together artworks from the Pacific area with those of South-East Asia, the Indonesian archipelago with the island of Bali being at the intersection of those two worlds.
At this blissful moment, Museum Pasifika just recently held 'Live Concert Classical at The Museum' featuring the maestro of classical music artists from France Patrick Zygmanowski the Pianist, and Frederic Moreau the Violinist. The esteemed guests were captivated and fascinated by the performance inside the tranquility of the museum.
We were very lucky to catch up with both talented artists the day after the performance for a quick interview session. Patrick Zygmanowski is the 1st winner in Piano and Chamber Music from the Paris Conservatory of Music and Dance, and has traveled the world to perform solo or in diet with the greatest French and foreign soloists. Meanwhile, Frederic Moreau is a laureate of numerous international competitions and started his solo career at the age of eighteen. He is the musical director and soloist of the prestigious chamber orchestra "Les Violons de France" for whom he has arranged numerous works placing the virtuoso ciolin center stage.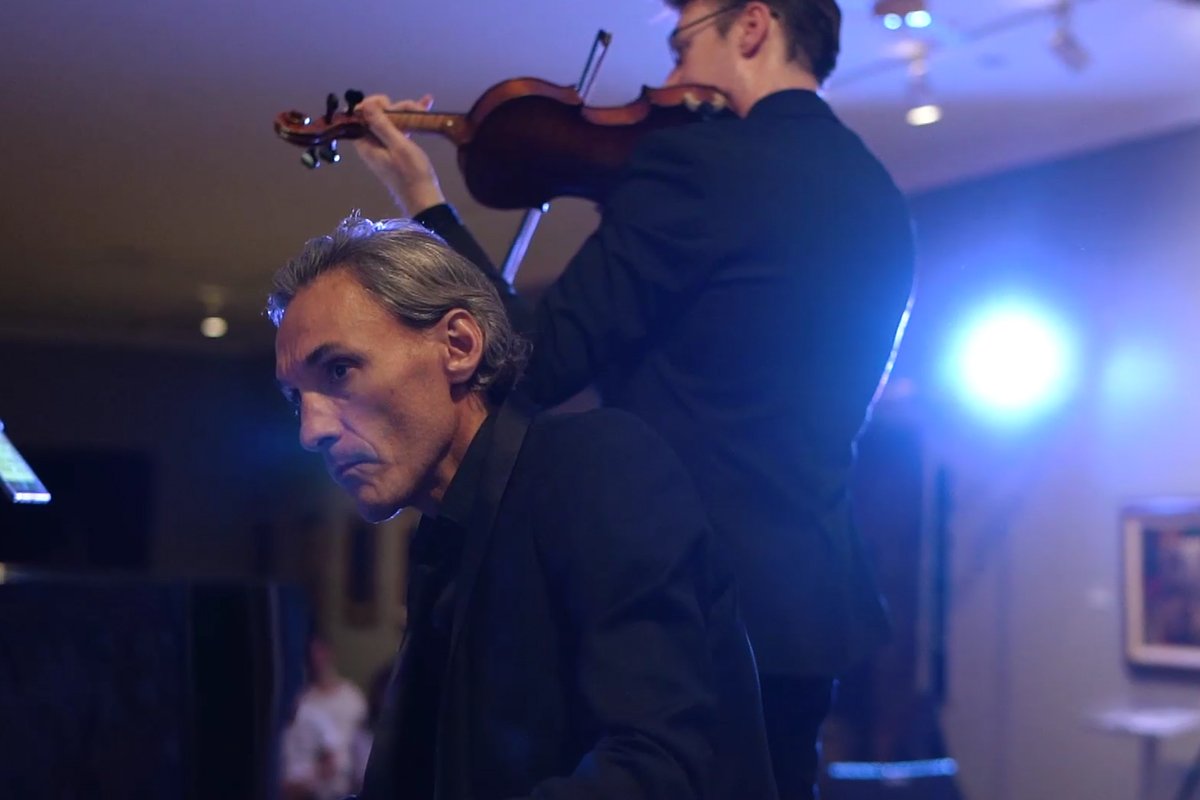 We talked about their experiences in classical music for these past years, the mission of  'Live Concert Classical at The Museum' at Museum Pasifika, and what's their next plan in the future.
You just performed at the Live Concert Classical at The Museum, congratulations. How did you come up with the event?
Patrick Zygmanowski (PZ)
It's funny, in fact, it's a little bit my fault, because of my father-in-law. The father of my wife is one of the best friends of Mr. Augier, the chairman of the Museum Pasifika in Bali. And we usually play most during summer, we make private concerts, and Philippe Augier came to our last concert last July in 2022. That's when the idea came up.
Frederic Moreau (FM)
And then Mr. Augier obviously offered the opportunity to do this concert here in Bali.
What's the mission of holding Live Concert Classical at The Museum?
FM 
I think there are two missions. The first is to enjoy the beauty of the art of mixing art because in the museum you have many amazing pictures. And music is a sound that can drive emotions. So mixing all these arts is a very enjoyable moment. And maybe its second mission is a good opportunity for the young generation to enjoy the performance. So maybe it's a good opportunity to with the formation of the new generation. So I think we have these two missions with this sort of concept.
Where does your love for music and art come from?
PZ 
For me, personally, it's when I was five years old and I was like have found my desire. I would absolutely like to play absolutely piano. I don't know why.
FM 
I think the atmosphere of the family of course. And also, we had the opportunity to go to the concert when we were very young. So I told you just before that one of the missions of sort of concert is to transmit to the young generation, we have the same when we were young. So it's a good opportunity. And of course, the family is the most motivating to dedicate our lives to music.
How does the new popularity of music streaming affect the popularity of classical music?
FM
I don't think the streaming is spoil the live performance because nothing can replace live performance. It is a very positive transfer of energy. So you can enjoy listening to music with your Air Pods or something, of course, but you have very in-depth emotions to live this live performance. It's a good positive transfer of energy and nothing can replace this and the public you know, yesterday it was full booked so the public know that and especially the younger generation is very amazing silent when we were playing you know, the silent in music is like the white paper for the painting artists if you don't have the right white paper to start your painting. It's the same for us we need to sign on to can perform. And I saw that there were many kids and I was very surprised at the new generation is very receptive to this sort of emotion.
What is your routine before a performance?
PZ
Personally, I need to swim. I need to relax and be very relaxed. And to make sort of anything nothing in my brain
FM
Probably, I have to think of positive moments to give this back to the public.
What advice would you give to aspiring artists?
FM
Well, practice a lot with passion
PZ
Yeah, a lot of practice with passion
What makes the violin/piano you play so extraordinary?
PZ
I performed so extraordinarily because I played with Frederick. Ha ha
FM
We dedicate all our lives to music and art and so, of course, it's since childhood, you know, so we practice every day, lots of hours. So it's the reason. We did many, many, many concerts. More than 100 concerts every year. So it's intense work for many, many years.
PZ
And to finish the concert and for me and realize Frederick's bigger present. It's like yesterday night after the concert. So many people came to us and want to have a picture and asked us many questions about piano and violin and about how was your last concert? Where is your next concert? Yes, it's very interesting because I can feel and we can feel very much that we give some energy to them. It's not like streaming which is just a screen
FM
Live performance is a moment. Going to a live performance, it's really different. You can touch so deeply the people and all together. This is important. It's a community. So it's a really good thing for us to know that we could touch and have the same emotion as the public.
So the last question is, what is the next project for you in the future?
FM
It's very good because we have a very interesting project in France maybe one or two weeks, it's also a generous moment because we do this concert for children. So we it's a charity concert met we prayed together I and Patrick will play with the orchestra.
PZ
Frederick is a violinist but also conducts the orchestra.
FM
So we play this together and at the end, we play to give ourselves the piano for the end of the concert, it's for the children and it's very touching also for us
PZ
In the South of France, Marseille there is a very important hospital dedicated to children. So the concert will be dedicated to them.