There is a lot of beautiful natural scenery you can choose from for sightseeing in Bali, and you have to know that it's not all in the form of pristine white sand beaches and picturesque blue water ocean. With its amazing tropical landscapes, the island is also home to some of the most serene waterfalls. Big and small, they are all beautiful and unique in their own way, each offering tranquility and refreshment. To visit them is totally optional, but you can at the very least include one of them on your list of to-go places during your holiday in Bali. Here we help you list some of the best waterfalls on the island.
Heavenly Cascades: Best Waterfall Destinations In Bali
Aling Aling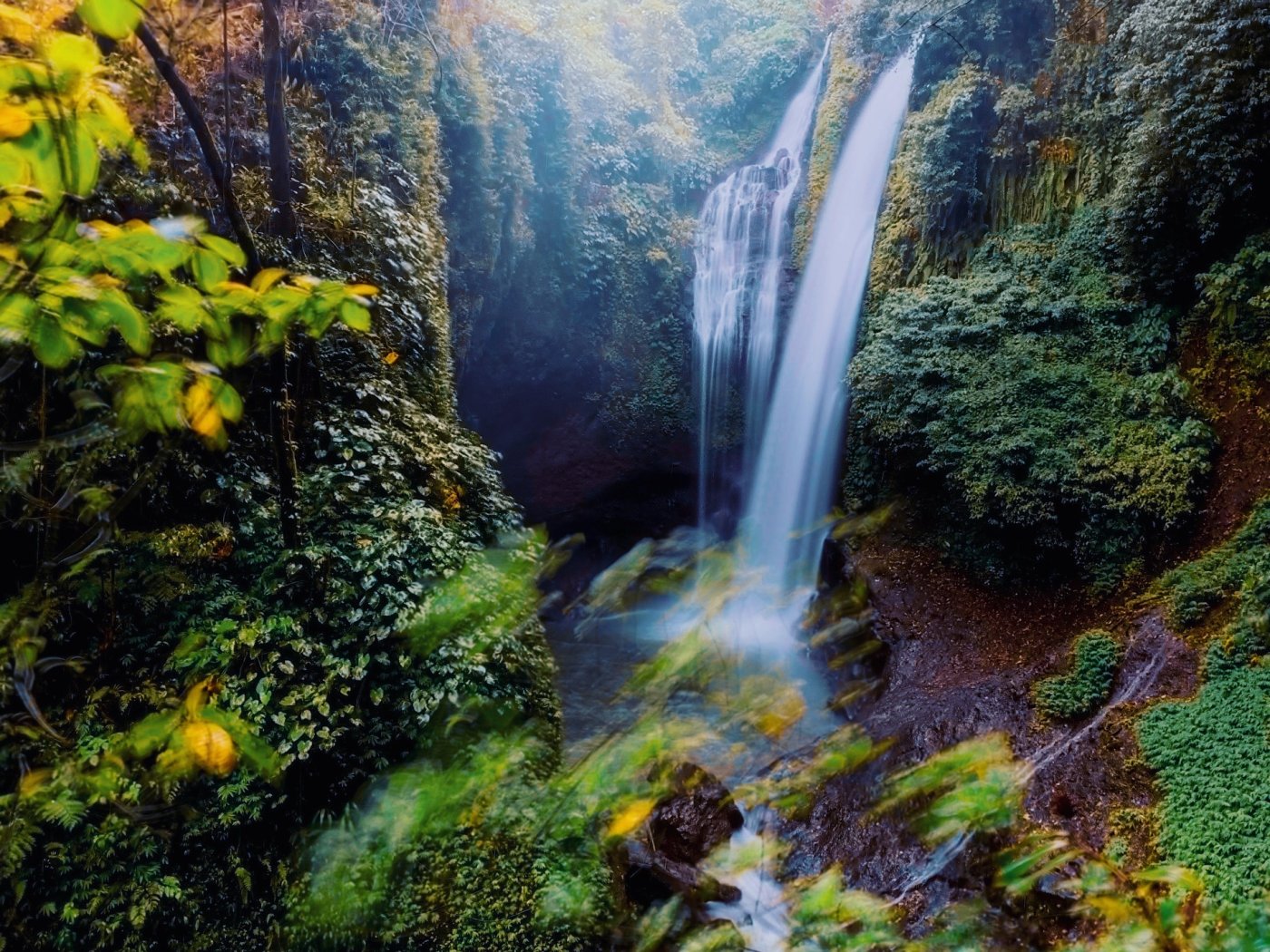 A haven for both local kids and avid trekkers, Aling Aling Waterfall is located in the picturesque Sambangan village. This natural wonder stands as a beacon of environmental preservation with its mantra of 'Reduce, Reuse, and Recycle.' Soar to new heights as you witness the majestic 35-meter cascade, the tallest among the magnificent array of seven waterfalls in the area. Dive into the crystal-clear, refreshing pool, immersing yourself in nature's pristine embrace. With its abundant waterfall pools, Aling Aling provides the perfect respite from the tropical heat. Surrender to the allure of glistening mountain waters and verdant landscapes, where harmony with nature becomes an effortless reality.
Apuan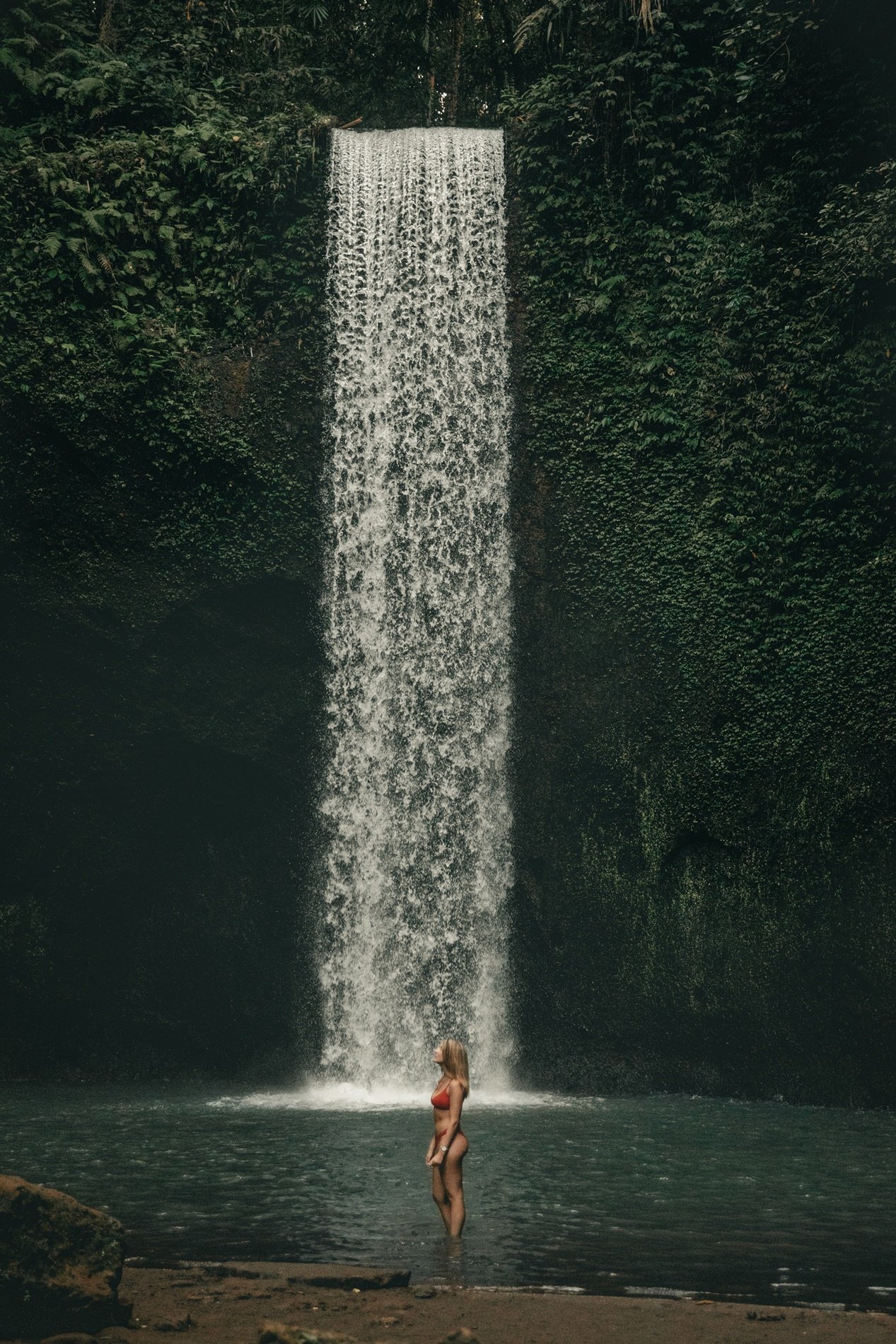 Situated near the charming village with the same name, Apuan Waterfall is ready to enchant its visitors with a captivating natural vista. The waterfall is actually formed by a series of cascades named 'Tibumana' and 'Pengibul', but locals just simply called it 'Apuan Waterfall'. These natural marvels will leave you awe-inspired as if you've stepped into a living masterpiece worthy of accolades. Immerse yourself in the idyllic scene, where every nature detail resembles a work of art. After an invigorating stroll, indulge your senses by dipping into the crystalline waters, rejuvenating both body and mind. Let the tranquil embrace of Apuan Waterfall transport you to a realm of pure bliss, where nature's allure takes center stage.
Banyumala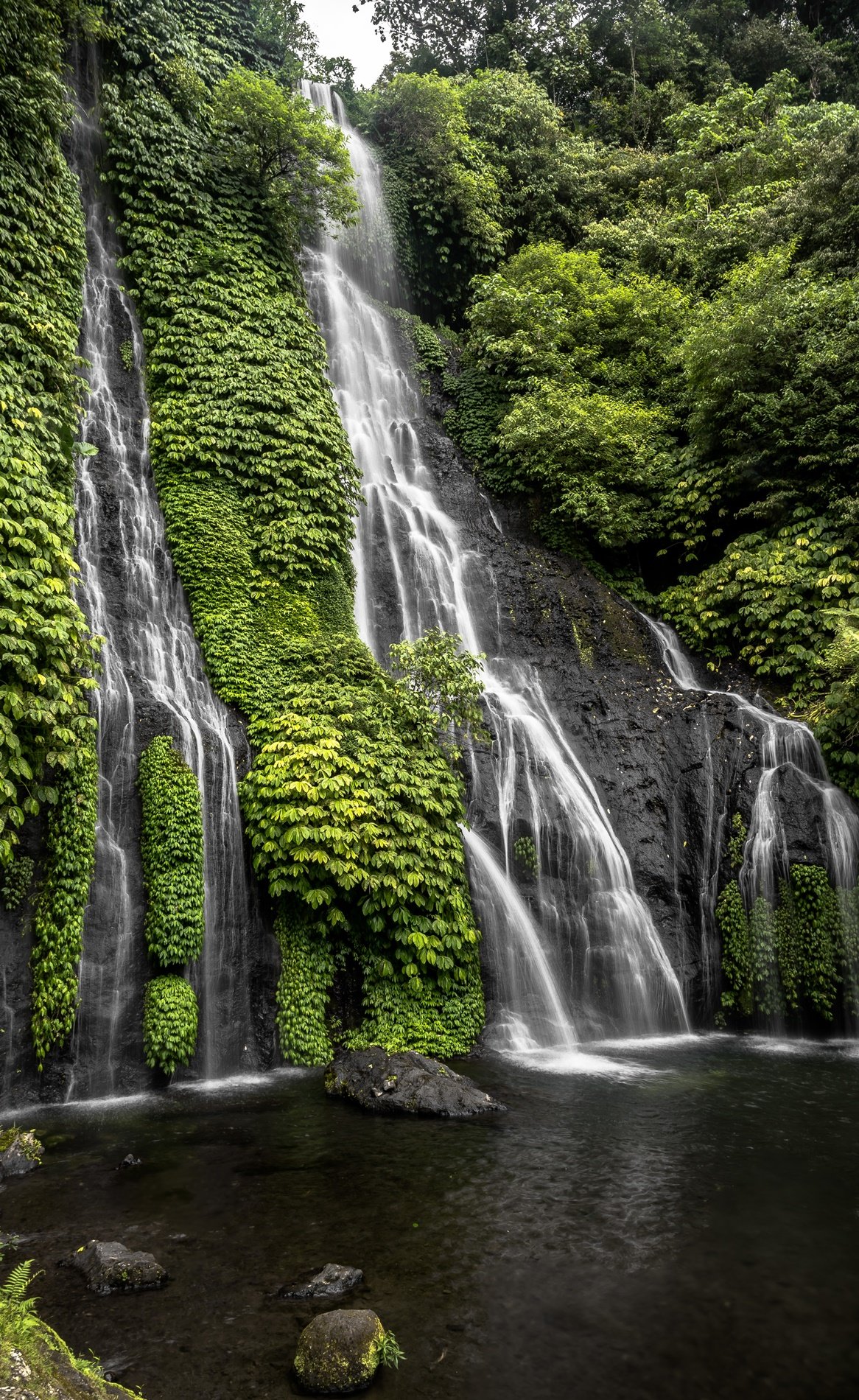 Located in Wanagiri village, Northern Bali, Banyumala is a twin waterfall in the midst of a pristine jungle offering rugged natural beauty and a distinctive atmosphere for a perfect tranquil getaway. Reaching Banyumala waterfall is not a really easy feat, but don't let that discourage you at all. The sight of twin waterfalls flowing freely between steep cascading rocks, forming a pool of ponds below is more than enough to keep you there for a rejuvenating while. Lush green leaves grow freely covering the majority of the rock crevice creating a unique sight as if the water flows through a giant tree.
Dusun Kuning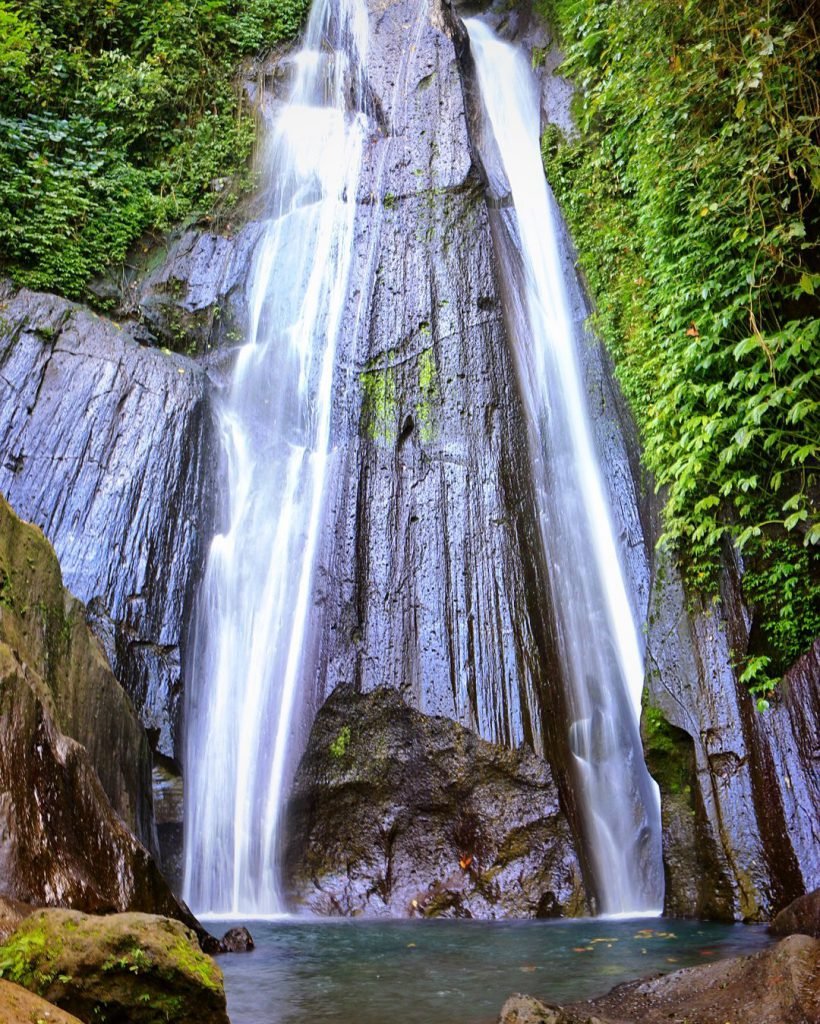 Concealed in the tranquility of Bangli Regency 25 meters high and the water flows through the river, Dusun Kuning Waterfall is one of the hidden nature heritages in Bali. This waterfall is blessed with a pleasing tranquility atmosphere with 25 meters height of water flowing through the river. The water is clean and fresh completed by the peaceful view could refill your energy while enjoying this beauty of uncharted nature.
Gitgit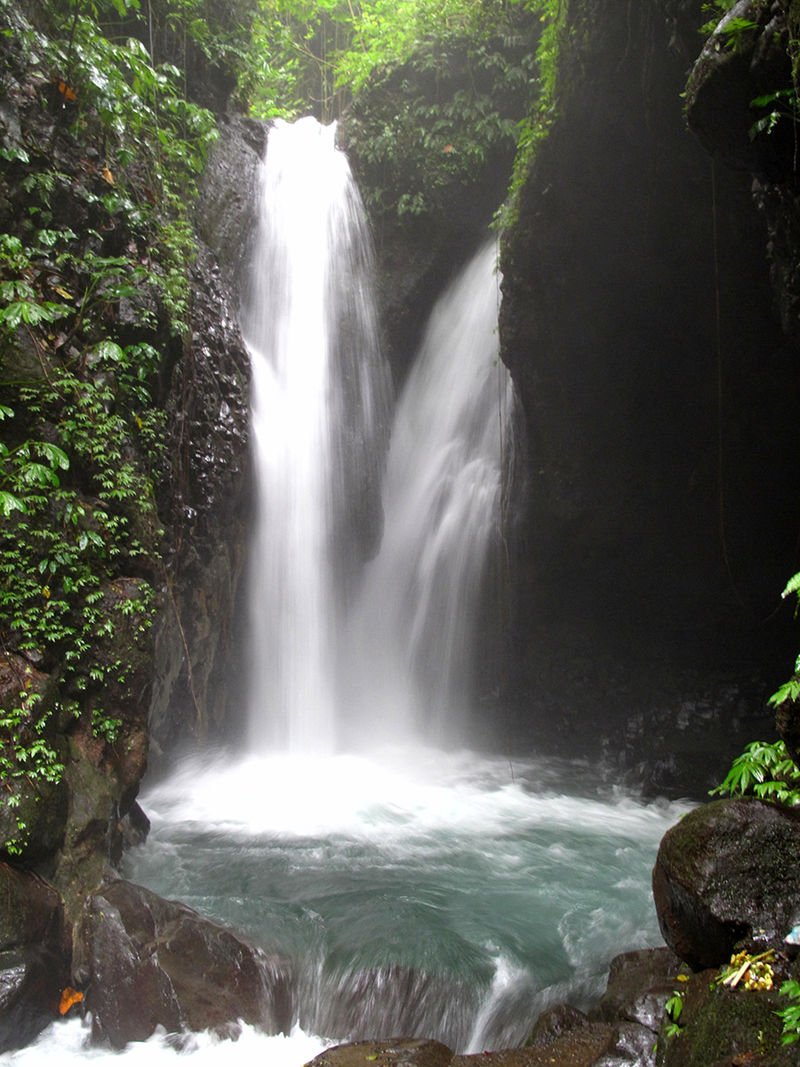 Get ready to discover the captivating allure of Gitgit Waterfalls, an enchanting gem tucked within the Singaraja Regency. Revered as one of the island's most captivating tourist destinations in Northern Bali, this picturesque oasis is a collection of cascades, each boasting its own unique height and shape. Amidst this natural wonderland, the crown jewel of Gitgit awaits—twin waterfalls gracefully converge, creating a tranquil pond of crystal-clear waters. Prepare to be mesmerized as the verdant trees embrace this idyllic sanctuary, enveloping it in an atmosphere of unparalleled serenity. Immerse yourself in the refreshing spectacle, where nature's symphony harmonizes with the sublime beauty of Gitgit Waterfalls, leaving an indelible mark on your heart. 
Kanto Lampo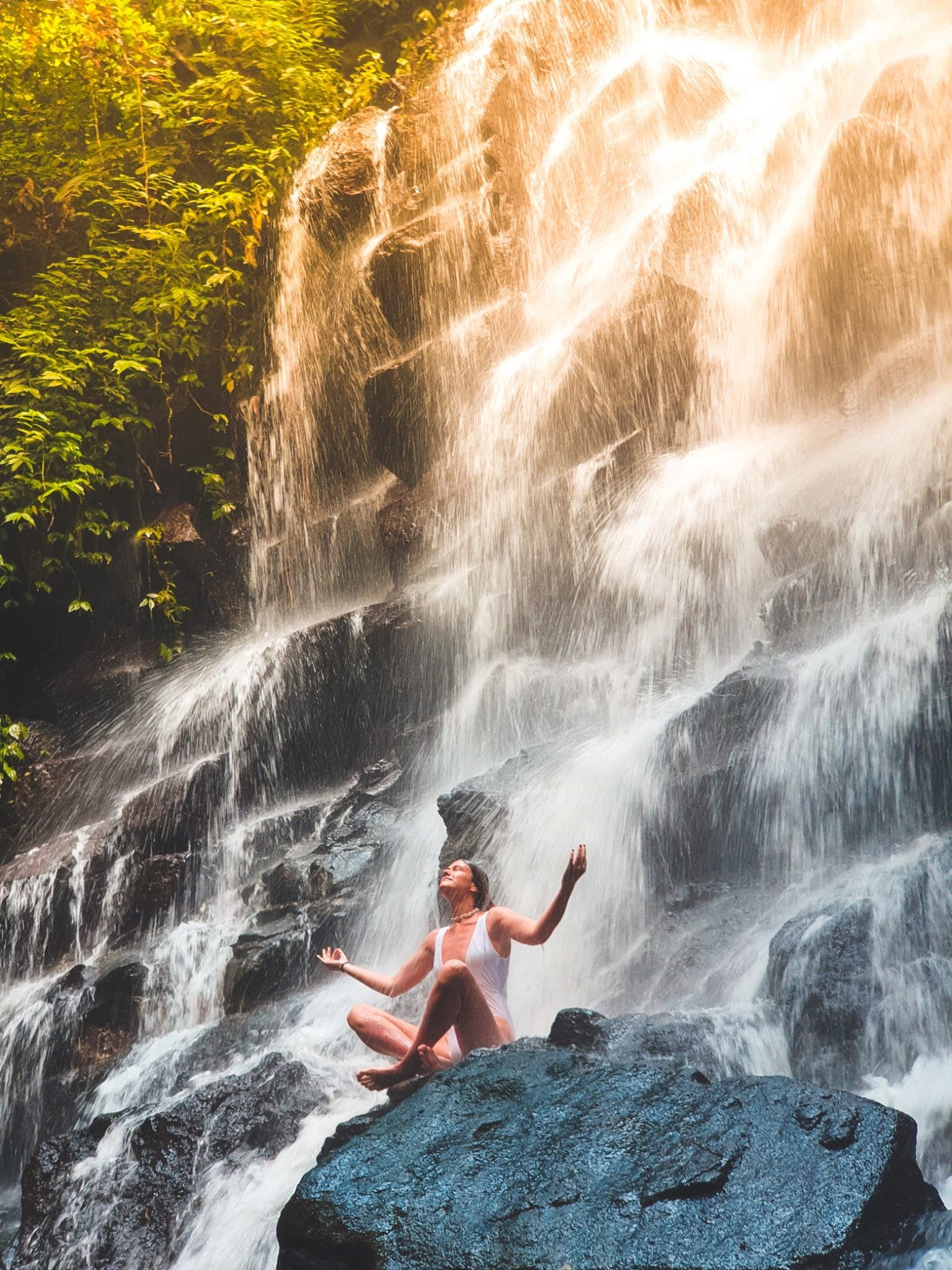 Located at Beng village in the Gianyar sub-district, only 12 kilometers away from Ubud Palace, Kanto Lampo is one of Bali's natural wonders found in an area not far from the capital city of Denpasar. The flat stones had been there for many years but only after the big prayer a few years ago that the water starts to fall here.  If you had to go through a long road out of nowhere to get to the waterfalls in Buleleng, this one is located just behind the town of Gianyar. The name 'Kanto Lampo' is taken from the local name of the trees that grow round orange fruit around the area.
Munduk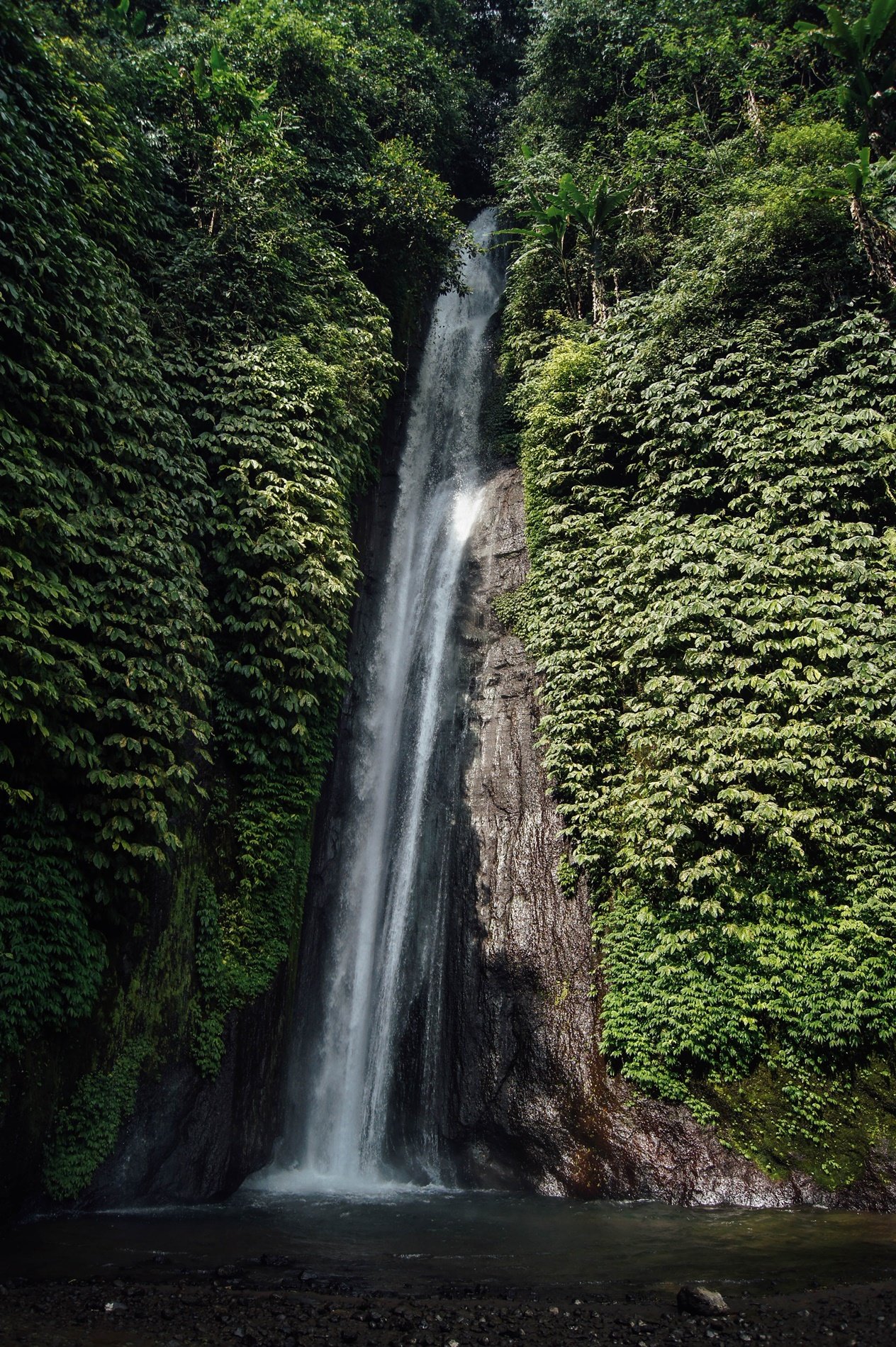 Elevated at an exhilarating 800 meters above sea level, Munduk village beckons you to immerse yourself in a world of refreshing tranquility. Amidst this captivating haven, a collection of enchanting waterfalls awaits, offering a rare serenity that few places can match on the island. For the adventurous at heart, embark on an invigorating uphill trek from the waterfalls, unveiling panoramic vistas of northern Bali's breathtaking coastline. While the journey demands energy, the rewards are unparalleled—an awe-inspiring view that will leave an indelible mark on your soul! Surrender to the allure of Munduk village, where pristine nature and exhilarating vistas converge to create an unforgettable escape. 
Sekumpul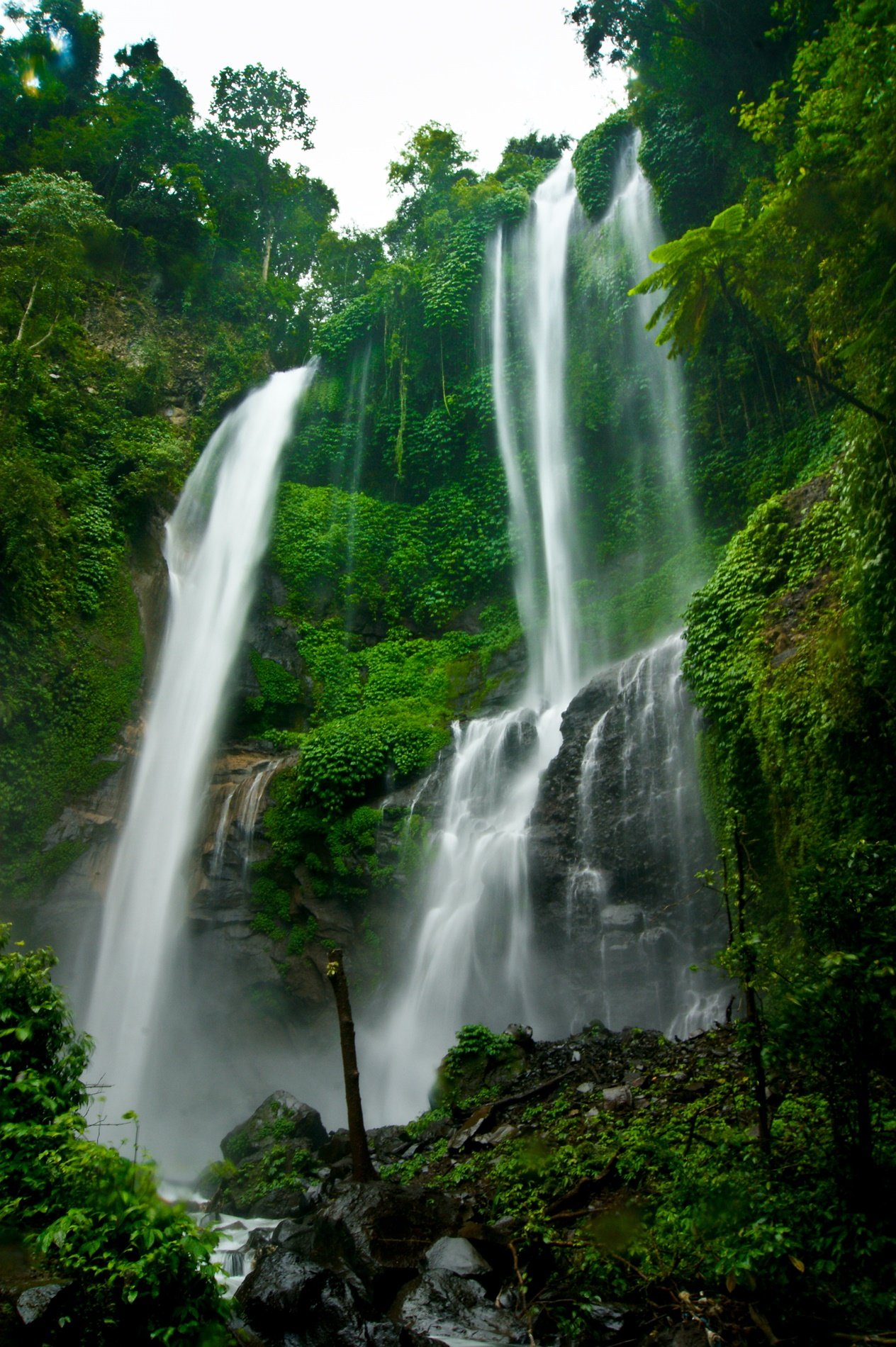 Leave the bustling urban sprawl behind and embark on a journey to Sekumpul Waterfall, where the enchantment of solitude awaits in an untamed sanctuary. In this hidden realm of Bali's untouched nature, discover a tranquil haven that was once whispered among insiders but now captivates the hearts of adventurers. Immerse yourself in the breathtaking wonders of Sekumpul, embraced by the verdant embrace of a thriving rainforest teeming with vibrant fauna and flora. Indulge in the crystal-clear freshwater pools that beckon for a refreshing swim. A symphony of serenity awaits, calling upon nature enthusiasts and intrepid travelers to surrender to its untamed beauty. To experience the allure of Sekumpul Waterfall is an absolute must for those seeking an extraordinary connection with the natural world. 
Tegenungan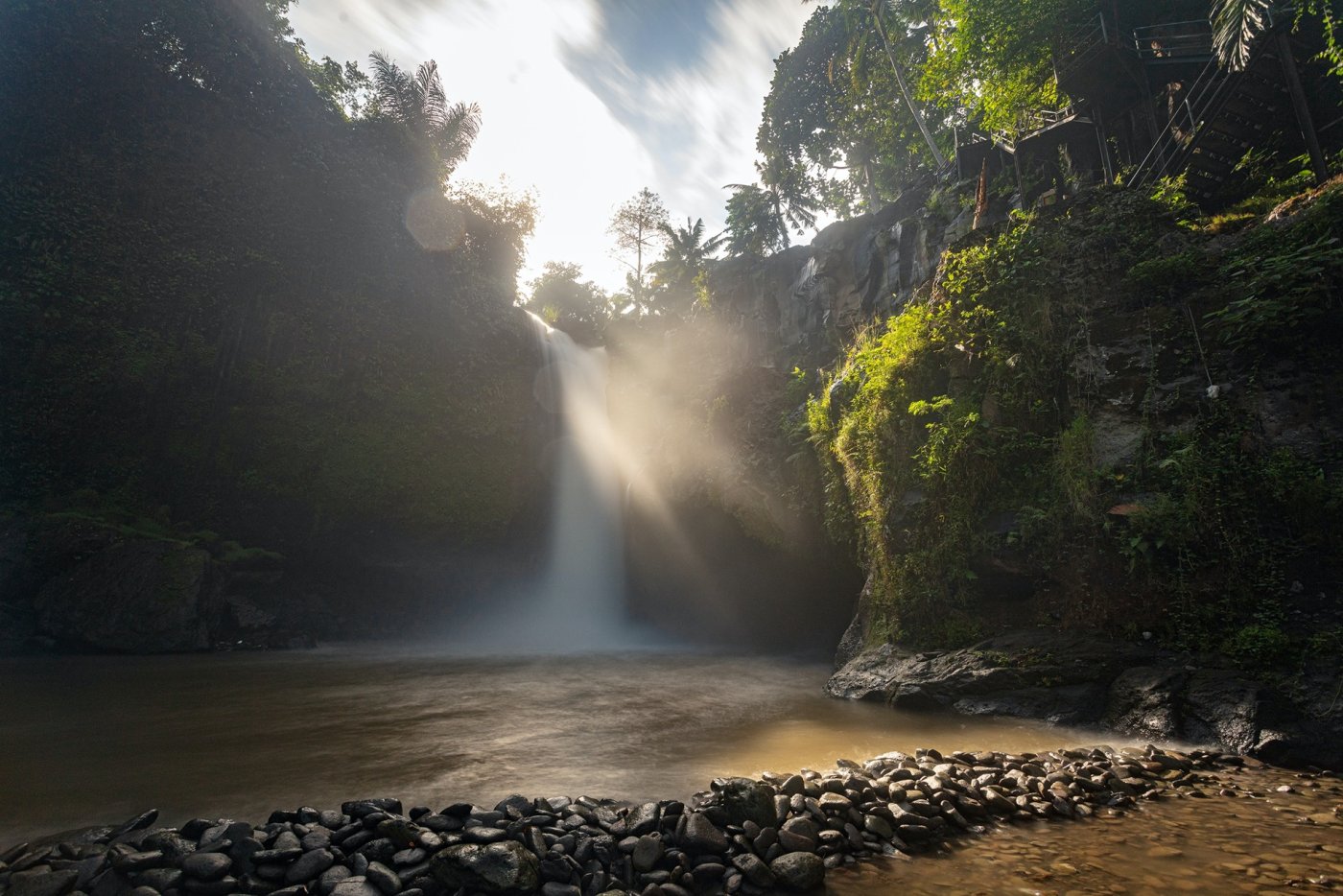 A renowned destination situated in the village of Ubud, Tegenungan Waterfall is unlike most waterfalls in Bali. For one, it is not located in the mountains but still offers captivating scenery with its surrounding lush greenery. The presence of a nearby temple adds to its charm. The waterfall features a strong water flow, ensuring cleanliness and freshness. It is a popular spot for locals who come here daily to swim or enjoy a rejuvenating bath.  You can visit this heavenly cascade by going to Tegenungan Kemenuh village in Gianyar district, just around 16 km from Denpasar. It is rather short in terms of height (only around 4 feet tall) but the water is very clean and refreshing for swimming around.