While Bali is renowned for its stunning beach clubs that attract sun-seekers from around the globe, the island's jungle pool clubs offer a mesmerizing alternative that transports you to an enchanting world hidden amidst towering trees and tropical foliage. Join us as we delve into the realm of Bali's best jungle-view pool clubs, where the vibrant energy of the island meets the untamed wonders of the wilderness, creating an unforgettable unwinding experience that is as awe-inspiring as it is irresistible.
Verdant Tropical Oasis: Best Jungle Pool Clubs in Bali
Cretya Ubud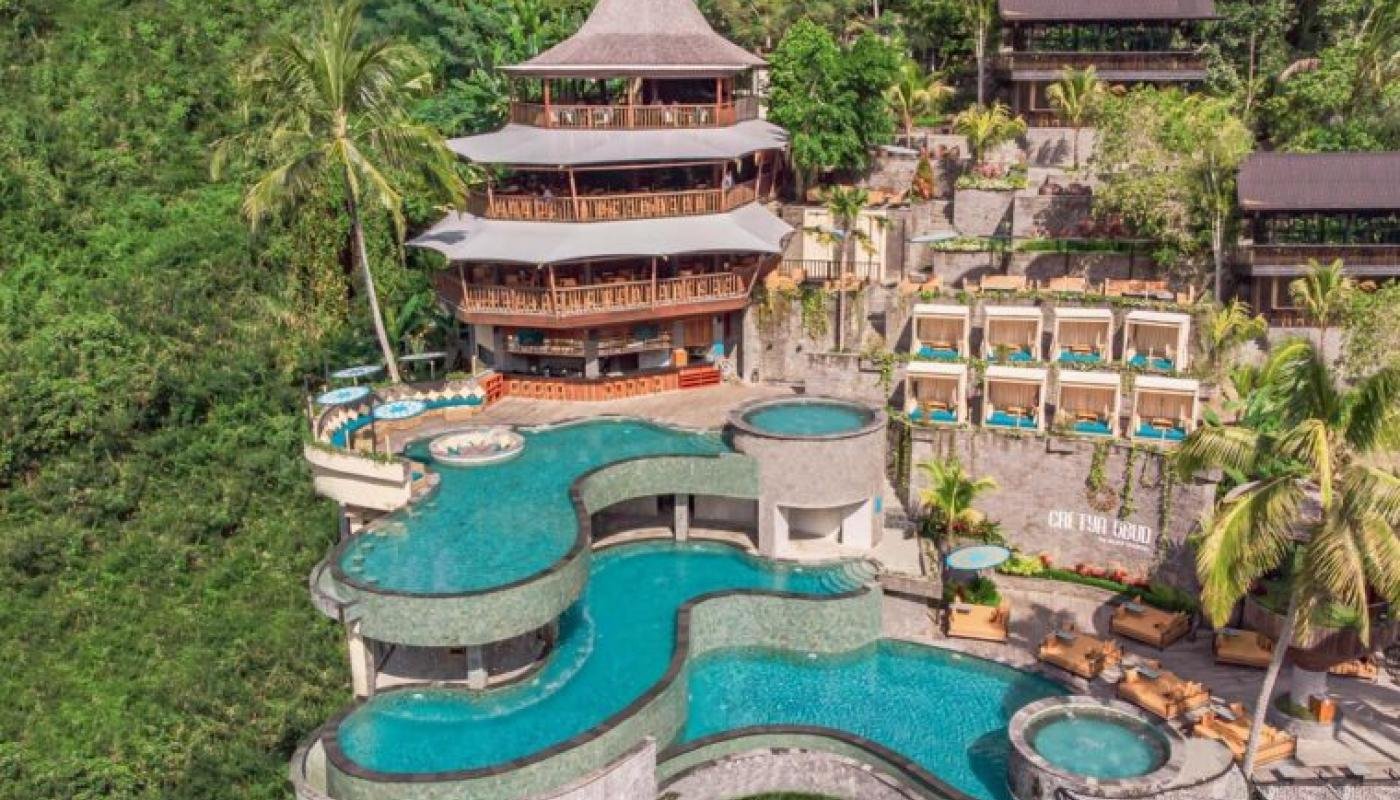 As a part of the enchanting Alas Harum Bali, Cretya Ubud, is a remarkable jungle day club destination to captivates all your senses. Surrender to serenity as the melodies of a DJ and the exquisite Crowned Angels cocktails transport you to a world of pure bliss by the three-tiered pool. Indulge in a lavish spread of international delights, from mouthwatering American classics to tantalizing Mediterranean-inspired creations, served from sun-kissed breakfasts to candlelit dinners. Immerse yourself in the relaxed ambiance and poolside views of Yudhistira, Arjuna, and Bima Lounge, where every moment is perfect. Our dedicated culinary team reveals the secrets behind each tantalizing dish, ensuring your special occasion becomes a truly unforgettable celebration.
Jl. Raya Tegallalang, Tegallalang, Kec. Tegallalang, Kabupaten Gianyar, Bali 80561
Phone: +62 812 3802 1174
Website
Instagram
CP Lounge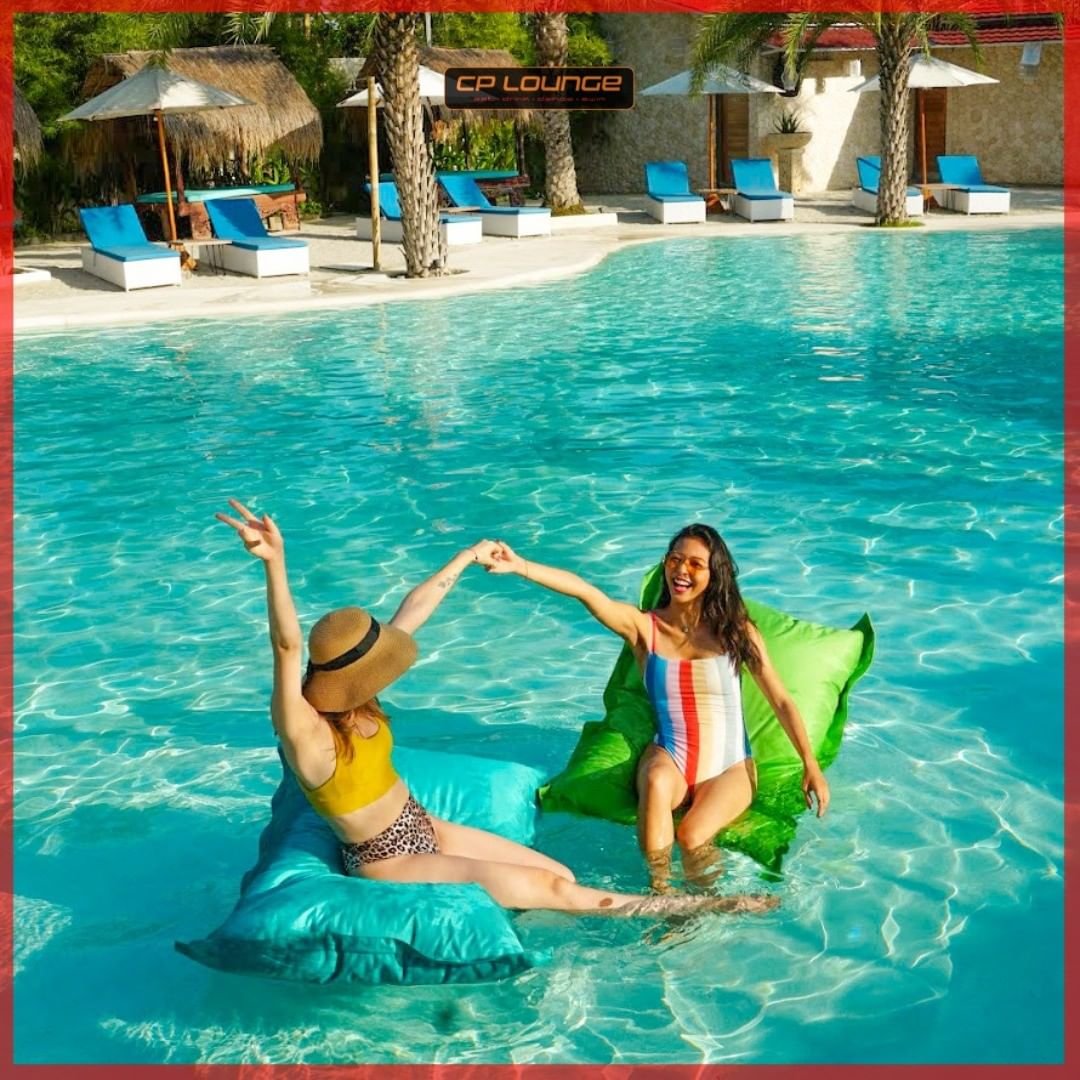 Imagine stumbling upon a hidden gem within Ubud's lush jungles—an unexpected, sandy white beach experience! Meet CP Lounge, a vibrant concept that combines the tranquility of Ubud's natural wilderness with the bliss of Bali's beaches. Located on Monkey Forest Road, this lively spot offers a generously sized swimming pool, soft sand, and swaying palm trees where you can soak up the sunshine and relax to funky music and beach club vibes. Choose from luxurious loungers and cozy cabanas, sip on tantalizing cocktails, and indulge in Mediterranean tapas, Indonesian delicacies, and Western dishes. CP Lounge is not only a daytime retreat but also comes alive after sunset with live bands, salsa beats, and a tempting array of cocktails and shooters. Get ready to dance under the stars and make unforgettable memories, as this bar keeps the party going until the early hours of the morning.
Jl. Monkey Forest. 15, Jalan Wenara Wana No.15, Ubud, Kecamatan Ubud, Kabupaten Gianyar, Bali 80571
Phone: (0361) 978954
Website
Instagram
Folk Pool & Gardens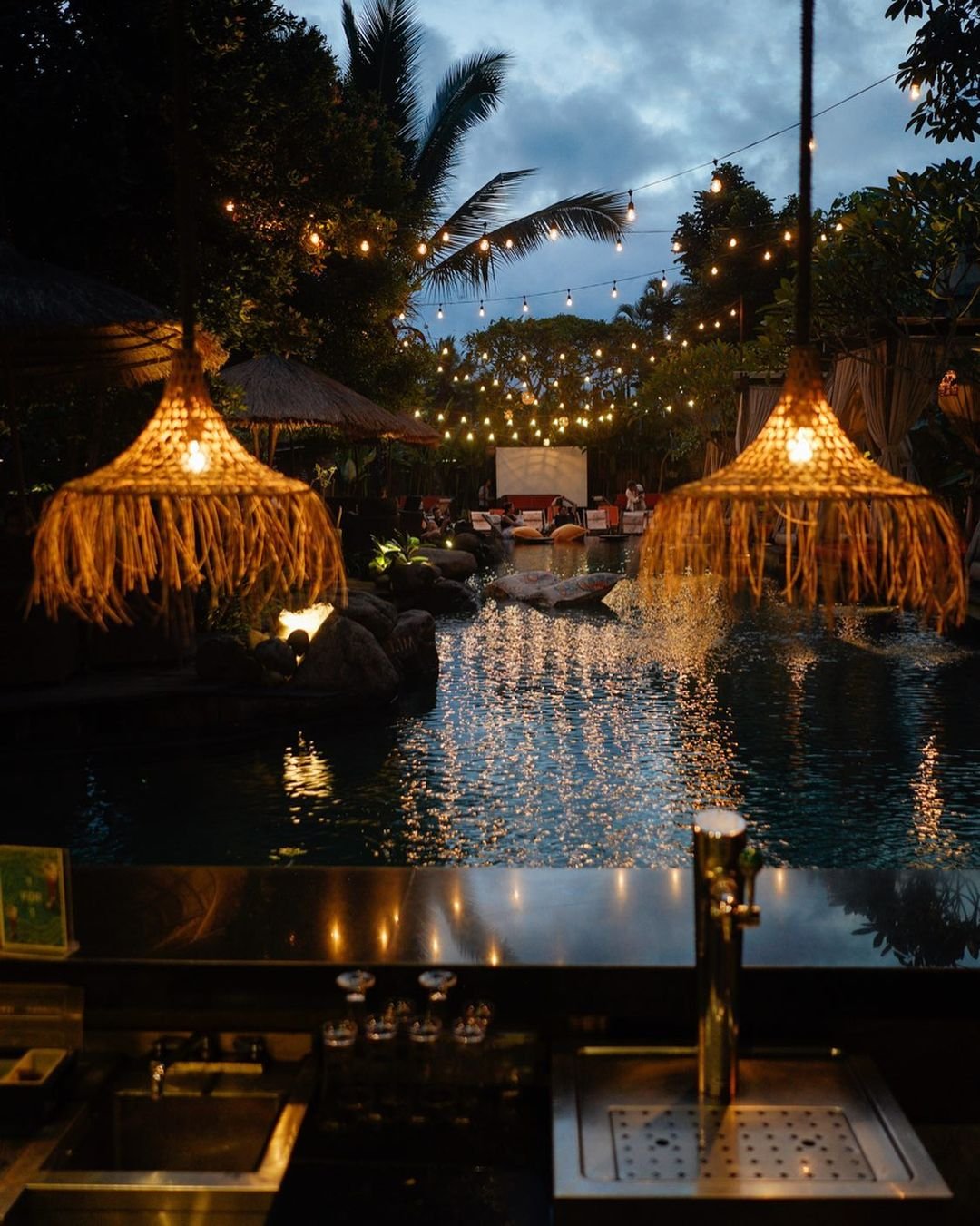 Get ready for a one-of-a-kind experience in the heart of Ubud: Folk Pool & Gardens, the verdant town's first swim-up bar! It's the ultimate chill-out spot where you can bask in the sun, relax in green gardens, and unwind on private daybeds or cozy teepees. The fun doesn't stop there—prepare your taste buds for a treat with their mouth-watering food and delectable cocktails. Whether you swim up to the in-pool bar or order from your spot, you're in for a delightful time. Savor their cocktail classics or opt for a healthy smoothie or refreshing mocktail. Don't miss their 1-for-1 Happy Hour and beer buckets as well. As the sun goes down, head to the Popcorn Club and enjoy their poolside twilight cinema experience every Thursday and Sunday. Free movies and a special popcorn menu? Count us in! Folk Pool & Gardens is the perfect place for groups and families to have an unforgettable good time.
Jl. Monkey Forest, Ubud, Kecamatan Ubud, Kabupaten Gianyar, Bali 80571
Phone: +62 361 908 0888
Website
Instagram
Kabana Ubud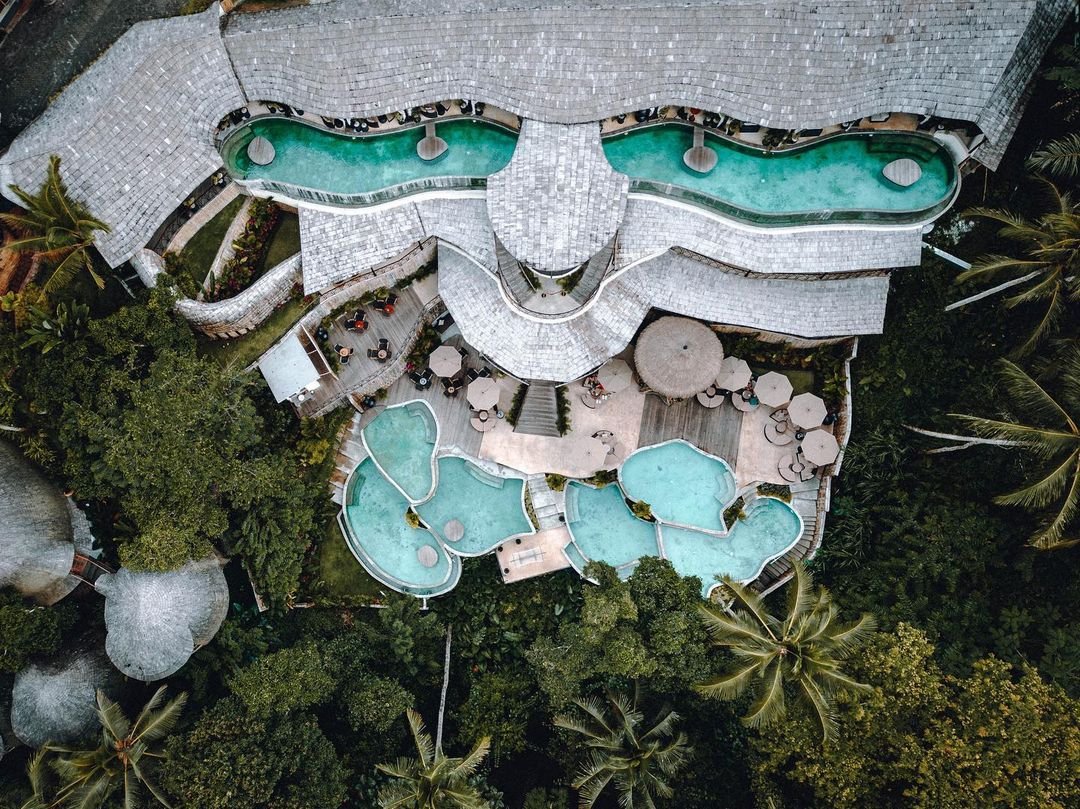 Step into a world where nature and rhythm collide at the K-Club Ubud infinity Jungle Pool. Get ready to immerse yourself in the wonders of nature, whether you're dancing to your own beat or simply basking in serene beauty. Kabana, Indonesia's most prominent Jungle Pool Club, offers an extraordinary experience with its four levels and eight stunning swimming pools. As you indulge in the pool club's multiple food and beverage outlets, cascading down the ravine's natural contours, you'll find yourself celebrating life in Ubud's majestic jungle and embracing the magic of nature. Brace yourself for exclusive events featuring world-class DJs, making it the perfect place to party and celebrate. And when night falls, prepare to be mesmerized by a hypnotizing laser show that dances over the sleeping jungle. Get ready for an unforgettable journey where nature and nightlife converge.
Jl. Raya Cebok, Kedisan, Kec. Tegallalang, Kabupaten Gianyar, Bali 80561
Phone: +62 817 9114 610
Website
Instagram
OMMA Day Club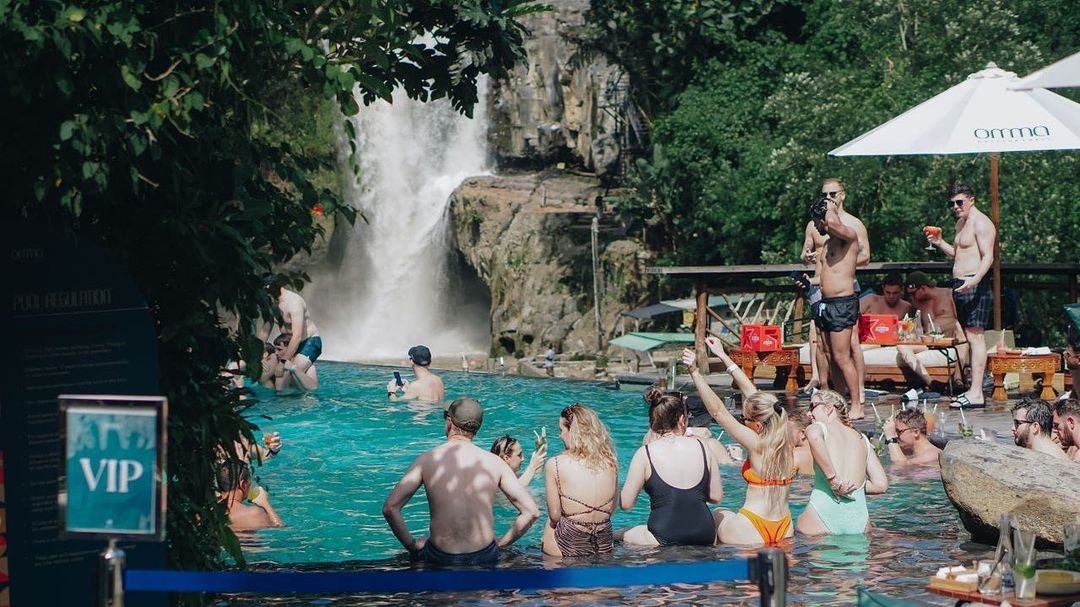 A magical retreat nestled by the picturesque Tegenungan waterfall in Gianyar, OMMA Dayclub is a splendid destination to chill and unwind. Prepare to be enchanted as you savor a delightful meal while feasting your eyes on the awe-inspiring waterfall. The cozy outdoor lounge beckons with a curated selection of champagnes, wines, and mouthwatering dishes crafted from the freshest local ingredients. At Omma Bali, you'll feel like you've found a home away from home, where the rich tapestry of local culture meets modern comfort. Immerse yourself in the beauty of Bali, indulge your senses, and embark on an unforgettable journey of relaxation and culinary bliss.
Kemenuh, Sukawati, Gianyar Regency, Bali 80581
Phone: +62 811 396 961
Website
Instagram
The Monkey Bar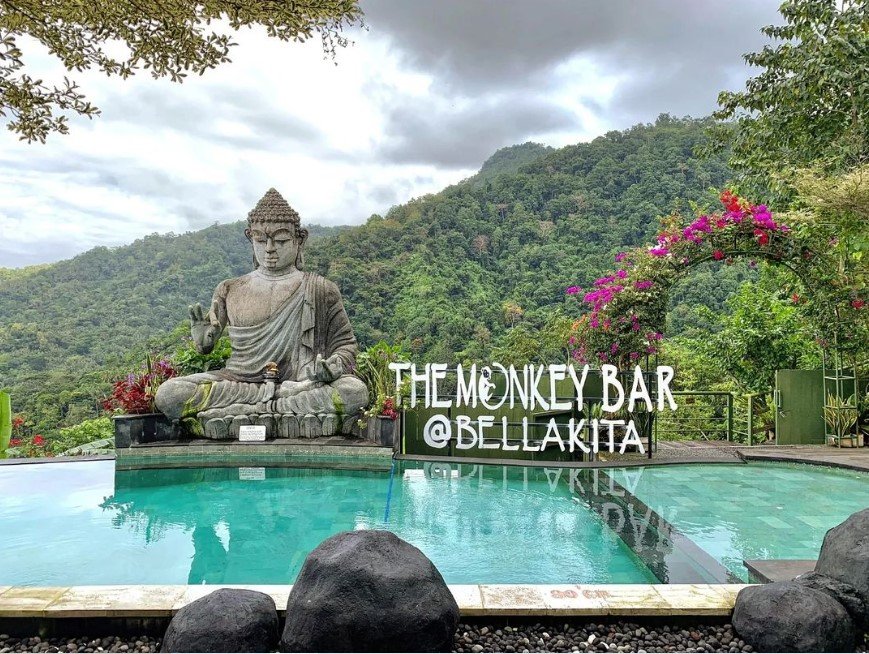 Picture this: lounging by the pool, sipping your refreshing cocktails while gazing at the verdant forest in the distance. Monkey Bar is a place to have it all. Surrounded by vibrant flowers and lush jungle, the venue is a true spectacle. The infinity pool is graced by the iconic stone Buddhas, with the lush green jungle as its backdrop, creating an ambiance like no other. Treat your taste buds to all-day dining, homemade snacks, and mouthwatering Balinese specialties, all made with fresh, organic, and seasonal ingredients sourced from Bella Kita's farm. Need some 'me time'? Head downstairs to the Bella Spa, where skilled therapists will pamper you with natural oils infused with coconut and lemongrass. And if you're into yoga, they've got you covered with a yoga hut perfect for classes or retreats. 
Bella Kita Mountain Retreat & Spa
Jl. Bukit Abah, Besan, Kec. Dawan, Kabupaten Klungkung, Bali 80761
Phone: +62 813 2931 0000
Website
Instagram
Tlaga Singha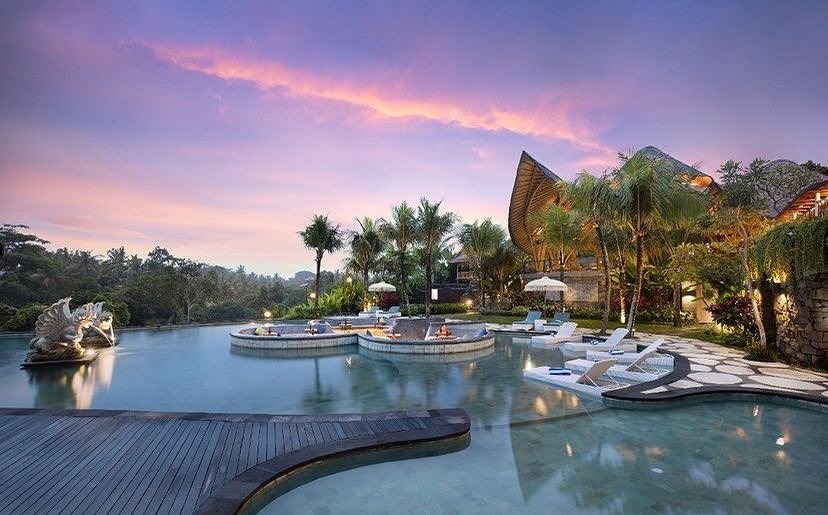 Welcome to the picturesque Tlaga Singha Bali in Sukawati, just a stone's throw from Ubud. Get ready for a stylish and vibrant experience designed to delight your senses at this Tropical River Pool Club. Dive into the pool and swim up to the bar, where refreshing drinks await. The indoor and outdoor infinity pools offer the perfect spots to soak up the sun while enjoying the stunning, lush tropical jungle landscape. For some extra fun, the Tlaga Singha team can organize pool games that are sure to entertain both kids and the young at heart. Choose from various day packages that include pool access, towels, and lockers, and don't miss the chance to indulge in a floating pool brunch, served on a tray with an Instagram-worthy selection of menu items. When it's time to dine, Tlaga Singha has you covered with multiple dining areas catering to every occasion, from group events to romantic dinners and even wedding receptions. Head to the bamboo-adorned main bar for a sun-downer and enjoy their tempting cocktail and mocktail selection. 
Jl. Raya Singapadu, Singapadu, Kec. Sukawati, Kabupaten Gianyar, Bali 80582
Phone: +62 822 6007 0072
Website
Instagram
Wanna Jungle Pool & Bar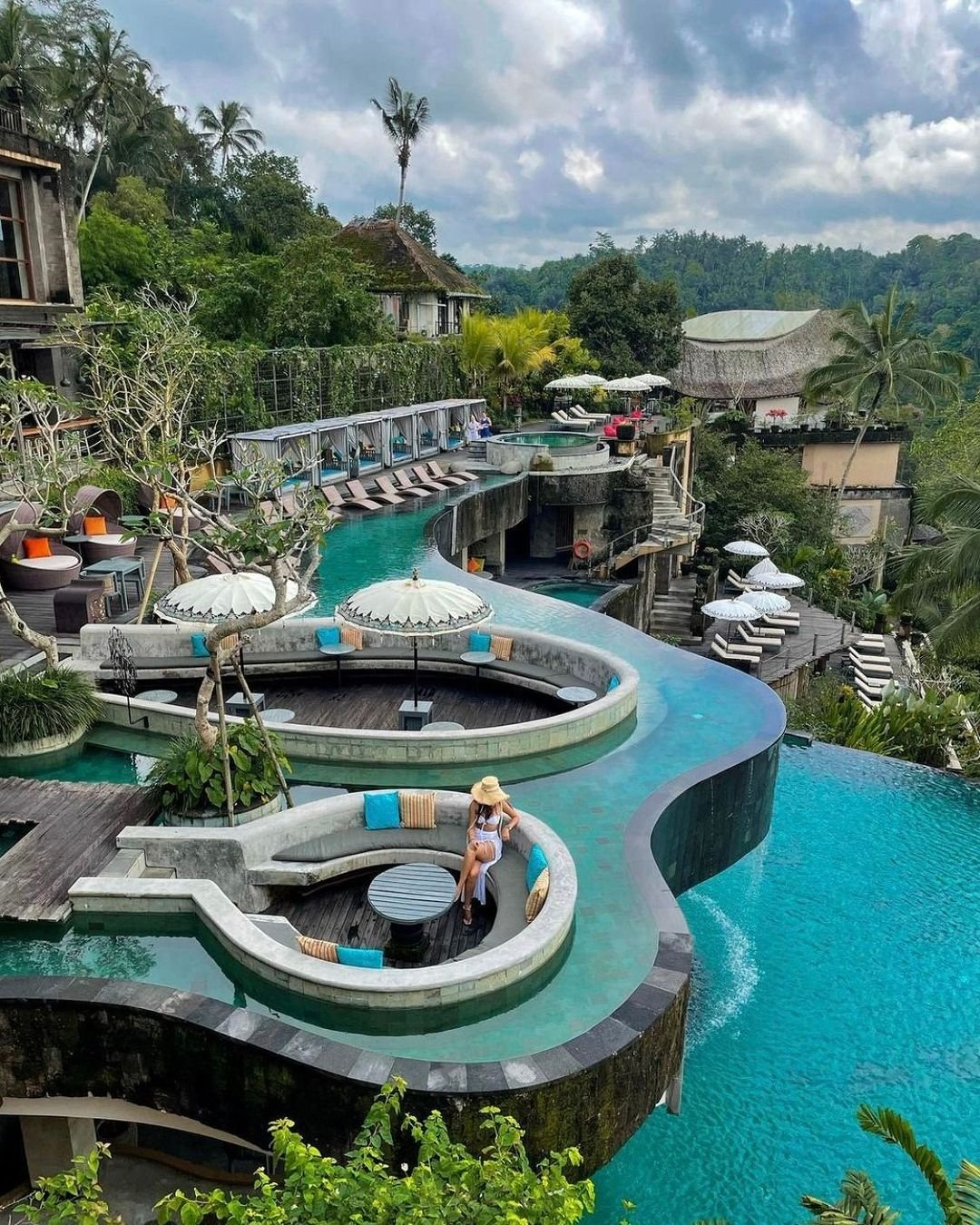 Perched within the lush mountains of Payangan in Ubud, the Kayon Jungle Resort features an awe-inspiring jungle pool. With its three-layered infinity design, the pool offers stunning views of the surrounding greenery and nearby river. Guests can relax in shaded cabanas and enjoy a laid-back atmosphere. The resort's impressive bar serves drinks and light bites, while Kepitu Bar & Lounge offers poolside dining. For ultimate relaxation, the Serayu Spa provides a luxurious retreat with its treatment rooms, beauty salon, sauna, and jacuzzi. The resort offers various accommodation options and curated packages, making it an ideal choice for couples' getaways. Additionally, the Puspaka Sky Wedding Chapel, a charming bamboo structure overlooking the valley, provides a picturesque setting for weddings.
Kayon Jungle Resort
Banjar, Desa, Bresela, Kec. Payangan, Kabupaten Gianyar, Bali 80572
Phone: +62 361 978 098
Website
Instagram