Breast Cancer Awareness Month is held every October and is commonly referred to as Pink October.
In order to raise money and increase awareness throughout the whole month, there are many ways to help. In this list, you may find the events and deals to participate in and support the cause.
Bali Pink Ribbon Unite in Hope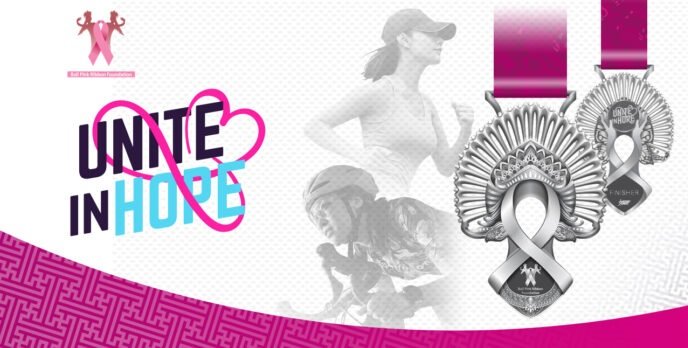 Yayasan Pita Merah Muda Bali or Bali Pink Ribbon (BPR) presents its annual major fundraising activity during October, breast cancer month. Throughout October, proceeds from the auction of vouchers, items as well as ticket sales will be donated to the Foundation to support efforts in improving breast cancer awareness, early detection & related support services.
Bali Pink Ribbon's annual fundraising event will return as a virtual run and bike ride this year, themed Unite In Hope, in collaboration with the 99 Virtual Run application. This is the third year the fundraising event is held virtual due to the Covid-19 pandemic. By joining, the individual donates IDR 50K to support Bali Pink Ribbon's social campaigns and activities. The 5K Multiple Run and 25K Multiple Ride will take place on 22-23 October. Participants can already sign up for the race on the 99 Virtual Race application available on AppStore and PlayStore. Registration dates are open from 20 August to 21 October 2022 or until slots are full.
Registration fee is IDR 189K including IDR 50K donation to BPR, eBIB, Finisher Medal, eCertificate, and entry to win a door prize.
Sip & Paint in Pink at InterContinental Bali Sanur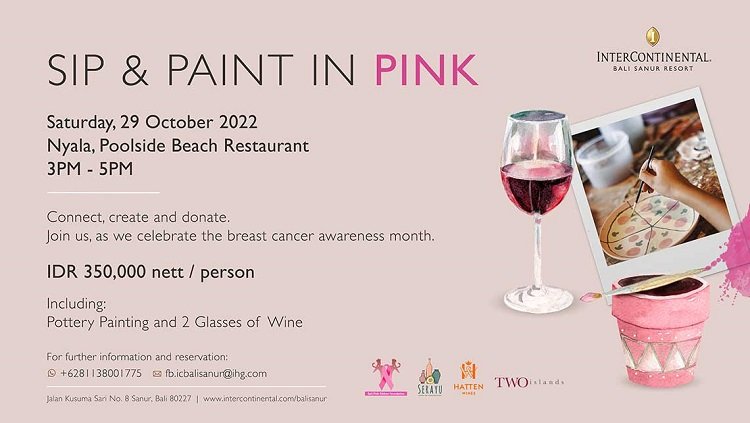 Dedicated to increasing breast cancer awareness and supporting local businesses, Sip & Paint in Pink is an exclusive event that will commence on Saturday 29 October 2022 at InterContinental® Bali Sanur Resort. In collaboration with the Bali Pink Ribbon Foundation, well-known pottery studio Serayu Pot Ubud and the award-winning Bali's winery Hatten Wines, this curated event will bring a memorable experience to each guest through art and wines.
The idea was initiated by InterContinental® Bali Sanur Resort to support the local community as well as to promote creativity and share knowledge. Guests will enjoy painting the handmade terracotta pottery by Serayu Pot Ubud while sipping the fine locally-produced wine. During this relaxing event, guests can also donate through the pink terracotta pot specially made by Serayu Pot Ubud.
Saturday, 29 October 2022 at Nyala, Poolside Beach Restaurant
IDR350,000nett/pax
Including pottery painting and two glasses of wine
For further information and reservation, through WhatsApp at +6281138001775 or email at [email protected]
Octo Pink Neighborhood at Hotel Indigo Bali Seminyak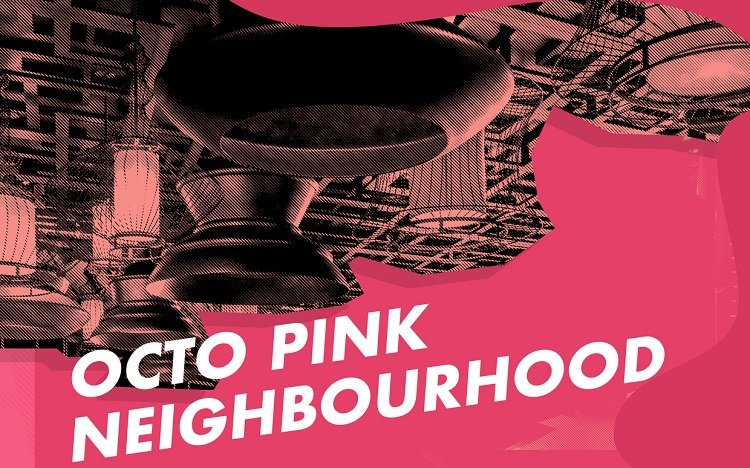 In collaboration with Bali Pink Ribbon, join the Seminyak-inspired charity day, featuring Afternoon Yoga with Ricardo Roestenburg at 4 PM, free of charge for anyone who wishes to join at the Karma Veda meeting room.
Continue the celebration at SugarSand from 5.30 PM with a glass of the October cocktail of the month at IDR 125,00 per person.
For more information and reservations, email [email protected]. 
Pink Month Tea Talk at Hilton Bali Resort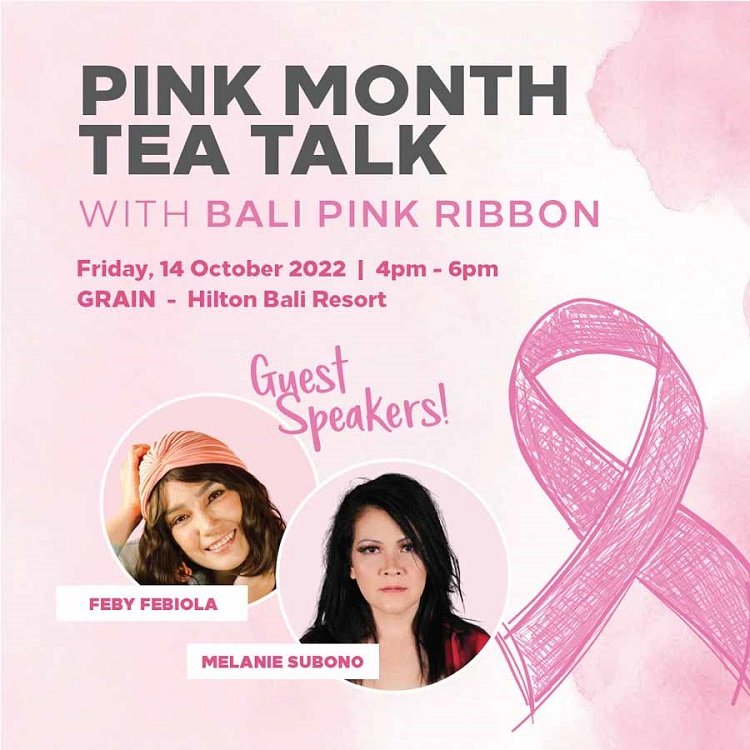 On Friday, October 14, 2022, from 4-6 PM, join Melanie Subono and Febi Febiola for a private Afternoon Tea Talk. IDR 250.000nett per person.
The Hilton Bali Resort in Nusa Dua's all-day dining establishment GRAIN will host this interesting event.
Hard Rock Hotel Bali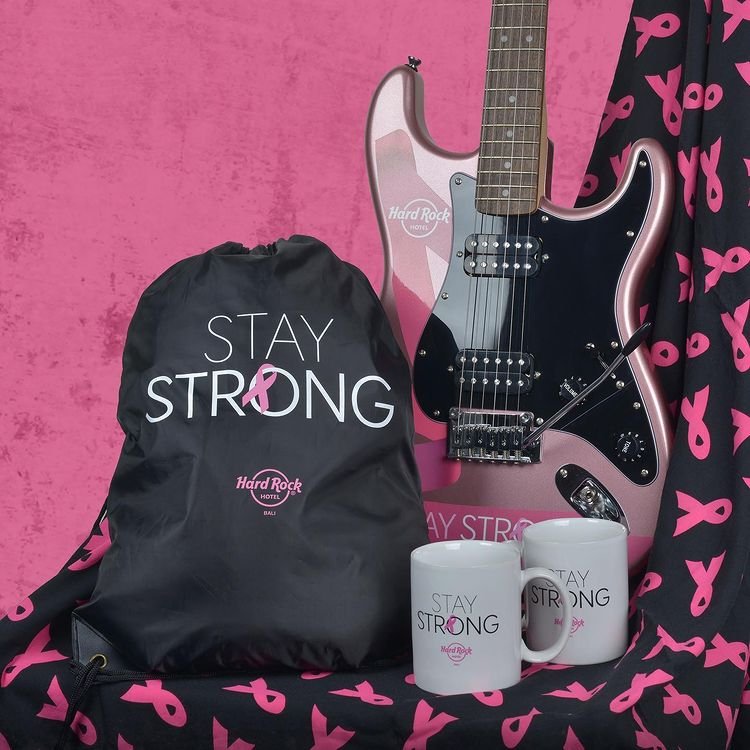 For the whole month of October, Hard Rock Hotel Bali will be raising funds for Bali Pink Ribbon whose team will travel to rural areas in East Indonesia to educate women about breast health and cancer.
The fundraising activities consist of online auctions that offer various holiday vouchers in Maldives, Malaysia, Thailand, Singapore, and Indonesia as well as uniquely designed, limited-edition Hard Rock's Pinktober 2022 mantra 'STAY STRONG' merchandise than can be purchased at the hotel. In addition, pink Fender guitars have been added to the brand's Sound of Your Stay ®️ music program, allowing you the unique opportunity to check out a complimentary guitar on-site.
Hard Rock Cafe Bali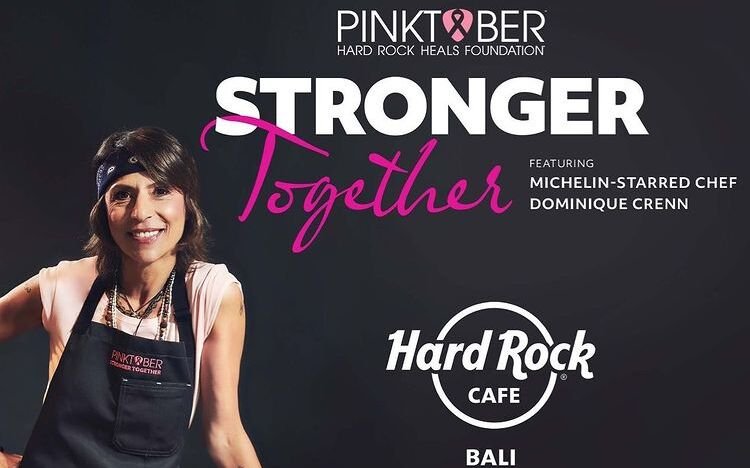 Introducing their Pinktober limited edition dish in partnership with iconic Chef Dominique Crenn! The Baja Style Shrimp Taco is a masterpiece of achiote marinated shrimp, Charred Salsa Roja, Pickled Red Onions, Spicy pepitas, Avocado, and Shredded Cabbage! 
A portion of proceeds from this limited edition dish and from Pink Blossom Sababay Winery wine sold in October will go towards a local breast cancer charity -  Bali Pink Ribbon Foundation.
Re.juve Indonesia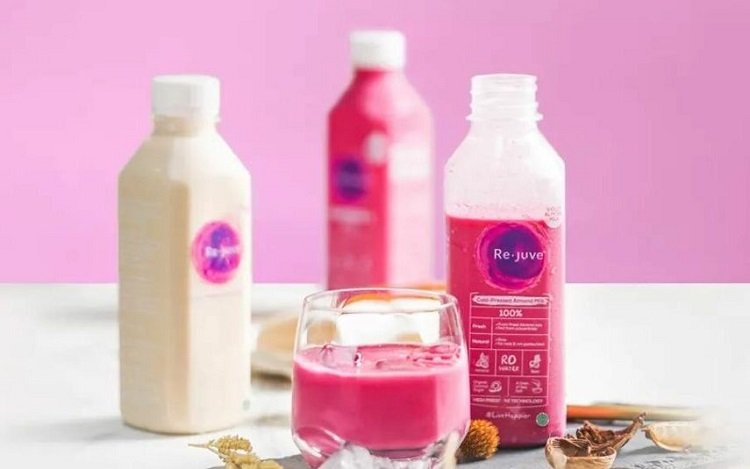 Re.juve aims to demonstrate support for Breast Cancer Survivors to maintain their passion and hope while also urging you to love yourself more via the goodness of nourishment that is 100% fresh, pure, and natural in honor of Breast Cancer Awareness Month.
Re.juve and Bank BRI are offering an exclusive Buy 2 Get 4 (all variations) special promotion to BRI users from 1–16 October 2022. (BRIMO, Debit BRI Mastercard, Creditcard Mastercard). All Re.juve locations accept this promotion. T&Cs apply.
Visit the nearest Re.juve location now, and let's offer the body only the best.
Instagram: @rejuveid