Bali is a holiday destination that caters to anyone of all ages, but there are some places such as beach clubs where age restriction applies as well. These places offer refined atmosphere, exclusivity and enticing events ranging from live DJ sets to mature-themed parties. From seductive sunset vistas and delectable culinary delights to pulsating beats and lavish poolside lounging, these kids-restricted beach clubs redefine the notion of indulgence. Spoil your senses and elevate your beachside experience as we unveil a carefully curated list of Bali's most coveted adult-oriented beach clubs. Get ready to immerse yourself in a realm where the sun, sand, and sensations intertwine to create an unforgettable tropical getaway for mature travelers.
Paradise for Grown-Ups: Bali's Best Adult-Only Swimming Pools 2023
Alila Seminyak Beach Bar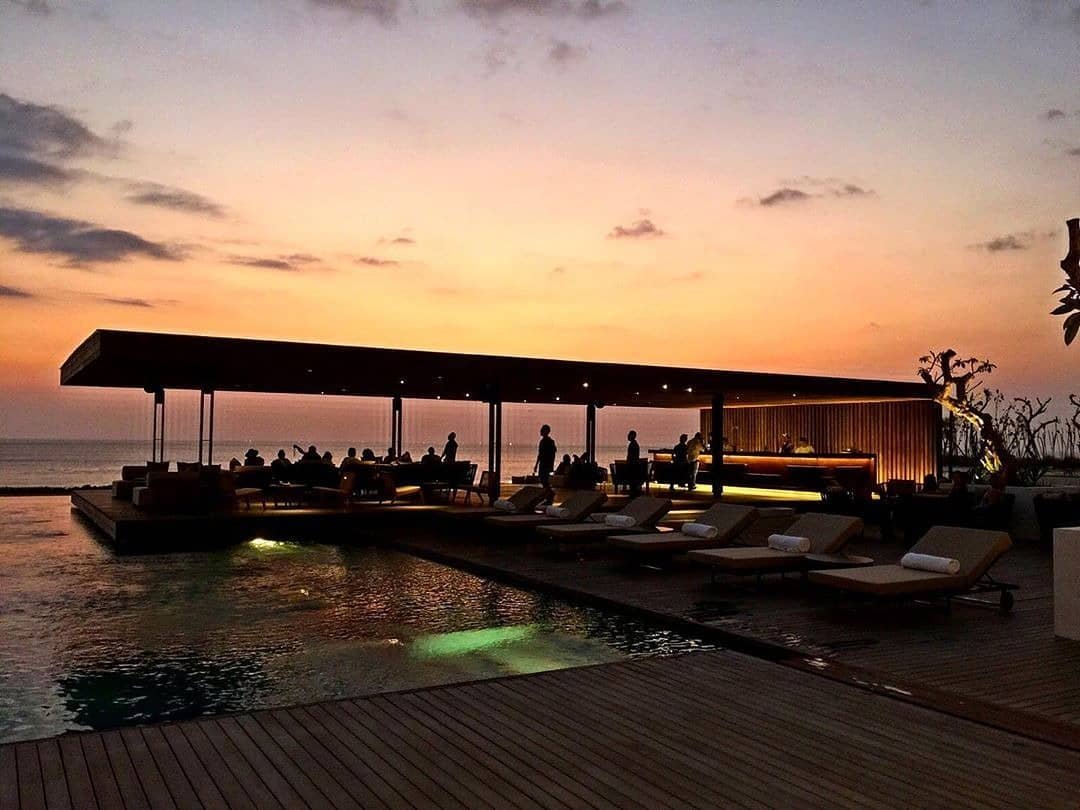 Conveniently tucked within the uber chic resort enclaves of southwest Bali lies a hidden gem of understated glamour—the Alila Seminyak. This coveted haven of indulgence has earned its reputation as a darling among the champagne set. Its allure is amplified by an exquisite trio of pools, with one in particular, the Serene pool, reserved exclusively for discerning hotel guests of voting age. Here, tranquility reigns supreme as the pool remains a serene sanctuary, shielded from the bustling energy of the central resort area and off-limits to both children and day guests. With its secluded location and sophisticated ambiance, the serene pool becomes an aquatic retreat for those seeking an elevated sense of relaxation and refined luxury.
Alila Seminyak
Jl. Taman Ganesha Jl. Petitenget No.9A, Seminyak, Kec. Kuta Utara, Kabupaten Badung, Bali 80361
Phone: +62 361 302 1888
Website
Instagram
Alternative Beach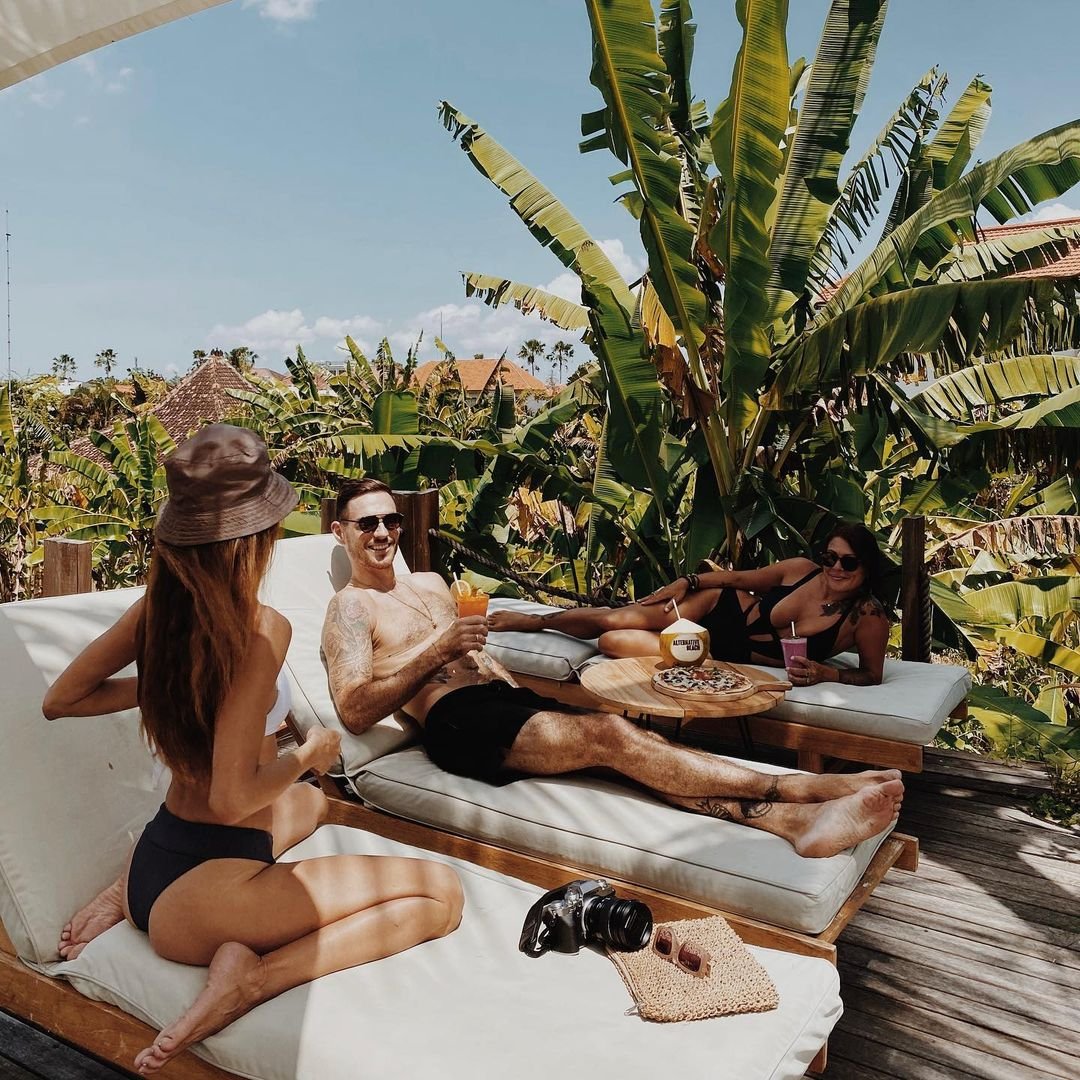 Looking for the perfect day-time hangout in the vibrant Canggu? Look no further than Alternative Beach, where a seamless blend of open-air pools, beach vibes, and chill-out music events await. With guest DJs spinning groovy tunes, delectable food, and tantalizing cocktails, this Mediterranean-inspired oasis is the ultimate haven for relaxation. Embracing an exclusive 17+ policy, it guarantees a laid back ambience to briefly escape from the energetic atmosphere of kids. Dive into the azure pool, unwind in the two Jacuzzis, or mingle at the social hub. Pamper yourself at the day spa, get active at the gym or cycle center, and revel in the modern amenities. Complete with cozy accommodations at Kos One Hostel and Canggu Village Accommodation, Alternative Beach sets the stage for an unforgettable, adult-centric experience in Canggu.
Jl. Pantai Batu Bolong No.78, Canggu, Kec. Kuta Utara, Kabupaten Badung, Bali 80361
Phone: +62 361 906 9622
Website
Instagram
Azul Beach Club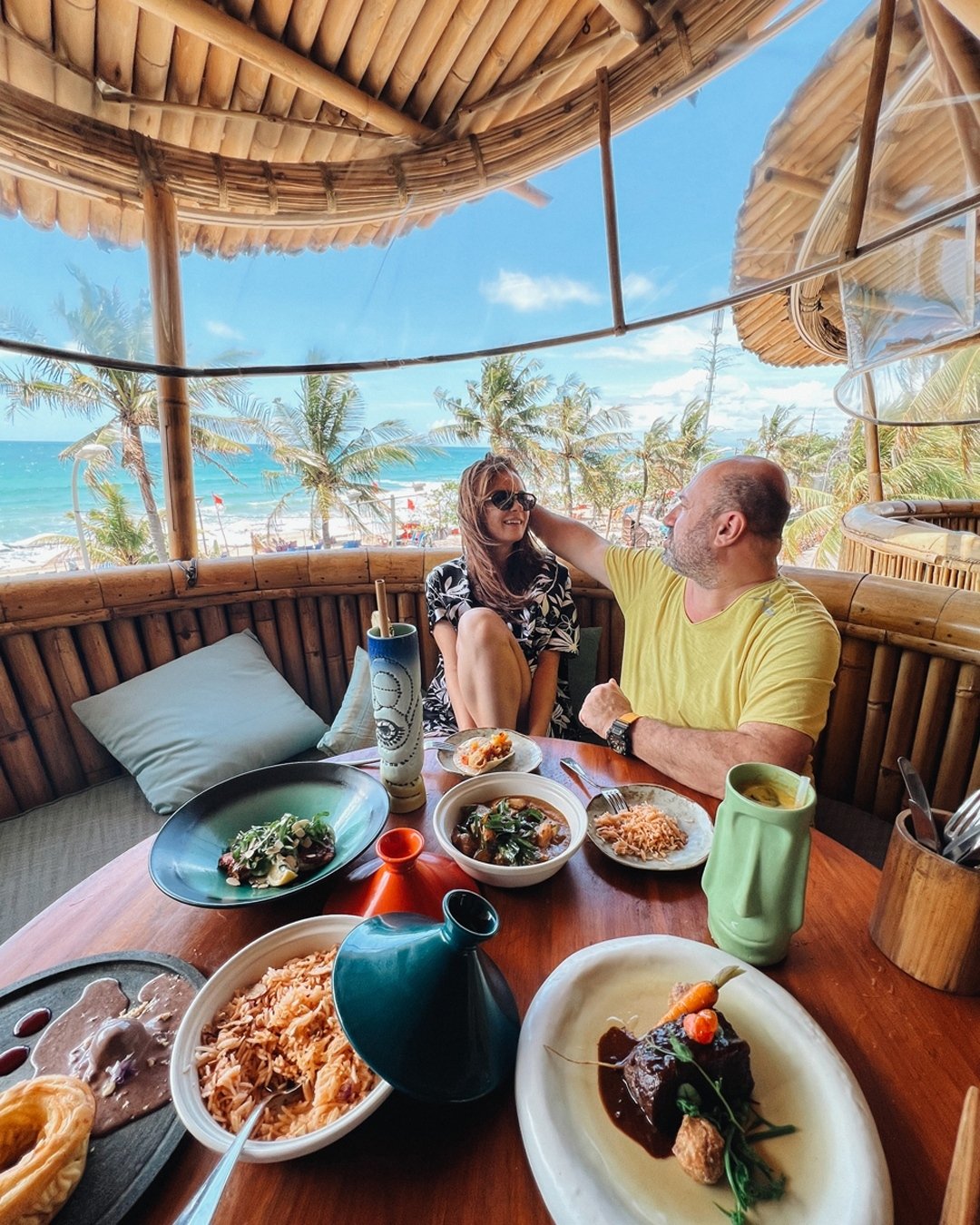 Perched along the pristine beachfront, Azul Beach Club beckons with its enchanting bamboo tree house design and a captivating ambiance. Indulge in sassy sunset cocktails, immerse yourself in a lively live music program, and savor epic all-day dining at this idyllic destination. The pool, boasting panoramic views framed by swaying palm fronds, exudes an air of exclusivity with its strict Monday to Saturday adult-only policy. Relax in the expansive circular whirlpool, surrounded by wooden decks adorned with sun lounges, umbrellas, and exquisite Moorish-style banquets. While the pool remains an adults-only haven, any curious child is swiftly redirected to the kid-friendly lagoon pool of the adjacent Mandira resort, ensuring a safe and enjoyable experience for all. The venue also welcomes kids for a delightful family BBQ occasion every Sunday.
Jl. Padma No.2, Legian, Kec. Kuta, Kabupaten Badung, Bali 80361
Phone: +62 361 765 759
Website
Instagram
Cretya Ubud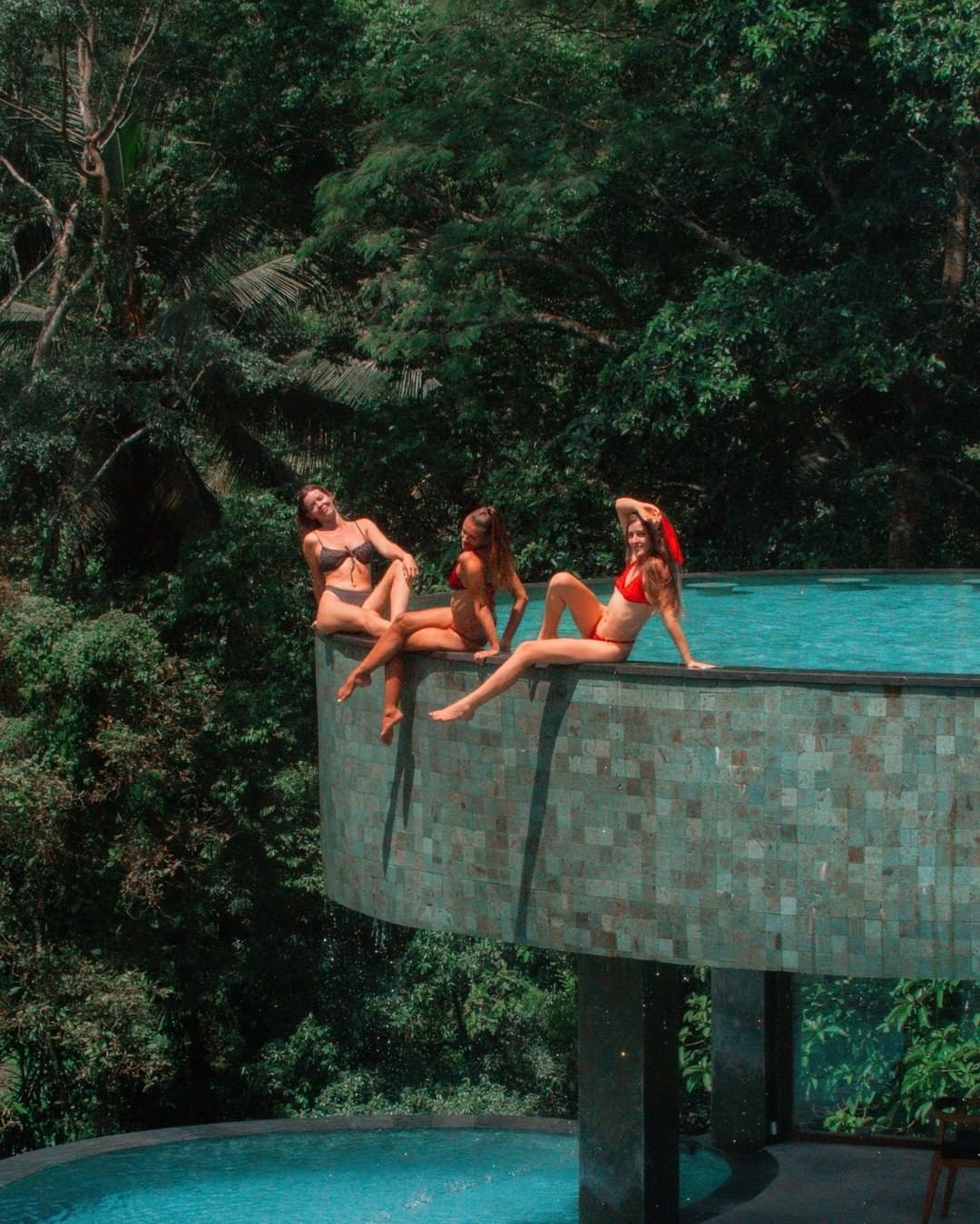 Nestled within the enchanting Alas Harum Bali, Cretya Ubud emerges as a distinguished dining destination. Slow down and surrender to the serenity of this adult-only jungle day club, where the melodies of a DJ and the luscious Crowned Angels cocktails enthrall your senses amidst the grandeur of the three-tiered pool. From lavish breakfast spreads to flickering candlelit dinners, Cretya Ubud unveils an array of international delights, ranging from classic American favorites to Mediterranean-inspired creations. Yudhistira, Arjuna, and Bima Lounge await, with their relaxed ambiance and enchanting poolside views, while the venue's dedicated culinary team delights in unveiling the secrets behind each tantalizing dish, ensuring your special occasion is celebrated to perfection.
Jl. Raya Tegallalang, Tegallalang, Kec. Tegallalang, Kabupaten Gianyar, Bali 80561
Phone: +62 812 3802 1174
Website
Instagram
 
El Kabron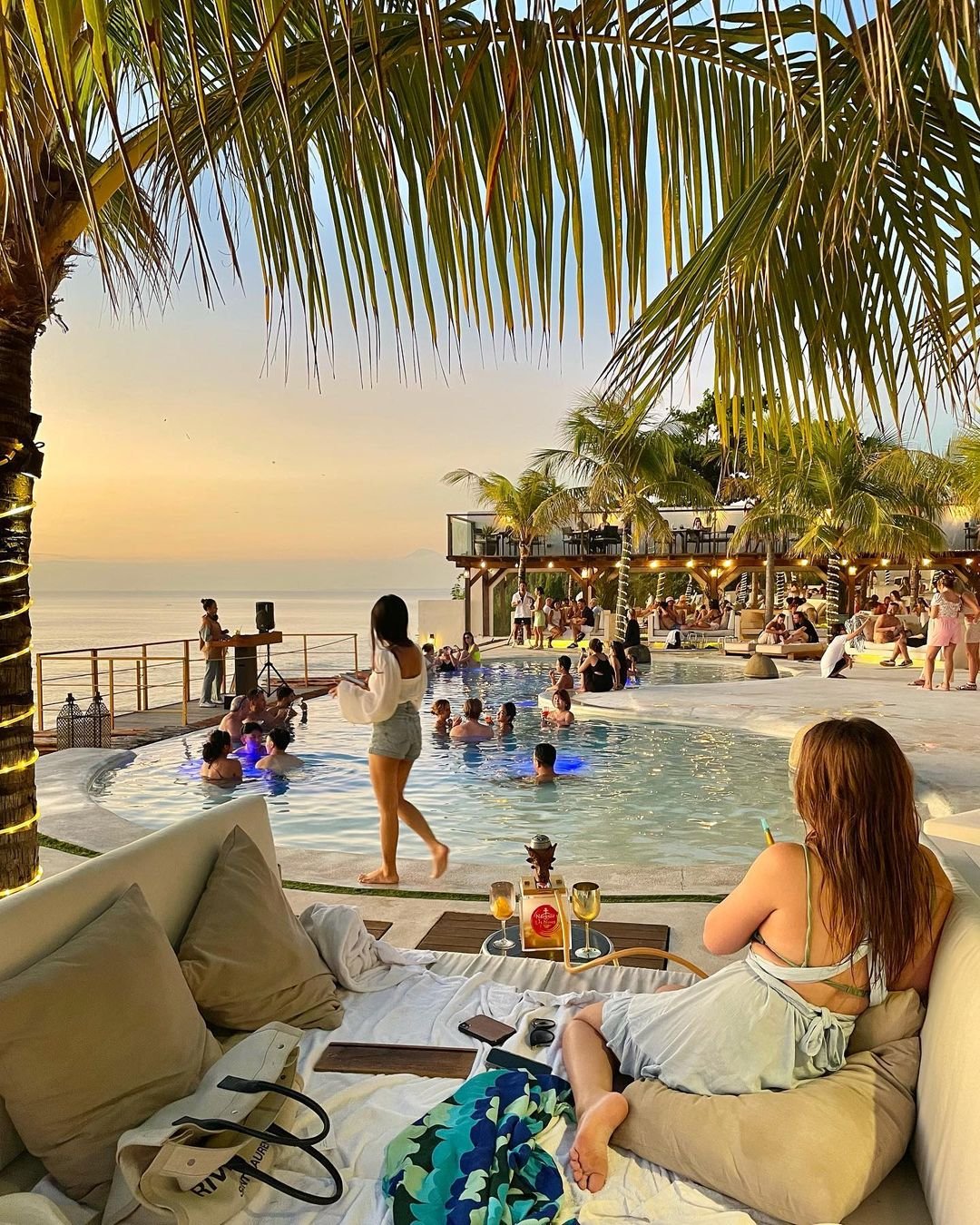 With its unrivaled sunsets and legendary seafood dishes, El Kabron offers a truly one-of-a-kind ambiance. At the renowned Hedonism Lounge, guests are treated to a unique infinity pool that overlooks the mesmerizing Indian Ocean. This Instagrammable hotspot invites true hedonists to revel in the ultimate day-long escape, sipping champagne under the swaying palms, immersing themselves in the pool while enjoying cocktails at sunset, and dancing beneath the stars until the late hours. El Kabron Bali maintains an adult-oriented atmosphere, making it an exclusive destination. Children are welcome in the restaurant area when accompanied by a responsible adult, but are not permitted in the Hedonism Lounge, including the pool area and dance floor.
Jl. Pantai Cemongkak, Pecatu, Kec. Kuta Sel., Kabupaten Badung, Bali 80361
Phone: +62 813 3723 5750
Website
Instagram
Finns VIP Beach Club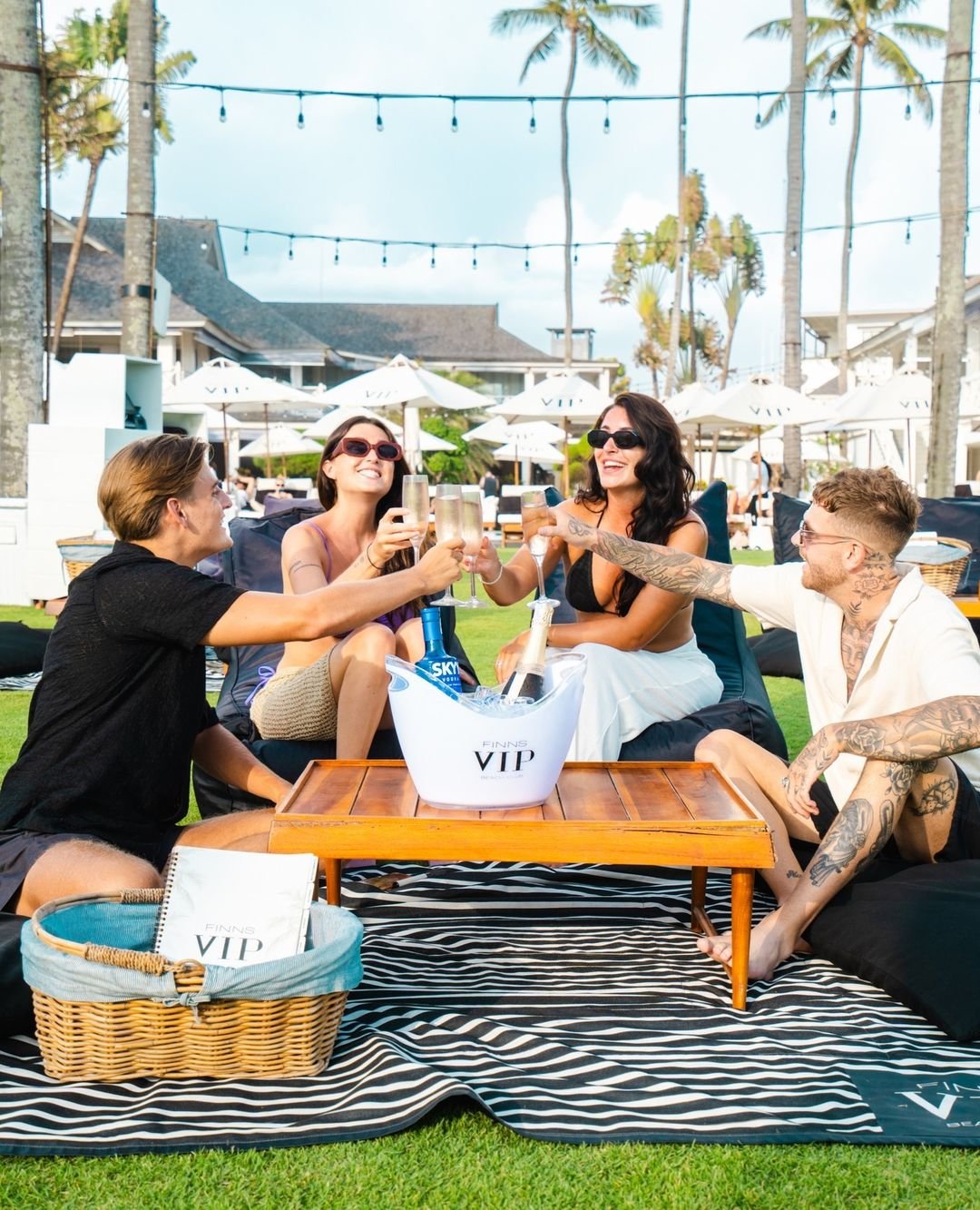 Immerse yourself in the epitome of luxury at Finns Beach Club's VIP Oceanfront Adults Only Pool, boasting an impressive 41-meter stretch of pristine ocean frontage. Indulge in the ultimate beachside experience as you secure a double day bed for up to six people, granting you access to unrivaled views and exclusive amenities. From 10am to 10pm daily, this serene oasis is reserved exclusively for adults aged 18 and above. Savor a delectable array of dining options, from delightful breakfast spreads to all-day dining, accompanied by an extensive selection of beverages and shisha. Finns VIP go above and beyond to provide a beachfront experience like no other. Guests are guaranteed top-notch facilities and VIP services, including locker facilities, complimentary Balian water, morning tea and coffee, afternoon refreshments, fruit skewers, and access to private change rooms equipped with showers and every amenity you need to effortlessly transition from beach attire to evening elegance. 
Jl. Pantai Berawa Banjar Berawa No.5, Tibubeneng, Kec. Kuta Utara, Kabupaten Badung, Bali 80361
Phone: +62 361 844 6327
Website
Instagram
Mari Beach Club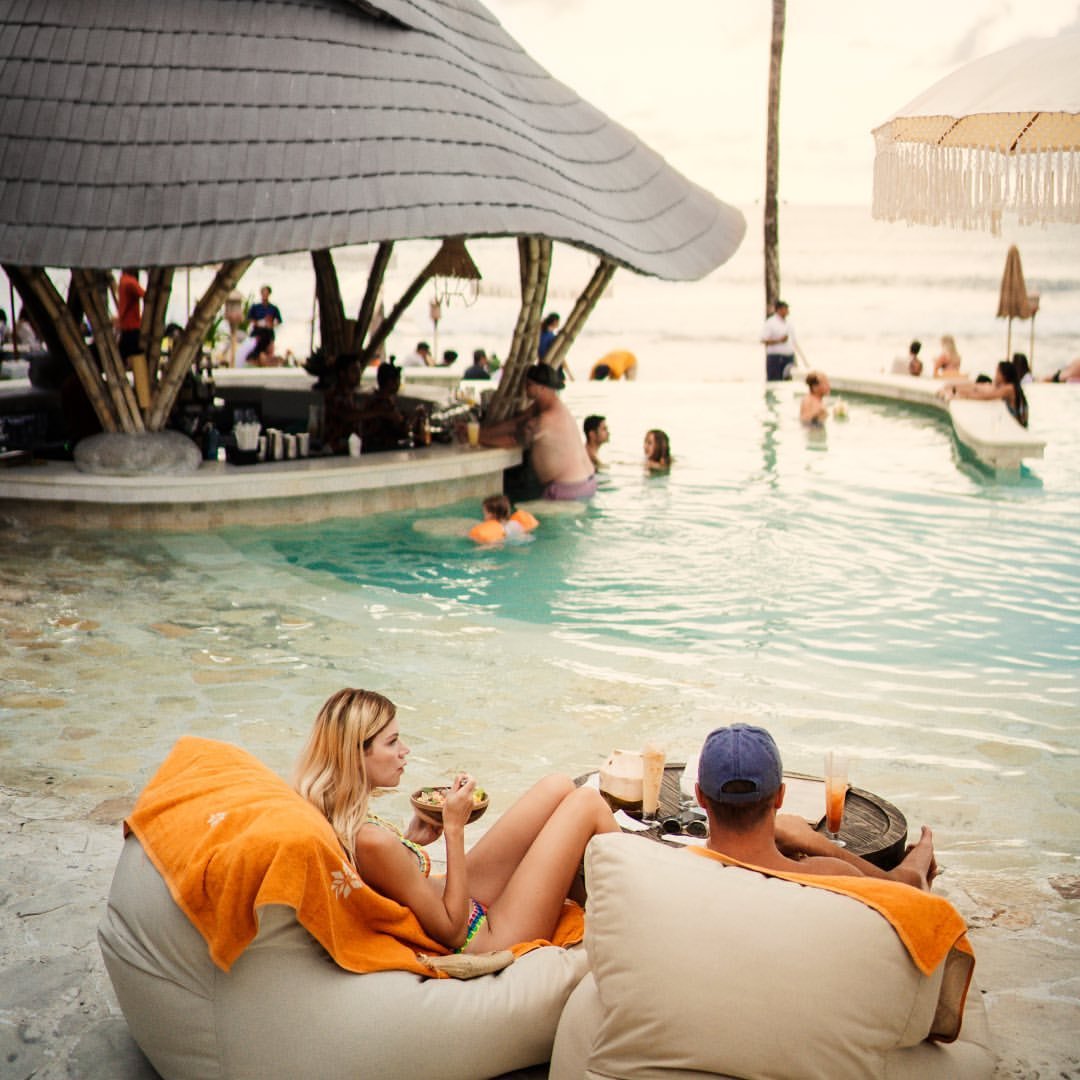 As a brainchild of Syah Establishments, a pioneer in exquisite lifestyle and hospitality concepts, Mari Beach Club represents the perfect escape where guests can unwind, connect, and revel in the beauty of their surroundings. It is the epitome of a tropical paradise that seamlessly blends nature's gifts with an immersive local culture experience. With its unique 'Little Bali' concept, this leisure destination offers a full-fledged beach experience that harmoniously combines nature and luxury. As an adult-oriented destination, Mari Beach Club invites visitors to unwind and immerse themselves in the vibrant energy of the premises, complemented by a customized lighting system that breathes life into the atmosphere. 
Jl. Batu Belig No.66, Kerobokan Kelod, Kec. Kuta Utara, Bali, 80361
Phone: +62 361 934 7766
Website
Instagram
Savaya Bali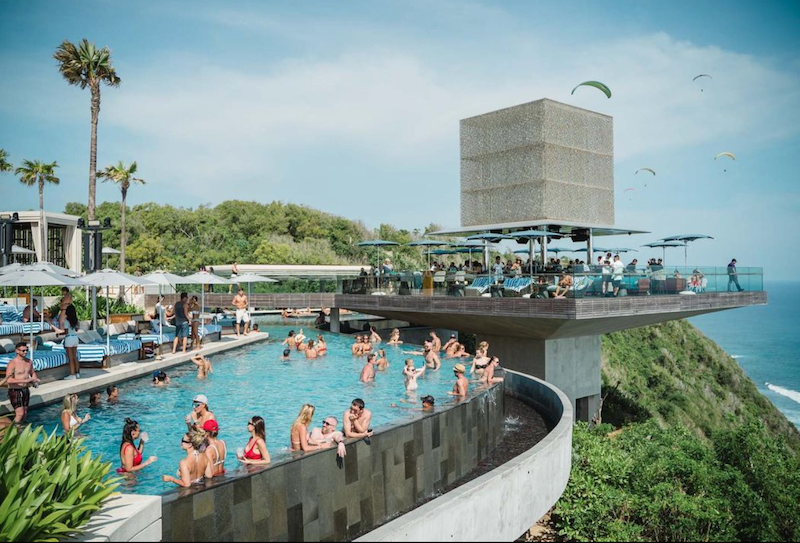 An architectural marvel in the Bali Beach Club scene, Savaya has firmly established itself as a standout destination ever since it was named Omnia. With a distinct adult-oriented atmosphere, it promises endless entertainment and unforgettable experiences. Renowned for its legendary parties and talented DJs, this beach club transcends expectations, perched proudly 100 meters above the ocean. It's not just a club; it's a spectacle that beckons the discerning traveler. Step into a world where luxury meets community, where the finer things in life are celebrated. Savaya offers an immense sense of exclusivity and a vibrant social scene. It is a place to see and be seen, a stage of remarkable occasion for party goers looking for an extraordinary, high-octane social hub.
Jl. Belimbing Sari, Banjar Tambiyak, Pecatu, Uluwatu, Kabupaten Badung, Bali 80364
Phone: +62 361 848 2150
Website
Instagram
The Edge Bali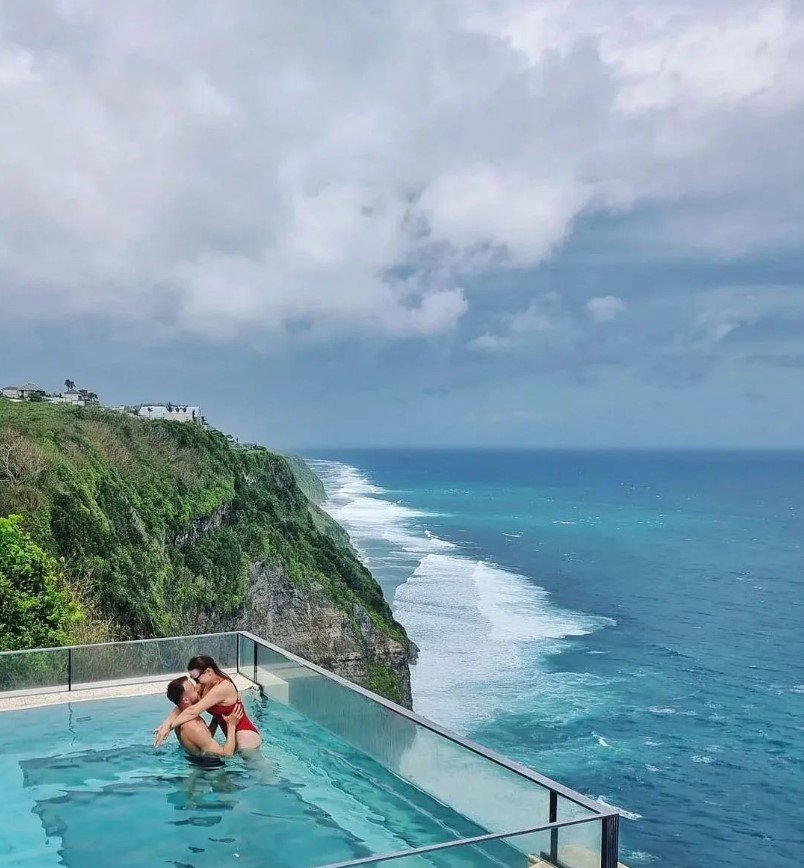 Perched on the edge of enchanting cliffs in Uluwatu, The Edge Bali stands as a captivating adult-oriented destination that transcends the ordinary. Its crown jewel, a spellbinding cliff edge infinity pool, presents a breathtaking blend of natural beauty and architectural marvel. Here, as you immerse yourself in the crystalline waters, your senses are awakened by the stunning panoramic vistas of the Indian Ocean that stretch endlessly before you. Beyond this aquatic oasis, the resort unveils a world designed exclusively for adults seeking indulgence and relaxation. Luxurious villas, adorned with exquisite amenities and captivating views, provide an intimate sanctuary where privacy and tranquility reign supreme.
Jl. Pura Goa Lempeh Banjar Dinas Kangin Pecatu, Uluwatu, Kec. Kuta Sel., Kabupaten Badung, Bali 80361
Phone: +62 361 847 0700
Website
Instagram
 
Tropical Temptation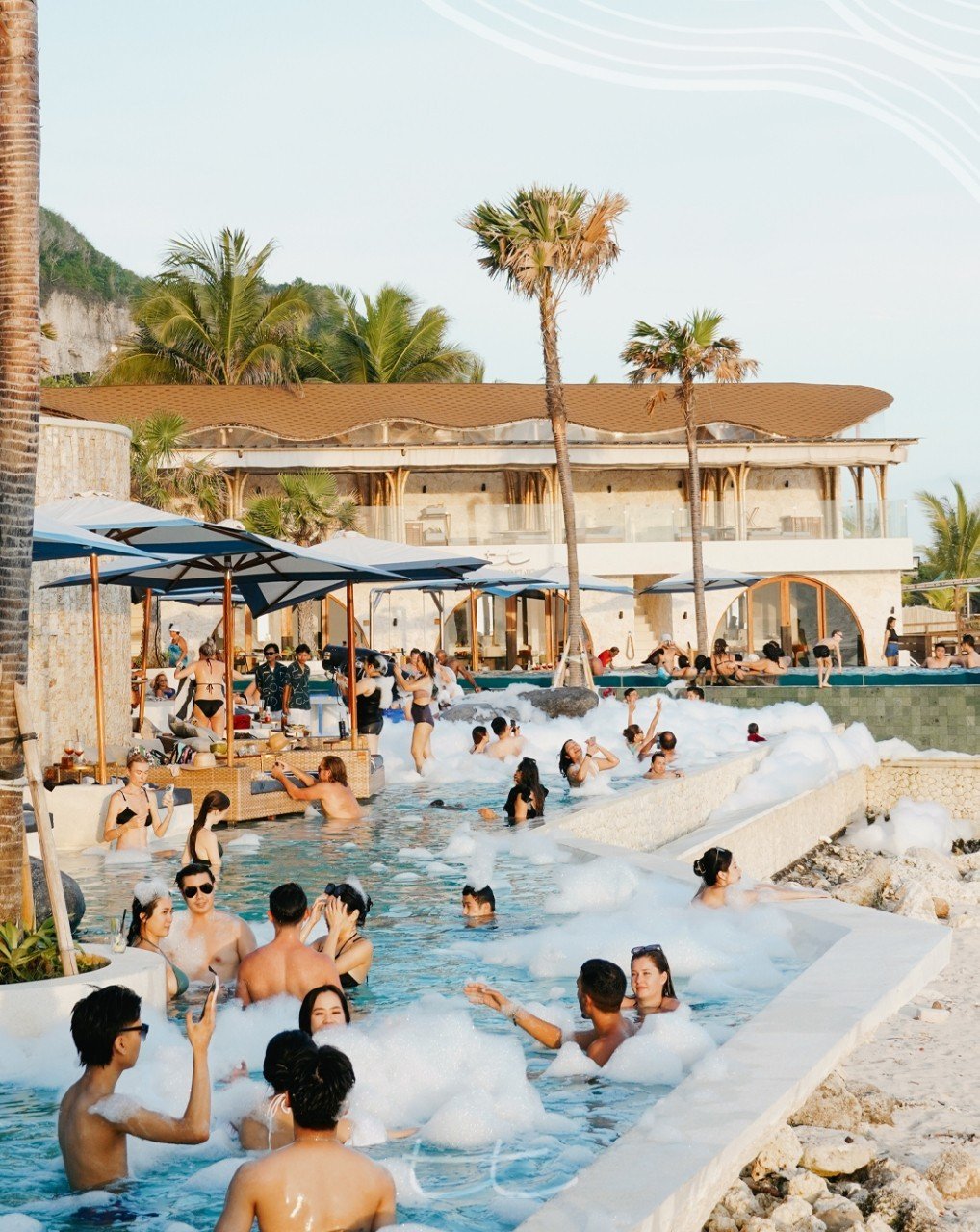 Established along the breathtaking foreshore of Melasti Beach by the critically-acclaimed Ini Vie Hospitality, Tropical Temptation Beach Club embraces its Balinese heritage with an immersive bamboo structure meticulously crafted by local artisans. From its vantage point, guests are treated to uninterrupted views of the magnificent beach, creating a truly dramatic setting. As the sun sets and the moon rises, an invigorating ambiance takes hold, inviting you to sink into plush daybeds or sofas, indulging in an aperitif or savoring one of the venue's refreshing signature cocktails. While a live daily DJ sets the mood for revelry, it's important to note that the pool area is exclusively for adults after 5 pm, enhancing the adult-oriented experience. Children are welcome in the lounge area under the supervision of an adult, ensuring an atmosphere that caters to the desires of discerning adults seeking for an exquisite getaway destination.
Melasti Beach 88, Ungasan, Kec. Kuta Sel., Kabupaten Badung, Bali 80361
Phone: +62 361 620 0688
Website
Instagram