For decades, Bali has been known as a prime destination for surfer and wave riders. Whether you're a beginner eager to catch your first wave or an experienced surfer looking for the perfect break, the island has arrays of surf schools or camps to suit your needs. Here's a curated list of some of the best surf schools and camps in Bali.
Best Surf School and Camps in Bali: Learn to Ride the Waves in Paradise
Bali Green Surf School: Passion for Surfing, Community, and Nature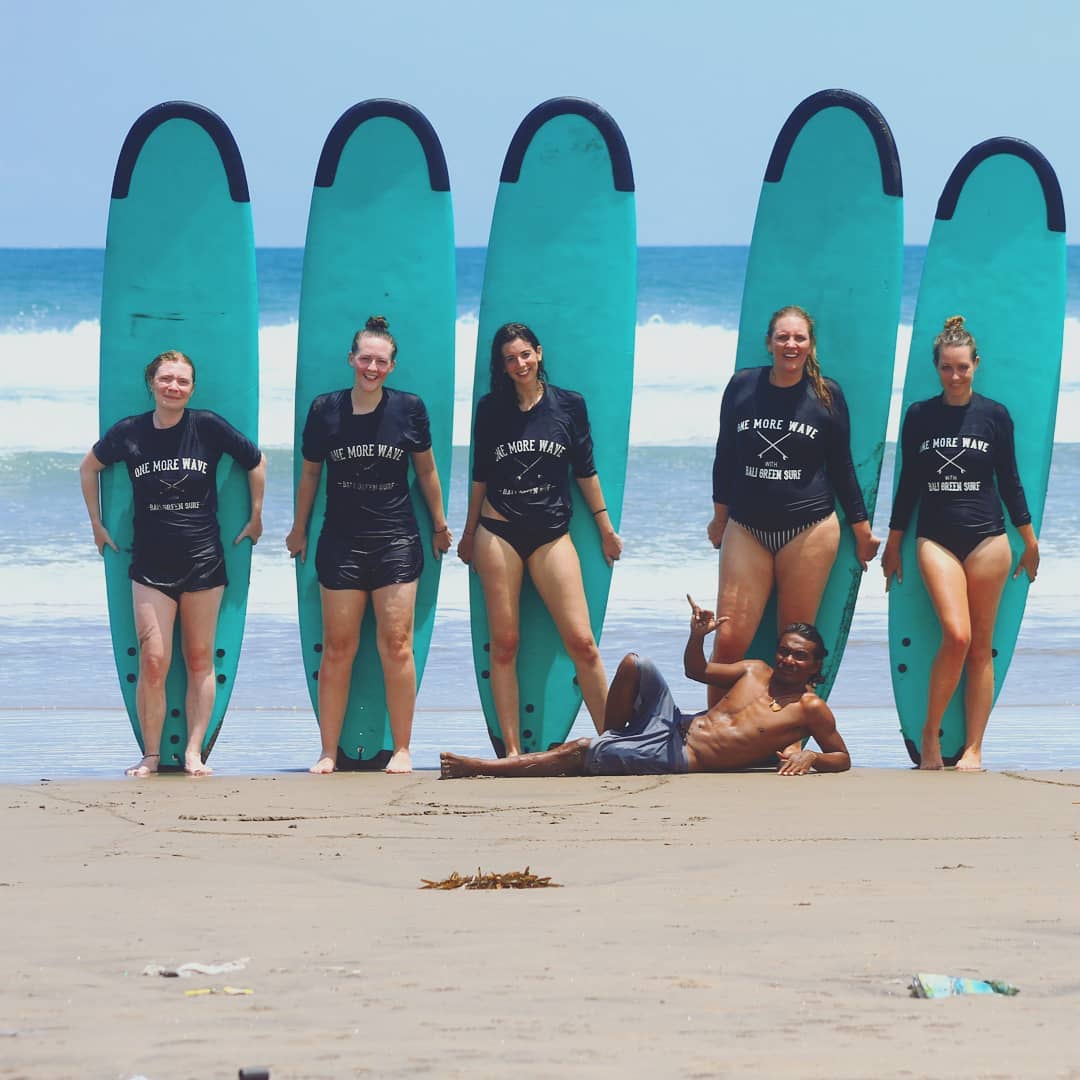 Situated in Seminyak near the renowned 66 beach, Bali Green Surf School is a haven for surf enthusiasts with a passion for community and nature. They cater to all skill levels, providing both group and private lessons, special programs for kids, and unique surf trips around Bali. Beyond surfing, the school actively engages in community outreach, supporting orphaned children, and advocating for environmental conservation.
Jl. Drupadi II No.9, Seminyak, Kec. Kuta, Kabupaten Badung, Bali 80361
Phone: +62 878 8176 0313
Website 
Instagram 

Dawn Patrol Bali Surf School: Adventure and Fun for All Levels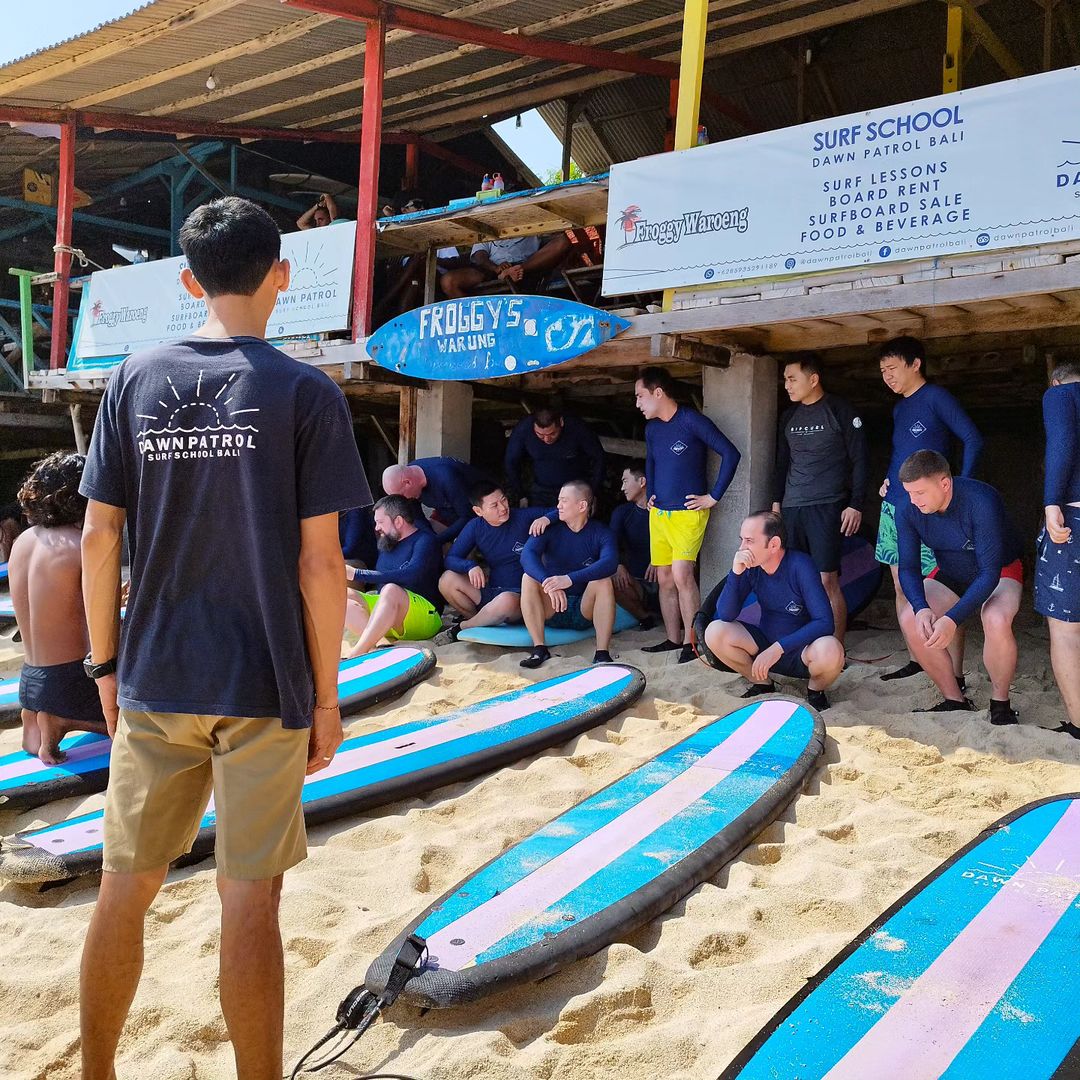 Nestled on Balangan Beach, Dawn Patrol Bali Surf School offers an adventurous and fun surfing experience for individuals of all skill levels. The school focuses on creating an honest and safe surfing environment, reacting to surf reports for impromptu surf trips. With a commitment to delivering an authentic Indonesian surfing experience, Dawn Patrol Bali Surf School is a fantastic choice for those seeking excitement in the waves.
Pantai Balangan, Froggy's Waroeng Balangan Beach, Jimbaran, Kec. Kuta Sel., Kabupaten Badung, Bali 80361
Phone: +62 859 3529 1189
Website 
Instagram 

Kima Surf: Surf Alongside New Friends in Bali and Sri Lanka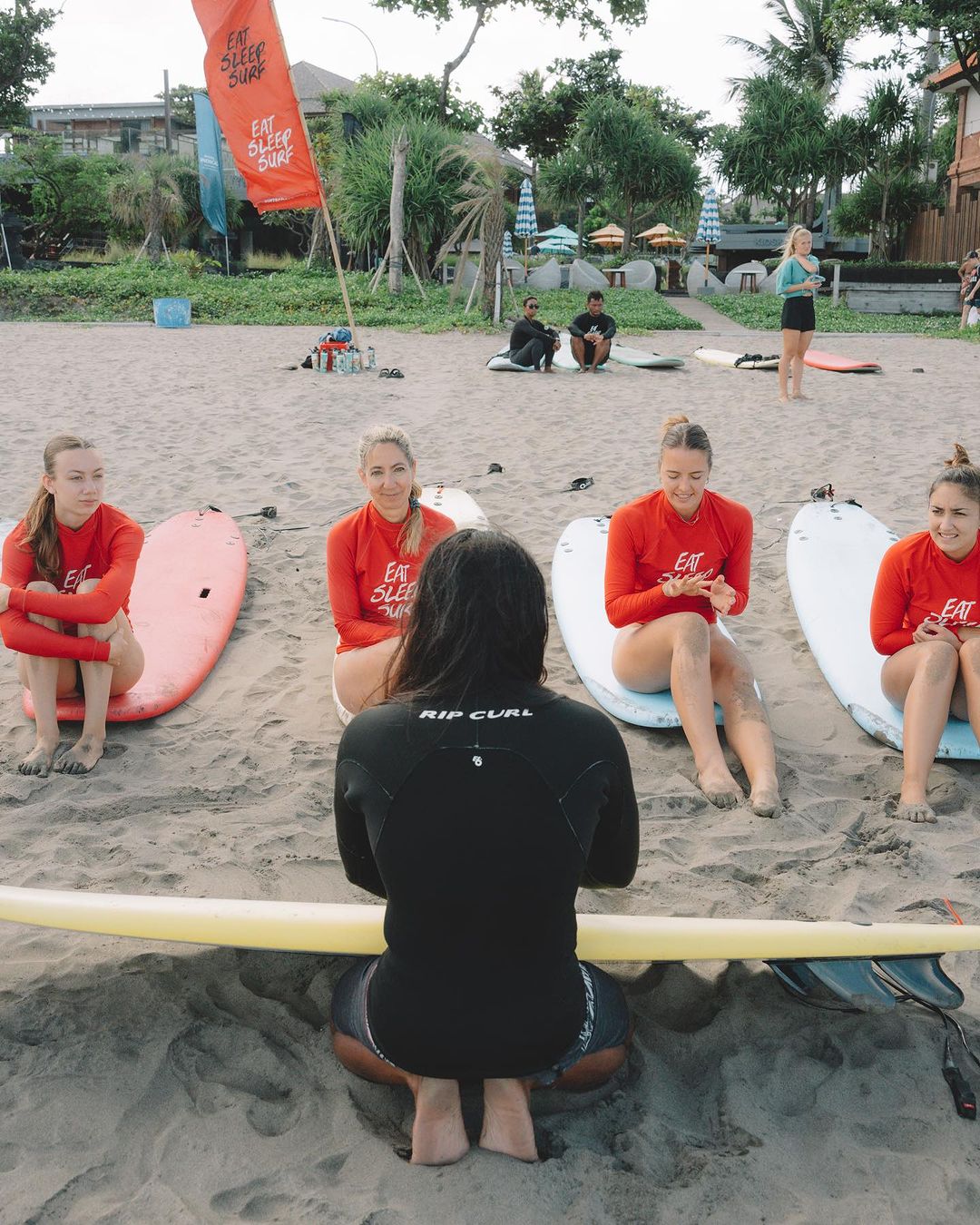 Operating surf camps in Bali and Sri Lanka, Kima Surf stands out for its comprehensive approach to surf education and adventure. With lessons for beginners and surf guiding for experts in their four camps; Canggu, Seminyak, Bukit and Uluwatu, Kima Surf combines daily guided surfing, professional coaching, and various activities. Accommodations range from dorms to luxurious villas, creating the perfect atmosphere for an unforgettable surf vacation while emphasizing the camaraderie of surfing alongside new friends.
Phone: +44 208 1443 140
Website 
Instagram 

Lapoint: Fantastic Surf, Great Adventures, and Good Times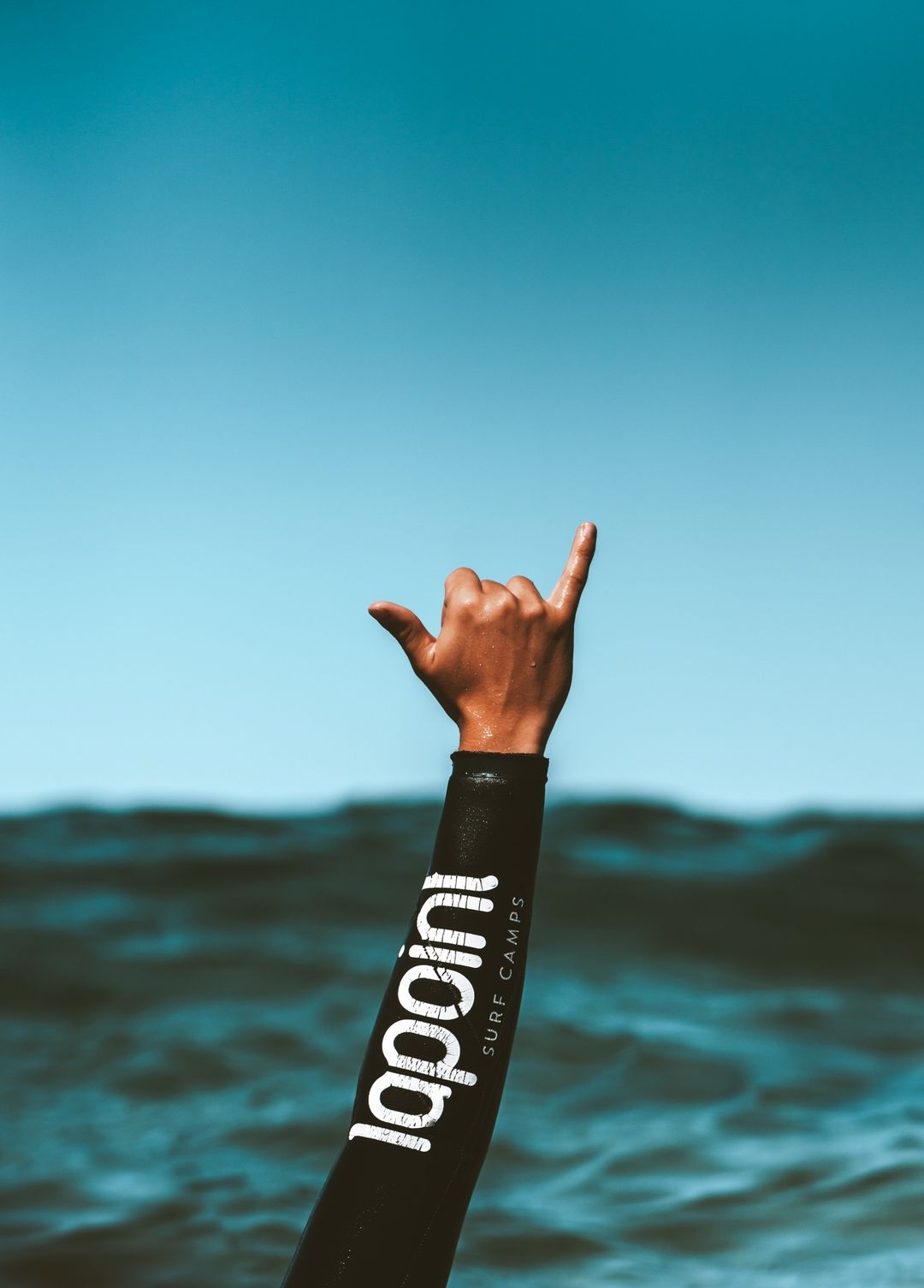 A surf camp in Canggu, Lapoint combines fantastic surf sessions with day trips to iconic places in Bali. Suitable for all skill levels, the camp offers customized surf experiences and accommodations ranging from peaceful dorms to luxurious villas. Striking a balance between excellent surfing and socializing in the vibrant atmosphere of Canggu, Lapoint ensures a memorable and holistic surf adventure.
Echo Beach No, 47, Canggu, Kuta Utara, Badung Regency, Bali 80361
Phone: +47 46 63 97 42
Website 
Instagram

Mondo Surf Village: A Unique Blend of Surf, Yoga, and Martial Arts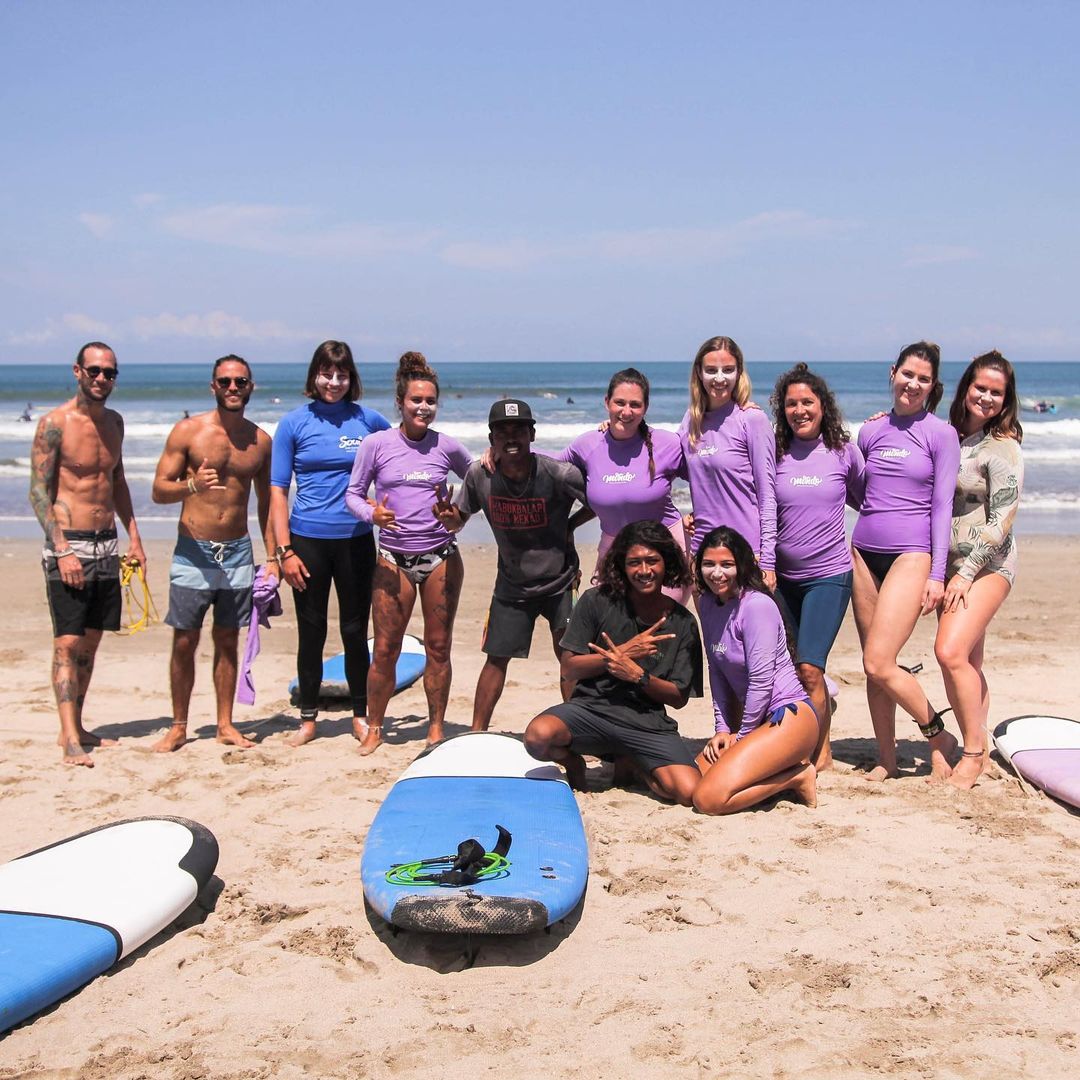 Located between the beach and rice fields in Canggu, Mondo Surf Village stands out for its unique blend of surf, yoga, and martial arts. Offering surf packages that incorporate yoga, aerial yoga, photography, and martial arts, Mondo Surf Village provides comfortable rooms, spacious common areas, and an oversized pool for relaxation. With proximity to one of Bali's best surf spots, guests can immerse themselves in a harmonious blend of physical activities and relaxation.
Jalan Munduk Batu Belah, Gg Frangipani no: 9 Canggu, Pereranan, Pererenan, Kec. Mengwi, Kabupaten Badung, Bali 80361
Phone: +62 821 4511 0995
Website 
Instagram 

Odyssey Surf School: Safe and Fun Surfing Experience in Kuta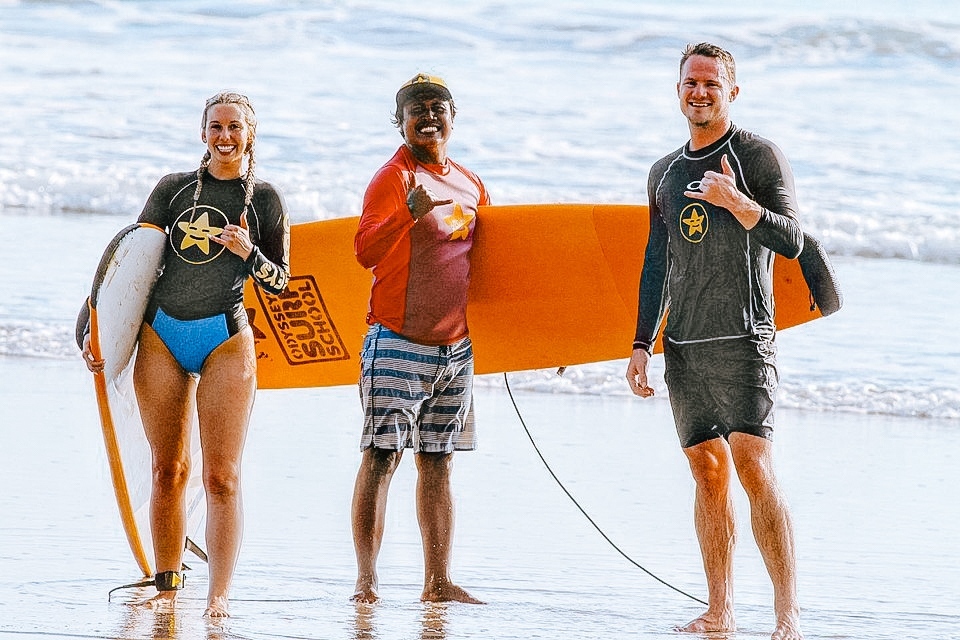 Established in 2003 and located just 10 meters from the legendary Kuta Beach, Odyssey Surf School promises a safe and fun surfing experience. With certified instructors possessing bronze level training for Life Saving Surf Rescue, the school caters to all ages and skill levels, including surf tours around Bali. Ideal for those seeking a secure and enjoyable surf adventure, Odyssey Surf School combines expertise with a passion for the waves.
Jl. Pantai Kuta, Kuta, Kec. Kuta, Kabupaten Badung, Bali 80361
Phone: +62 817 550 021
Website 
Instagram 

Padang Padang Surf Camp: A Paradise for Surfers with Balinese Hospitality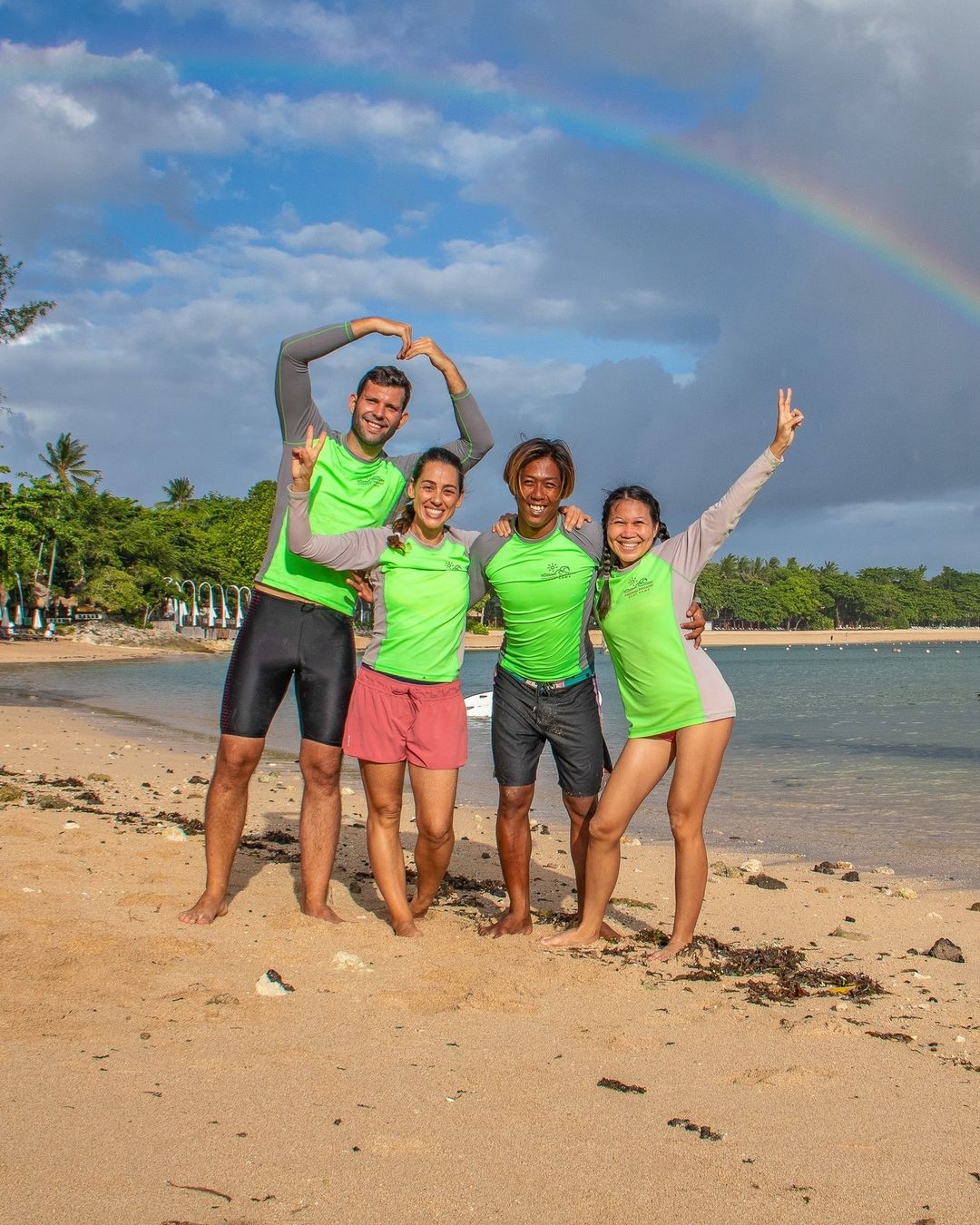 Born in the 1970s and realized in 2005, Padang Padang Surf Camp seamlessly combines Balinese hospitality with Western standards. Located on the scenic Bukit Peninsula near renowned surf breaks like Padang Padang and Uluwatu, the camp offers luxury accommodations, personalized surf reviews, and yoga classes. As a lifestyle surf camp, Padang Padang Surf Camp immerses guests in Bali's rich culture and provides an unparalleled surfing experience.
Jl. Labuan Sait, Pecatu, Kec. Kuta Sel., Kabupaten Badung, Bali 80361
Phone: +62 821 4642 4734
Website 
Instagram 

Surf Well Bali: Professional Instruction in the Heart of Canggu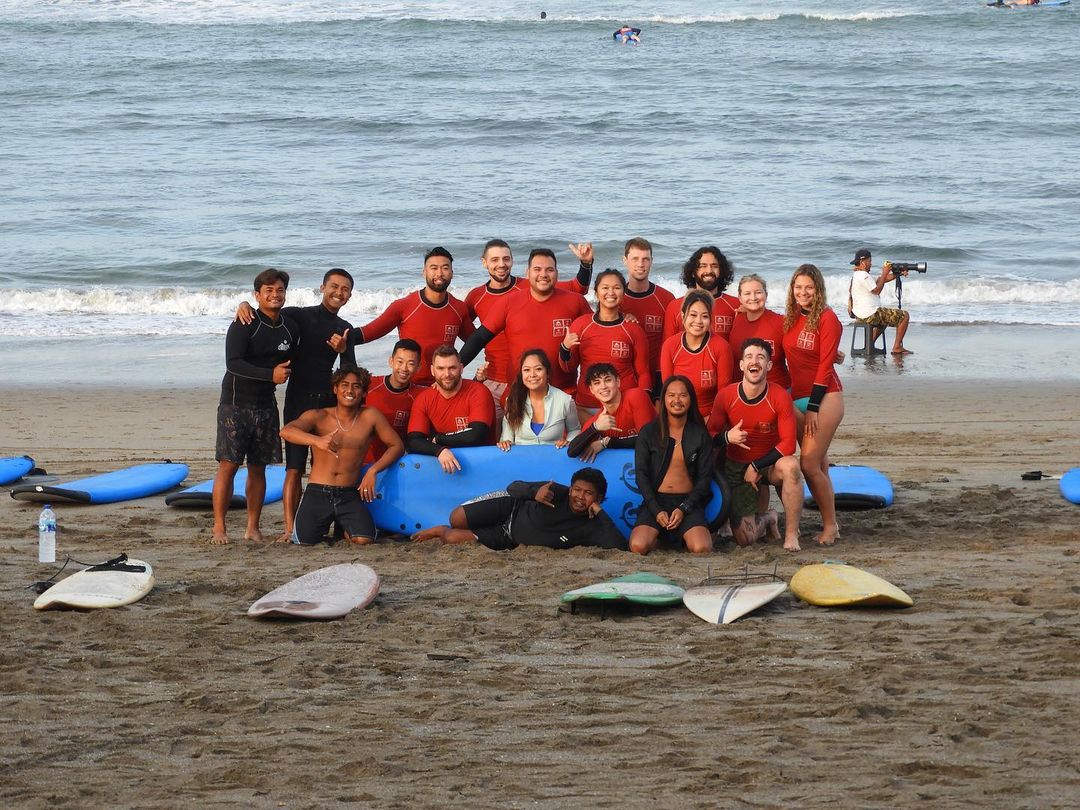 Tucked in the heart of Canggu, Surf Well Bali is a recommended surf school with professional local instructors and certified lifeguards. Providing free pick-up services for those staying around Canggu, Surf Well Bali focuses on beginner to intermediate lessons, emphasizing safety and the joy of riding waves in one of Bali's most dynamic locations.
Jl. Pantai Batu Bolong, Canggu, Kec. Kuta Utara, Kabupaten Badung, Bali 80363
Phone: 0812-1043-6436
Website 
Instagram 

Wavehouse Bali: Full Immersion into Gu's Enchanting Waves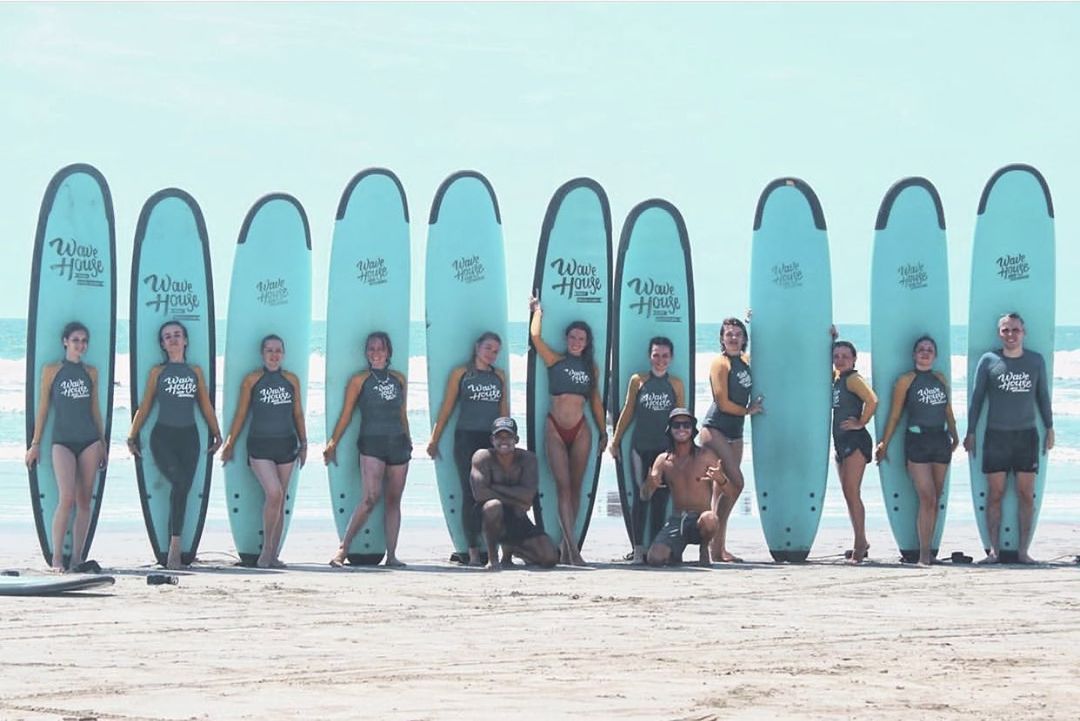 Another alternative of surfing school in the picturesque and quiet Canggu area, Wavehouse Bali offers a full immersion into Canggu's inviting ocean waves. With an individualized approach to safety and progress in surfing, the school provides daily surf lessons that focus on different surf spots based on skill level. Wavehouse Bali also offers optional intensive surfing classes for intermediate surfers, making it an ideal destination for those seeking a comprehensive and tailored surf experience.
Discovery Villas Jl. Subak Sari No.100, Tibubeneng, Kec. Kuta Utara, Kabupaten Badung, Bali 80361
Phone: +62 812 4690 2423
Website 
Instagram