As a 'tropical paradise', sunset becomes one of the most defining and enticing moments in Bali. Watching the sun descend into the horizon from a stylish and vibrant sunset bar has been a mandatory experience on most traveler and tourist bucket lists on their laid-back holiday. From clifftop oases to legendary beachfront havens, here's our curated list of best sunset bars in Bali, where time seems to stand still, and the beauty of nature takes center stage. 
Best Sunset Bars in Bali
Hippie Fish: Where Bohemian Chic Meets Ocean Panorama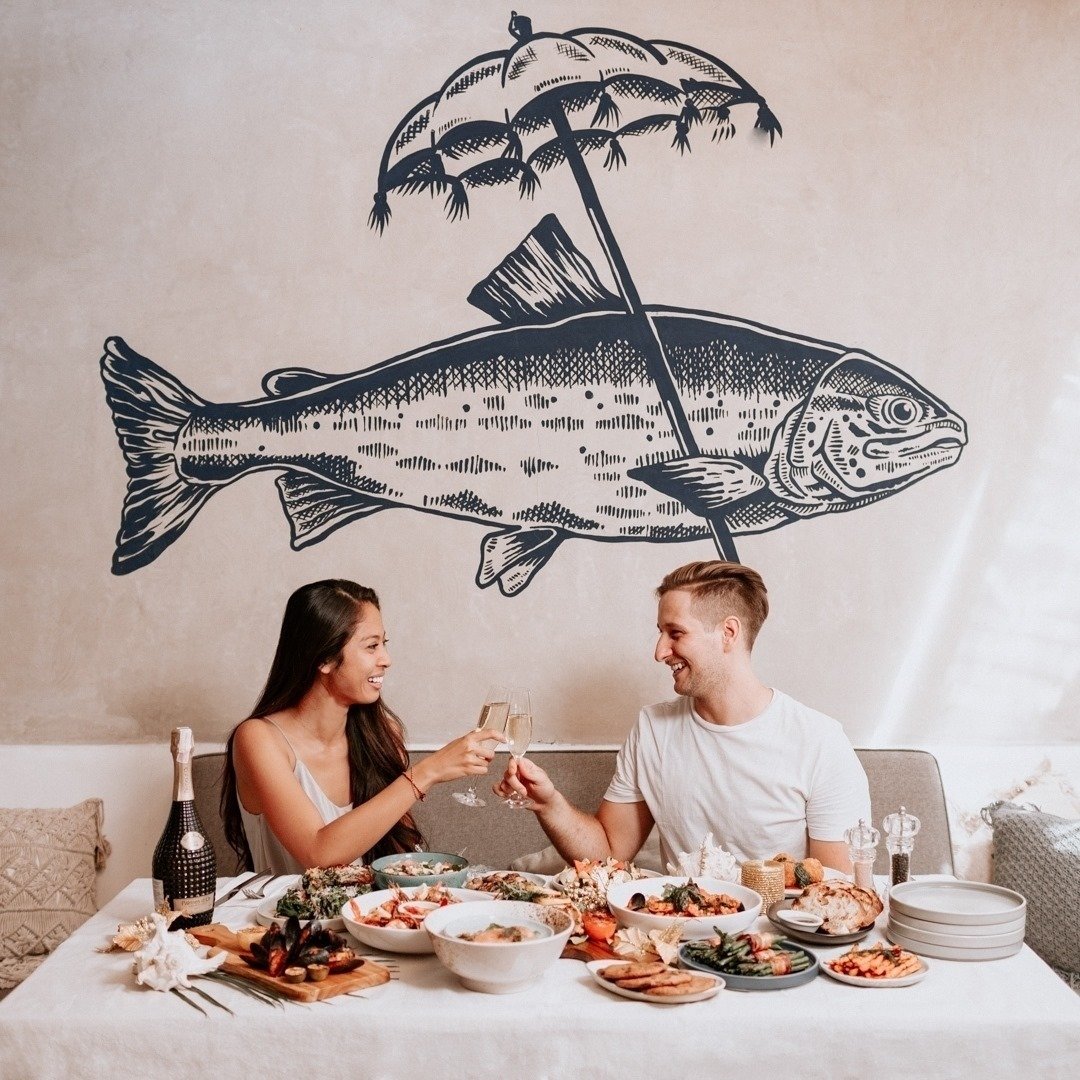 Nestled on the pristine Pererenan Beach, Hippie Fish is more than just a restaurant; it's a Mediterranean-inspired paradise. As the day unfolds, head to the rooftop bar for awe-inspiring ocean views, coupled with a relaxed yet vibrant ambiance. Savor their signature Honeycomb Old Fashioned and Frozen Coconut Daiquiri while indulging in refined Mediterranean cuisine. Embrace the boho-chic vibe and get ready for a sun-kissed day that effortlessly transitions into a starlit night.
Jl. Pantai Pererenan No.171, Pererenan, Kec. Mengwi, Kabupaten Badung, Bali 80351
Phone: +62 813 3759 6236
Instagram
Ku De Ta: Seminyak's Iconic Beach Club for Glamorous Sunsets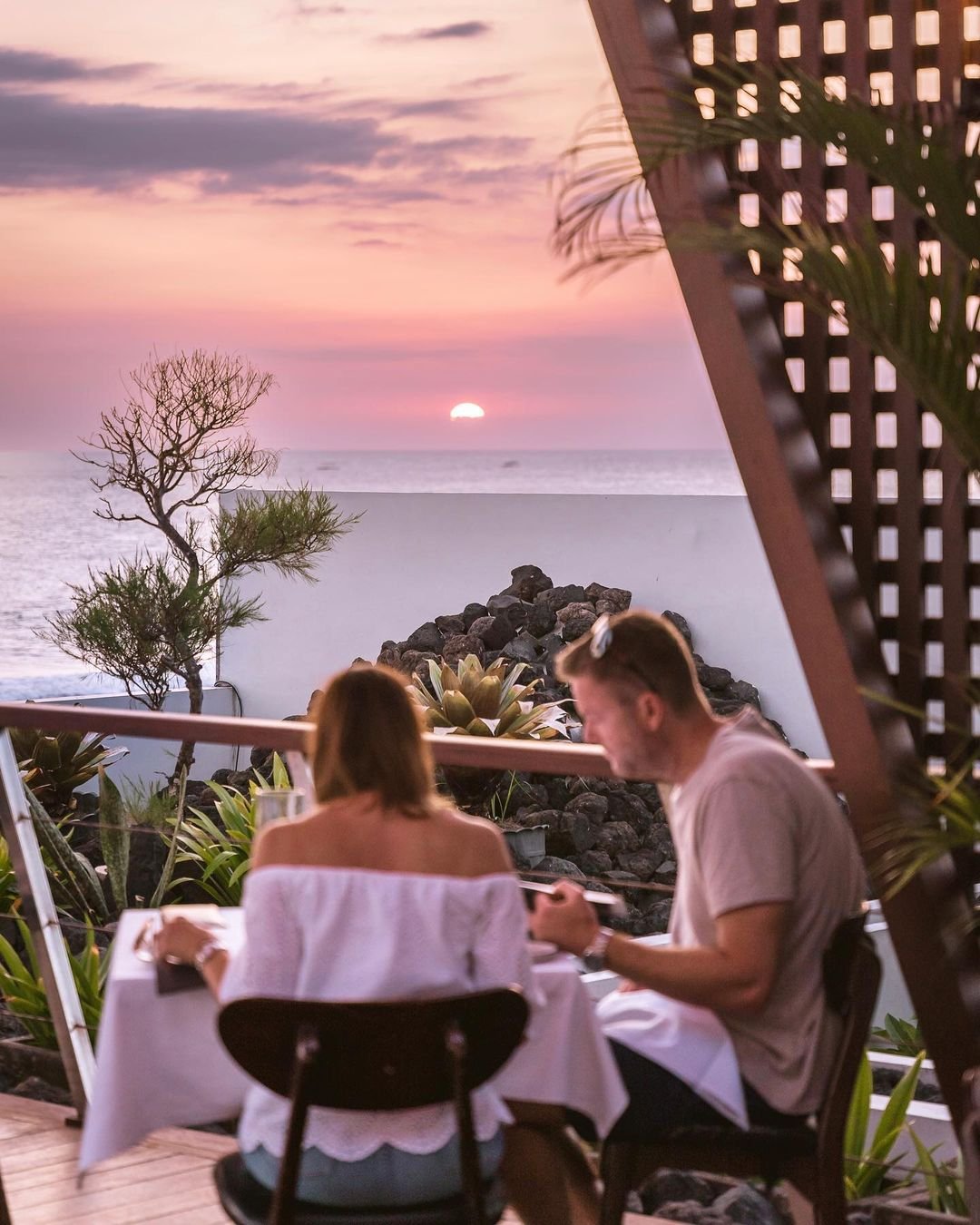 As one of Seminyak's pioneer beach club, Ku De Ta, has earned its reputation as a hub of glitz and glamour, attracting beautiful souls and sunset enthusiasts alike. Bask in the trendy beachfront venue, complete with day beds and a beachside pool. Make a reservation to ensure a comfortable spot for a laid-back afternoon, where you can enjoy delectable food and sip on cocktails while soaking in the electric sunset vibes.
Jl. Kayu Aya No.9, Seminyak, Kec. Kuta, Kabupaten Badung, Bali
Phone: +62 361 736 969
Website 
Instagram
La Plancha: Technicolor Sunsets and Spanish Delights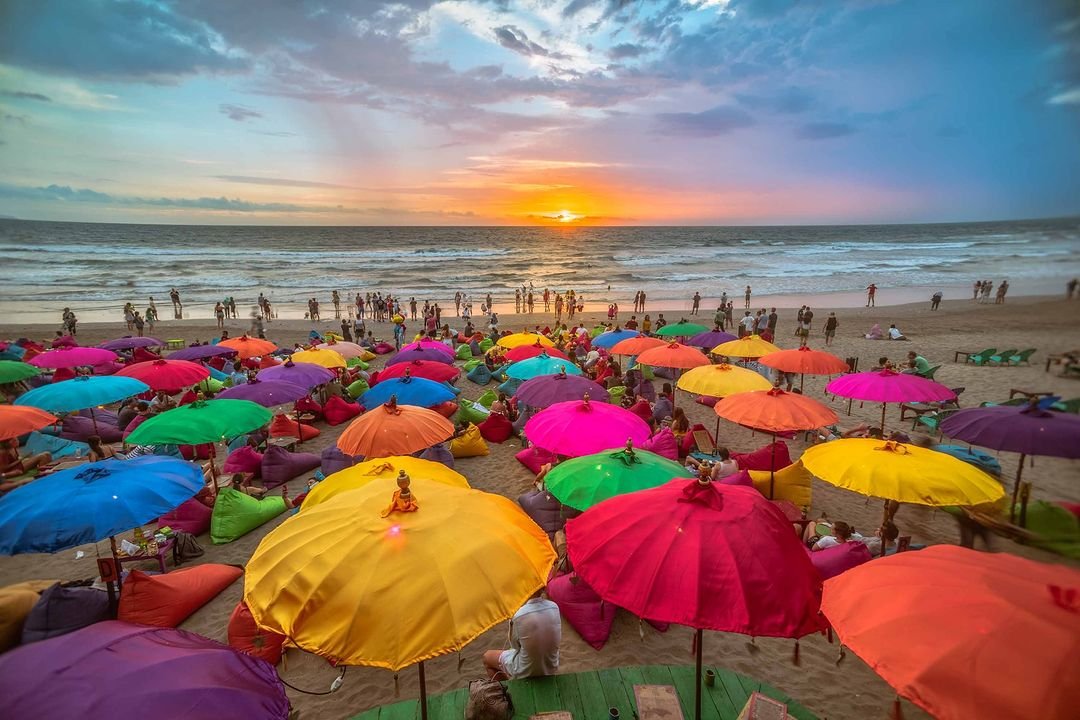 Most people would agree that La Plancha could be considered as 'The O.G.' of all sunset bars in Bali. Why? you might ask. Well, for decades it has stolen many hearts with its vintage Balinese brollies and iconic colorful umbrella (and beanbags!). Let go of all pretensions and revel in the rustic charm of this Spanish beach bar. Settle down with toes in the sand as you feast on tapas, sip on tantalizing tipples, and witness the stunning Bali sunsets that will leave you mesmerized.
Jalan Mesari Beach, Seminyak, Kec. Kuta, Kabupaten Badung, Bali 80361
Phone: +62 878 6141 6310
Website
Instagram
Mano Beach House: Embrace the Art of Slow Living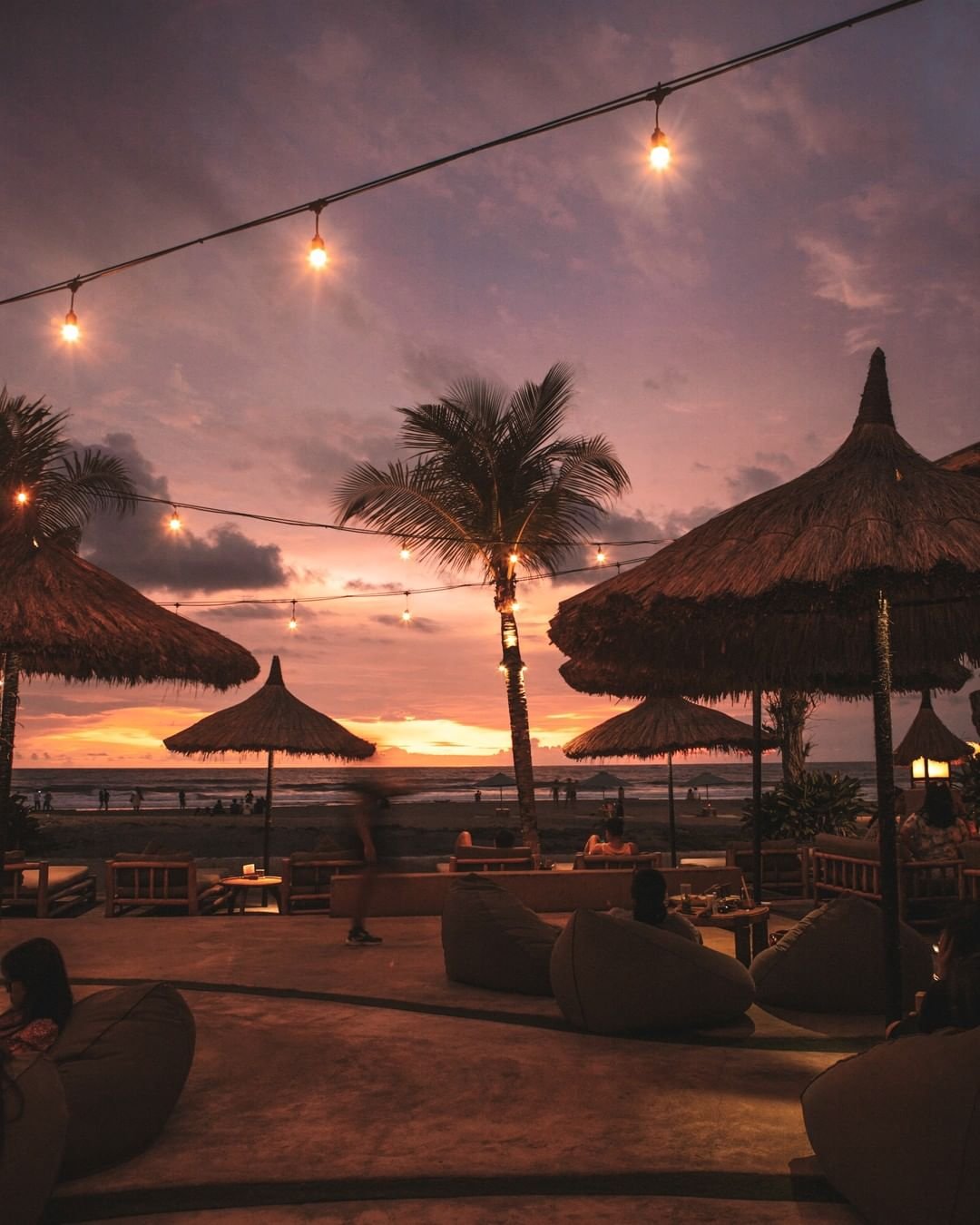 Embodying the noble concept of 'Slow Living,' Mano Beach House offers a boho-chic beachside escape on Seminyak Beach. Lounge with friends, enjoy the sunset view next to Petitenget Temple, and let the groovy tunes set the mood. As dusk approaches, fairy lights illuminate the venue, creating an enchanting atmosphere to match the breathtaking sea views.
Jl. Pantai Pura Petitenget Kerobokan Kelod, Seminyak, Kec. Kuta Utara, Kabupaten Badung, Bali
Phone: +62 361 473 0874
Website
Instagram
Ombak by Soori: An Exclusive Retreat for Sunset Connoisseurs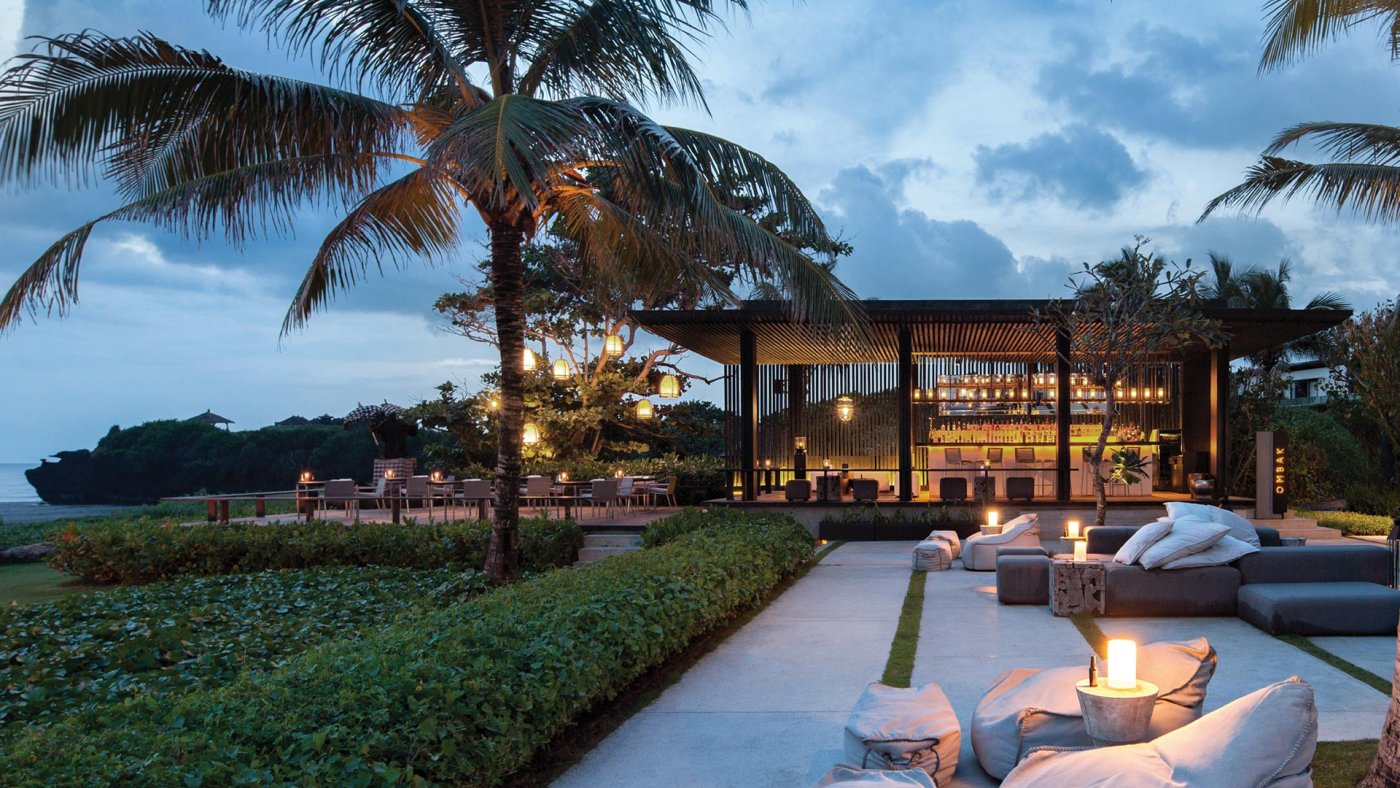 For those seeking a remote and tranquil experience far from the bustling Southern Bali area, Ombak by Soori offers an intimate ambiance on Tabanan's black sand beaches. Indulge in the exclusivity of this hidden gem as you sip on expertly crafted cocktails. The chic bar area within the gorgeous Soori Bali boasts limited tables to ensure an unforgettable, personalized sunset experience that will make you feel like you're the only ones there.
JL. Banjar Dukuh, Kelating, Kerambitan, Kelating, Kec. Kerambitan, Kabupaten Tabanan, Bali
Phone: +62 361 894 6388
Website
The Lawn: Where Stylish Cocktails Meet Canggu's Best Sunset Spot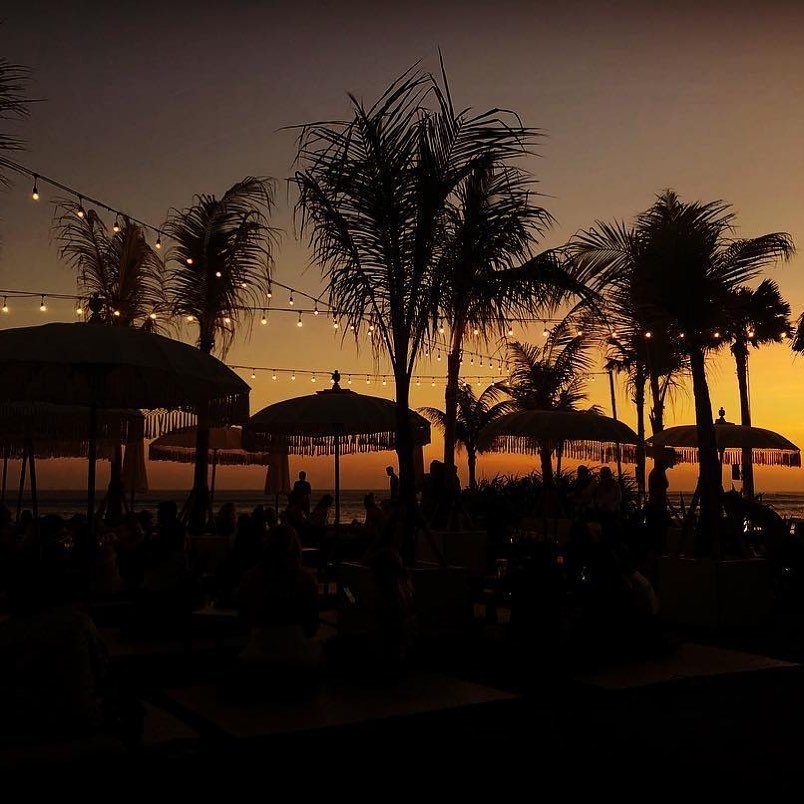 Located on the hype and timeless Canggu Beach, The Lawn stands out as a favorite among the ever-growing lineup of sunset bars. With its prime location overlooking Batu Bolong's waves, this spot offers the perfect backdrop for a stylish evening. Indulge in frosty cold beers, select from a solid wine collection, and relax on beanbags as you watch the sun's fiery descent amidst the green grass and golden rays.
Jl. Pura Dalem, Canggu, Kec. Kuta Utara, Kabupaten Badung, Bali 80361
Phone: +62 811 3800 4951
Website
Instagram
The Sayan House: A Jungle Oasis with Japanese-Latino Fusion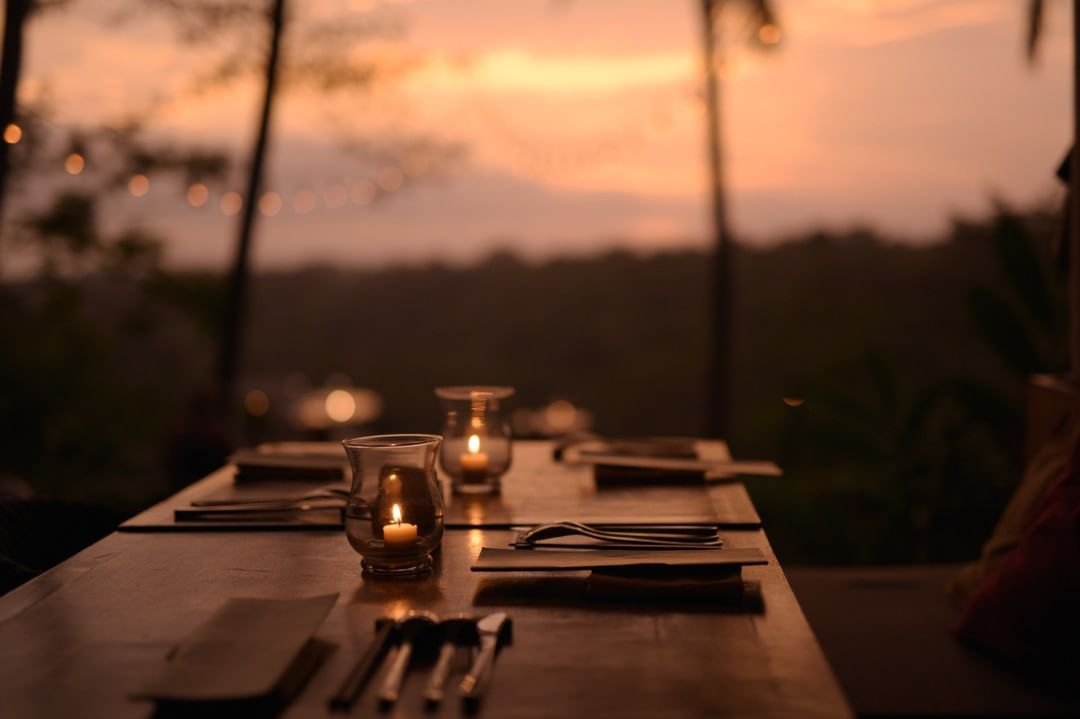 Venture into the heart of Ubud and discover The Sayan House, an acclaimed restaurant with jaw-dropping jungle views. This unique spot embraces Japanese-Latino fusion vibes, extending to an impressive drinks list featuring sakes and South-American inspired cocktails. Raise your glass to the early-evening hues as you unwind in the rustic al fresco terrace and soak in the surrounding greenery.
Jl. Raya Sayan No.70, Sayan, Kecamatan Ubud, Kabupaten Gianyar, Bali 80571
Phone: +62 822 4737 0344
Website
Instagram
Tropical Temptation: The Sun-Drenched, Immaculate Getaway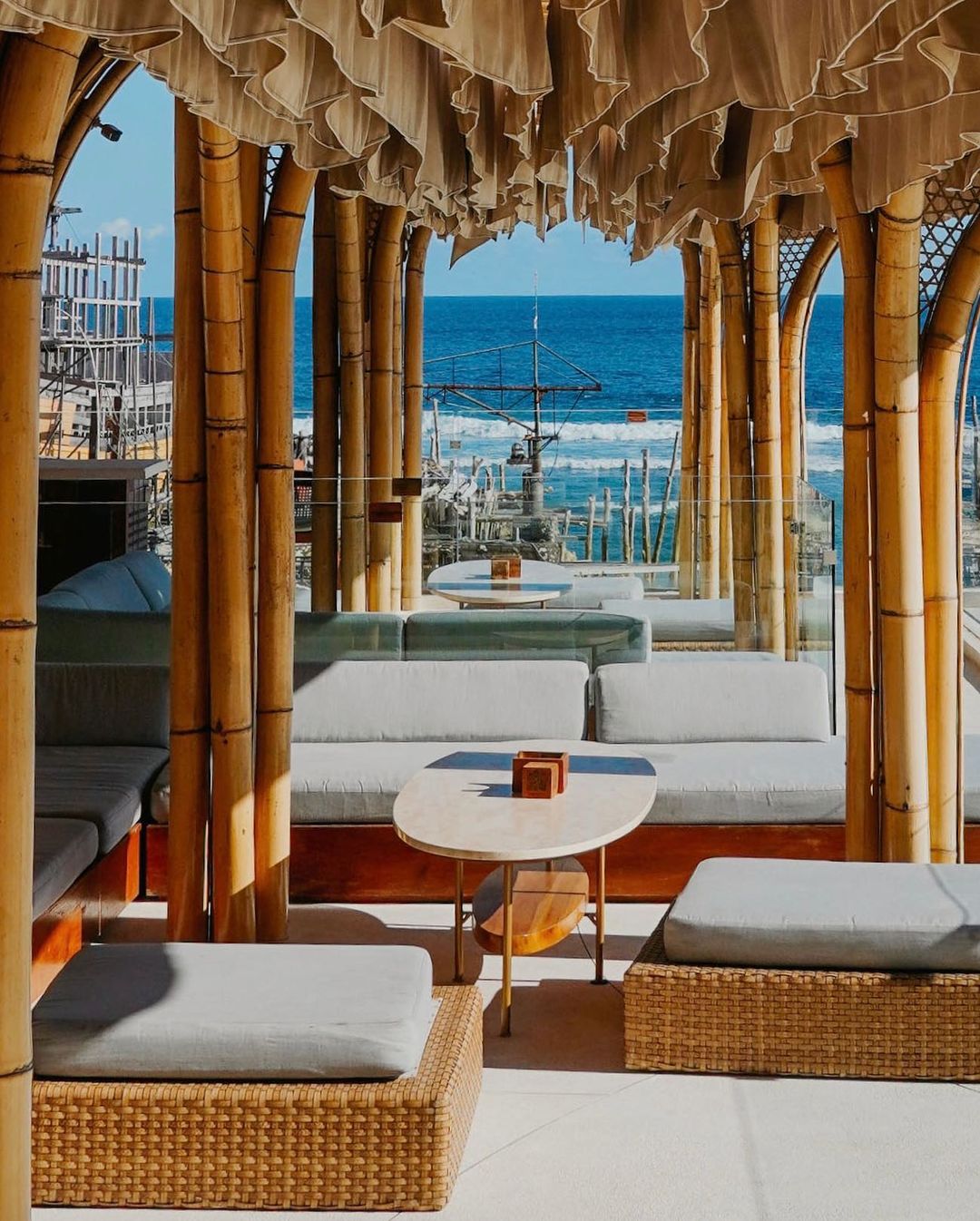 Step into the realm of Tropical Temptation Beach Club, where refinement seamlessly merges with exhilaration amidst a paradise setting. Enjoy a memorable unwind through sun-drenched shores and pristine, crystalline waters, all within an ambiance that effortlessly enthralls the senses. The architectural grace of this venue elevates your experience, boasting both aesthetic allure and the essence of tropical splendor along the rustic Melasti shoreline. Immerse yourself in a truly unique and indelible venture, where moments of tranquil repose harmonize with the thrill of adventure. From the early rays of dawn to the twilight's embrace, this beach club promises boundless joy and an unforgettable retreat.
Melasti Beach 88, Ungasan, Kec. Kuta Sel., Kabupaten Badung, Bali 80361
Phone: +62 361 620 0688
Website 
Instagram 
Ulu Cliffhouse: Clifftop Oasis for a Day-to-Night Sunset Extravaganza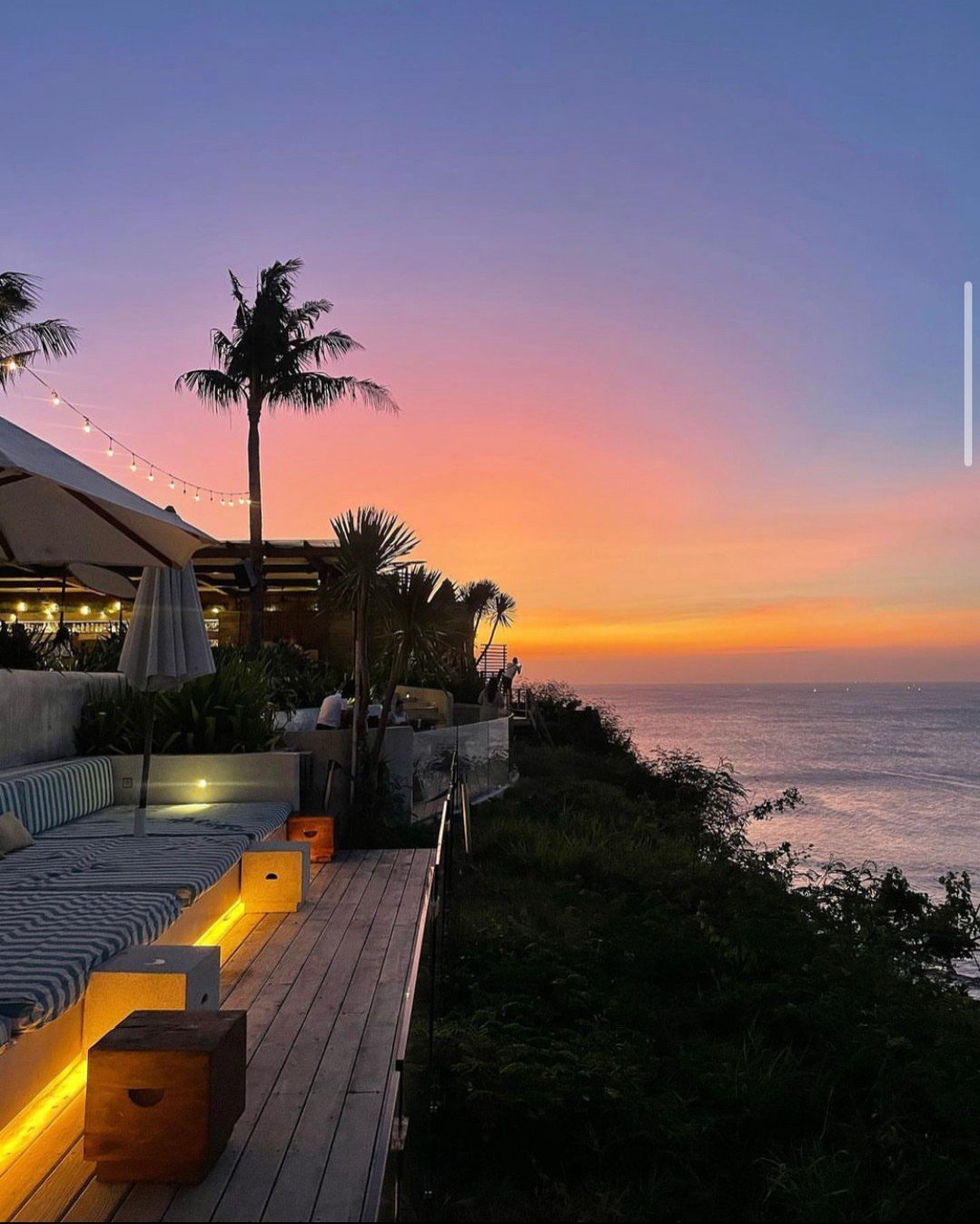 Immerse yourself in the raw beauty of Ulu Cliffhouse, perched above the crashing waves below. This clifftop oasis offers an idyllic setting to while away a lazy Bali day. Delight in morning cleansers and daytime tipples, but don't miss the unforgettable golden hour. As the sun sets, relax with shaken cocktails amidst the breathtaking 4640 sqm backdrop and enjoy the tunes spun by local and international DJs.
Jl. Labuan Sait No. 315, Padang-Padang, Bali, Indonesia
Website 
Instagram
Woo Bar: Where Glamour Meets Tropical Beach Vibes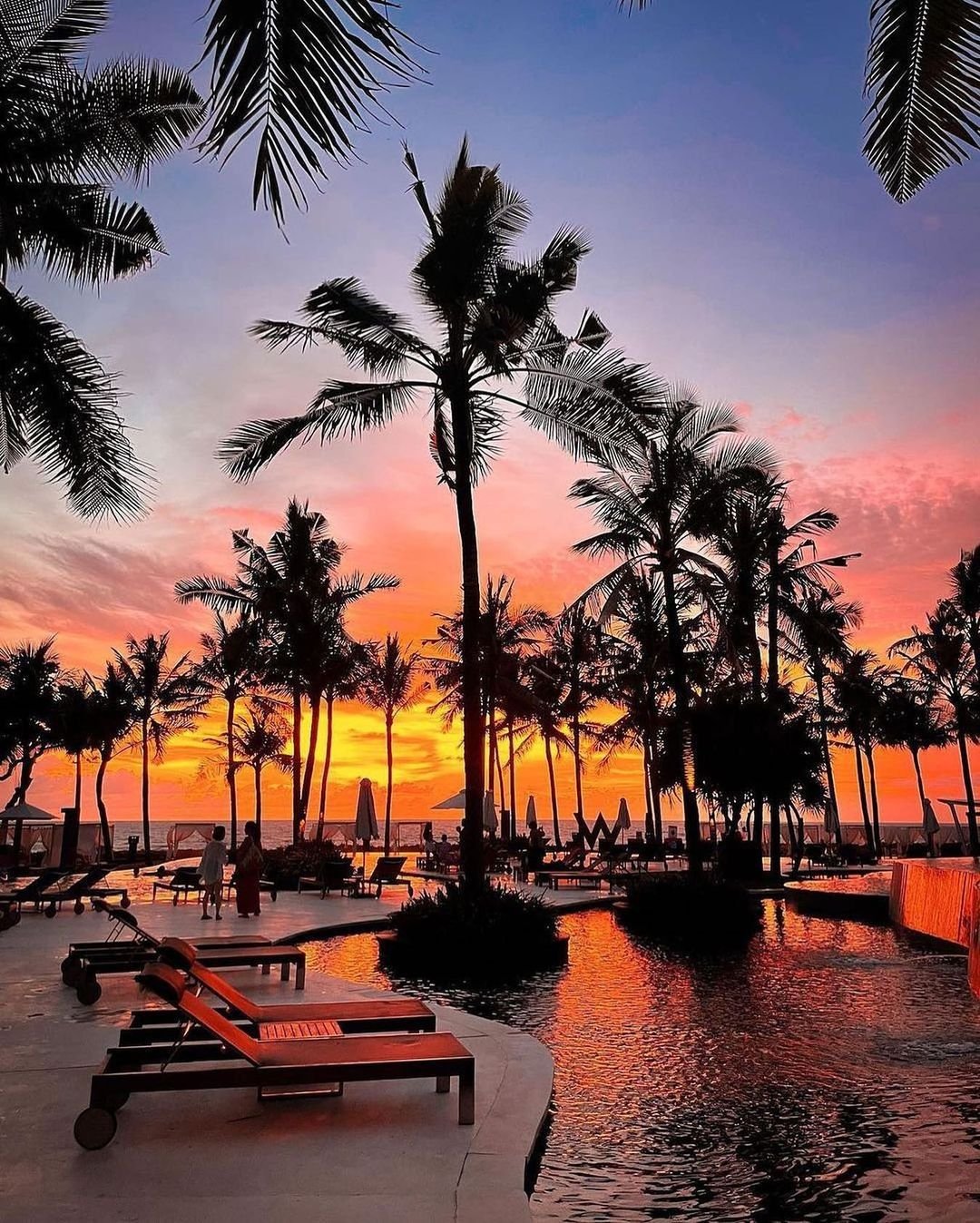 Step into the pinnacle of glam at Woo Bar, a legendary W Hotel venue in Bali. Here, world-class food, entertainment, and uber-stylish surroundings await. Enjoy a sumptuous seafood feast at the beachfront restaurant, then retire to colorful daybeds for alfresco fun under the setting sun. With retro sofa stylings and tropical palm tree vibes, this place is an aesthetic delight, perfect for bubbly aficionados and sunset lovers alike.
Jalan Petitenget Seminyak, Kerobokan Kelod, Kec. Kuta Utara, Kabupaten Badung, Bali 80361
Phone: +62 817 0015 808
Website
Instagram