The hottest trend in Bali nowadays is the sky-high beach clubs with a breathtaking view of the sea, stunning decor and the perfect tunes and cocktails to make a perfect day. Here are our favourites Cliff Beach Clubs in Bali…

1. SAVAYA BALI formerly OMNIA BALI
Where: Jl. Belimbing Sari, Banjar Tambiyak, Pecatu, Uluwatu
Reservation: +62361 8482150
savayabali.com
Savaya is nestled between the wild paradise of the jungle and soaring limestone cliffs. This enclave of luxury sits upon a breathtaking natural wonder 100 meters above the Indian Ocean. Drawing inspiration from the forces of nature, Savaya delivers a transformative experience to all who visit.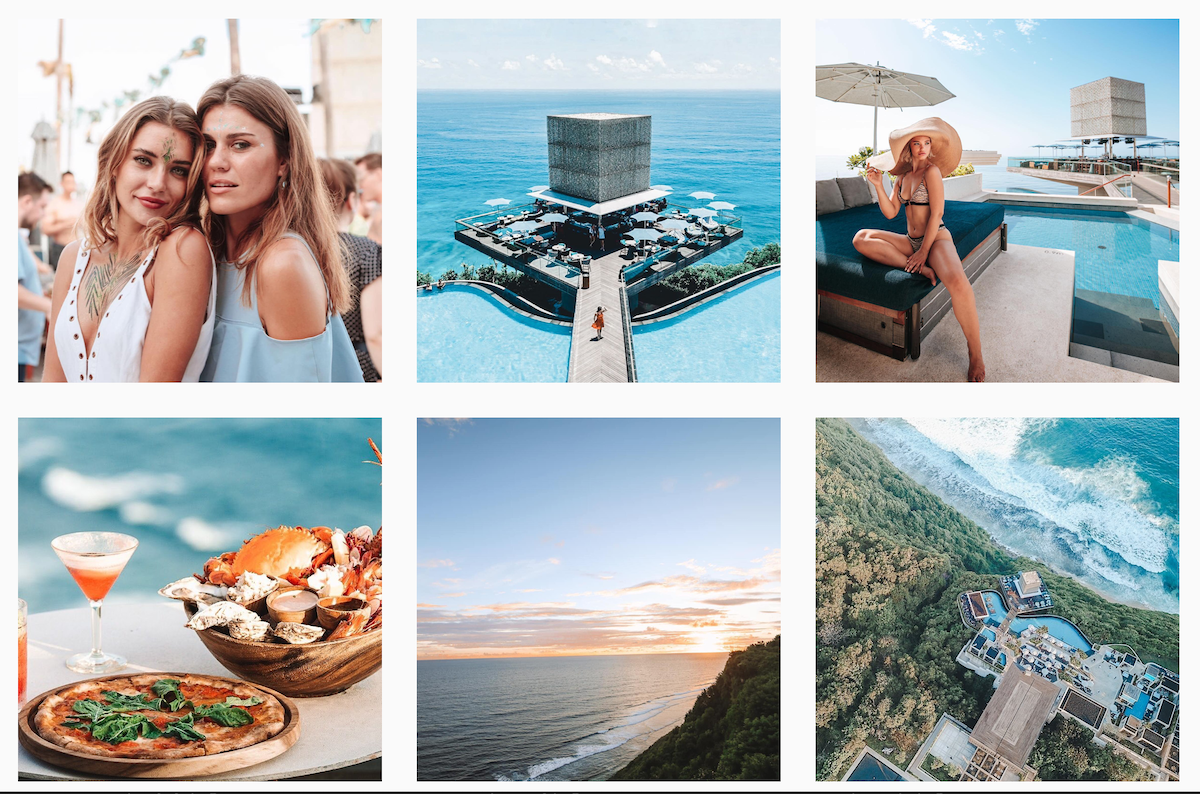 2. ULU CLIFFHOUSE
Jl. Raya Uluwatu Pecatu
+62813-3881-2502
http://www.ulucliffhouse.com
Ulu Cliffhouse brings effortless elegance in a unique oasis to indulge the senses and cater every desire. From the cutting-edge design by award-winning Shed London, food by world-class Chef Diego Muñoz, drinks by Albie Barratt and the Operation Dagger Team as well as the legendary music producer Neil McLellan leading the in-house studio; Ulu Cliffhouse is set to become Bali's hottest destination. Ulu Cliffhouse embraces the raw natural beauty of the Bukit Peninsula with its stunning Uluwatu location and a design that combines intimate spaces and tantalizing experiences in a cliff top playground. This the perfect place to enjoy long Champagne lunches, poolside snacks, lounging in sunbeds and shades to daily All-Star DJs, or to soak up Bali's most spectacular view from day to night.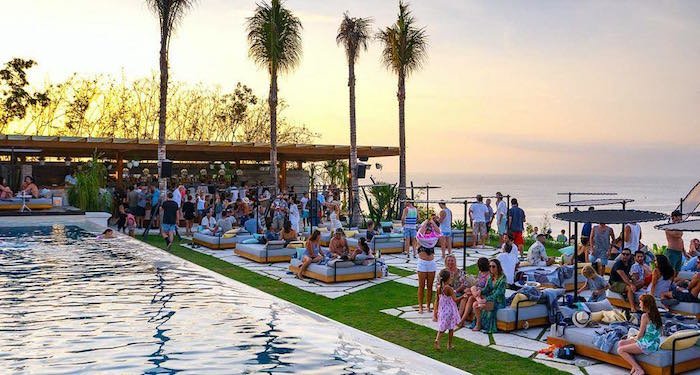 3. ROCK BAR BALI
Jalan Karang Mas Sejahtera, Badung, Bali
+62361 702222 Ext 40
https://www.ayana.com/en/bali/ayana-resort-and-spa/eat-and-drink/venues/rockbar
We can't talk about Cliff Beach Clubs without mentioning the OG. The first one of its kind, Rock Bar Bali is perched atop distinctive rock formations along Jimbaran's pristine sunset coast. Rock Bar Bali is widely respected as one of the globe's most popular sunset, cocktail and entertainment venues. Showcasing unparalleled views from 14 meters above the Indian Ocean, Rock Bar is accessible via AYANA's dramatic cliffside inclinator. Featuring a glamorous sunset vibe, and a seductive after-dark ambiance, listen to premier international DJs as they heighten your experience from a custom DJ booth carved directly into the cliff face. Rock Bar's highly anticipated expansion invites up to 650 guests to enjoy the scene, with the truly VIP Round Deck welcoming 18 lucky guests to revel in architectural wonder surrounded by rolling ocean waves. Rock Bar is the perfect destination for romantic rendezvous, unforgettable gatherings with friends, and spectacular MICE events.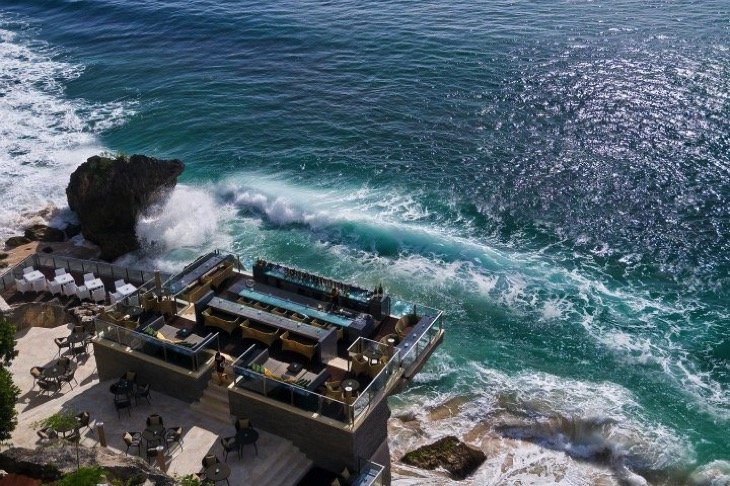 4. ONEEIGHTY BALI
Jl. Pura Goa Lempeh Banjar Dinas Kangin, Pecatu Uluwatu
+62361 847 0700
https://www.oneeightybali.com
Located within the estate of Bali's renowned villa resort The edge, oneeighty° is a celebration of sophisticated beach culture set 500ft above the Indian Ocean. This game-changing cliff-top club is built alongside a series of cascading ponds, spilling into a jaw-dropping glass-bottom sky pool which extends 6 meters over the edge of the cliff. Guests of oneeighty° can relax on the cliff-side VIP deck, terrace, sand lounge or at a table at the enclosed bar, all overlooking the most breathtaking 180° panorama imaginable.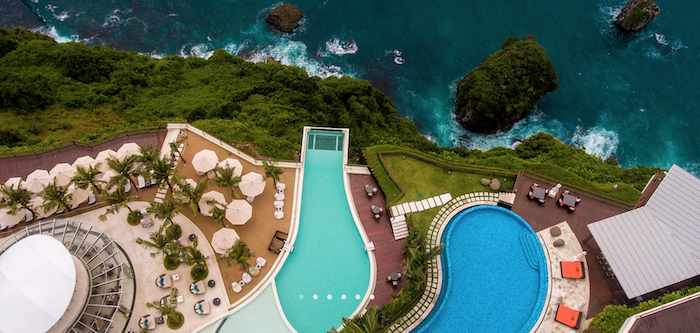 5. EL KABRON
Jl. Pantai Cemongkak, Pecatu
+62821-4437-0139
http://www.elkabron.com
Perched high up on the cliffs of Uluwatu, one of Bali's most iconic landmarks, El Kabron Restaurant and Cliff Club offers guests one of the most exclusive and breath-taking locations to witness the majestic Balinese sunsets over the Indian Ocean, with an uninterrupted panoramic view. Their Spanish roots are reflected in the Mediterranean cuisine and combined with quality selection of champagne, cocktails, wine and sangria. El Kabron is a unique venue that believes in exclusivity. They believe that luxury international travelers appreciate value, personalized service and high quality of food and beverage, following this concept we strive to create the perfect ambiance and atmosphere to enjoy the islands most perfect view of the ocean and sunset.

© www.themaninthepinksuit.com