As an enchanting island blessed with beautiful culture and nature, Bali is a perfect destination for a wellness getaway. From nestled havens in the heart of Ubud to hidden gems amidst the Balinese jungle, these sanctuaries invite you to rejuvenate your body, relax your mind, and nourish your spirit. Here, we have curated some of the island's finest wellness retreats for your next blissful holiday. Whether you seek tailored wellness programs, transformative yoga and meditation experiences, authentic Balinese healing, or holistic rejuvenation, these retreats will transport you to a realm of ultimate well-being. Step into a realm of serenity and venture into a journey of self-discovery, as each retreat guides you toward a harmonious state of balance and bliss. 
Best Wellness Retreats in Bali: Rejuvenate in Paradise
Adiwana Resort Jembawan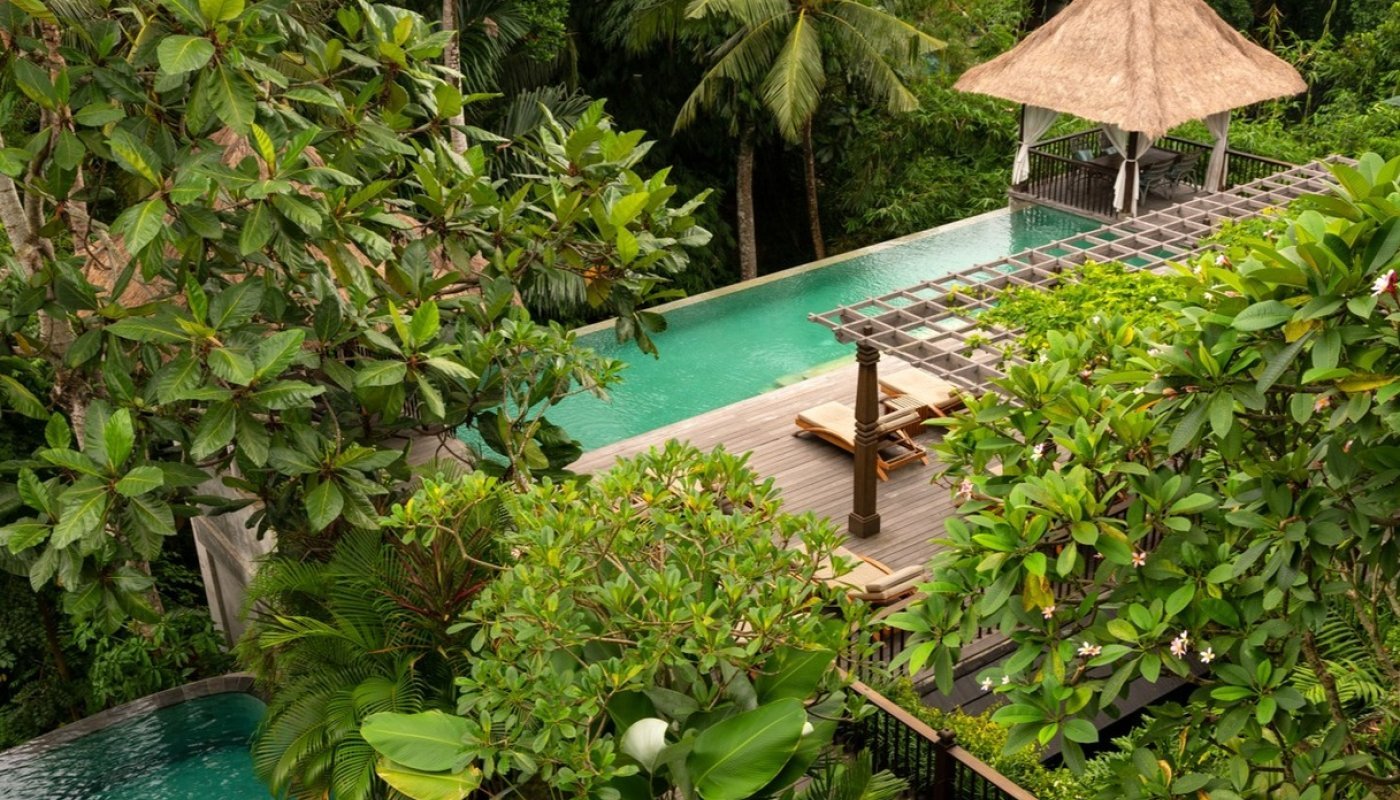 Nestled in the heart of Ubud, Adiwana Resort Jembawan takes wellness to a new level. This boutique retreat focuses on rejuvenating the body, mind, and spirit through tailored wellness programs. With a team of expert practitioners, including Ayurvedic therapists and certified yoga teachers, guests can address specific health concerns while enjoying the tranquil surroundings. The 41 spacious and comfortable rooms and suites, designed by renowned architect Ground Kent, provide a healing sanctuary for personal well-being.
Jl. Jembawan, Ubud, Kecamatan Ubud, Kabupaten Gianyar, Bali 80571
Phone: +62 361 908 3289
Website
Instagram
COMO Shambhala Estate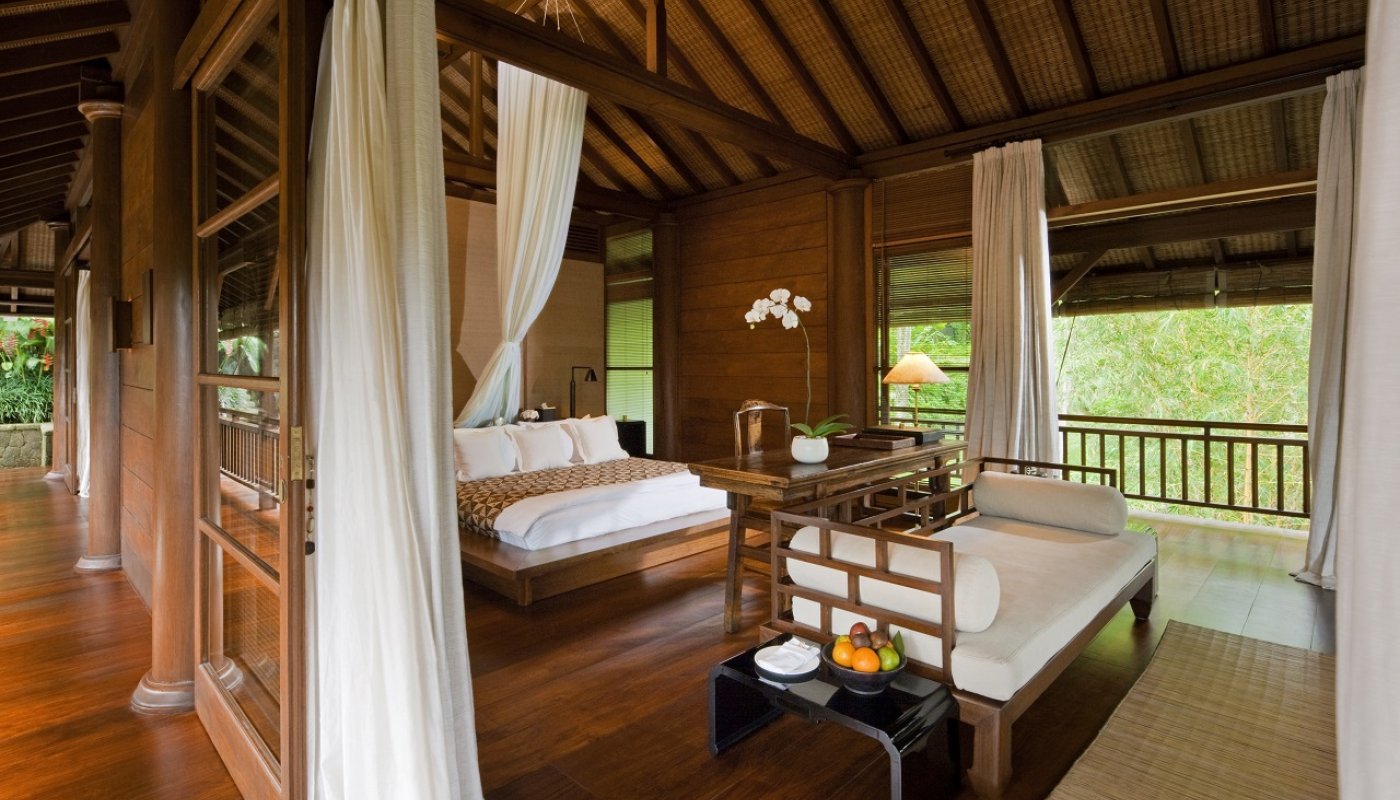 Established to offer a transformational journey for their guest, the wellness programs of COMO Shambhala Estate are designed for long-lasting change. Choose from programs such as Cleanse, Be Active, Ayurvedic, and Bespoke, aimed at helping you make informed lifestyle choices that extend beyond your stay. Beyond wellness programs, the resort offers an array of enriching experiences and activities, including workshops, massage therapy, hydrotherapy, Ayurveda therapy, and Pilates. Don't forget to indulge in a refreshing dip in the natural rock pools nestled by the river.
Banjar Begawan, Desa, Melinggih Kelod, Kec. Payangan, Kabupaten Gianyar, Bali 80571
Phone: +62 361 978 888
Website
Instagram
Fivelements Retreat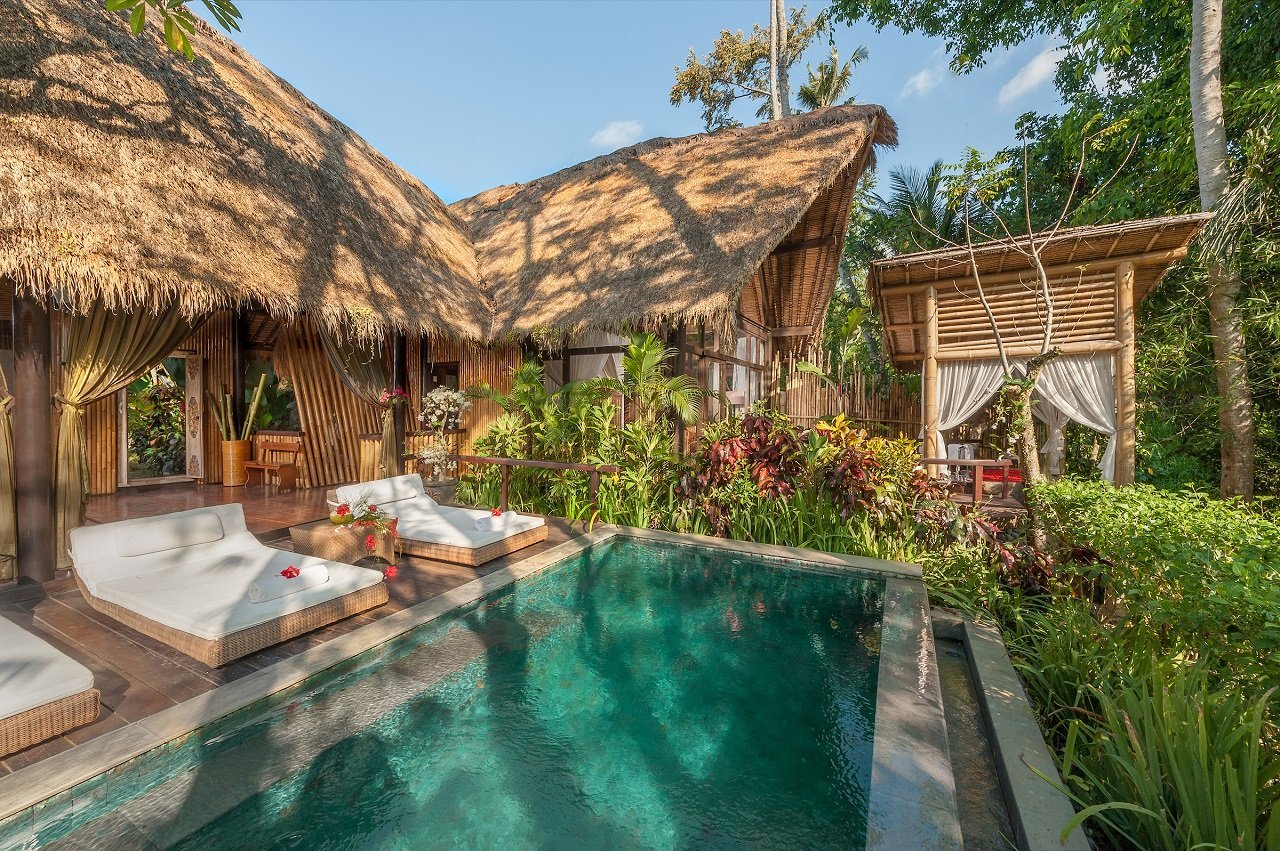 Rooted in the ancient traditions of Bali, Fivelements Retreat offers a place of healing and immersion in the uplands, nestled along the Ayung River. As an eco-conscious wellness destination, it encompasses three pillars: authentic Balinese healing, plant-based cuisine, and sacred arts. With 20 eco-luxury suites, including the recently opened Hillside Pool Suites, guests find themselves surrounded by the lush jungle landscape. Experience holistic therapies administered by traditional Balinese healers, including warm stone massages, healing energy sessions, and beauty rituals.
Mambal, Abiansemal, Badung Regency, Bali 80352
Phone: +62 361 469 206
Website
Instagram
Four Seasons Bali at Sayan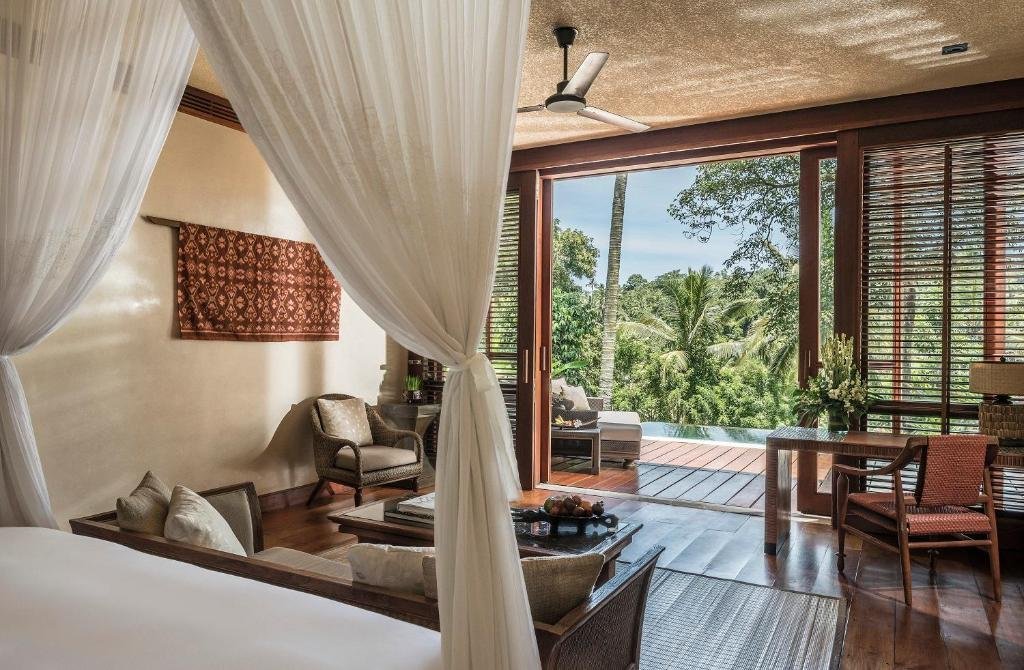 Experience a hidden gem in the Balinese jungle at Four Seasons Resort Bali at Sayan, where reflection, transformation, and luxury converge. Set against the Ayung River Valley, this stunning property offers a range of wellness experiences, including spa treatments, chakra ceremonies, Balinese healing, and aerial yoga. Immerse yourself in the year-round Guided by Gratitude Wellness Retreat, curated by a resident wellness mentor and former Buddhist nun. This transformative retreat focuses on meditation techniques, blessing rituals, yoga practices, and spa treatments, deepening your connection with self and nature.
Jl. Raya Sayan, Sayan, Kecamatan Ubud, Kabupaten Gianyar, Bali 80571
Phone: +62 361 977 577
Website
Instagram
Gdas Bali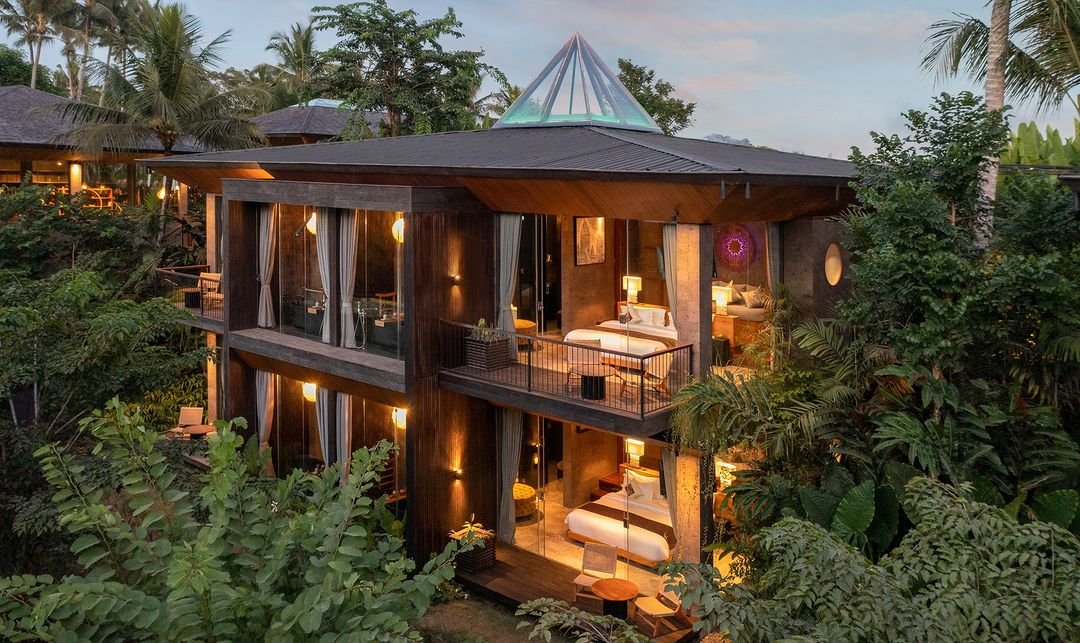 Situated in the heart of Bali's cultural and spiritual hub, Ubud, Gdas Bali is a sanctuary of wellness and peace. Let go and release as you embrace the area's healing energies and elevate your mind, body, and spirit. Accompanied by accredited and experienced instructors, the resort offers wellness programs that guide you in identifying root issues and setting you on the path to holistic healing and rejuvenation. Enjoy carefully curated vegan meals that nourish your body and complement the healing process.
Jl. Cempaka, Banjar Kumbuh, MAS, Kecamatan Ubud, Kabupaten Gianyar, Bali 80571
Phone: +62 361 908 3131
Website
Instagram
Korurua Dijiwa Ubud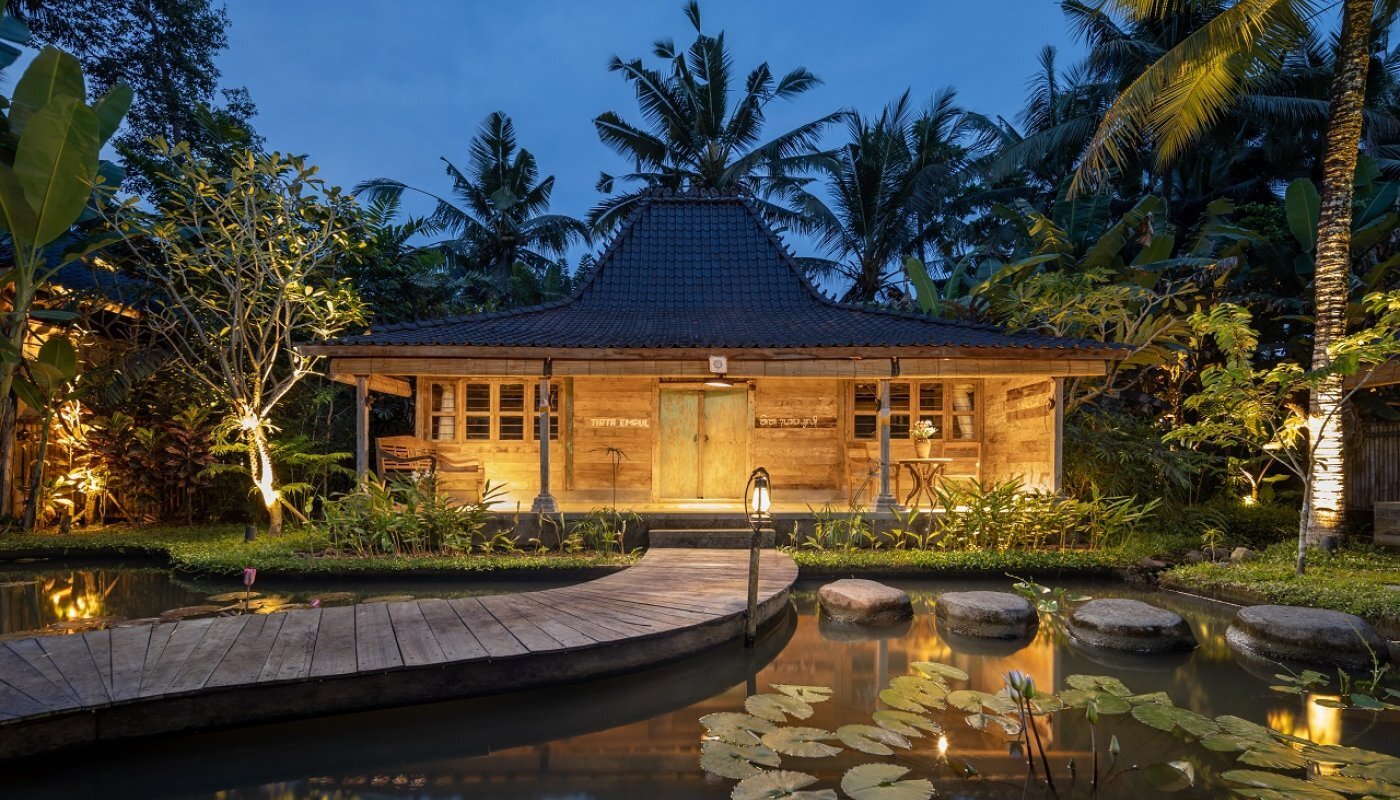 Embrace the harmonious blend of contemporary design and traditional Balinese accents at Korurua Dijiwa Ubud. This enchanting retreat, located just 3 kilometers from Ubud's center, offers individually designed suites and villas. Immerse yourself in a range of activities influenced by Balinese cultures, such as yoga classes, Balinese dance classes, cooking traditional cuisine, painting, and traditional music classes. The resort's spa experience provides a range of traditional Balinese therapies and treatments, allowing guests to immerse themselves in a private and peaceful environment. The name "Korurua" symbolizes prosperity, fertility, and the continuous journey of growth and abundance.
Banjar Junjungan, Jl. Tirta Tawar, Kecamatan Ubud, Kabupaten Gianyar, Bali 80571
Phone: +62 361 900 0496
Website
Instagram
Oneworld Retreats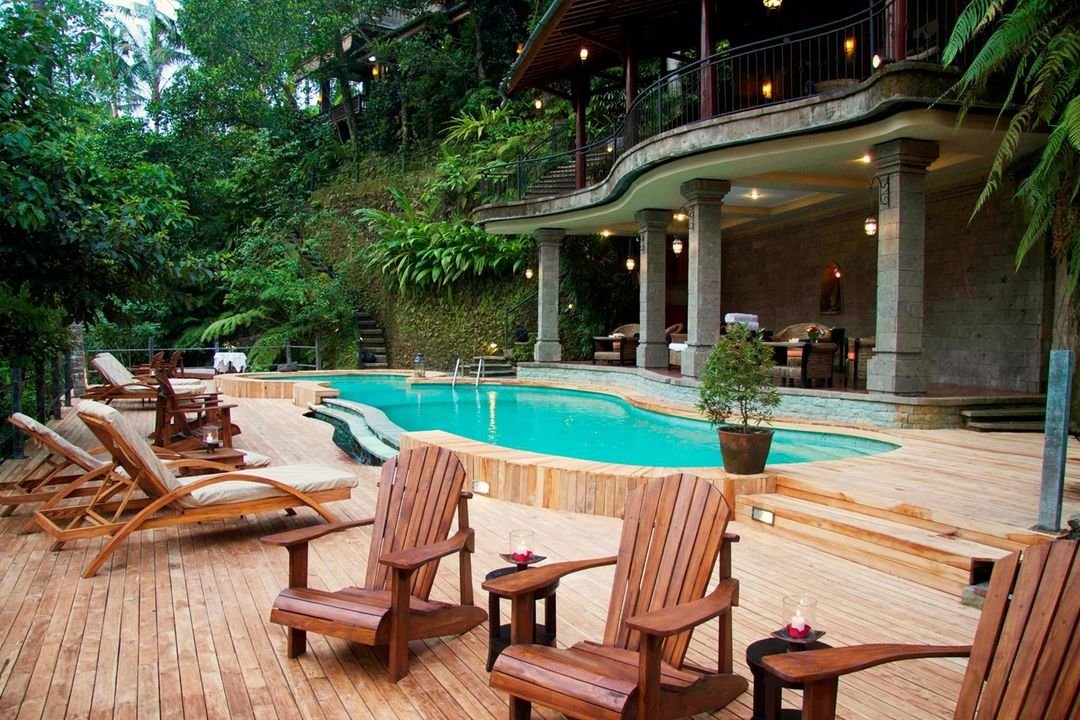 Step into a realm of utmost wellness at Oneworld Retreats, where a myriad of programs cater to different needs. Escape The World, their signature retreat offers a unique opportunity to connect with oneself, practice daily meditation and yoga, and immerse in a one-of-a-kind Balinese journey. Led by experienced local leaders, each retreat is carefully designed and expertly guided. Other offerings include Follow Your Dreams, Immerse Yourself in Bali, Footprints in Bali, and Aging Gracefully The Ayurveda Way – Exclusively for Women. Additionally, Oneworld Retreats collaborates with expert external leaders to provide specialized retreats.
Jl. Suweta Br. Sakti, Ubud, Gianyar Regency, Bali 80571
Phone: +62 811 3803 536
Website
Instagram
REVĪVŌ Wellness Resort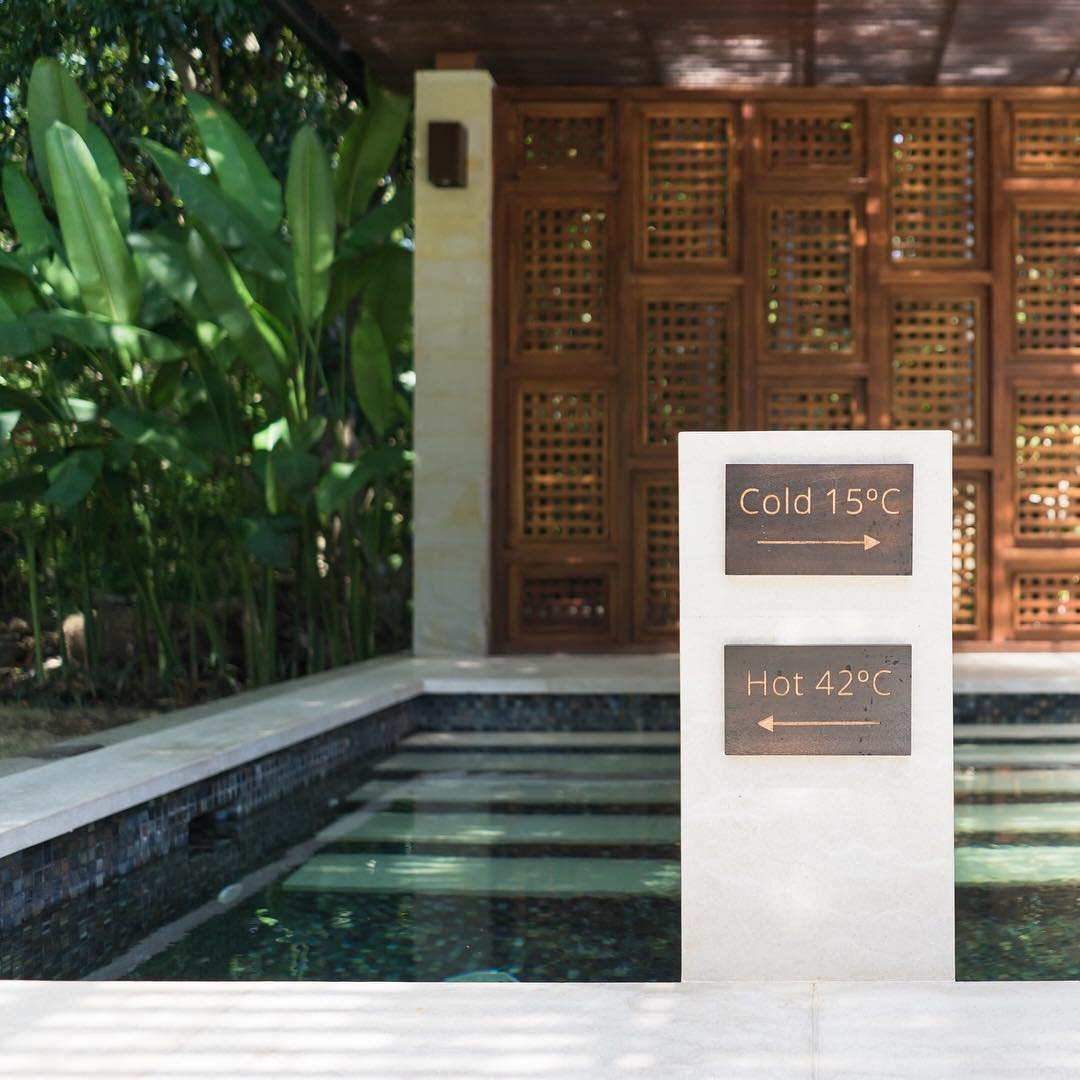 Inspired by local ancient healing traditions, REVĪVŌ Wellness Resort provides a personalized wellness experience. The wellness sanctuary offers a comprehensive range of programs such as detox, anti-aging, weight management, and stress relief. Each program aims to promote physical and mental well-being, accompanied by nutritious cuisine and various holistic activities. Retreat to this serene sanctuary and embark on a journey of self-discovery and rejuvenation.
Jalan Desa Sawangan, Benoa, Kec. Kuta Sel., Kabupaten Badung, Bali 80361
Phone: +62 361 477 3888
Website
Instagram
The Asa Maia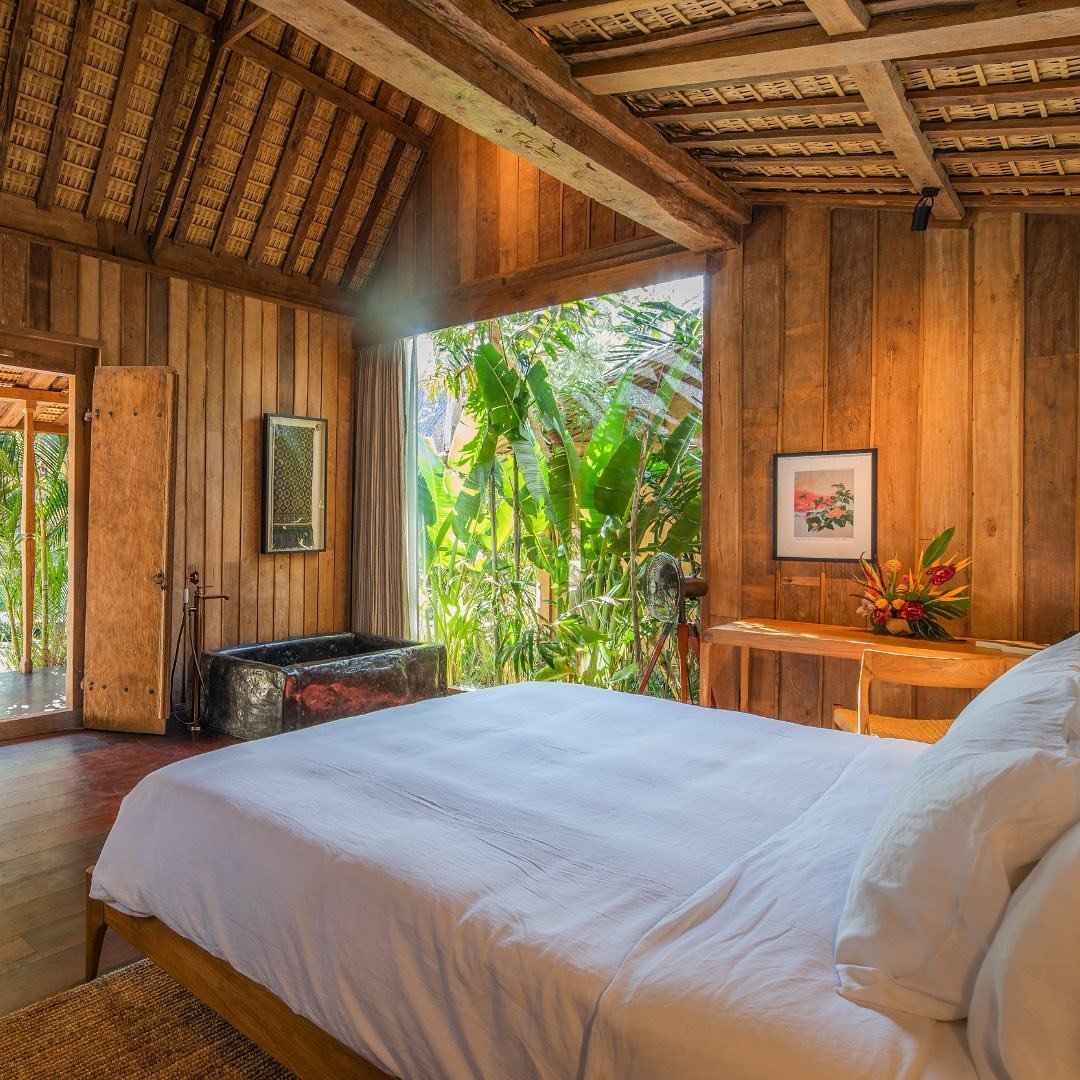 Discover a haven of well-being in Uluwatu at The Asa Maia. This intimate wellness resort features 10 guest suites arranged around an airy central pavilion. Reclaimed teakwood and ironwood create a timeless and authentic ambiance, while the spa, library, boutique, gym, consultation room, and spacious yoga shala offer abundant wellness experiences. From Balinese massage and yoga to SOMA breathwork and Pilates, guests can choose from a comprehensive range of health-enhancing activities led by experienced practitioners. The resort also offers three wellness programs—Exhale, Relax & Radiate, and Rest & Reset—that can be customized with additional spa, movement, or mindfulness sessions.
Banjar Dinas Suluban, Jl. Pantai Padang-Padang, Pecatu, Bali, Kabupaten Badung, Bali 80361
Phone: +62 811 3811 885
Website
Instagram