Going to Bali for body and soul rejuvenation? You're on the track for the right mission.
Mark these best luxury spas in Bali for your plans for relaxation, be it for a soothing body massage using tropical massage oils and traditional Balinese techniques, deep tissues massages to untie your knots or even fully extended day packages that enable you to absolutely unwind; body, mind, and soul.
Ojas Wellness Center at COMO Shambhala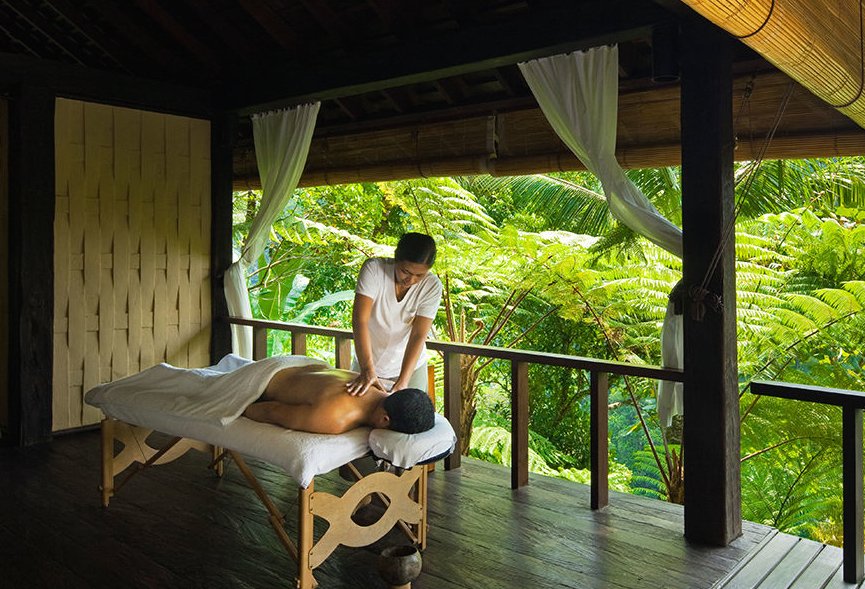 COMO Shambhala Estate is a residential 'retreat for change' that combines a deep-rooted approach to wellness with state-of-the-art facilities and remarkable villa accommodations. The location is unique — an auspicious and spiritual enclave of the jungle just north of Ubud in Bali, where guests relax to the sounds of the rustling jungle and rumbling Ayung River.  
At Ojas Wellness Center, all your needs for a relaxing massage, body care, beauty care, or facial care will be taken care of. We experienced a one-hour Deep Tissue Massage and the experienced therapist successfully escorted us to dreamland and relaxed our tensed muscles. Ojas Wellness Center is also where you can find the estate's fitness center, hydrotherapy pool, 25-meter swimming pool, separate male and female sauna, and steam room. At the hydrotherapy pool, guests can improve their aerobic conditioning, flexibility, and strength. Hydrotherapy exercises are especially beneficial for people who have trouble exercising on land or who are recovering from an accident, joint condition, or surgery. 
COMO Shambhala Estate Banjar Begawan, Desa, Melinggih Kelod, Payangan, Gianyar | Phone: (+62361) 978888
Talise Spa at Jumeirah Bali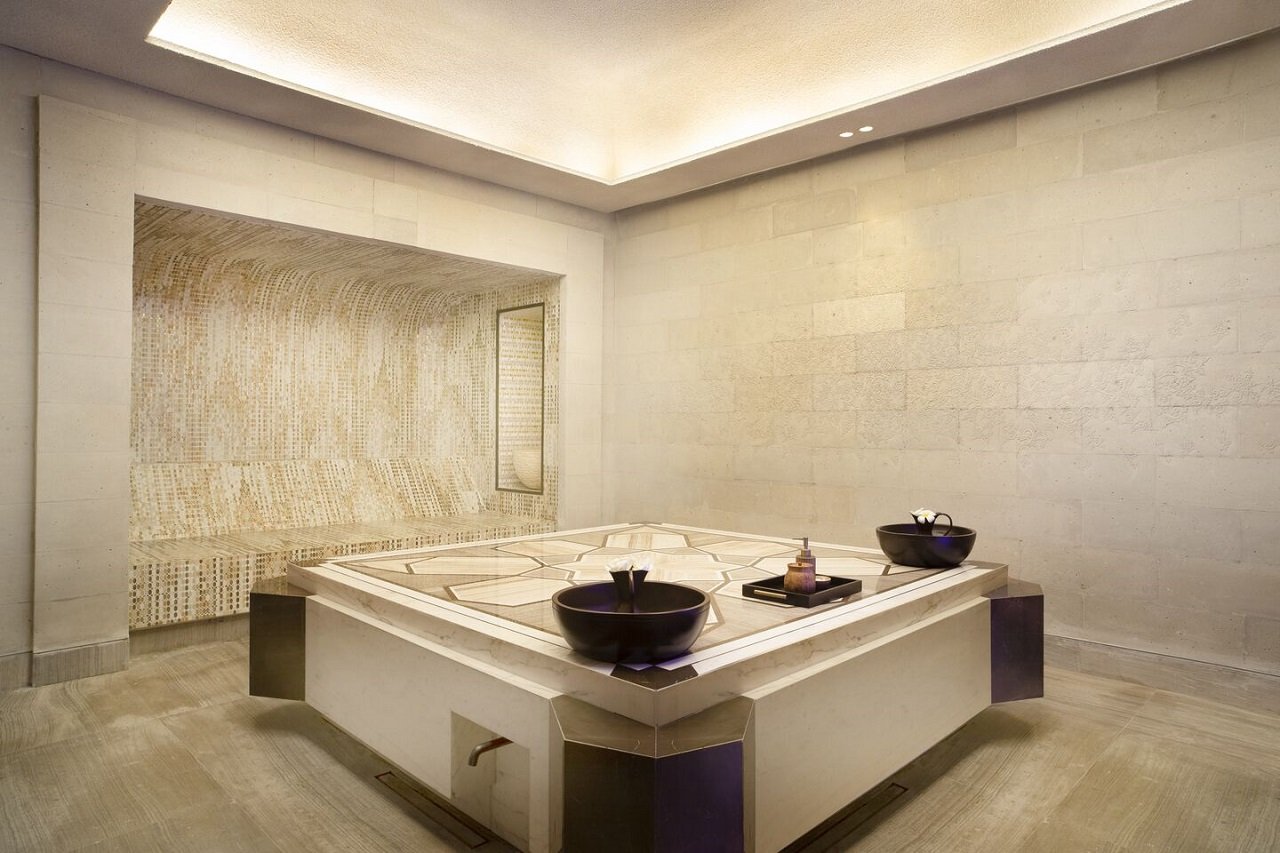 Jumeirah's Talise Spa in Bali offers a traditional Royal hammam and holistic wellness therapies inspired by the Majapahit Empire, which ruled the region until the 16th century. The spa draws on the Hindu-Javanese concept of living a balanced and harmonious life to achieve true beauty and spiritual purity. Guests can experience Balinese traditions, Arabic therapies, and European expertise. The opulent Turkish hammam pays tribute to Princess Campa, who introduced local ruling elite to the Ottoman Empire's bath-house culture. The spa team personalizes the experience based on individual dominant chakras and birth elements, offering bespoke therapies and journeys. The spa has additional wellness facilities, including the sauna, steam bath, and Vichy shower treatments.
Jumeirah Bali | Kawasan Pecatu Indah Resort, Jl. Raya Uluwatu, Pecatu, Kuta Selatan | Phone: +62 361 201 5000 | Jumeirah.com
Heavenly Spa at The Westin Resort Nusa Dua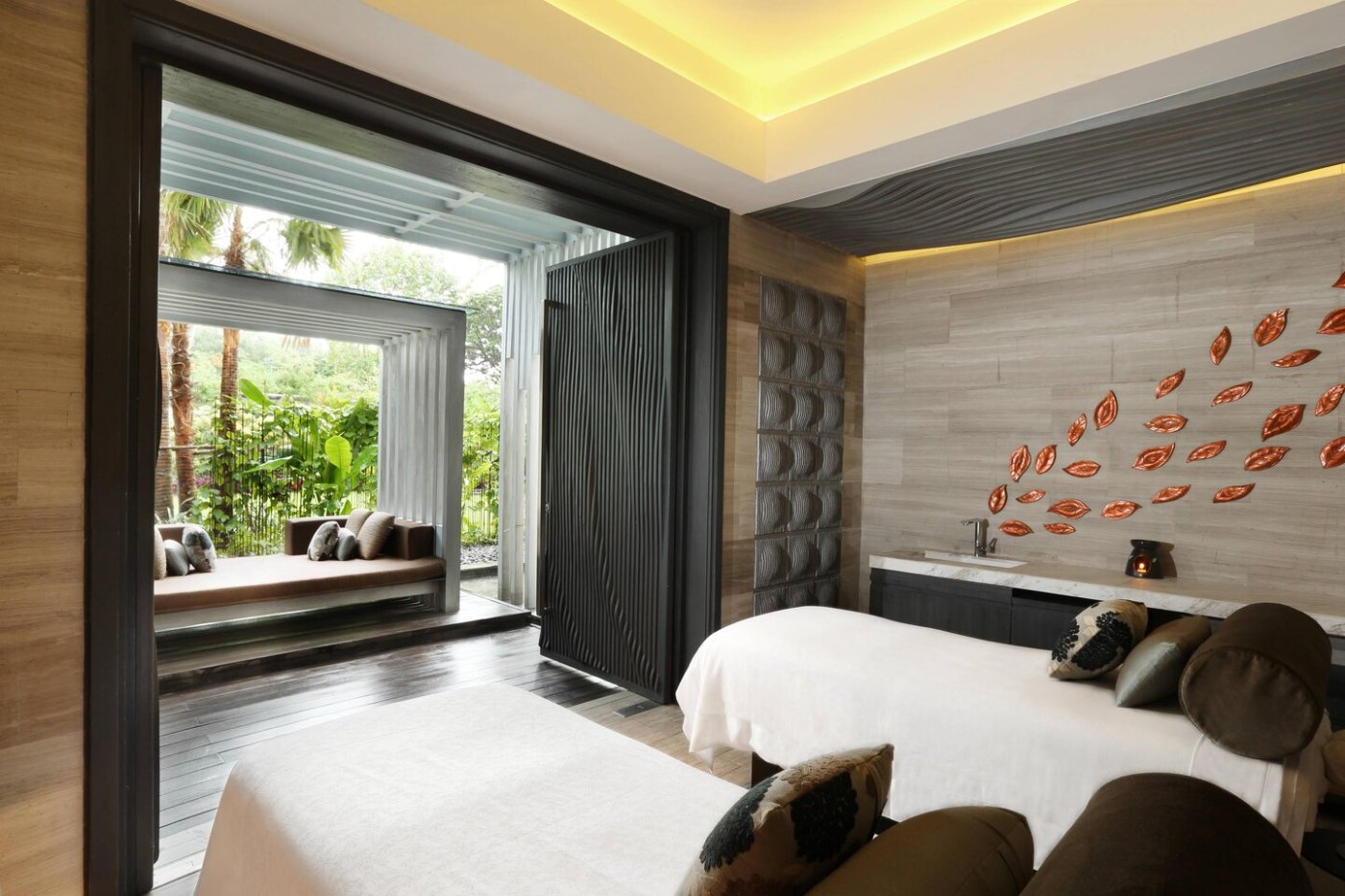 Before or after your day at the beach, The Westin Resort Nusa Dua, Bali invites you to experience pure bliss at Heavenly Spa by Westin™. As the premier day spa in Bali, our facilities, therapists, and treatments create a serene atmosphere to thoroughly rejuvenate you. Heavenly Spa by Westin™ offers uplifting experiences in the form of comprehensive packages to restore your body and soul. Only steps from the beach, unwind in luxurious his and her thermal facilities, release muscle tension in the shiatsu room, or rejuvenate with sacred rituals.
With a focus on holistic wellness and the traditional healing practices of Bali, Heavenly Spa by Westin™ aims to put you in a state of total relaxation. To further enlighten your experience at the day spa, arrive 30–45 minutes before your treatment, and enjoy access to the steam room, Himalayan salt sauna, hydro pool, cold plunge, or warm shower. It's the perfect way to relax and warm your muscles, aiding the therapeutic benefits of our treatments and services. For those of you who prefer to savor your spa experience in the comfort of your own room, simply choose one of our In-Room Spa services.
The Westin Resort Nusa Dua, Bali |Kawasan Pariwisata Nusa Dua, Btdc, Jl. Nusa Dua No.3 | Phone: (+62361) 771906
Apurva Spa at The Apurva Kempinski Bali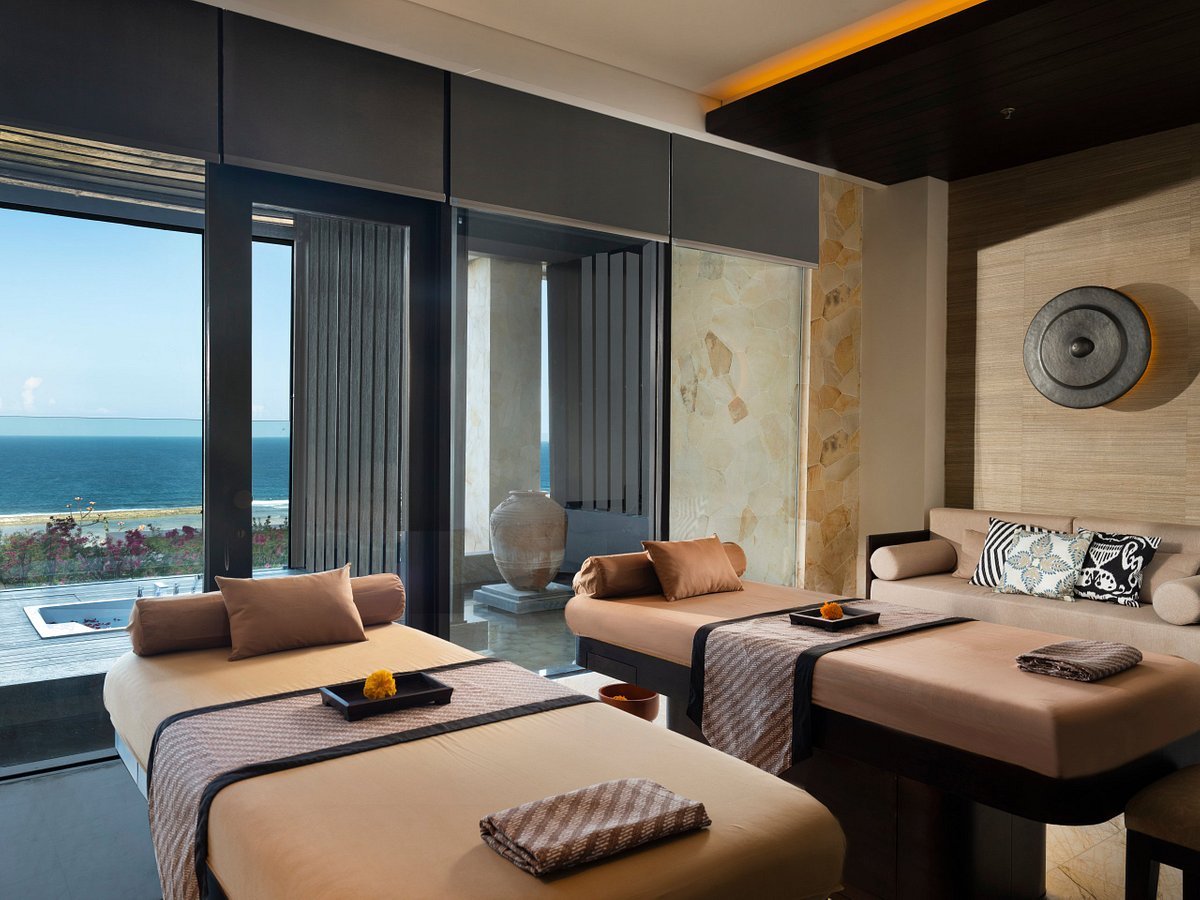 The Apurva Spa's spa experience is a haven of tranquility. The healing procedures are based on the Javanese concept of Rupasampat Wahyabiantara, which translates to "real beauty is produced when the exterior and inner beauty are in harmony." The Apurva Spa, which has established itself as a luxury spa in Bali, uses traditional wellness techniques such as the use of traditional Lulur and Jamu.
Treatments are customized for each guest based on their life stage: adolescent, adult, married, and post-adult, with different types of oil and lulur selected based on their personal needs.
Apurva Spa at The Apurva Kempinski Bali Jalan Raya Nusa Dua Selatan, Sawangan, Nusa Dua, +62 361 209 2288
The Healing Village at Four Seasons Resort at Jimbaran Bay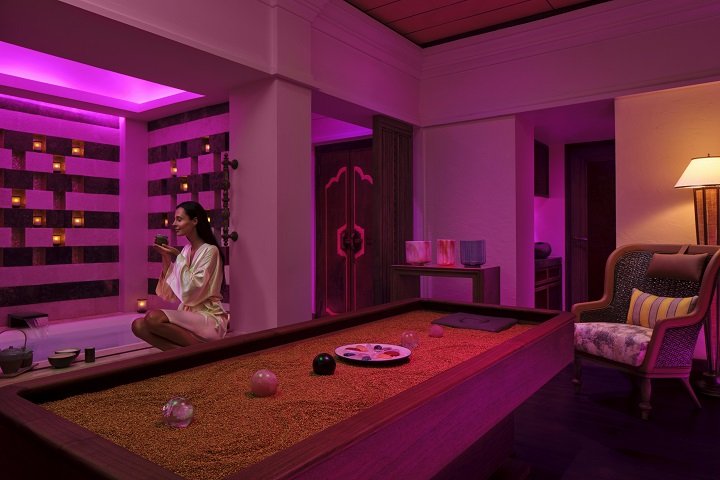 The new Healing Village Spa at Four Seasons Resort at Jimbaran Bay is an enchanting space to spend an afternoon with a friend or that special someone. Take time to disconnect from the outside world and reconnect with each other. Reopened in 2020 after an 18-month-long restoration, The Healing Village offers world-class treatments by expert therapists.
Light and sound therapy, thermal and color therapy, botanicals, and gemstones are all used in innovative treatments to supplement Bali's ancient healing practices. The two-story building, which appears to be floating over the water, contains ten all-suite spa rooms, including the Illume Room, which provides a fully immersive experience. It has a heated quartz-sand bed for inversion therapy and undulating massage, as well as colored light therapy, gemstones, crystal singing bowls, and original music played in surround sound.
The Healing Village at Four Seasons Resort Bali at Jimbaran Bay, Jl Bukit Permai, Jimbaran, p. +62 361 701010.
AYANA Spa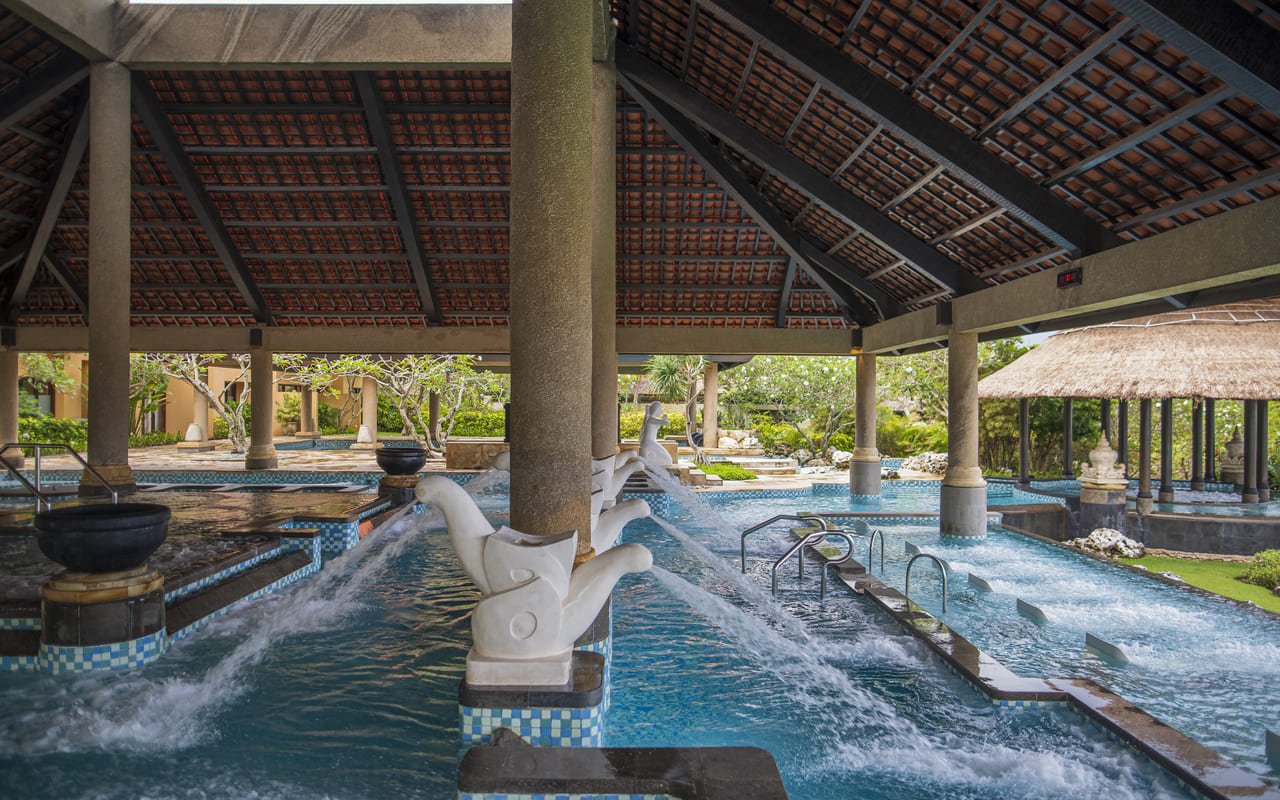 AYANA Estate is the home of a world-class 22,000sqm AYANA Spa. The professional wellness team and multi-faceted spa program offer guests the treatment to achieve their wellness goals. With over 53 treatment rooms, guests can opt for traditional Balinese massages, and marine rituals, to the Nakatsuji Method, created by Japanese osteopath and anti-aging expert Tadashi Nakatsuji exclusively for AYANA Spa, which encourages full-body healing. For a once-in-a-lifetime spa experience, guests can choose Ocean Rituals at Spa on The Rocks, a treatment villa perched above the formation of rock along the AYANA's coastline surrounded by the sparkling blue Indian Ocean. AYANA Spa also offers pure Thalassotherapy, the therapeutic use of seawater and marine products, at one of the world's largest Aquatonic Seawater therapy pools to promote health, wellness, and beauty.
AYANA Spa has launched three exciting wellness packages to help guests kickstart healthy habits and nurture their bodies, mind, and soul. The three packages, known as Immune Reset, De-Stress, and Fitness, focus on different wellness goals and offer guests the ability to customize their itinerary and activity schedule with the help of a professional fitness trainer and health coach, and other qualified specialists. The 3, 5, and 7-night retreats aim to restore, revitalize and inspire the guest towards well-being. Based on AYANA's five pillars of wellness, each program provides unique opportunities to connect with nature, nourish the body with healthy and authentic foods, and push your physical strength to new limits. Amongst a variety of unique and fun activities provided in the program, some of them are Qi Gong, Muay Thai, sunrise and sunset walking experiences through nature, canang making, and sound healing.
AYANA Spa Jl. Karang Mas Sejahtera, Jimbaran|  +62 361 702222
SPA Uluwatu at InterContinental Bali Resort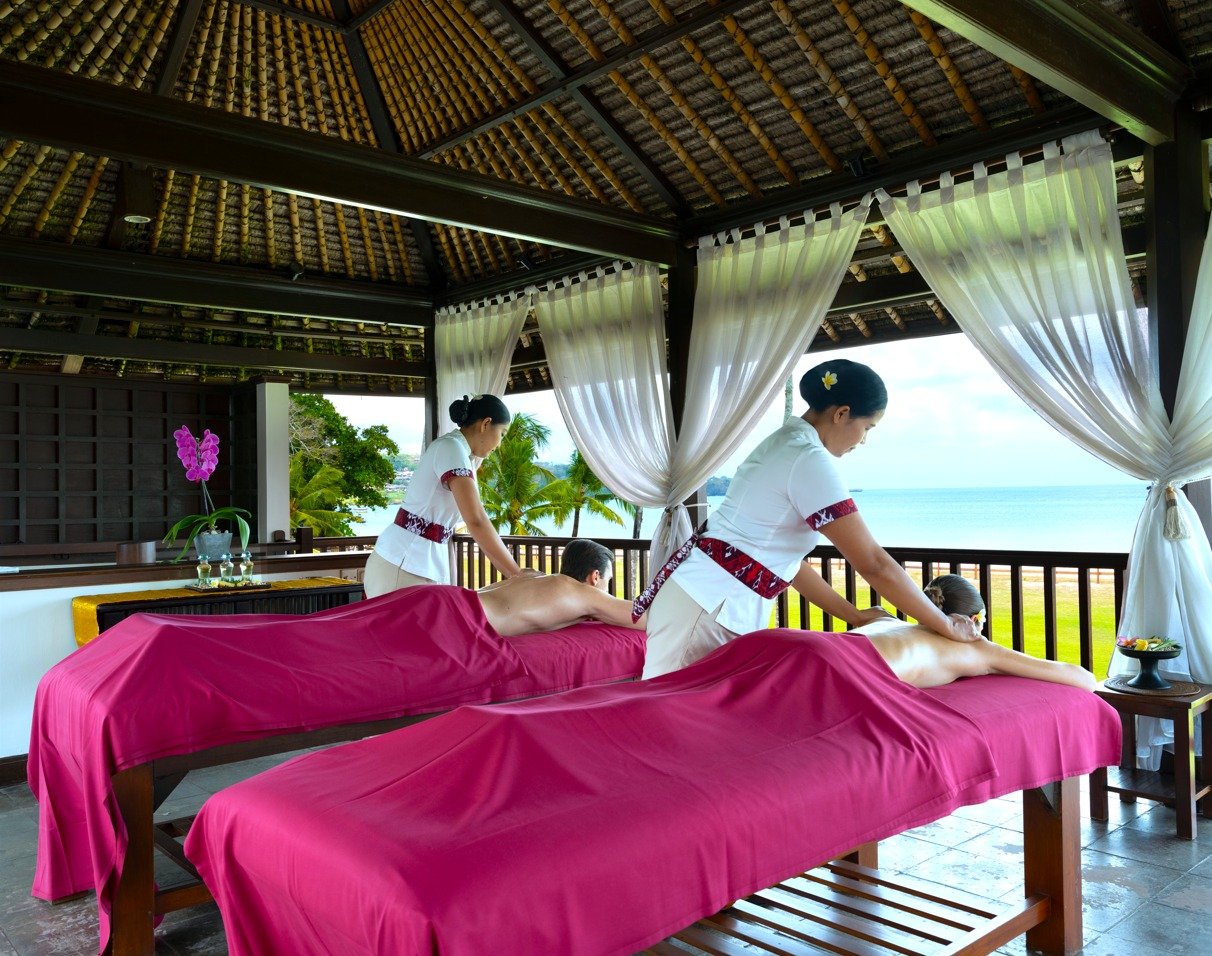 Discover a balanced approach to health and beauty, where wellness-centered spa experiences unite body and mind, inspiring freedom of spirit. From the moment you step into Spa Uluwatu, you feel calmness and an immediate sense of comfort. A conscious wellness lifestyle helps to define a more fulfilling purpose in life, creating meaningful moments that are fueled by increased energy and a happier outlook on life.
Spa Uluwatu is designed not only to enrich your precious holiday moments while staying with us but also to create a more harmonious and joyful future life long after you've returned home. Discover the freshly revamped Spa Uluwatu, equipped with the vibrant Wellness Point to relax with warming herbal tea, spacious yet comforting luxury jacuzzis, and private spa rooms. Pamper yourself at the new Myta Salon where your body and beauty care will be taken care of.
The essential practice of mindfulness is alive and well at the edge of paradise, beckoning you to enjoy a tranquil massage in one of our tented Beachside Pavilions. With each gliding stroke or acupressure point, feel your mood lighten instantly, enlivening your senses with the caress of a gentle sea breeze.
SPA ULUWATU with Spa Facilities Open daily 10.00 am - 10.00 pm
InterContinental Bali Resort, Jl. Raya Uluwatu 45 Jimbaran Bali, 0361 - 701888
Shankha Spa at Hyatt Regency Bali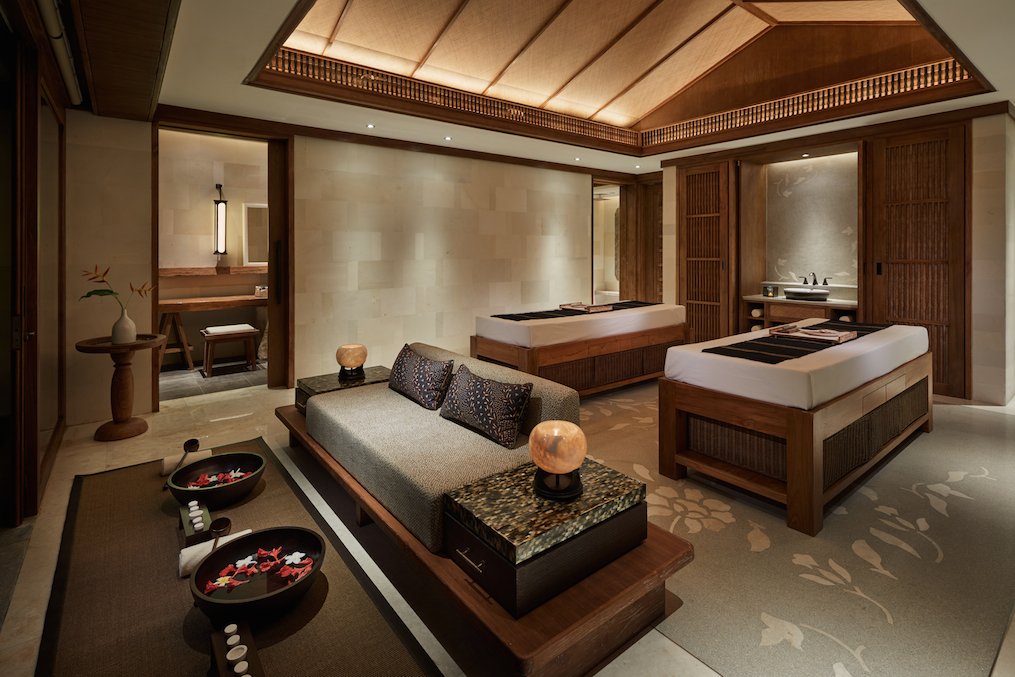 Nestled in the lush tropical garden of the iconic newly refurbished resort in Sanur, Shankha Spa is a one-stop wellness destination for both in-house guests of the hotel and outside guests. Shankha itself in Hindu mythology is a sacred emblem of Vishnu, which has healing potential. Equipped with 10 treatment rooms, 6 for single treatments and 4 for couple's treatments, sauna and steam room, hot and cold plunge pools, hydrotherapy area, 24-hour gym, adult pool, and a locker area to store all your valuables.  Just before the treatment start, the therapist will perform a Chakra opening ritual before continuing with a relaxing foot massage. At the end of the treatment, the therapist will perform a gong ritual as a closing. You will then have a moment to clean up and change back to your outfit while nibbling the yummy cashew snack and the nice hot cinnamon tea.
Hyatt Regency Bali | Jl. Danau Tamblingan No.89, Sanur, Denpasar | Phone: (+62361) 281234
The Spa at Renaissance Bali Uluwatu Resort and Spa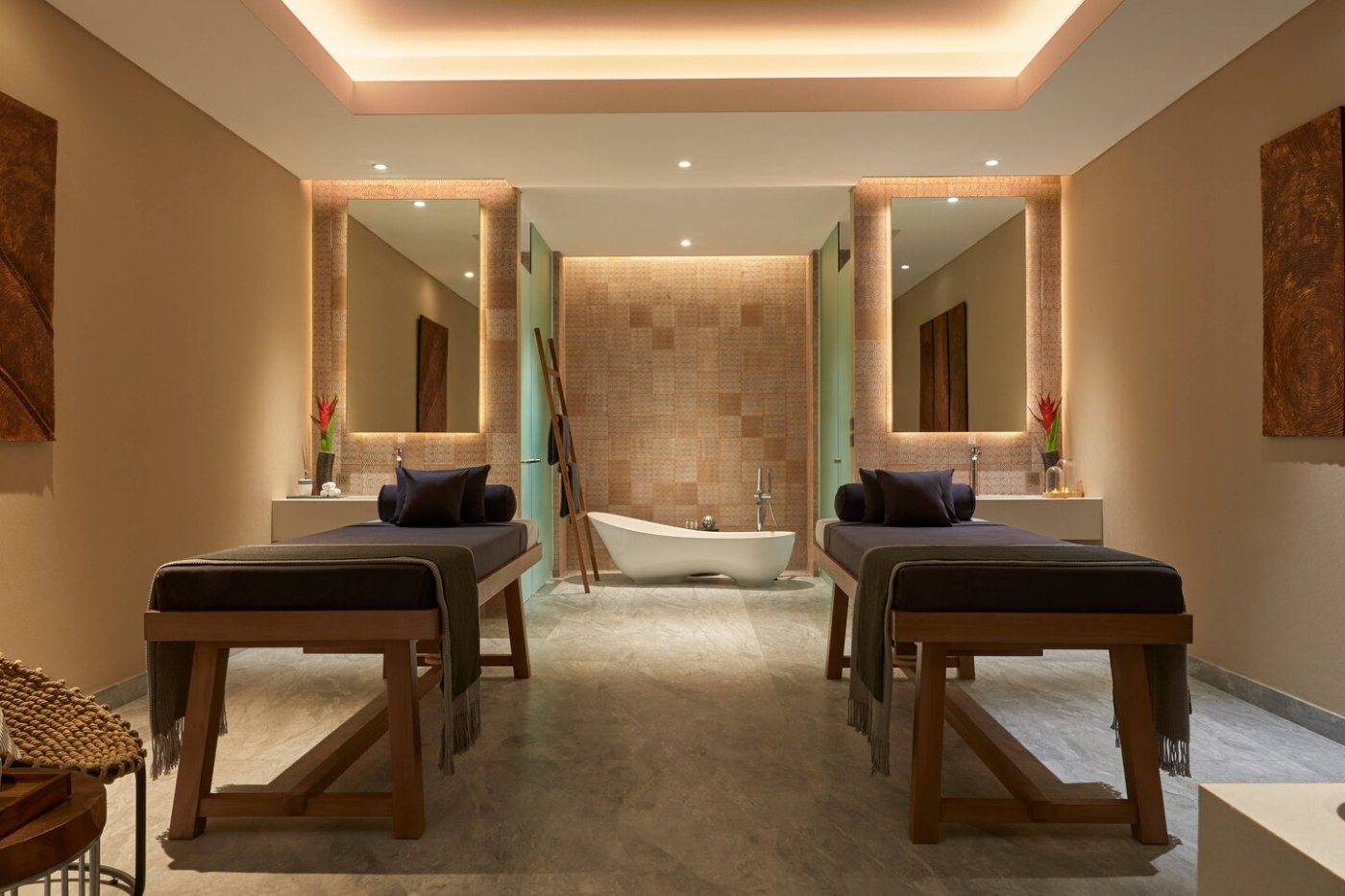 Rejuvenate with a total day spa experience at Renaissance Bali Uluwatu Resort and Spa. Enjoy our mixology counter, a full suite of soothing treatments, a sauna, and a steam room.
Services, Treatments, and Amenities:
Body scrub, Body wrap, Couple's Massage, Facials, Fitness classes, Footbath Hair & scalp treatments, Kids' Services, Manicures/pedicures, Massage lessons, Massages Steam room, and Therapy baths Waxing.
Renaissance Bali Uluwatu Resort & Spa | Jl. Pantai Balangan I No.1, Ungasan, Badung | Phone: (+62361) 2003588
The Spa at Padma Resort Ubud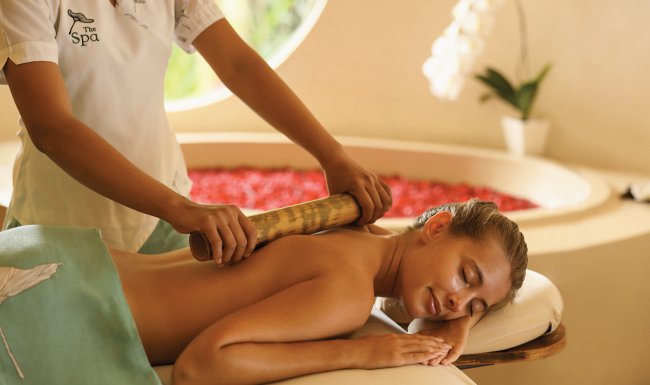 Set just above the resort's infinity pool, The Spa at Padma Resort Ubud is a sanctuary of wellness, pampering, and serenity. From the beautifully designed stone and water-rich reception to the blissful treatment rooms and soulful communal areas, guests are immersed throughout in a heavenly and exotic spa experience. Using natural and prestigious spa products like Elemis, the team of impeccably trained therapists provides a wide range of authentic treatments and therapies inspired by authentic Asian rituals as well as global trends.
Padma Resort Ubud | Banjar Carik, Desa, Puhu, Payangan, Gianyar | Phone: (+62361) 3011111
Mulia Spa at The Mulia Bali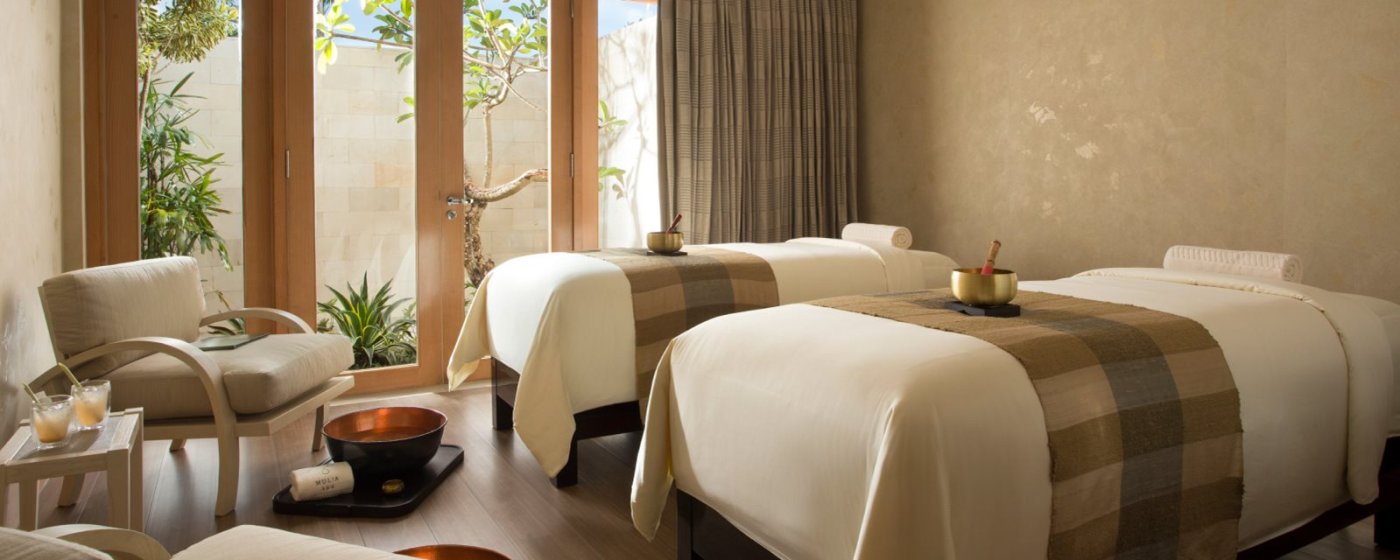 Transcend into total bliss and relaxation at Mulia Spa. Immerse yourself in delightful wellness oblivion with an array of treatments ranging from traditional to contemporary. Mulia Spa's facilities include twenty well-appointed treatment rooms with a state-of-the-art wellness area comprising Finnish saunas, Meditative Steam Rooms, Ice Rooms, and Hot and Cold Hydrotherapy Pools. A full Chromotherapy and Aromatherapy system further enhances their existing stellar therapeutic properties. Its holistic realm reaches further than the standard body and facial therapies. Along with the comprehensive lifestyle programs, Mulia Spa also creates bespoke journeys to ensure that you make the best of your holiday.
The Mulia – Nusa Dua, Bali | Jl. Raya Nusa Dua Selatan Kawasan Sawangan Nusa Dua, Benoa, Badung | Phone: (+62361) 3017777
Ubud Traditional Spa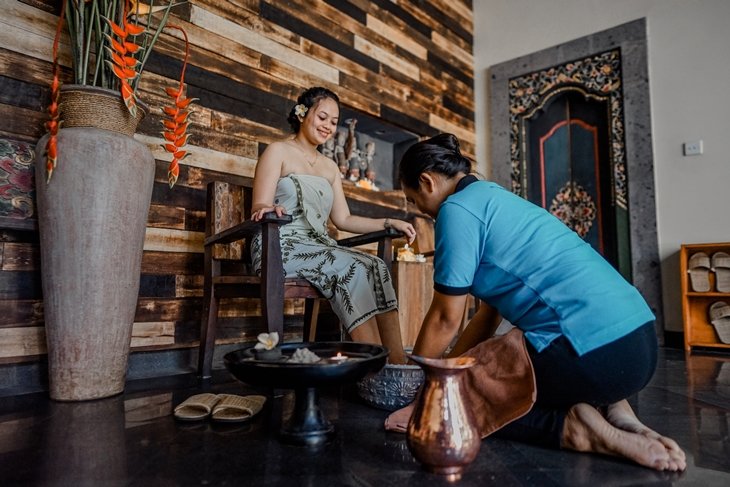 Ubud Traditional Spa is a local family business, providing a unique Balinese experience from guest arrival until departure. Located in the small traditional village of Payogan, the place is also known as one of the best spas in Bali, especially in Ubud. Ubud Traditional Spa offers four massage treatments, Ubud Royal Massage, Rice Farmer Massage, Bali Traditional Massage, and Balinese Reflexology, performed by well-trained professional therapists.
The signature massage from this spa is the Rice Farmer Massage which is suitable for those who love firm pressure massage. This treatment is based on the traditional massage given to the rice farmer by his wife after a long day in the field. For this treatment, the oil is a mix of coconut oil and organic sea salt. Your therapist will utilize their lower arms and elbows to provide deep pressure on your sore muscles. Perfect for when your body needs extra relief. Ubud Traditional Spa also provides free pick up and drop off services around the Ubud center area (within one kilometer of Ubud Palace).
Ubud Traditional Spa| Payogan Village, Ubud| Call: +62361 8989540| IG: ubud.traditionalspa
Spa Alila at Alila Seminyak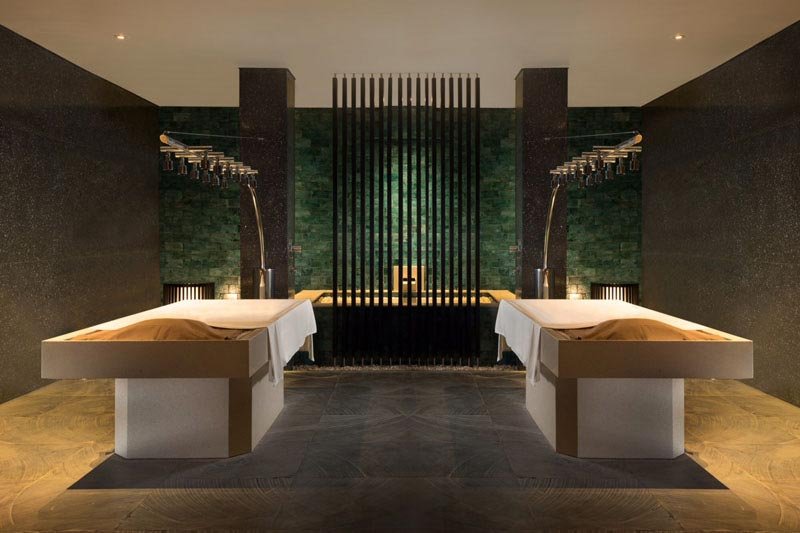 Offering guests exclusive bespoke treatments from the heart, using only fresh local ingredients, Spa Alila at Alila Seminyak promises a sublime spa experience that will leave guests feeling rejuvenated and relaxed with a renewed sense of well-being.
Signature Treatments: 
Half Day Escape & Lunch
Spoil yourself with the perfect half-day escape of physical rejuvenation, age-old beauty therapies, and healthy living. Includes 3-hour spa and beauty treatment, 2-course healthy lunch at Seasalt, and access to Party Pool.
Mineral Ritual
Start with a deep acupressure reflexology treatment followed by a therapeutic Alila Seminyak Massage. Treatment includes Vichy shower, microbubble bath, volcanic clay facial, 3-course healthy coastal lunch at Seasalt, coconut, and mint water to refresh.
Sunset in Paradise 
Indulge yourself with a relaxing 3-hour afternoon spa and beauty treatment at Spa Alila included with all-day Party Pool access and sundown cocktail at Beach Bar, followed by spa dinner at Seasalt.
Alila Seminyak | Jl. Taman Ganesha No.9, Seminyak, Badung| Phone: (+62361) 3021888
Anantara Seminyak Bali Resort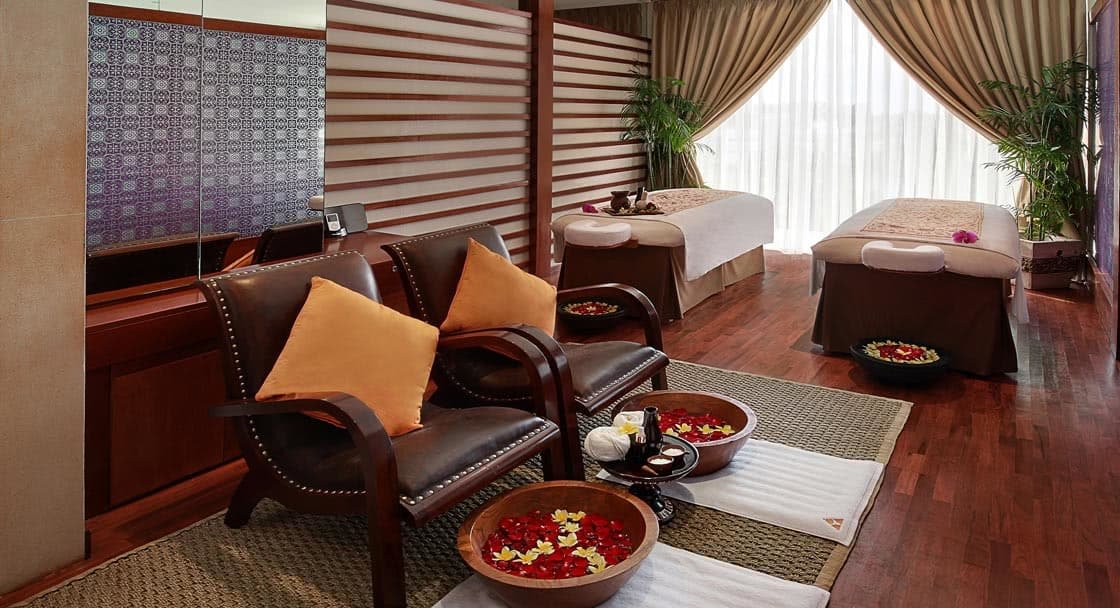 The rooftop spa overlooks tropical gardens and Mount Batukaru beyond, providing a tranquil escape from the world. Explore Bali's indigenous healing traditions and spice-infused massage oils and scrubs at a top Bali Spa resort. Indulge in spa journeys for two, Elemis facials, and beautifying treatments. The spa facilities include three couples' treatment rooms, one single treatment room, a personal iPod connection, and in-suite massages. Try the spa's signature treatment, Kerokan Therapy (30 minutes) which is a stimulating and warming therapy that is traditionally used to treat common cold symptoms. Drawing on ancient practices of Bali and Java, a therapist rubs the skin with ginger oil, and scrapes the neck and back, promoting stamina and increasing energy flow.
Anantara Seminyak Bali Resort | Jl. Abimanyu, Seminyak, Kuta, Badung | Phone: (+62361) 737773
Nusa Dua Beach Hotel & Spa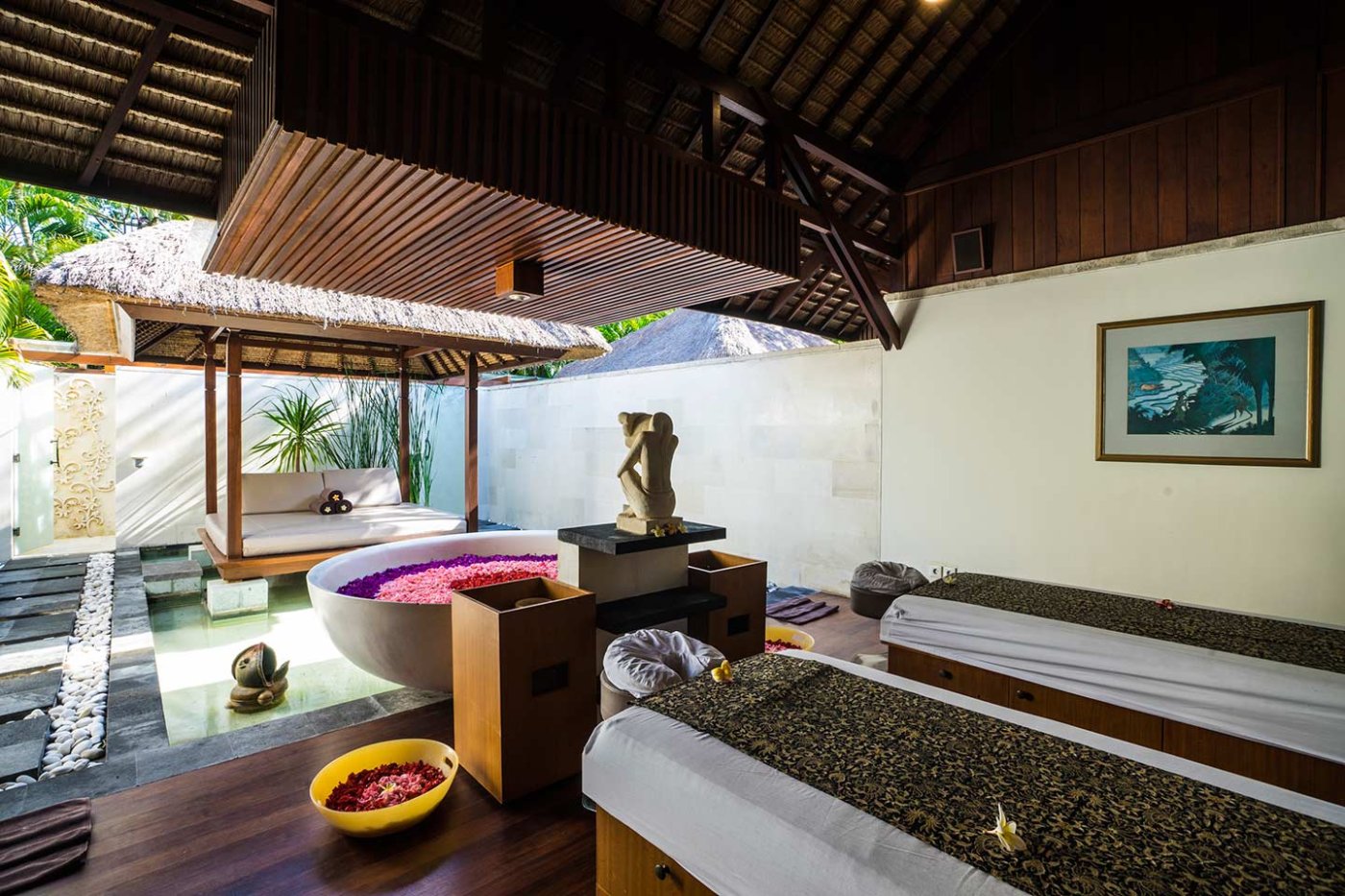 The body and skin oils used at The Nusa Dua Spa are developed specifically for the spa. Using soothing natural products based on secret blends of essential oils, flowers, spices, herbs, and plants which have been used by Balinese women for centuries. International products from Elemis are also available at the Spa.
Nusa Dua Beach Hotel & Spa | Kawasan BTDC Pariwisata Nusa Dua Lot. North 4, Jl. Nusa Dua, Benoa, Badung | Phone: (+62361) 771210
Sakanti Spa at The Anvaya Beach Resort Bali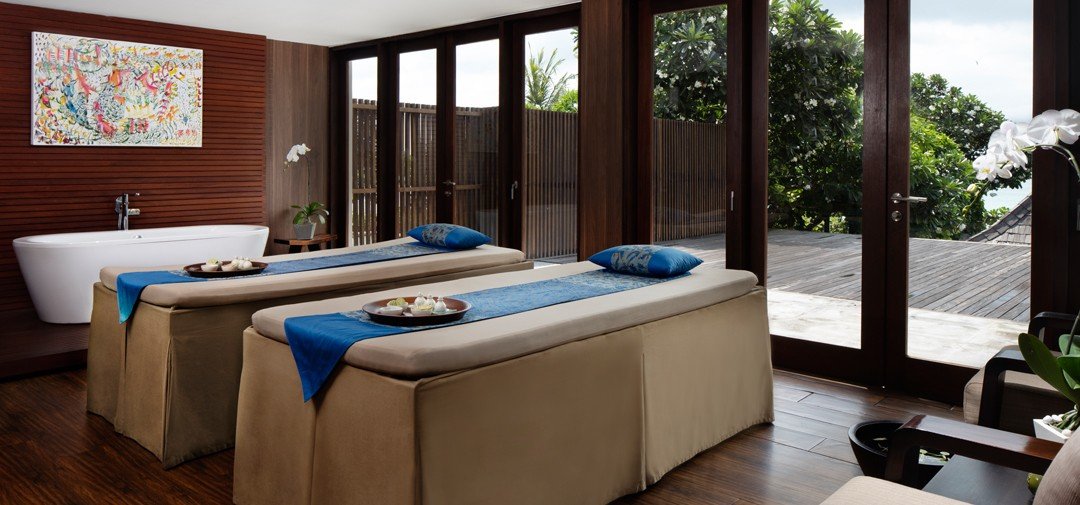 Sakanti Spa offers an oasis of serenity on the Island of the Gods – the ultimate barefoot sanctuary for Spa and Beauty rituals on this mystical island. An enlightened feeling of weightlessness waits as you doze to the sound of the pounding surf, all the while experiencing a sensory afterglow and the rejuvenation of mind and body. Inspired by Balinese heritage and traditions and complemented by Elemis, the luxury skincare brand, Sakanti Spa's expertly trained therapists provide individual consultation for each guest, designing each Spa and Beauty ritual to create an exceptional experience completely tailored to your individual needs. Available for individuals, couples, mothers and daughters, fathers and sons, we offer over 30 rituals ranging from massages and body scrubs to facials, manicures, and pedicures.
The Anvaya Beach Resort Bali | Jl. Kartika Plaza, Tuban, Kuta, Badung |  Phone: (+62361) 2090477
Fiveelements Puri Ahimsa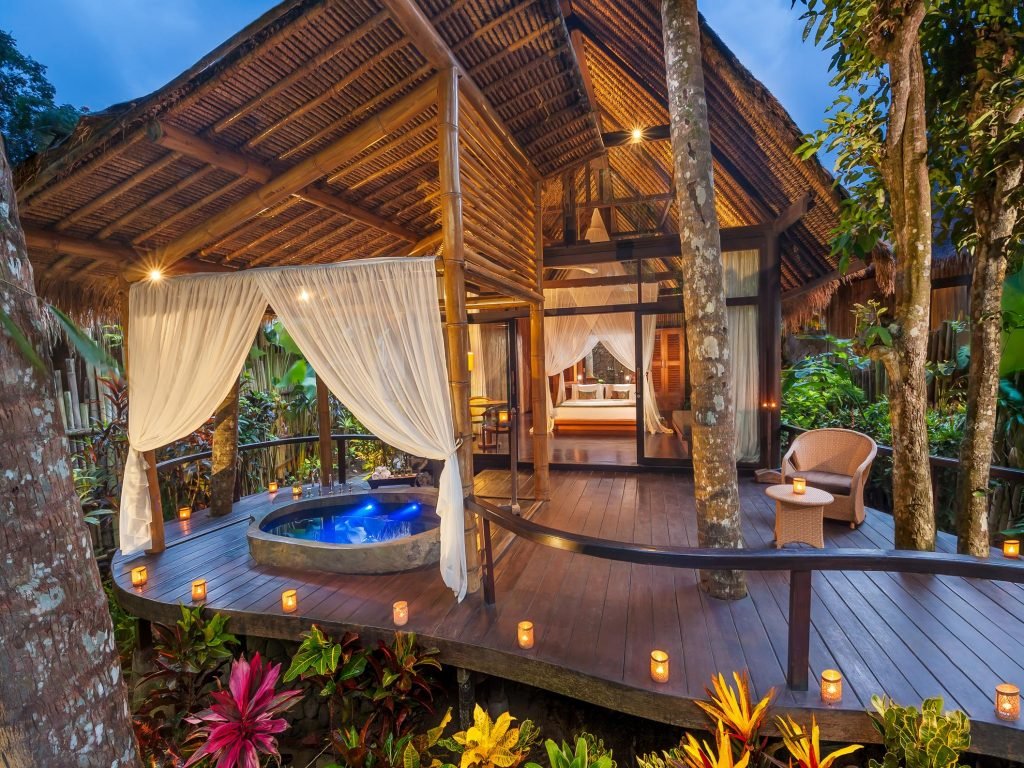 Fiveelements Puri Ahimsa
As one of the best yoga retreats and wellness centers on the island, Fivelements offers a selection of beauty and spa rituals that will appeal to spa-goers looking for a beautiful and peaceful setting with a focus on healing and healthy living. Options include Balinese inspired treatments such as a traditional 'boreh' body scrub using local herbs, and a luscious two-hour chocolate treatment that includes antioxidant cacao-almond scrubs, warm chocolate body wraps and massage using cacao butter. This sensual 'Chocolate Love' package is available for couples at USD 188 (IDR 2,500,000). Treatments start off with a floral footbath and finish with a choice of herbal teas as you relax by the river.
Fiveelements| Mambal, Abiansemal, Badung Regency, Bali 80352| Call: +62 361 469206
Chapung Spa at Chapung Sebali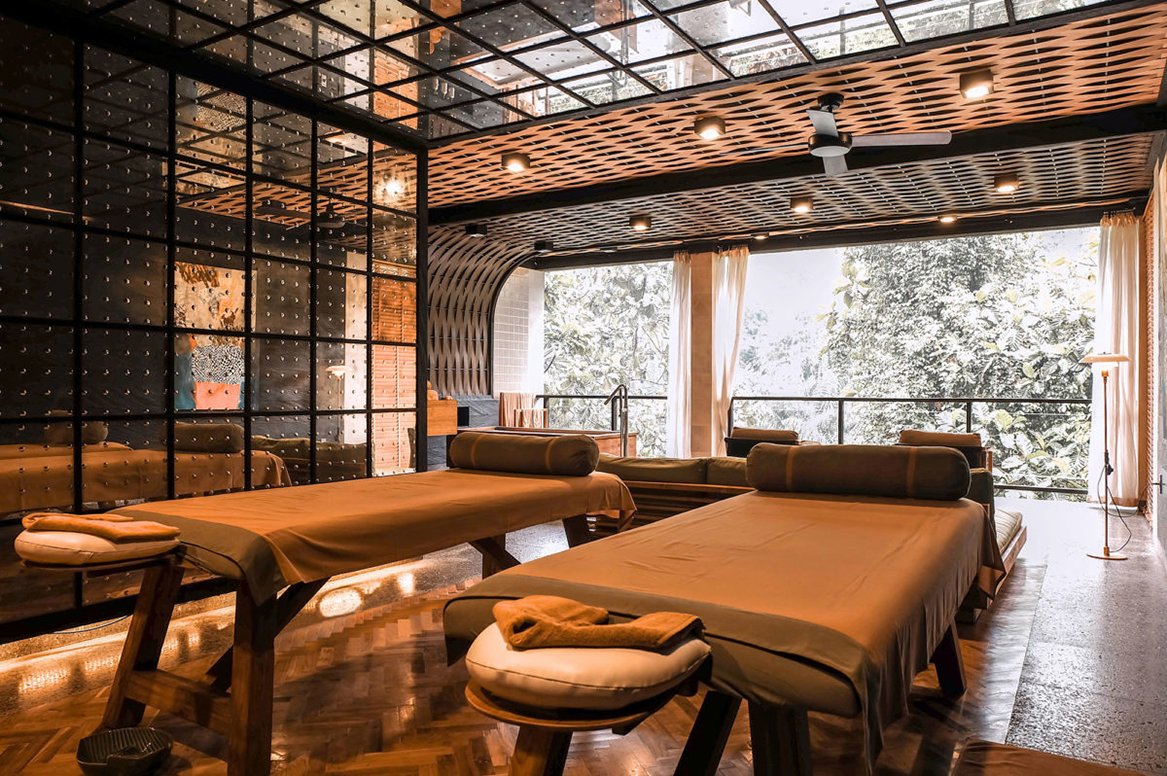 Chapung Spa
Nestled in lush green gardens on the edge of Chapung Sebali, Chapung Spa is a true sanctuary of peace for those seeking rejuvenation, relaxation, and serenity. This heavenly nook is located next to the Jungle Fish Pool Bar, with its stunning views over the Wos river valley.
If you're not staying at the hotel, it is best to prepare a half-day Ubud tour if time allows so you can swim, chill, and have drinks and bites before or after indulging one's self in massage therapy or treatment. Chapung Spa also provides personalized treatment based on guests' health conditions as they have certified Reiki therapists in the house.
Chapung Spa| Jl. Raya Sebali, Keliki, Ubud| Call: +62 361 8989102
Lembah Spa at Viceroy Ubud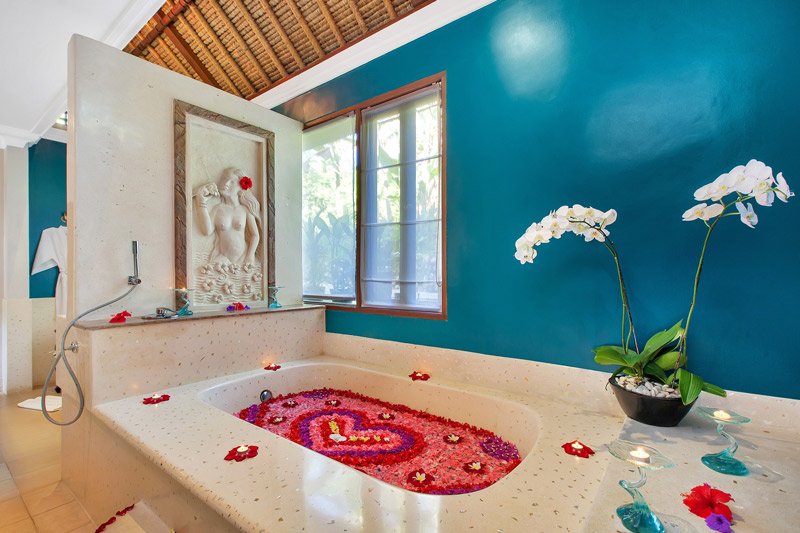 Lembah Spa at Viceroy
Hangs over the northern valley of Ubud's Petanu River, part of the signature facilities of The Viceroy Ubud, Lembah Spa presents short, half-hour treatments and up to 2.5-hour experiences. Several packages are catered to couples, while one of its main signature treatments offers 150 minutes of pampering for men and women, differentiated by the aromatic body scrubs used based on skin sensitivity. Following a full massage, a steam bath and Jacuzzi together with exfoliating scrubs and another round of massage using essential oils will complete the experience. Viceroy offers Spa and lunch or spa and dining experience that includes welcome drinks, footbath, Balinese massage, facials, steam bath, pool and Jacuzzi, and a three-course feast at Cascades restaurant.
Lembah Spa |Jl. Lanyahan, Br. Nagi, Ubud| Call: +62 361 971777
Riverside Spa at Maya Ubud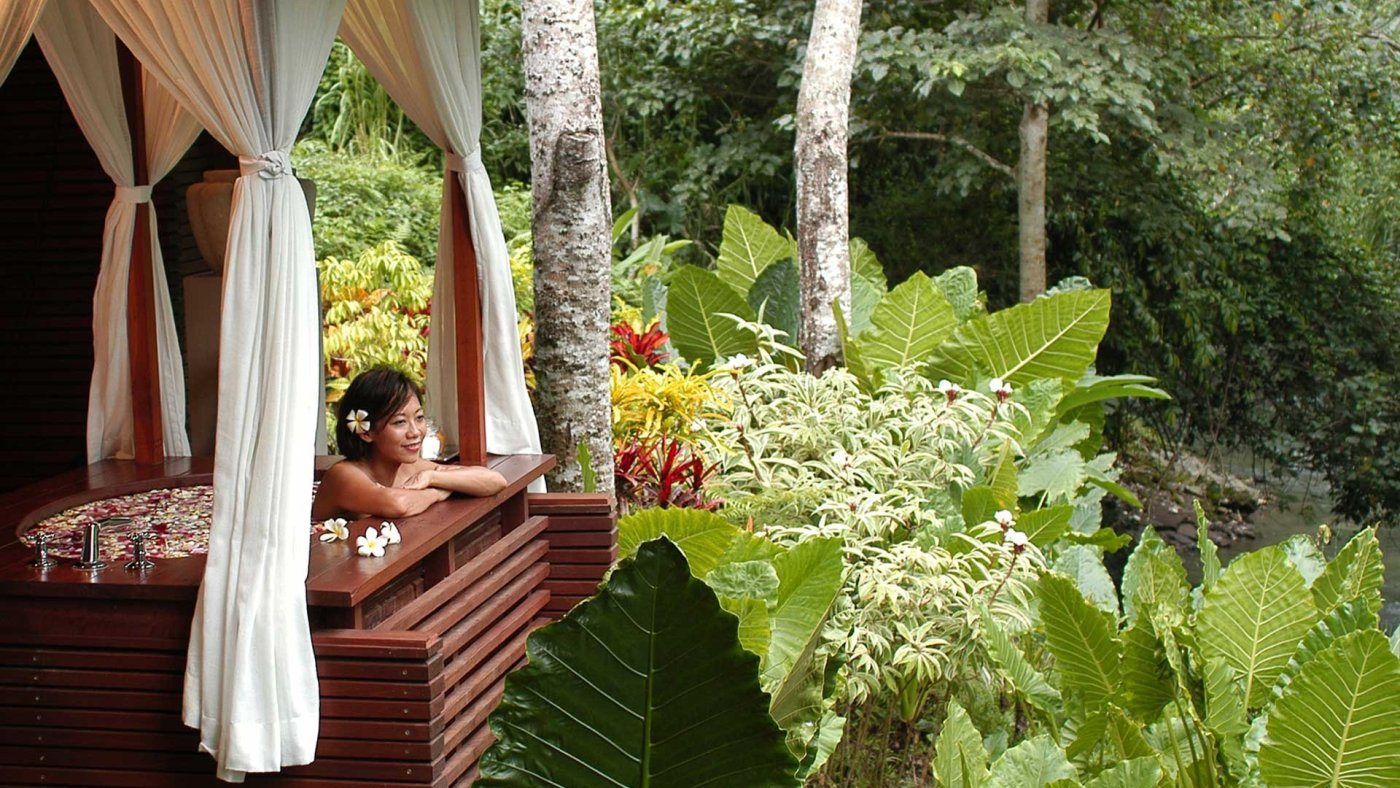 Spa at Maya Ubud
Walking to this spa experience on its own. Along wooden riverside boardwalks, a pathway to treatment pavilions where you enjoy the sounds of nature and the  Petanu River below completing your treatments. Riverside Spa is perfect for couples and honeymooners. Reserve its signature couple treatment such as the two-hour River Breeze for you and loved one. The treatment includes a soothing massage, body mask, and refreshing earl grey body lotion. Some of the packages include herbal and flower baths in copper tubs that fit two, with semi-open-air but private settings overlooking the secluded forest and the rushing river.
Spa at Maya Ubud| Jl. Gunung Sari, Peliatan, Ubud| Call: +62 361 977888
Bvlgari Spa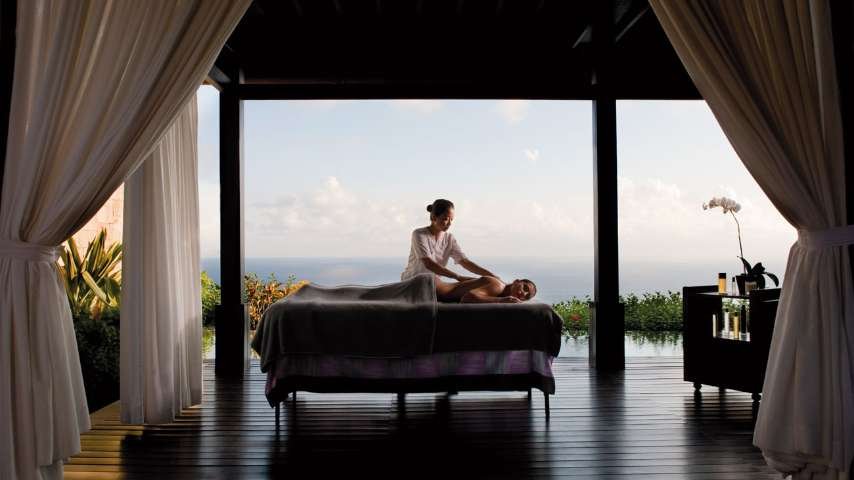 Bvlgari Spa
This cliff-top spa experience oversees luxurious treatments delivered by a team of skilled therapists, from deep massages using exotic oils and herbs, to hot stone massages using smooth, black volcanic stones. Signature treatments are a combination of Balinese, Asian and European techniques. If you're looking for a couple's spa experience, opt for the ultimate three-hour 'escape for two.
Enjoy sessions at the ocean's edge, with the soothing sounds of the waves crashing at the cliff base. Feeling the urge to splurge? Private spa pavilions feature a whirlpool, an outdoor living space and an outdoor plunge pool are one to go for.
Bvlgari Spa|Jl. Goa Lempeh Banjar Dinas Kangin Uluwatu| Call: +62 361 8471000
Karma Spa at Karma Kandara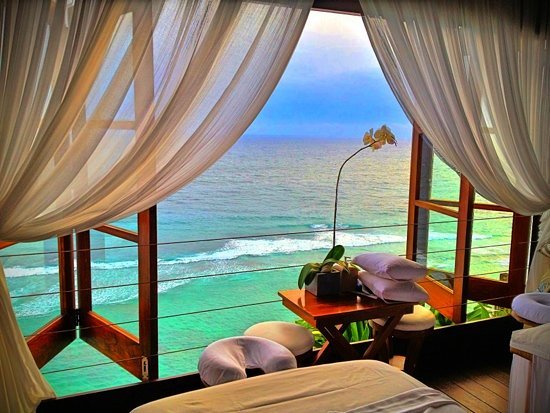 Karma Spa – Karma Kandara
Karma Kandara Spa in Ungasan offers a holistic approach with personalized experiences. The spa features treatment 'huts' overlooking the Indian Ocean from the resort's high cliff location, while an open-air platform serves as the spa's centerpiece with a sauna and saltwater pool.
Book its most recommended 'spa journey', a 135-minute Traditional Balinese Spa Ritual that includes traditional Javanese inspired floral scrubs, an infrared detox sauna or steam ritual and a Balinese massage. To kick it up a notch, you can alternatively head down to the cliff base at the spa tents on Karma Beach for wonderful massage sessions
Karma Spa-Karma Kandara |Jl. Villa Kandara Banjar Wijaya Kusuma Ungasan | Call: +62 361 8482200