"Come on, babe. Why don't we paint the town? And all that jazz." I don't know if you know this, but Bali always has a thing for Jazz. Just wait and see in a couple of months, and there will be Jazz festivals throughout the island. You can also find many places that dedicate themselves for Jazz, while some offers Jazz for entertainment purposes only. If you're like me, and recently decided that you love the genre after watching La La Land, then you're in for a treat because these places have great Jazz night in Bali.
RYOSHI – HOUSE OF JAZZ

Where: Jl. Raya Seminyak #17
Reservation: +62361 731 152
Most of you probably know Ryoshi as a great Japanese restaurant. Ryoshi Japanese Restaurant first opened in Seminyak in 1993 and they have been serving Japanese delicacies with local ingredients since. Now, they have 8 branches in Bali, Lombok and Surabaya. However, it is their live Jazz performances that makes this place an icon. Go to their Seminyak branch, on the 2nd floor, for the House of Jazz. They have live Jazz music every Monday, Wednesday, Friday starting from 9.15 PM. Great musicians, such as Rio Sidik, Bali Gipsy Jazz, Balawan, Tropical Transit and many more have been regulars at the House of Jazz. And believe us, these guys know how to make your night.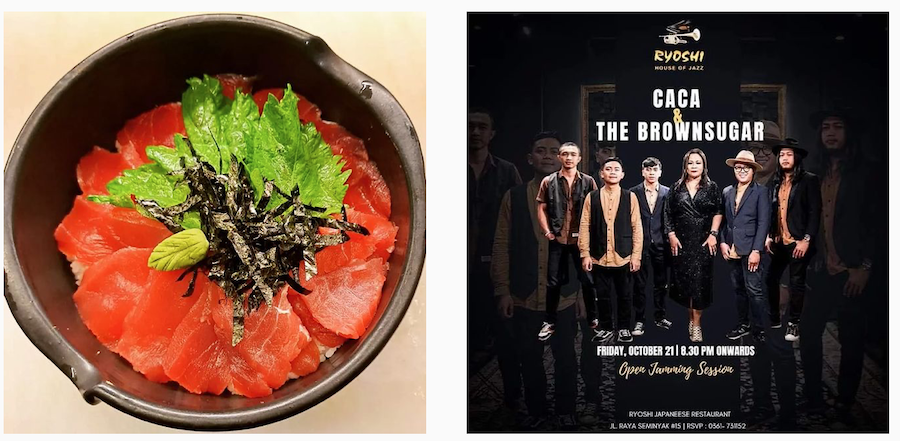 King Cole Bar at St. Regis
Continuing the nightlife legacy of the original King Cole Bar, our Nua Dua mixologists created an exquisite menu of Bloody Marys for your sipping pleasure. Additionally, this lounge offers a full bar menu with refreshing champagne, martinis and island-inspired cocktails, shaken with freshly squeezed juice. King Cole Bar features a classic live jazz band every evening and, upon request, a champagne ritual where sommeliers open a bottle of champagne with an Indonesian Kris. Settle down outside with a glass in-hand surrounded by tranquil gardens, beachfront scenery and gentle ocean breezes from the Indian Ocean. Seating in our indoor bar is comfortable and intimate, featuring handcrafted Indonesian artifacts and Bali-inspired art.
Daily, 6 PM - 12 AM  CALL +62 3618478111. Address: The St. Regis Bali, Kawasan Pariwisata, Nusa Dua, Lot S6, PO Box 44, Nusa Dua 80363 Indonesia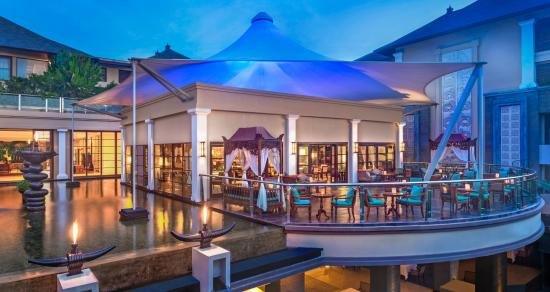 GRIYA SANTRIAN

Where: Jl. Danau Tamblingan 47 Sanur
+62361 288 181
Sunday Mostly Jazz by the Beach Live Music Series at Sanur Beach gathers some of the top musicians in the country for biweekly live performances every Sunday. Indonesian prominent musician, Indra Lesmana energizes Sanur with his music program called "Mostly Jazz", a live music program series established since 2010. The programs has been successfully generating and supporting new quality music performers, creative talents, records and music fans from many different genres. Mostly Jazz is designed to become an inspiring music media for music artists and lovers to develop their artistry, expression, creativity, communication and musical skill. The performance uniquely combines a scenic beach view with warm, welcoming atmosphere and delicious cuisine.
 
PETANI RESTAURANT

Where: Jl. Hanoman, Ubud (within Alaya Ubud)
+62361 972 200
Petani Restaurant is a casual dining venue located next to the lobby at the front entrance of Alaya Resort Ubud with seating for up to 100 guests. It celebrates the diverse flavours of the Indonesian archipelago with a menu driven by island-fresh produce and seasonal specialties. Petani Restaurant serves a generous buffet breakfast and then home-style regional cuisine with a modern twist throughout the remainder of the day. For dinner, Petani is known for its live accoustic night. However, if you want your night to be really special, come Friday night where you can enjoy Balawan's performance.