We've had our fair share of electrifying beats and tunes on Bali's nightlife scene.
This time, let's check a few hot spots that feature live music, with great local and international regular bands. The following selections are the most mentioned when you ask for the best live music spots in Bali, as they feature the island's most talented singers, duets, and bands playing all kinds of genres from Jazz, R&B, Latin, to Top 40.
The Shady Fox

Located in Pererenan, The Shady Fox is a cocktail parlour where glamour, roulette and late night entertainment invite you to surrender to a playful night of nostalgic fun.
The Shady Fox will transport you back to London in the 30s, in the heart of The Shady Family's clandestine gambling operation. Knock at the right door, and you'll find yourself in an illegal gaming room, playing your luck at classic games and sipping on some theatrical cocktails.
Jl. Tukad Pingai, Pererenan, Kec. Mengwi, Kabupaten Badung, Bali 80351
IG : @theshadyfox  
WhatsApp : +62 813-3995-5488 (for reservations and bookings)
Email : [email protected]
Hooga! Rooftop Bar – Petitenget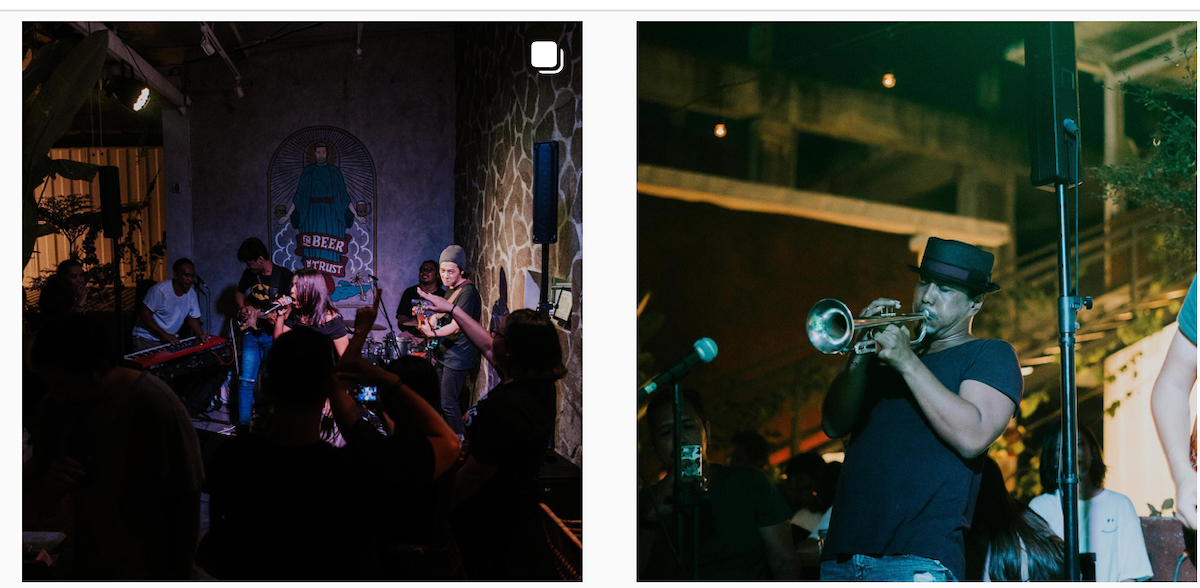 Hooga! is a rooftop bar that serves cocktails and craft beers. Not only that, the place also hosts live music from well-known names in the music industry. You can enjoy different music genres and even jam along. Don't worry about anything, visit the rooftop bar, order some finger licking chicken wings and lessen your stress at Hooga!
Hooga! Rooftop Bar | Jalan Raya Petitenget no. 12
IG: @hooga.bali
Goro-Goro Cafe & Kitchen – Sanur
This cute little cafe in Sanur is perfect for the jazz lovers. Serving homemade Japanese curry rice and onigiri alongside a jazzy tunes, sometimes performed by the owner itself. The owner, Astrid, is a renowned jazz musician who often graces the cafe and jam out a tune with her colleagues. If you don't have stage fright and want to sing along, you can also do that. Other option is to enjoy the delicious food while reading a good book, as the cafe also serves as a library.
Goro-goro Cafe & KItchen | Jl. By Pass Ngurah Rai no. 157 | WhatsApp 087754457711
IG: @gorogorocafekitchen
Pison Coffee – Seminyak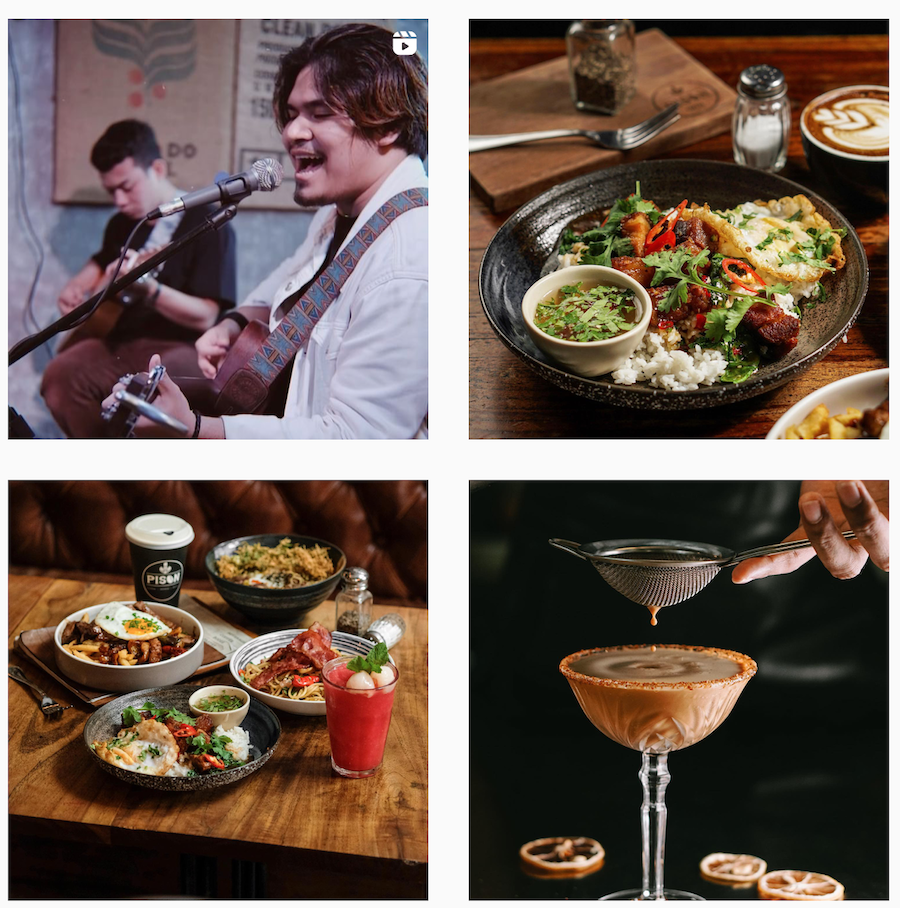 If you're a coffee addict, then this place is definitely for you. This Asian-Western café is also famous for its delicious menu and strong coffee. And Friday night never felt so good as the café offers a special live music performance from one of Bali's best bands starting from 8 PM onwards. Apart from their regular Friday night live, they also have occasional Thursday night Jazz live or Saturday night live performances. They've just recently opened their bigger space in Ubud and also have a spot in Jakarta. They are well-known amongst tourists and locals alike, so it's best to reserve your seats should you wish to pay a visit. 
Pison Coffee Seminyak | Jl. Petitenget no. 19A, Kerobokan
IG: pisoncoffee 
The Orchard – Seminyak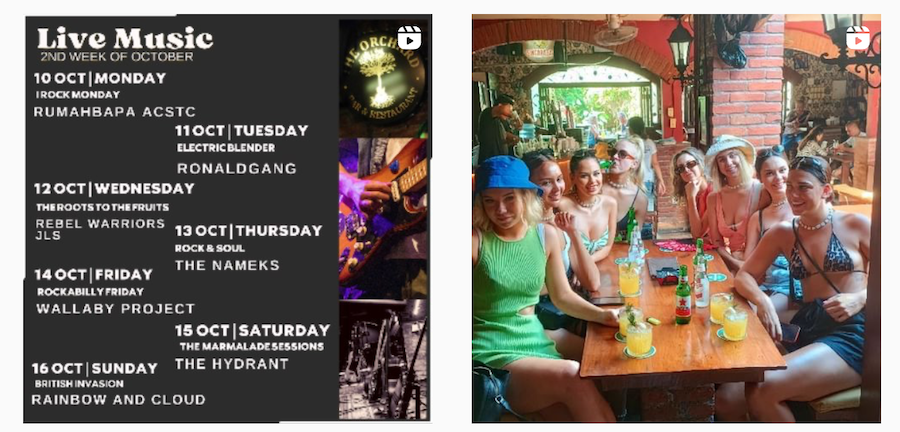 You can expect energetic live music gigs by local and international bands three nights a week at Orchard, a popular gastropub located on a quiet Seminyak side street. On the previous band nights, the Orchard Bar & Restaurant tends to get extremely busy, so you should book ahead to ensure you get a first-row seat to enjoy the sessions. You can catch the live gigs every Tuesday, Thursday, and Saturday, usually starting from 20:00. Orchard Jam nights feature a 'good vibe' soul, hosting musicians and public guests who want to come and jam out on stage. Souled Out Thursdays present a mix of everything, from reggae and rock to funk, blues, soul and some swing.
The Orchard | Jalan Nakula, Gang Baik No. 99x, Seminyak | Call: +62 857 8941 9634
IG: the_orchard_bali
Ryoshi Bali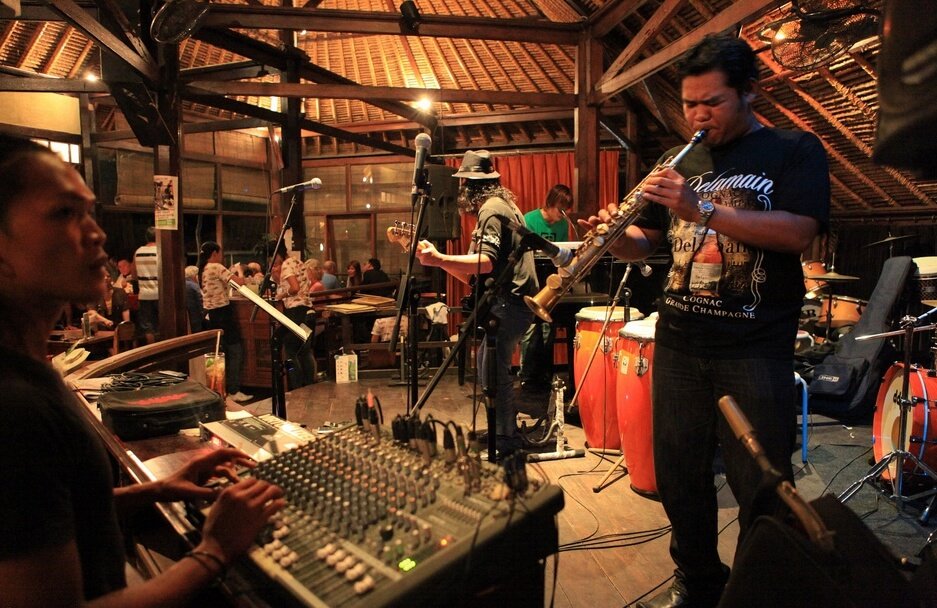 This Japanese restaurant on Jl. Seminyak is definitely one of a kind. It sure does serve great sushi, sukiyaki, teriyaki, and tataki in a laid-back social setting, but its live music eventually attracts a more global clientele rather than Japanese-only diners. Ever since this Seminyak institution experimented with its live Jazz nights on its deck a few years back, Ryoshi evolved its more popular byname 'Ryoshi House of Jazz', featuring live bands every Monday, Wednesday, and Friday. Among the island's most popular Jazz soloists and bands include Ryoshi's own quintet, Nancy Ponto and The Soul Brothers, the Rio Sidik Quartet, and Afro Spirit, to name a few.
Ryoshi | Jalan Raya Seminyak No.15-17, Seminyak | Call: +62 361 731 152
IG: ryoshiseminyak
Centerstage – Kuta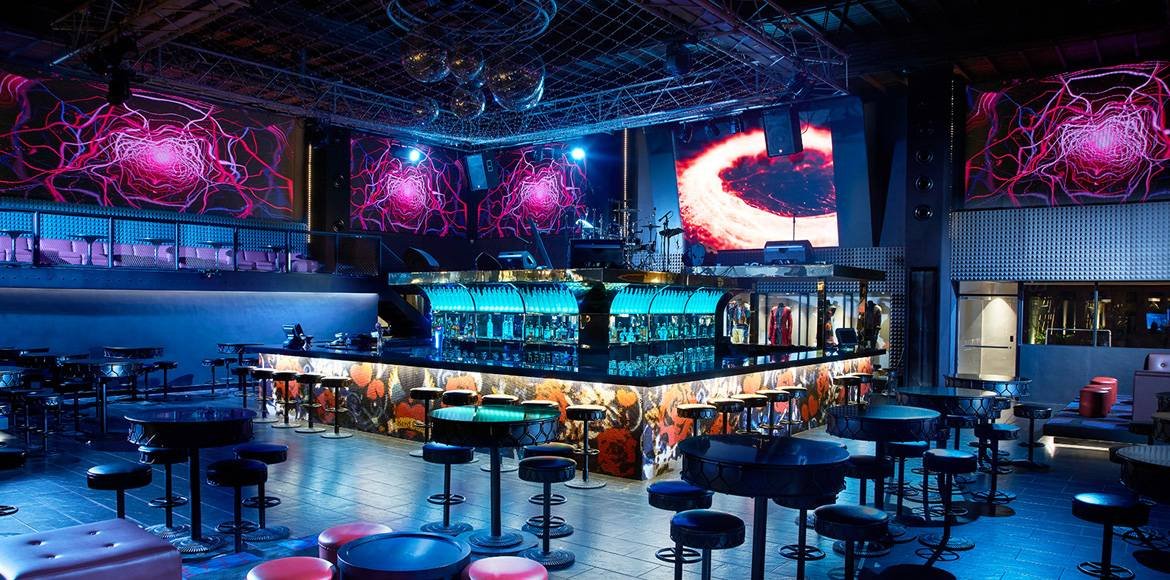 Centerstage at Hard Rock Hotel is known for hosting unique shows, especially around the hotel's anniversary celebrations such as Hard Rock's annual body painting competitions, special fashion shows and unplugged performances by international celebrities. It is a one-of-a-kind entertainment venue with a raised stage above a bar (doubling as a lobby bar), where you can enjoy drinks whilst watching live bands up-close. Centerstage's million-dollar audio-visual system packs a 100,000-watt charge into the nightly performances. Bands play from Rock to Rhythm 'n' Blues and Hip-hop to the most current singles playing on the charts and airwaves.

Centerstage | Hard Rock Hotel Bali, Jalan Pantai, Banjar Pande Mas, Kuta | Call:+62 361 761 869
Website
Laughing Buddha Bar – Ubud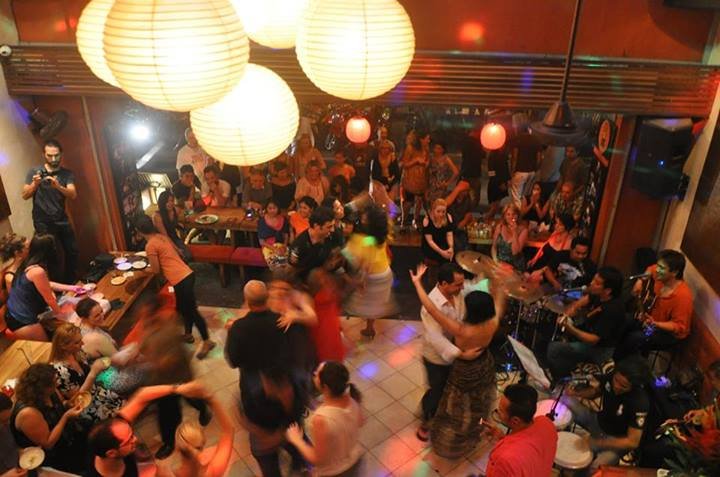 Laughing Buddha Bar is one of the liveliest spots to enjoy live music while in Ubud, located on Jalan Monkey Forest. The island's greatest Jazz and Blues performers play regular gigs at Laughing Buddha, with a weekly agenda comprising The Bali Blues Brothers and The Mushroom Blues Band playing on Mondays with powerful lead vocalist Imelda Joplin. On Tuesdays and Fridays, you can dance your way around some Latin tunes. Laughing Buddha is also the frequent venue of choice among local musicians for their latest album launches, where they also throw in a live gig. Come any evening to enjoy a live band playing Jazz, blues-rock, freestyle acoustic, fusion, or world music from 21:00 onwards
Laughing Buddha Bar | Jalan Monkey Forest, Ubud | Call: +62 361 970 928
IG: laughingbuddhabali
Single Fin – Uluwatu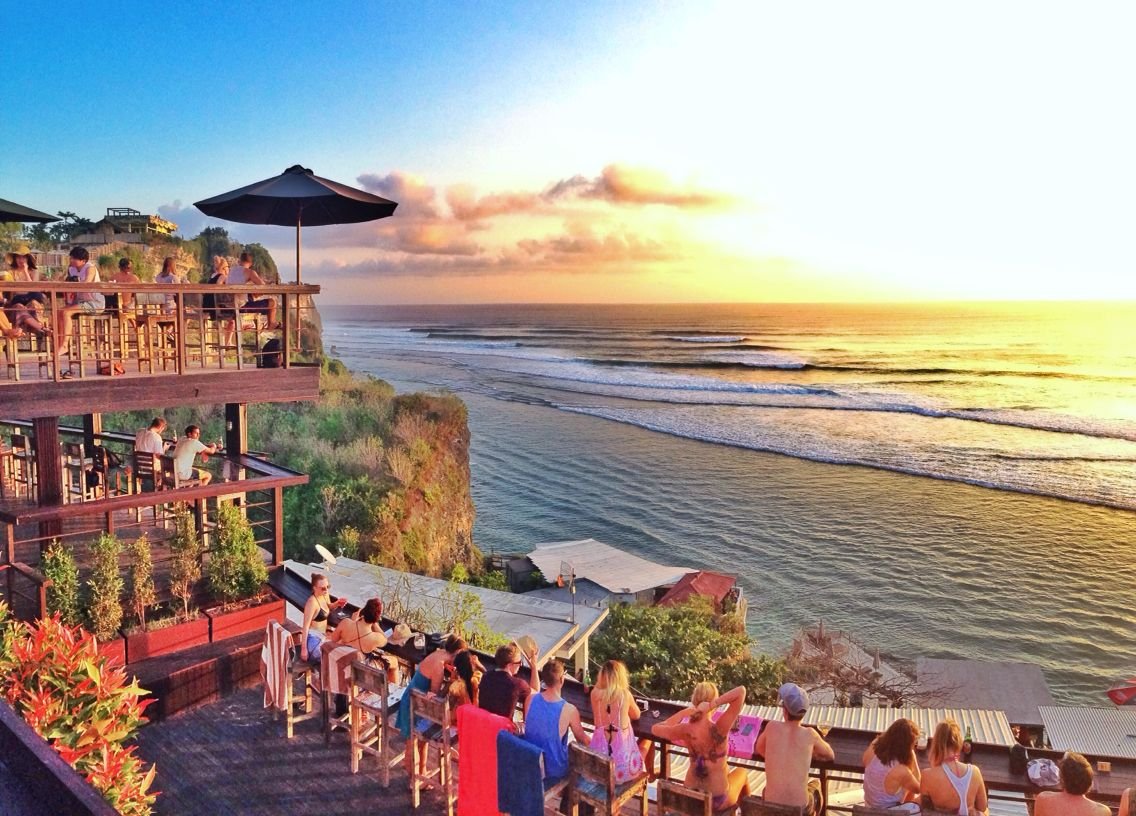 Single Fin is a hip cliff-top bar that once served as a surfers' hangout. You'll be mesmerized by its views overlooking the waves of Suluban Beach. This iconic sunset chill-out venue presents a regular gig schedule and jamming sessions. Wednesdays usually feature acoustic jam sessions through midnight, and rock sessions on Sundays. Expect a crowd, especially during sunset.
Single Fin | Jalan Mamo, Labuan Sait, Uluwatu | Call: +62 361 769 941
IG: singlefinbali
Jemme Bali – Seminyak
You've heard of its beautiful afternoon tea and famous Sunday roast. But not many actually know that Jemme features love music too.
No rock and roll, obviously, but a night out at Jemme will treat you with classical or jazzy piano tunes. Also known as a haven for those looking for beautifully crafted jewelry, is also home to a baby grand piano where a resident pianist will play soothing tunes to accompany your wine and dine affairs at this chic establishment. Make sure to check out on their tempting wine list too!
Jemme Bali | Jalan Petitenget No. 28, Seminyak, Kuta, Kerobokan | Call: +62 361 4732392
IG: jemmebali
JA'AN Bali – Seminyak
With a catchy tagline "Sing along with Ja'an", this restaurant is conveniently located at the most popular spot in Bali, Seminyak. Not a new name in the F&B scene in Bali, Ja'an offers sophisticated dining and bar experiences, with mouth-watering cuisines and playful live music daily from 9.30 pm onwards featuring Bali's best singers and bands. Fans boasted the chill atmosphere of the restaurant, fancy looking but with affordable prices for both foods and drinks. Some big names in Indonesia's music industry have entertained their fans in this restaurant, such as ALEXA and Kahitna. Best to reserve a table or a spot at the bar as the place is almost always packed during live music sessions.
JA'AN Bali | Jl. Raya Seminyak No. 10 Seminyak, Bali | Call: +62 819 1900 1818
E: [email protected]
IG: jaanbali
Nineteen Lounge – Petitenget
Opened in 2019, this new lounge in Petitenget gained fame due to its entertaining and engaging live music featuring Royal Radio Band, catering to everyone's music taste. Expect renditions of Top 40 music, a bit of rock 'n roll, classic hits and even smooth jazzy tunes. This intimate bar and lounge is open from Tuesday to Sunday from 6 PM onwards. We recommend coming earlier as space is limited. If you're having a birthday and want to celebrate at Nineteen Lounge, be ready to come up on stage as the band will dare you to drink out of a bottle! Indeed, you will definitely feel like nineteen again as you immerse yourself in the atmosphere and indulge in one of their brilliant cocktails.
Nineteen Lounge | Jl. Petitenget no. 100, Kerobokan Kelod, Bali | Call: +62857 0719 1919
IG: nineteenloungebali 
Mo.dus Bar – Denpasar
Looking for a new excitement of city life? Coming to mo.dus Bar Bali is the right decision. Open daily from 6 PM to 3 AM, this new bar in town is located in one of Bali's busiest streets, Imam Bonjol. Try one of their signature and classic cocktails while enjoying live music by Bali's best band. Open since last year, previously mo.dus Bar started in Semarang and sees Bali as another opportunity to expand. Aside from its photo-friendly space and underground feel, mo.dus serves unique cocktail creations by adding modified flavors such as popcorn, tiramisu, bubble gum, and others.
Mo.dus Bar Bali | Jl. Imam Bonjol No. 386, Denpasar | Call: +62813 5377 7696
IG: modus.bali
By: WNB Team & Icha Annisa