We all have had our "one too many drinks" in some of Bali's vibrating bars, but which one of them are actually the best bars on the island?Here are some of our favourite bars in Bali, not only for gulping down those Bintangs, but places to sip margaritas, delicious craft cocktails, beautiful wines and imported beers on a Bali's night out.
Join us for a glass or two, will you?
1. The Shady Pig
Located in Berawa, The Shady Pig is an experimental sipping lounge inspired by the roughness and glamour of the 20s. The place will transport you back in time to Birmingham, in the contraband laboratory of The Shady Family. Sticking up to its concept, The Shady Pig is a speakeasy-style lounge that has a strict password-only policy. Taman Tamora, Canggu, Kec. Kuta Utara, Kabupaten Badung, Bali 80111 IG : @theshadypig WhatsApp : +62 819-9163-1405 (for reservations and bookings) Email : [email protected]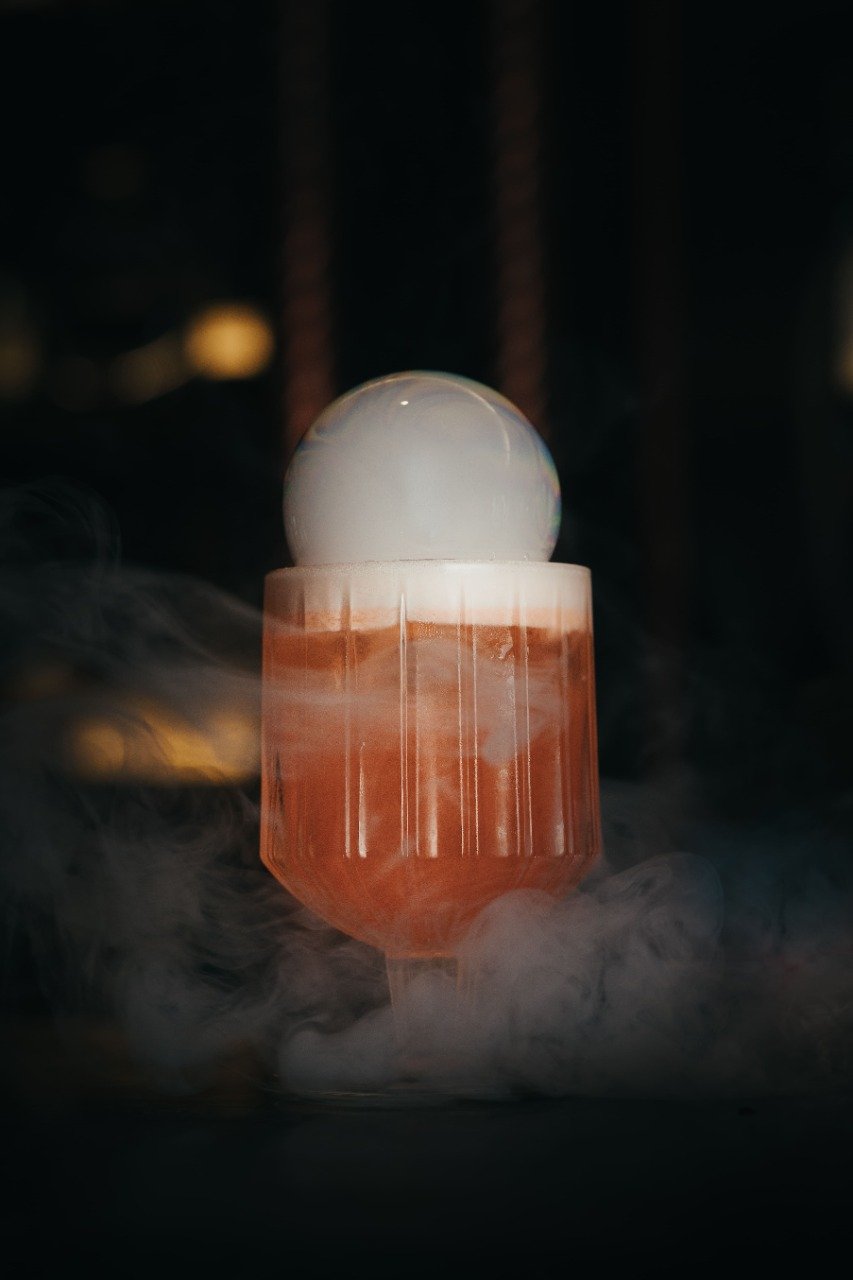 APEROL SOUR
Aperol, Vodka, Lemon, Albumin
Aperol Sour is a bright and citrusy cocktail, that will please the sweet & bitter palates. Like any sour, it consists of spirit, sour, and sweet; but in this case, we use Aperol as the main base, an Italian aperitif that is less bitter than Campari. Served with a homemade smoked bubble. Pop it and enjoy!
2. The Shady Fox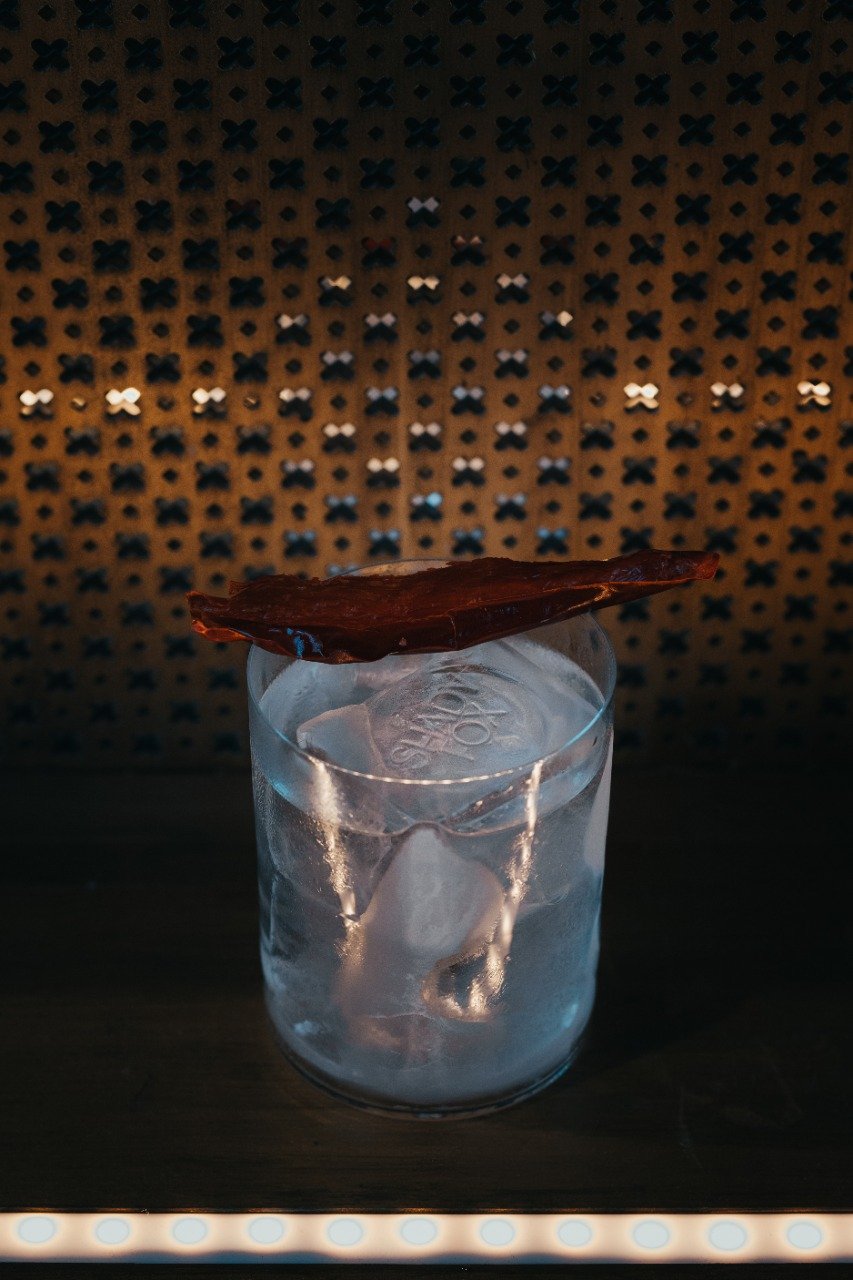 Located in Pererenan, The Shady Fox is a cocktail parlor where glamour, roulette, and late-night entertainment invite you to surrender to a playful night of nostalgic fun. The Shady Fox will transport you back to London in the 30s, in the heart of The Shady Family's clandestine gambling operation. Knock at the right door, and you'll find yourself in an illegal gaming room, playing your luck at classic games and sipping on some theatrical cocktails. Jl. Tukad Pingai, Pererenan, Kec. Mengwi, Kabupaten Badung, Bali 80351 IG : @theshadyfox_ WhatsApp : +62 813-3995-5488 (for reservations and bookings) Email : [email protected]
3. MOTEL MEXICOLA at Petitenget Seminyak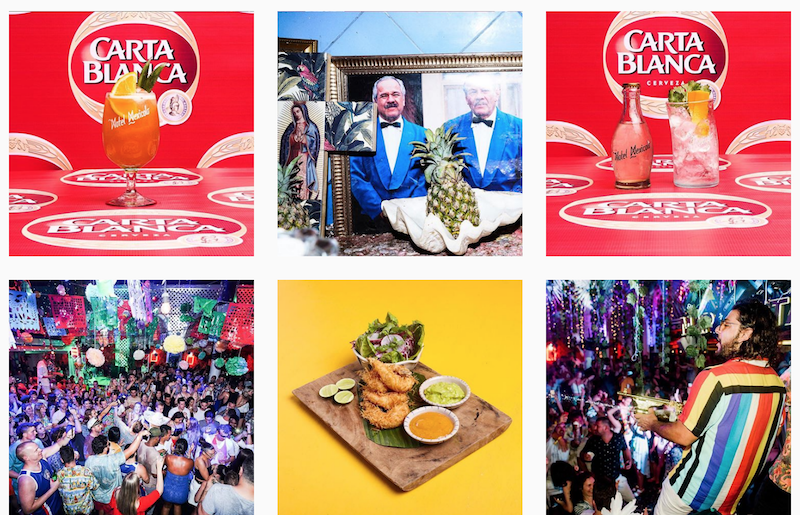 Nestled amongst the coco palms and glassy swells of Seminyak, Bali, lives the tropical oasis known as MOTEL MEXICOLA. As the cool place in the block, Motel Mexicola has various traditional plates, tapas, and other. But don't forget the booze and liquor because Nicolaza Que Pasa knows where to add the salt, where to put the tajín and exactly how much limon cabrone. So…….. So the beverage menu will be staring something fruity and refreshing, like Mexicola Kiss, Pina Colada and Margarita; as well as the Tropical Classics, from the Manuela's Mojito and Paloma Blanca. Perfect with the Mexican flavors.
Motel Mexicola | Jl. Kayu Jati 9X, Petitenget | Call: +62 361 736688
4. The Plantation grill & Bar at Seminyak

A 20's inspired Grill and Bar, specializing in dry aged meat & line-caught, sustainable seafood.
Plantation Grill flaunts twenties-style luxury, with marble finishes, a vaulted double-height ceiling and huge glass windows looking out to the sea. Guests are introduced to the venue via a beautiful spiral staircase which leads them down to luxurious leather booths. The restaurant's specialty is dry aged, exclusively sourced and imported meat and line-caught sustainable seafood cooked over custom made coal and wood grills and wood-fired ovens.
As well as the main restaurant area, guests can also enjoy the Plantation main bar which has seating to eat from a styled bar menu with dishes such steamed lobster roll, minute steak, hand cut fries and wood grilled pasture fed burgers.
Situated just atop the spiral staircase is SLING BAR, an intimate space with a spirit of 'The Great Gatsby meets Hemingway'. Guests can enjoy prohibition-style cocktails until the late hours. Sling Bar also has a secret door that leads into a mischievous hideaway boudoir for that special event.
The Plantation Grill | Double Six Luxury Hotel, Seminyak, Fourth Floor, No. 66, Double Six Beach, Bali | Call: +62 819 99895111
5. La Favela at Seminyak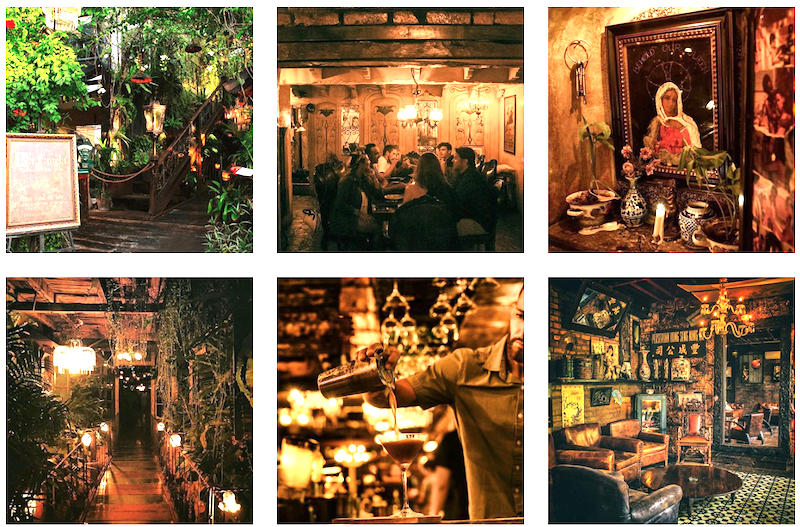 Since it's first opening in 2013, La Favela has become the hottest place in Seminyak for clubbing or dining. This heavily decorated and lushly planted bar/restaurant serves awesome drinks, great Greek & Spanish food, and is constantly playing amazing music all day long. This is where you can find the coolest of the cool of the Bali crowd, any day of the week!
La Favela | Jl. Laksamana Oboroi No. 177X, Seminyak | Call: +62 361 730010
6. Red Carpet Champagne Bar at Seminyak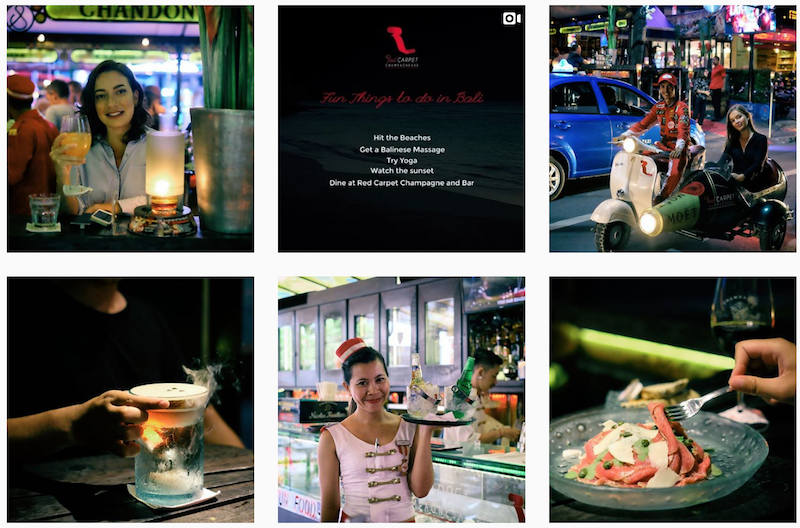 Located in the heart of Seminyak on the bustling Jalan Kayu Aya (Jl Oberoi), a steady flow of foot-traffic and buzzing of word-of-mouth has kept the place thriving since it opened in 2009 – and turned it into something of a Seminyak icon. The joint is cozy & intimate, with a splash of sexy.Red Carpet Champagne Bar is a fun bar with great service and beside their great champagne offers, they also serving great cocktails.
Red Carpet | Jl. Kayu Aya No.42, Seminyak | Call: +62 361 9342794
8. OPIA BALI at Jimbaran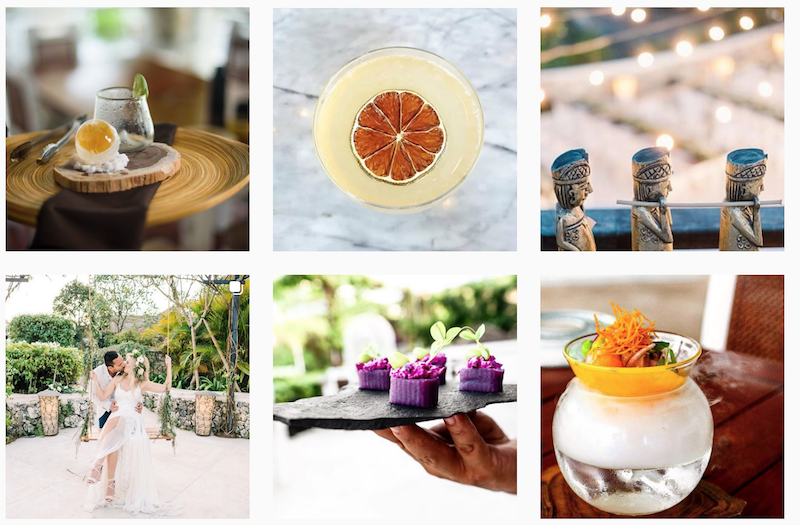 OPIA offers a unique destination worthy venue perched ledge-side of the magnificent Jimbaran quarry that sets the stage for a culinary experience. Take the afternoon to bask in the natural beauty offered by the locations altitude while sampling a range of Asian inspired share plates and world class molecular cocktails and wine labels that will make your night one that will not be forgotten for all the right reasons. The bar at Opia serves world-class molecular cocktails and wide range selection of wine and champagne.
Opia Bali | Jl. Bukit Permai No.2, Jimbaran | Call: +62 361 4724 298 https://www.opiabali.com/
9. 18th ROOFTOP BAR at Sunset Road Bali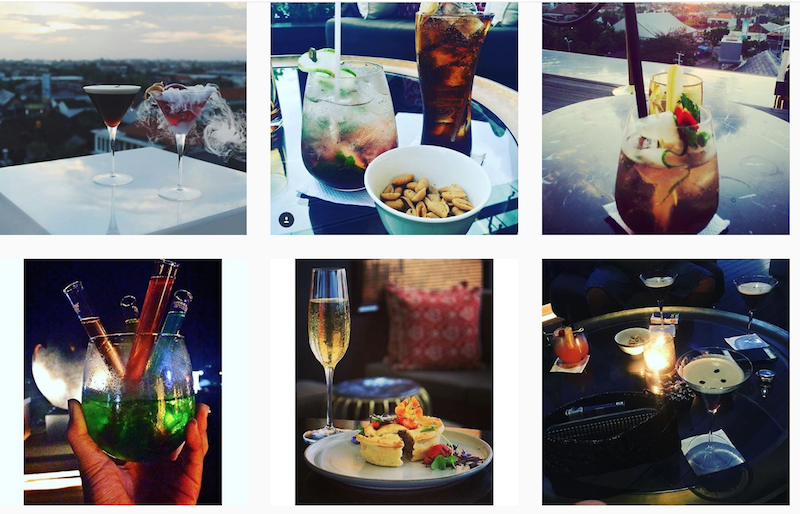 The 18th Rooftop Bar a newly stylish open air rooftop bar featuring sunset views over the Seminyak landmark, that quickly becomes a favorite among globetrotters alike for its enchanting setting, tapas and signature cocktails. Ideal for 120 pax standing capacities, a chic rooftop bar with glass shades and complemented by a round whimsical interior bar. East meets West here, with contemporary Indonesia touch and international influences fusing in a stylish mixture of cultures, reflecting the sparkling luxury style of Trans Touch. Try their signature cocktails: espresso martini and cosmopolitan.
The 18th Rooftop Bar | The Trans Resort Bali, Jl. Sunset Road, Bali | Call: +62 361 8981234
10. COPPER BAR at Ubud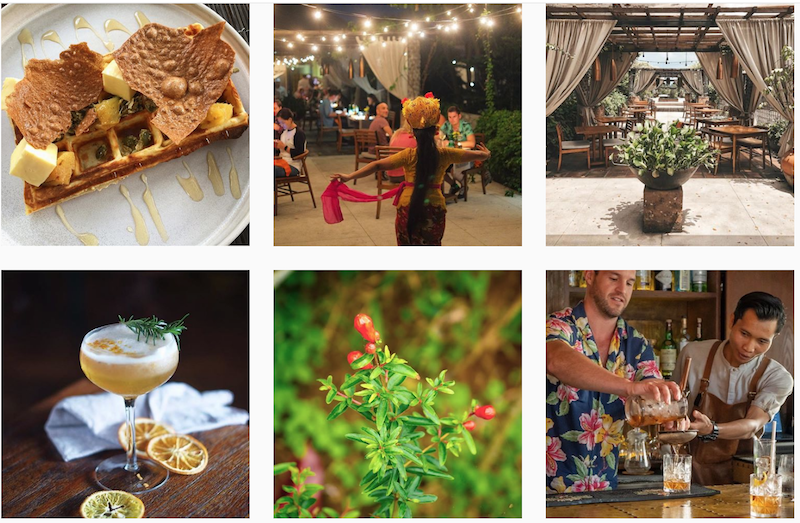 When in Ubud, don't forget to visit Copper Kitchen & Bar. Just like the kitchen, the bar embodies their sensibility of keeping things ethical and inspired while paying homage to Ubud's surroundings. Their beverage program is inspired by the thorough approach of the old world using a combination of exotic ingredients and refined techniques of the past. Try their cool cocktails or get crafty with their best barmen in Crafty Master Cocktail Class every Fridays only from 4 to 5 PM.
Copper Kitchen & Bar | Bisma Eight Hotel, Jl. Bisma No.53, Ubud | Call: +62 895 384792888
11. NO MAS at Ubud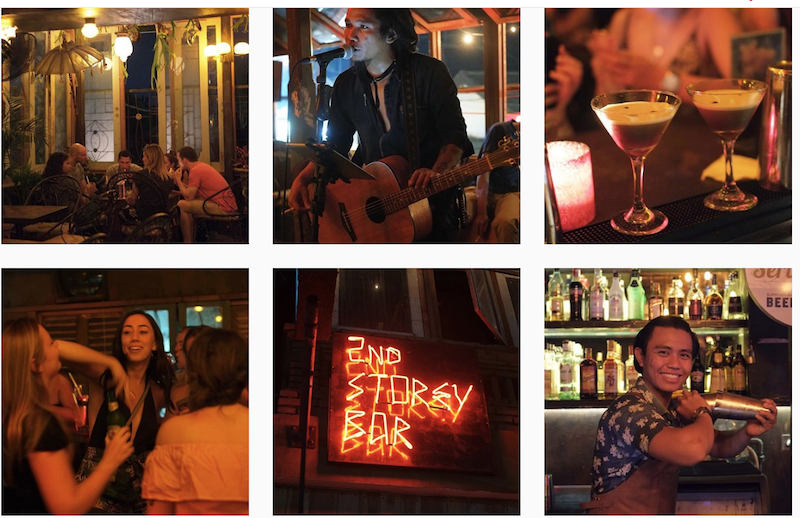 No Más is Ubud's long awaited new local bar, where Eagles of Death Metal is loud on Thursday, Jameson & Captain Morgans are tossed around on Fridays, and cougars prance around on Saturdays. Rotating Bands and DJ Gigs are a regular fixture while tunes from the likes of Bowie, Depeche Mode and Black Keys will be the norm throughout. Drinks are crafted by throwing caution to the wind using the finest house pours, mixed by trainee bartenders and served by inexperienced wait-staff. The food never detracts from the serious business of shooting the shit, throwing back pickle backs, "going within, discussing failed marriages and bad app ideas, aptly name No Más (No More), the squad take no responsibility in bad decision-making up there."
Because there's no shame in mediocrity. Live and let Live.
No Más Bar | Jl. Monkey Forest, Ubud | +62 361 9080800