The What's New Bali team just had an extraordinary culinary escapade at none other than Banger Pizza - a hidden gem nestled in the charming rural streets of Canggu. Buckle up and join us on this thrilling ride as we unveil the sensational experience that awaits you at this not-so-ordinary pizza parlor!
Canggu's Extravagant Italian Classic: Banger Pizza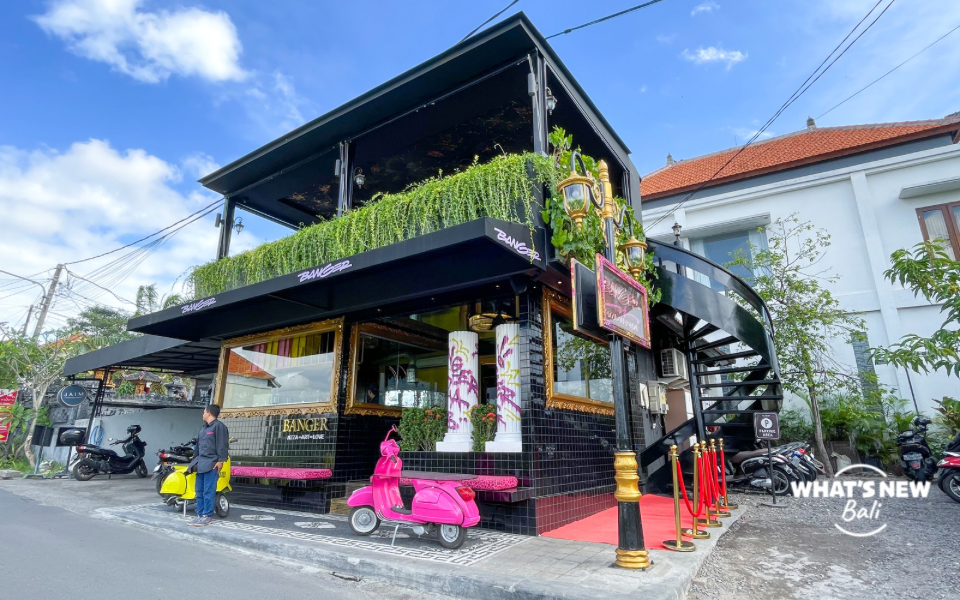 As we approached Banger Pizza, our curiosity was piqued. Perched amidst lush paddy fields, the restaurant's eccentric exterior stood out like a majestic peacock amidst a flock of pigeons. It was love at first sight when we laid eyes on the vibrant, hot pink leopard-patterned sofa and a Vespa bike ingeniously transformed into a table. Graffiti-sketched stone pillars, gold-brushed black walls, and a Renaissance-style ceiling painting set the stage for a feast of the senses. The red carpet leading the way made us feel like we were entering a trendy nightclub rather than a conventional restaurant. They truly live up to their 'Pizza x Art x Love' tagline.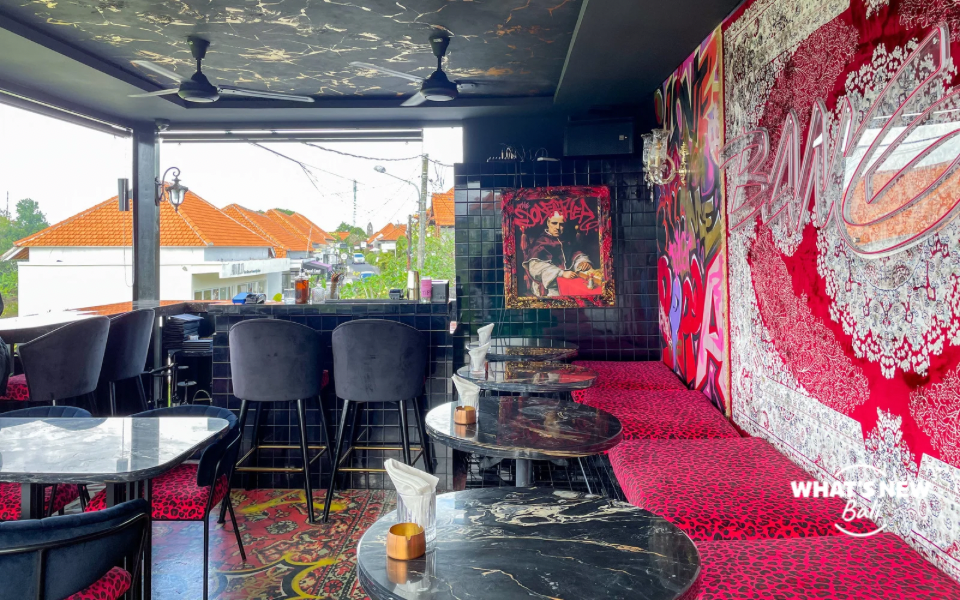 The spacious dining area offered both indoor and outdoor seating, but we couldn't resist the allure of the open-air second floor, which offered panoramic views of the picturesque surroundings. We knew we were in for something special, and boy, did Banger Pizza deliver!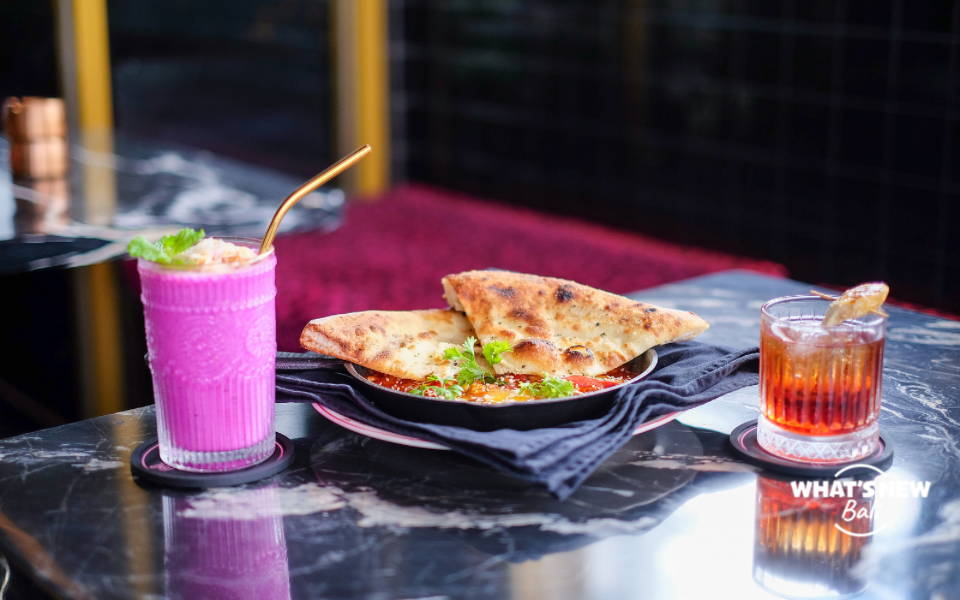 Our journey began with an exploration of their tantalizing menu, featuring an array of mouthwatering dishes. We decided to begin with the Shakshuka by Lourie, an omega 3-rich egg delight oven-baked with a 'bomb of tomatoes', onions, peppers, and garlic, served with freshly-baked olive-garlic focaccia bread. The succulent combination of flavors was an explosion of taste on our palates.
Next up was the Tataki Tuna, generously sliced and baked in sesame seeds, accompanied by a rich dose of vegetables, cherry tomatoes, baby cucumber, onions, greens, capers, olives, and chia, all drizzled with a delectable orange dressing. However, the real showstopper was the Grandma OG Syrniki, ricotta cottage pancakes baked from a cherished family recipe with secret toppings and delightful blueberries. Each bite, accompanied by three homemade sauces - yogurt, berry, and an out-of-this-world caramel - was pure bliss!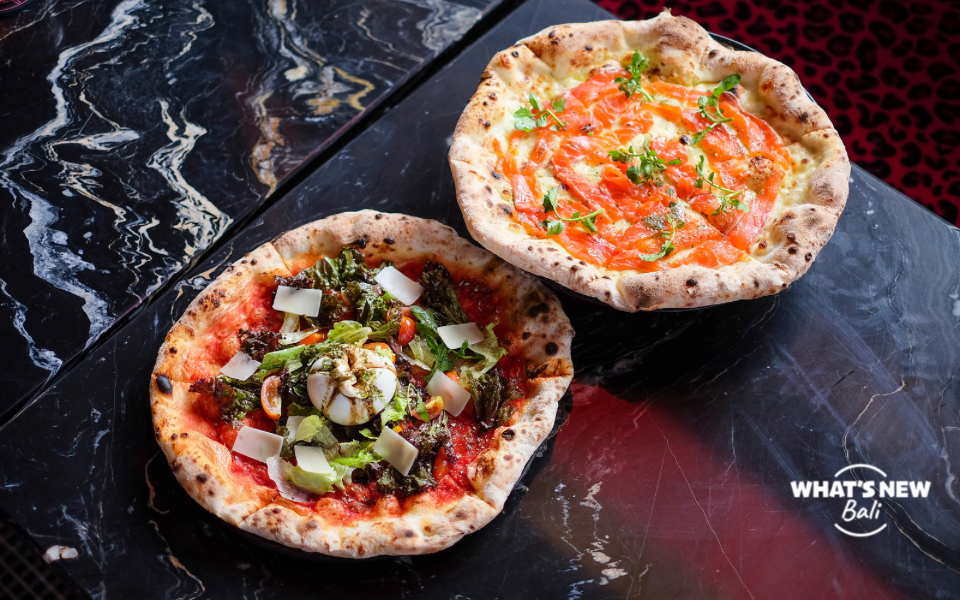 After savoring the starters, it was time for the main act - the 'Pizza Art Love' creations. We couldn't resist the Burrata pizza, adorned with zesty and creamy burrata cheese, a tangy tomato base sauce, and a sprinkling of basil and dry oregano. Creamy and divine! But the star of the show was undoubtedly the Salmon Supreme pizza - a gourmet masterpiece of comfort food, crowned with a generous portion of perfectly smoked salmon, a creamy base sauce, and a blend of parmesan and mozzarella. With every bite, the umami and creamy goodness left an unforgettable mark on our taste buds.
Of course, we couldn't leave without indulging in a classic Tiramisu cake, made with a 'vintage Sicilian mafia recipe' - a bittersweet delight that transported us to Italian royalty.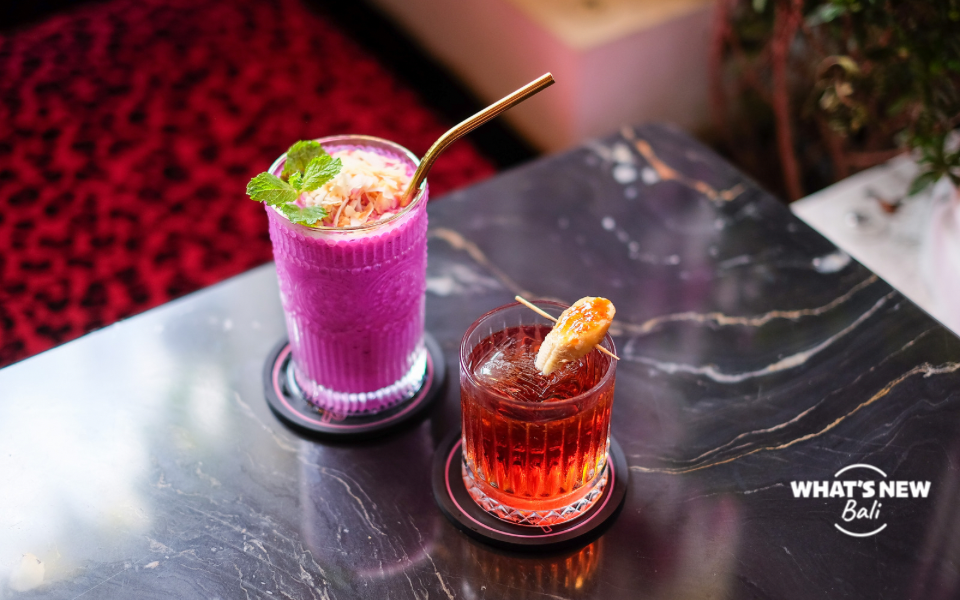 Banger Pizza is not just about divine food; they also boast an array of refreshing drinks to complement your culinary journey. Our choice was the Naked Up cocktail - a fusion of bourbon, campari, rinomato rosso aperitivo, and banana liquor, topped with a caramelized banana slice. A symphony of flavors in a single glass! We also tried their healthier smoothies variant, simply called the Dragon, made from blends of fresh dragon fruit. The enticing color and sweetness of this drink deftlyy match the entire restaurant's vibe!
Planning your visit? Banger Pizza is currently open from 8 am to 11 pm daily, but here's the exciting part - they'll soon be serving their delectable pizzas 24/7 with free in-house delivery to all areas in Canggu (we are available for Gojek or Grab outside Canggu), ensuring your pizza is always served warm and safe! Plus, with their current opening promo offering a staggering 30% discount on ALL items, there's no better time to experience this culinary haven. To top it all off, the second floor treats you to a daily Shisha experience starting at 3 pm - perfect for those looking to unwind in style.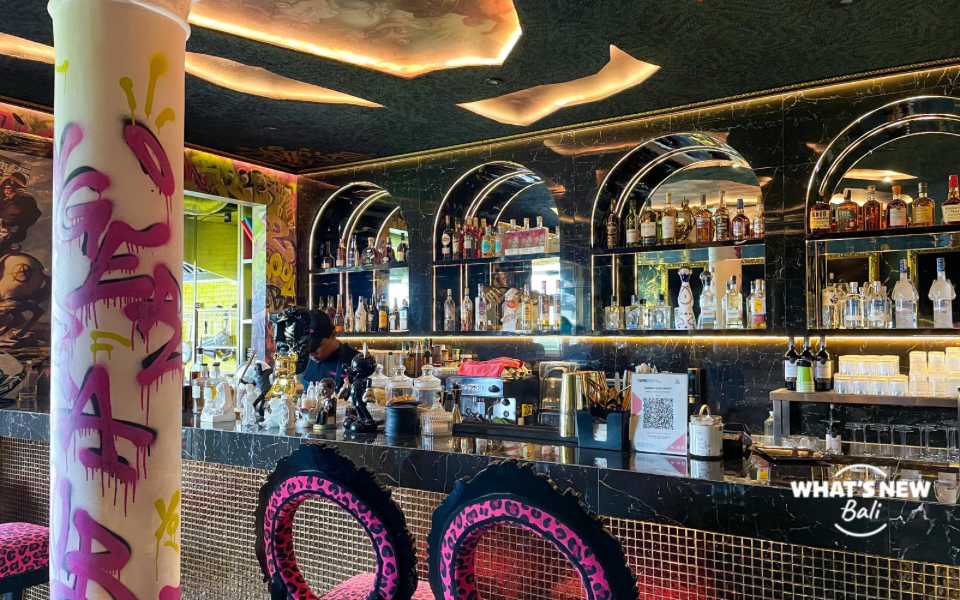 So, dear fellow pizza lovers and gastronomic adventurers, make your way to Banger Pizza and immerse yourself in an extraordinary dining affair like no other. From tantalizing pizza creations to an ambiance that'll leave you mesmerized, With its peculiar yet enticing interior setting and arrays of delectable menus, Banger Pizza has truly redefined the culinary scene in Canggu in a ravishing, extravagant way! 
Jl. Tanah Barak No.1a, Canggu, Kec. Kuta Utara, Kabupaten Badung, Bali 80361
Phone: +62 857 7878 8787
Website
Instagram