Bali might not be the first place that comes to mind when you think of German cuisine. But hidden amidst the island's lush tropical landscapes and crystal-clear waters are some incredible gems that bring the authentic flavors of Germany to the island. Whether you're a die-hard schnitzel lover or just curious to explore new tastes, these German restaurants in Bali are guaranteed to tickle your taste buds and transport you to the heart of Bavaria. Guten Appetit!
Best German Restaurants in Bali
Das Bistro by Mama's: Where Tradition Meets Value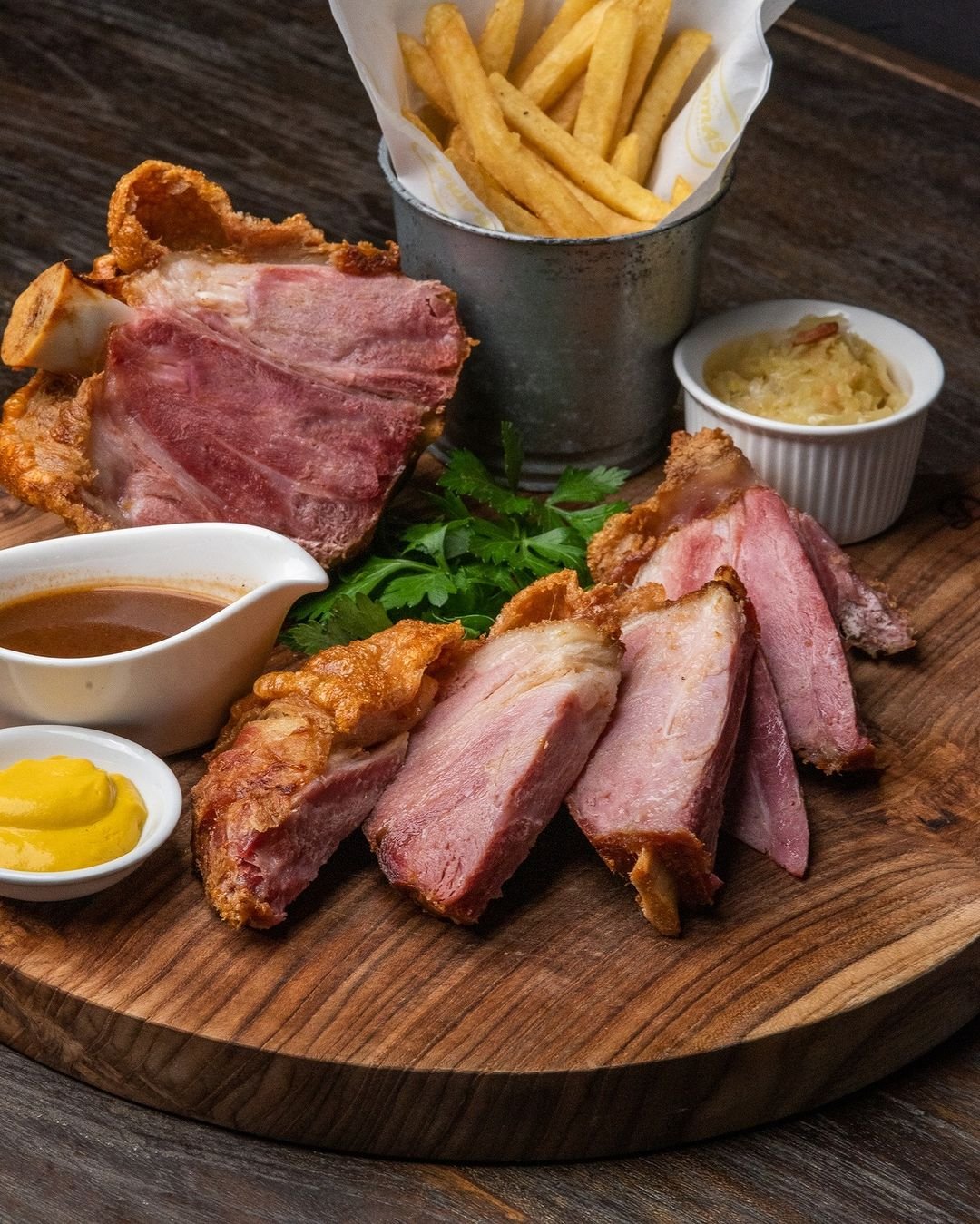 Opened in 2020, Das Bistro by Mama's has quickly earned its reputation as one of Bali's most inviting culinary destinations. Nestled conveniently on Jalan By Pass Ngurah Rai, this charming spot welcomes you with a warm atmosphere and an extensive menu. From hearty breakfasts to mouthwatering German sausages and expertly brewed coffee, Das Bistro is a haven for those seeking quality and value. The talented chefs whip up authentic German sausages and hams using only the finest ingredients, ensuring an unforgettable dining experience.
Jl. Bypass Ngurah Rai No.88 A, Pemogan, Denpasar Selatan, Kota Denpasar, Bali 80221
Phone: +62 812 4652 9186
Website
Instagram
Deutsches Eck: A Slice of Germany in Lovina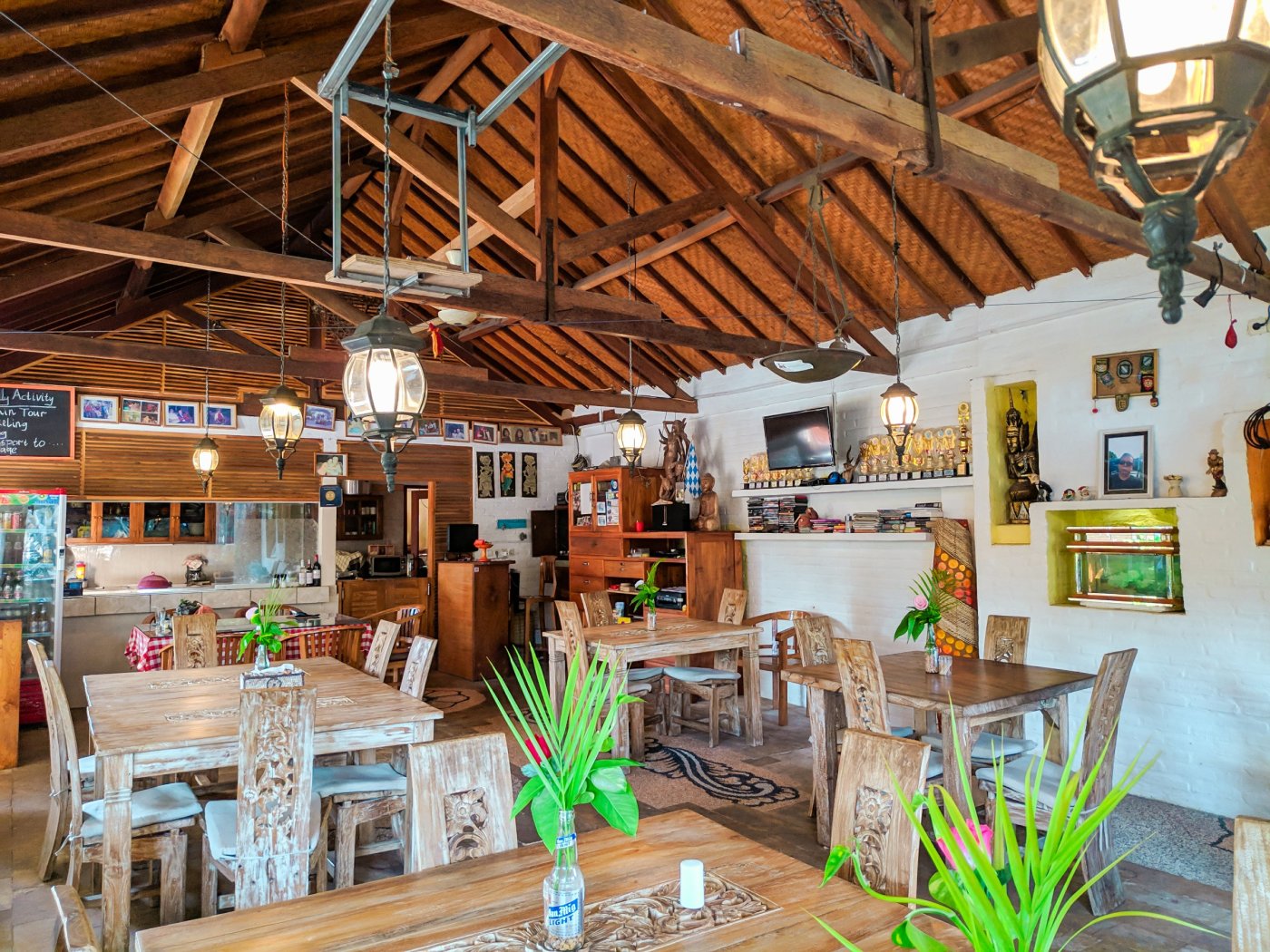 Venture to Lovina in North Bali, and you'll stumble upon a family-run treasure, Deutsches Eck. This cozy café and restaurant embody the essence of Germany, offering traditional and authentic German dishes alongside Indonesian favorites. With an ambiance reminiscent of a classic German eatery, complete with wooden bars and original accessories, Deutsches Eck is a slice of Germany in the heart of Bali. Don't miss their Sundays with coffee and homemade cake, or their Monday meat and cheese orders. This spot truly brings a taste of Germany to the island.
Jl. Raya Seririt, Banjar Labuhan Aji, Temukus, Kec. Banjar, Kabupaten Buleleng, Bali 80361
Phone: +62 823 4094 3878
Website
Kaskeller Bali: Alpine Vibes Beneath the Bali Sky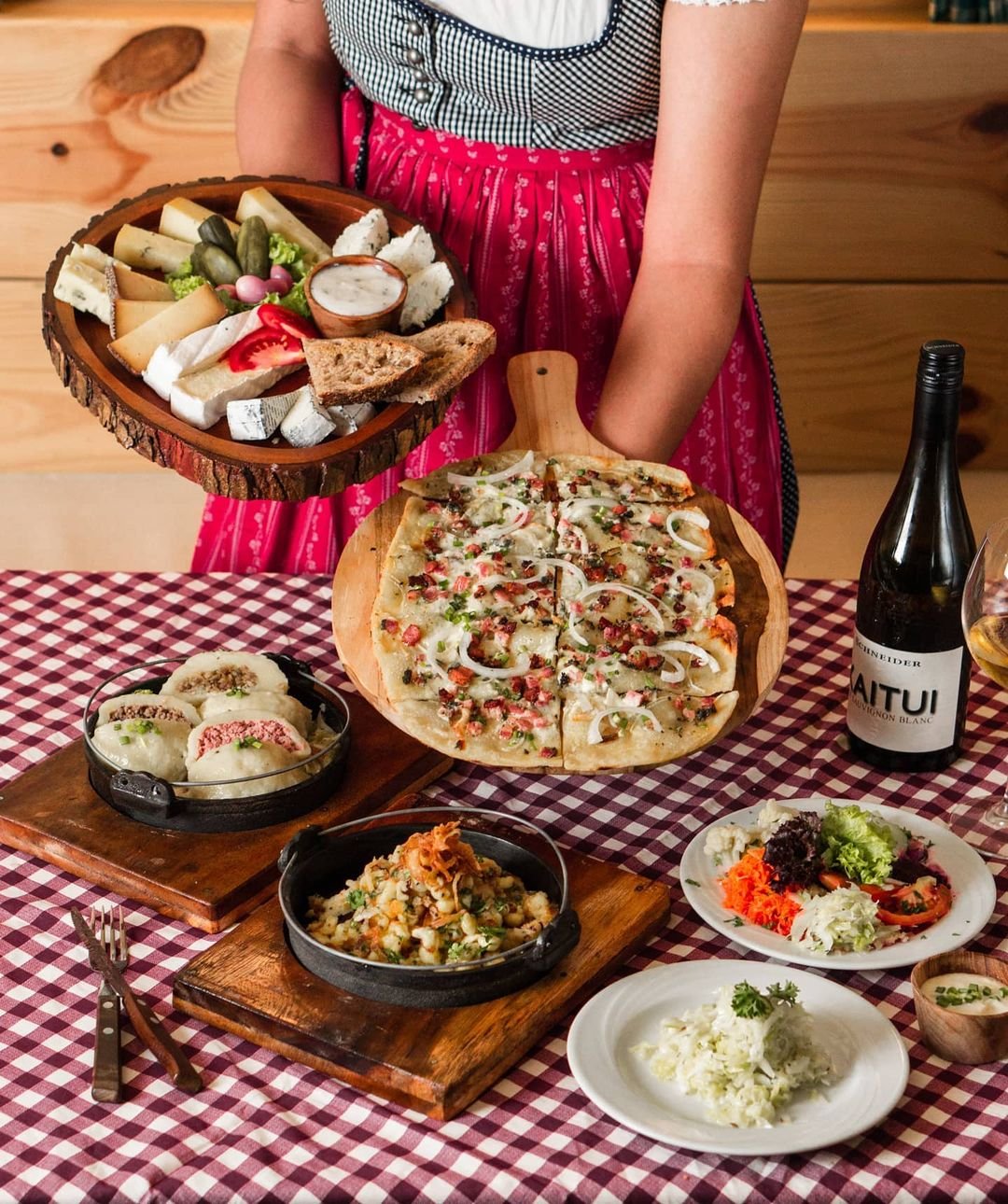 For those seeking an authentic Bavarian experience, Kaskeller Bali is a must-visit. Hidden beneath the bustling streets of Jimbaran, this small warung captures the charm of old alpine farmhouses. Built with antique details and fine wood imported from Europe, Kaskeller offers a unique dining experience. Dive into Alpen-style dishes like Knödel variations and Selchfleisch mit sauerkraut, and immerse yourself in the true essence of Bavarian cuisine. The passion and attention to detail make Kaskeller a standout destination for German food lovers.
Jl. Bukit Bintang 18a Ungasan, Jimbaran, Kec. Kuta Sel., Kabupaten Badung, Bali 80361
Phone: +62 812 3790 3290
Instagram
Kochen Bali: Where German and Indonesian Cuisines Unite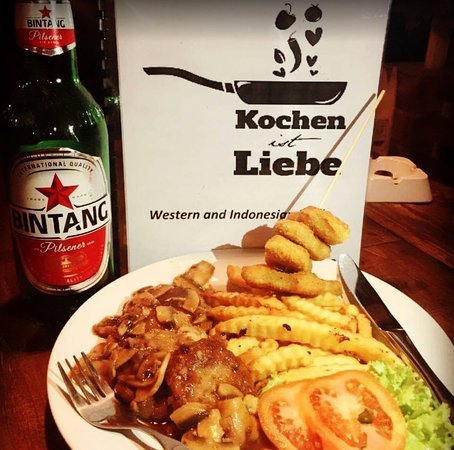 Step into the homely atmosphere of Kochen Bali, where German and Indonesian cuisines come together in perfect harmony. This café offers a relaxed haven to unwind after a long day, where the unreal cooking skills of Chef Butz take center stage. Generous portions of meals bursting with flavor and genuine hospitality set Kochen Bali apart. The fried rice is said to be on another level, and it's clear that Chef Butz's passion for food shines through in every dish.
Jl. Pasir Putih No.25, Kedonganan, Kec. Kuta, Kabupaten Badung, Bali 80361
Phone: +62 813 3897 7503
Nyoman's Beer Garden Bar & Restaurant: Two Nations on a Plate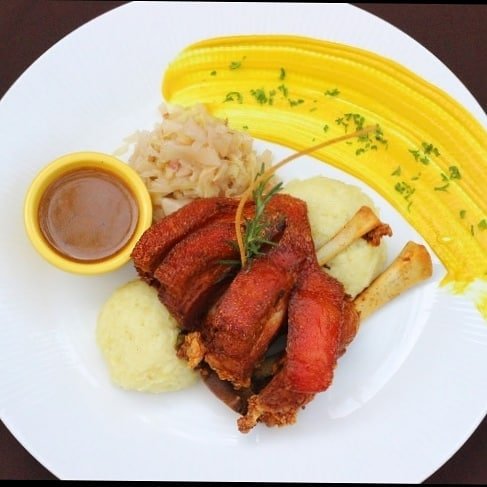 Since 1996, Nyoman's Beer Garden has been serving up a fusion of Balinese and German traditional specialties. Located in Nusa Dua, this restaurant offers an amazing indoor garden setting and a wide selection of international and local foods. From Balinese suckling pig to authentic German sausages, Nyoman's Beer Garden promises a flavorful adventure. The cozy atmosphere and free salad bar add to the overall charm, and live music rounds out the experience perfectly.
Jl. Nusa Dua, Benoa, Kec. Kuta Sel., Kabupaten Badung, Bali 80361
Phone: +62 361 775 746
Instagram
Sausage Bali: A Carnival of Sausages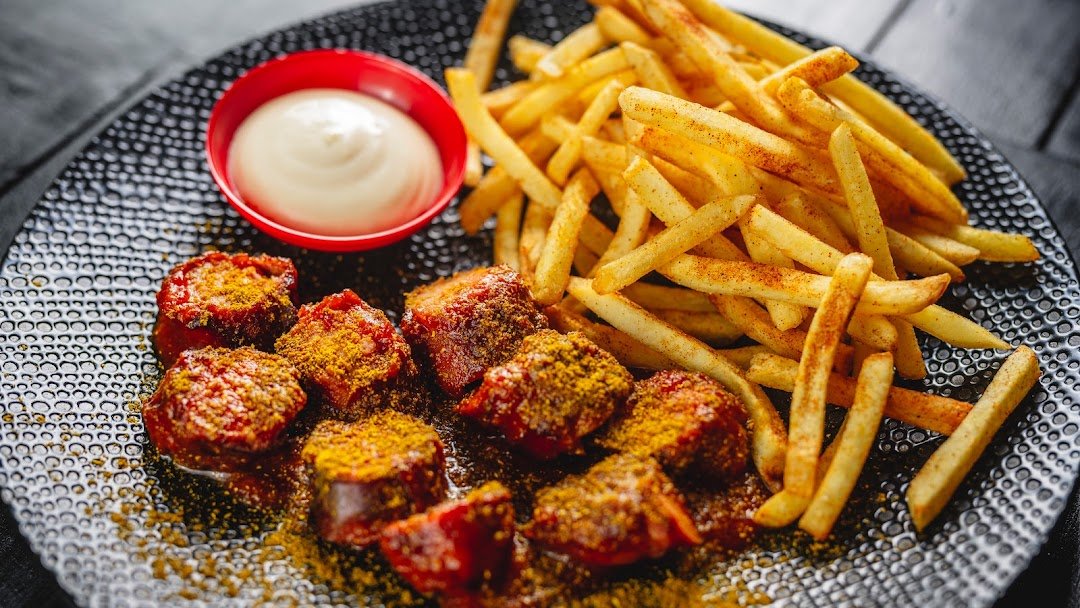 If sausages are your weakness, then Sausage Bali is your haven. Dive into a carnival of flavors with dishes like the famed German Currywurst or juicy burgers that will have your taste buds dancing. Beyond the delectable bites, Sausage Bali offers an electric Berlin Club Design ambiance, making it a hotspot for both food and fun. It's not just a restaurant; it's an experience that merges culinary delights with vibrant energy.
Jl. Subak Canggu No.2, Canggu, Kec. Kuta Utara, Kabupaten Badung, Bali 80361
Phone: +62 813 5366 1829
Website
The Imbiss: Bavarian Goodness in Bali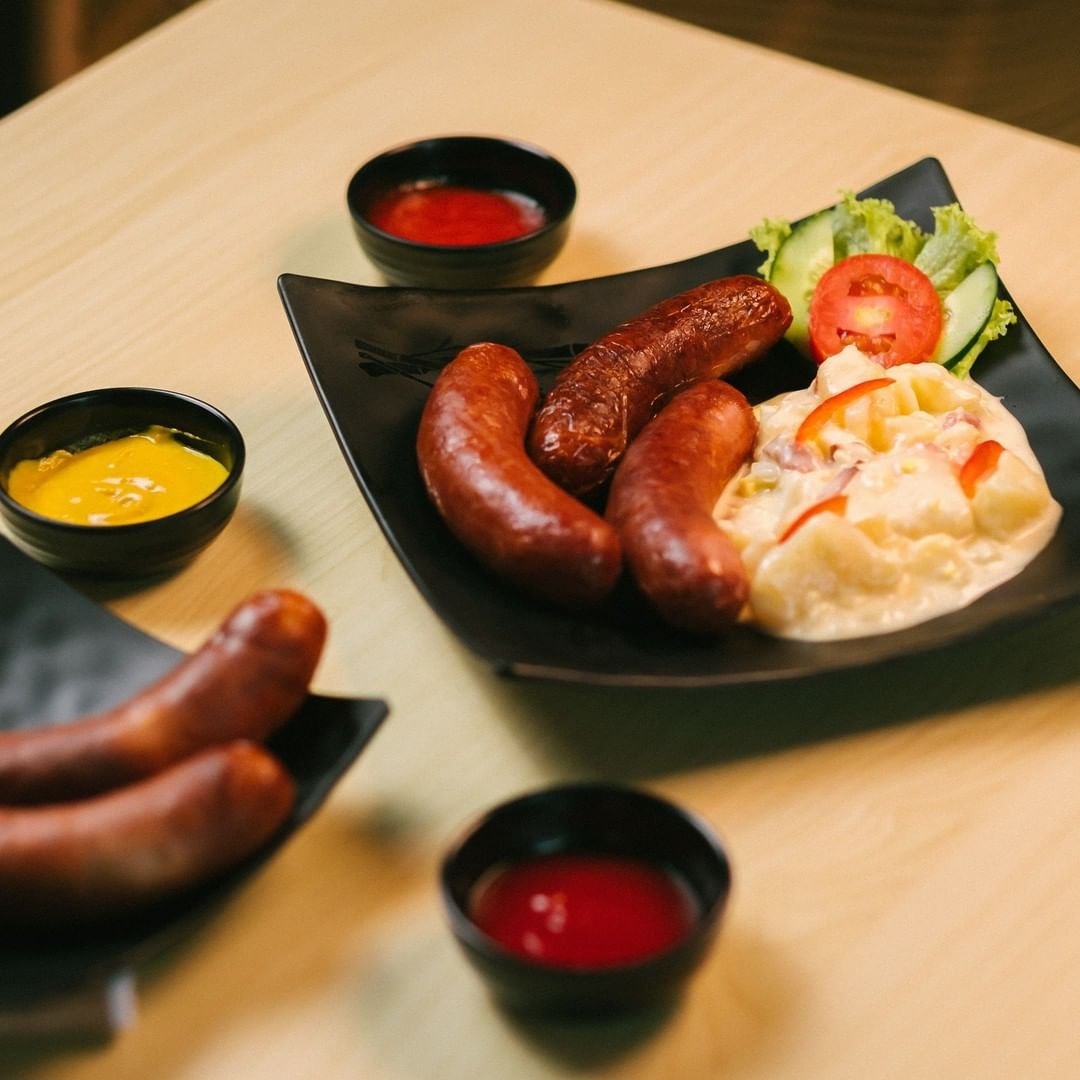 Last but not least, The Imbiss takes you on a journey to Bavaria with its authentic dishes straight from the heart of Germany. From goulash soup to frikadele and bratwurst, every bite is a celebration of German flavors. The cozy open-air setting on blongkeker street in Jimbaran provides a tranquil escape for those seeking a taste of Bavarian goodness.
Jl. Blong Keker No.1, Jimbaran, Kec. Kuta Sel., Kabupaten Badung, Bali 80361
Phone: +62 819 3961 6655
Instagram