If you have a knack for soft, tender baked bread or sweet creamy puff and find yourself in Bali, you're in for a treat! This tropical paradise is home to some of the most scrumptious bakeries and pastry shops you'll ever taste. Whether you're a fan of flaky croissants, gooey chocolate cakes, or delightful cinnamon buns, Bali has something to satisfy every craving. So, grab your fork and let's dive into the mouth-watering world of Bali's best bakeries and pastry shops. Don't blame us if you end up with a sugar high after reading this - we warned you!
Bali's Best Pastries and Bakeries: Where to Indulge in Delicious Baked Goods
BAKED.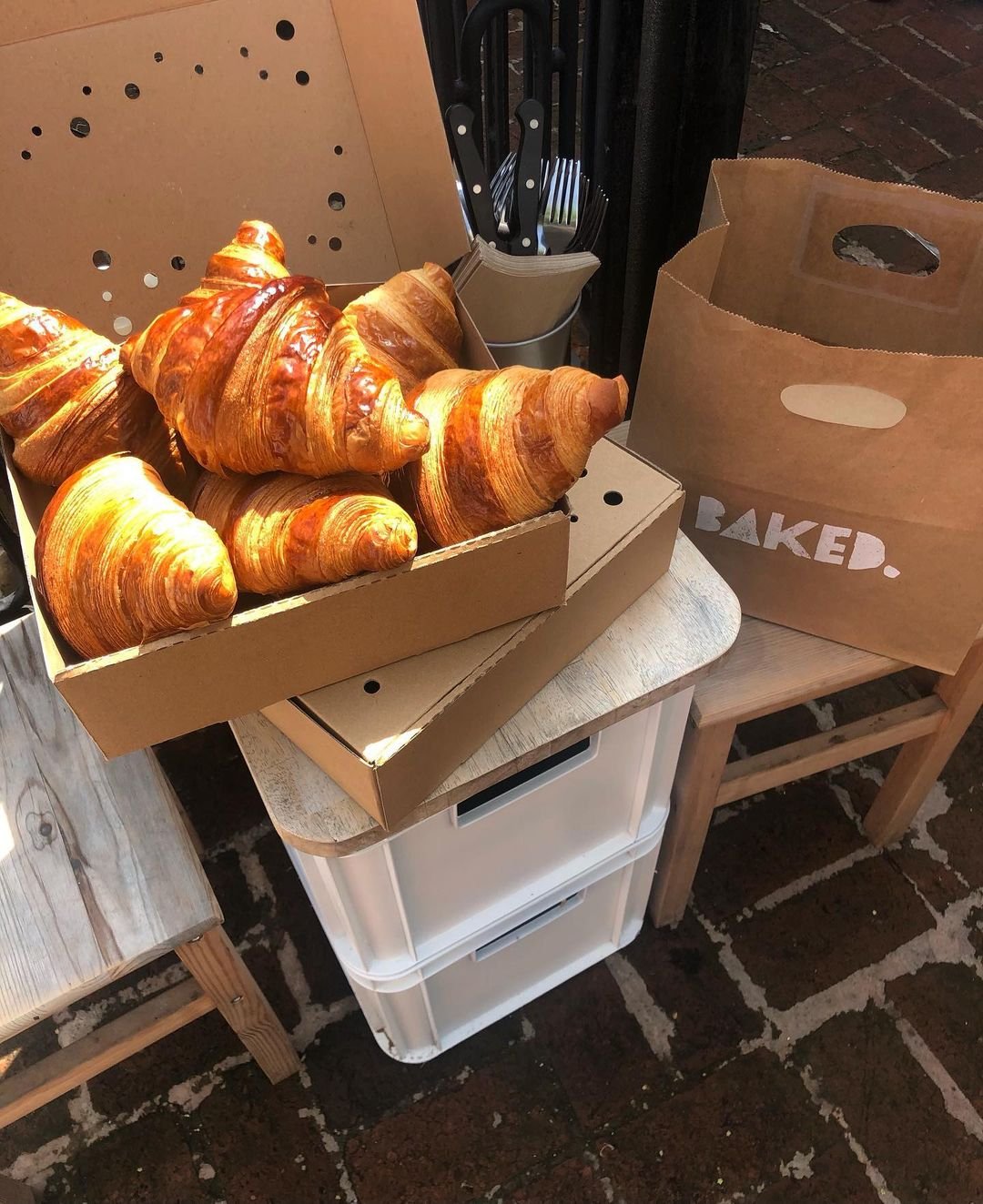 Well-known by locals and internationals alike, BAKED. truly lives up to their simple (yet effective) name. Head to one of their two establishments in either Canggu or Pererenan for a tantalizing brunch and bakery treat. BAKED. is known to serve one of the best croissants in the island, and it comes in different flavours or toppings as well. From arrays of almond and chocolate to flaky coconut, their croissant rendition is a definite must-try. You may order their other sweet treats as well, such as banana bread, sticky buns or Portuguese custard eggs; all made fresh daily because they're almost always sold out!
Jl. Raya Semat Gg. Kupu kupu No.1, Tibubeneng, Kec. Kuta Utara, Kabupaten Badung, Bali 80361
Phone: +62 813 3882 13519
Website
Instagram
Barō Bakery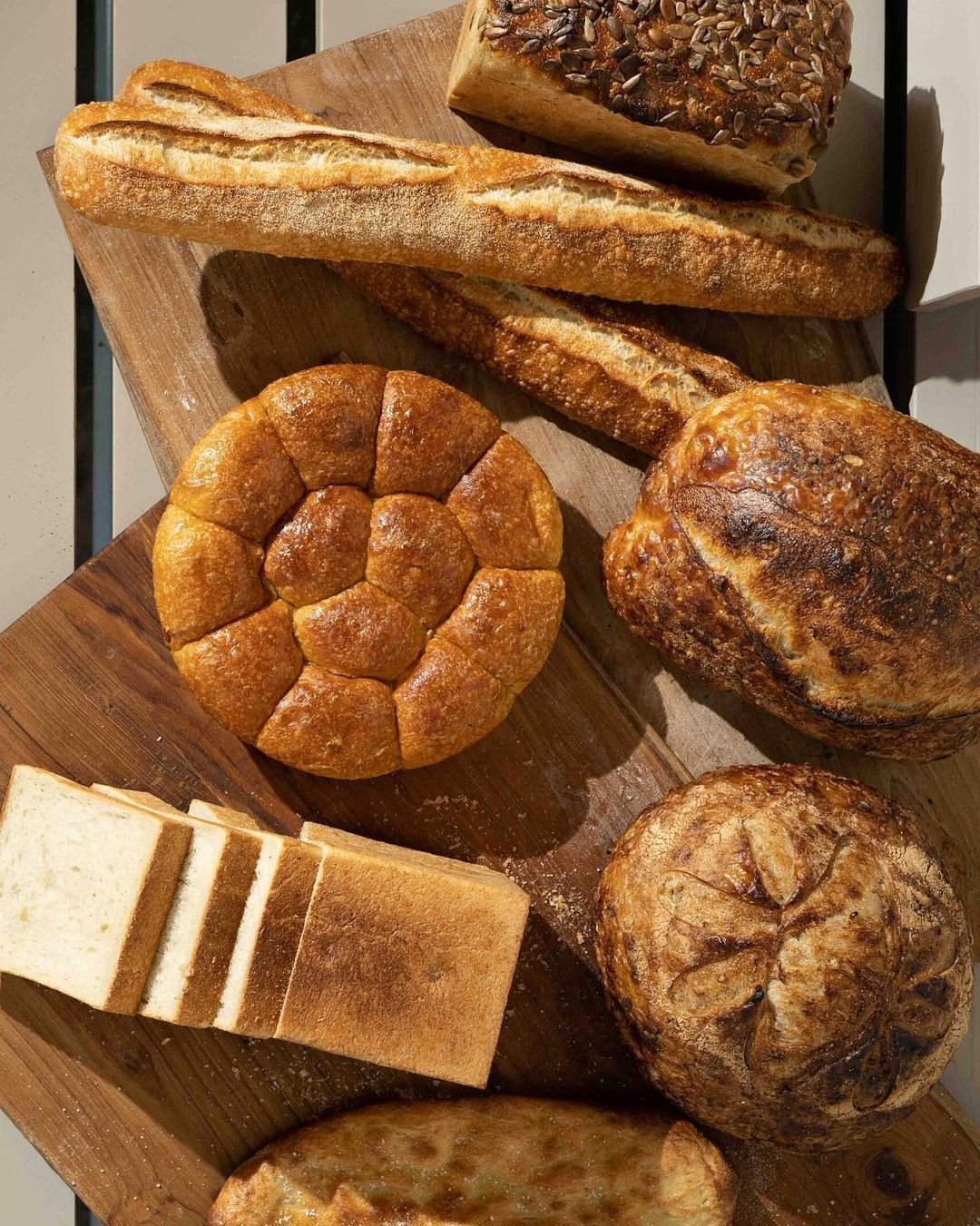 Get ready for a bread lover's paradise at Barō Bakery in Bali, where every crumb is crafted to perfection. With a pedigree that includes time spent at New York's legendary Tartine bakery, owner Emerson Manibo knows his way around a loaf. Savor the rich flavors of artisanal ancient grain sourdough, indulge in the sweet goodness of sweet potato brioche, or get transported to the tropics with a slice of coconut milk bread. And don't forget the flatbreads, topped with a rotating array of fresh produce like bocconcini and eggplant or a rainbow of radishes. But the real showstopper? The bread pudding, made even more heavenly with a zesty kiss of passion fruit.
Jl. Pantai Pererenan No.147, Pererenan, Kec. Mengwi, Kabupaten Badung, Bali 80351
Phone: +62 813 3994 8889
Instagram
Braud
If you're on the hunt for the perfect pastry in Bali, look no further than Braud, the artisanal bakery that's been kneading dough since 2014. And now, with its very own café, you can sit down and savor every crumb of its legendary sourdough loaves alongside some seriously indulgent treats. Picture this: a display case overflowing with raspberry rose eclairs, dulce crumble bombolonis, and double chocolate fritters, all begging to be devoured. And that's just the tip of the croissant. With a rotating menu of daily specials and weekly Sunday surprises, you'll always have a reason to come back for more. But be warned: once you've had a taste of Braud's baked goods, you may never look at pastry the same way again.
Jl. Mertanadi No.62, Kerobokan Kelod, Kec. Kuta Utara, Kabupaten Badung, Bali 80361
Phone: +62 821 4739 6609
Instagram
Butterman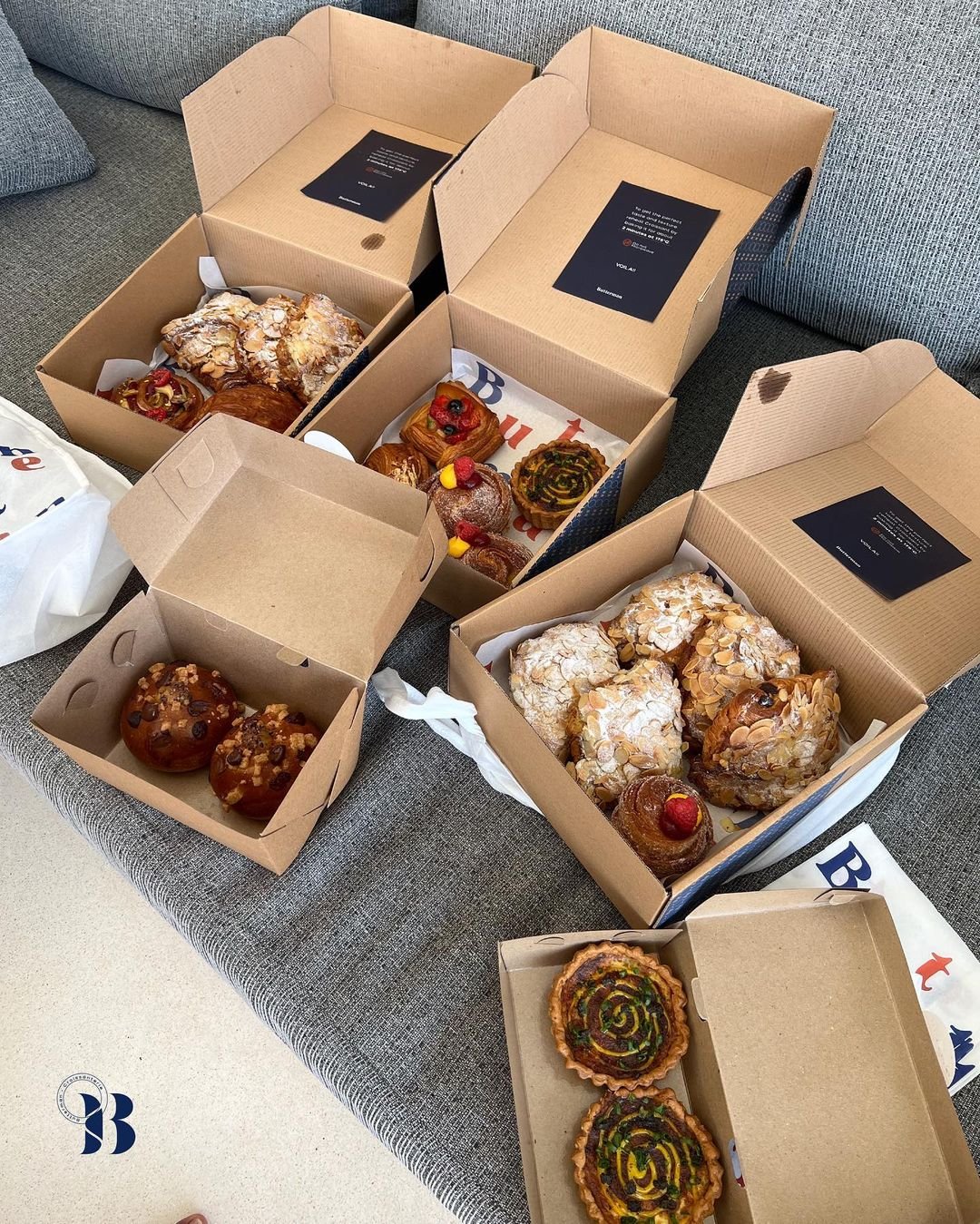 As a sister to the established Folie Kitchen, Butterman is a fine haven for pastry lovers! This charming bakery specializes in all things croissant, from the classic buttery flaky pastry to creative twists like chocolate-filled, almond, and even matcha green tea croissants. With each bite, you'll taste the passion and skill that goes into every handmade pastry. But the menu doesn't stop there - indulge in a wide selection of sweet and savory baked goods, like tangy lemon tarts, hearty quiches, and fluffy brioche buns. And let's not forget the coffee - a perfect match for any of the mouth-watering pastries on offer. Whether you're looking for a quick breakfast on the go or a leisurely morning indulgence, Butterman has got you covered.
Jl. Pantai Berawa No.10, Tibubeneng, Kec. Kuta Utara, Kabupaten Badung, Bali 80361
Phone: +62 811 3960 0050
Instagram
Bread Basket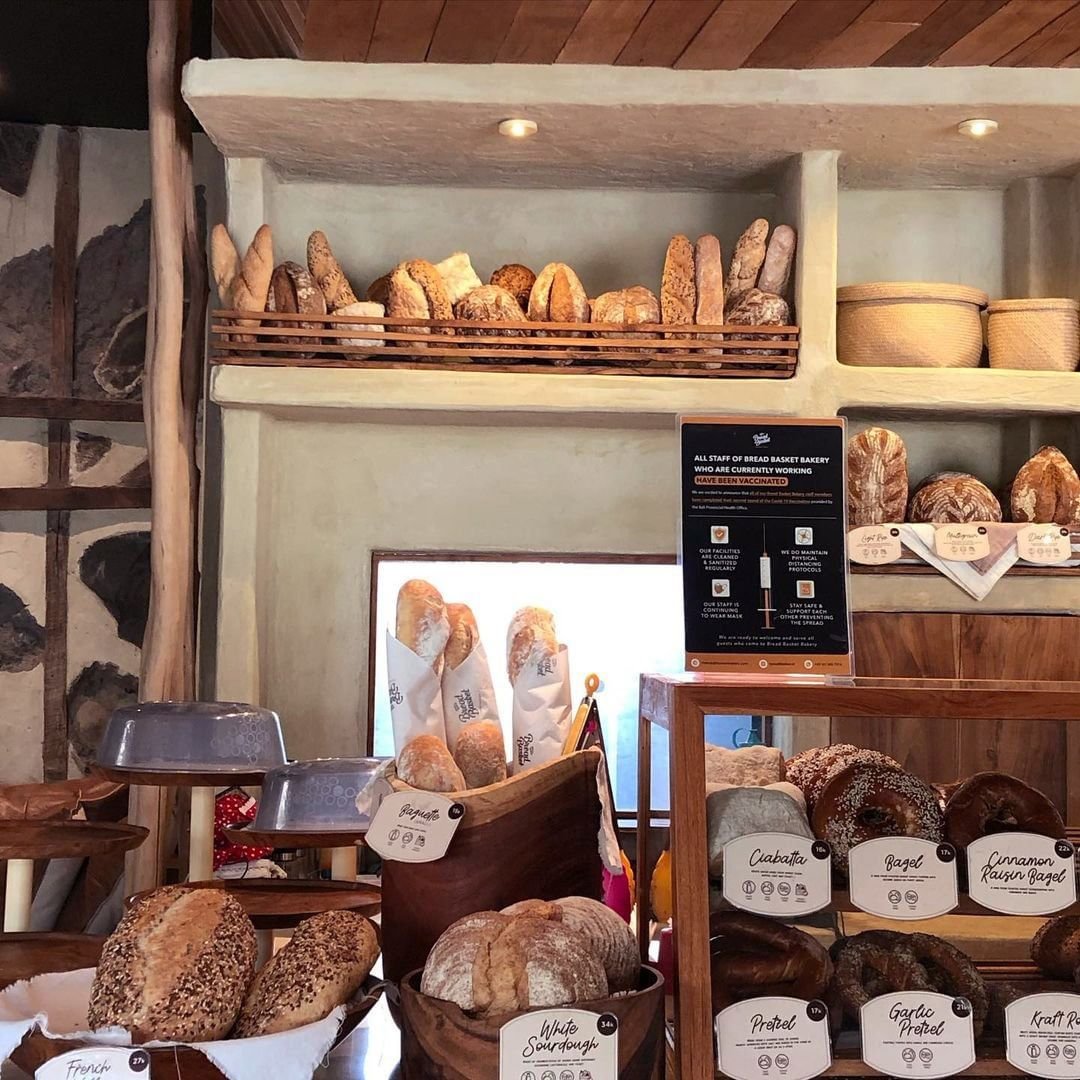 Get ready to sink your teeth into some seriously delicious baked goods at Bread Basket, the traditional gourmet bakery that has taken Bali by storm! With four locations across Southern Bali, including Uluwatu, Kerobokan, Canggu, and its original home in Sanur, Bread Basket has become a household name for those who crave authentic European-style breads and pastries. Every day, the skilled bakers at Bread Basket craft a mouth-watering array of baked treats, using only the finest ingredients and traditional techniques. And it's not just about the bread - you can also enjoy all-day breakfast dishes, hearty quiches, and a range of other baked goods. 
Farine Sourdough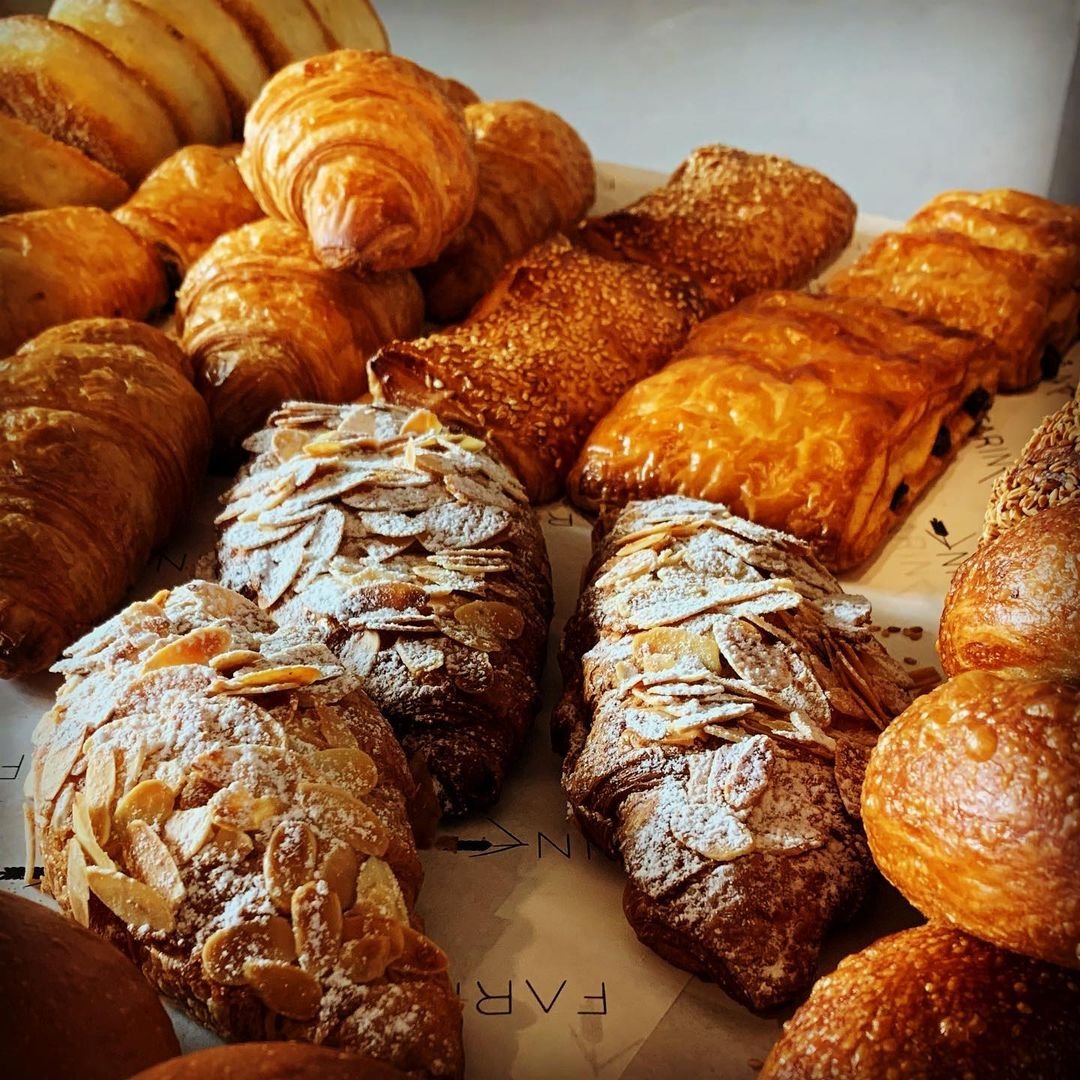 Craving the taste of San Francisco sourdough bread in Bali? Farine got you covered! With a focus on traditional 'sourdough' techniques and premium ingredients, Farine has quickly become a favorite among locals and visitors alike. Whether you prefer classic flavors like dark rye or something a bit more unique, like sunflower and flaxseed, you won't be disappointed by Farine's sourdough breads. And the fun doesn't stop there - Farine also offers a mouth-watering range of sandwiches, made fresh daily with locally sourced ingredients. From roasted chicken to tuna mayonnaise to curried egg with bacon, there's something for everyone.
Jl. Pantai Berawa No.23, Tibubeneng, Kec. Kuta Utara, Kabupaten Badung, Bali 80361
Phone: +62 812 3969 6420
Instagram
Monsieur Spoon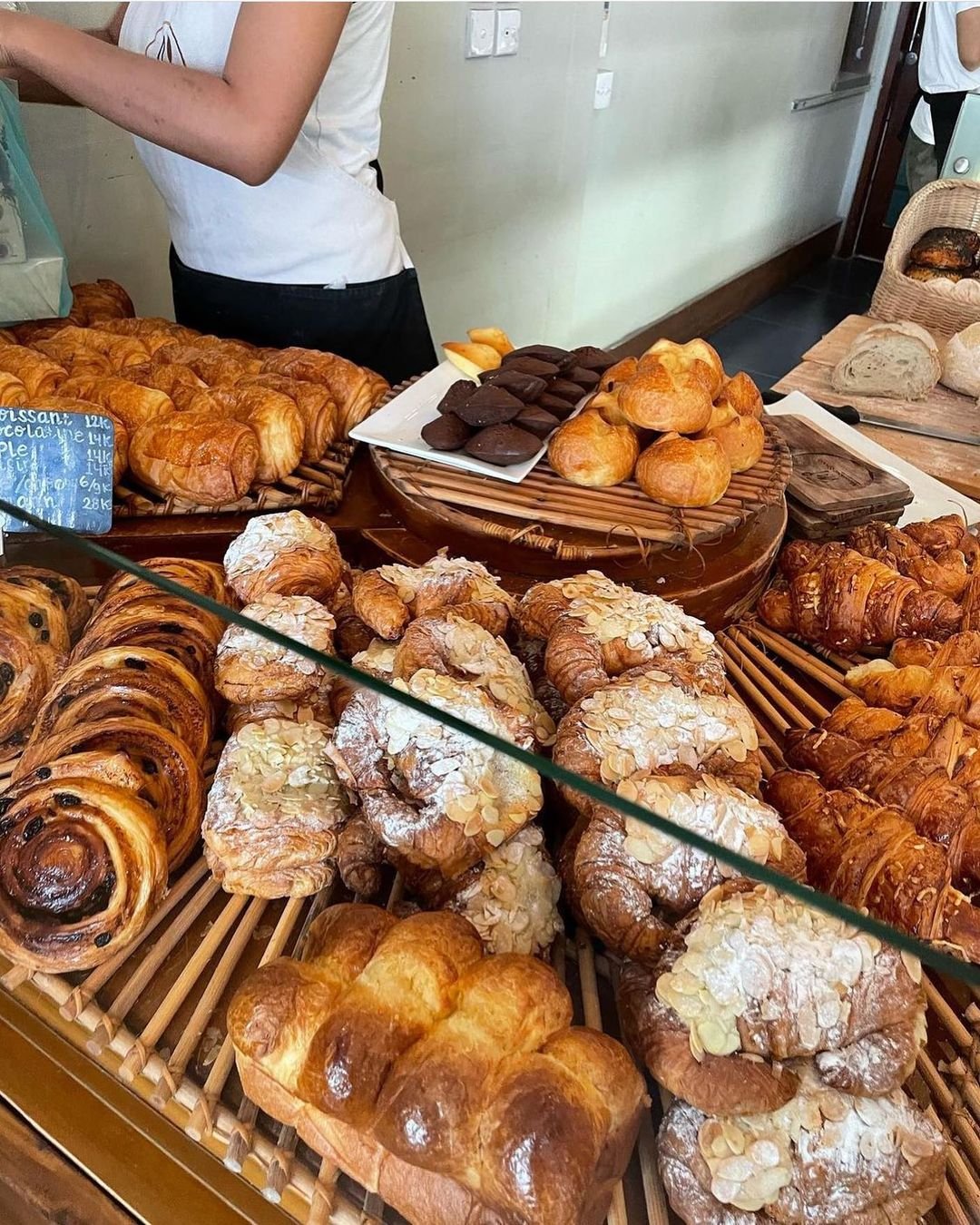 From a small, quaint store in Ubud, Monsieur Spoon has expanded to several branches in Bali and beyond (including one in the capital city of Jakarta).  This delightful French bakery will still transport your taste buds straight to Paris. From its freshly baked breads to its delicious croissants and pastries, every bite at Monsieur Spoon is a little piece of heaven. The bakery maintains its warm and inviting atmosphere in each establishment, making it the perfect spot to enjoy a leisurely breakfast or catch up with friends over coffee and a sweet treat. And with its commitment to using only the highest quality ingredients, you can be sure that every bite is as delicious as it is authentic. Whether you're a Francophile or simply a lover of great food, Monsieur Spoon is not to be missed.
RAIA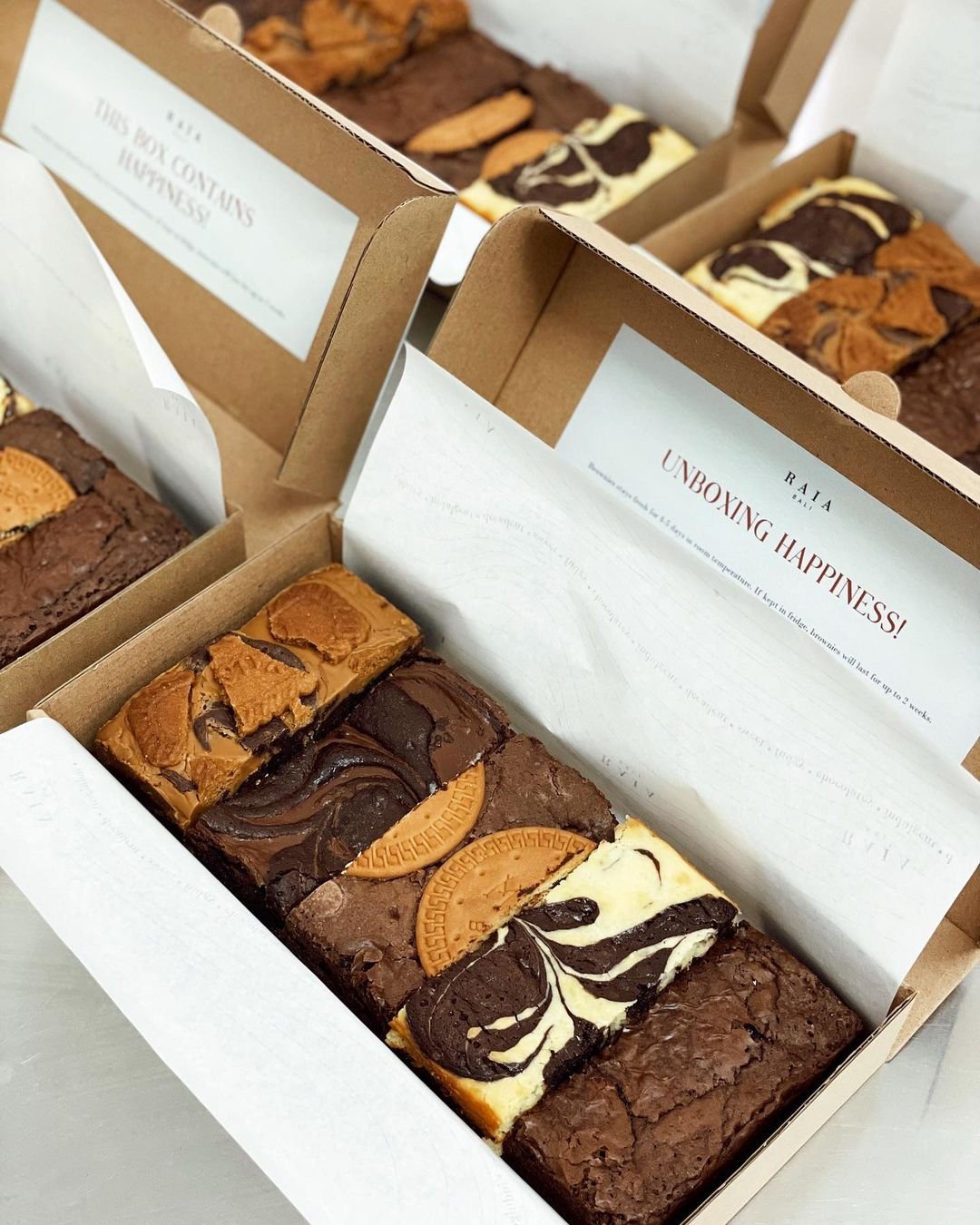 RAIA is one of the most recent cake shop in Bali offering arrays of delightful cakes, cookies and brownies. The latter is actually its staple creation that makes RAIA become a renowned pastry brand on the island. Their chocolate cheesecake brownies is legendary and remains as one of their best selling delicacies, but don't let that stop you from trying their other brownies variants; from regal, lotus biscoff to PB&J. Now they have expanded into two chic stores in Denpasar and Seminyak area; offering a cozy space for everyone who would like to take a brief break and indulge in some fine comfort baked goods.
Jl. Noja Saraswati No.6, Kesiman Petilan, Kec. Denpasar Tim., Kota Denpasar, Bali 80237
Phone: +62 812 2223 4157
Instagram
 
Sinnamon Bali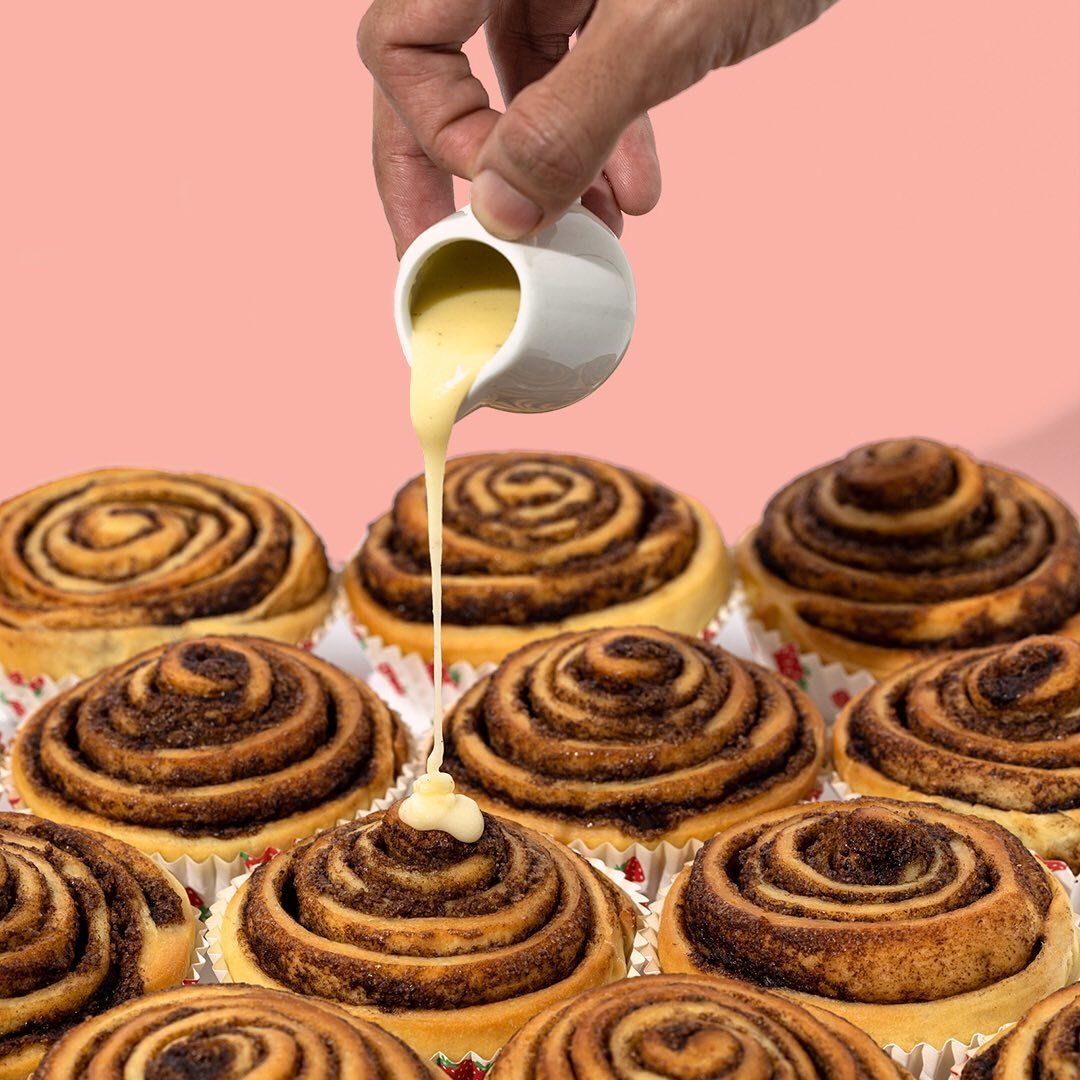 As its name heavily implies, Sinamon Bali only serves one type of pastry: cinnamon bun, and they're so *darn* good at it. This beloved bakery takes this classic pastry to new heights, offering two unique and delicious flavors: the OG and Cream Cheesin'. But it's not just the flavors that make the cinnamon buns of Sinamon Bali stand out – each roll is crafted with care and attention to detail, resulting in a perfectly fluffy, gooey, sweet and utterly satisfying treat. And with its cozy and inviting atmosphere, their flagship cafe is the perfect place to unwind and indulge in something sweet. Don't miss out on the chance to try one of Bali's most beloved treats – head to Sinamon Bali and see what all the fuss is about!
Jl. Bumbak Gg. P.Belitung No.12, Kerobokan, Kec. Kuta Utara, Kabupaten Badung, Bali 80361
Phone: +62 821 4444 2354
Website
Yamuna Pastry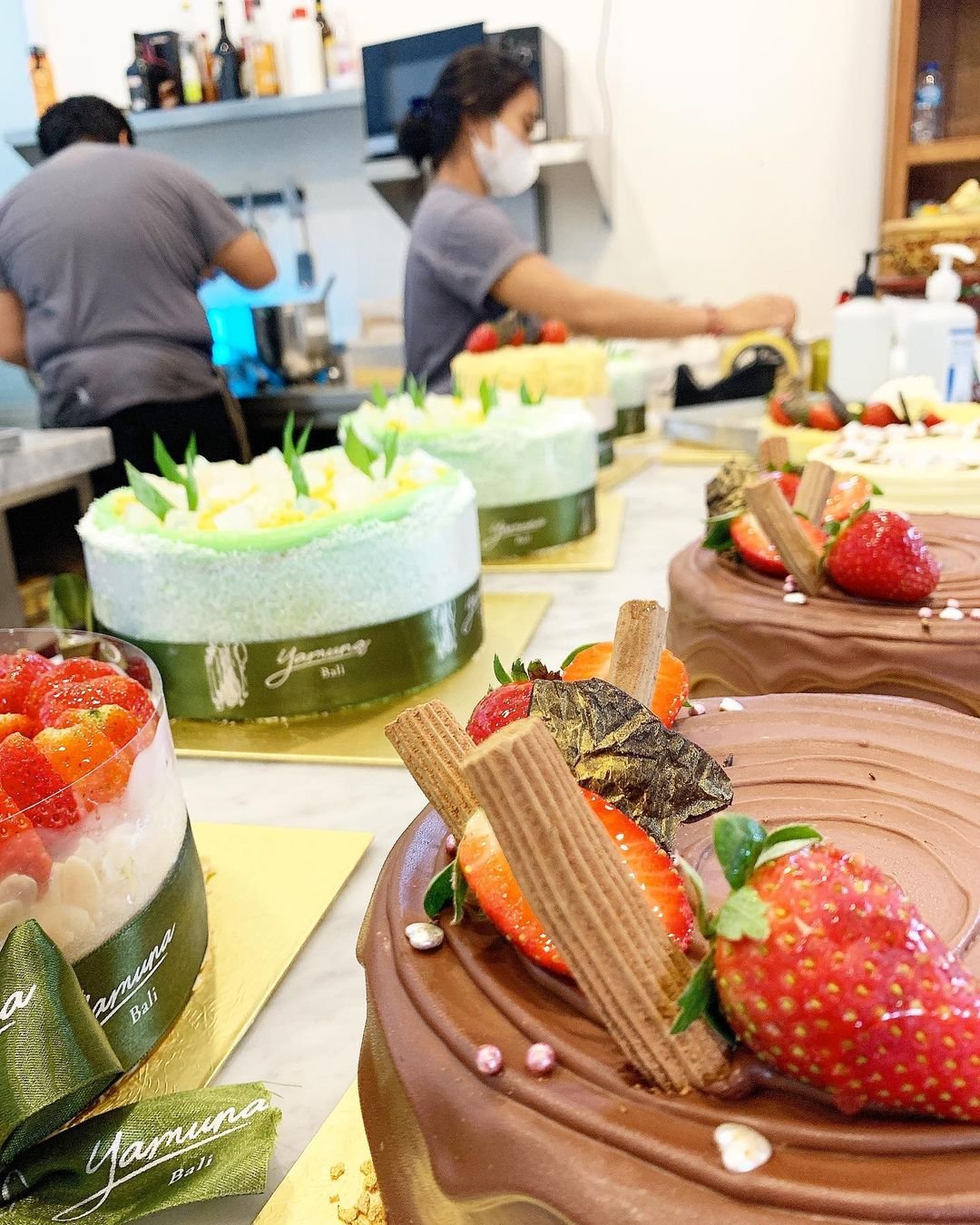 Started as a 'hidden gem' in rural Semer area -the shop sign was small and virtually hidden from plain sight, Yamuna Pastry has finally established its flagship store in Kerobokan. Initiated by an aspiring local chef who has honed his skill working in several top resorts around Bali, this charming bakery serves up a delicious array of pastries, cakes, and desserts, all made from scratch using the finest ingredients. From classic croissants to decadent chocolate cakes, there's something to satisfy every craving. And if you're looking for something a bit healthier, Yamuna also offers a range of gluten-free and vegan options. 
Jl. Raya Gadon, Kerobokan, Kec. Kuta Utara, Kabupaten Badung, Bali 80361
Phone: +62 812 1367 888
Instagram