Bali's always been the go-to place for a beach vacation for all kinds of travelers and abundant options for food, places to visit, and activities make it perfect for a fun-filled family holiday. 
As the holiday season is coming near, we've prepared a list of the best family-friendly accommodations in Bali to ensure a fun and hassle-free holiday. 
Best Family Accommodations in Bali
The St. Regis Bali Resort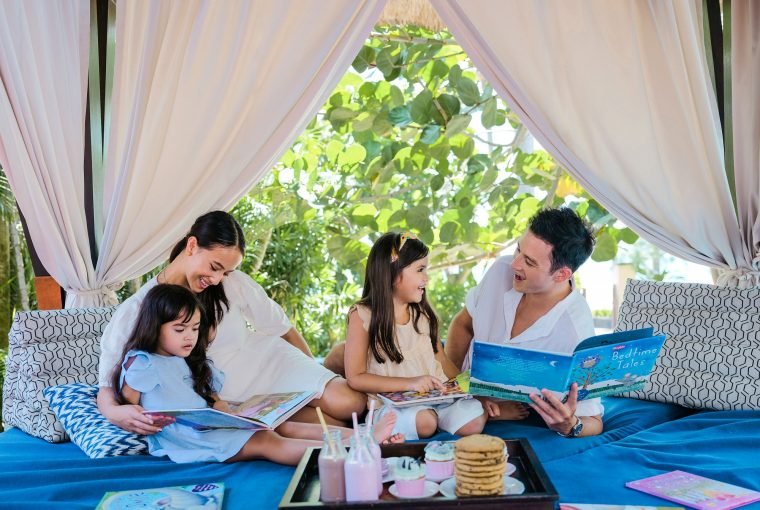 The St. Regis Bali is dedicated to crafting an exceptional stay for its youngest Luminaries. Just as the founding family, The Astors, reveled in their cherished traditions, the Family Traditions program offers tailored activities, enriching experiences, and meaningful amenities that will delight children and families. Together they create an atmosphere of wonderment, where children can flourish, every moment becomes a treasure, and every journey a new family tradition.
In the spirit of welcoming, engaging, and inspiring families, here at The St. Regis Bali Resort, they launch their signature rituals to life for children. Drawing on the rich heritage of "the" Mrs. Astor's era, each children's ritual is designed to delight, making St. Regis synonymous with fun for young travelers. Throughout the stay, The St. Regis Bali Resort is dedicated to providing families with the necessary amenities to ensure a comfortable and effortless stay.
The St. Regis Bali Resort
Kawasan Nusa Dua Bali
Website
Instagram
The Westin Resort Nusa Dua, Bali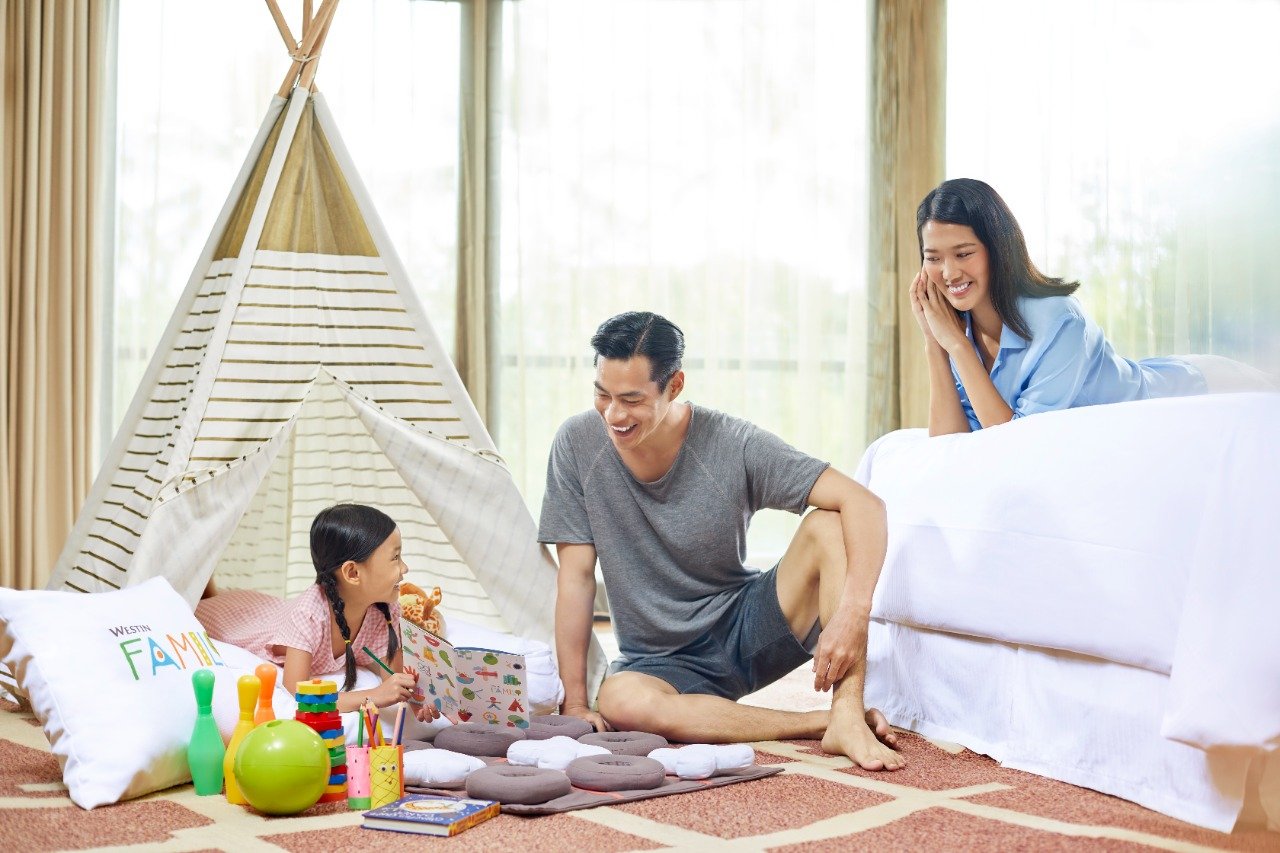 One of the most family-friendly resorts in Nusa Dua, The Westin Resort Nusa Dua is a place where families can be at their best and experience total renewal. The resort offers an assortment of complimentary facilities just for kids. The Westin Family Kids Club, the resort's hub for children, is a supervised center complete with games, toys, and enriching activities to give parents complete peace of mind. With a spacious outdoor playground, the resort's kid's club features fun activities such as face painting, kite making, fishing, movie night, stargazing, and much more to cater to children between the ages of 4 and 12. 
Other than playing and learning, kids are ensured to enjoy their time with the Discover Kids program's delicious and nutritious meals. Embodying our values as a family hotel, The Westin Resort Nusa Dua, Bali offers plenty of activities for the entire family to enjoy, from cycling tours around Nusa Dua, Balinese dance lessons, and water volleyball and fruit carving.
The Westin Resort Nusa Dua, Bali
ITDC Tourism Complex, Nusa Dua, Bali
Website
Instagram
Sofitel Bali Nusa Dua Beach Resort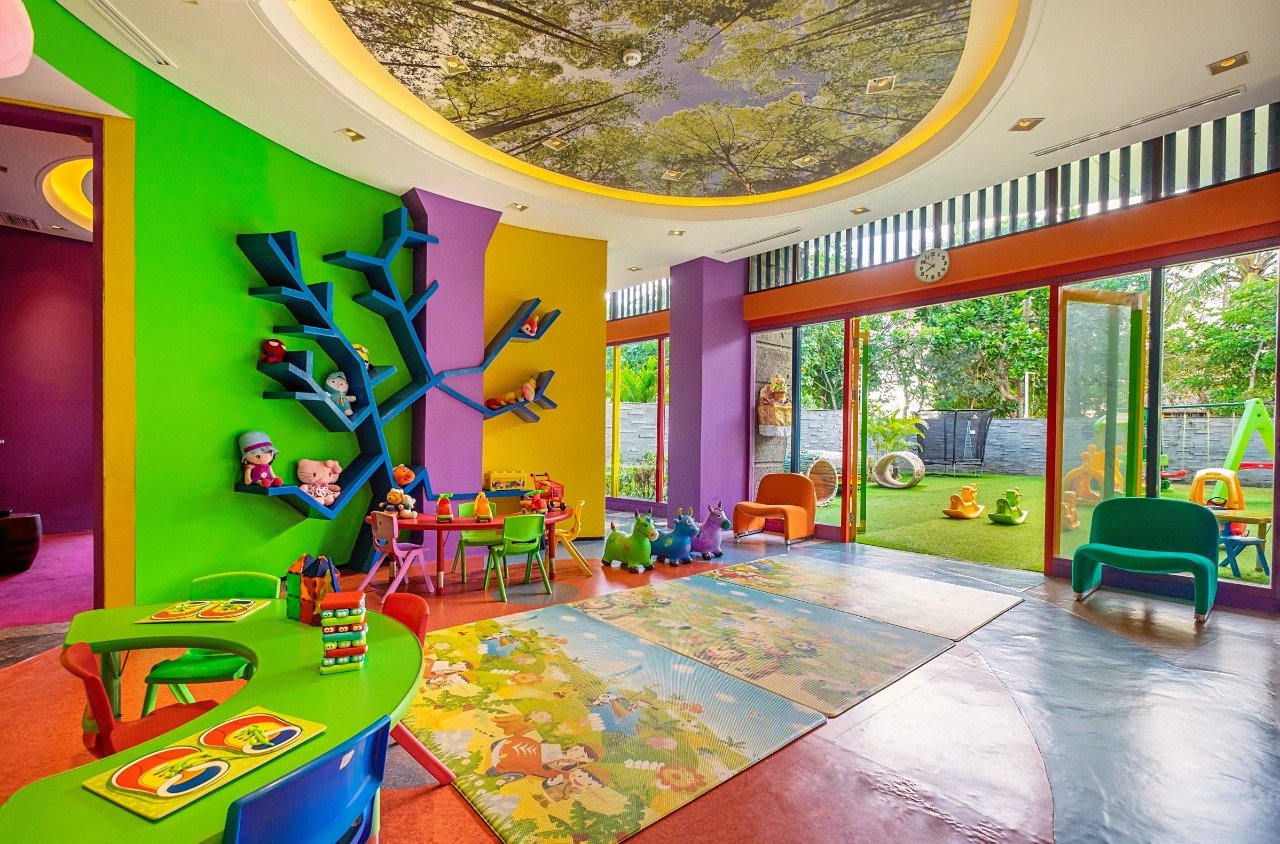 Enjoy a Magnifique Family holiday at Sofitel Bali Nusa Dua Beach Resort and enjoy 50% off on the second room for children.
Stay fit and chic while experiencing the various activities during your stay such as boot camp, yoga by the beach, and cycling around the ITDC area. Elevate the relaxation by the beach with a massage in the gazebo by SoSpa, while the little ones could have fun in the Kids Club.
The Sofitel Bali Nusa Dua Resort's Kids Club is a child's dream come true. This bright and colorful facility is located near the resort's tranquil beachfront, featuring an outdoor kids' pool, a reading area stocked with entertaining and educational books, and a variety of fun and games. Outdoor activities include gardening, learning Balinese culture through various activities, a series of Indonesian traditional games, yoga, gymnastics, and Zumba for kids. The fun continues with splashing around in the outdoor kids' pool, becoming a mermaid, and playing various beach games. Meanwhile, indoor activities include storytelling, reading, card games, face painting, and hand puppet paper making. The Kids Club is available every day from 9 am to 6 pm for children below 12 years old.
Sofitel Bali Nusa Dua Beach Resort
ITDC Tourism Complex, Nusa Dua, Bali
Phone: 0361 8492888
WhatsApp: + 62 811-3869-354
Website
Instagram
Bali Dynasty Resort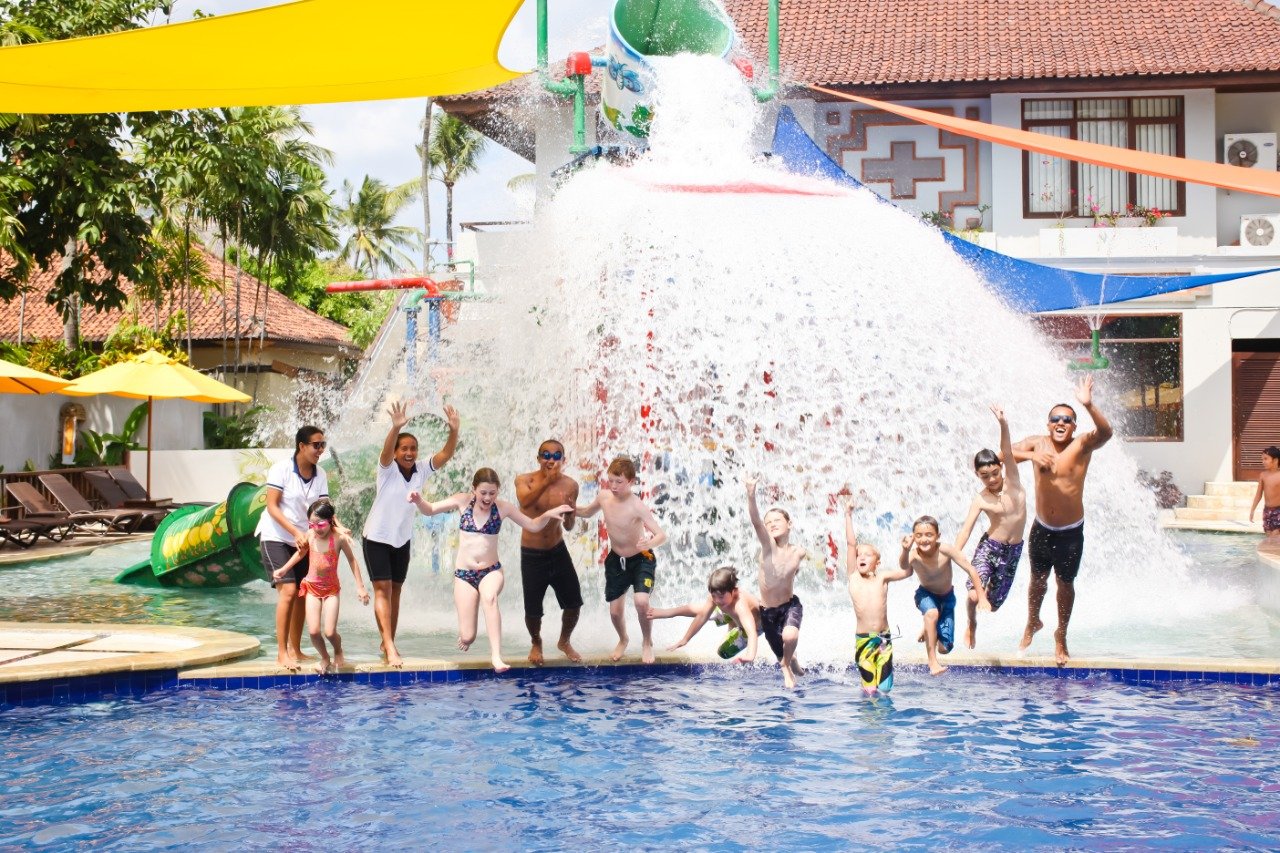 Bali Dynasty Resort has been around for quite a long time and has always been one of the go-to choices for family travelers. The resort's family room is spacious with ample beds for both children and parents. The resort's Kids' Club, The Kupu-Kupu Kiddies' Club is area is divided into two sections with the ground floor air-conditioned kids' club catering for ages 4-12 years, whilst the first floor is The Den Teens Club catering for those aged between 10 and 16. 
Recently these two areas undergo a major upgrade with the re-theming with a new Superhero and Disney theme, removing the mid-room partition to allow more space for the activities, replacing the toys and games, and introducing several kids' activities offering a balance of fun and education for the children. Both facilities are provided free of charge. The Den features Internet, Wii, Play station, X-Box, Movies, Pool, Table Tennis, and Table Soccer. The Den Teens Club's wall was also repainted with fun graffiti to give it a fresher look. Adjacent to the kids club is the Kids Water Fun Zone with its' giant tipping bucket, two mini waterslides, pull ropes, water curtain, tipping cone, bubbler jets, hose jets, water cannons, and tipping troughs enabling the kids to have hours of fun. To the north of the Kid's Pool is the baby pool with its mushroom water fountain and beyond that is the new kids' play area with swings, a climbing frame, a seesaw, slides, and table tennis.
Bali Dynasty Resort
Jl. Kartika Plaza, Bali
Website
Instagram
Padma Resort Legian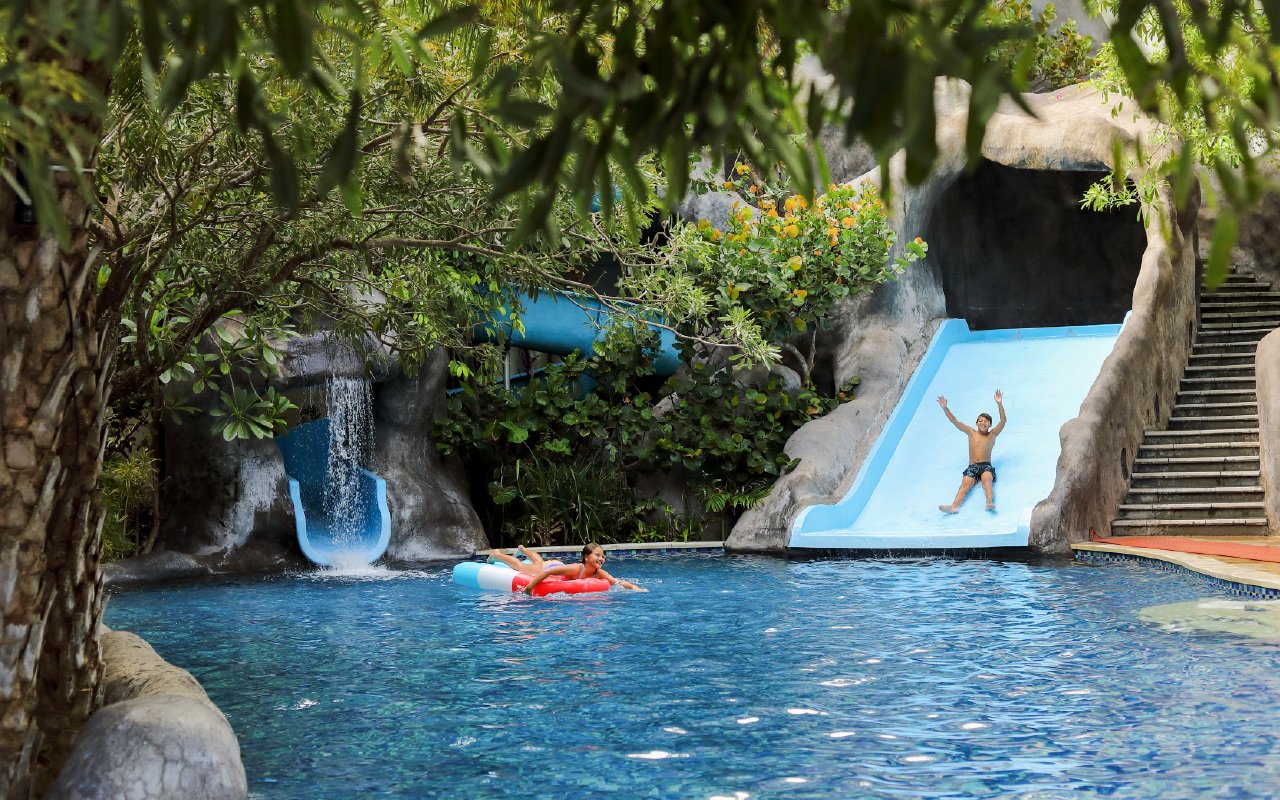 Located within walking distance from Kuta and Seminyak, Padma Resort Legian is perfect for your next family holiday. Their dedicated Family Block is complemented by a spacious family room (featuring a separate bed area for parents and bunk beds for children), a family pool with 3 water slides, a kids club, and a juice bar for children. The resort's Wolly Kids Club & Games Center provides supervised indoor and outdoor spaces to play, interact and relax perfect for children and parents, too. Their main breakfast venue at DONBIU featured a kid's area for families with children.
Padma Resort Legian
Jl. Padma No. 1, Bali
Website
Instagram
Holiday Inn Resort Bali Benoa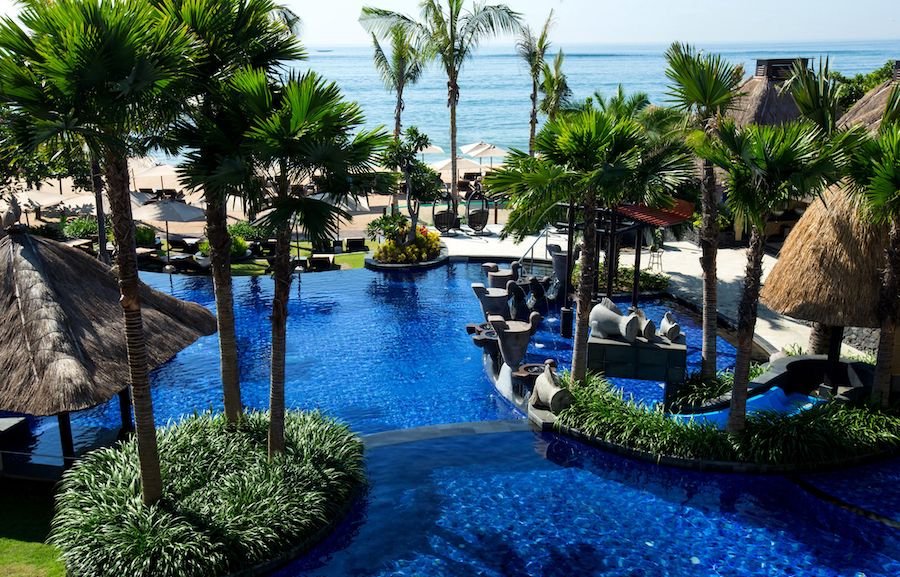 Located on Tanjung Benoa Beach – known for its water sports activities and white sand beach – Holiday Inn Resort Bali Benoa offers an exciting holiday for families and your children will enjoy their dedicated Kids Pool with waterslide, fountains, and tipping buckets. 
Apart from the location which offers a gorgeous view and stunning sunrise, Holiday inn Resort Bali Benoa treats kids as princes and princesses! That's right, here, KIDS STAY, PLAY & EAT FREE. Not to mention their Tanjung Kids Adventure and Tanjung Family Adventure suites which are super kid-friendly and equipped with a colorful and playful themed bedroom. These room categories are all parents' favorites since they can get their own little space.
This beachfront resort also features a kids club with super creative activities to keep your little ones entertained all day long. Sometimes, they won't leave the place! 4 Swimming pools are also at your disposal including one for your minis. 
Holiday Inn Resort Bali Benoa
Jl. Pratama, Tg. Benoa, Bali
Website
Instagram
Hyatt Regency Bali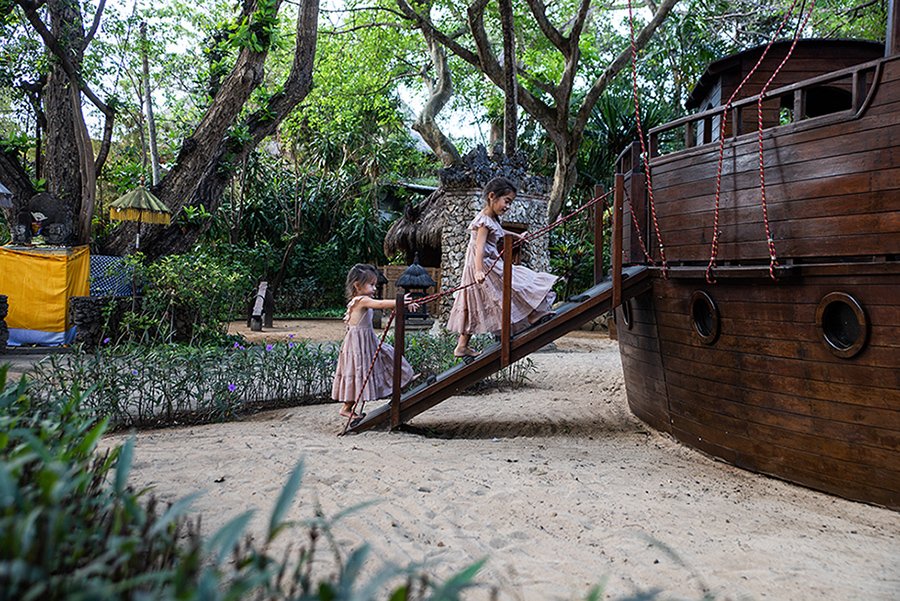 Hyatt Regency Bali in Sanur is a recently refurbished resort boasting 363 elegantly designed rooms, two restaurants, three swimming pools, and the Shankha Spa – a one-stop wellness destination amidst the resort's tropical garden. The resort is ideal for your family getaway with a dedicated Kids' Pool and mini waterslide, a pirate-themed Kids Club, a spacious garden for outdoor activities, a beachfront location, and authentic Balinese touch. Each of the rooms in the resort can accommodate up to 2 children under 12 years old. Your children can order from the regular menu at half price and a half portion, allowing them to have more options and not be restricted to the typical Kids' Menu.
Hyatt Regency Bali
Jl. Danau Tamblingan, Sanur, Bali
Website
Instagram
Mövenpick Resort & Spa Jimbaran Bali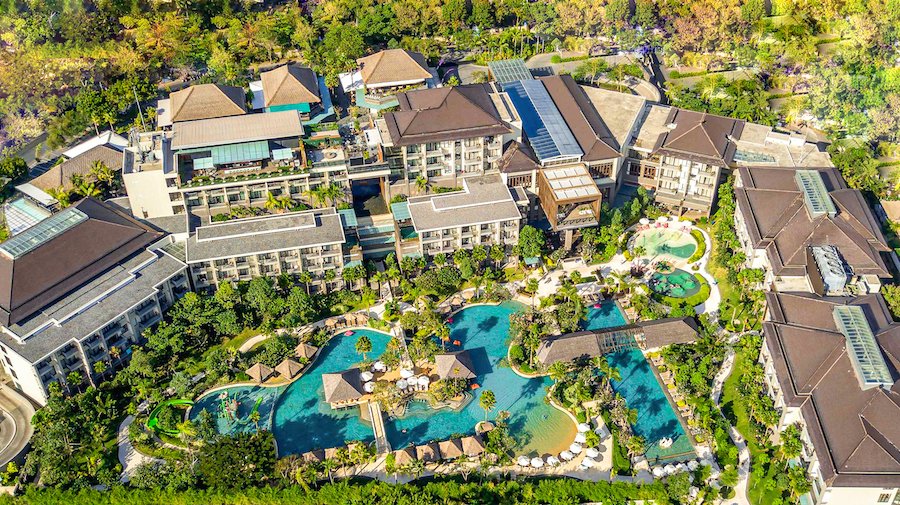 Movenpick Resort & Spa Jimbaran Bali is a family-friendly resort well-known for its free-form swimming pool featuring an artificial beach area and lap pool. A total of 2,500 sqm of pure water fun! With a dedicated area at the Front Desk, your children can participate in the check-in process, too! The resort's Meera Kids Club is a two-story area designed with a fun pirate theme. Suitable for toddlers and younger children, the first floor of the Kids Club is the center of activities and the second-floor area is designed with safety factors and perfect for teenagers, complete with bean bags and a game console. While children are having fun, parents can indulge in a relaxing massage at Arkipela Spa or enjoy Peruvian-inspired cuisine and signature cocktails at the resort's Above Eleven Bar.
Mövenpick Resort and Spa Bali
Jl. Wanagiri, Jimbaran, Bali
Website
Instagram
Renaissance Bali Uluwatu Resort & Spa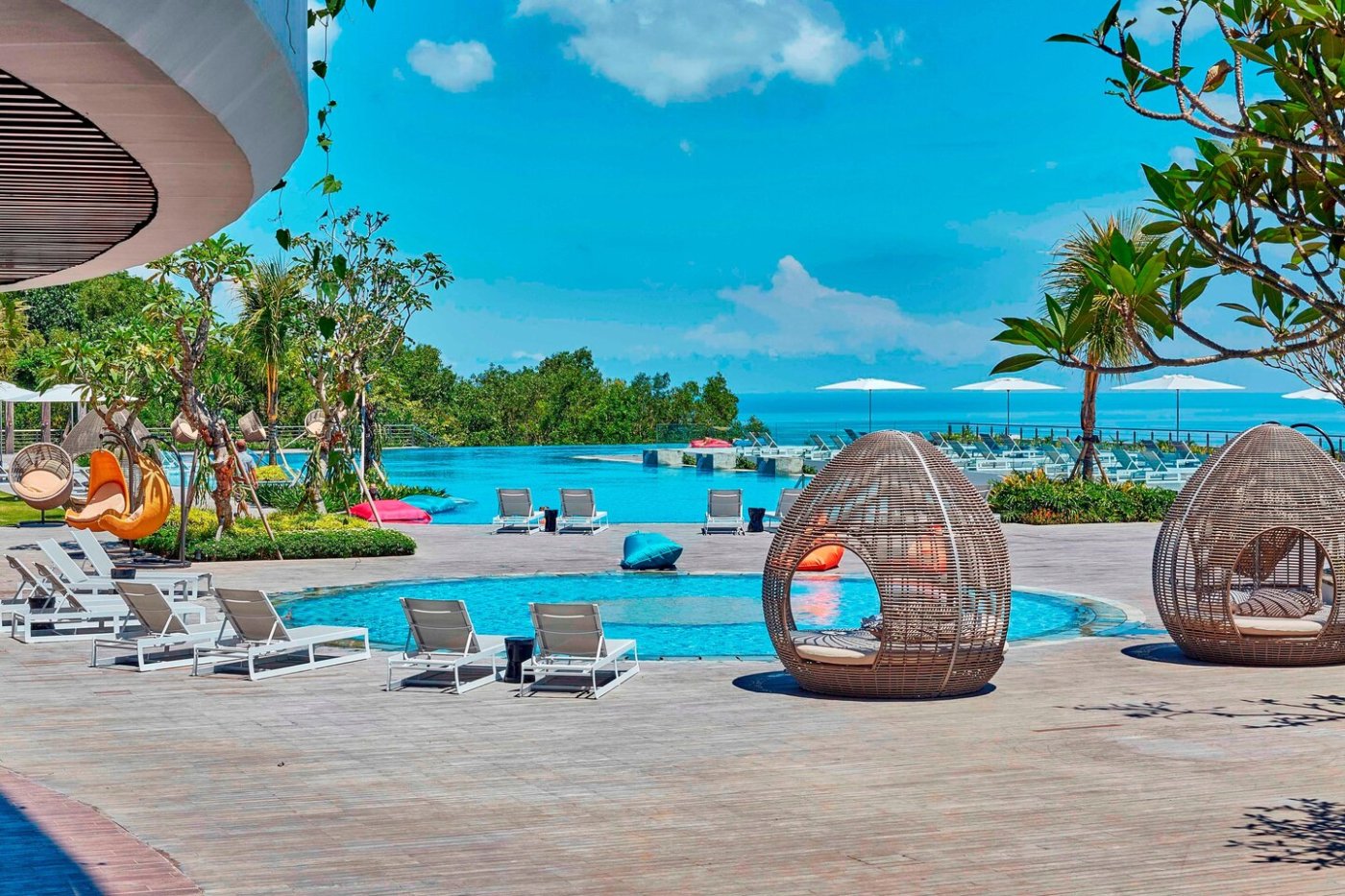 Surrounded by rugged cliffs and pristine beaches, an ocean lover's paradise, Renaissance Bali Uluwatu Resort & Spa is your next family holiday destination equipped with various activities for the whole family, such as Arts & Crafts, Painting, Pottery Forming. Children can enjoy a dedicated Kids Pool and a two-story Kids Club with a supervised play area. Spend quality family time and chill at the resort's Roosterfish Beach Club, enjoy the large pool, fresh food, great cocktails, and an amazing day out.
Renaissance Bali Uluwatu Resort & Spa
Jl. Pantai Balangan, Ungasan, Bali
Website
Instagram