Welcome to the Island of the Gods, where the sun, sand, and surf meet the ultimate professional haven: Bali's best co-working spaces! From the tranquil rice paddies of Ubud to the buzzing beaches of Canggu, this tropical paradise offers a plethora of options to bridge the gap between work and play. So whether you're a digital nomad, freelancer, or entrepreneur seeking a place to hustle and network, buckle up and get ready to dive into the top co-working spots that Bali has to offer.
Bali's Coolest Co-Working Spaces for Digital Nomads
Bali Bustle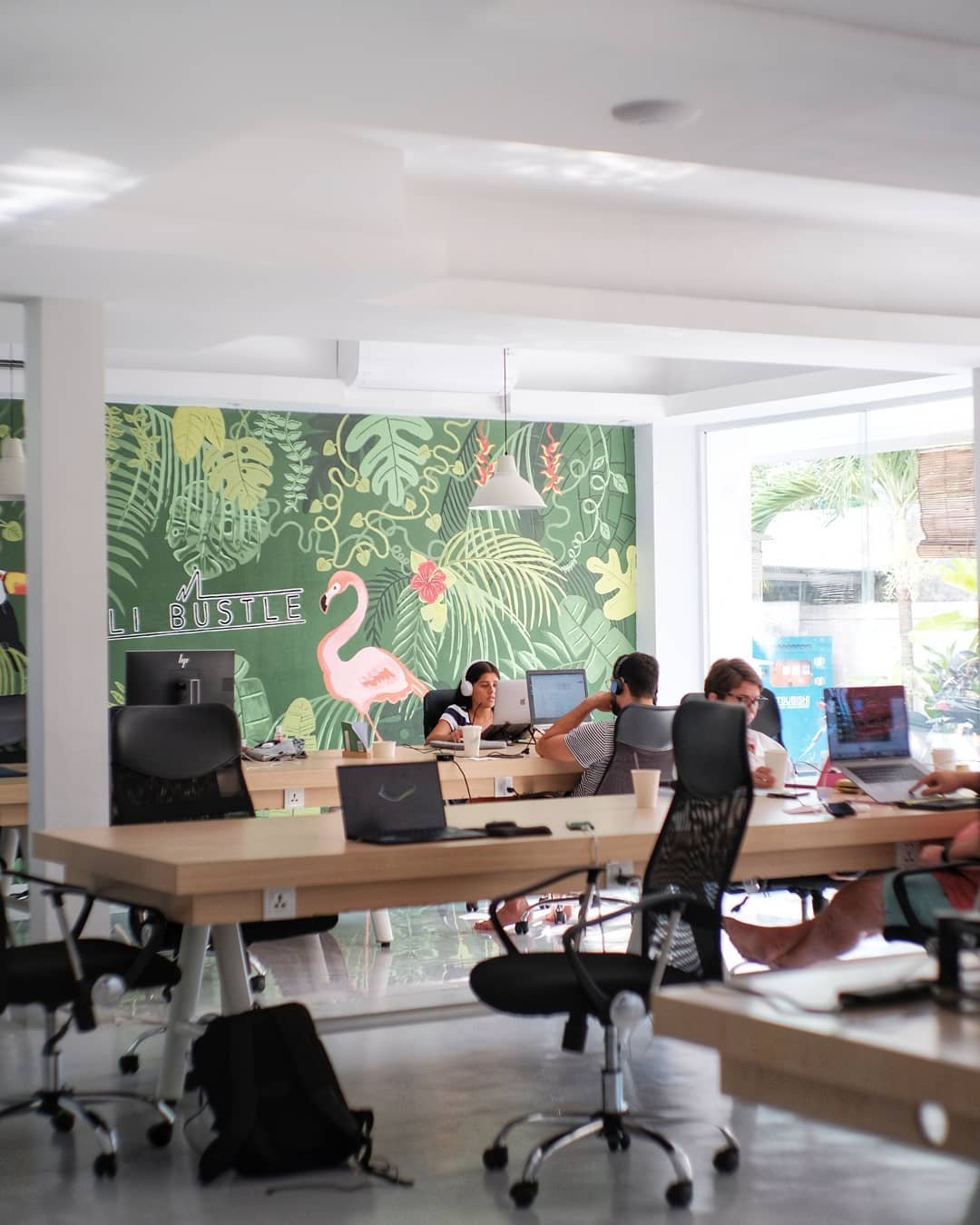 Enters the creative by communal den of Bali Bustle, the co-working space where you can channel your inner digital nomad and work like a boss! Started from one flagship establishment, now the coworking haven has expanded to two more locations in Sunset Road and Pararaton Street. Whether you want to focus in a bright office space, or relax with a latte in the café area, Bali Bustle has got you covered. And if you need to take a break, take a dip in the venue's cooling pool or hit the gym to get those creative juices flowing. Plus, if you need to Skype with clients or colleagues, there are plenty of private rooms available for use. And if you want to stay a little longer, why not check out their coliving options? With fully furnished studio rooms and lofts, you'll be living in style while staying productive. Embrace your minimalist side and join the Bali Bustle community today!
Jl. Dewi Sri II No.23, Legian, Kec. Kuta, Kabupaten Badung, Bali 80361
Phone: +62 878 6182 9035
Instagram
Colabo Cowork
Instagram @colabo.cafe

 
Looking for a coworking space that's big on community and creativity? Look no further than Colabo, Jimbaran's ultimate hub for go-getters! With both indoor and semi-outdoor workspaces, meeting rooms, Skype booths, and a café, you'll be surrounded by the lush green forest of Jimbaran while getting work done. And the best part? It's affordable! Colabo aims to provide a welcoming and productive environment for entrepreneurs, freelancers, remote workers, and start-ups alike. Plus, they host weekly yoga sessions, outdoor movie nights, and community debates on hot topics like single-use plastic. So come and collaborate with like-minded individuals, and watch your ideas come to life at Colabo!
Jl Karang Mas, Jimbaran 
Phone: +62 822 4197 0544
Website
Instagram
GoWork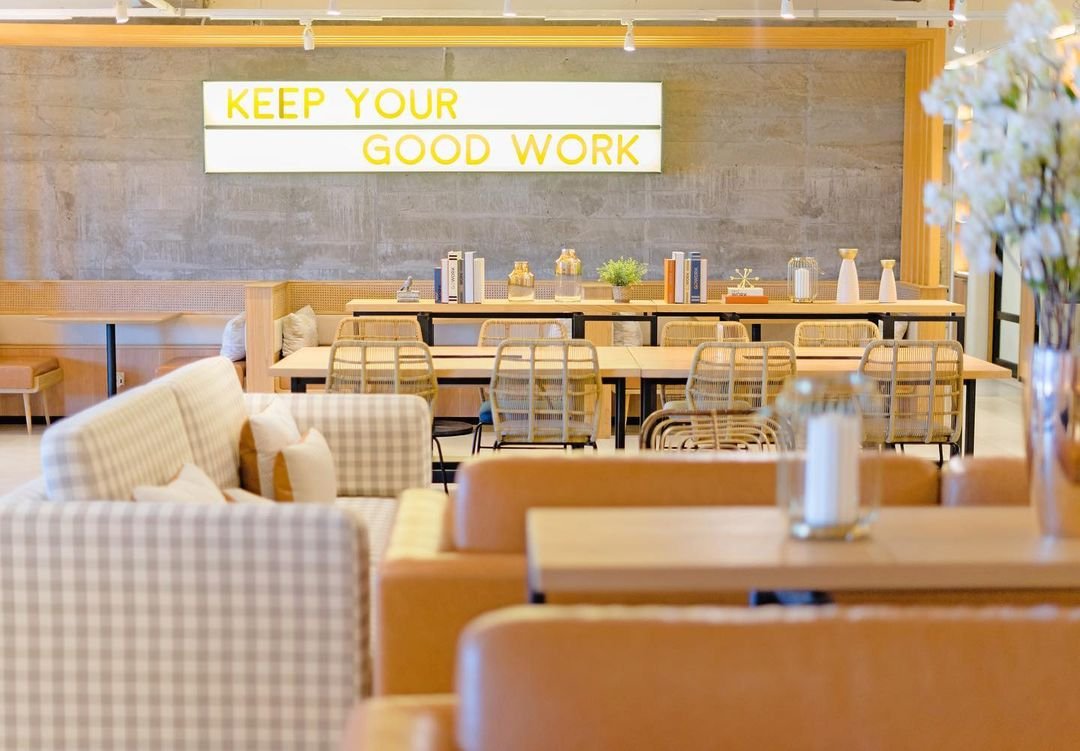 As one of the best co-working franchise in Indonesia, GoWork is on a mission to help you grow. With 25+ hubs across the archipelago, they certainly know a thing or two about providing creative, productive spaces that cater to today's independent, tech-savvy professionals. And their Bali branch is no exception. Nestled in the heart of Kuta, on the third floor of Park23 Mall, this co-work oasis boasts stunning workspaces bathed in natural light and decked out with all the mod cons you need to get your business booming. Hot desks, private offices, conference rooms, and lounges aplenty - they've got it all. And with a focus on spatial design, tech integration, and empowering content, it's the perfect place to tap into the evolving co-work scene in Southeast Asia. So why not give it a go? Your productivity (and sanity) will be grateful!
Park23 Bali Creative Hub, 3rd Floor, Jl. Kediri, Tuban, Kuta, Badung Regency, Bali 80361
Phone: +62 361 475 6825
Website
Instagram
Kinship Studio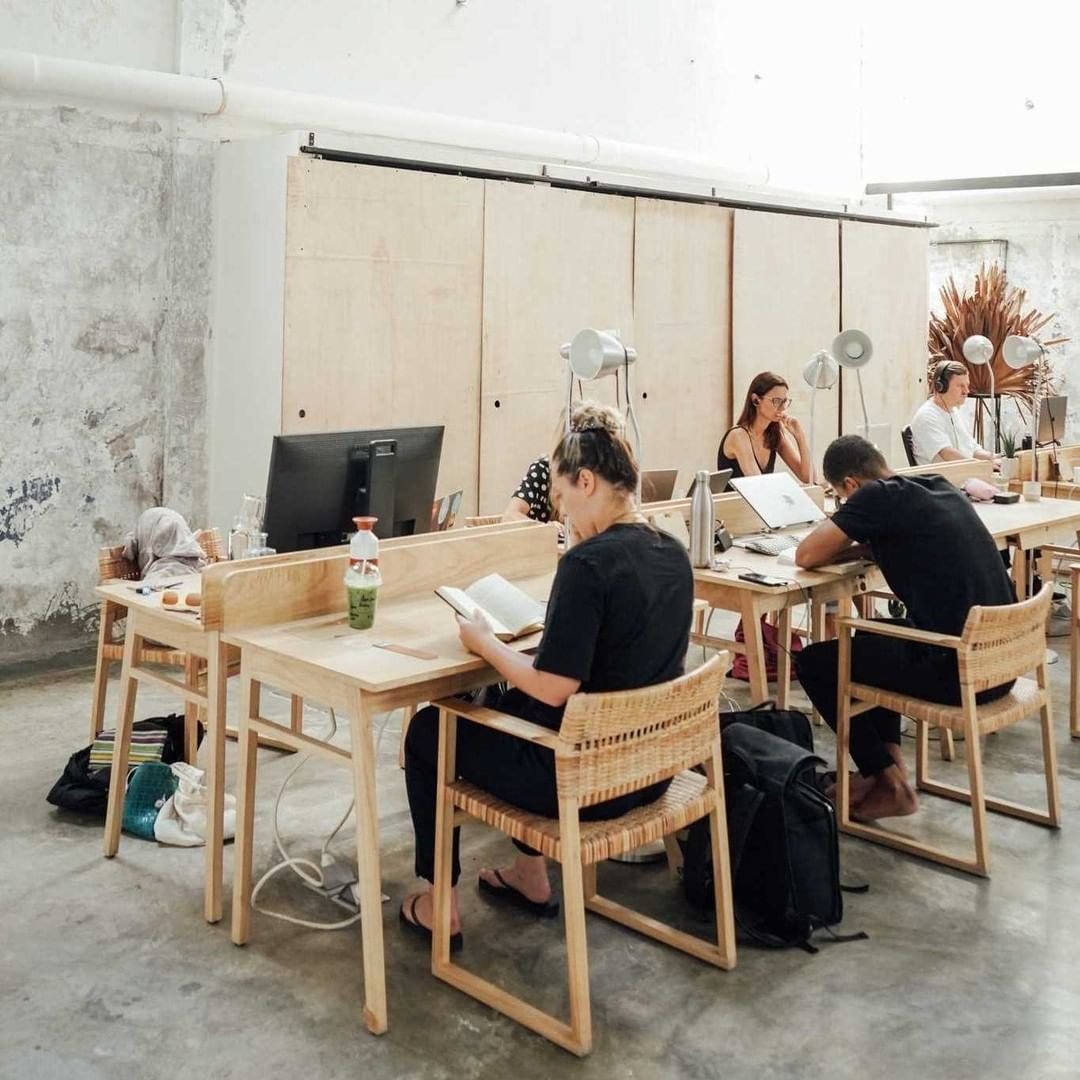 Welcome to Kinship Studio, where creativity and community come together in a one-of-a-kind coworking space in Bali. This multifaceted workspace is designed to inspire, with private studios and communal areas for artists, photographers, and digital nomads alike. Once a warehouse and ex-garment factory, Kinship Studio now offers a range of specialist photography studios complete with cyclorama walls and photography equipment for rent. Plus, you can participate in regular art classes, exhibitions, workshops, and skills-sharing events to keep your creativity juice flowing. With its vibrant community and unique atmosphere, Kinship Studio is the perfect place to nurture your creativity and connect with like-minded individuals. So come join the fun and let your imagination run wild!
Gg. Jalak VIB No.4, Tibubeneng, Kec. Kuta Utara, Kabupaten Badung, Bali 80361
Phone: +62 812 3866 2897
Website
Instagram
Livit Hub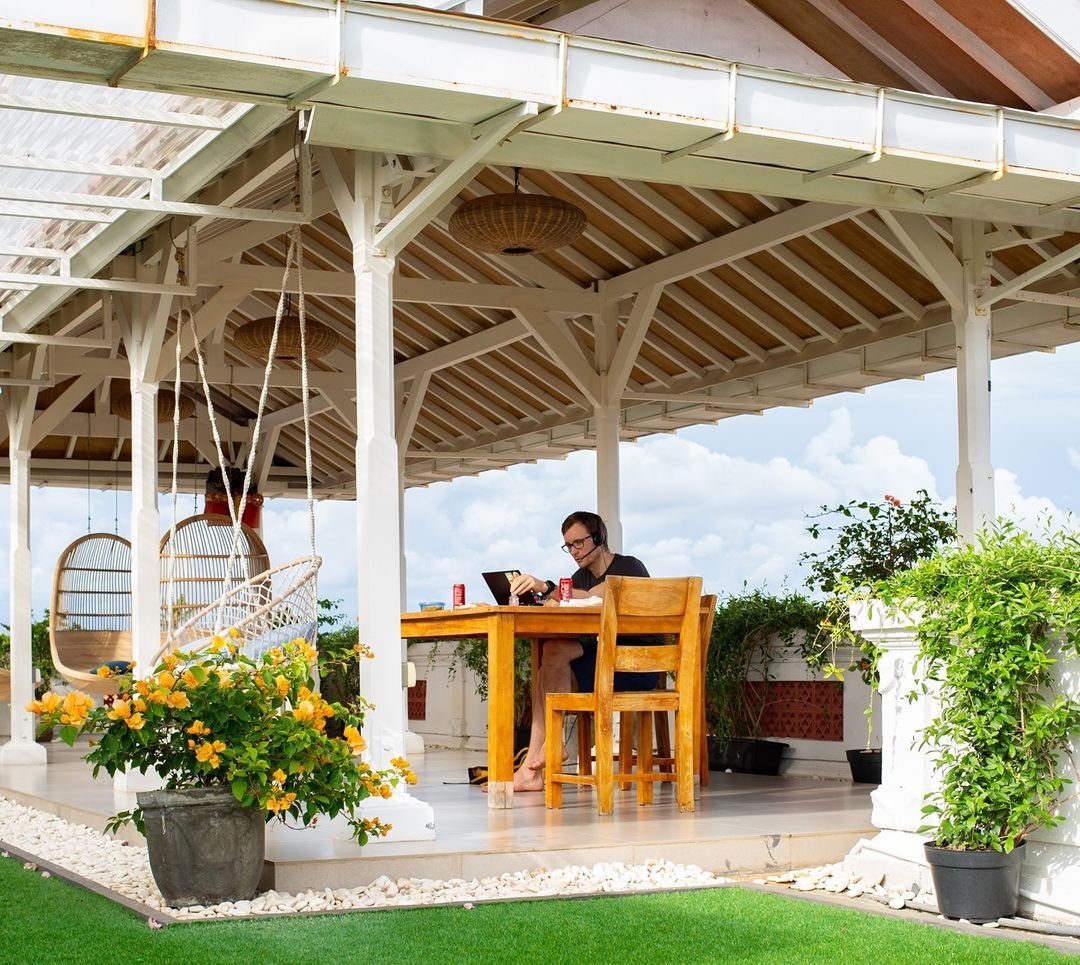 If you're tired of regular co-working spaces and want to add a touch of excitement to your workday, look no further than Livit in Bali's peaceful Sanur neighborhood. Boasting over a decade of experience supporting digital entrepreneurs and startups, Livit offers everything remote workers need to be productive, from video conference rooms to ergonomic chairs and standing tables. Livit is also known for its fun atmosphere for workers to stimulate their creativity. The venue also provides a playful space complete with bean bags, hammocks, and even a slide! When it's time to unwind, head up to the rooftop for some fresh air and to connect with like-minded individuals. Plus, the tranquil Sanur beach is just a stone's throw away, making it the perfect spot for lunch or a post-work stroll.
Jl. Bumi Ayu Gg. Pungut Sari No.6, Sanur, Denpasar Selatan, Kota Denpasar, Bali 80228
Phone: +62 361 286 158
Website
Instagram
TRIBAL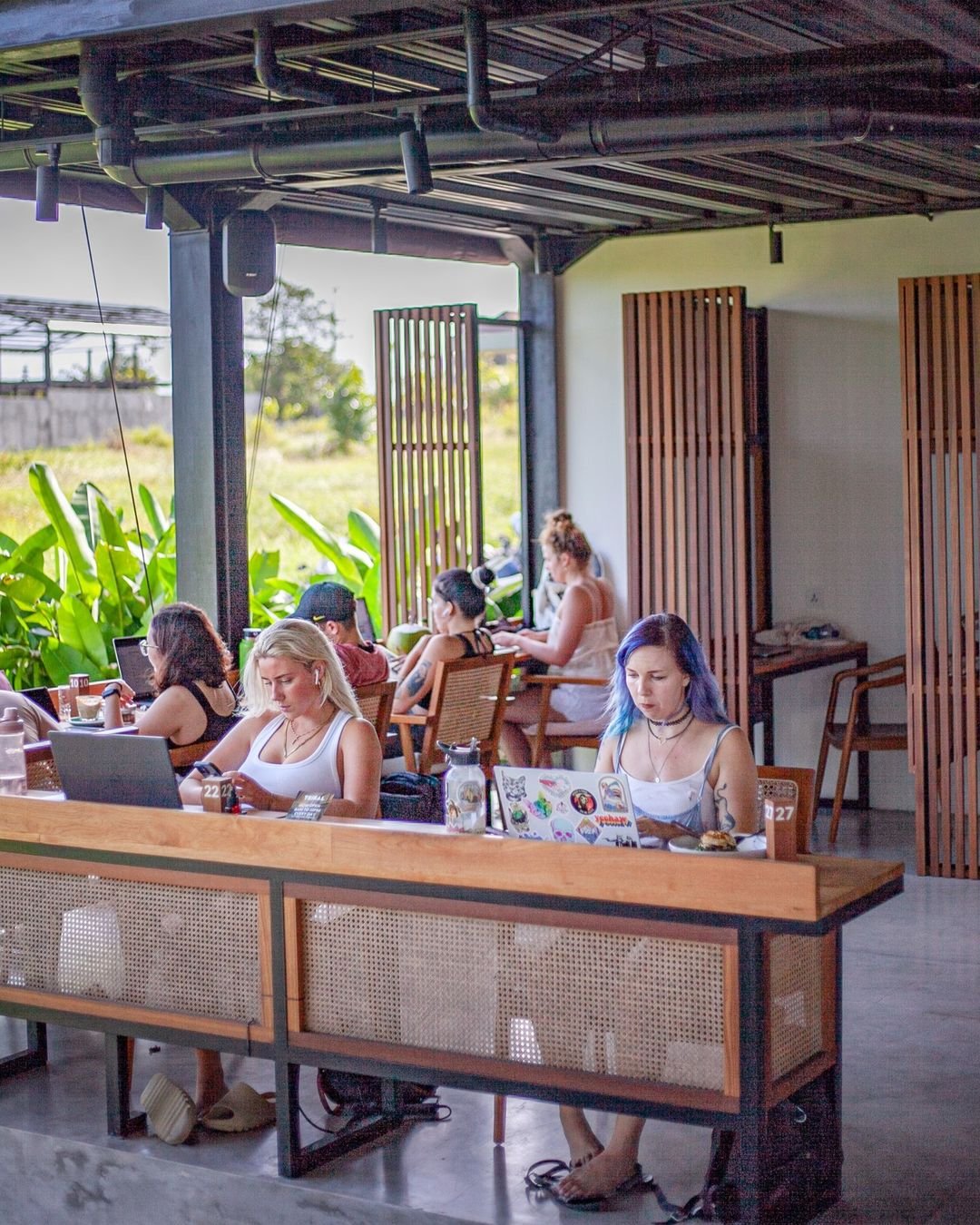 Established as Bali's very first purpose-built coworking hostel, TRIBAL is a vibrant hub where the creative, entrepreneurial, and adventurous come together to share their experiences, ideas and inspiration. TRIBAL offers a unique coworking space with no membership fees. With an open-plan layout, ample seating, standing desks, whiteboards, and booths, you can work in any way you want. When you need to recharge, take a dip in the massive infinity pool, play a game of pool on the pink table, or unwind at the bar with a signature TRIBAL Tonic cocktail. Come for the work, stay for the fun – TRIBAL has it all!
Gg. Tribal Jl. Pantai Pererenan, Pererenan, Kec. Mengwi, Kabupaten Badung, Bali 80351
Phone: +62 821 4791 4973
Instagram
Tropical Nomad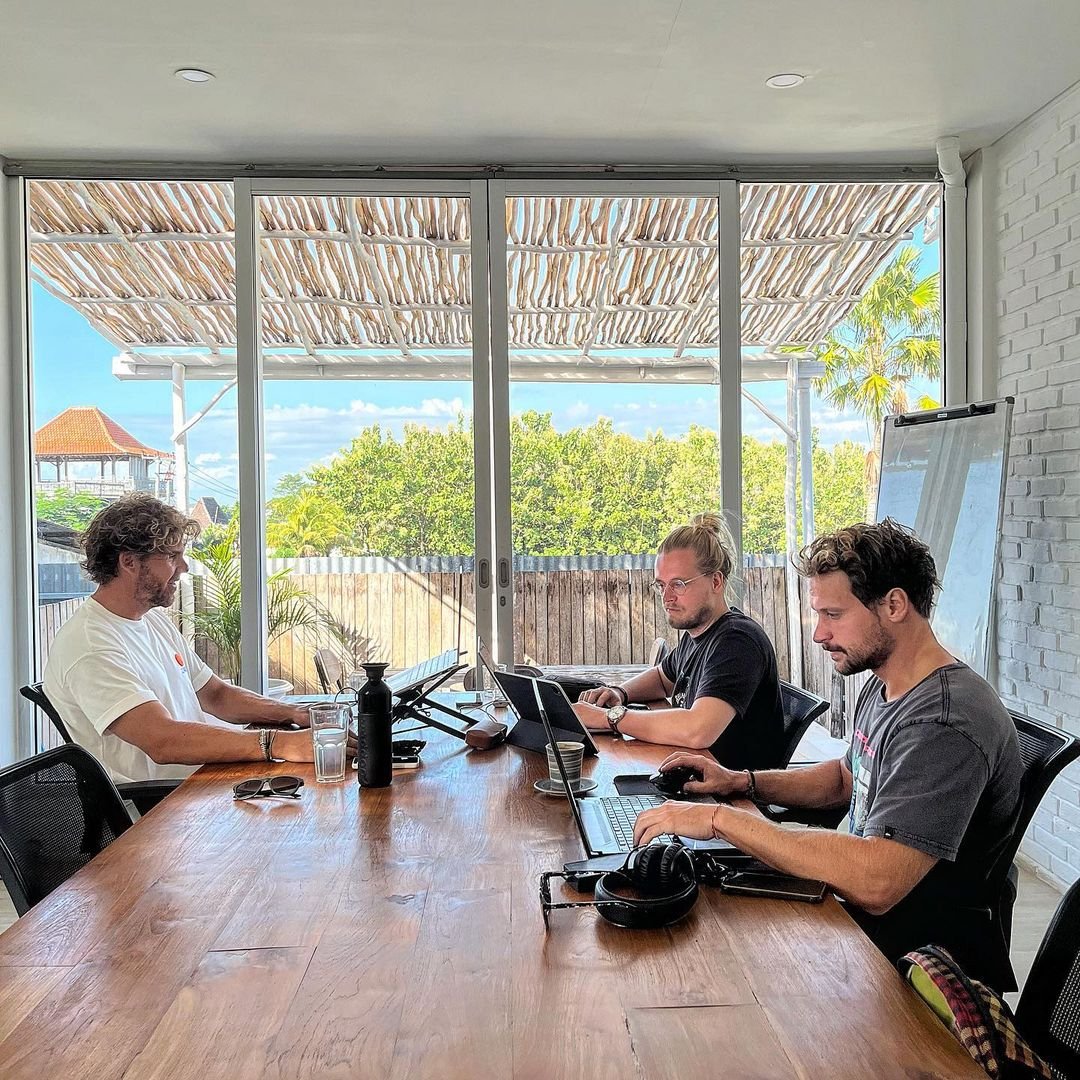 As you cruise through Canggu's shortcut, you can't miss the vibrant sight of Tropical Nomad. Surrounded by indoor palms and sipping on a long-black, freelancers and entrepreneurs alike gather in this white and spacious office that spans two floors. If you need a quieter space to work, head upstairs and take in the cool breeze on the balcony overlooking the rice fields. With office facilities like a meeting room, Skype booth, mail services, printer and scanner, you're all set to get things done. Choose from hourly, daily, or unlimited memberships, or opt for a dedicated desk space and make this your new work-home in Bali.
Jl. Subak Canggu No.2, Canggu, Kec. Kuta Utara, Kabupaten Badung, Bali 80361
Phone: +62 812 4692 6929
Website
Instagram
ZIN@Work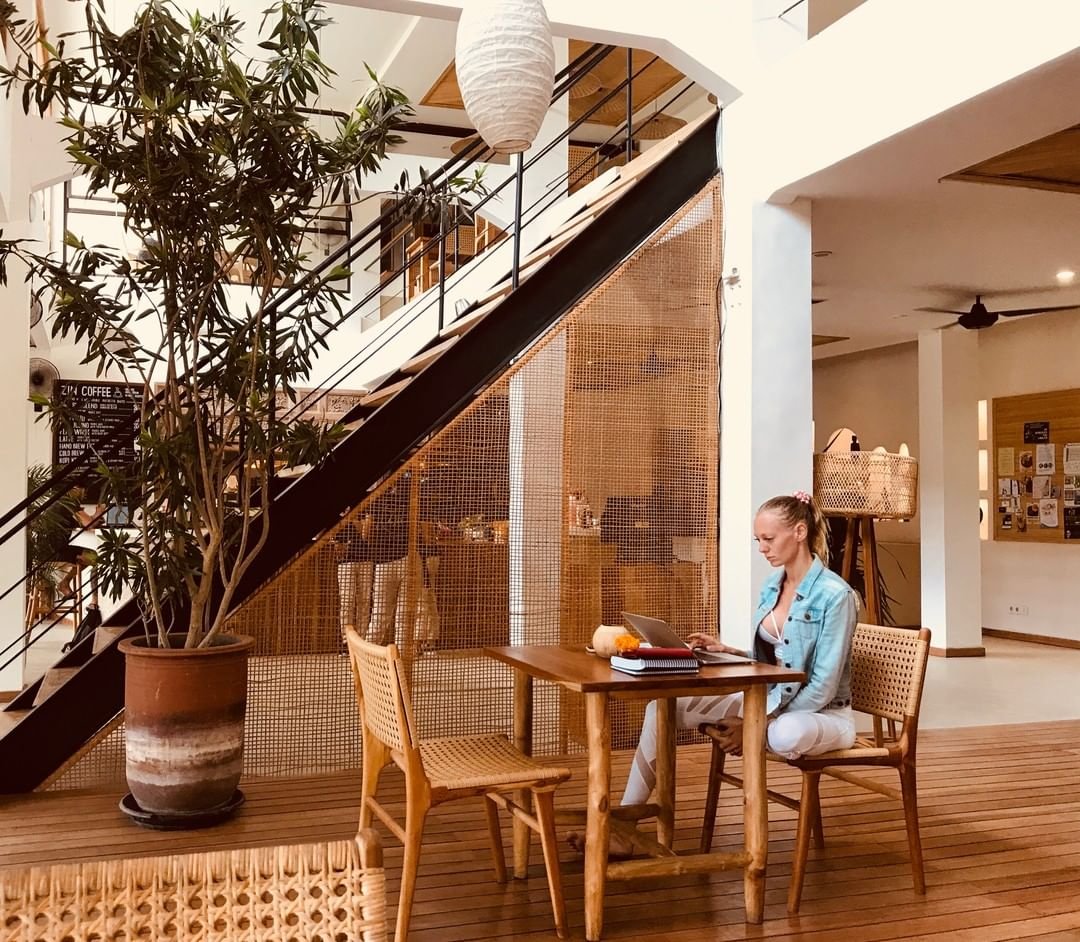 Escape the mundane and step into a stunning bamboo pavilion at ZIN@Work, an open-air co-working and meeting space that's both free and breezy. As a part of the hype 'World Of ZIN' compounds; a collection of hotel, spa, cafe and cowork space, this unique workspace boasts a fully air-conditioned 'focus room'; perfect for when you need to get things done quickly and conveniently. The all-bamboo structure was designed by master Balinese architects, fusing nature with sustainability and creativity. And since the aforementioned ZIN Cafe is just downstairs, you can refuel with great coffee, delicious food and fast internet whenever you need to. Discover a space where work and relaxation intertwine seamlessly at ZIN@Work.
Jl. Nelayan No.78F, Canggu, Kec. Kuta Utara, Kabupaten Badung, Bali
Phone: +62 811 3111 6647
Website
Instagram