Top Indonesian and International Schools in Bali for Expatriate and Indonesian children
Where to enroll your children for school in Bali
Bali, being a melting pot of culture, houses International school that exposes young minds to diversity and high standards of learning. Students of international schools learn how to adapt well and engage with school mates, and learn foreign languages without losing their own ability to speak their mother tongue. They also learn about other countries culture, whilst embracing what the island has to offer.
Many international schools in Bali have earned the reputation of providing the highest quality in education, flocking students for better career opportunities. We've shortlisted some of the most reputable campuses on the island:
Bali Island School
1,5 - 19 years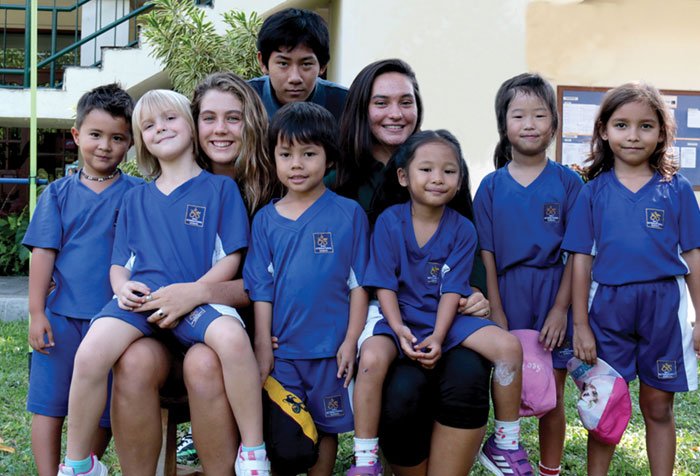 Bali Island School was founded in September 1985 to provide the highest standards in education to locals and expats alike. Formerly known as the Bali International School, Bali Island School is one of the few international schools on the island that offers International Baccalaureate (IB) Programmes for children aged 3 to 18 years old, a recognition awarded to the campus since 1998. The school is also accredited by The Council of International Schools CIS) and Western Association of Schools and Colleges (WASC).
Bali Island School aims to provide a stimulating, creative environment for students to learn and hone their skills. They offer a diverse selection of programs in the field of sports, the arts and other extra-curricular activities. These programs are designed to bring out the best in every child.
Address: Jl. Danau Buyan IV No.15, Sanur Kaja, Denpasar Selatan, Kota Denpasar, Bali 80227, Indonesi
Phone: +62 812-3669-8461
Visit https://baliinternationalschool.com/
Dyatmika School at Denpasar
1,5 - 19 years

Dyatmika School is the top bilingual school in Bali. The school provides innovative teaching methods to nurture young minds. Dyatmika School is accredited by the University of Cambridge International Examinations Board, employing exams and certifications that are recognized internationally.
As much as Dyatmika values education, the educators put emphasis on extracurricular activities as part of the campus' social and leadership training. As such, Dyatmika School offers fun activities in the field of sports, arts and more. The school offers national and international curricula promoting bilingual education.
Address: Banjar Tangtu, Jl. Pucuk Bang, Kesiman Kertalangu, Kec. Denpasar Tim., Kota Denpasar, Bali 80237, Indonesia
Phone: +62 361 461874
Gandhi Memorial Intercontinental School at Denpasar Bali
1,5 - 19 years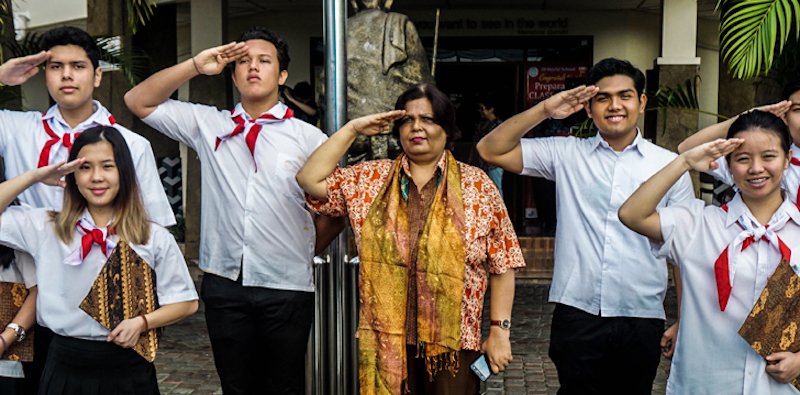 In a bid  to provide education to intelligent, loving, and broad-minded students, The Gandhi Memorial Intercontinental School, Bali educates children who want to contribute to a brighter tomorrow. The campus highlights diversity, and teaching children early on about respecting other people's culture, beliefs and religion.
Although the students are taught in English, GMIS also teaches Mandarin, Bahasa Indonesia, Hindi and French. Educators at the GMIS are committed to develop every child's skills and talents, to enhance their self-esteem, discipline and develop excellent social skills.
Address: Jl. Tukad Penet No.8A, Renon, Denpasar Selatan, Kota Denpasar, Bali 80235, Indonesia
Visit https://www.gandhibali.org/
Playschool at Parklife Bali
3 - 6 years old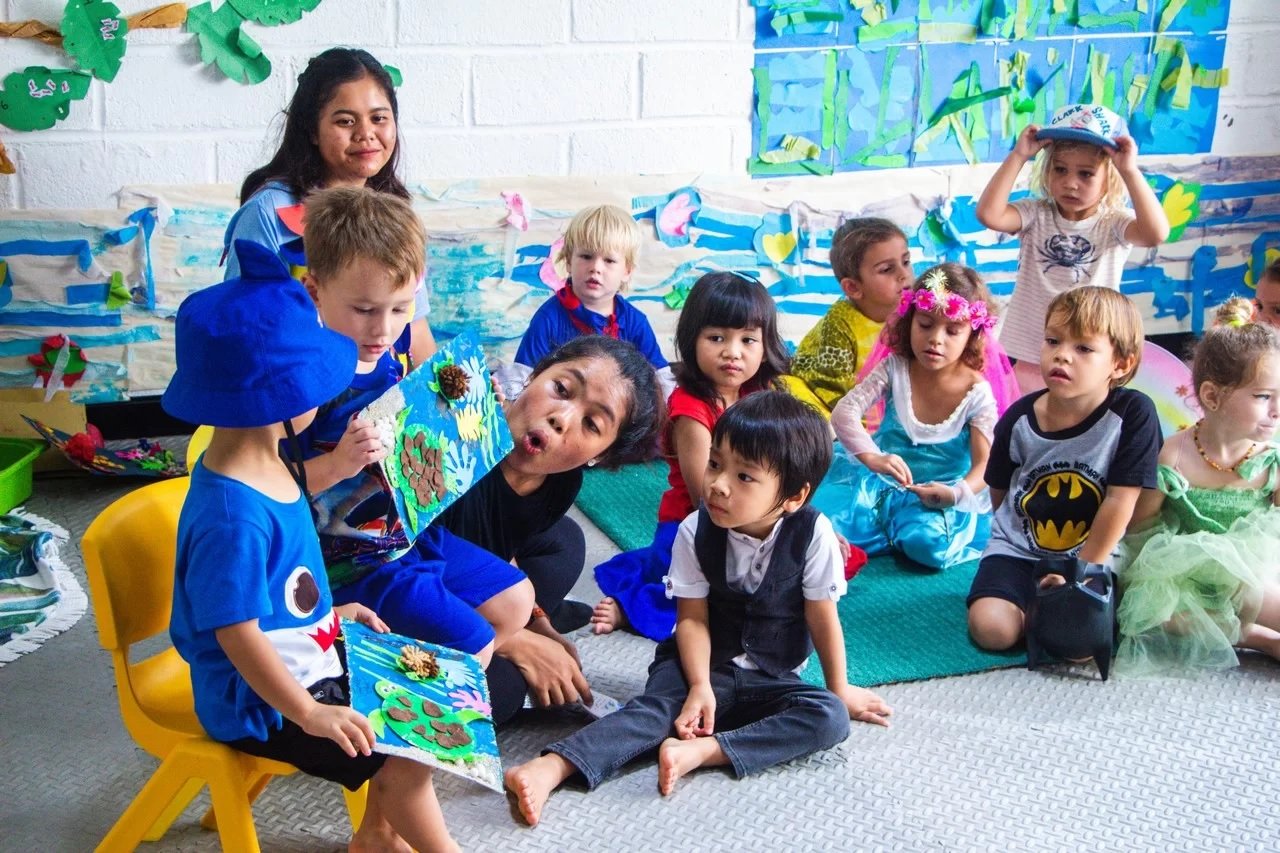 Playschool at Parklife Bali is a top-quality preschool in Bali that provides a play-based learning experience for children ages 3-4, 4-5, and 5-6. The school's focus on play-based learning helps children develop important skills like creativity, problem-solving, and communication in a fun and engaging way. Additionally, experienced teachers ensure that each child receives the support and attention they need to thrive.
Jl. Raya Uma Buluh No.15, Canggu, Kec. Kuta Utara, Kabupaten Badung, Bali 80361, Indonesia
Phone: +6281805113200
Visit https://www.playschoolbali.com/
Australian Independent School Indonesia ( AIS) BALI at Denpasar
1,5 - 19 years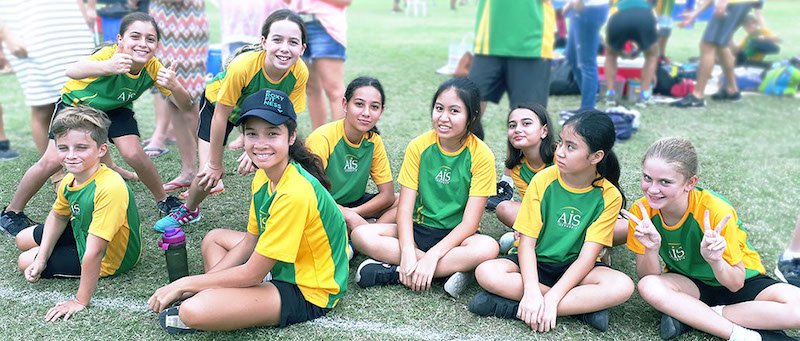 Australian Independent School Indonesia was founded in 1996 in response to a demand for inclusive education within the international schools in Indonesia.
Australian Independent School Indonesia, formerly the Australian International School-Indonesia, is a private international school that offers an Australian Curriculum pre-school and K-12 education located in three separate campuses in Indonesia.
Address: Jalan Imam Bonjol No.458a, Pemecutan, Denpasar Barat, Pemecutan Klod, Kec. Denpasar Bar., Kota Denpasar, Bali 80119, Indonesia
https://www.ais-indonesia.com/about-ais
Trihita Alam Eco School at Denpasar Selatan
1,5 - 6 years old
Trihita Alam Eco School is a playgroup through kindergarten private, secular and independent school located in Denpasar, Bali. Each child's potential is developed through a child-focused and play-based curriculum in a safe and caring environment. The team of teachers and staff at Trihita Alam Eco School is passionate and committed to inspire and equip your child for the future. The classes at Trihita Alam Eco School are Playgroup (18 months - 2.5 years), Pre-Kindergarten (2.5 - 4 years), Kindergarten 1 (4 - 5 years), and Kindergarten 2 (5 - 6 years).
Surrounded by rice paddies, the beautiful open-air classrooms are also accompanied by farm animals such as white pigeons, chickens, rabbits, and a fishpond to enhance the child's learning experience. Trihita Alam Eco School accepts enrollment, free-trial class, or visitations. 
Trihita Alam Eco School Bali
Address : Jl. Tukad Badung XXV No. 80-88, Sidakarya, Denpasar Selatan, Bali 80226
Website : http://trihitaalam.com/en_US/
Facebook  Instagram
Email [email protected] Call us at +62 812 3880 2767
DOREMI School at Denpasar
2 - 19 years old
Founded in 1997, the Doremi Foundation is an independent, non-profit institution, serving students from Playgroup (2 year olds) to Grade 12. Doremi Preschool and Doremi Excellent School (DES) enroll a diverse student body of approximately 275 students representing seven different nationalities. DES offers a Cambridge International Curriculum for its students, i.e. Primary (6-11-year-olds), Lower Secondary (11-14-year-olds), Upper Secondary (14-16-year-olds), and Advanced (16-19-year-olds). DES is fully accredited by the Satuan Pendidikan Kerjasama (the Collaborative 'International' Educational Unit) division of the Indonesian Minister of Education.
Doremi School
Address :  Jl. Tukad Badung 88, Renon, Denpasar
Email :      [email protected]
Website : https://doremischools.sch.id/
Montessori School Bali at Kuta Bali
1,5 - 6 years old

Opened in 1998 as a preschool, Montessori School Bali has established to now offering programs for children aged 2 months all the way through to high school.
Educators at MSB are trained through the Association Montessori Internationale, and offer a true Montessori education, allowing children to find their passion to develop meaningful skills and connect with humanity and the earth. Interested parents are welcome to observe the classes so they can see how Montessori classrooms differ from traditional ones.
Address: Jl. Raya Semat No.66, Tibubeneng, Kec. Kuta Utara, Kabupaten Badung, Bali 80361, Indonesia
Visit https://montessoribali.com/
Sunrise School Bali at Kerobokan

As one of the top international schools in Bali, Sunrise provides a high-quality full-service arts program with unique opportunities for all children. Sunrise School offers a wide range of education options that focus on culture appreciation and artistic expression. Students learn creative ways to express their inner self through activities such as pottery and clothing design. Courses are available for modern interests including computer technology and language labs.
Yoga classes are taught once a week with mediation sessions daily as well as weekly classes for global living value lessons and gardening activities, art programs like theater, music, Balinese dance, and traditional Indonesian martial arts, Silat.
Address: Jalan Merthasari Banjar Pengubengan Kauh, Kerobokan, Kerobokan Kelod, Kuta Utara, Badung Regency, Bali 80361, Indonesia
Visit http://www.sunriseschoolbali.com/
Umalas Kids Club 
1,5 - 6 years old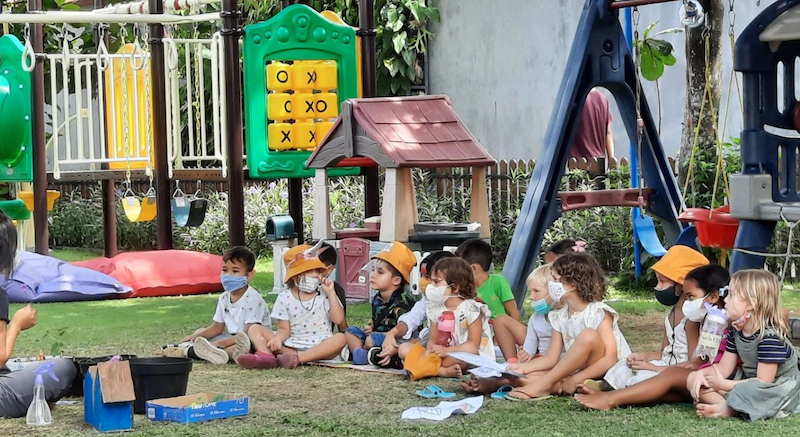 Daycare, early learning centre and preschool welcome children from 6 months to 6 years old
Address: Jl. Umalas Lestari No.28, Kerobokan, Kec. Kuta Utara, Kabupaten Badung, Bali 80361, Indonesia
Phone: +62 819-3629-1040
Visit https://umalaskidsclub.com/
Canggu Community School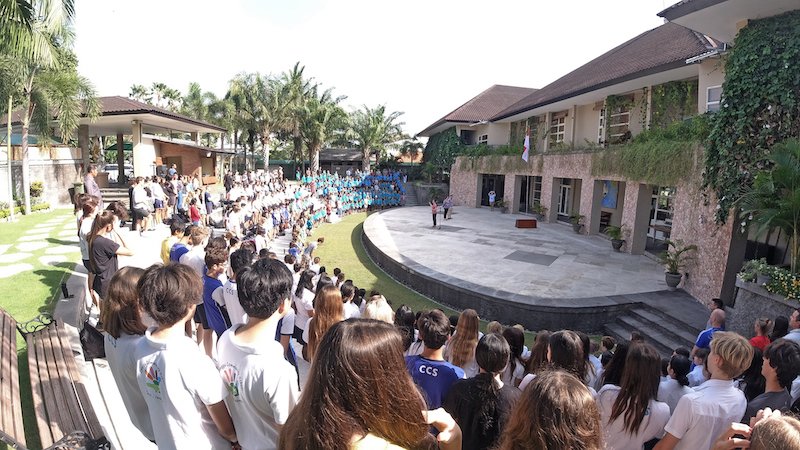 Canggu Community School is a non-profit coeducational school enrolling students from Early Years to Year 13. Students in Year 7-9 complete a school-developed, holistic curriculum. Students in Year 10-11 complete the International General Certificate of Secondary Education. CCS offers the International Baccalaureate Diploma Programme for Year 12 and Year 13 students. For the 2019-2020 academic year, CCS enrolls approximately 539 students from over 36 countries.
Visit http://ccsbali.com/
Green School Bali at Banjar Saren
1,5 - 19 years old

Green School Bali is one of the leading student-centered learning institutions in the island. The curriculum is based on holistic practices, nurturing every student with lessons that will enrich their lives. The school's mission is to help every child become a conscientious, critical thinker committed to contributing to the community and the world.
Green School Bali curriculum combines the highest level of education expected from an international school with experimental hands-on learning within a Green Studies curriculum and a Creative Arts curriculum. After all, Green School Bali students are being groomed to be the leaders of the future. aiming to inspire sustainability in education in the world, setting the bar high to green habits among the youth.
Address: Jl. Raya Sibang Kaja, Banjar Saren, Sibang Kaja, Kec. Abiansemal, Kabupaten Badung, Bali 80352, Indonesia
https://www.greenschool.org/bali/
Alam Kidz School Bali at Ketewel Sukawati 
1,5 - 6 years old
Alam Kidz School Bali was founded in 2016 and has now become an established part of the local community in Gianyar, Bali. Its three founders are passionate about education and learning with a holistic , sustainable, community integrated approach. The school sought out and recruited teachers for their ability and understanding on how to educate children through structured, fun based activities.The curriculum of the school is based on the indonesian national curriculum K13 and the Holistic curriculum. Alam Kidz has blended the two and created its own signature curriculum.
ADDRESS : Jl. Pura Dalem Ketewel, Ketewel, Kec. Sukawati, Kabupaten Gianyar, Bali
Asian Intercultural School Bali at Jimbaran
1,5 - 19 years old
Asian Intercultural School is the newest branch of the Taman Mahatma Group of Institutions in Indonesia. The Ahimsa International Foundation established the school in 2007, promoting the Gandhian principles of 'ahimsa' which means non-violence, truth, peace, prosperity, and humanity.
The school offers Cambridge International Curriculum for all levels of primary and senior secondary levels. This means the students have the opportunity to receive internationally recognized certificates, because they are required to take globally accepted exams.
Address: Perumahan Puri Gading, Jl. Puri Gading No.Raya, Jimbaran, Kec. Kuta Sel., Kabupaten Badung, Bali 80361, Indonesia
Phone: +62 361 704030
Visit https://www.aisb.sch.id/
The Anak Atelier at Ungasan Bali
1,5 - 6 years old
The Anak Atelier is an early learning centre in Bali that caters to families with children aged 18 months to 6 years. Our programmes include toddler, preschool, kindergarten and prep classes, short-term childcare for visiting families, and a range of sports, dance and creative activities for children after school.
Address: Jl. Pantai Balangan, Ungasan, Kec. Kuta Sel., Kabupaten Badung, Bali 80361, Indonesia
Phone: +62 361 8498059
Visit http://theanakatelier.com/
Best Preschool and Kindergarden in Bali