Best Day Trips in Bali. It's vacation time again. You earned 14 days paid time off and you're now carefully planning a long-anticipated 10 day holiday in Bali. That leaves 4 days of rest once you return home, just enough time to get rid of any jetlag before heading back to work. The average vacation is just too short! In Fact, according to a survey conducted by Expedia, New Zealand, Australia Japan, India, and most European countries all average roughly 20-30 days of paid vacation per year. And the United States only took an average of 14 days of paid vacation which is a lot less than most other developed countries. Planning a trip can both be stressful and a job itself and while there's plenty to do in Bali. From lazy days on the Gili Islands to surfing on your honeymoon in Lombok, there are so many options. Check out these top favorite day-trips to islands close to Bali and save yourself some precious time.
The Gili Islands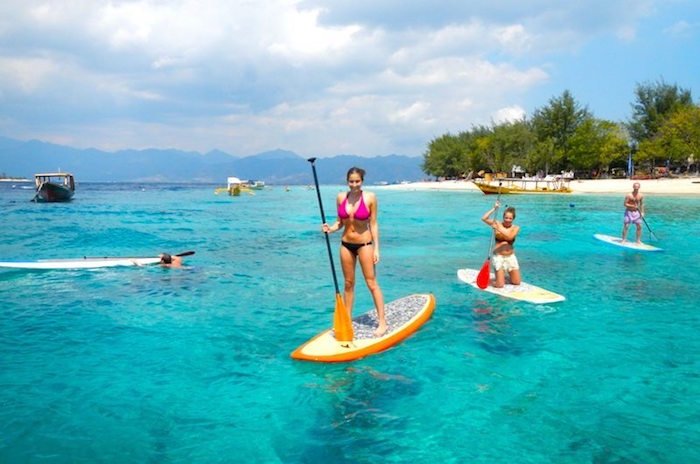 If you ever envisioned paradise on your lunch break, this is it. White sandy beaches, coconut trees, floating on a raft with a tropical cocktail in your hand while floating out in a clear turquoise blue sea. This is what you've been waiting for after all those months of hard work. There are no cars on all 3 islands there's a great variety of accommodation on all 3 Gili islands with some quality hostels, bungalows, homestays, and hotels.
Gili Trawangan– The party island that only takes the average beach walker 2 hrs to walk the island's circumference. But not to worry if you're not a party guy or gal. The further away from boat landing strips the quitter it gets. The northern part of the island is better for snorkeling and the partying isn't too overbearing for the moderate family. This is known as the most social island, great if you are a solo traveler.
Gili Meno– The fantasy island for couples. This is a great place for honeymooners and relaxation. This island definitely has less partying and backpackers. You can find diving schools and plenty of snorkeling spots. The west side of the island is even more secluded, an abundance of beaches, and spectacular views
Gili Air– local chillout vibes that of Canggu but without all the traffic. This place has a bit of Gili T, and Gili M blended all into a great island to hang out at.
Getting to the Gili Islands:
There are 8 different ferry companies, fast boats, private charters, public boats, planes, and even helicopters that will take you from Bali to the Gili Islands – it takes anywhere from 1 hr to 3 hours depending on which 15 different routes you choose from. If you are looking for the fastest, quickest, and safest way, take a 40-minute flight from DPS to LOP. You can find promo tickets for under $20 each way. On top of that, you can take some really nice areal photos while flying over the Gili Islands. Skip all the speed boats until you get to Gili because the ride from Bali to Gili can get bumpy.
Lombok
This un-spoiled Bali is a popular destination for tourists and honeymooners who want to relax in an inexpensive, tropical, un-crowded atmosphere. Lombok has a laidback vibe and everything slows down for visitors who want to unwind from their stressed their daily lives. There are amazing waterfalls, hiking trails in Mount Rinjani and plenty to explore near the south coast in Kuta Lombok. Some of the best goofy-footer surf (left-handers) is in Lombok without the big crowds.
Getting to Lombok: 
Just fly for $30 USD or less for the roundtrip. 20-minute flight. Any other way will take too long.
The "Nusa" Islands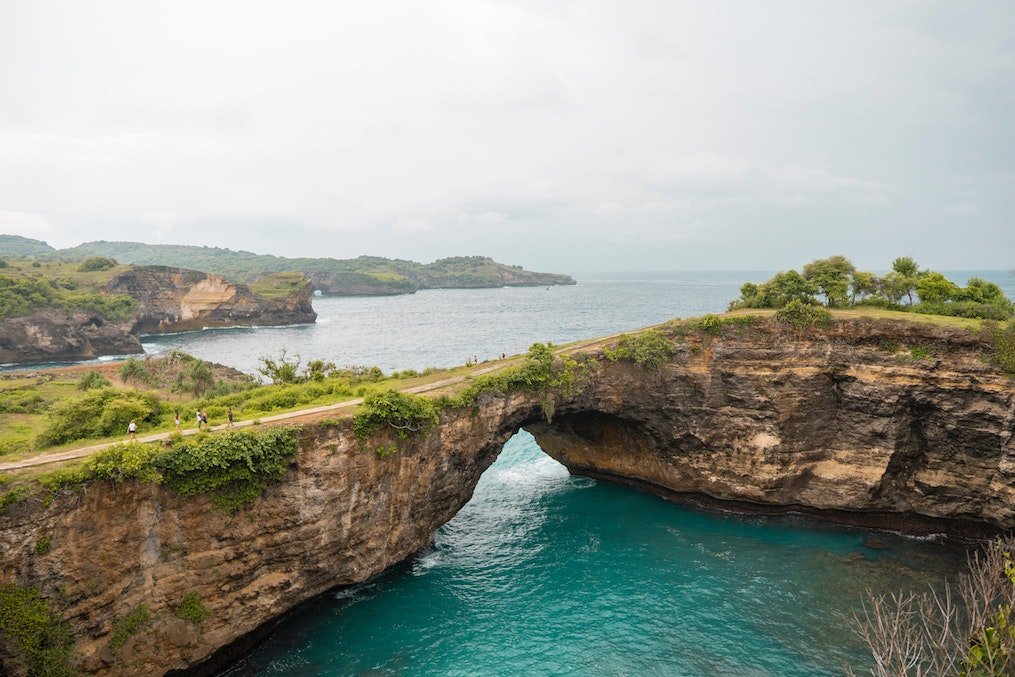 Photo: Alfiano Sutianto
Some of the most photogenic sights just outside of Bali and easiest Islands near Bali to Visit. Visiting one of these three islands can be done in one day but not all 3. One day per Island is doable. There is very little tourist infrastructure on all 3 islands.
Nusa Penida– The most famous island and home to Friends Of the National Parks Foundation which built a sanctuary for endangered birds including the Bali Starling. There are great dive sites all around the island where you should expect to see an array of colorful fish, sunfish, and manta rays. 
Nusa Lembongan– Favorite budget island for backpackers and surfers. (Jungut Batu) In addition to an abundance of beaches, Nusa Lembongan is home to mangrove forests, seaweed farms, and the Hindu Puncak Sari Temple.
Nusa Ceningan –Accessible by a yellow bridge from two neighboring isles, Nusa Ceningan is small but has lots of character in which adventurous travelers love to explore.
Getting to the Nusa Islands:
Just a 40-minute fast boat ride from Sanur Bali. Leave in the morning and come back in the afternoon.
Komodo National Park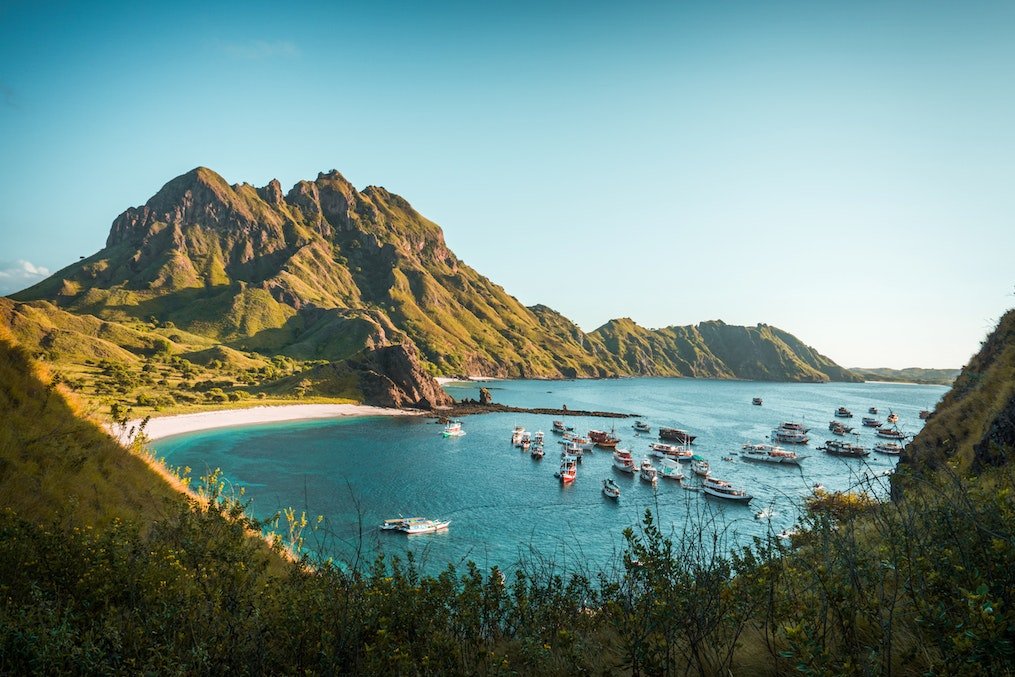 Photo: Rizknas
located between the islands of Sumbawa and Flores. This is a global conservation priority area that inhabits animals like the Timor deer, the main prey of the Komodo dragon, wild horses (kuda liar), water buffalo, wild boar (babi liar), long-tailed macaques, palm civets, the endemic Rinca rat (tikus besar Rinca), and fruit bats (flying squirrel). Not to mention dangerous snakes including the king cobra and the russel's pit viper. Also thousands of different marine life and a wide variety of unspoiled corals surrounded by beautiful beaches, this place has a lot to offer. There are also no roads or motor transport in Lombok.
Getting to Komodo National Park:
The best way is to fly to Flores and then book a boat trip. Most people fly to Labuan Bajo from Bali. 
Menjangan Islands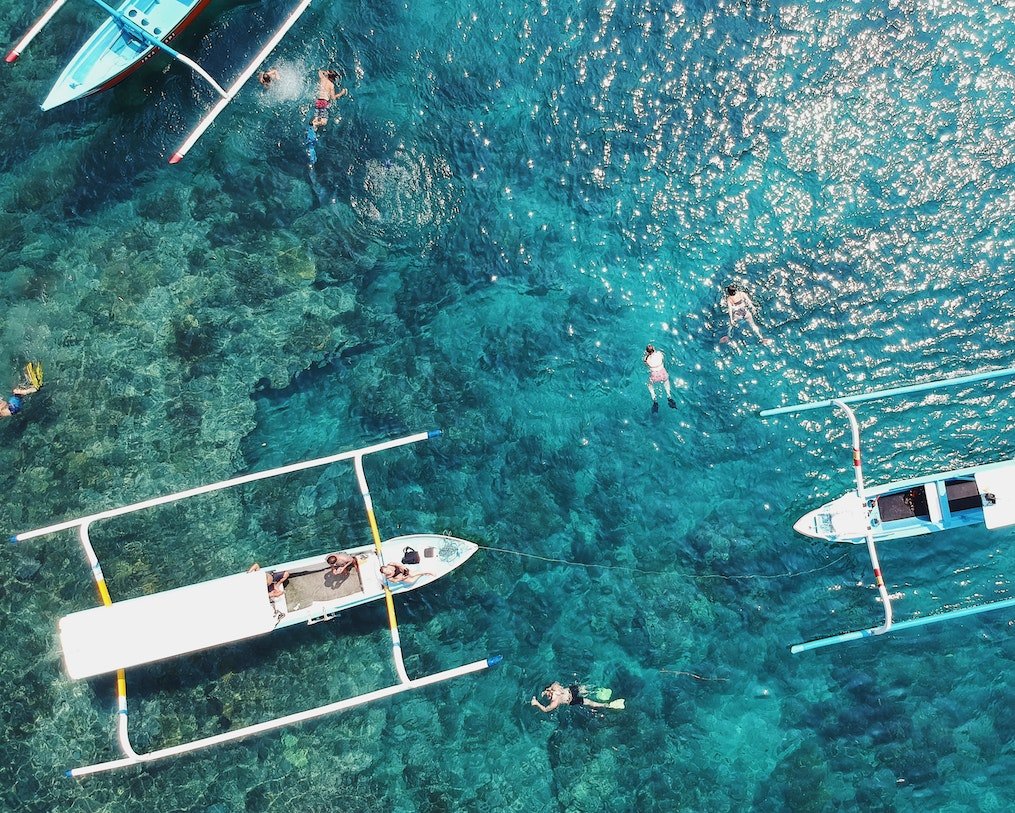 Photo: Taylor Simpson
Menjangan is a separate island from Bali, even though if you look at the map it doesn't look like it is. Do note that you're not allowed to stay overnight on Menjangan Island, so no choice but a day trip. The beaches are very nice in this area and consist of fine-grained black sand and also a very popular place for scuba diving and snorkeling. Visit Proyek Penyu (turtle project) It's a turtle breeding and release program run by one of the dive operators in co-operation with local villagers. 
How to get Menjangan Islands:
It is a 3 hr. drive from Ubud,  Take your motorbike or get a Grab to Labuhan Lalang port located in Northern Bali. Once you get to the port, go inside their park office and purchase a permit for IDR 20,000 ( $1.50) and a park guide which will cost you IDR 350,000 ($26) Then it's just a quick 30-minute boat ride from Labuhan Lalang Port.
Sometimes vacations are short but those memories will last a lifetime. So next time you're sitting at your desk fiddling with your pen and reminiscing about you're your last experience in Bali, write to us. Tell us about it, did you try any of these day trips above? Or maybe you found a new paradise? Or maybe you're just daydreaming about your next vacation. Share it with us, we'd love to hear about it. Happy travels.
By: Gerald Winik