Nusa Penida is a beautiful island located southeast of Bali, Indonesia, known for its stunning landscapes, rugged coastline, and crystal-clear waters. While it's a relatively small and less developed island compared to Bali, it offers various accommodation options for travelers. 
Where to Stay in Nusa Penida: Your Comprehensive Accommodation Guide I Best Hotels & Resorts
The best place to stay in Nusa Penida depends on your preferences, budget, and what you want to experience on the island. Here are some of the top areas and accommodations to consider: 
Crystal Bay: Crystal Bay is one of the most popular beaches on Nusa Penida, known for its clear waters and great snorkeling opportunities. There are several resorts and guesthouses in this area, ranging from budget to mid-range. Staying here allows you to enjoy the beach and beautiful sunsets. 
Nusa Ceningan: Nusa Ceningan is a smaller island connected to Nusa Penida by a bridge. It offers a more relaxed and secluded atmosphere. You can find some charming boutique resorts and budget-friendly guesthouses on Nusa Ceningan, making it a great choice for those seeking tranquility. 
Atuh Beach: Atuh Beach is famous for its dramatic cliffs and breathtaking views. There are a few accommodations near Atuh Beach, including cliffside bungalows and eco-friendly resorts. This area is perfect for nature lovers and those who want to escape the crowds. 
Toyapakeh: Toyapakeh is one of the main ferry arrival points on Nusa Penida, making it a convenient choice for those who want easy access to the island. You'll find various guesthouses and budget accommodations in this area. 
Sampalan: Sampalan is the largest town on Nusa Penida and is the location of the island's main port. While it's not known for its beaches, it has some guesthouses and hotels, making it a practical option for travelers looking for convenience and proximity to services. 
Budget Accommodations: Nusa Penida offers plenty of budget-friendly guesthouses and hostels scattered throughout the island. These options are ideal for backpackers and budget-conscious travelers. 
Luxury Resorts in Nusa Penida: If you're looking for a more upscale experience, some luxury resorts on Nusa Penida offer stunning oceanfront villas, private pools, and world-class amenities. These resorts are often found in quieter areas, providing a luxurious retreat. It's essential to book your accommodation in advance, especially during the high tourist season, to ensure you have a place to stay that matches your preferences
Our Top Pick: Māua Nusa Penida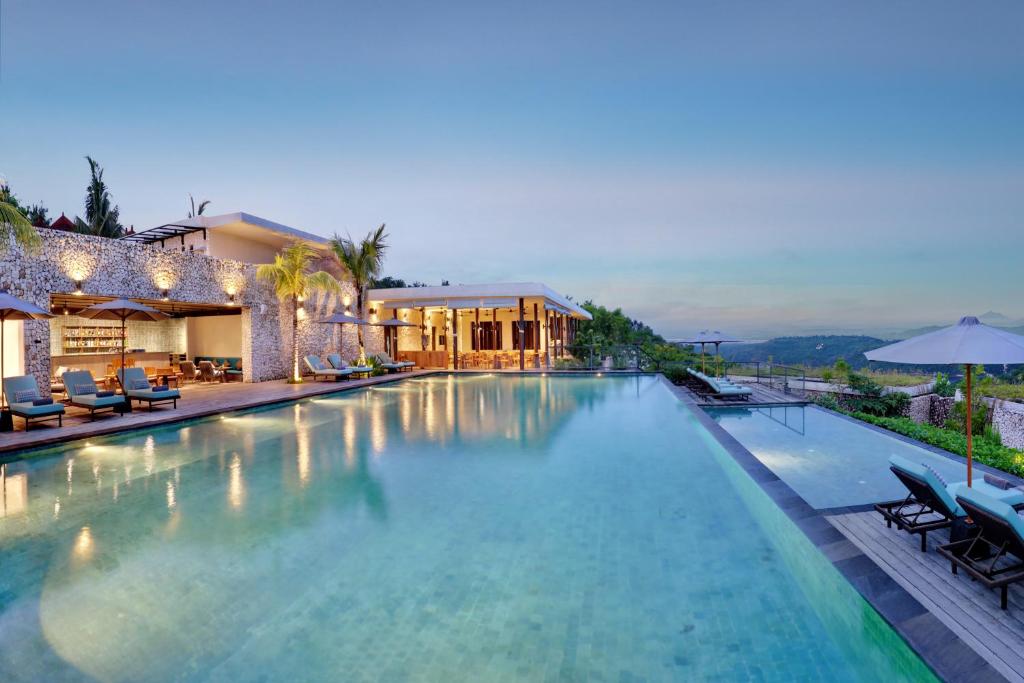 MĀUA Nusa Penida features 25 villas offering the perfect setting for forging a connection with beauty, romance, nature, and island lifestyle. The property highlights natural elements by combining concrete modernist architecture, the original limestone terraces, and Nusa Penida flora in iconic landscaped terraces and gardens that accentuate the natural beauty of the island. The resort creates a range of amenities for ultimate relaxation such as spacious One-Bedroom Luxury Villa, One-Bedroom Suite Villa, and Two-Bedroom Suite Villa with living room and wide-open windows that will give way to a private pool and magnificent views of Gamat Bay.
Māua Nusa Penida
Jl. Gamat Bay, Nusa Penida Island, Klungkung, Bali 80771 - Indonesia
Phone: (0361) 6208999
Website
Email: [email protected]
Instagram

Pramana Natura, Bali is an elegant coastal getaway built up the lush sloping cliffs of Nusa Penida. As the panoramic scene of tropical islands, ancient volcanoes and deep blue ocean comes into focus, it is understandable that you will need to catch your breath as you're swept away by the beauty laid out before you. From sunrise to sunset, the colours of nature will wash over you as you experience a true island paradise.
FOR RESERVATION +62 851-8699-7788 Chat with WhatsApp or [email protected] or website
LOCATION: Banjar Anyar, Desa Sakti Dusun Sebunibus 80771 Nusa Penida, Bali, Indonesia
Gara Gara Seaview

Located in Nusa Penida, Gara Gara Sea View offers a unique and peaceful escape from the hustle and bustle of city life. Whether you're here for business or leisure, our rooms and suites are designed with your comfort in mind, featuring a blend of modern and traditional styles, premium bedding, and a range of high-end amenities. Keep in mind that Nusa Penida's infrastructure is still developing, so some areas may have limited access to services and amenities. Additionally, transportation on the island can be challenging, so plan your itinerary accordingly.
Address: Jln. Grya Purna Ashram, Kutampi Kaler, Kec. Nusa Penida, Kabupaten Klungkung, Bali 80771