Get ready to elevate your travel game with a stay at Bali's stunning bamboo houses! These eco-friendly accommodations have become all the rage for travelers seeking an unforgettable experience amidst the island's natural beauty and culture.
From the moment you step into these bamboo abodes, you'll feel connected to nature like never before. The natural materials used in their construction blend seamlessly with the lush surroundings, creating a serene and peaceful atmosphere. And don't worry about sacrificing comfort for sustainability - these bamboo houses come equipped with modern amenities for a luxurious stay.
Whether you're seeking stunning views of rice paddies, jungle, or even the ocean, Bali's bamboo houses have got you covered. You'll be transported to a whole new world of relaxation and adventure. So, without further ado, here are our top picks for Bali's bamboo houses that promise to make your stay an unforgettable one!
Experience Nature in Style: Staying in Bali's Eco-Friendly Bamboo Houses

 
Fivelements Retreat Bali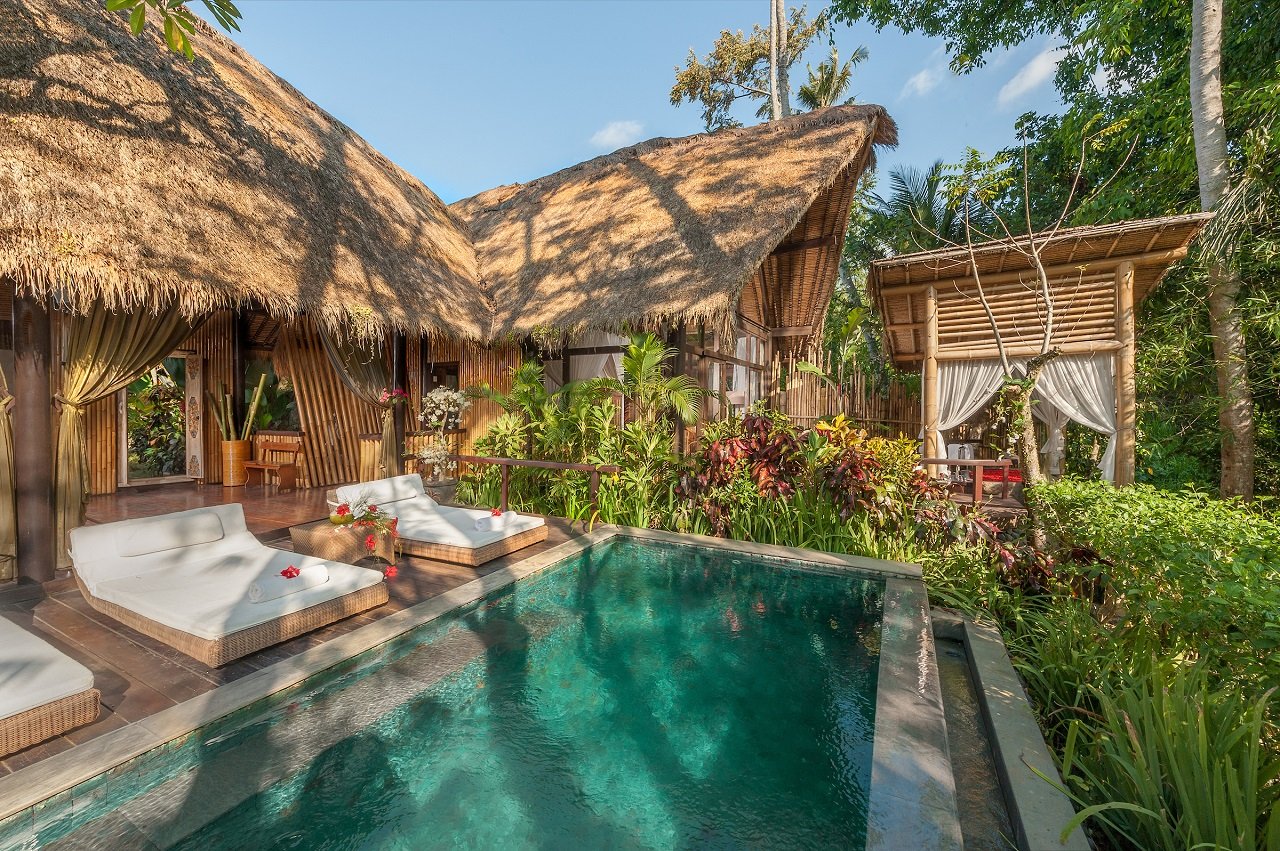 Deeply rooted in the ancient traditions of the island, Fivelements Retreat Bali is a place of healing in the uplands, nestled on the banks of the Ayung River. The eco-conscious wellness destination offers a blissful location for guests to encounter full immersion in the retreat's three pillars: authentic Balinese healing, plant-based cuisine, and sacred arts.
Since opening its doors in 2010, it has established itself as an innovative leader in wellness retreats, epicurean plant-based cuisine, transformative sacred arts programs, and wellness hospitality. Inspired by the beauty of Bali blending harmoniously with nature, their 20 eco-luxury suites, including the recently opened Hillside Pool Suites, place guests in the heart of the lush jungle landscape. Following the Balinese principle of Sekala - Niskala,, the retreat embraces holistic therapies administered by traditional Balinese healers with therapies such as warm stone massage, healing energy, and beauty rituals.
The Fivelements Retreat mission is clear, offering guests a trip of a lifetime, complete with unique wellness treatments, cuisine, and local experiences in packaged retreats lasting between 3 and 10 days.
Address: Mambal, Kec. Abiansemal, Kabupaten Badung | Phone: +62 361 469206 | Website | Instagram
Green Village Bali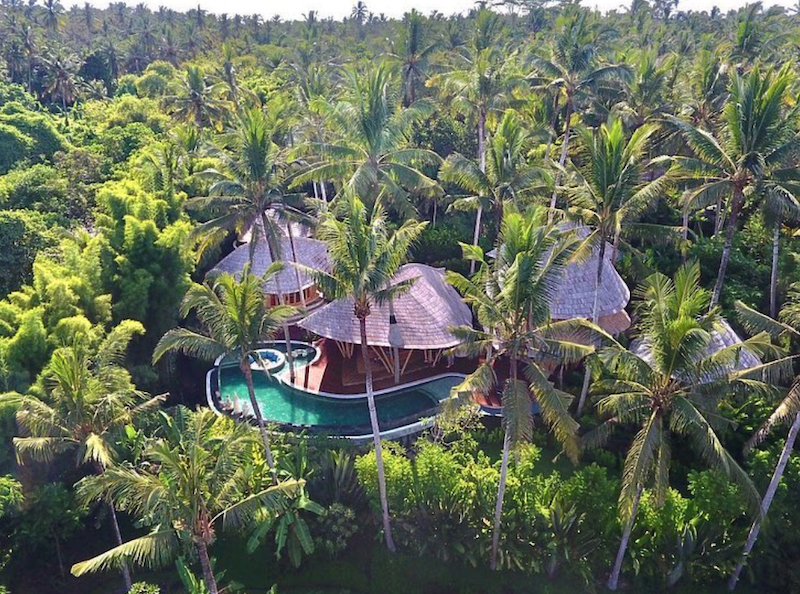 Green Village - Located in Ubud, Bali, the Green Village is a community of eco-friendly bamboo houses that are designed to be in harmony with nature. The houses are equipped with modern amenities and offer stunning views of the Ayung River and surrounding jungle.
Address: Jalan Tanah Ayu, Sibang Gede, Abiansemal, Kabupaten Badung, Bali 80352, Indonesia Phone: +62 361 469452 Website: https://greenvillagebali.com Instagram: @greenvillagebali
Magic Hills Bali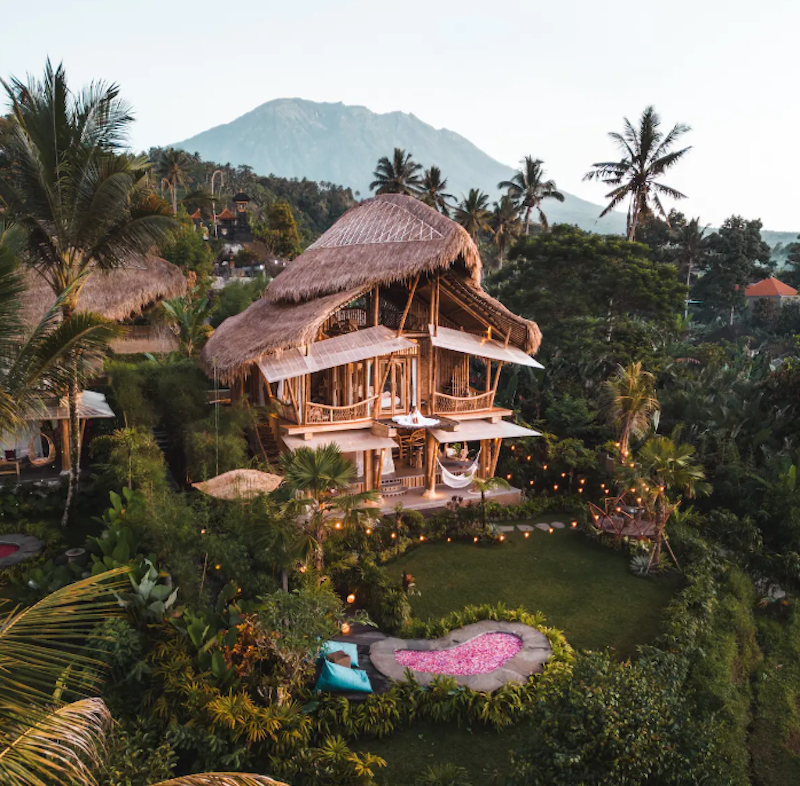 Magic Hills Bali is a unique and luxurious eco-lodge in Bali with breathtaking views and architectural bamboo design. Guests can stay in the midst of Bali's lush rice terraces, waking up to the sound of birds and enjoying stunning views from their bedroom. It's an ideal adventure for those wanting to escape the hustle and bustle of the city and experience a slice of real Bali.
Address: Jl. Raya Kenderan, Kenderan, Tegallalang, Kabupaten Gianyar, Bali 80561, Indonesia Phone: +62 812-3816-7669 Website: magichillsbali.com Instagram: @magichillsbali
Orinia Bali Bamboo House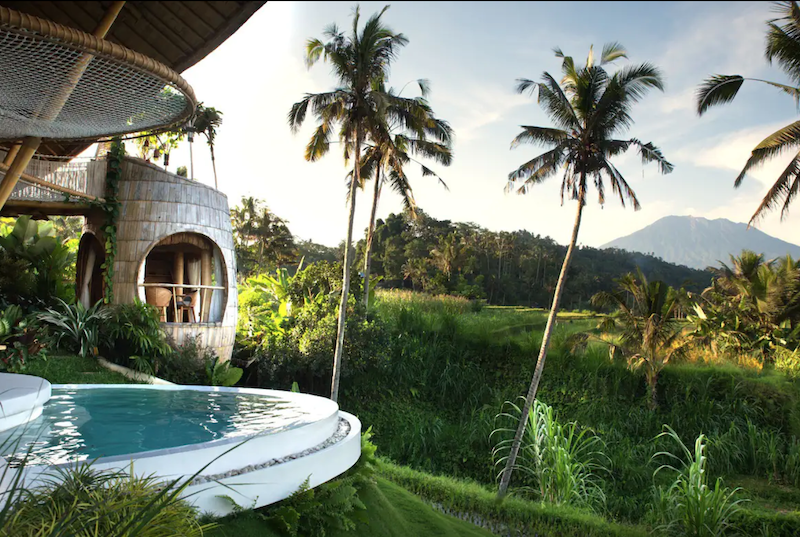 Orinia Bali Bamboo House is a unique eco-lodge located in Ubud, Bali. The bamboo house is surrounded by lush greenery and offers a serene and tranquil environment for guests. The house features a modern and minimalist design with traditional Balinese elements, providing a comfortable and luxurious stay.
The bamboo house has two bedrooms, a private pool, and an open living area with stunning views of the surrounding rice paddies. Guests can enjoy a range of activities such as yoga, meditation, and hiking in the nearby jungle.
Address: Jalan Banjar Penepen, Keliki, Tegallalang, Ubud, Gianyar, Bali 80571, Indonesia Phone: +62 813-5348-4695 Website: Airbnb or https://www.instagram.com/oniriabali/
 

Ulaman Bali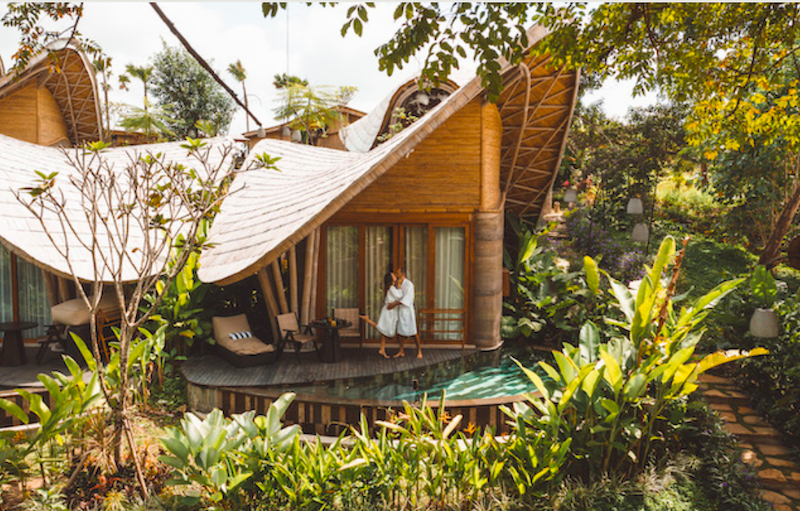 Ulaman Bali is an eco-resort and sustainable tourism project in Bali, Indonesia that offers guests a chance to connect with nature while enjoying modern amenities. The resort features several bamboo houses and villas, each with their own unique designs and views of the surrounding jungle. In addition to accommodations, Ulaman Bali offers activities such as hiking, yoga, and cultural tours. Ulamana Bali's commitment to sustainable tourism and environmental conservation makes it a popular destination for those who seek to minimize their environmental impact while still enjoying a luxurious stay in Bali.
Address: Banjar Sulahan, Jalan Tampaksiring - Gianyar, Bali 80552, Indonesia Phone: +62 361 9000105 Website: ulamanbali.com Instagram: @ulamanbali
Veluvana Bali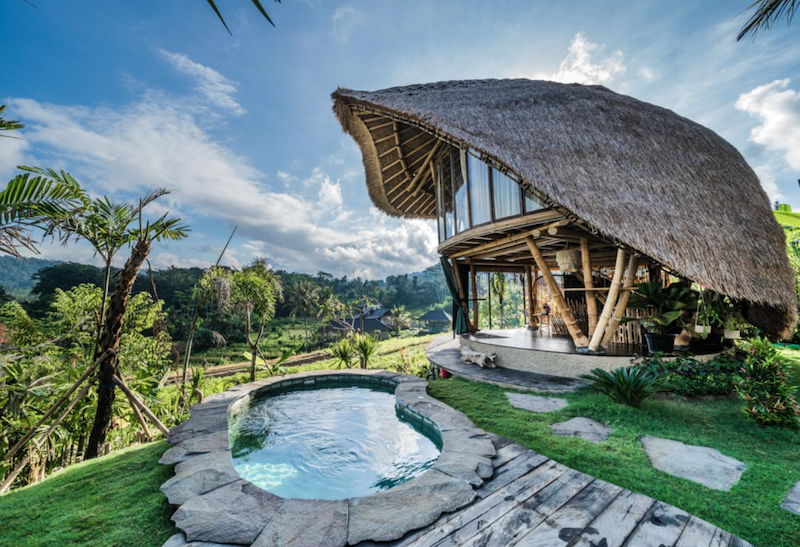 Veluvana Bali is a luxury eco-retreat in Bali, Indonesia that offers guests a unique and sustainable experience in a stunning natural setting. The retreat features several bamboo villas, each designed to be in harmony with nature while providing modern amenities for a comfortable and luxurious stay.  The bamboo house is located at the southern flank of the holy Mt. Agung in East Bali, a region that is surrounded by a lot of cultural sites with unbeatable panorama. You will find the side of Bali that has not been exposed to the world. 
Address: Jalan Raya Tegallalang, Banjar Cau, Desa Taro, Tegallalang, Gianyar, Bali 80561, Indonesia Phone: +62 813-3714-4664 Website: veluvana.com Instagram: @veluvanabali