In a diverse and vibrant dining city like Jakarta, many new hot spots have sporadically popped out offering high-end menu in full force. As usual, they give a fresh new breath of culinary experience with an onslaught of new concepts and dishes.
TOMA Brasserie is sure to become Jakarta's newest and most popular spot. Located inside the Chillax Complex on Jenderal Sudirman street, TOMA Brasserie is impossible to ignore. The huge signage standouts from the main street, furthermore, the Chillax Complex is slowly building momentum once all tenants open up to become the 'it' lifestyle hub in the very heart of Jakarta.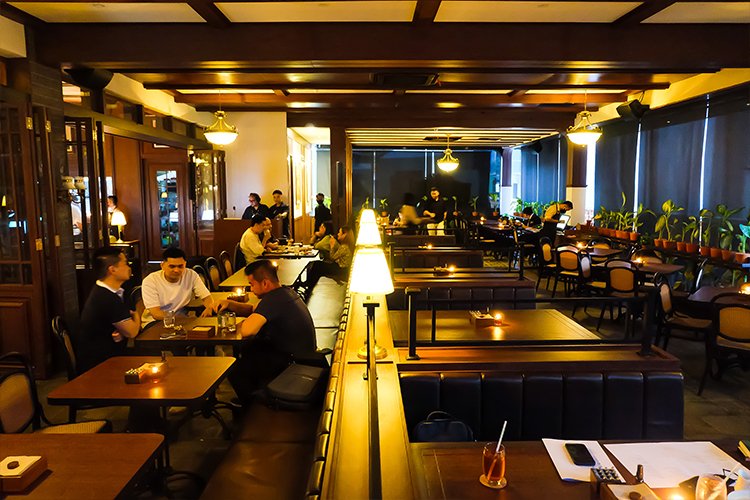 The entire dining space is gorgeously wrapped in a New York-style atmosphere during the 1940s, full of sophistication and class. TOMA Brasserie features a leather-cushioned sofa, dim light, an intimate setting, jazz fusion tunes, a sweeping marble bar, and of course, a neat seating arrangement where discerning guests can immerse themselves in contemplating the busiest main road in the city in the dark wood mood. It doesn't stop there. The air freshener and hand soap they use have a role to add up the venue for an atmosphere that's truly relaxing and posh. Not to mention the friendly staff.
Sporting progressive Asian cuisine, TOMA Brasserie combines several Asian-inspired culinary concepts into high-quality dishes. The unapologetic use of authentic Asian ingredients makes each food a different identity and uniqueness from other premium restaurant bars. On top of that, modern processing techniques, Western influences, and out-of-the-box concepts were also included to make it even more show-stopping.
Crossing boundaries and culinary borders, TOMA Brasserie is transforming traditional Asian favorites into high-end fusion cuisine and libation. Every TOMA element has been consciously chosen to present the rare, the luxurious, and the refined.
Snacks like Tuna Lychee feels light and refreshing but it is still packed with flavor from pickled green tomato, lime basil, chill tamarind, and cashew, while other starter like Grilled Pork Belly Adobo has the Philippines and Korean inspired dish blended together on the plate. Prepare your chopsticks and start wrapping up the pork belly adobo with pohpohan or coriander leaves, kyuri kimchi, and fried garlic into one substantial and fulfilling BBQ wrap kind of type.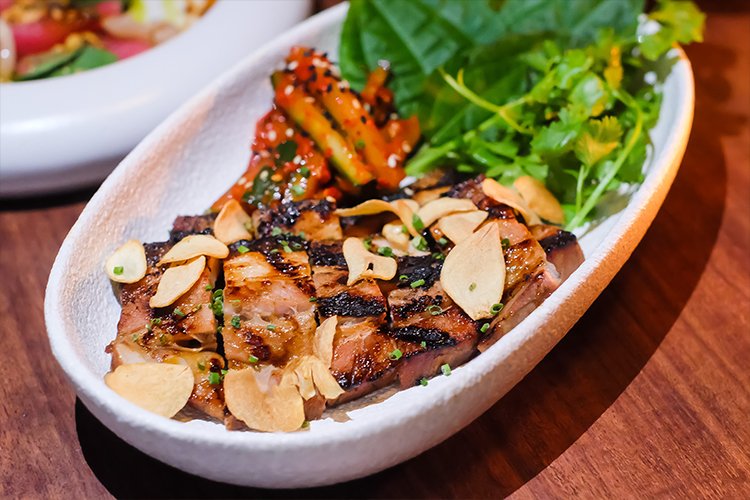 Although it's still brand new, TOMA Brasserie's culinary team keeps the well-executed menu fresh and flavorful. Every dish is excellent, but you'd be hard-pressed not to order their 48-hour Beef Cheek. Inspired by the typical beef kalio of West Sumatra, the beef cheeks have gone through the sous-vide method for 48 hours to get a soft yet juicy texture, complemented with kalio krecek sauce and rambak crackers. The meaty and spice flavors are balanced with eringi mushrooms, cabbage puree and grilled leek, resulting in the ever-tender marinated beef cheek drenching in a pool of kalio sauce that will make you want for more. For the final touch, the bone marrow typhoon shelter crust will be scrapped on top of the beef cheek to add a crunchy texture.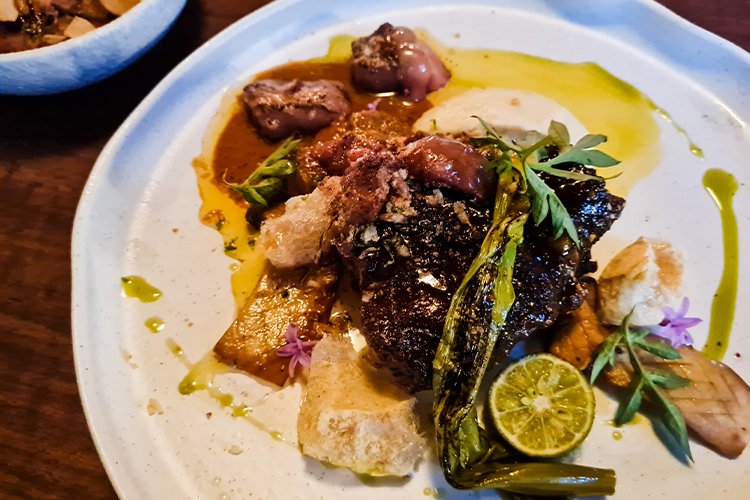 While the 48-hour Beef Cheek is a total home run, salmon lovers will rue the day they don't try the Miso Butter Salmon. Its medium meat has as fresh an aroma and near-sweetness savory as any buttery texture you get while munching. The accompanying pool of saikyo miso butter sauce, baby potatoes, eringi mushroom, cherry tomato, and basil oil is outstanding. Slightly creamy and hearty, all are paired wonderfully here, and even worth every dollop you slurp.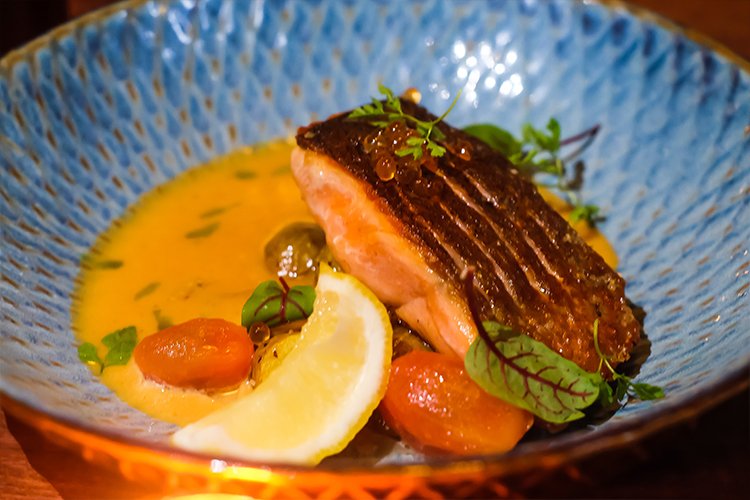 Make room in your heart for a few more, light bites like Nachos Grande has earned a special space in our heart. The thin-sliced opak cassava, well the substitute to the usual corn tortilla chips, calibrates really well with chill con carne, pico de gallo, guacamole, mornay sauce, and picked green chili. The next thing you know, you'll find out an empty plate without an alarming call. It is because the nachos is too good that you keep digging in non-stop.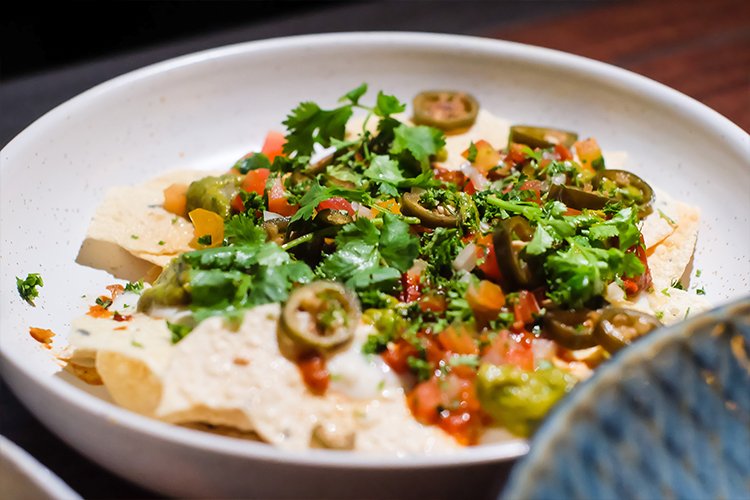 A rightfully great Blackened Karaage gives TOMA Brasserie staple aplomb, with black cripsy chicken thigh made from activated charcoal, and topped with tobiko, furikake, and a dip of Japanese mayo. This savory bite manages to slip in alone between meals or while you're waiting for a late-arriving friend.
Not to indulge your sweet tooth would be a crime. If you like your dessert artsy and looks like it came from an art museum, Choco Raspberry will impress you. The subtle combination of flexible chocolate and raspberry mousseline is comprehensively splendid. Raspberry hibiscus sorbet and the berry crumble are a near-sourness you'll keep going in for as if to seek another kiss.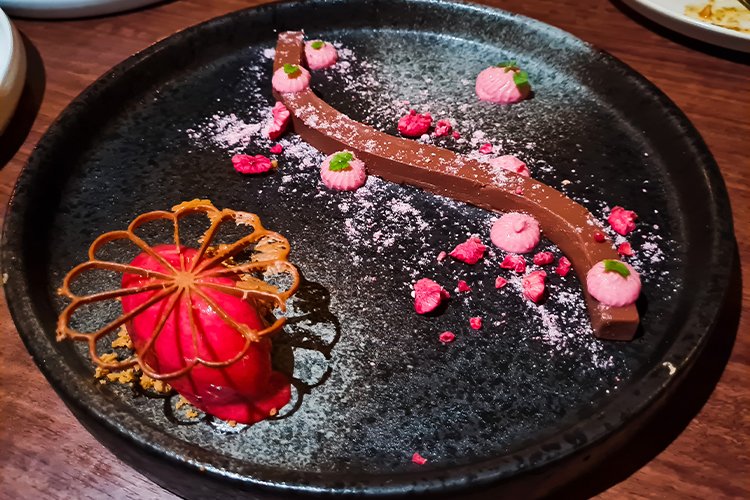 The next sweet treat everyone will be raving about it is Onyx. This pitch-black sphere-shaped dessert will surprise your taste buds. The matcha mousse inside is coated with ginger anglaise. All you just need to do is crack the sphere until you get the sublime sensation in terms of taste and texture. The addition of black sesame sponge and charcoal tuile is just the cherry on top that unfailingly generates into a rapturous ode to gluttony.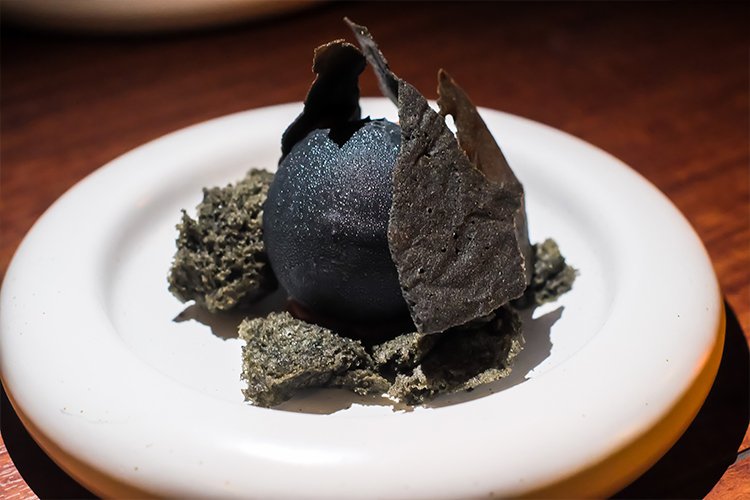 To accompany your meal, what's a better way to cheer up the moment with some cocktails? Led by Agung "El Hombre" Satria, we recommend his finest creation Fleur A la Royal which is inspired by the floral celebration from France, formulated with Chamomile tea infused with gin, peach blanc, and pomme verde. Meanwhile, Smoky Rob Roy is a twisted take by using blended scotch, cherry vermouth, and smoked with smoke from Masoyi wood fires from Papua.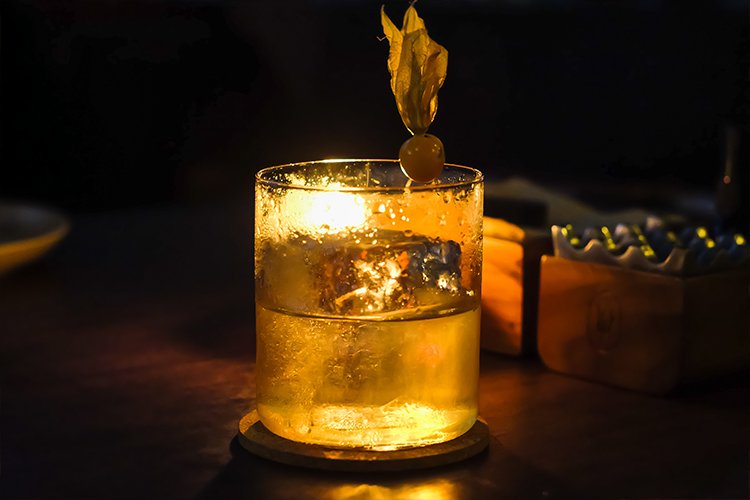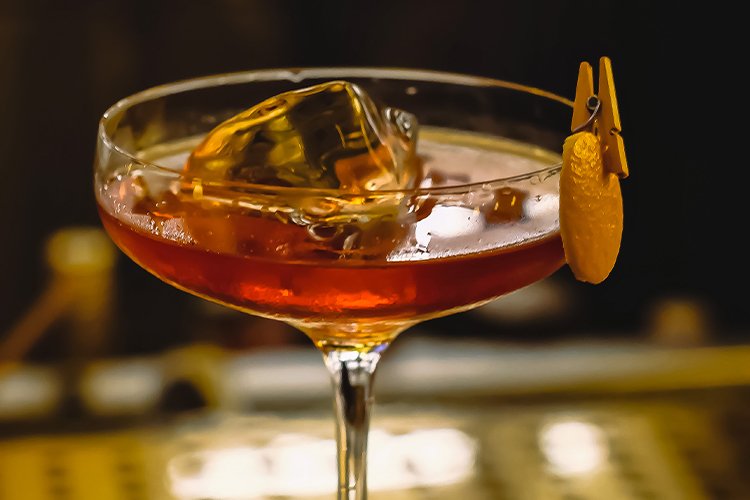 If you want a traditional Negroni that is twisted using Mezcal which is infused with rosehip, cocchi rossa, campari and sousvide with parmesan cheese, Rose & Sita seems ideal for you. It is here to create an umami aftertaste. Lastly, everyone should watch out for Lil Wine. Who says wine has to be made of grapes? Lil wine is unlike typical red wines. It is made with rum, coconut liqueur, beet fruit and rose water, served as if you were drinking red wine. With a sexy kiss mark on each glass they serve, it is guaranteed to give you a slow burn full of satisfaction.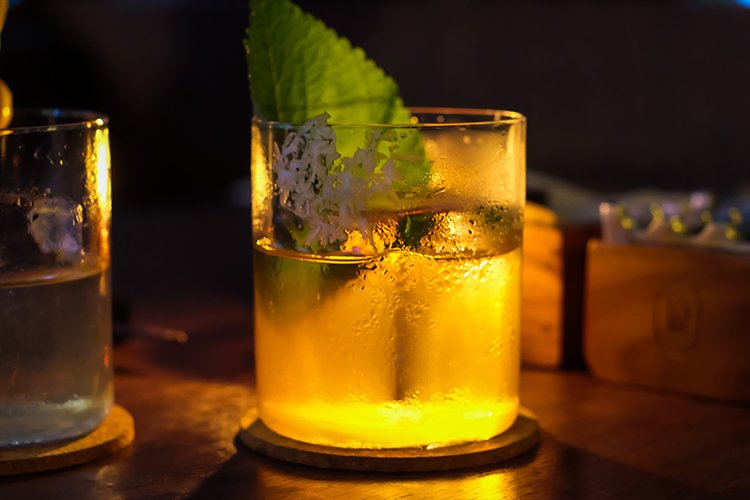 TOMA Brasserie
Chillax Complex Lot G-10
Jalan Jenderal Sudirman Kav 22-23, Jakarta Selatan 12920
Open: 10:00 AM - 12:00 AM (Monday to Friday), 07:00 AM - 12:00 AM (Saturday to Sunday)
Phone: +62 821-1332-4909
Instagram: @toma.brasserie