For 3 days and 2 nights, the What's New Bali team was invited to experience a transformative wellness staycation experience like no other at Conrad Bali. The promise of rejuvenation, balance, and a deep dive into our inner selves beckoned us to explore the newly introduced JIWA Wellness journey, and what followed was a pleasant adventure for our mind, body, and soul.
Discovering Inner Harmony: 3-Day JIWA Wellness Journey at Conrad Bali
Day 1: Awakening the Chakra Energy
Upon arrival, we are greeted with a refreshing welcome drink and ushered to the front desk for our check-in process. Everything went smoothly, and we immediately found ourselves relaxing in the Deluxe King Pool View room. Complete with a picturesque view of our vast lagoon pool, these rooms offer a generous 45 sq. m. of living space and come with a private balcony and plush sofa. The room also boasts a spacious layout with a king-sized bed, and its bathroom features both a separate shower and bathtub, seamlessly blending Balinese heritage with a contemporary design. We are delighted to know that this wonderful space is going to be our resting haven for the next 3 days.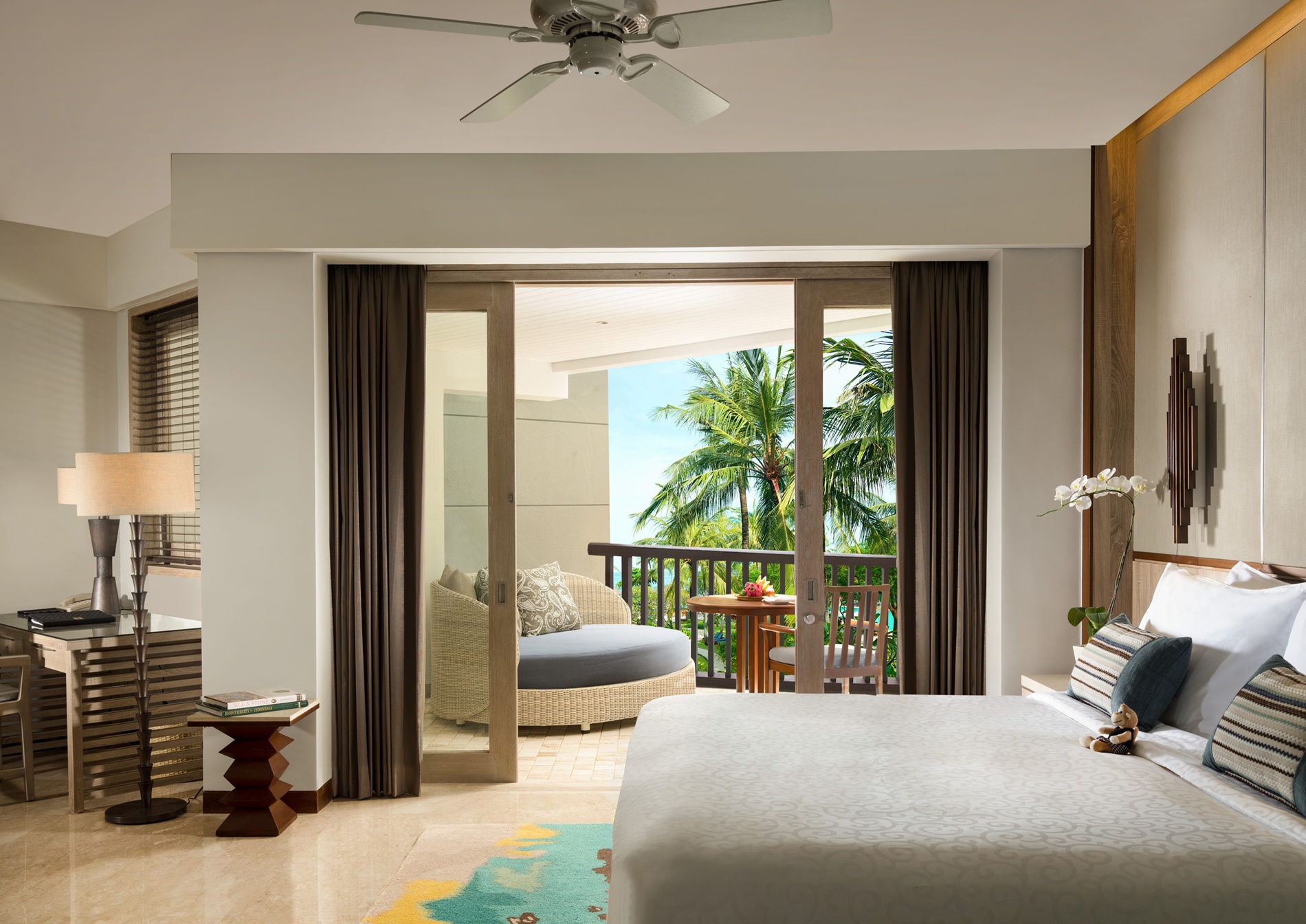 Our JIWA journey began on the first day of our stay with Pranic Healing, a holistic approach that focuses on balancing the body, mind, and soul through the manipulation of life force energy, known as Prana. Nestled in a private meditation room with dim lighting, we embarked on a session that left us in awe. The therapist, a conduit of universal energy, channeled Prana to balance our Chakras.
As we learned, the chakras are the main power centers in our body, and their imbalance can affect every aspect of our lives. With crystals placed on each Chakra spot and the gentle resonance of a singing bowl, we felt the energy flow and cleanse us from within. It was a sensation that words could not fully capture.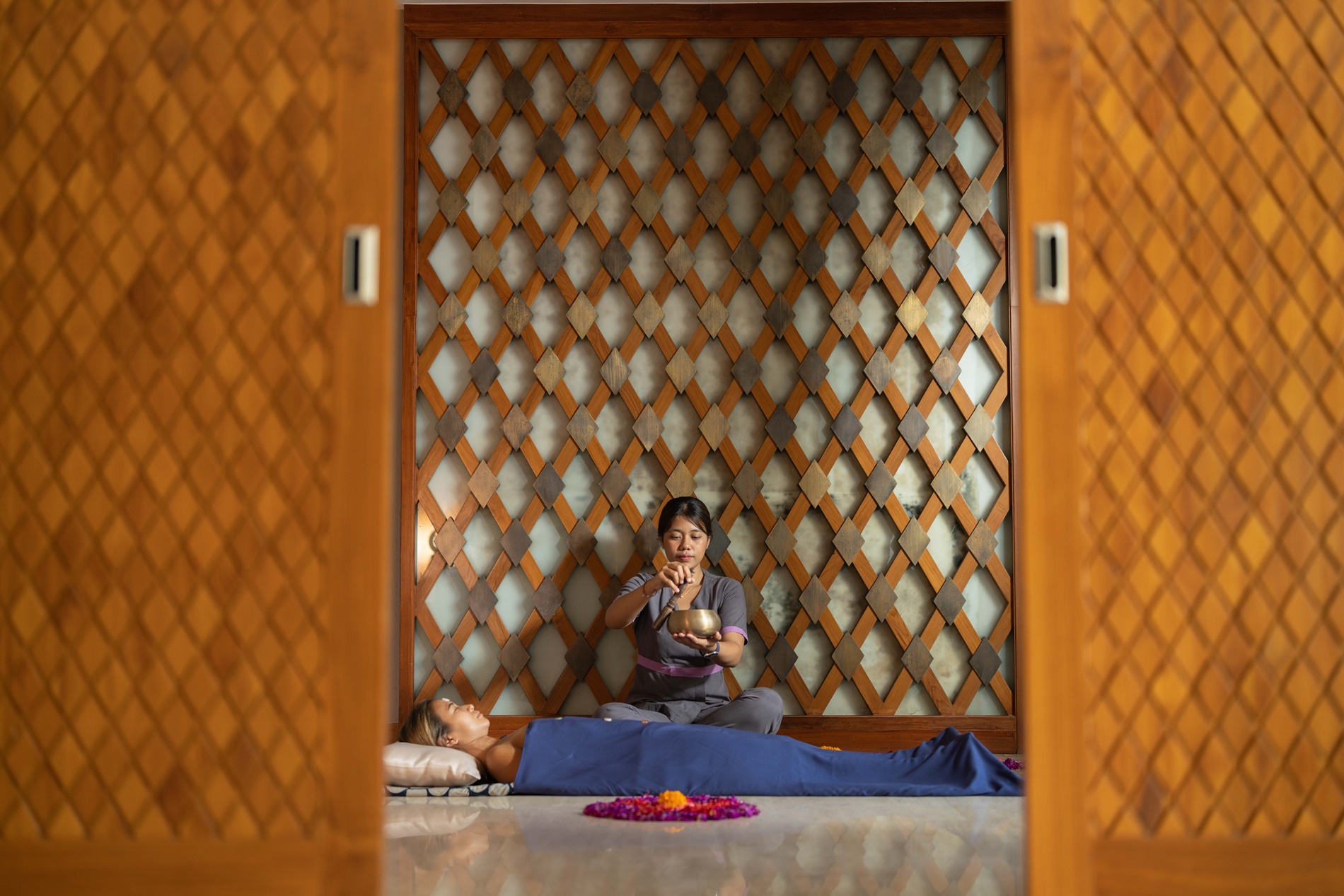 Following this incredible experience, we dined at Eight Degree South, an exquisite by-the-beach fine-dining restaurant. As a part of the JIWA Wellness package, we are given the option of a healthy meal plan, tailor-made according to our preferences, with options ranging from paleo, vegan, keto, gluten-free, and low-calorie. Amazingly, each restaurant in Conrad was able to cook our preferred healthy menu that was determined before our wellness stay.
The healthy menu options on the first day are: Balsamic roasted pork loin with garlic butternut squash (390 calories) perfectly complemented our newfound inner balance, and we savored each bite while overlooking the serene ocean. We also tried some of Eight Degrees South's finest pasta creations, such as the creamy Carbonara Bottarga and seafood induced Black Squid Ink Tagliatelle.
Day 2: Strengthening Body and Soul
The morning of our second day began with a Tae Bo session on the beach, grounding us in the present moment and enhancing our physical strength. The soft white sand beneath our feet served as a reminder of the connection between us and the Earth.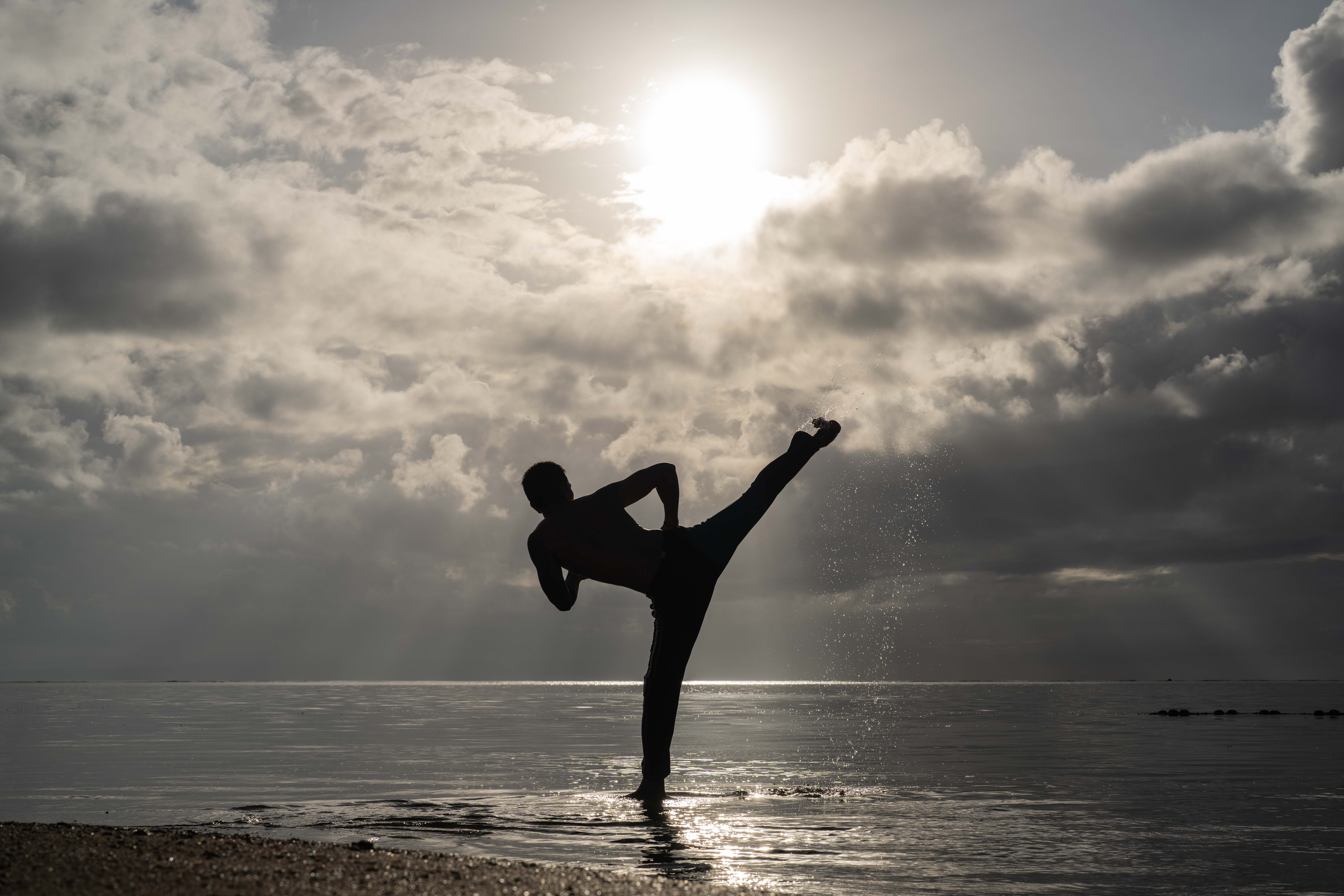 Afterwards, we indulged in a hearty breakfast at SUKU, setting the tone for a day of self-discovery. Then immediately after, we returned to Jiwa Spa for a Sound Healing session that was nothing short of magical, with crystals and singing bowls connecting us to the energies of the Earth and the universe. As we lay down, seven crystals were placed on each Chakra point of our body. The resort's specialized sound healer leads us on this journey of soulfulness using an eclectic collection of instruments to activate the body's natural healing system and balance the seven energetic chakras. The order and tempo of the instruments are attuned to each individual.
Right at noon, lunch at SUKU introduced us to a world of organic and delicious cuisine. We savored the wellness meal of the occasion: Vegan Curry of organic Bedugul vegetables, Tabanan red rice, crispy shallots (372 calories), and also some of SUKU's authentic Indonesian-style seafood dishes, such as Ikan Dabu Dabu and Udang Colo Colo. We finished it with Es Pallu Butung, a rendition of a traditional Indonesian dessert originating from South Sulawesi. It consists of a sweet, creamy, and aromatic dessert made from glutinous rice flour, coconut milk, palm sugar, and pandan leaves, creating a delightful and comforting treat with a unique regional flavor.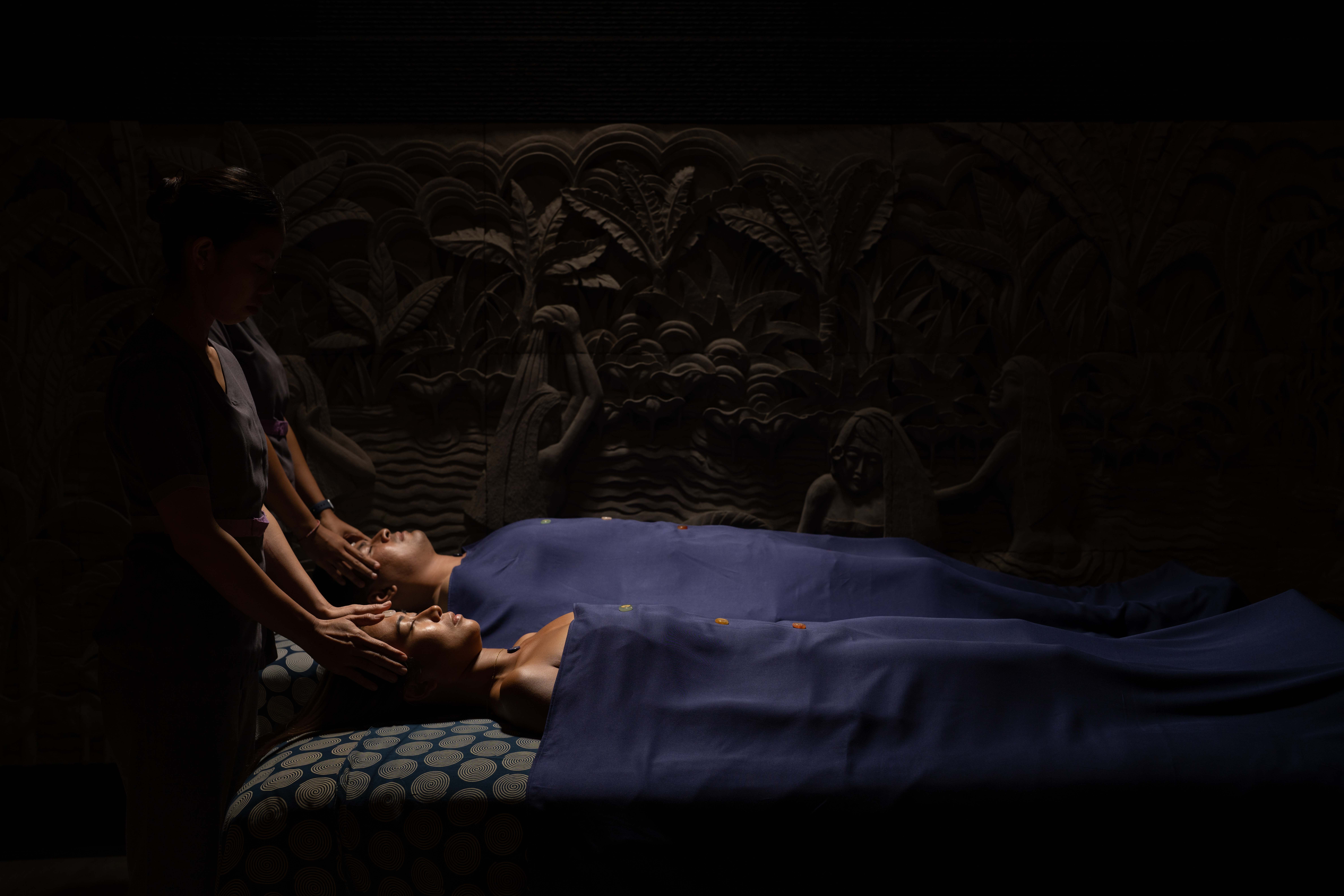 The day continued with a Yin-Yang spa treatment at Jiwa Spa that left us in a state of pure bliss. From a Balinese Massage to a Lulur scrub and a Jacuzzi bath, it was a holistic indulgence that replenished our energy. Starting with a foot wash, the treatment continues with a very thorough and pampering Balinese Massage, then a Lulur scrub (Sandalwood, Kunyit, Rice Powder) and yogurt are applied to exfoliate the dead skin cells. The treatment finished with a convenient, warm Jacuzzi bath as we enjoyed some tea and cookies.
We also indulged in a wellness snack that perfectly complemented our rejuvenating experiences. A delightful portion of Paleo : Cassava chips, guacamole, spicy ground beef, and baked beans (251 calories), was delivered to our room by request in the afternoon. This wholesome and delicious snack provided the energy boost we needed to continue our day of self-discovery and relaxation.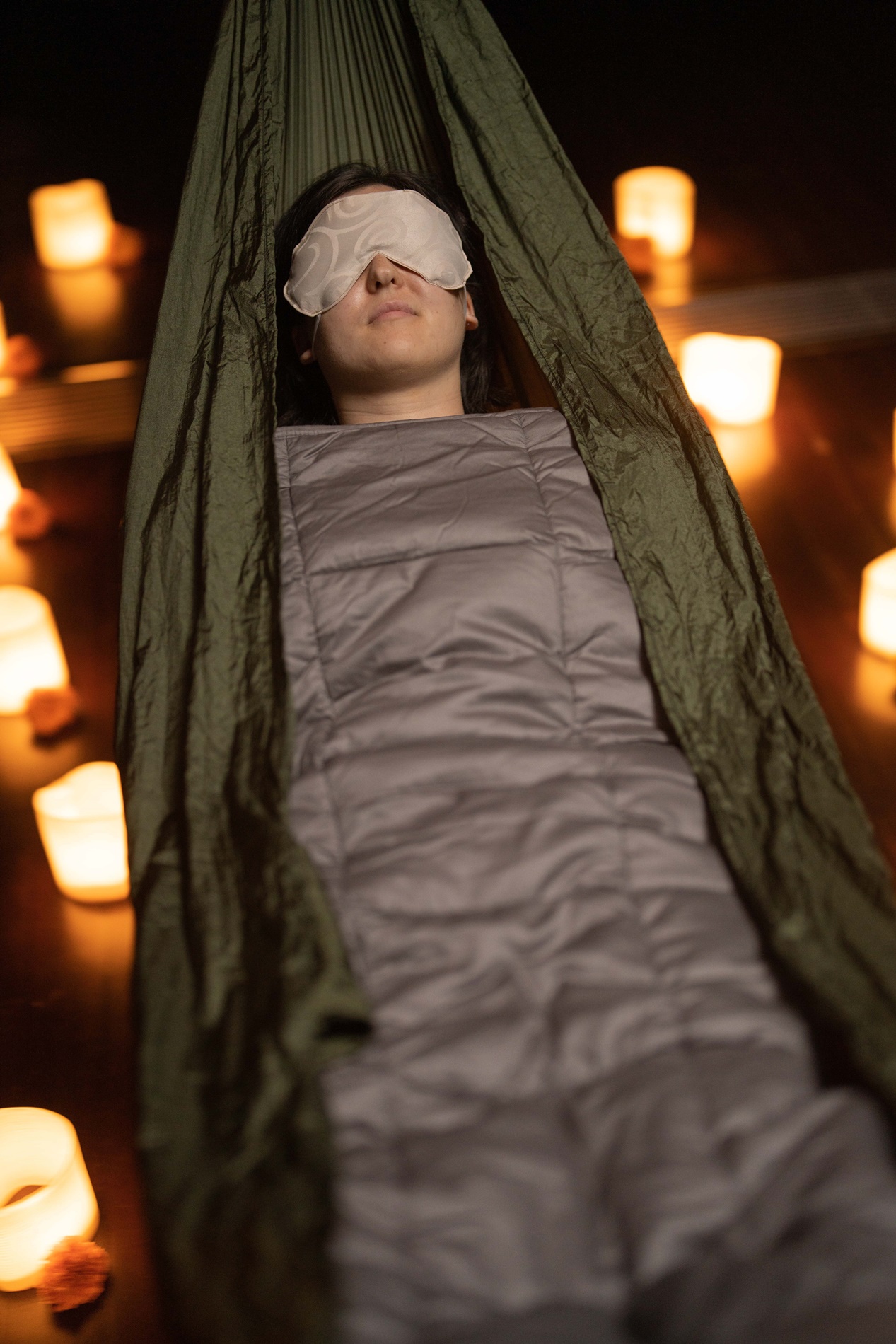 As the sun began to set, we were back at Jiwa Spa to experience a unique treatment like no other: SWAY. This unique sleep therapy combined hammocks, deep relaxation music, gentle massage, and meditation. It was an experience reminiscent of being cradled in the arms of a loving mother, and it left us feeling profoundly rested. We were gently swayed in hammocks, which added an extra layer of tranquility to the ambiance. Tucked in a cool weighted blanket and provided with a heated eye pillow, we felt the swaying motion soothe our bodies and minds. This evokes the body's natural reaction to calm the nervous system and soothe the wandering mind. While we were enjoying the serene ambience, a light head and back massage was performed on our bodies, surrounded by aromatherapy scents and nature sounds to enhance the experience of surrender.
We wrapped up the day with dinner at RIN, Conrad Bali's renowned opulent Japanese restaurant. It was a lavish culinary experience, with dishes like the RIN Sampler and the Hotstone Experience. RIN Sampler is assorted sushi goodness served in an eclectic wooden boat, while Hot Stone offers a unique experience of cooking premium meat on your table. A 200-degree heated stone was used, resulting in buttery, tender, and juicy meat to savor, along with three types of sauces, steamed Japanese rice, and sautéed local vegetables. The wellness menu offered: Gluten Free : Oven-baked snapper, caper butter, and rice pilaf (376 calories), making it a perfect blend of authenticity and healthiness.
Day 3: Finding Inner Peace
Our final day began with morning meditation and a Qi Gong session at the Water Garden Pavilion. The slow, tranquil movements, combined with the soothing sounds of trickling water and chirping birds, prepared us for the day ahead.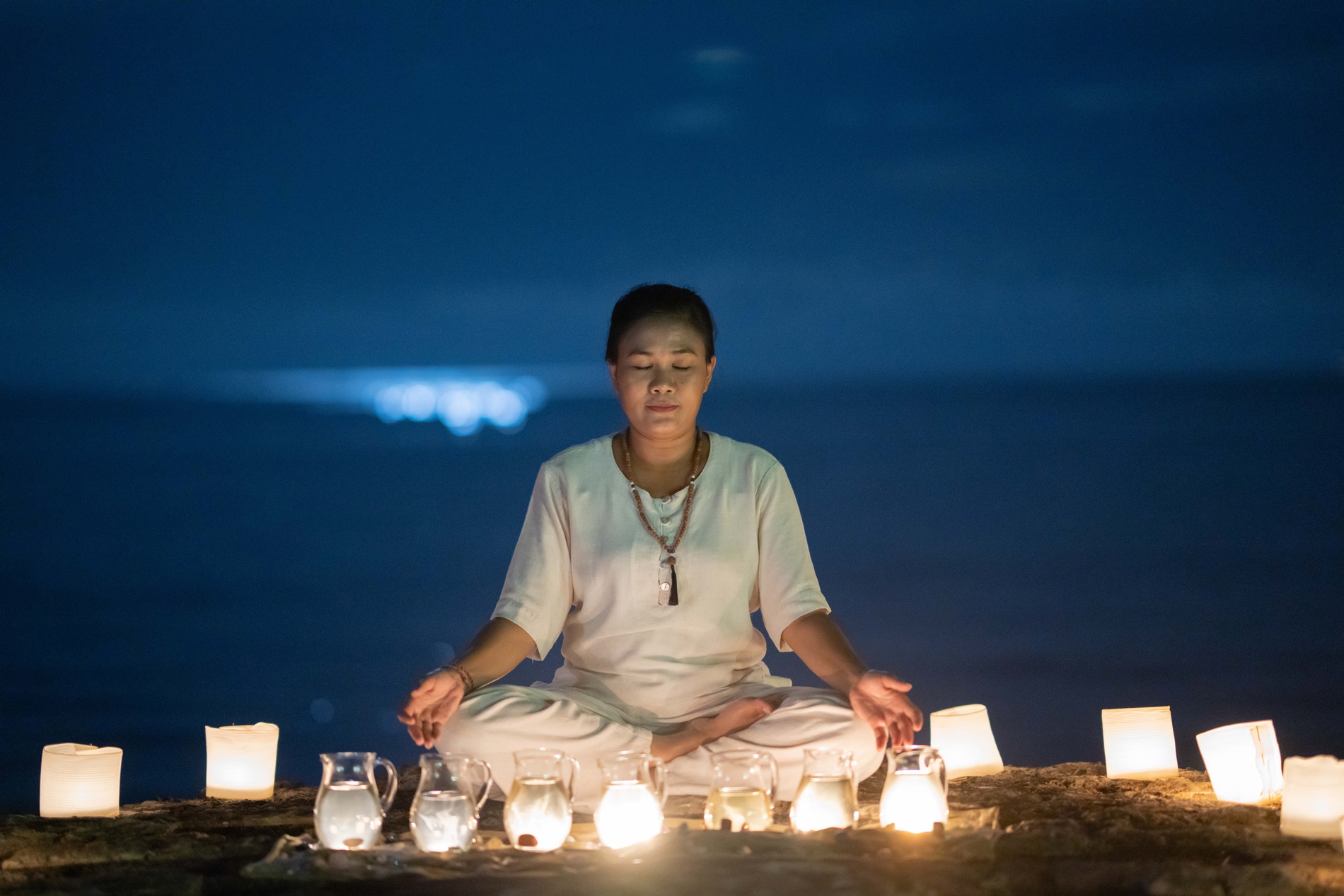 The JIWA Consultation at the end of our journey provided us with a summary of our experiences and a special gift—a personalized IV phase-infused oil that was chosen to help us work on the chakra that needed the most care. This assessment was made during the Pranic Healing session at the beginning of the retreat. The crystal embedded in the oil was charged with positive affirmations and energy, serving as a tangible reminder of the transformation we had undergone.
As we enjoyed a final breakfast at SUKU and prepared for checkout, we couldn't help but reflect on our JIWA Wellness journey. It was more than just a getaway; it was a profound exploration of our inner selves, a journey to discover balance and harmony. In the serene haven of Conrad Bali, we found the missing piece of the puzzle—the connection between our bodies, minds, and souls. The JIWA Wellness journey had not only rejuvenated us but had also left an indelible mark on our souls, reminding us of the importance of holistic well-being.
In the end, it wasn't just a stay at a luxury resort; it was a soulful adventure that rekindled our spirits and left us with a newfound sense of inner harmony. Conrad Bali's JIWA Wellness journey is not just a destination; it's a transformative experience that we will cherish forever.
Jl. Pratama No.168, Tanjung, Benoa, Kec. Kuta Sel., Kabupaten Badung, Bali 80363
Phone: +62 361 778 788
Website 
Instagram