In Bali's vibrant culinary scene, Aryaduta Kuta Bali launches a new concept its dinner concept "BABAQAR NIGHT" with a new high-end barbecue menu with unique entertainment where waiters and Chefs are the show. The Aryaduta's Bali Executive Chef Ernawati Ginting "Erna" leads the kitchen team, bringing her expertise in barbecue and steakhouses.
Inspired by the iconic 30-day dry-aged beef itself, Chef Erna and the team at Aryaduta Kuta Bali have created a whole new concept barbecue indoor where everyone can enjoy a perfectly balanced smoky flavor and tenderness premium barbecue all you can eat also get entertained with Chef and waiter performance along with the live acoustic and Salsa dance. BABAQAR NIGHT will be held every Wednesday during September 2023 starting from 18:00 until 21:00, make sure you do not miss the opportunity to enjoy a meal with interesting entertainment.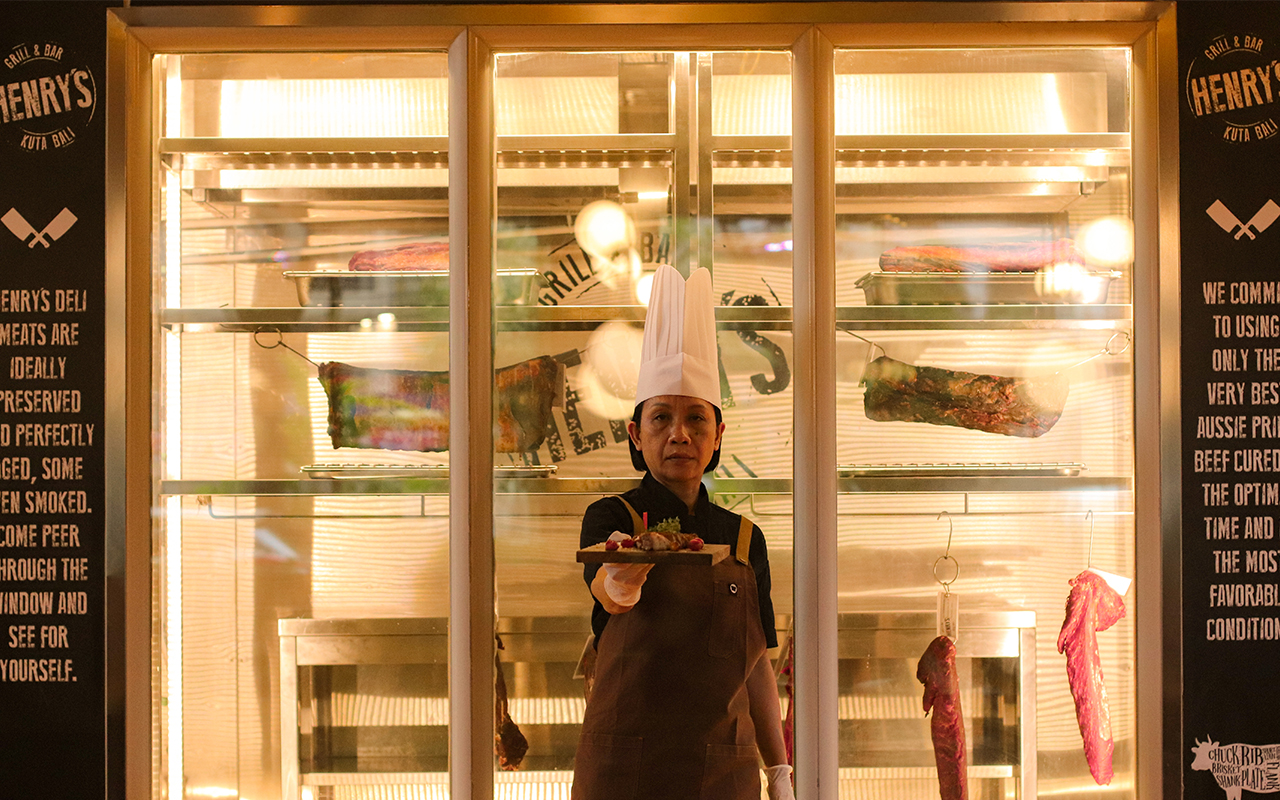 Chef Erna is the brain behind every dish at Henry's Grill & Bar. Born and raised in Medan, North Sumatra, Chef Erna has had 25 years of experience in culinary with a diploma in Culinary arts from Akademi Pariwisata Medan, North Sumatra. 
At the opening of the event, you will be mesmerized by a Chef and waiter performance. Not only that, the Chef also introduced BABAQAR Products, which are premium meats that have gone through the smoking process techniques using smoke and hot temperatures and the dry-aging process. Dry aging is a time-honored technique that both tenderizes and enhances the flavor of meat. Traditionally the process was carried out in cellars, caves, or a room that was cold and with fairly stable humidity levels. Today beef is almost always aged in rooms or cabintes specifically engineered to obtain the optimum results like our own Dry Aging Suite at Henry's Grill & Bar. 
"We offer a new concept barbecue indoor where everyone can enjoy a very bold smoky flavor with its juice and it's all-you-can-eat BBQ with the special entertainment by our Executive Chef collaborating with our waiters. Our aim is to create an unforgettable experience for all our esteemed guests. It is our privilege to continue promoting the arts of dry-aged beef through such remarkable events. We sincerely hope that this event will be cherished by everyone attending," said RM Rendy Prapanca, General Manager of Aryaduta Kuta Bali. 
The BABAQAR Products does not only contain premium meat but is equipped with sauces and seasonings as well as various instructions from how to store to how to cook the beef. Henry's Grill & Bar invites guests to create their own premium meat dishes at their own homes. You can find BABAQAR products at Henry's Grill & Bar with a wide selection of meat including BBQ Pork Ribs, BBQ Pork Chopped, T-Bone Steak, Black Angus Rib Eye, Black Angus Striploin, BBQ Smoked Beef Brisket, and BBQ Smoked Beef Ribs with a range of prices start from IDR 120.000 – IDR 420.000 /box. For reservations regarding BABAQAR NIGHT or to order BABAQAR Products please contact Henry's Grill & Bar on Instagram @henrysbali or WhatsApp at (+62)81139608621. 
The guests were also spoiled with an all-you-can-eat BBQ consisting of a variety of meat menus which is perfectly accompanied by a glass of wine from Two Island Wine. As a complement to the extraordinary evening, BABAQAR NIGHT also featured live acoustic and salsa dance which not only warmed up the atmosphere but also created lasting relationships between each guest. 
Henry's Grill & Bar
Aryaduta Kuta Bali
Jl. Kartika Plaza, Kuta, Bali
Phone: 0361 4754188
Website
Instagram: Henry's Grill & Bar | Aryaduta Bali