While in Surabaya, don't miss out to taste some Surabaya's nightlife. Here are some recommended places to keep your night groovy.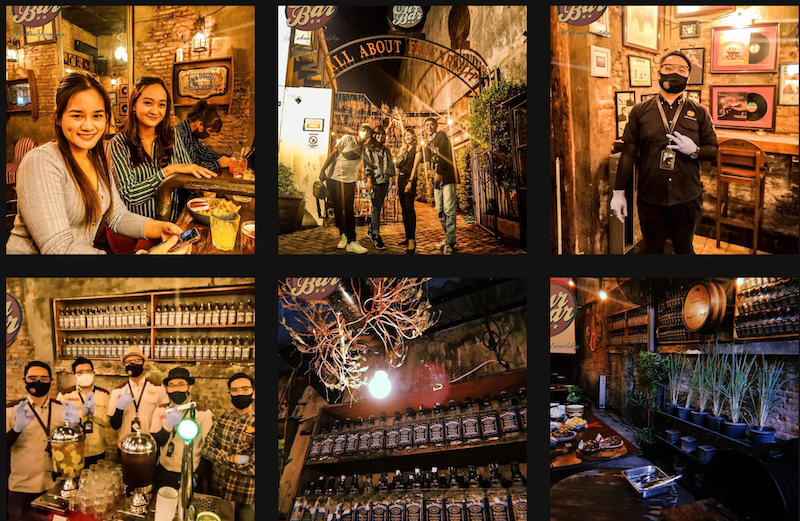 A popular Laid-back bar and restaurant offering seafood, sausage, & pork belly dishes with rice & salad with live mkusic entertainment. 
Jl. Embong Cerme No.17, Embong Kaliasin, Kec. Genteng, Kota SBY, Jawa Timur 60271, Indonesia. Hours: Open ⋅ Closes 1 AM Phone: +62 822-4448-1717

Upbeat hangout featuring cocktails & casual Indonesian fare as well as DJs & live bands. 
Address: Jl. Sumatera No.81, Gubeng, Kec. Gubeng, Kota SBY, Jawa Timur 60281, Indonesia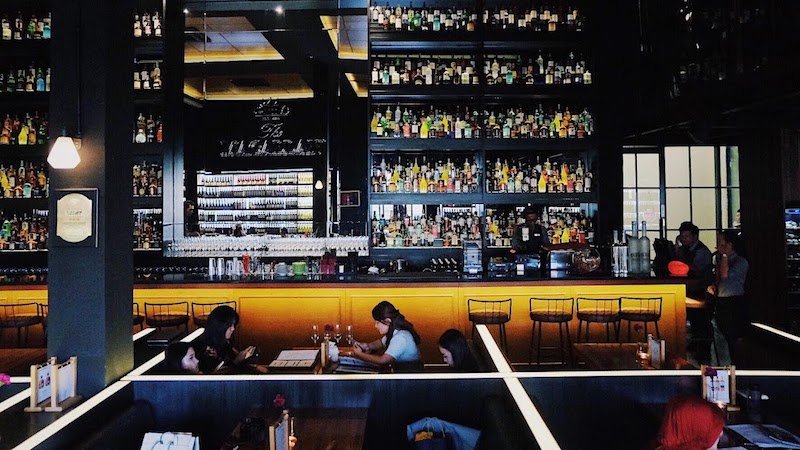 Almaluna Bar & Resto is a place for your pleasure of dining and chilling established in 2015. Serving Wines, Beer, and many choices. 
Address: Pakuwon Mall Ground Floor The terrace 22-23, Jalan Puncak Indah Jalan Raya Lontar No.2 Babatan Wiyung Kota Surabaya, Jawa Timur 60216 Indonesia
CALL (031) 7392027 or  0895-1591-2345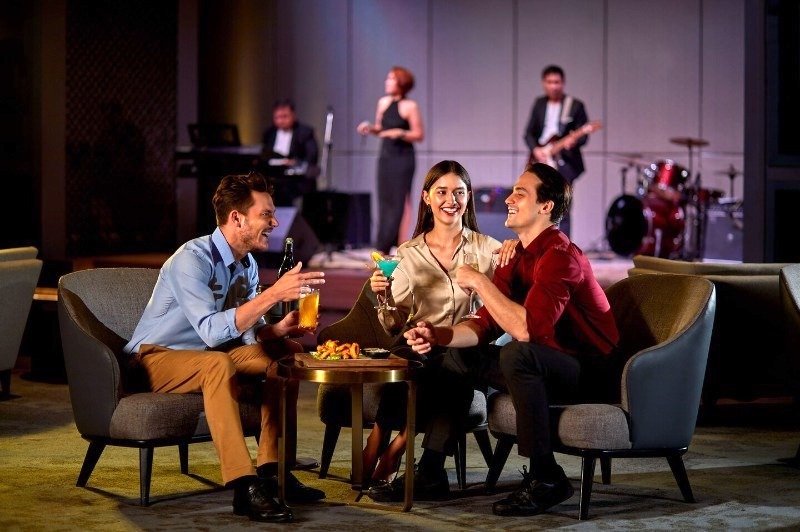 Relax with friends in our lobby lounge after a day of meetings or sightseeing. Comfortable seating areas beckon, while the floor-to-ceiling windows offers extraordinary views of Surabaya. Sample our creative cocktails while sharing small bites. Cuisine Chinese, International, Indonesian. Experiences Celebrations, Drinks & Nightlife, Large Parties (>10), Live Entertainment, Spectacular Spaces 
Operating Hour Daily, 10:00 AM to 11:00 P Happy Hour 4:00 PM to 11:00 PM
Address Sheraton Surabaya Hotel & Towers, Jalan Embong Malang 25-31, Surabaya 60261 Indonesia Call +62 315468000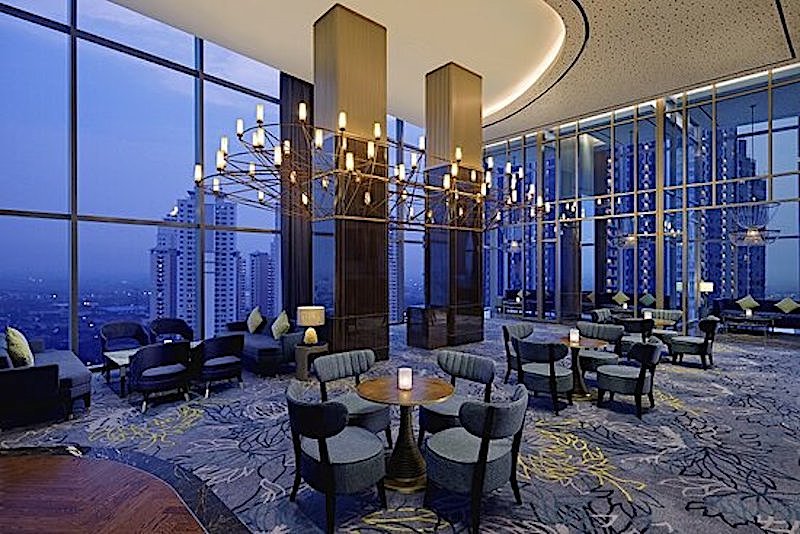 Overlooking Surabaya city view, Sky Lounge presents the best lounge & bar in Surabaya serves signature drinks inspired by local and international flavors.
Nikmati hiburan pertunjukan musik setiap harinya di Sky Lounge. Pilihan bersantap yang santai dan salah satu lounge paling populer di Surabaya.
Live music schedule / Jadwal Pertunjukan :
Monday / Senin : Glass Onion | Tuesday / Selasa : Soulfree | Wed / Rabu : Plug & Play
Thursday / Kamis : Fifthy Shades | Friday / Jumat : Orange | Sat / Sabtu : 90's
Westin Surabaya, Pakuwon Mall - Jalan Puncak Indah Lontar No. 2
Surabaya, Indonesia 60216 CALL: 623129710000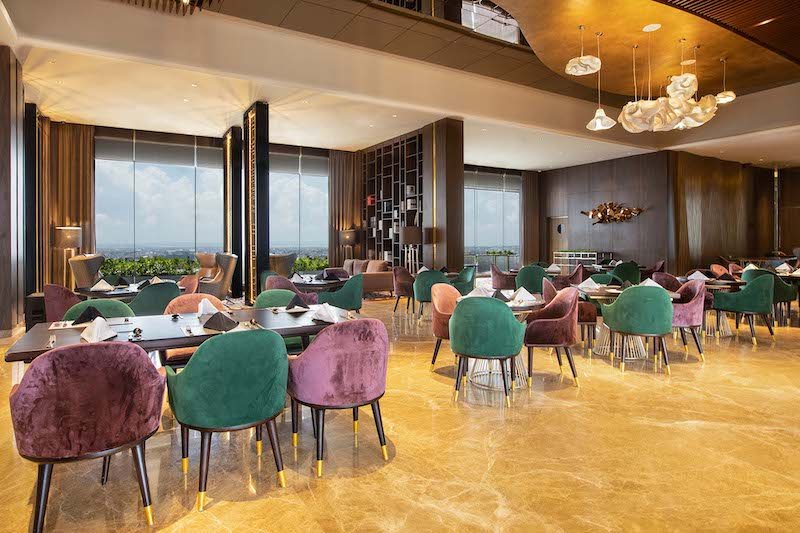 Located on the 21st floor with city view of Surabaya, Previere21 provides a Bar and Lounge which is equipped with luxurious facilities and can be used for meetings or party events. Enjoy the curated menus comprising unique flavours, from sweet delights and our signature cocktails.
GRAND DAFAM SIGNATURE SURABAYA
Jl. Kayoon 4-10,
Surabaya 60271 East Java, Indonesia
Tel.: 031 99 246 888
Fax: 031 99 245 588
[email protected]

Open Daily 11am to midnight. Wine Store | Wine Delivery | Resto, Bar & Lounge For more info, price and delivery call +628113536677
Wine & Co at JW Marriot Surabaya

New wine cellar opened in one of prestigious hotel in Surabaya - JW Marriot Surabaya to cater wine lovers. 
"Located inside of JW Marriott Surabaya, Wine & Co is the finest wine cellar in Surabaya. With more than 700+ premium wine products, Wine & Co is the perfect place to shop wine in Surabaya."
JW Marriott Hotel Surabaya, Jl. Embong Malang No.85-89, Kedungdoro, Kec. Tegalsari, Kota SBY, Jawa Timur 60261, Indonesia
Hours: Open ⋅ Closes 10 PM
Vino wine & music lounge