The holy month of Ramadan is a moment that is always welcomed with joy. Besides being able to focus more on worship, one thing that is most awaited this month is hunting for tajils. Tajil is a very special food or drinks to break the fast. This food or drink has a taste that tends to be sweet to fast-boost energy.
In Indonesia, apparently, there are several unique culinary specialties from various regions which are usually used as tajil for breaking the fast. With this list, we encapsulated some of the most popular tajils around Indonesia.
Asida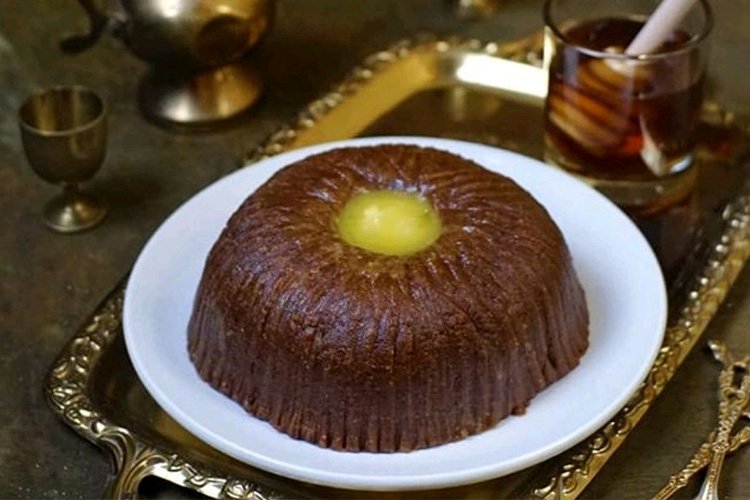 Comes from Maluku, Asida has a sweet taste similar to the taste of dodol. Asida is made from flour, brown sugar, melted butter, and cinnamon powder plus cardamom. This sweet and savory taste is indeed suitable for an iftar menu.
Biji Salak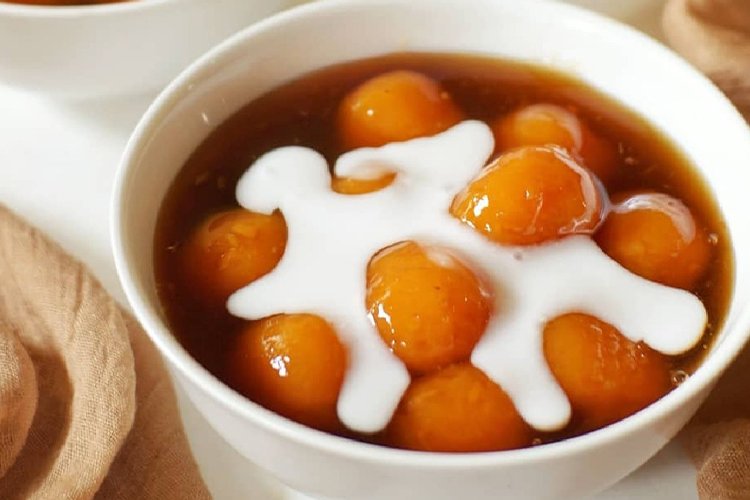 Biji Salak is one of the sweet delicacies that are hunted during the fasting month. The taste of brown sugar coconut milk sauce combined with a spherical-shaped glutinous delicacy made from sweet potatoes makes this tajil really popular.
Bongko Kopyor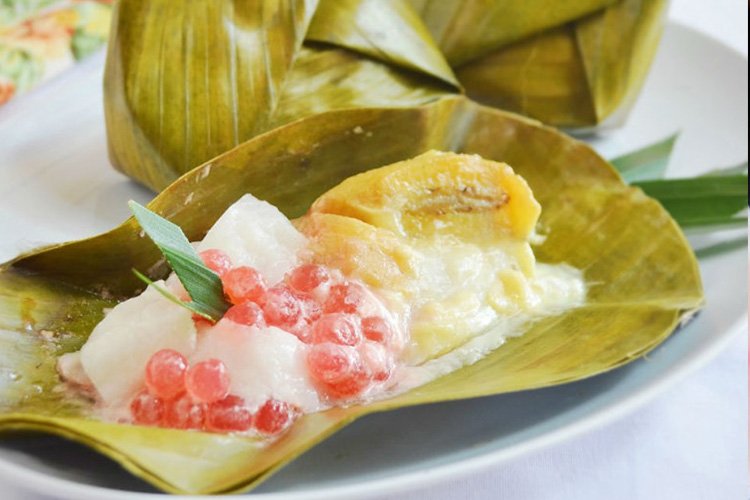 Another unique culinary for Iftar is Bongko Kopyor which comes from Gresik, East Java. The appearance of this traditional cake is different from other cakes. Bongko Kopyor looks more festive because of its complete contents. Usually, Bongko Kopyor consists of wheat flour, young coconut meat, bananas, jackfruit, and plain bread.
Bubur Kampiun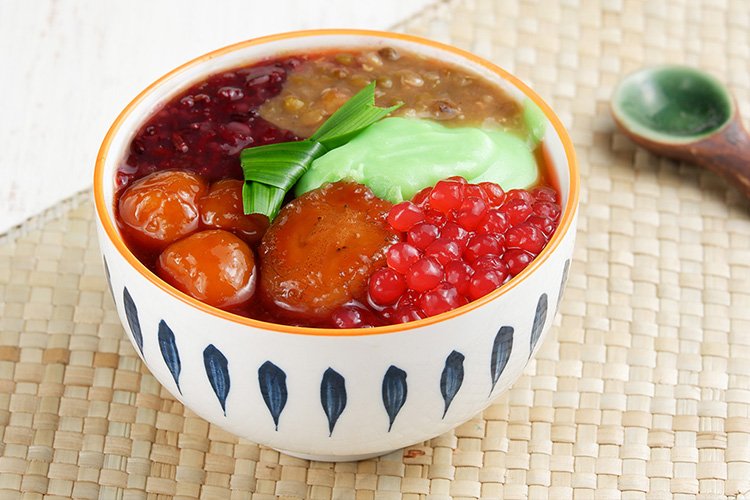 Bubur Kampiun or commonly called Bubur Campur (mixed porridge) does have a complete filling. The sweet-tasting porridge consists of sumsum porridge, sweet potato compote, banana, candil, pomegranate porridge, and black sticky rice. Its distinctive sweet taste makes Bubur Kampiun favored by many people, not only Minangkabau people but also travelers.
Cendol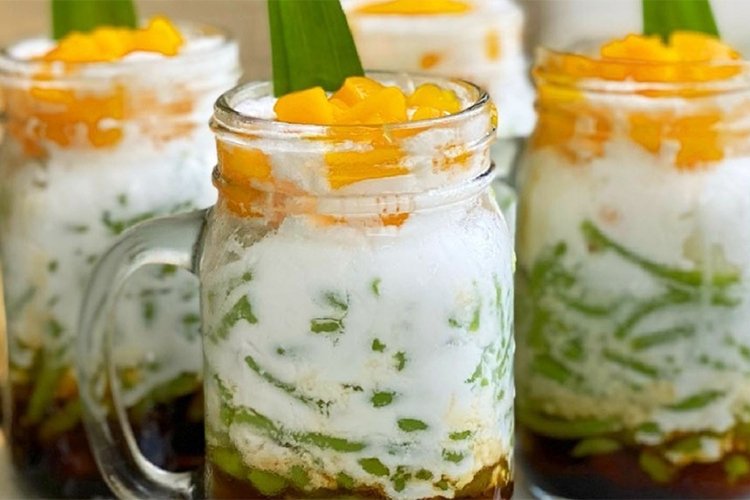 One of the most popular tajil in the South East Asia region, Cendol is a sweet ice dessert made from rice flour, suji leaf, pandan leaf, coconut milk, and palm sugar syrup. Cendol is identical to the color of green strands resembling this chewy noodle mixed with the refreshing milky and sweet syrup.
Es Doger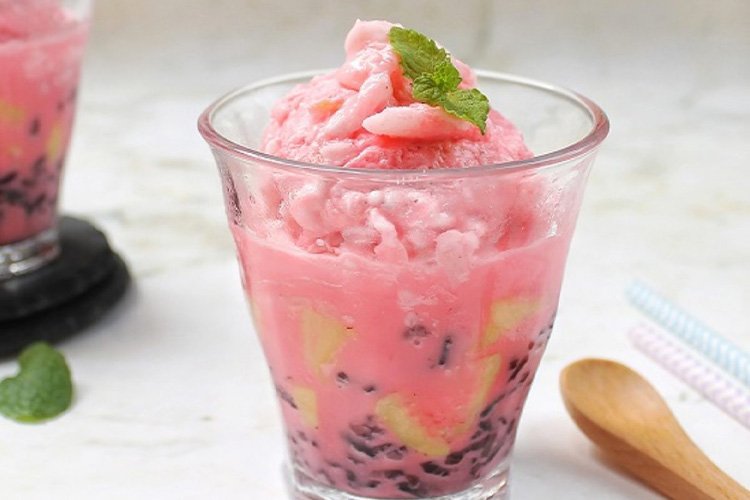 A refreshing drink containing black sticky rice, avocado, coconut, jackfruit, or slices of white bread for the texture. On the top then given syrup, sugar and sweetened condensed milk, and ice shavings.
Es Goyobod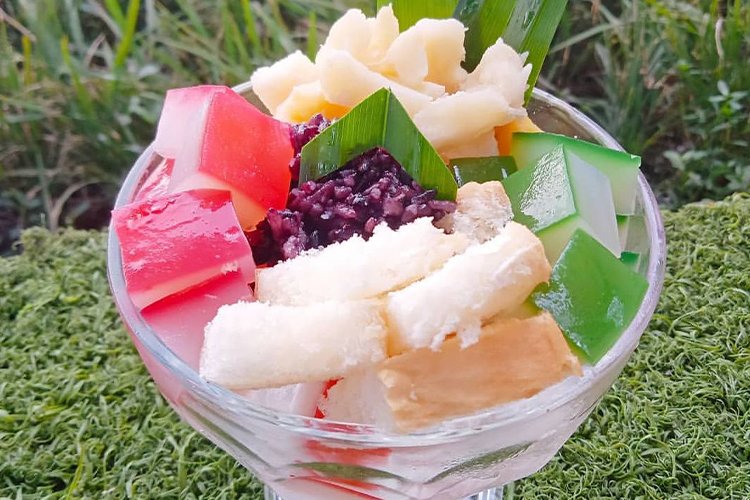 This fresh drink from Garut has many fans. The filling is usually flour pudding, slices of white bread, pearls, fermented cassava, and coconut, complete with coconut milk and sweetened condensed milk.
Es Kacang Merah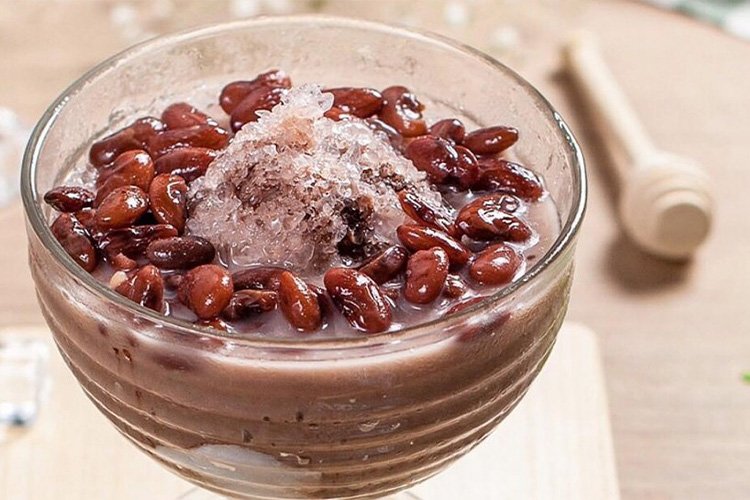 Es Kacang Merah or Red Bean Ice, which is an acculturation of Chinese cuisine, is actually not only a typical Palembang drink. It is also popular in several other areas in Indonesia such as Manado. Es Kacang Merah is usually made from fresh red beans, then given a mixture of coconut milk and a mountain of shaved ice, and red syrup or cocopandan is usually added to sweeten it. Unlike Manado, which is mostly served with sweetened condensed milk chocolate.
Es Oyen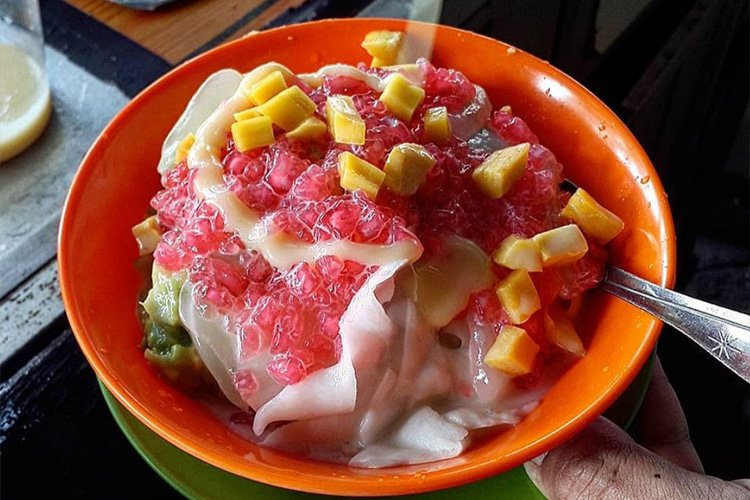 The famous drink from Bandung. It's basically an iced drink that contains young coconut, pearls, avocado, kolang kaling and jackfruit covered in shaved ice. Then topped with a simple syrup and sweetened condensed milk.
Es Pisang Ijo/Es Pallu Butung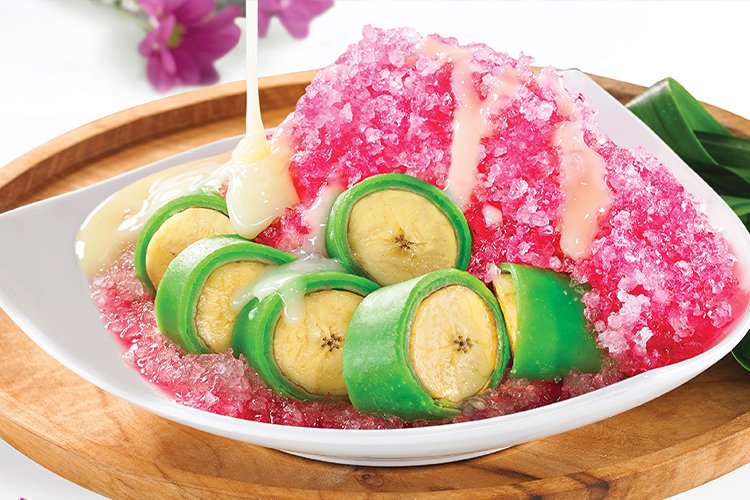 This is the most famous duo takjils from South Sulawesi. Although the names are different, they are both made from bananas. If Es Pallu Butung does not have a green skin layer, then Es Pisang Ijo has a green skin layer made from rice flour. The rest is just adding shaved ice, cocopandan syrup, and sweetened condensed milk as a complement.
Es Selendang Mayang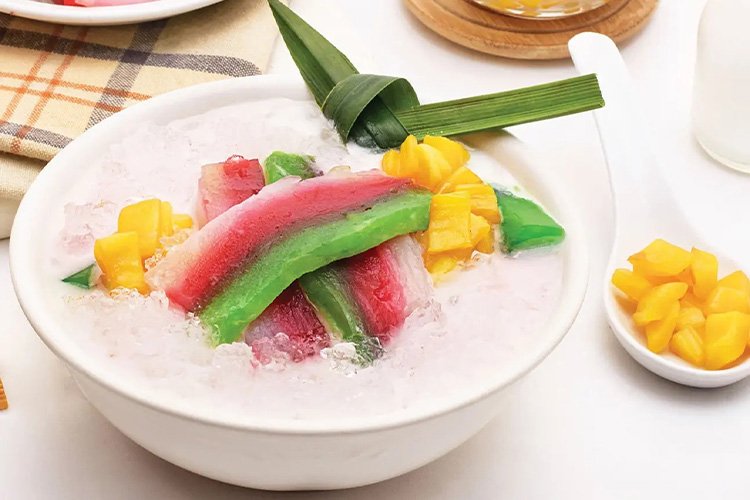 This Betawi specialty takjil menu is famous for its fresh taste. Es Selendang Mayang is a unique takjil drink with an appetizing taste and is sure to make thirst and hunger disappear as soon as you eat it. The combination of coconut milk, sugar, and pieces of selendang mayang made from sago, rice flour, or hunkwe flour is very delicious to drink during iftar.
Es Teler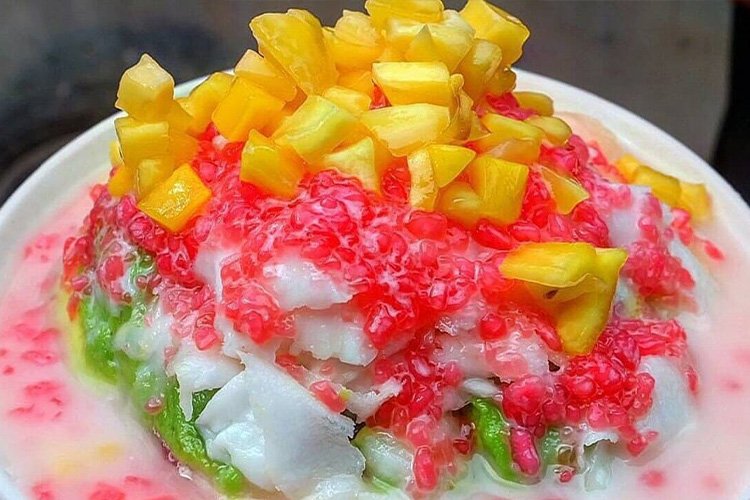 Es Teler is an iced drink containing pieces of avocado, jackfruit, young coconut, milk, shaved ice, and liquid coconut milk with added syrup. The combination of the taste of milk with avocado and jackfruit gives a great sweet texture.
Jongkong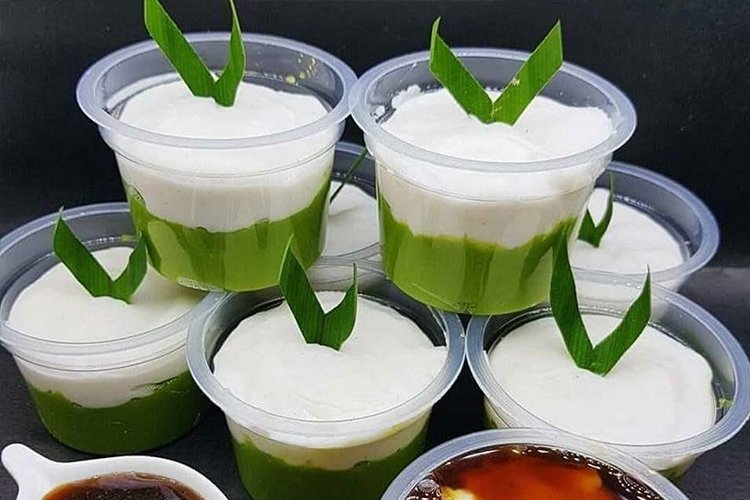 Jongkong which comes from Lampung is actually similar to sumsum porridge. Jongkong has a sweet and savory taste, a mixture of coconut milk and brown sugar. Jongkong porridge is a Chinese heritage culinary that is a favorite menu during the fasting month.
Kicak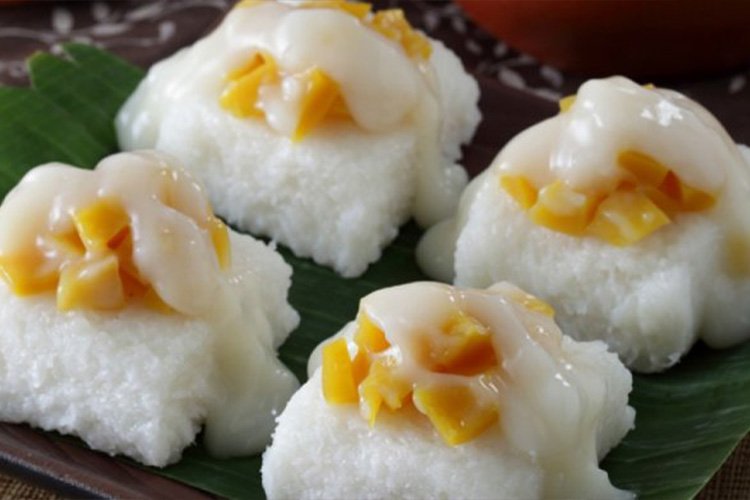 Kicak which comes from Yogyakarta is popular during the month of Ramadan and is usually sold in the Kauman area. Kicak is made from finely ground glutinous rice, then mixed with sugar, grated coconut, coconut milk, pandan leaves, and pieces of jackfruit as a complement. The sweet taste and aroma can indeed arouse the taste buds after fasting for a full day.
Kolak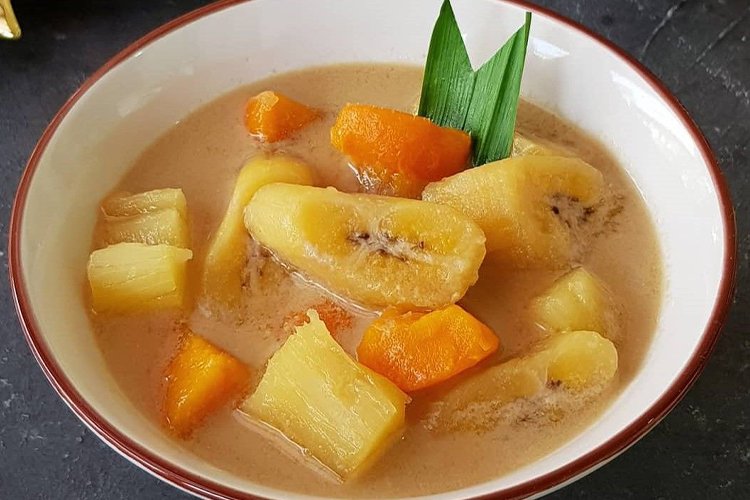 Kolak is commonly found during Ramadan. It tastes sweet, savory and has a soft texture that is suitable for breaking the fast. There are many types of compote, such as banana, sweet potato, and even cassava. It is made from brown sugar and coconut milk, plus fragrant pandan leaves, making it even more appetizing.
Ketan Bintul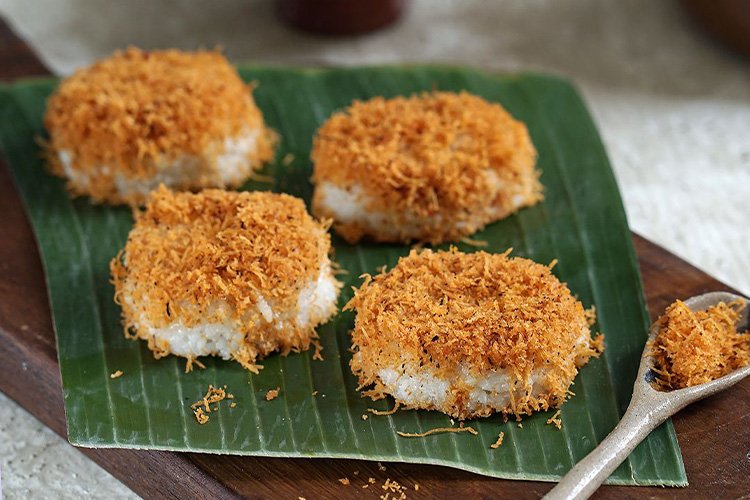 Ketan Bintul is always present when breaking the fast in the Serang, Banten. This glutinous rice sprinkled with serundeng (spiced-shredded coconut) and beef rendang is a must-have iftar menu. This savory, sweet, and slightly spicy taste is indeed suitable to be used as an iftar menu when Ramadan arrives.
Lamang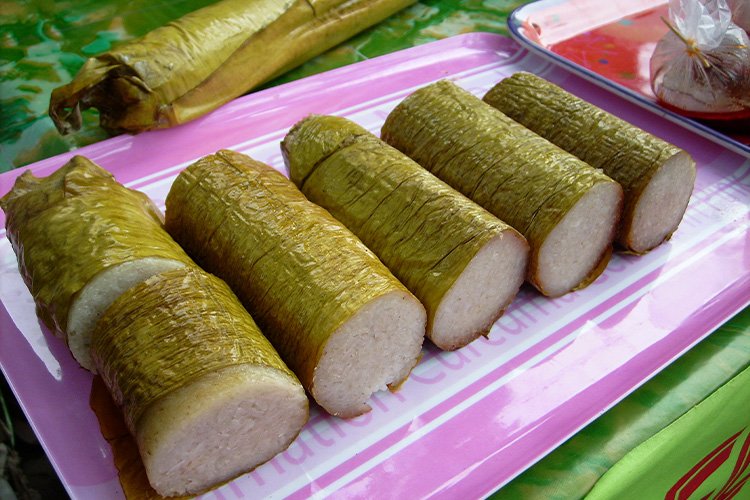 Lomang (Batak), lemang (Malay) and lamang (Minangkabau) are three names that are pronounced and written similarly to indicate the name of this particular food. Lamang is a method of cooking rice into rice using a bamboo container which is then burned. Actually, there are two ways to eat this. First, lamang can be dipped with black glutinous rice or thinly sliced. Second, it can be eaten with srikaya jam or durian jam. The combination of black glutinous rice and savory lamang gives its own sensation. So addicting.
Lepat Gayo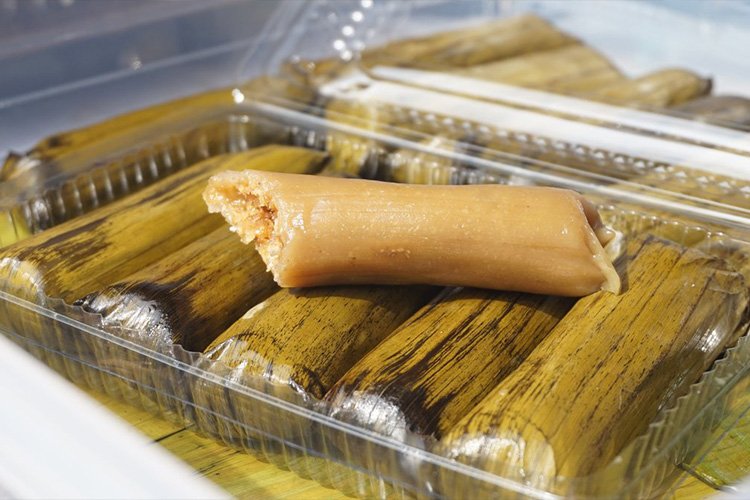 From Aceh, Lepat gayo itself is the same as cake lepat in general, which is made from glutinous rice flour, palm sugar, and grated coconut. One thing that is unique is that Lepat Gayo does not spoil easily and can be stored for several months.
Mie Glosor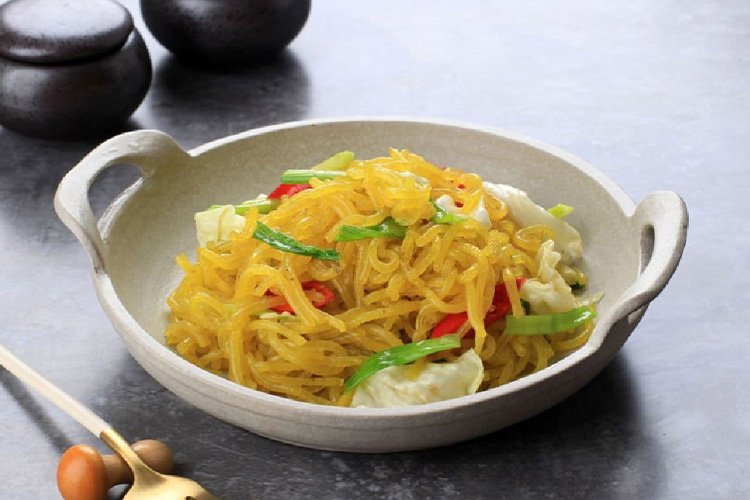 Mie Glosor, which is famous in Bogor, is made from yellow noodles made from dough of starch mixed with turmeric and cooked with cabbage that is cut into small pieces. This noodle is served with spicy peanut sauce. Mie Glosor is usually eaten with fritters such as bakwan or tempeh.
Pakat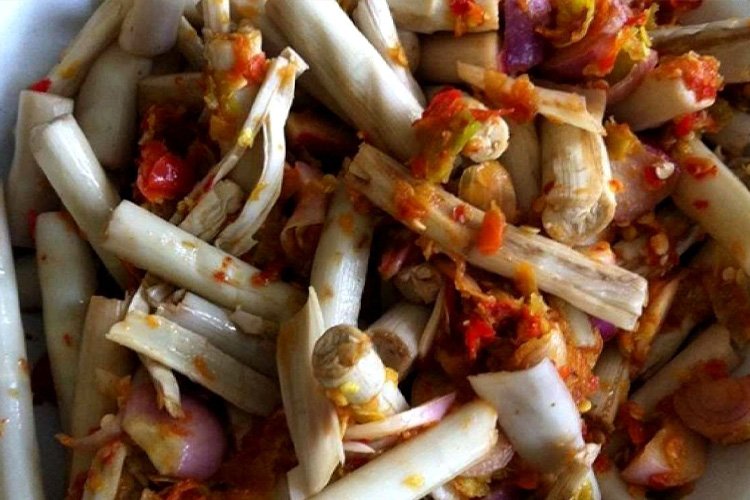 Pakat from Medan is a culinary tradition typical of the Mandailing people. This food comes from young rattan that is burned and seasoned with coconut milk. This young rattan is usually used as a tajil menu before eating a heavy meal after fasting.
Sate Susu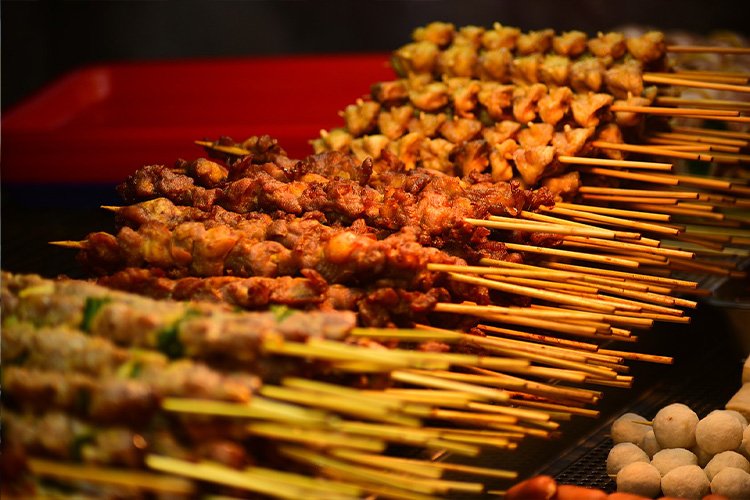 In Bali, Sate Susu is always a delicacy to look forward to during the fasting month. Actually, this is made from part of cow's milk, namely cow's milk pouch or cow's breast nipple, which is sliced into small pieces, then boiled and seasoned with spices, and then grilled over charcoal. When eaten, the milk satay will be served with Balinese spices, namely plecing. Usually, the seller of this milk satay will be found in the pop-up traditional market during Ramadan.