You will be in awe of the Bandung F&B scene what to offer, a gamut of interesting places with various concepts and designs that must be visited for food lovers. Besides being famous for its street food, scenery, and historical places, Bandung's endless ideas of the restaurant are surely attracted the locals and tourists. Here are restaurants that offer best dining experience you need to visit while in Bandung. Scroll down to check out which restaurant made it to our list.
(Number does not represent ranking)
1. Tilu Kitchen and Patisserie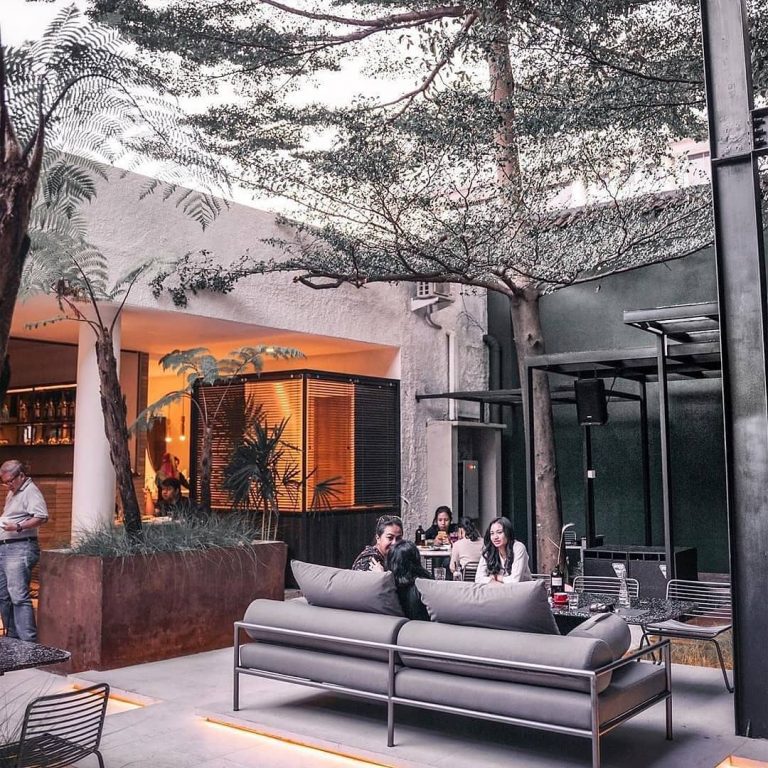 Tilu Kitchen and Patisserie is one of the restaurants in Bandung which is luxurious and elegant. This restaurant is perfect for any occasion with family and friends. In addition, this restaurant is famous for its very friendly service and a clean spacious place. The menu is very varied, ranging from snacks to heavy meals and the prices are also quite affordable.

Jl. R.E Martadinata No.81, Bandung
P: (022) 20543053
Instagram
2. Ambrogio Patisserie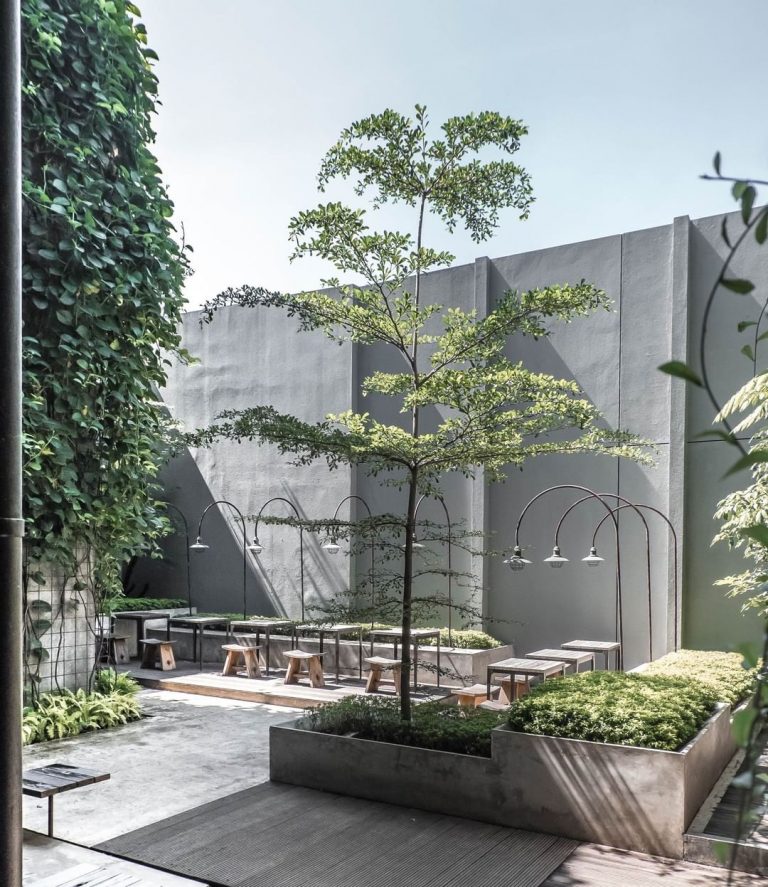 This restaurant will make you feel like you're in the sanctuary with its interior which is mostly made of wood and also surrounded by plants. It is suitable for those of you who are looking for a place to eat while relaxing with friends and family, especially since the spacious place makes you more flexible. And don't forget the pastry menu which is the highlight of this restaurant, the pastry menu includes croissants to macarons, and of course, everyone's favorite which is ice cream.

Jl. Banda 26, Bandung
P: (022) 20512779
Instagram
3. Garland Social House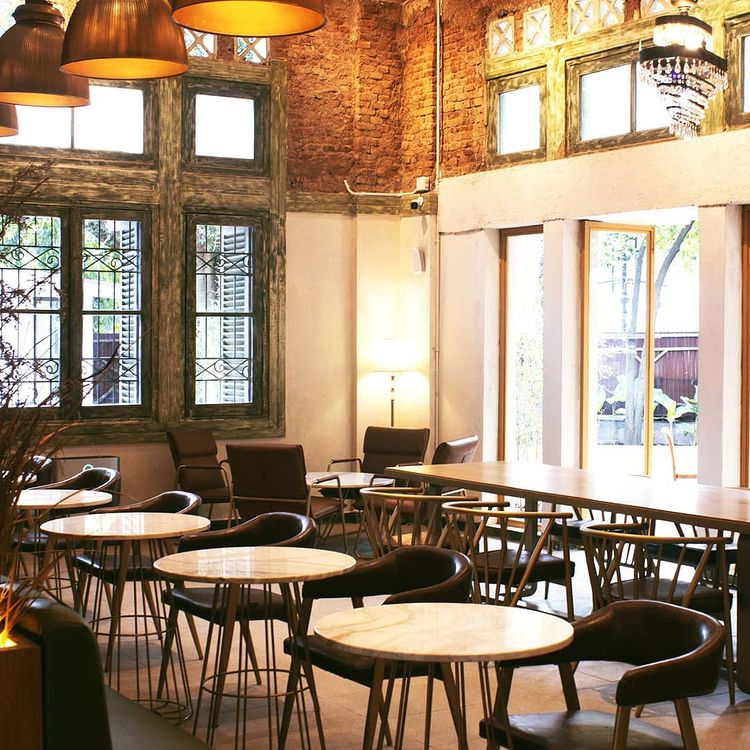 With the unfinished building design, Garland Social House has succeeded in making this restaurant an aesthetic and popular place for young people, not to mention that good service and a clean place make this restaurant even more famous. The menu includes a wide range from Indonesian to Western Food, so it is a perfect place to gather with friends and family.

Jl. R.E Martadinata No.187, Bandung
Instagram
4. Café Bali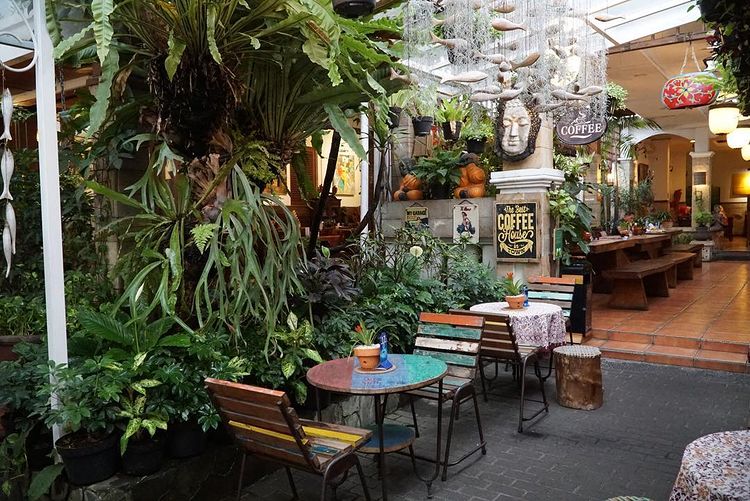 Despite the name, Café Bali provides local and international comfort food to their menu. They are open for two types of service a la carte menu and a buffet. For the ala carte menu, they range from Indonesian Food to Western Food, and for the buffet, Sundanese specialties are provided, ranging from Gado-Gado, Lotek, to Sweet Concoctions like Kolak. The interior is also very comfortable coupled with the many plants around which make it cooler and invigorating.

Jl. R.E Martadinata No. 211 – 215, Bandung
P: (022) 7217490
Instargram
5. Kapulaga Indonesian Bistro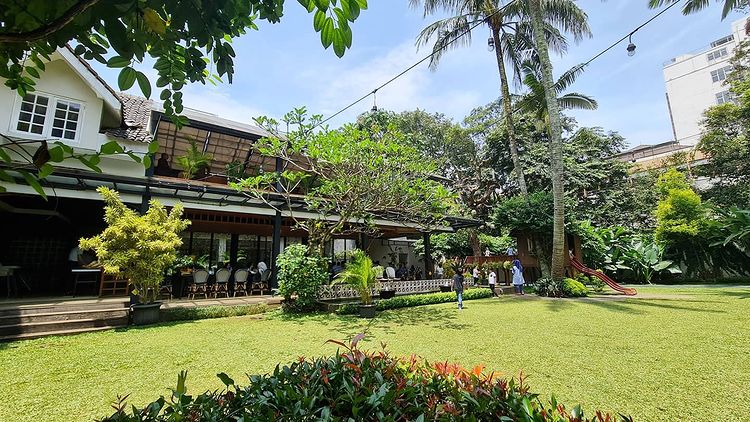 Kapulaga Indonesian Bistro is one of the famous restaurants in Bandung, the place is spacious and cool because it is overgrown with plants and a children's playground available is another added value to this place, which is one of the reasons this restaurant is in great demand besides the delicious food menu of course. This restaurant also provides outdoor and indoor places, where the indoor place makes you feel at home, while the outdoor is very instagramable and suitable for young people craving for some snaps.

Jl. Dayang Sumbi No. 3, Bandung
P: (022) 2506195
Instagram
6. Jenderal Kopi Nusantara Buwas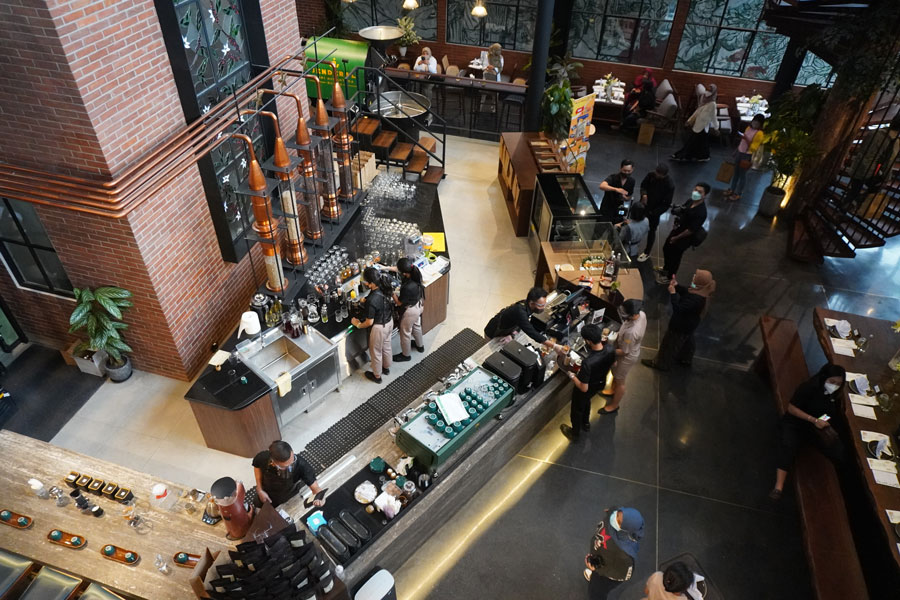 In this place, you will feel like you are cooking in your backyard accompanied by cute fish because some spots in this place are very homey like a backyard lawn. It would be nice to bring family or friends. The place itself is also spacious consisting of two floors with a choice of indoor and semi-outdoor venues. The place is also cool because there are many plants in the corners.

Jl. LLRE Martadinata No. 219, Bandung
P: 0811-9216-869
Instagram
7. Skyline Best View Resto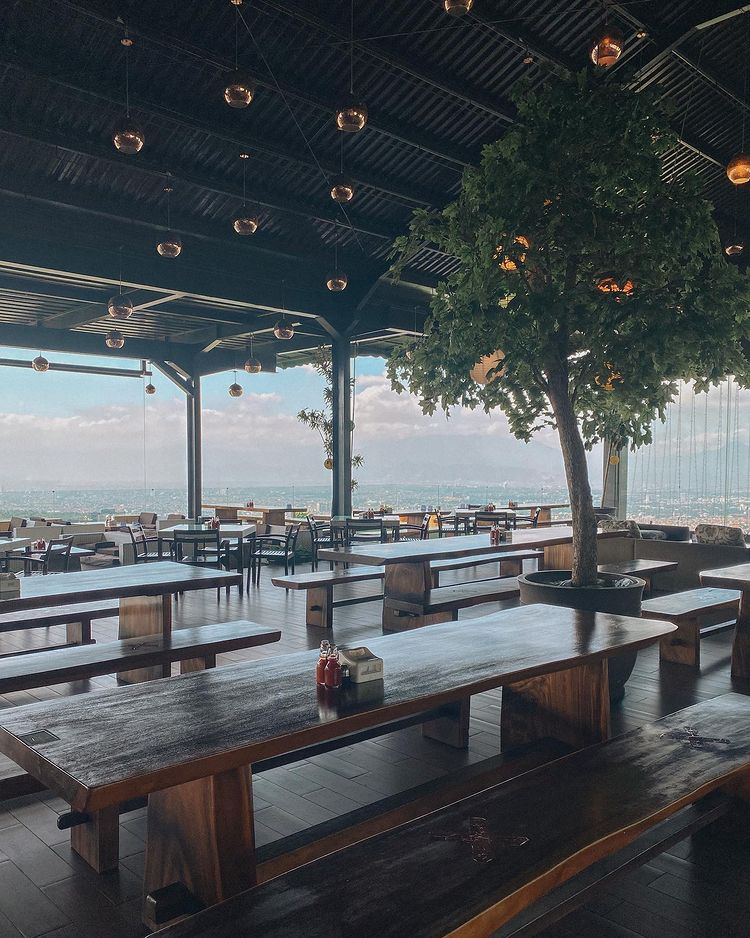 Because it is located at the top of Bandung, this place is very cool and breezy. Another great addition to your list of places you can enjoy the view of Bandung from above. This place is perfect for those of you who will do a date or gather with family because of its comfortable place. Here also provides many spots for those of you who want to take pictures. The highlighted menu includes Sate Maranggi, Soto, Pasta to Steak and Ribs.

Jl. Dago Pakar Timur No. 108, Bandung
P: (022) 20455666
Instagram
8. Hummingbird Eatery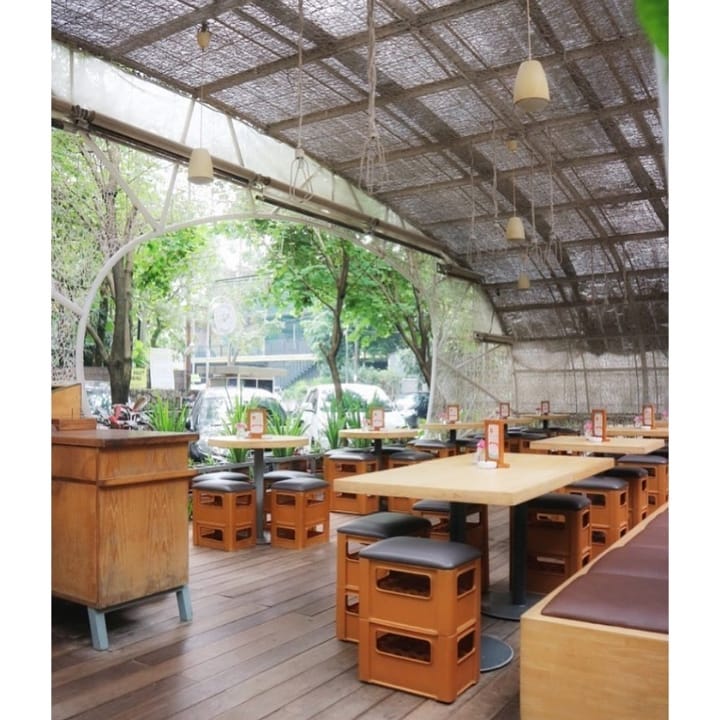 As one of the favorite cafes in Bandung, Hummingbird has a comfortable place, a fairly large parking area and wifi connectivity that is quite reliable. No wonder many young people or families choose to dine in here. The place serves Western foods with a twist of Asian touch. Try its Escargot, Tom Yum Fettuccine, or Hamburg Steak.
Jl. Progo No.14, Citarum, Bandung Wetan, Bandung
P: (+6222) 4212582
Instagram
9. The Restaurant at Padma Hotel Bandung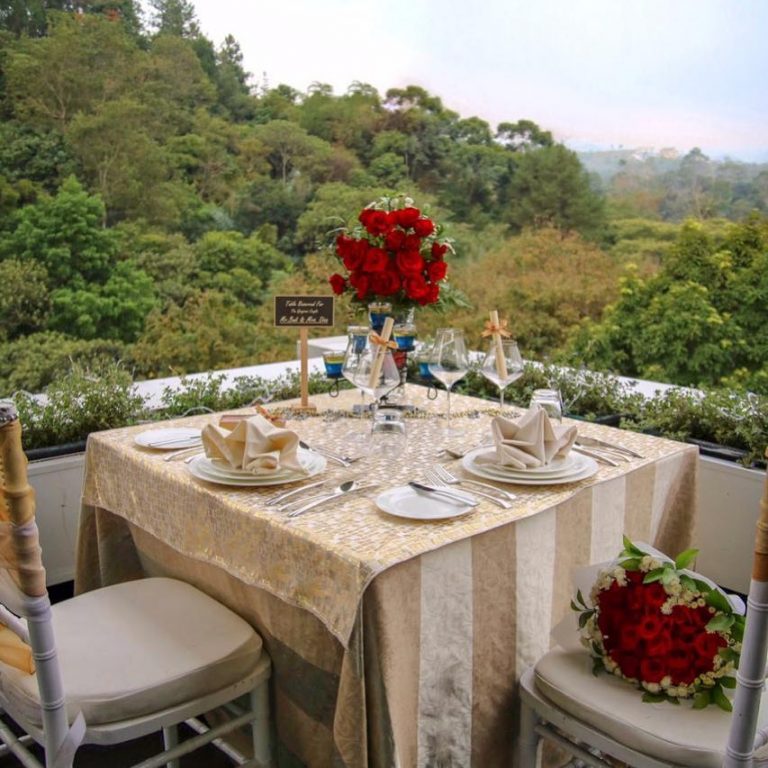 Located above the green valley, The Restaurant brings a refreshing breeze of air. This romantic setting will give you a different vibe while enjoying its finest Asiatic and European cuisine. Every dish is beautifully crafted into a piece of art, assured to deliver an astonishing exquisite taste. A place where you can enjoy a wide range of roasted coffees, selected teas, freshly pressed juice, wine selections, cigars and light snacks surrounded by natures beauty. Suitable for a small meeting or high tea gathering.
Padma Hotel Bandung
Jl. Rancabentang No.56-58, Ciumbuleuit, Bandung
P: (+6222) 2030333
Instagram
Website
10. Miss Bee Providore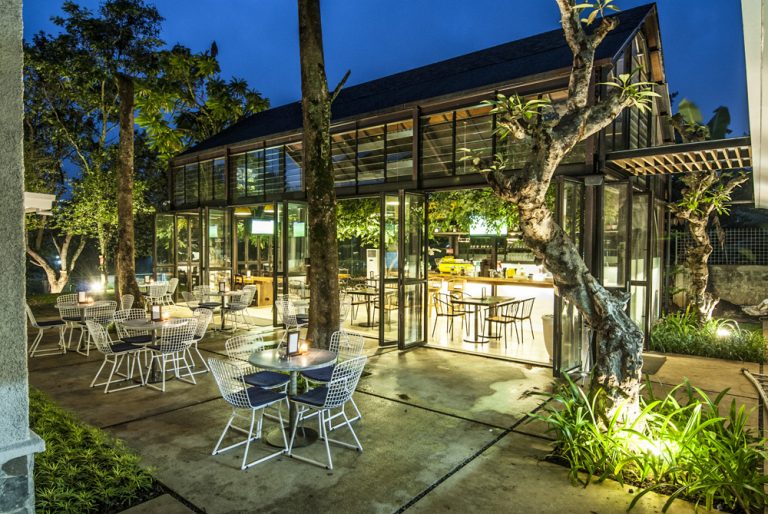 The restaurant offers a great ambiance with its sense of homey and lounge concept. Miss Bee Providore serves Asian and Western dishes, specially prepared with the place's signature recipes. Try its coffee selection, as well as the fulfilling main course, such as The Comforter Burger and Grilled Honey Ribs.
Jl. Rancabentang No.11A, Ciumbuleuit, Bandung
P: (+6222) 2033613
Instagram
Website
11. Pago Restaurant at The Papandayan Hotel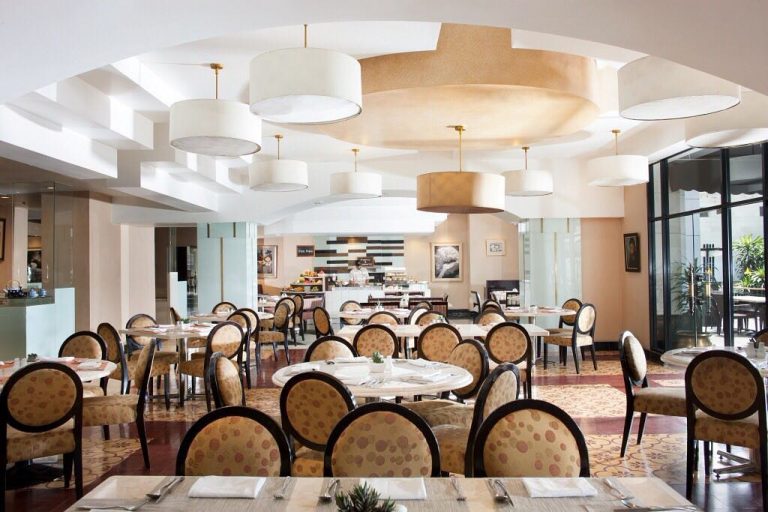 Pago Restaurant, a highly interactive yet sophisticated open live cooking kitchen concept, with a more casual ambiance, offers a wide buffet selection and a la carte menu. This unique dining venue seats 198 and has five live cooking stalls with counters offering Asian and International cuisines and a wide selection of refreshing drinks.
The Papandayan Hotel
Jl. Gatot Subroto No.83, Bandung
P: (+6222) 7310799
Instagram
Website
12. Atmosphere Resort & Cafe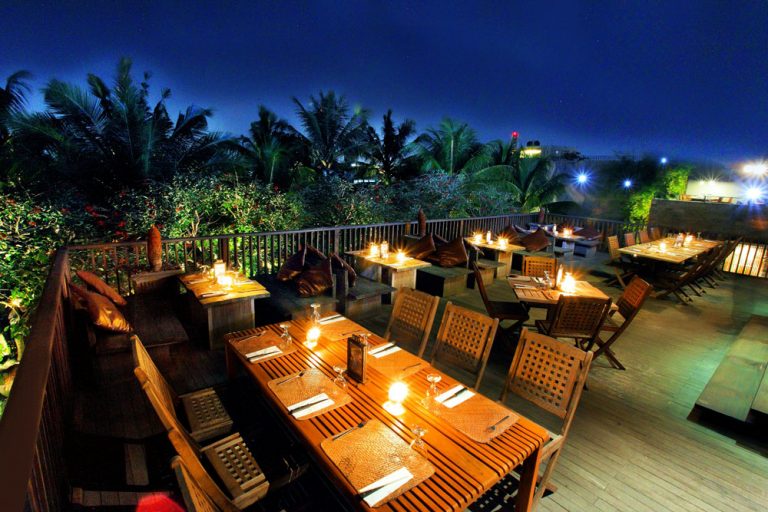 Located in the heart of Bandung, Atmosphere Resort Café offers a wide range of finest cuisines, in a casual and stylish atmosphere. The interior design is adapted from Balinese and extends with the cozy ambiance of polished woods, gazebos and various plants around the ponds, which gives beautiful view and natural nuances. Specialties ranging from European, Asian to Indonesian cuisines, brought to you by a professional chef in a fairly priced menu. For beverages, there is variously mixed of Coffee or Tea, Mocktails and juices, completed with a wide collection of wines & cocktails.
Jl. Lengkong Besar No.97, Paledang, Lengkong, Bandung
P: (+6222) 4262815
Instagram
13. Gormeteria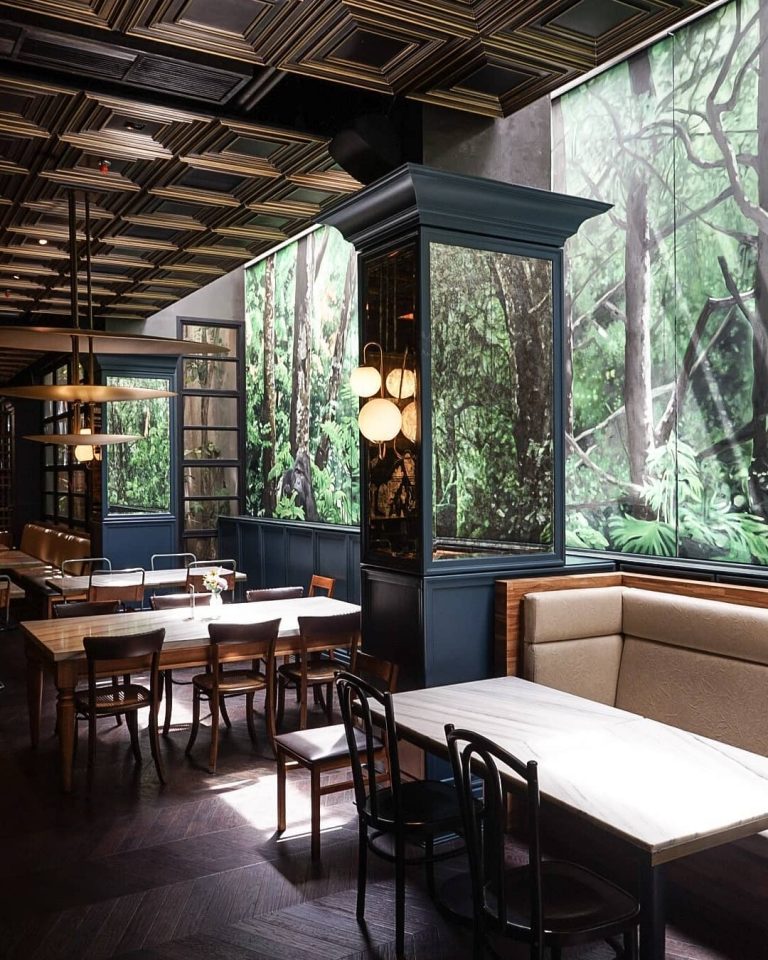 One of the hippest cafes in Bandung as Gormeteria comes with a really cool interior concept. Dominated with vintage wooden accents, the place radiates a classy old ambiance. For foods, this restaurant offers a selection of Asian meet Western dishes. Ranging from pasta, burgers, to some of Indonesia's favorite comfort foods.
Jl. Pasir Kaliki No.176, Pasir Kaliki, Cicendo, Bandung
P: (+6222) 20524850
Instagram
14. The Stone Cafe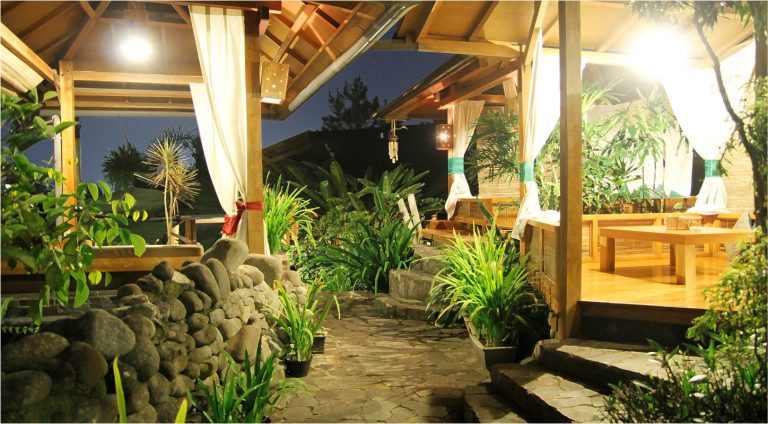 Discover the harmony between tradition and modern that fuses harmoniously in The Stone Cafe, both architecturally and menu, covered in the cool air typical of the highlands of Dago Bandung. Enjoy a special culinary with panoramic views of the beautiful city where you can spoil your eyes and tongue simultaneously. Both large and small saung are available, as well as the main building with balcony and indoor facilities.
Jl. Raya Ranca Kendal Luhur No.5, Dago, Bandung
P: (+6222) 2500577
Instagram
15. Sierra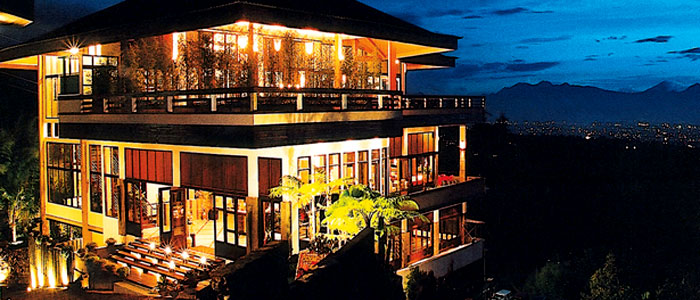 Sierra Café is a spacious restaurant in Dago Pakar where you can enjoy your meal while overlooking the nice view of Bandung hills. The restaurant offers the best selection of Italian cuisine as well as elegant interior concept. Sierra is a favorite place for a romantic dinner and often used for a wedding or anniversary.
Jl. Bukit Pakar Timur No.33, Dago, Bandung
P: (+6222) 2512240
Instagram
16. The 18th Restaurant and Lounge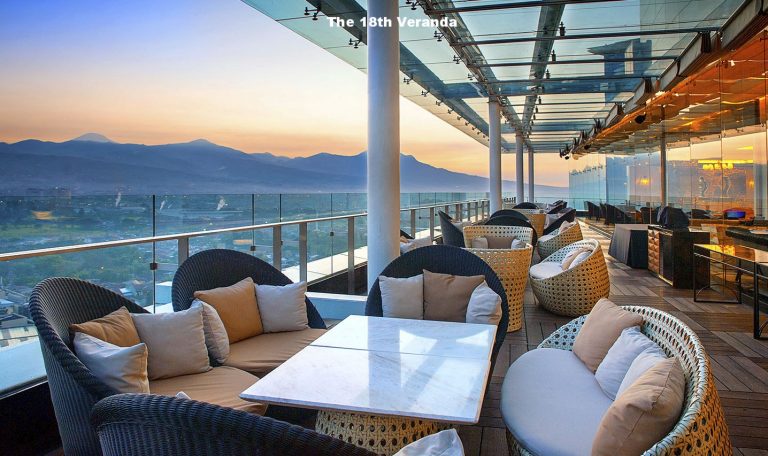 The restaurant brings you the most innovative and exciting cuisine in West Java, Indonesia. The team have experience throughout the world and have created a quality driven and value for money dining experience. The 18th only uses the finest ingredients, sourced both locally and internationally, and aspire to continue evolution with new talent and concepts. Its venue has a stunning 100 meter Terrace Lounge, on the 18th Floor of the Trans Luxury Hotel, Bandung. Caters for intimate A La Carte needs as well as group events, with sophisticated Food & Beverage options to meet the needs of you or your clients, both for business and leisure.
The Trans Luxury Hotel
Lantai 18, Jl. Gatot Subroto No.289, Bandung
P: (+6222) 84288288
Instagram
Website
17. Damai Restaurant at InterContinental Hotel Bandung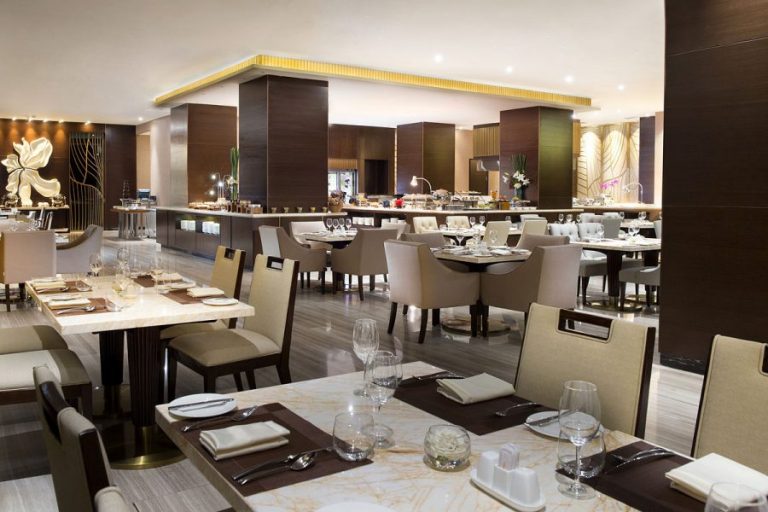 A place to be recognized as the best location in Bandung, consistently serving high-quality food, and extravagant buffet choices. A place too sees and be seen, feel the warm and personalized service delivered by a passionate and talented team. The mix of local and internationally inspired dishes will suit the tastes of residents and visitors alike, the combination of sumptuous buffet and A la Carte menus will enrich the dining experience of all who visit Damai Restaurant.
InterContinental Hotel Bandung
Jl. Resor Dago Pakar Raya 2B Resor Dago Pakar, Bandung
P: (+6222) 87806688
Instagram
Website
18. Braga Permai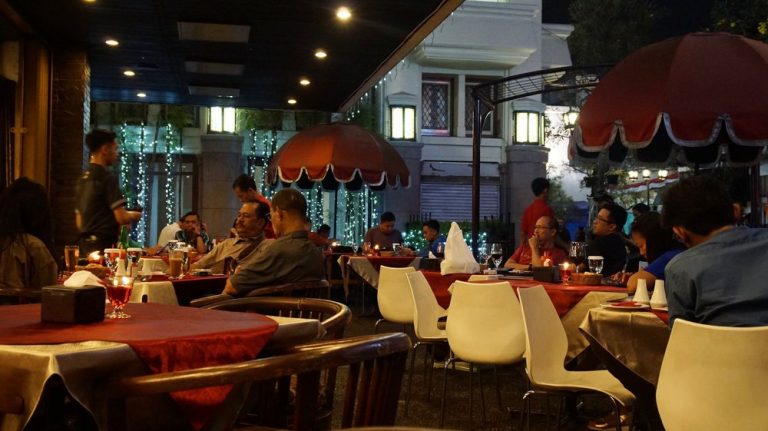 Photo: Inexology
Braga Permai probably one of the oldest restaurants in Bandung. Established in 1918 during the Dutch colonial era and was named Maison Bogerijen. This restaurant has gone through several renovations, yet the classic theme of its interior remains similar. What makes this place special is its signature Koningin Emma Taart and Wilhelmina Taart which are the typical food of the Dutch kingdom. Just like when it was opened, Braga Permai consistent in serving Dutch typical foods. Ranging from ice cream, patisserie, main courses, and desserts.
Jl. Braga No. 58, Bandung
P: (+6222) 4233778
Instagram
19. The Valley Bistro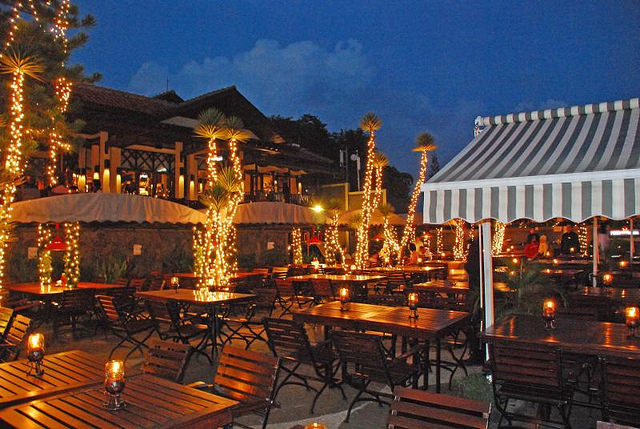 Spoils yourself in the evenings at The Valley Bistro Garden. Indulge in the colourfull European, Japanese & Oriental cuisines, filled with flavor and elegance, in a warm & relaxed ambiance. This restaurant is located in The Valley Resort Hotel which boasts rooms with spectacular Bandung City views from its hilltop location.
Jl. Lembah Pakar Timur No. 28, Dago Pakar, Bandung
P: (+6222) 2531052
Instagram
20. Congo Gallery & Cafe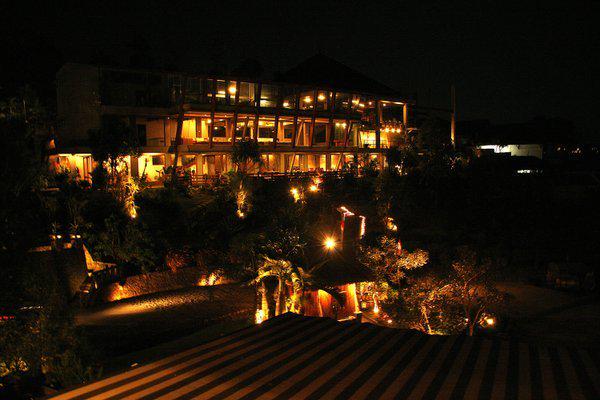 There are some restaurants in Bandung with greenery concept and one of our favorites is Congo Gallery & Cafe. The place surrounded by the lush garden, while the building is designed like a traditional house. For the foods, this places serves Indonesian as well as Western cuisine specially prepared with its signature recipe.
Jl. Ranca Kendal Luhur No.8 Dago, Bandung
7 am – 11 pm (Sun-Sat)
Instagram