EDITOR  3 YEARS AGO
SHARE
Traveling to Surabaya for a short period, there are hundreds of hotels waiting for you. But what if you need to stay longer yet you don't want to let go of the decent bed, the facilities, and on-demand service? Then get a  service apartment is probably the best choice for you.
1. Ascott Waterplace Surabaya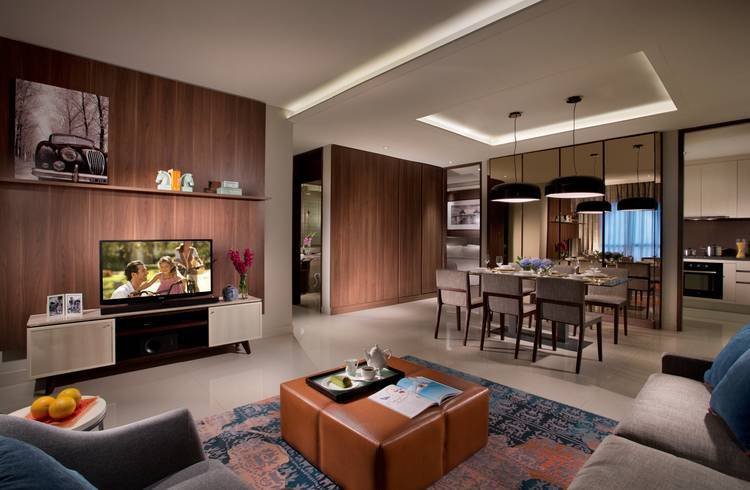 Ascott Waterplace Surabaya is located within the upscale neighborhood of Pakuwon Indah, west Surabaya. Conveniently situated in front of Pakuwon Trade Center, be moments away from large convention halls, department stores, a cineplex, and supermarket for all your daily needs and a variety of food establishments. The residence is also closely connected to other entertaining leisure destinations. It is a 10-minute drive from Ciputra World Surabaya, a 5-minute drive from Ciputra Golf Club and Hotel, a 20-minute drive from Plaza Tunjungan, and a 30-minute drive to Surabaya Zoo.
Tower D 1, Jl. Pakuwon Indah Lontar Timur Kav. 3-5. Surabaya
P: (+6231) 7393001
Website
2. Oakwood Hotel & Residence Surabaya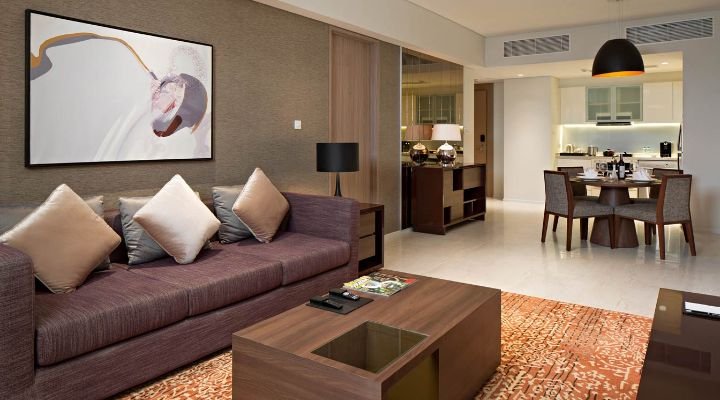 Situated in the heart of east Surabaya, Oakwood Hotel & Residence Surabaya offers elegance and home-like comfort amid a bustling city. Its prime location provides business and leisure travelers ease of access to premium shopping malls and a variety of dining and entertainment options. This polished hotel in a modern tower is 10 km from Wonorejo Mangrove Forest, a 200-hectare eco-park, and 17 km from Juanda International Airport. Chic, understated rooms include free Wi-Fi, smart TVs, and electronic safes. Studios add sitting areas, and kitchenettes with washer/dryers. The 1- and 2-bedroom apartments provide separate living rooms. Amenities include a sleek restaurant and a bar, as well as a fitness center and an indoor pool. Parking is available.
Jl. Raya Kertajaya Indah No.79, Manyar Sabrangan, Mulyorejo, Surabaya
P: (+6231) 2880388
Website
3. High Point Serviced Apartment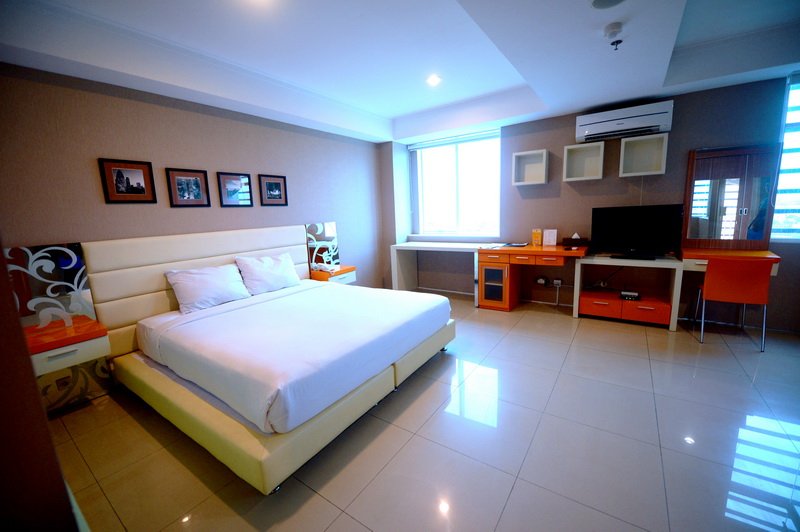 Designed in a minimalist and modern way for each room and building that carries the concept of green building that is environmentally friendly, you will feel comfortable to stay in High Point Serviced Apartment. In addition to a full range of facilities offered, such as a fitness center, two indoor and outdoor swimming pools, meeting rooms, cafes, food courts, large parking areas, and laundry, you can also enjoy the privacy needed in the room with the TV Cable, Internet, and a kitchenette in the room.
High Point Serviced Apartment is located in a strategic area, close to Juanda International Airport (15 minutes driving distance), Central Businesses District and Sidoarjo (10 minutes driving distance), and two well-known universities, the Petra Christian University and Pelita Harapan University. Around High Point Serviced Apartment there are also a variety of restaurants that sell a variety of local foods and drinks at affordable prices. In addition, there is also a mini-market inside the building, as well as in the vicinity which can make it easier for you to meet your daily needs during your stay. There are also two malls that you can reach in 5-15 minutes, City of Tomorrow (5 minutes driving distance) and Royal Plaza (15 minutes driving distance).
Jl. Siwalankerto No.161-165, Siwalankerto, Wonocolo, Surabaya
P: (+6231) 51936000
Website
4. Java Paragon Hotel & Residences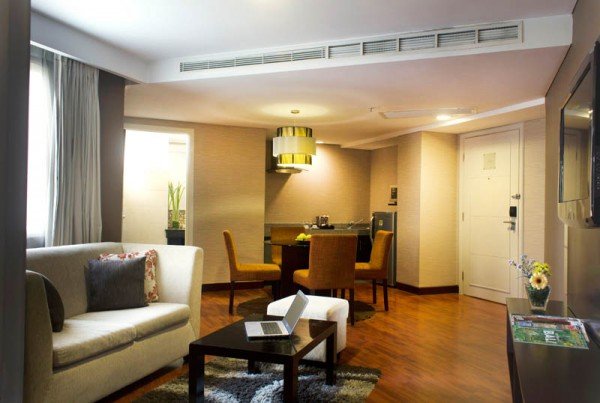 Java Paragon Hotel and Residences is the city's premier modern luxurious Business Class Hotel in Surabaya. Designed for guest who expects excellence and value individuality. Whether for a business or enchanting vacation purpose. Offers two apartment room types, 2-bedrooms and 3-bedrooms apartment. The master bedroom is attached with a bathroom with a bathtub and a king-size bed, 2nd bedroom has a bathroom and a queen-size bed. The rooms are also equipped with a spacious and comfortable living room with a 42-inch satellite TV with 60 channels. Its kitchen is completed with refrigerator, oven & stove including mineral water and gas. Each room overlooking Surabaya's cityscape. A separate maid/driver room with a bathroom is also available.
Jl. Mayjen Sungkono No.101-103, Dukuh Pakis, Dukuhpakis, Surabaya
P: (+6231) 5621234
Website
5. Verwood Hotel & Serviced Residence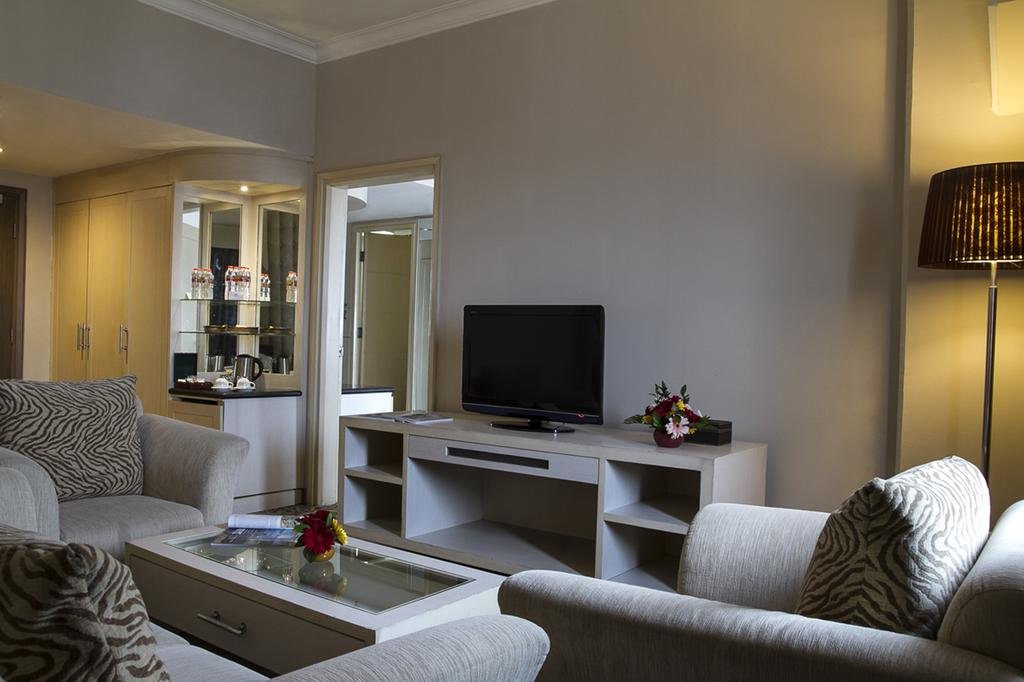 Overlooking a bustling street, this casual high-rise hotel & residence is a 7-minute walk from the nearest bus stop and 5 km from iconic Surabaya Zoo. The warm rooms offer free Wi-Fi, flat-screen TVs, and tea and coffee making facilities. Upgraded rooms add minibars, and suites feature sitting areas. The 1- to 3-bedroom apartments have kitchens; some offer dining rooms. A breakfast buffet is available. Other amenities include a restaurant, an outdoor pool, and a bar with regular live music, plus a bakery, meeting rooms and event space. There's also a fitness center and a spa.
Jl. Raya Kupang Indah, Putat Gede, Sukomanunggal, Surabaya
P: (+6231) 7328738
Website