With Korean cuisine is more familiar and popular in Indonesia, some Korean restaurants are opening their doors for Surabaya residents. Get a Korean dining experience, from some trendy snacks, BBQ, to the authentic ones.
1. Myoung Ga

Myoung Ga is listed as one of the best Korean restaurants in Surabaya. With a wide array of Korean side dishes, the place attracts many customers along with its Korean authentic dishes. Here you can find the scrumptious Dolsot Bibimbap, Jjamppong, as well as Korean BBQ.
Puri Matahari, Jl. Mayjen HR. Muhammad No.181, Pradahkalikendal, Dukuhpakis, Surabaya
P: +62812-1619-9094
https://www.instagram.com/myounggaexpress/?hl=en
2. Magal Korean BBQ

Magal Korean BBQ is a vibrant, bi-level Korean joint offering barbecue platters & classic small plates in colorful digs, as well as all-you-can-eat Koren BBQ.
Jl. Manyar Kertoarjo No.35, Mojo, Gubeng, Surabaya
P: (+6231) 5923222
IG: magal.surabaya
3. Gojumong Korean BBQ

Gojumong Korean BBQ is a casual Korean joint serving barbecue platters & classic sides in unfussy digs with tableside grills. Menus that you can choose include a grill package, various side dishes, Galbi Tang, Kimchi Jjigae, Kimbap, Sundubu Jjigae, and more.
Ruko Bukit Darmo Boulevard 2D-E, Jl. Mayjen Yono Suwoyo No.2D, Pradahkalikendal, Dukuhpakis, Surabaya
P: (+6231) 7342607
IG: gojumong_surabaya
4. SonGa Korean Restaurant 

SonGa serves authentic Korean cuisine perfect for dining with your family or friends. The restaurant also brings the traditional vibe of Korean culture through its interior. The foods are also specially prepared by Korean chef as SonGa is originally from South Korea.
Jl. Mayjen HR. Muhammad No.26, Sonokwijenan, Sukomanunggal, Surabaya
P: (+6231) 7344676
IG: songaresto_sby
5. Baik Su
Baik So was established in 2000 located in the Darmo Park complex. The restaurant presents several highlighted menu with Korean authentic flavor. Find some Korean dishes that you rarely find in other restaurants at this place, such as Pork Blood Sausage, Steamed Pig Trotters, and Roasted Onion Pancake.
Darmo Park 1, Jl. Mayjen Sungkono Blok IVC No.1, Pakis, Sawahan, Surabaya
P: (+6231) 5663881
IG: baiksukoreanrestaurant
6. Sadang Korean BBQ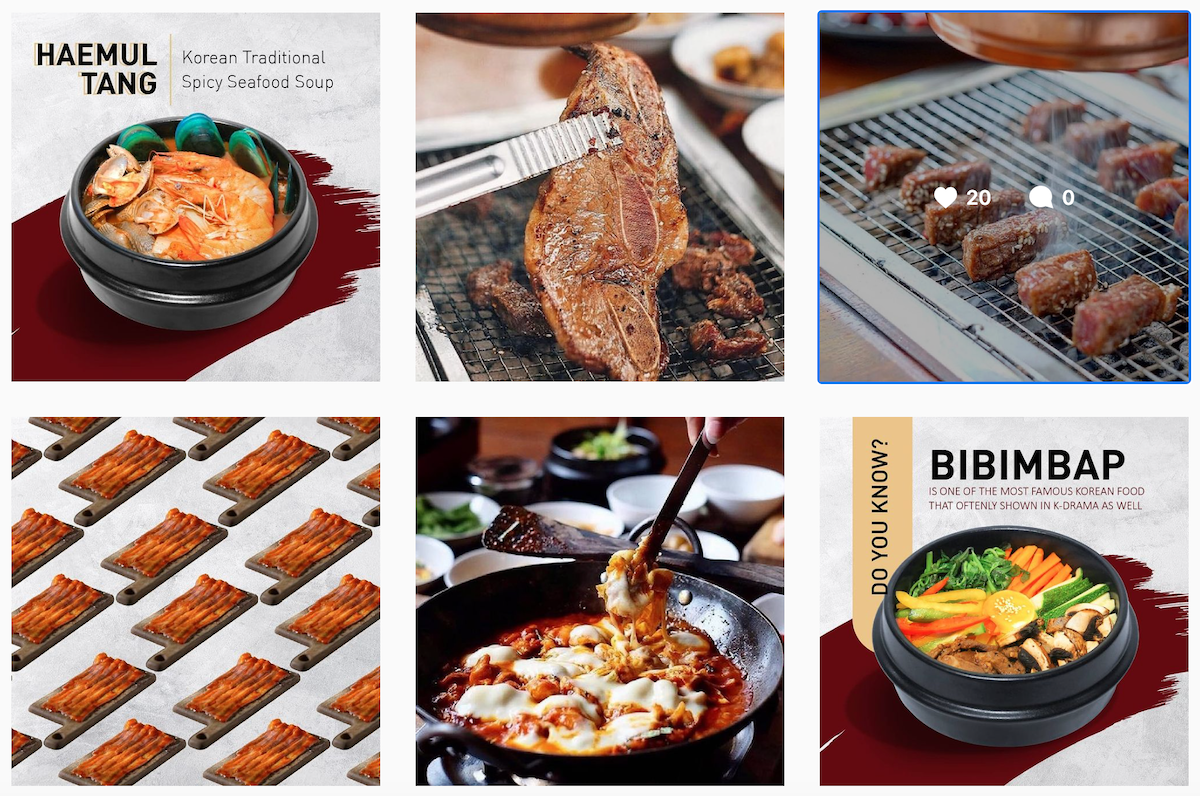 Sadang is an all-you-can-eat Korean BBQ restaurant, offers high-quality meat cuts marinated with special Korean flavor. The place also comes in a sleek locale interior with soaring floor-to-ceiling windows.
Jl. Pregolan No.11, Tegalsari, Tegalsari, Surabaya
P: (+6231) 99246232
IG: sadangkoreanbbq