Savor Surabaya's best cuisine unlimitedly at the city's best all-you-can-eat or buffet restaurants. From local to international food selection, these restaurants known to serve only high-quality flavor.
1. Arumanis Restaurant $$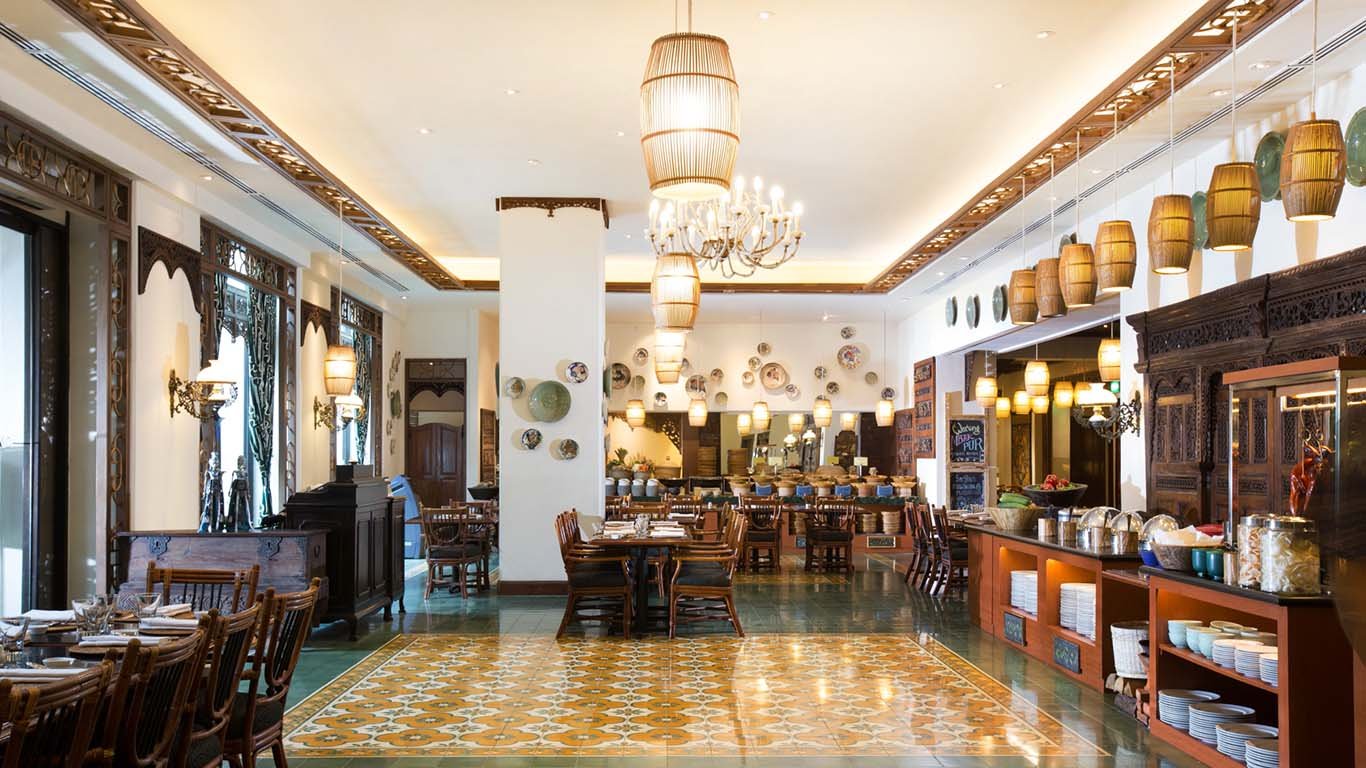 This pleasant restaurant setting is enveloped by a garden of tropical greenery. It is open 24 hours offering guests an extensive menu of specialty dishes from around the Indonesian archipelago as well as international cuisine. There are more than 100 local Indonesian dishes, Japanese and Western menus available at this restaurant.
Bumi Surabaya City Resort, Jl. Jend. Basuki Rakhmat No.106-128, Embong Kaliasin, Genteng, Surabaya
6 am – 10 pm
P: (+6231) 5326301
Website
2. Chamas Brazilian Churrascaria $$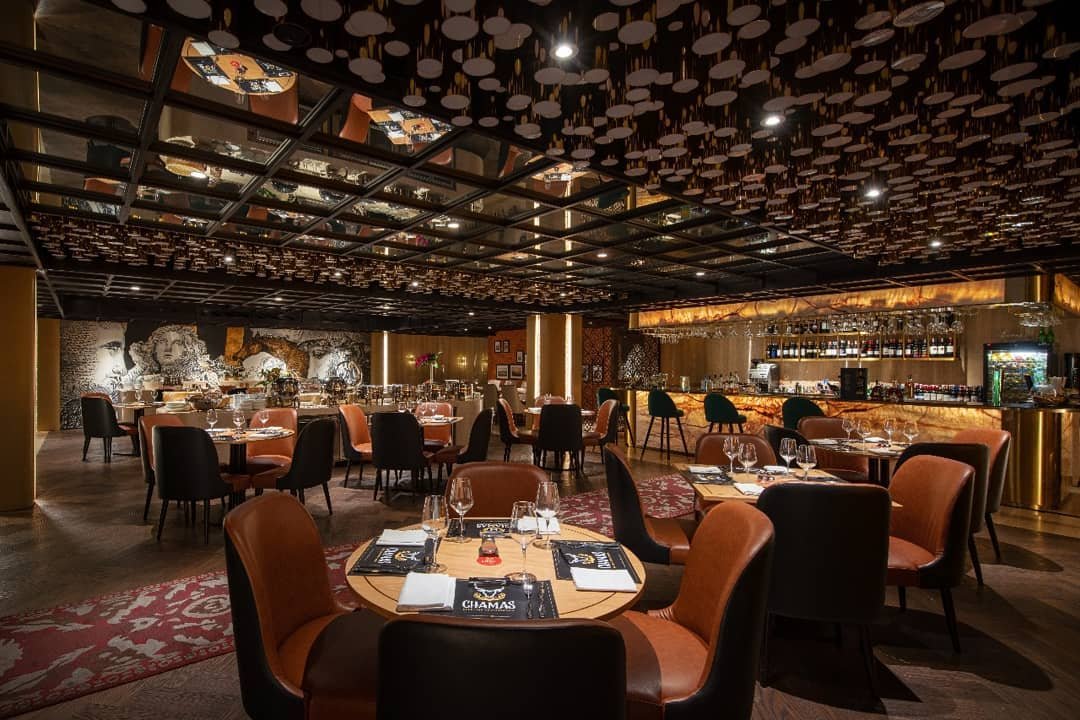 It's the first Brazilian Churrascaria Restaurant in Surabaya where the new dining concept of a Brazilian Steak house with unlimited high-quality meat, 17 varieties of beef, lamb and chicken as well as excellent beverage selections are served. Each meat has been seasoned with sea rock salt the authentic South American way and slow-roasted over an open flame. The menu will be served by attentive service team on Gaucho costume (South Brazilian local ranchers) where they will move from table to table, carry and slice portions of unlimited meat skewers.
Vasa Hotel Surabaya, Jl. Mayjen HR. Muhammad No.31, Putat Gede, Sukomanunggal, Surabaya
Lunch: 11.30 a.m. – 03.00 p.m.
Dinner: 06.00 p.m. – 10.30 p.m.
P: (+6231) 7301888
IG: vasahotelsurabaya
Website
3. Cocari $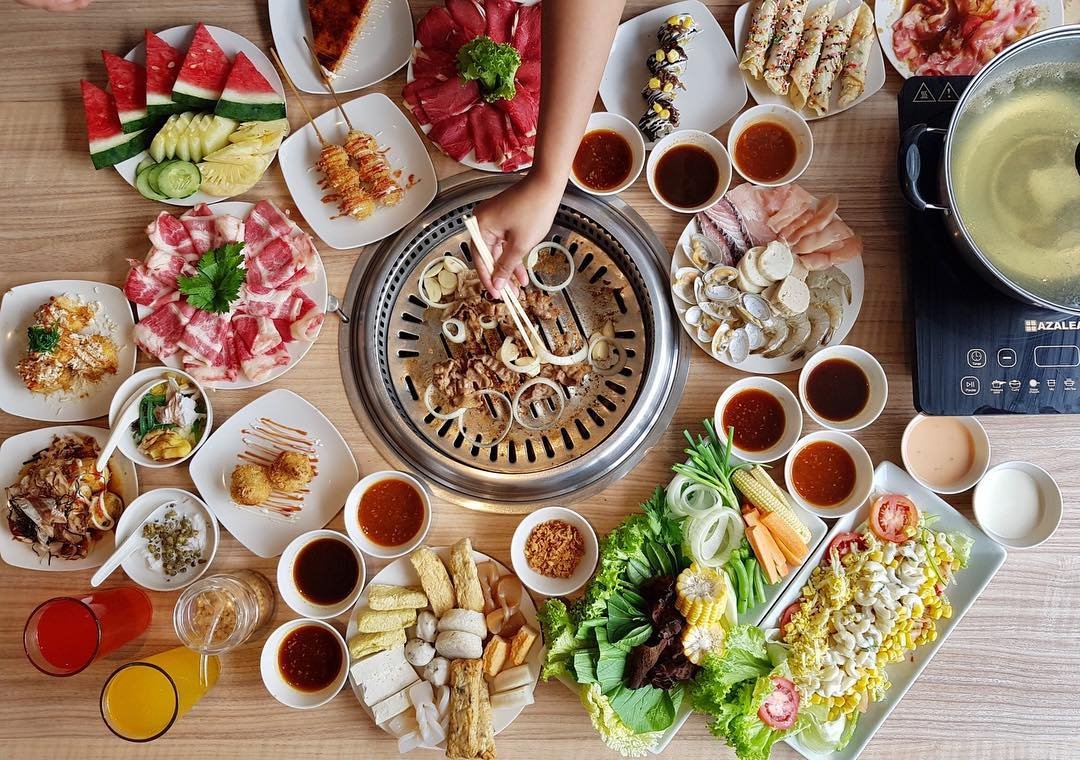 Cocari is an affordable buffet restaurant, offering a wide selection of Japanese-style BBQ. After the renovation and following the strong competition of all-you-can-eat restaurant in Bandung, Cocari elevated and completed its menu. You can indulge some favorite Japanese dishes such as shabu-shabu, as well as a selection Indonesian menu.
Jl. Indragiri 20, Surabaya
P: 0315620375 | 0315677379
Jl. Pajajaran 11, Surabaya
P: 0315682610 | 03199534460
11 am – 10 pm
IG: cocari_official
4. Jamoo $$

JAMOO is the hotel's all-day dining café and restaurant. Enjoy Asian and international dishes in the sleekly designed dining room or on the outdoor terrace. The showcase buffets include a variety of antipasti, sushi, a hot-pot section, a noodles section, and a Chinese wok station.
Shangri-La Hotel Surabaya
Jl. Mayjen Sungkono No.120, Pakis, Sawahan, Surabaya
Buffet Breakfast: 6 am – 10 am (Mon – Fri) | 6 am – 10.30 am (Sat, Sun & Public Holidays)
Buffet Lunch: 12 pm – 3 pm (Mon-Sun)
Buffet Dinner: 6 pm – 9.30 pm (Mon-Sun)
P: (+6231) 60038888
IG: shangrilahotels
Website
5. Lime Restaurant $$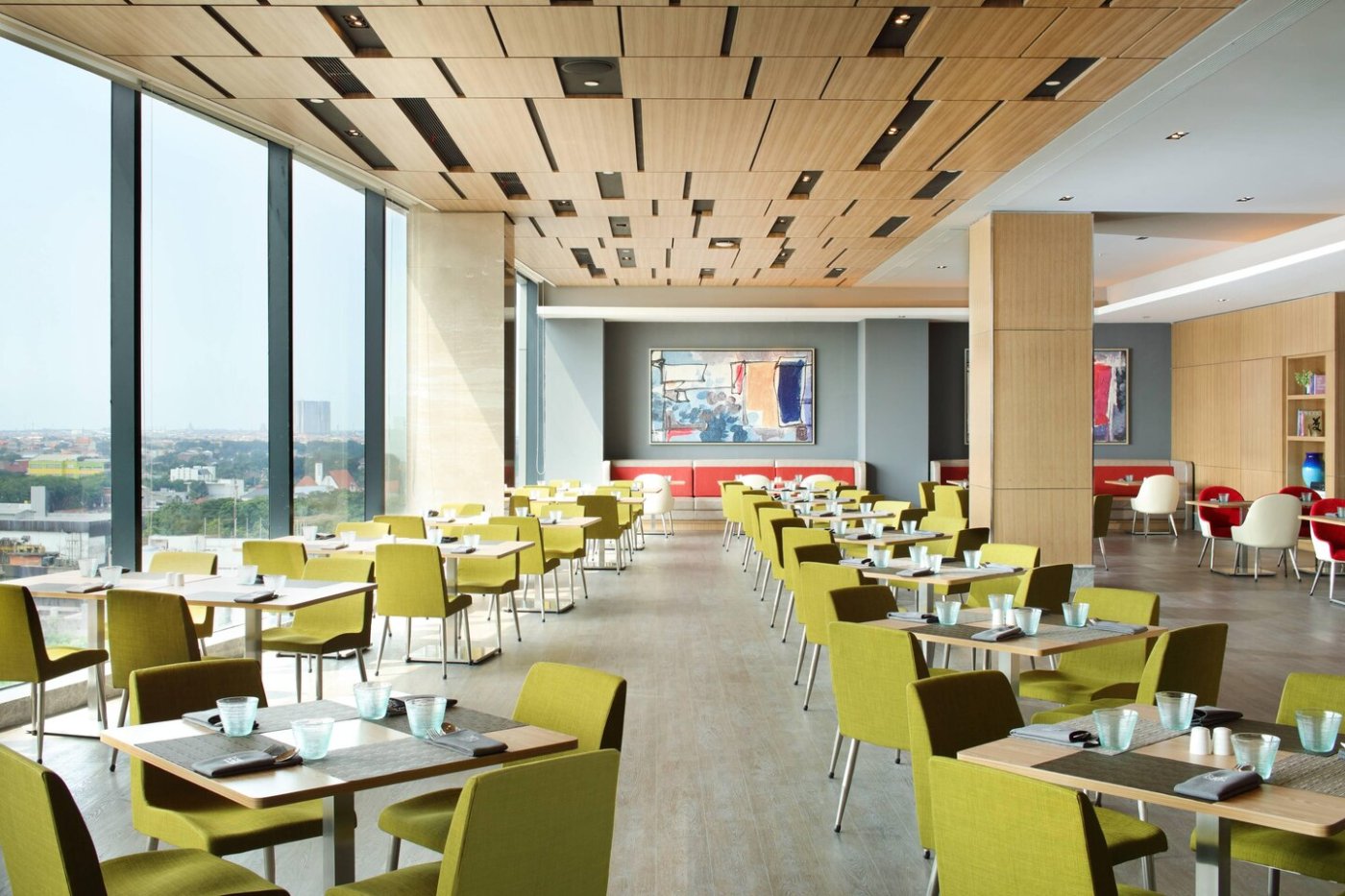 Lime is the signature restaurant in Four Points by Sheraton Surabaya that features Asian and international specialties in a relaxed atmosphere. Stop by for a tasty meal with friends or family before or after exploring Surabaya.
Four Points by Sheraton Surabaya
Jl. Embong Malang 25 -31, Surabaya
P: (+6231) 5477488
Website
6. Rock 'n Sugar Coffee & Bistro $$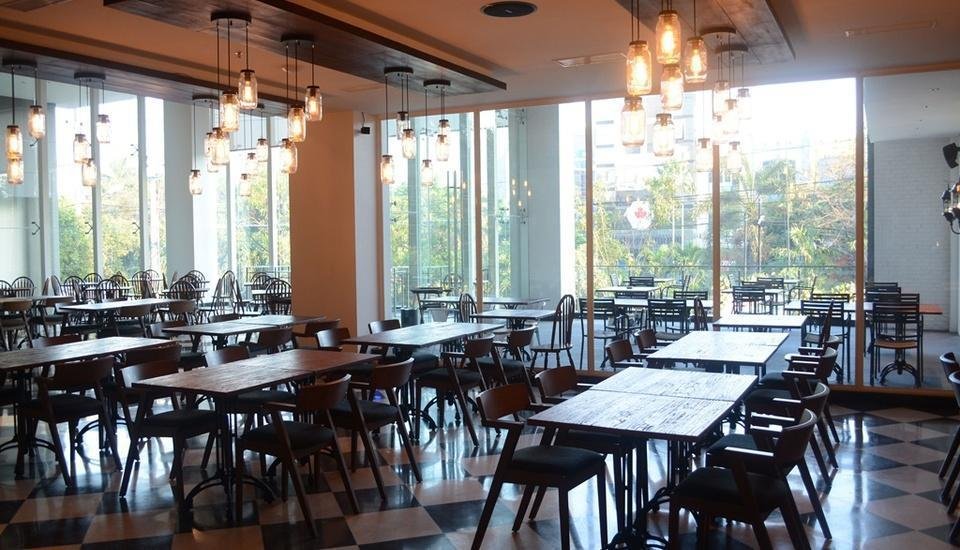 Stop by at our where city view and casual coffee bar fare await. Open every day, 24 hours a day, it is the perfect spot to end a stressful day after a long day at work. is a contemporary casual restaurant featuring International fusion food with a touch of Indonesian recipe.
Luminor Hotel Jemursari
Jl. Raya Jemursari No.206 – 208, Prapen, Surabaya
P: (+6231) 8485000
IG: luminorhoteljemursari
Website
7. Siti Inggil $$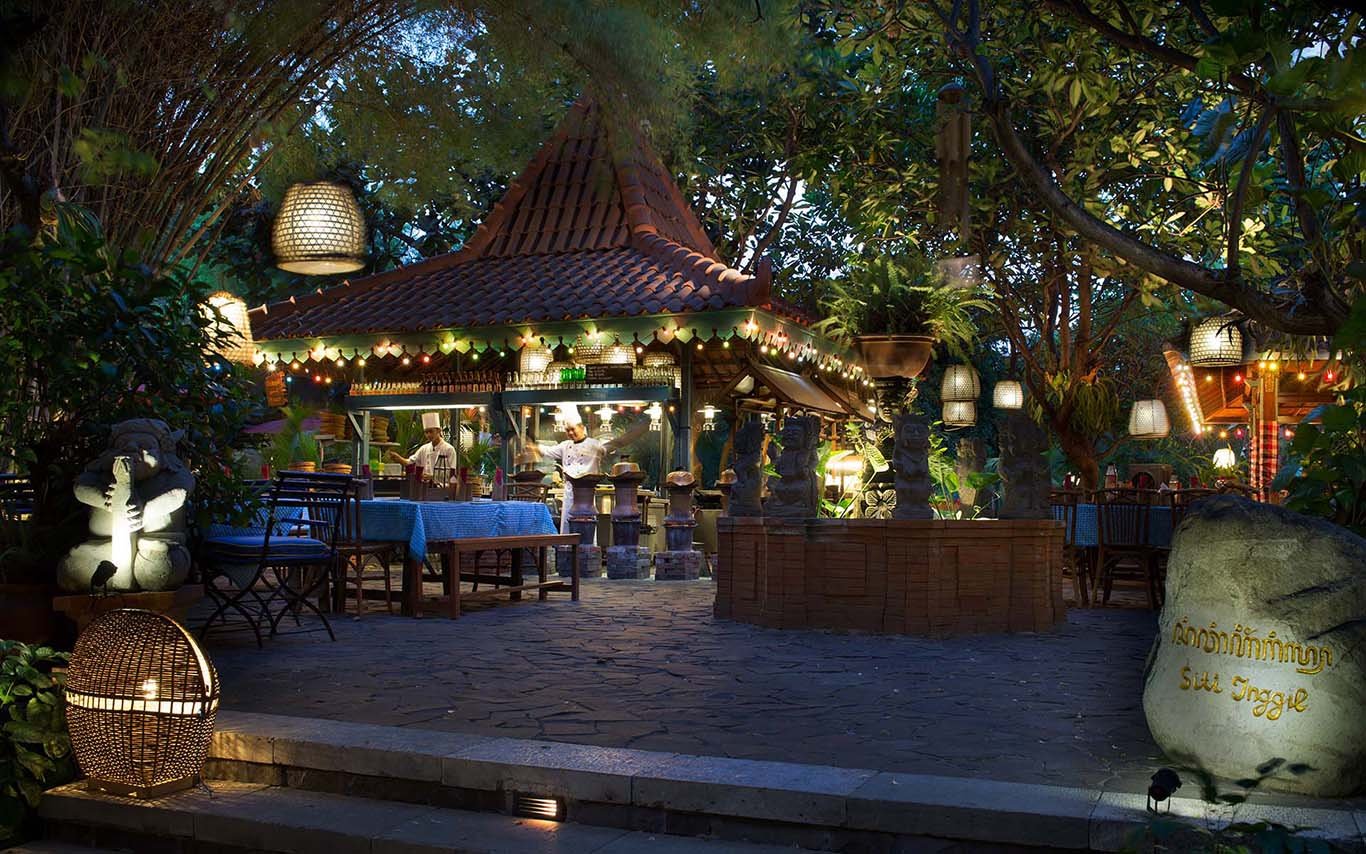 This unique dining concept recreates the mood of a traditional Indonesian night market in an informal courtyard setting. A variety of local specialty dishes are served direct from food stalls and wooden Javanese carriages positioned around the garden.
Bumi Surabaya City Resort, Jl. Jend. Basuki Rakhmat No.106-128, Embong Kaliasin, Genteng, Surabaya
6 am – 10 pm
P: (+6231) 5326301
Website
8. Terakota Cafe $$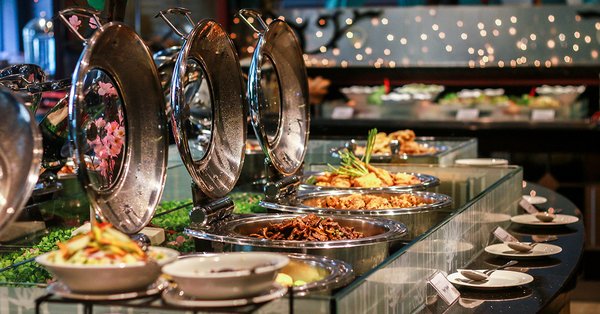 Terakota Cafe is located on the second-floor of Verwood Hotel & Serviced Residence. It features an all-day dining restaurant spread with an array of a sumptuous buffet of Indonesian local favorites and a la carte selections.
Jl. Raya Kupang Indah, Dukuh Kupang, Sukomanunggal, Surabaya
11 am – 2 pm | 6 pm  9 pm
P: (+6231) 7328738
Website
9. 209 Dining $$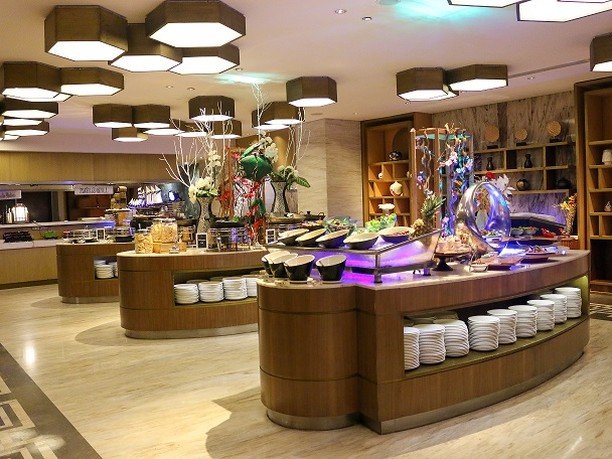 This relaxed restaurant is designed to offer a casual yet sophisticated dining experience. Start your day with a delicious buffet breakfast and enjoy a wide variety of dishes for banqueting lunches and dinners. 209 Dining is open daily and offers a Western and Indonesian buffet on select days. Contact our team for further information.
Vasa Hotel Surabaya, Jl. Mayjen HR. Muhammad No.31, Putat Gede, Sukomanunggal, Surabaya
6 am – 10.30 pm
P: (+6231) 7301888
IG: vasahotelsurabaya
Website