Celebrating the Mid-Autumn Festival with mooncakes is a Chinese tradition that allows you to share some joy with the loved ones, as well as your business partners. The reason is the delectable mooncakes present a thoughtful wish for prosperity and harmony. Here are some recommendations on where to get traditional mooncake in Surabaya:
JW Marriott Hotel Surabaya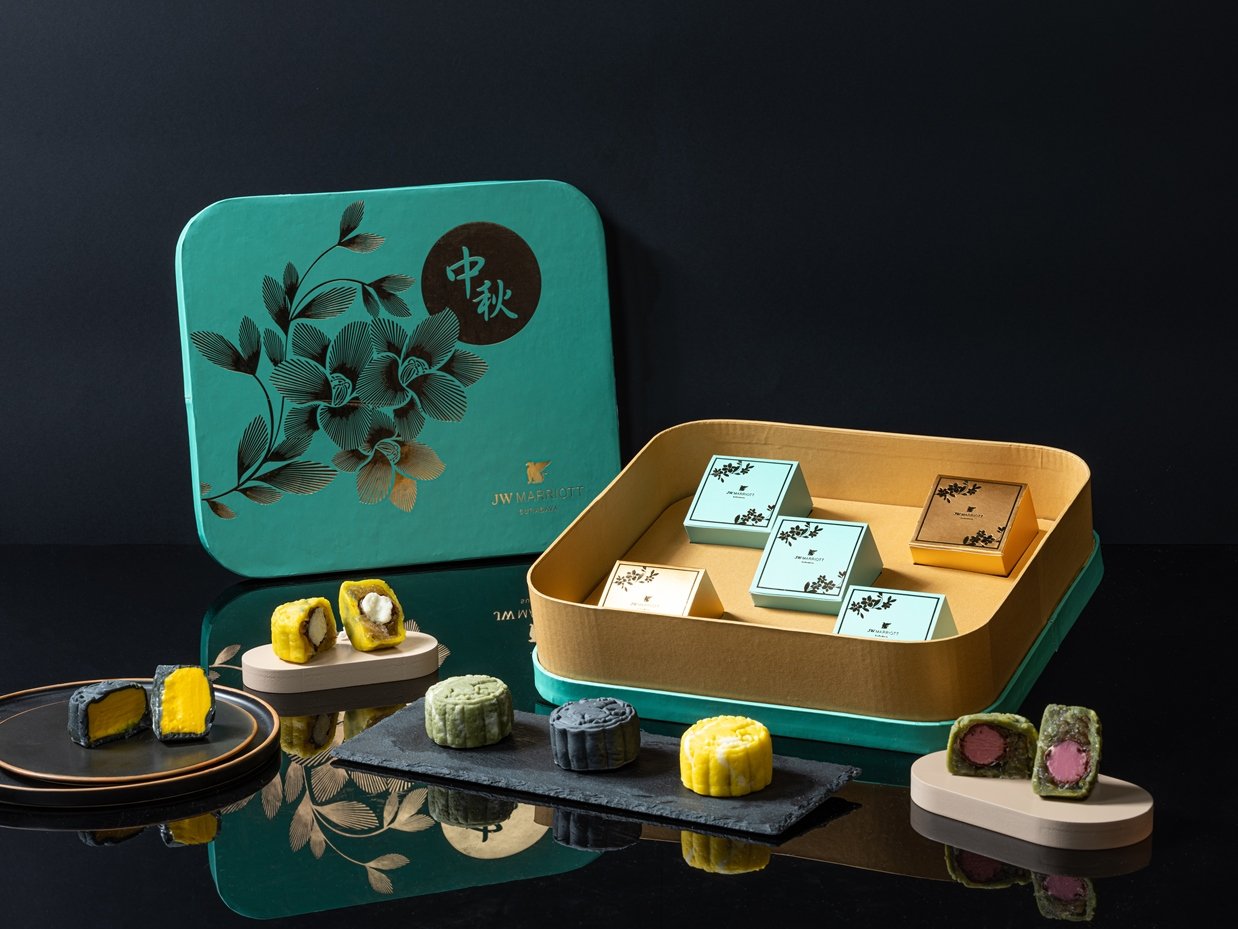 Photo credit by JW Marriott Hotel Surabaya
To mark this exquisite Festival, Tang Palace Chinese Restaurant at JW Marriott Hotel Surabaya is once again presenting its premium mooncake selection with stylish packaging. The selection of original flavors remains the same due to popular demand such as white lotus, black sesame, green tea, and red bean-baked mooncakes. Don't miss trying the signature Musang King snow skin mooncake which is a perennial favorite made from the world-famous durian fruit paste from Malaysia. Another unique characteristic of the mooncakes is their low sugar content which allows for them to be enjoyed without any guilt.
In terms of their packaging, the mooncakes come in exclusive gold and turquoise colored box, with the classic style of a golden lotus flower blooming within. The Luxury Gold Tosca box comes with a Chinese tea kettle & tea cups as well as a handy knife, fork & chopstick set for easy serving. The Luxury Gold Tosca set is perfect as a luxury gift for friends and family. Alternatively, this beautiful box could be used as a jewelry box for enthusiasts. Apart from the Luxury Gold Tosca set this year we have introduced a 2 mooncake box set for corporates and individuals who may have budget restrictions but would still like to share the seasonal sharing of these delicious delicacies.
JW Marriott Hotel Surabaya
Jl. Embong Malang 85-89, Surabaya 60261, Indonesia
Phone: +6231 545 8888, +62811 3529 278
Shangri-La Surabaya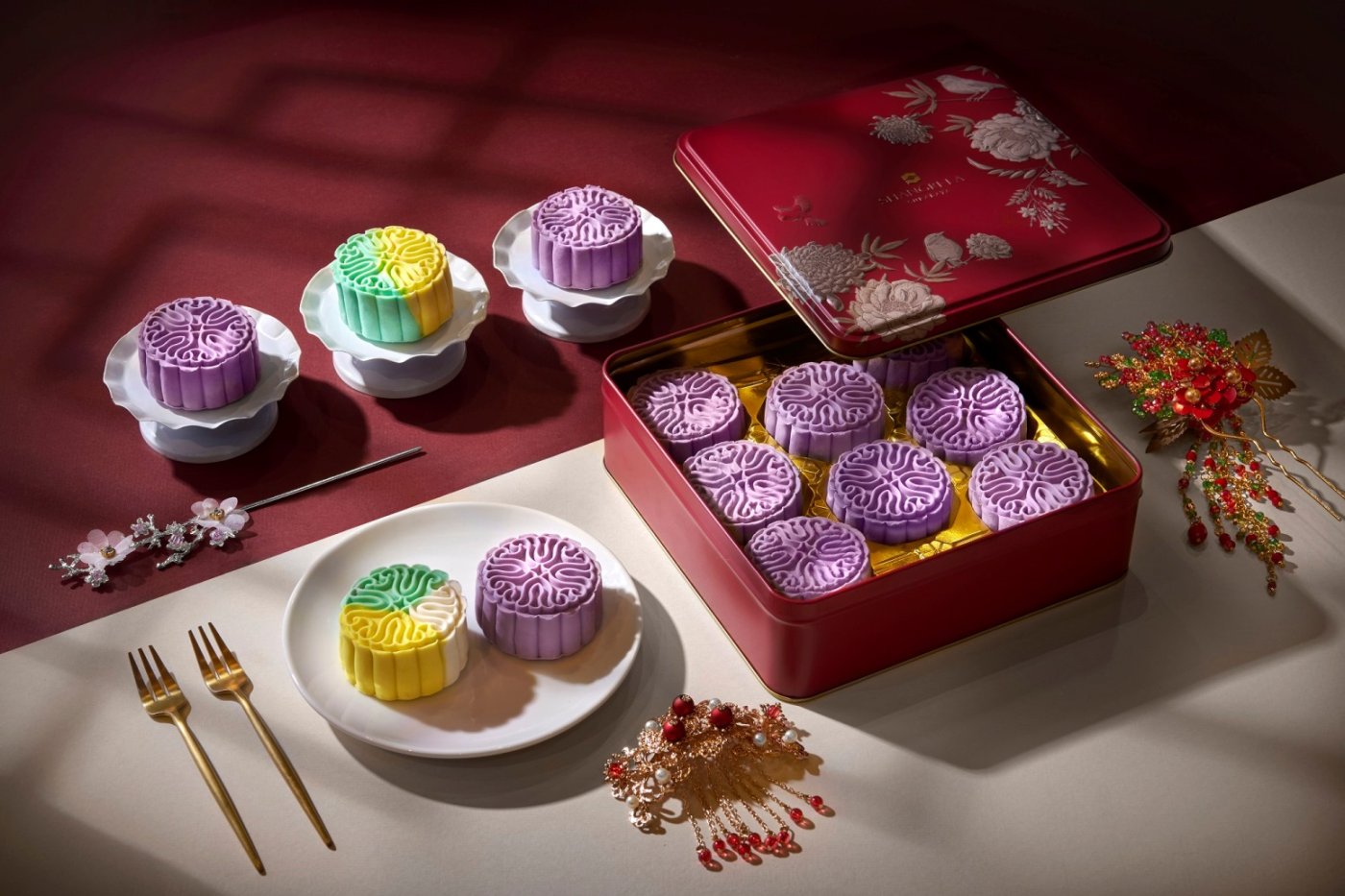 Photo credit by Shangri-La Surabaya
Shangri-La Surabaya celebrates Mid-Autumn Festival 2022 with a range of elegantly presented premium and delicious mooncake creations. This year, three different collections have been specially prepared: Classic Collection, Signature Collection, and Kids Collection.  The Classic Collection offers authentic traditional baked mooncakes filled with favorite flavors such as White Lotus, Red Lotus, Red Bean, Matcha, Pandan, Durian and 'Yam Lotus with Melon Seeds'. The different collections are priced from IDR538.000+ per box of four pieces.
The Signature collection consists of two distinct flavors – eight-piece Yam Lotus in Chocolate Truffle (IDR 788,000+ per box) mooncakes deliciously combines chocolate and taro wrapped in delicate snow-skin, and fans of durian can look forward to eight luxurious snow-skin durian mooncakes (IDR 1, 288,000+ per box) made with fresh 'Mao Sang Wang' pulp, creamy bittersweet filling in this kingly snow-skin mooncake, made with fresh 'Mao Shan Wang' pulp.
The ever-popular Kids Collection consists of specially crafted Thousand Layer mooncakes filled with delicious Nutella Milo sauce.  These unique cakes, made of many layers of puff pastry, are perfect with their cute designs and are sure to be a hit with children. The individually packaged Kids Collection is priced at IDR128,000+ per piece.
Customers can enjoy 20% discount on shopshangri-la.com. Shangri-La Circle members will get a 25% discount for purchases from 25 July to 7 August 2022.  For more information or purchases, please call 031 6003 8916 or visit shopshangri-la.com.
Shangri-La Surabaya
Jl. May. Jend. Sungkono 120, Surabaya 60256 Indonesia
Phone: +62 31 6003 8888, +62 31 6003 8916
Sheraton Surabaya Hotel & Towers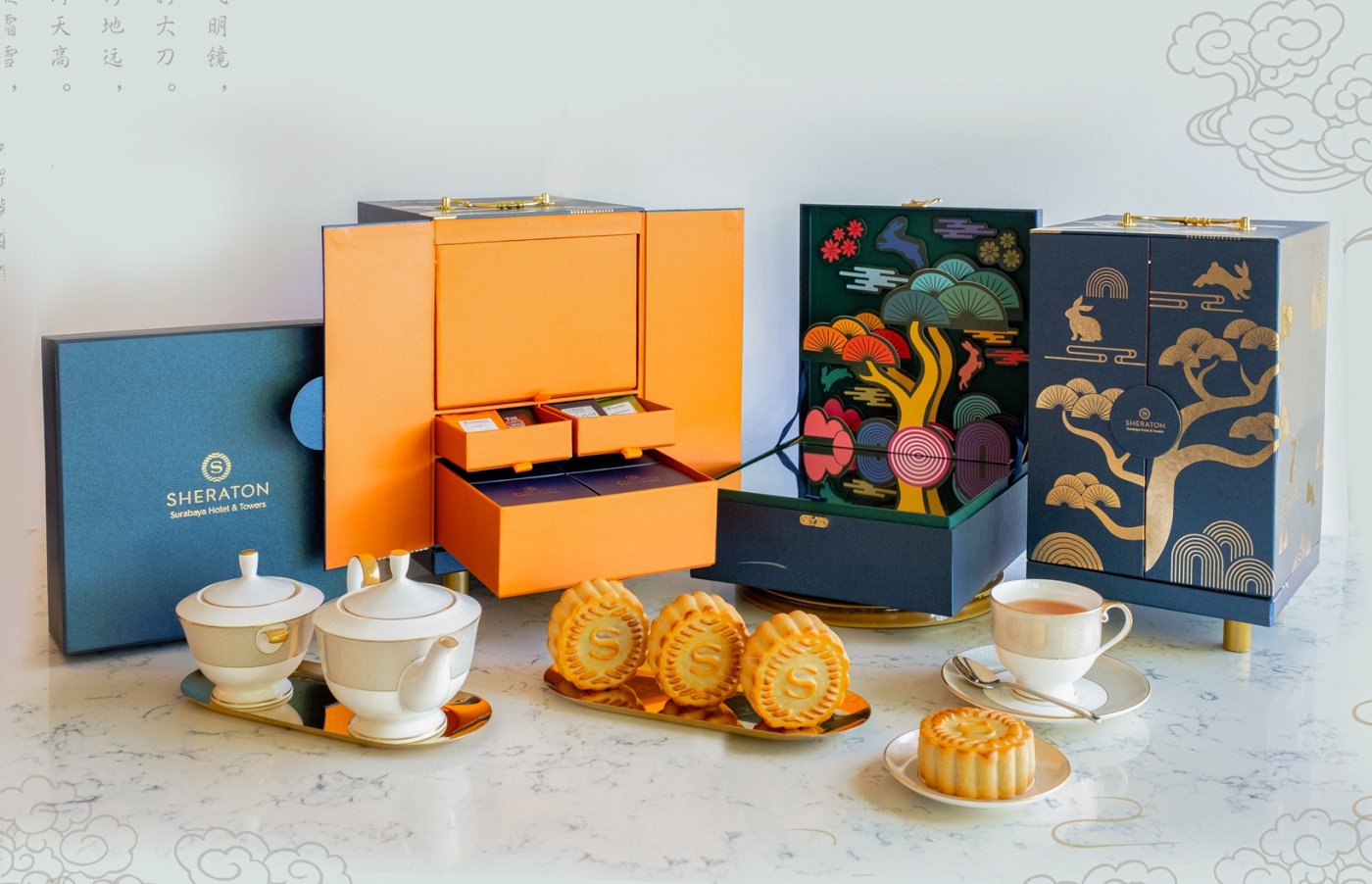 Photo credit by Sheraton Surabaya Hotel & Towers
Share the joy with family and loved ones this Mid-Autumn Festival with eight classic and contemporary mooncake flavors from Sheraton Surabaya Hotel & Towers. This year, Sheraton Surabaya offers two exclusive boxes: the regular one – Jade Rabbit, and the premium box – Moon Goddess
Jade Rabbit – a box of four delicate mooncakes of your choice. Presenting in an azure classic box with pop-up rabbit papercraft and mirror on it make this s box is perfect for gift-giving to friends, and clients. Four (4) regular mooncakes in Jade Rabbit box IDR 598.000 net. Four (4) regular mooncakes in Jade Rabbit box IDR 668.000 net.
Moon Goddess – an exclusive floor standing storage miniature, with oriental golden emboss and jade rabbit shadow puppet decoration. It has a drawer of the finest Damman Tea Freré and recommended flavors: White Lotus and Portuguese Custard. This box is available 100 pcs only. Per box is IDR 1.588.000 net.
Sheraton Surabaya Hotel & Towers
Jl. Embong Malang 25-31, Surabaya 60261, Indonesia
Phone: +6231 546 8000
The Westin Surabaya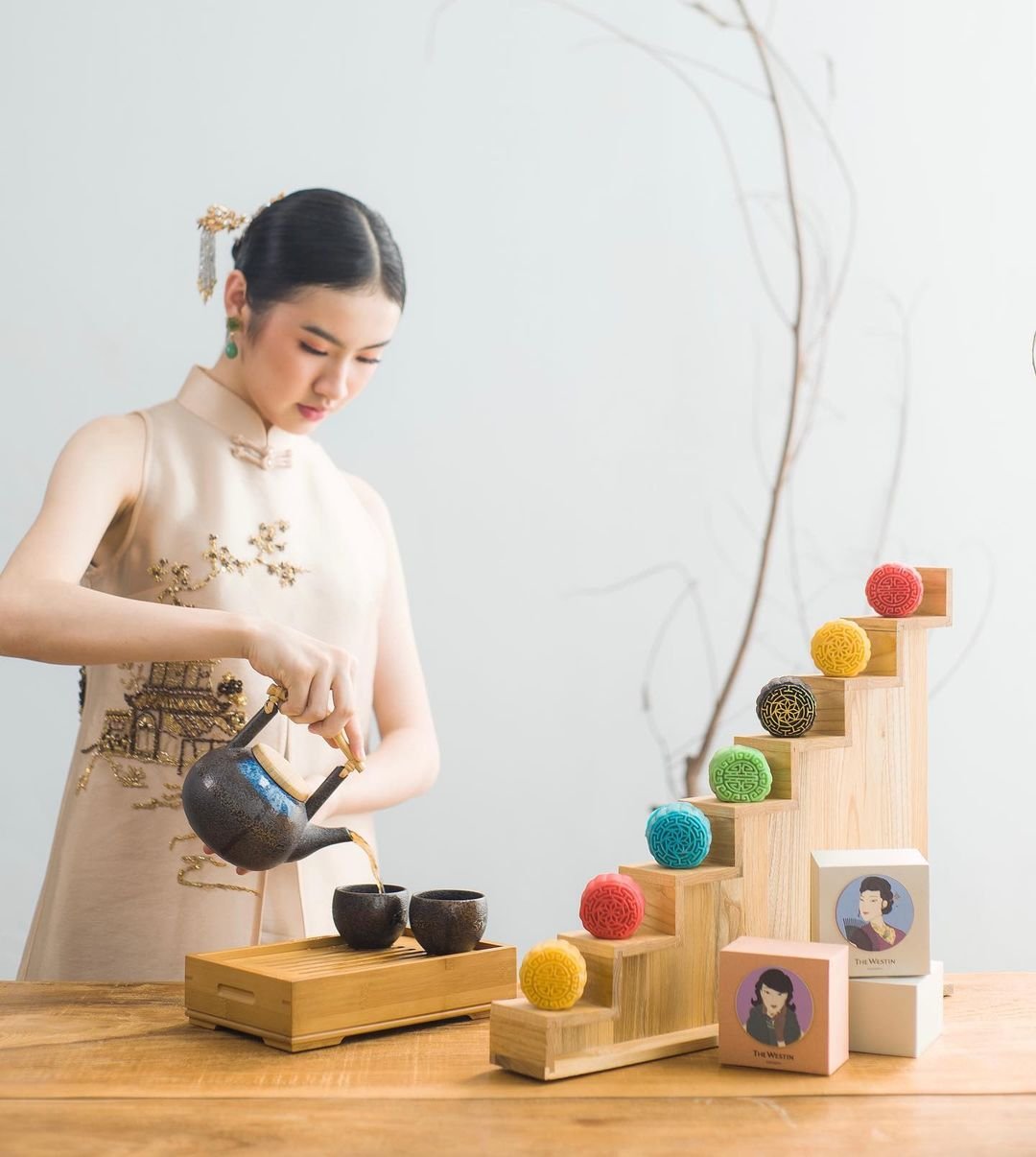 Photo credit by Instagram @westinsurabaya
Celebrate this well-loved season with the Mid-Autumn Festival Mooncake, an exquisite collection of time-honored classic and artisanal flavors. For the first time, The Westin Surabaya presents 2 types of mooncakes from baked mooncake and snow-skin mooncake with more than 9 different flavors.
Baked to golden perfection, the Timeless Baked Classics are perfect for those who prefer a variety of traditional flavors. Taste the essence of White Lotus with Egg Yolk, Green Tea, Custard, and Red Bean paste mooncake.
Presenting the new type this year, Snow Skin Mooncake created with heart and homemade by the Hong Kong chef bringing 5 authentic flavors from Bamboo Charcoal Golden Naiwong Custard, Mandarin Orange Paste, Peach Blossom Paste, Japanese Matcha and Red Strawberry Paste. Perfect as an ideal present for family, friends and business associates. Each mooncake is packed with Our Lady of the Moon box and be carried with our sophisticated leatherette bag.
30% Early bird privileges available for orders before 7 August 2022 by contact us via Whatsapp at 081233518156.
The Westin Surabaya
Pakuwon Mall
Jl. Puncak Indah Lontar No. 2, Surabaya 60216, Indonesia
Phone: +6231 2971 0000, +6281233518156
Vasa Hotel Surabaya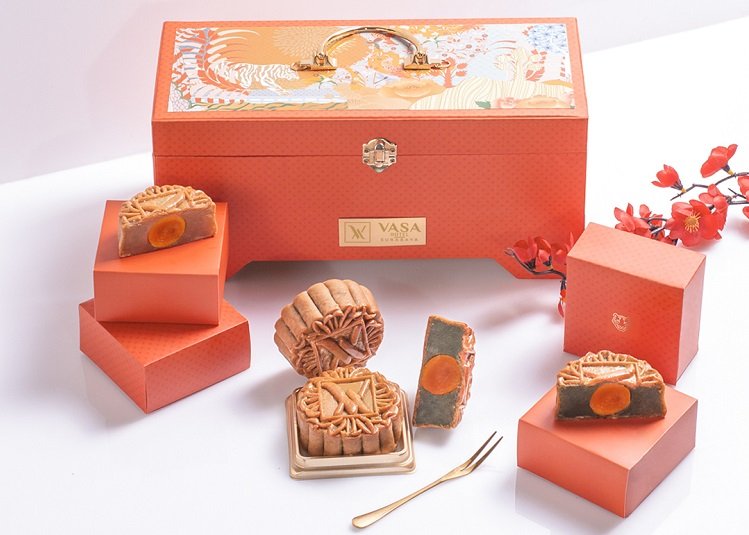 Mid-Autumn mooncakes festival is a traditional full moon celebration that symbolizes prosperity and reunion that signifies the completeness, positive vibes, and unity of the family. With a bright moon, stars twinkle, and shine, celebrate your family reunion and the moment of giving with the Mooncakes by Xiang Fu Hai native Chef of Vasa Hotel Surabaya.
Presented a forgotten variation, Shanghai Mooncake, the skin of the mooncake is layered, flaky and rich, making it one of the more refined versions of mooncakes. Moreover, Xiang Fu Hai also offers the most legendary classic mooncakes flavors like White Lotus, Red Lotus, Assorted Nuts, and Yolk which remain family favorites, although contemporary flavors like Red Bean, Pandan, Green Tea Lotus, which are available in baked and snow skin. As signature, taste the mouth-watering mooncakes made with 100% Musang King Durian Snow-skin and bite into these sweet, bitter, and buttery treats packed with the freshest durian. With their soft and chewy snow skin and cream-textured filling, these mooncakes are the perfect choice to celebrate the Mid-Autumn Festival.
Pre-order is available now! Ranging from the legendary baked mooncake, the soft snow-skin mooncake, to the limited edition of the shanghai mooncake. Enjoy the healthier and less sugar mooncakes with the wider selections of variants and flavors.
Get up to 20% off for early bird purchases until August 15, 2022. For more information and order please dial 0317301888 or chat us on 081252915690.
Vasa Hotel Surabaya
Jl. HR, Muhammad 31 Surabaya, East Java – Indonesia
Phone: +6231 730 1888, +62812-5291 5690
DoubleTree by Hilton Surabaya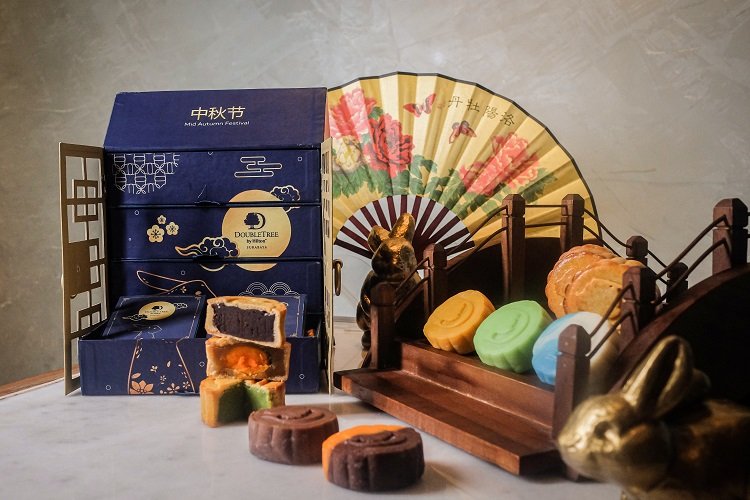 Photo credit DoubleTree by Hilton Surabaya
Revel in the gift sets showcasing an exquisite range of handcrafted traditional Baked Mooncakes and a Snowskin Mooncake selection to celebrate the Mid-Autumn Festival with your family and friends this season exclusively at DoubleTree by Hilton Surabaya.
Mid-Autumn Festival Collection
Individual mooncake starts from IDR 68,000++/pcs
Mid-Autumn Hamper starts from IDR 388,000++/package
Enjoy up to 30% OFF for orders before 14 August 2022!
To place your order, please contact through WhatsApp chat at +62811-3200-5300
Jl. Tunjungan No. 12, Genteng, Surabaya, Jawa Timur, Indonesia, 60275
Phone: +62 31 98588888, +62811-3200-5300