Surabaya has several wonderful swimming spots, offering both fun and relaxation. If you're looking for exciting slides, quiet pools, or just a nice place to hang out with family or friends, this city has got you covered. From water parks for the whole family to sports centers for those wanting to stay active, here's a comprehensive list of top swimming pools in Surabaya. Dive in and explore the best of what the city has to offer!
Surabaya's Best Swimming Pools to Dive Into
Al-Hikmah Sports Center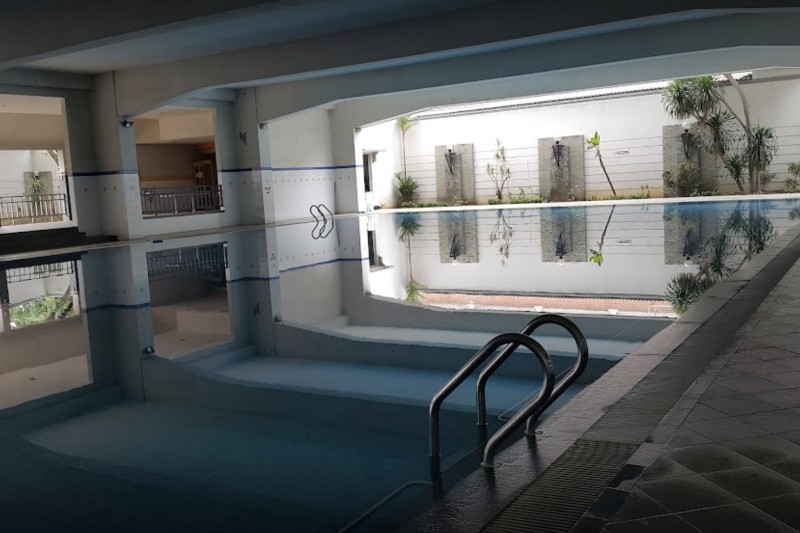 Al-Hikmah Sports Center in South Surabaya offers a unique swimming experience with separate schedules for men and women. Open daily from 8am-7pm, it's more than just a pool. Enjoy badminton and other facilities in a clean, comfortable setting. While open to the public, modest swimwear is a must. The indoor pool ambiance feels private and serene.
Jl. Kebonsari Elveka V No.36, RT.000/RW.00, Kebonsari, Kec. Jambangan, Surabaya, Jawa Timur 60233
Phone: +62 (031) 8287574
Atlas Sports Club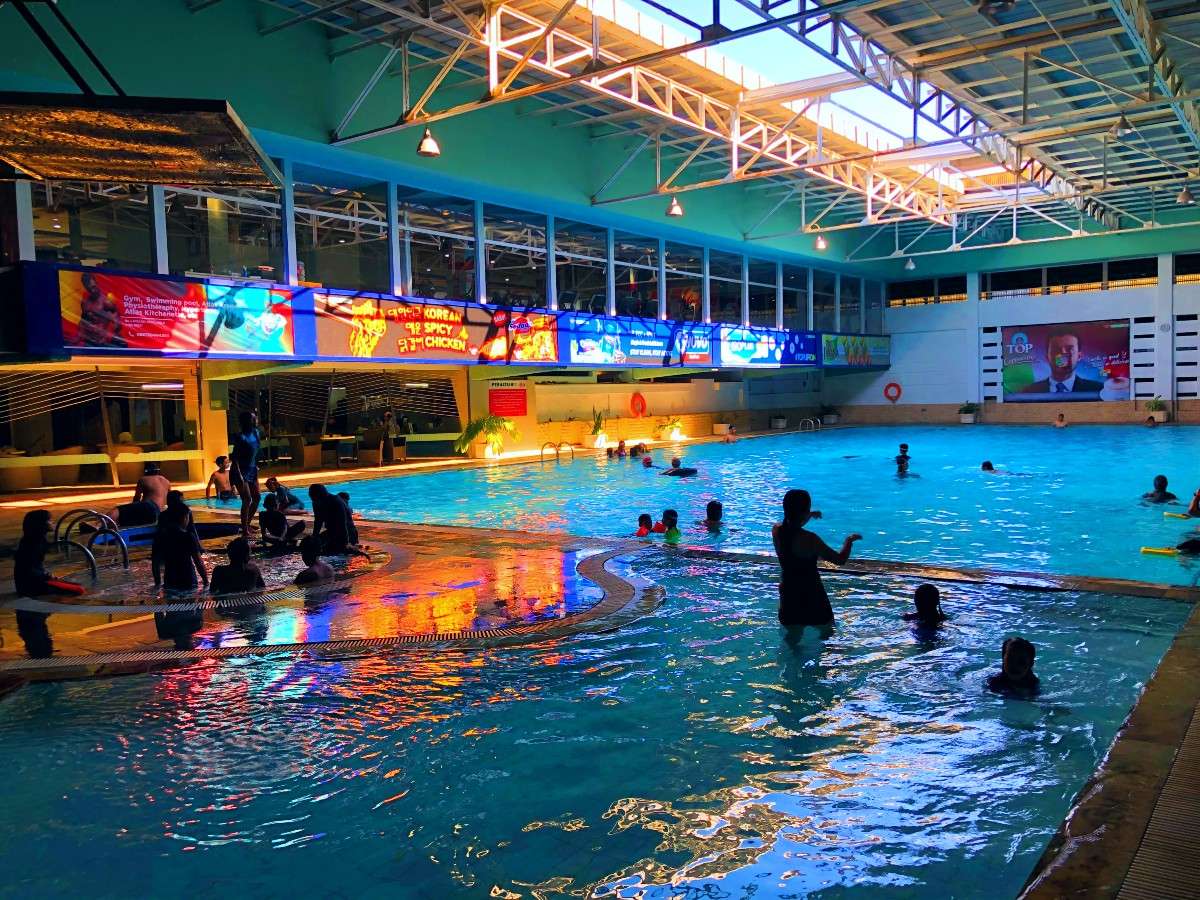 Check out Atlas Sports Club in East Surabaya. Open every day, it's not just about swimming. They've got hot and cold pools, a modern gym, a relaxing sauna, steam rooms, and even cafes to grab a bite. Open from 6am-9pm on weekdays and with special hours on weekends, it's a clean and cozy place to get fit and stay healthy. Plus, you can choose from different ticket prices based on what you want to do. Atlas Sports Club is your go-to for a complete workout experience. Come and see for yourself!
Jl. Dharmahusada Indah Barat III No.64-66, Mojo, Kec. Gubeng, Surabaya, Jawa Timur 60285
Phone: +62 (031) 5961313
Instagram
Colosseum Club House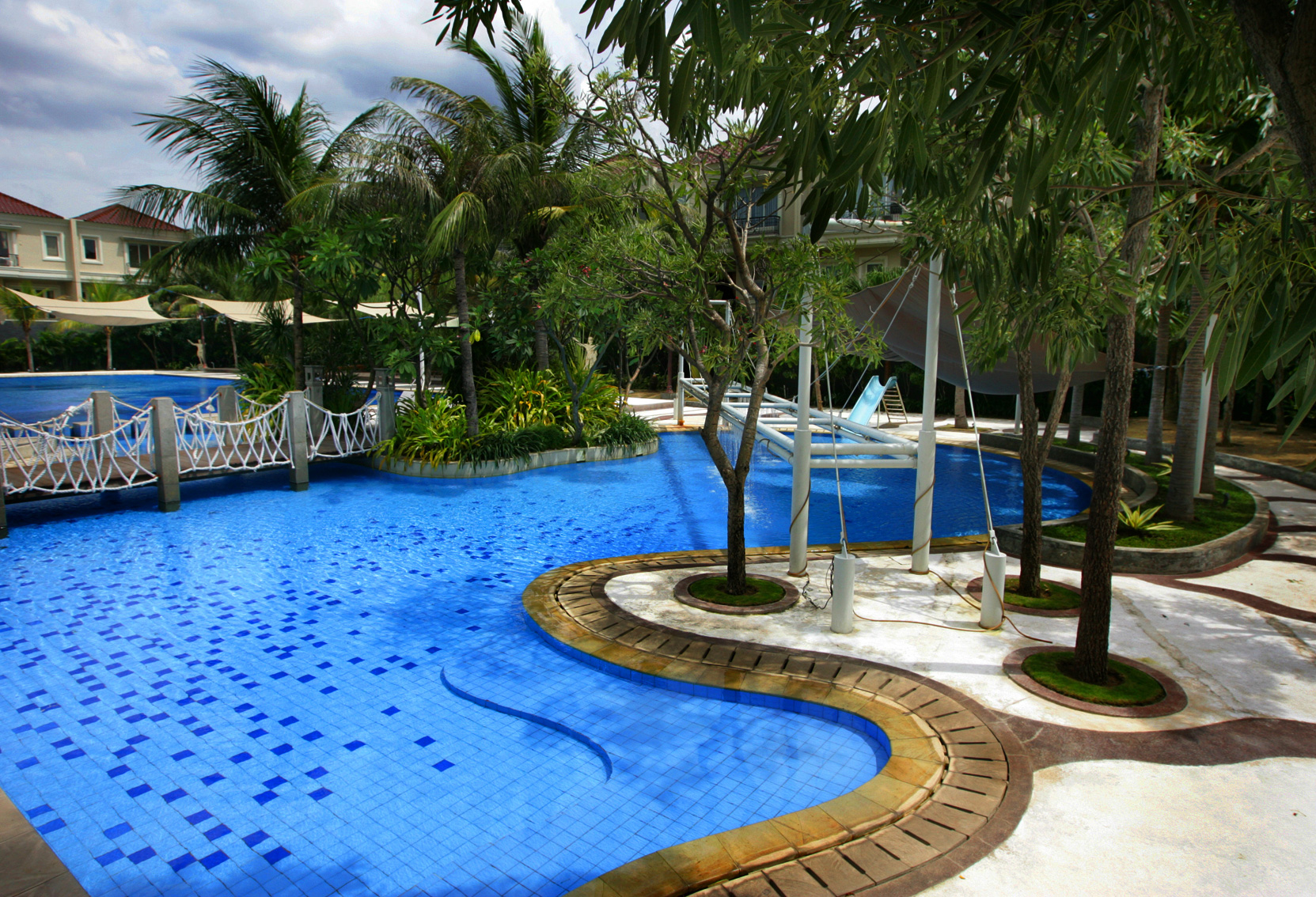 Located in the Wisata Bukit Mas area, Colosseum Club House in West Surabaya is your go-to for relaxation and recreation. Open from 6am-5pm on weekdays, it has a big pool, basketball and badminton courts, a gym, and a scenic jogging track. Dive in for just 35,000 IDR on weekdays or 45,000 IDR on weekends. It's a spacious, clean, and scenic spot perfect for unwinding.
Wisata Bukit Mas, Lidah Wetan, Kec. Lakarsantri, Surabaya, Jawa Timur 60213
Phone: +62 (031) 7531368
Kenjeran Waterpark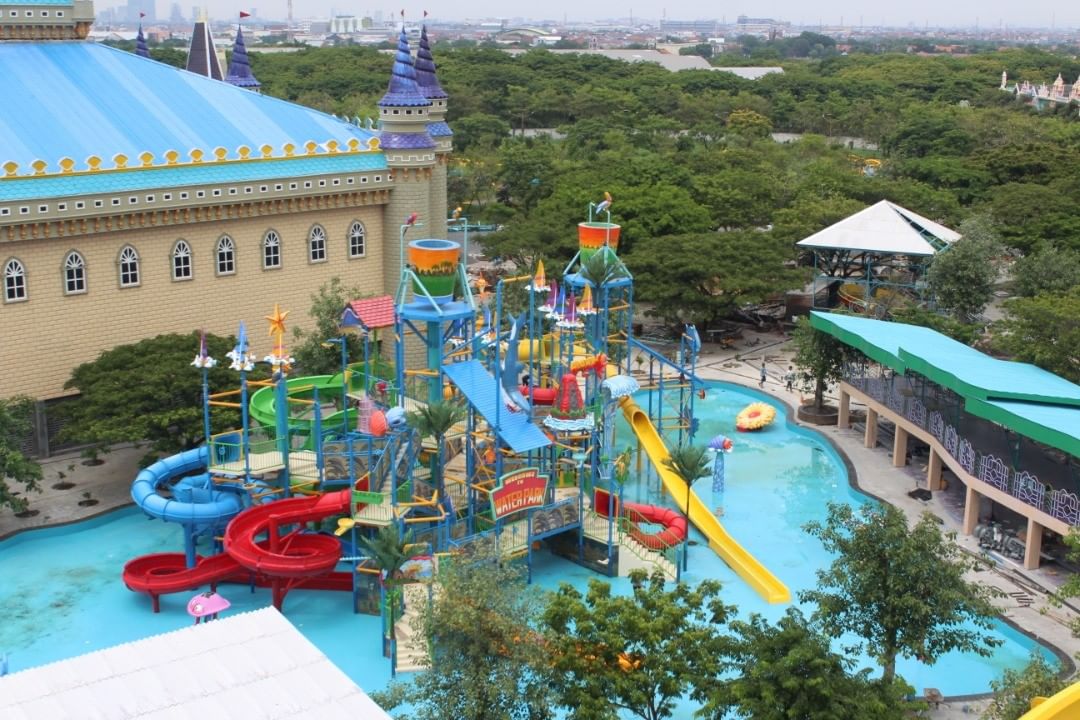 Dive into fun at Kenjeran Waterpark, located in East Surabaya, right by Atlantis Land Kenjeran and Kenjeran Beach. Open daily from 8am-5pm, it's a family-friendly haven with pools for both kids and adults, thrilling waterslides, a stream pool, and various food & drink options. With tickets priced at 40,000 IDR on weekdays and 50,000 IDR on weekends (free for kids under 90cm), it's an affordable day out for families seeking splashy fun.
Jl. Pantai Ria Kenjeran, Sukolilo Baru, Kec. Bulak, Surabaya, Jawa Timur 60122
Phone: +62 812 3456 5026
Instagram
KODAM Brawijaya Swimming Pool
This pool, in Brawijaya Driving Range, is a heaven for those seeking cheap relaxation and recreation. Open daily with flexible timings, it has two distinct pools for both children and adults. The design ensures fun-filled moments for visitors. Whether you're looking to relax after a long week or spend quality time with your family, this pool offers an ideal setting. With ticket prices peaking at a mere 30,000 IDR, it's a budget-friendly and enjoyable spot!
Jl. Kesatriyan, Sawunggaling, Kec. Wonokromo, Surabaya, Jawa Timur 60242
Purimas Club House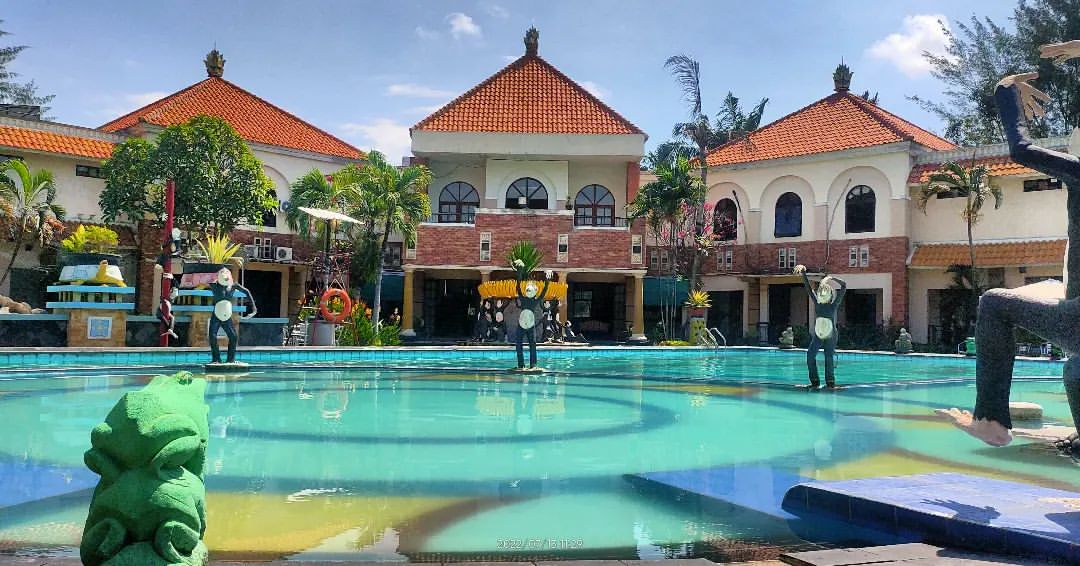 In Puri Mas Regency, the Purimas Club House is a recreational gem in East Surabaya. Open daily, it offers a refreshing pool experience complemented by fitness facilities, a basketball court, and a tennis court. Kids are in for a treat with a fun water slide and interactive water fountain. The environment is clean and offers great value for money. With swimming priced at just 25,000 IDR and an additional 15,000 IDR for guides, it's an affordable and delightful escape for families and fitness enthusiasts alike.
Perumahan Puri Mas, Jl. I Gusti Ngurah Rai No.95, Gn. Anyar, Kec. Gn. Anyar, Surabaya, Jawa Timur 60294
Phone: +62 (031) 8792401
Instagram
ROCA Sport Center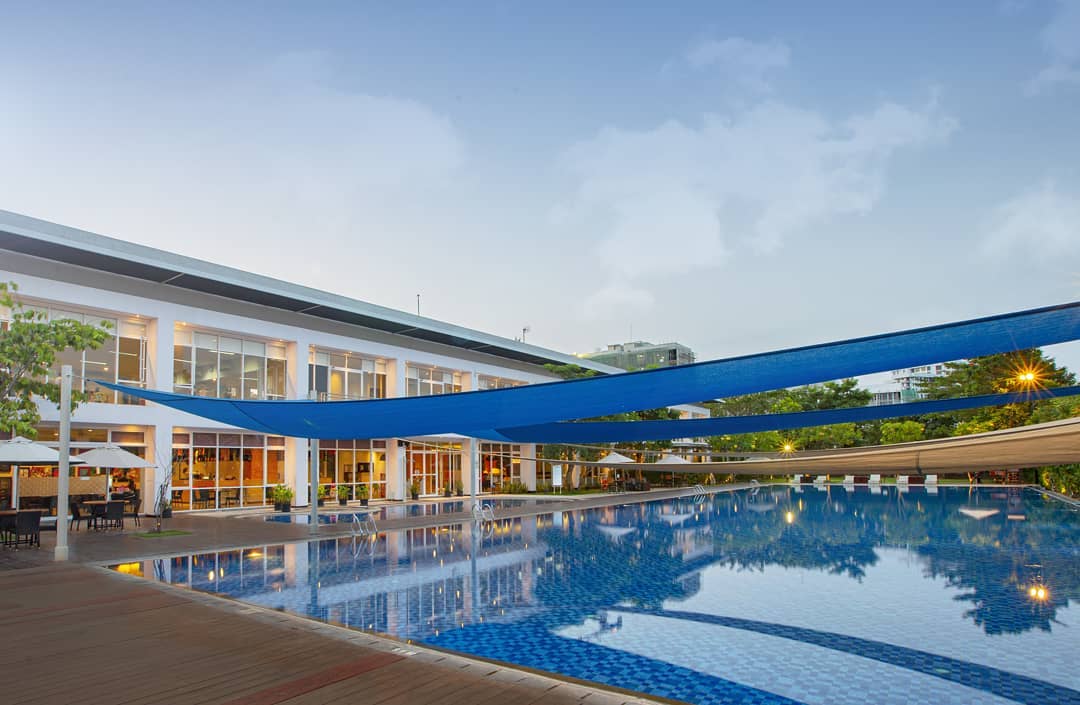 Step into a world of modern swimming pools at ROCA Sports Center in West Surabaya. Open daily from 5am-9pm, it's equipped with a semi-Olympic pool, gym, table tennis room, sauna, and more. Whether you're a walk-in visitor or a member, it's a top spot for maintaining a healthy lifestyle with professional trainers and top-tier equipment. This is perfect for your workout!
Jl. Bintang Graha Family X No.2, Babatan, Kec. Wiyung, Surabaya, Jawa Timur 60227
Phone: +62 (031) 99020183
Instagram