There are a lot of options to escape from the concrete jungle that is Jakarta and to find lush greenery and clean unpolluted air; within just a few hours by car, you can find plenty of areas, predominantly in West Java, to be an option for a refreshing weekend getaway with your family. But instead of staying the night in the conventional hotel, why not camp? That way you can be right in the middle of nature, have more exciting experience, and can do more outdoor activities.
If you don't feel like purchasing or hauling a camping set, or actually making we recommend trying 'glamping' or glamorous camping; where you will get all the fun excitement of staying outdoor, but without all the fuss of regular camping. You don't even need to cook, make the tent, or even make your own bed!
 Tanakita Camping Ground, Sukabumi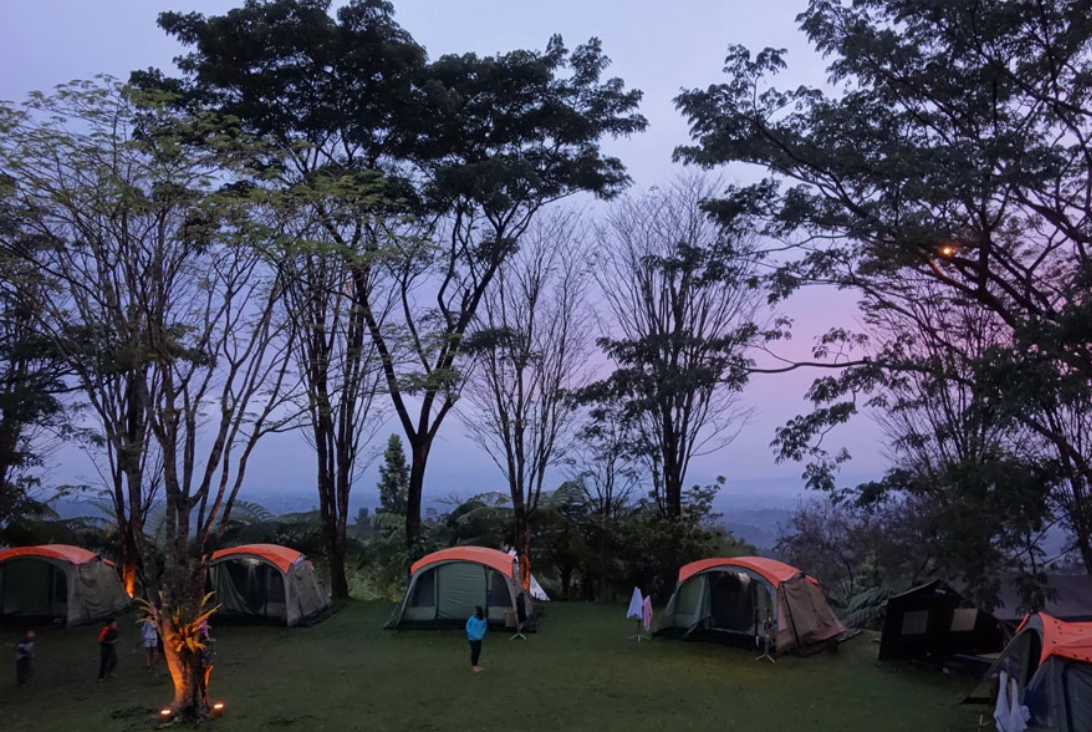 Credit photo http://www.tesyasblog.com/2015/09/review-of-tanakita-camping-ground.html
A camping ground located in the Gede Pangrango National Park, Sukabumi. With temperature ranging from 20° – 22° C during the day, Tanakita is an ideal location to camp. As with other glamping sites, Tanakita provides the necessary equipment for a worry free and convenient camping, from tent, warm matress, sleeping bags, even a toilet and bathroom with hot running water.
Run by Rakata, the outdoor activity planner, you can also do various outdoor activiries such as river tubing, high rope, etc. Price per person is Rp. 550,000/night, already includes 3 meals and 2 snacks.
Location:
Situgunung, Kadudampit, Cisaat, Sukabumi, Jawa Barat
Contact: Jl. Lamandau IV No.17, Kebayoran Baru, Jakarta Selatan 12130
Phone +6221 7200469, Fax +6221 7269761
[email protected] https://tanakita.id/
Gunung Pancar, Bogor

One of the 'hippest' camping grounds among Jakarta and Bandung youngsters; Gunung Pancar camping ground offers both regular camping area and glamping facilities. A minimum of 4 people booking is necessary to rent a glamping tent, with prices start from Rp. 330,000/person which include tent, electricity, bed, and bbq grill. Add Rp. 55,000/person for dinner and breakfast.
Location: Gunung Pancar | KP Ciburial, Desa Karang Tengah, Babakan Madang, Bogor, West Java
Phone: 081213446514 (office hour)
[email protected]
http://www.gunungpancar.com/
Seasons Camp Jakarta
Seasons Camp Jakarta is a camp in a good neighborhood, which is located at Permata Hijau. The camp has a very good location, also near the Pondok Cabe Airport. Book here 
Legok Kondang, Ciwidey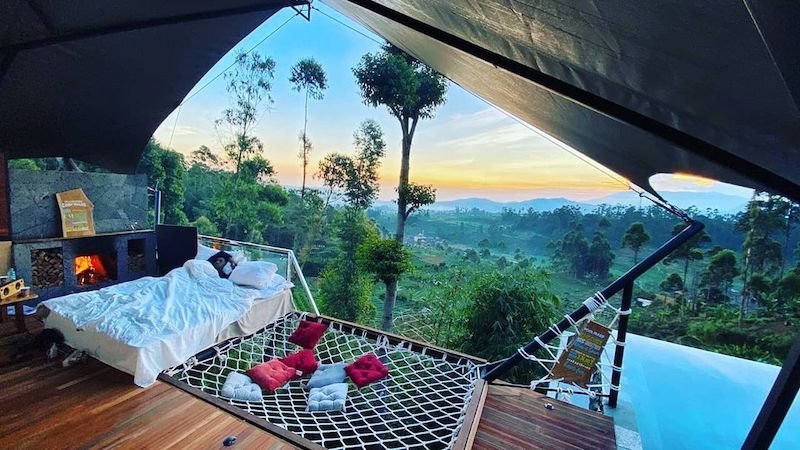 Photo credit https://sentul.city/glamour-camping-ciwidey/
Located in Ciwidey, a couple of hours south of Bandung, Legok Kondang offers a beautiful scenery and a spacious ground for plenty of outdoor activities. It is also really close to one of the most picturesque places in Bandung, Kawah Putih of Ciwidey and the strawberry farms around the area.
For glamping, you will need to spend Rp 1,050,000/tent for standard room and for Rp 1,750,000 for family size tent. For an additional Rp. 120,000/person you can enjoy a barbecue dinner cooked in front of your tent.
For more info:
Call/WhatsApp: 085795555666 / 0857 959 1111 1
Facebook: Glamping-Legok-Kondang or Instagram
Trizara Resort, Lembang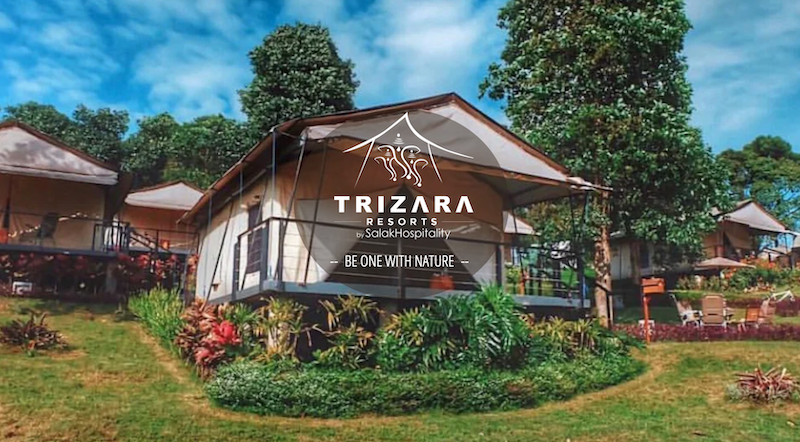 For all the nature enthusiasts who want to bask in the glory of Mother Nature without having to compromise on convenience and comfort while doing so, Trizara Resorts, is your calling! Mankind's most current way of becoming one with nature, this three-hectare luxury camp site at the Peak of Lembang, allows you to immerse yourself into the great outdoors without having to 'rough it out'. This sought-after phenomenon, Glamorous Camping, is a fun experience for individuals, couples and families to enjoy. Say bye bye to crumpled tents and sleeping bags as you embrace the comforts of home to enjoy a truly unique outdoor experience! Starting price at Rp. 1.500.000/night for Zana Tent, that can occupied 2 adults. Zana rooms were built especially for couples seeking a private escape.
www.trizara.com ; Instagram: @TrizaraResort
Phone: +622282780085
The Highland Park Resort Bogor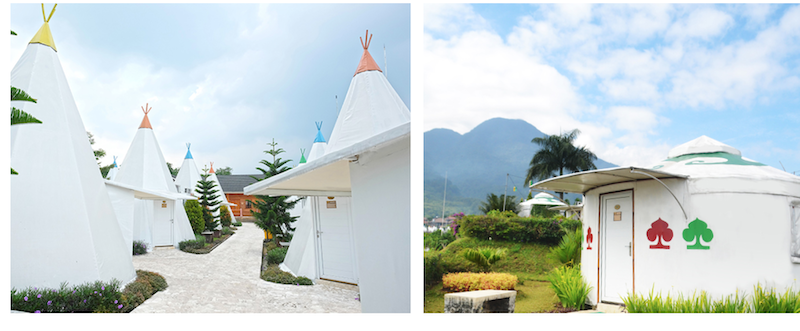 Located at the foot of Mount Salak, which includes Halimun National Park, this area is known for its challenging hiking trails and nearby locations where climbers can see the stars in plain view and the brightness of Jakarta from a distance. The Highland Park Resort, comes with a resort concept with a nuance of a combination of Western and Eastern cultures, where you can experience living in Mongolian and Indian (Apache) tents with the Glamorous-Camping concept that gives you the chance to relax, breathe fresh air in beautiful nature and unwind from the urban hustle and bustle
The Highland Park Resort Bogor, Jl. Curug Nangka, Bogor, +62 251 848 5777 www.thehighlandparkresortbogor.com/about/