As the newest hot spot in the most northern side of Jakarta, Pantai Indah Kapuk 2 (PIK 2) welcomes an overwhelming number of new cafes and restaurants every week. Really sure many spots will be keep growing and growing in the future, for now we already encapsulated some of the most interesting spots you should visit and try. So be ready to fulfill your dire need for some good food. Don't forget to prepare your gadget and always have your shades ready for a gram-worthy pic
HOTTEST DINING SPOTS IN PIK 2
Monsieur Spoon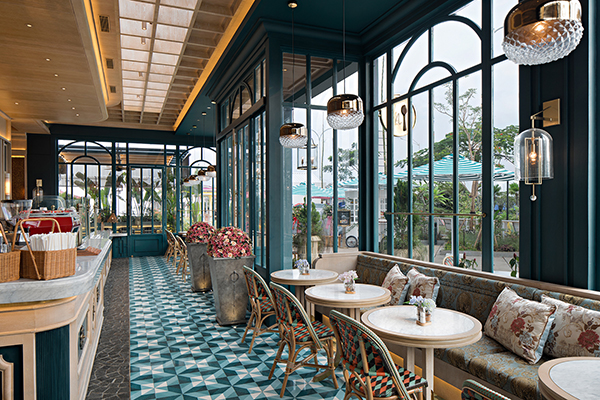 Photo credit: Monsieur Spoon website
As we're still reluctant to travel to Bali during pandemic, Monsieur Spoon smartly decided to open their outlet in Jakarta. Located at Urban Farm area, Golf Island, PIK, people who miss the smell of freshly baked authentic French bakery café can enjoy their tempting range of high-quality handmade French pastries, cakes, artisan bread, viennoiseries from its original country, including the most acclaimed croissant in Bali. This outlet dazzles the Parisian-chic vibes as the sunshine coming through the glasshouse window. We recommend their brunch menu like Wagyu Beef Croissandwich, Wagyu Beef Bourguignon, and Avocado Bruschetta, or simply their various Tartlets for sweeter notes.
Urban Farm, Golf Island, PIK, Jakarta Utara
Open: 07:00 – 22:30 (Every day)
Instagram: @monsieurspoon
http://www.monsieurspoon.com/
GIOI by the Farm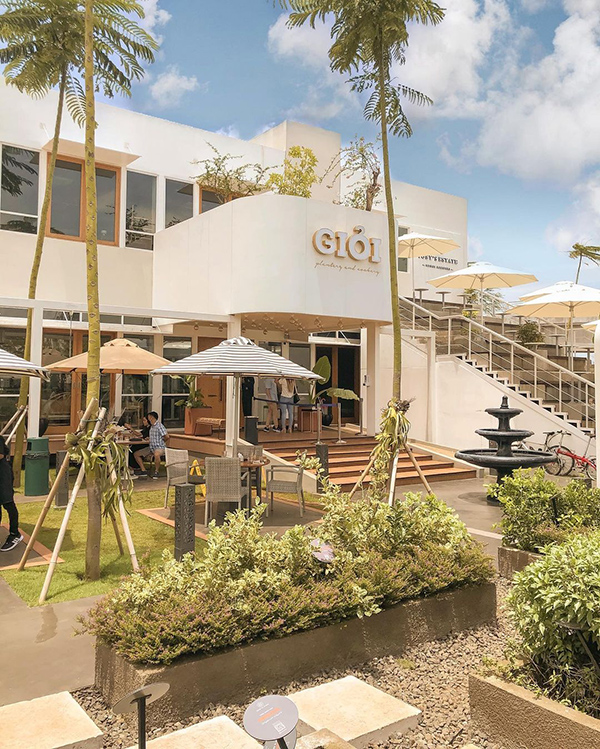 Photo credit: Instagram @ivanmarchius
If you had experienced GIOI in Senopati and Menteng area, you're definitely eager to try their new branch in PIK 2 area. Surrounded by the resort-like greenery farm that overlooks the northern blue sky, let's think about getting away from the hustle and bustle of Jakarta. The exclusive Asian fusion menu here continues to draw crowds, unlike their other places. Let's say Garlic Noodle Baby Lobster, Pork Fried Rice, Seafood Paella, and Grilled Tiger Prawn Barley.
Urban Farm, Golf Island, PIK, Jakarta Utara
Phone: +62 813-8899-6101
Open: 09:00 – 21:00 (Monday – Friday), 08:00 – 21:00 (Saturday – Sunday)
Instagram: @gioijakarta
2D Coffee & Tea Jakarta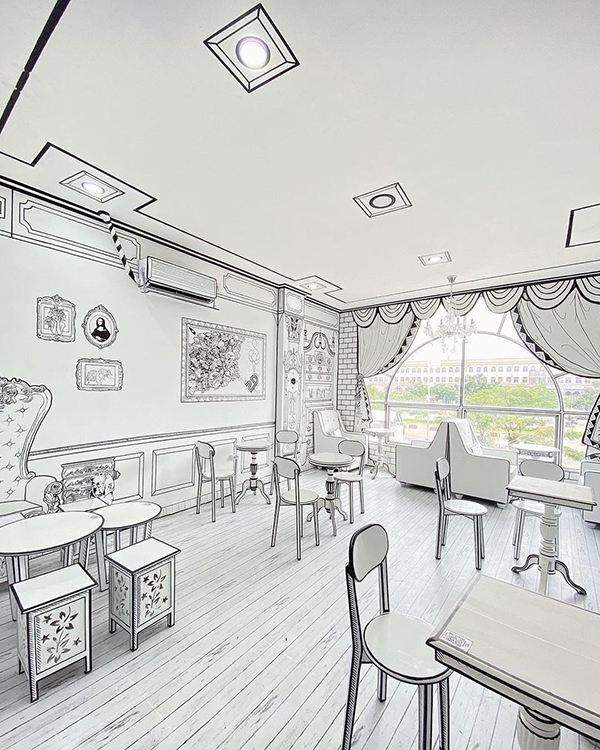 Photo credit: Instagram @2dcoffeeandtea
How can't we forget 'Take On Me' music video by a-ha? How does living in a monochrome 2D fantasy feels like? Then, look no further. Delve into 2D Coffee & Tea Jakarta to enjoy a 2D cartoon experience like drawings straight out of a sketchbook. The atmosphere is real, three-dimensional furniture looks like a flat illustration with a black and white aesthetic. Expect a good coffee, hot or cold, plus their healthy flower tea. As for nibbles, they have mac & cheese, lasagna, truffle butter fried, and dessert black tsunami. Every guest is required to make reservation before to visit.
Ruko Golf Island, Blok A No. 5
Jl. Pantai Indah Kapuk, Pantai Indah Kapuk, Penjaringan, Jakarta Utara
Phone: +62 812-1311-5812
Open: 10:00 – 21:00 (Every day, reservations only)
Instagram: @2dcoffeeandtea
Gala Café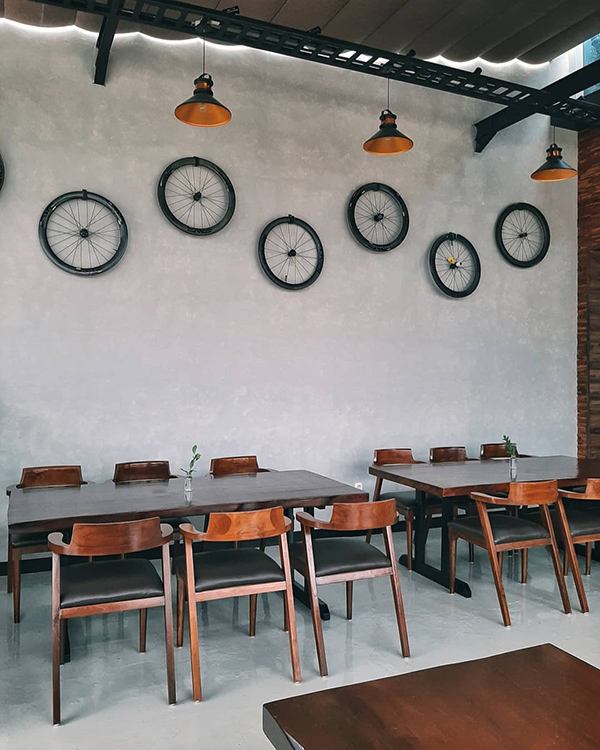 Photo credit: Instagram @food.serenade
Gala Café may not be too popular amongst its neighboring cafes, but it will become plus point for someone who seeks a less crowded place to chill. This hidden gem is situated on The Beach Boulevard, Golf Island, PIK 2 which will be the faultless place to catch the sunset, or unwind after your cycling routine. Sit back their casual vibes, while favorably munching Salmon Steak and sipping mojito or cocktails.
The Beach Boulevard RBB D39 Golf Island
Pantai Indah Kapuk 14460, Jakarta Utara
Open: 10:00 – 22:30 (Every day)
Instagram: @galacafejkt
Ponggol Nasi Lemak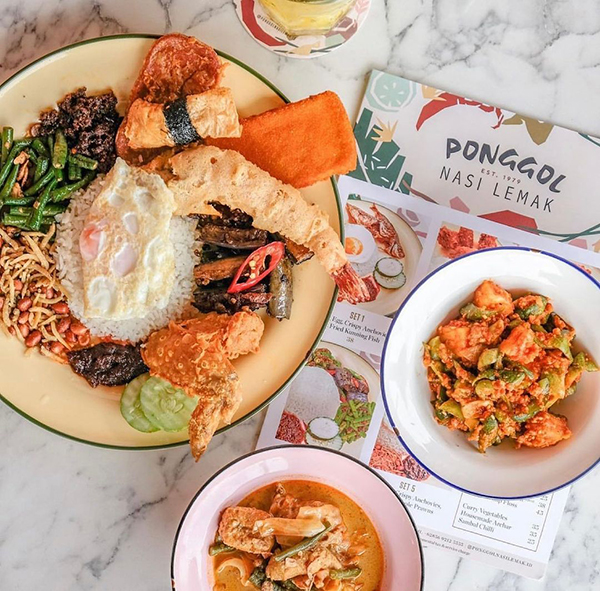 Photo credit: Instagram @@ponggolnasilemak.id
No need to go all the way to Malaysia or Singapore to eat their staple food nasi lemak. Head to Ponggol Nasi Lemak, housed at Pantjoran PIK, the Chinatown of PIK 2. There, you'll find a mainstay Malaysian dish offered by a well-known outlet from Singapore that has been serving a tasty nasi lemak since 1979. The fragrant aroma of coconut milk and the rich flavor of coconut rice complement each other. It's even more delicious when combined with Egg, Crispy Anchovies, Fried Kunning Fish, Crispy Drumstick, and Crispy Chicken Wings. The menu is available in a set menu and a la carte. To elevate the dining experience, don't miss the goodness of their side dishes and toasts.
Pantjoran Pantai Indah Kapuk A01, Penjaringan, Jakarta Utara
Phone: +62 856-9212-5555
Open: 11:00 – 21:00 (Monday – Thursday), 08:00 – 21:00 (Friday – Sunday)
Instagram: @ponggolnasilemak.id
Legato Gelato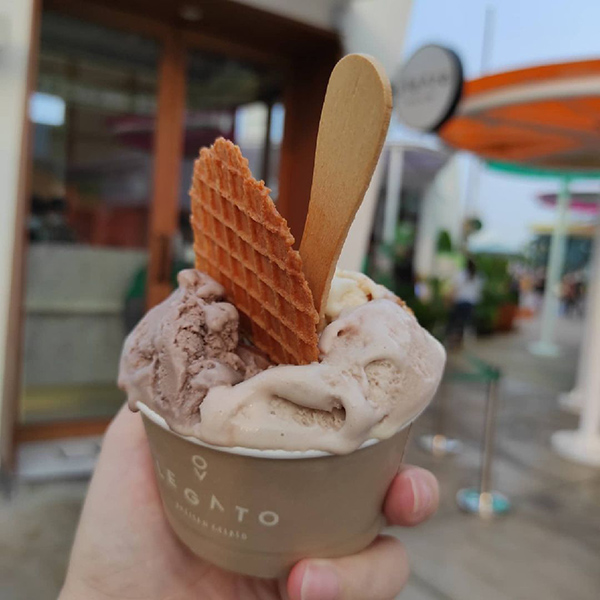 Photo credit: Instagram @paparaby_
Beat the heat by melting over to the best icy treats in Jakarta. Legato Gelato houses at Urban Farm PIK area, making it an ideal venue for casual get-togethers with friends and family. They offer a variety of sublime flavors, such as Black Forest, Orange Kiamboy, Ferrero, Stracciatella, Pistachio, Strawberry Cheesecake, Bubble Gum, and many more even they change and add some new flavors daily throughout the season, making it almost impossible to choose just one flavor. The scoop is available up for three flavors whether you enjoy it in cone or cup or for taking away in a large pint (473 ml). To add more fun, there are froot loops, almonds, sprinkles, and marshmallows for your own pleasure.
Urban Farm No. 17, Golf Island, PIK, Jakarta Utara
Open: 10:00 – 21:00 (Every day)
Instagram: @glegato.gelato
Kopi Se-Indonesia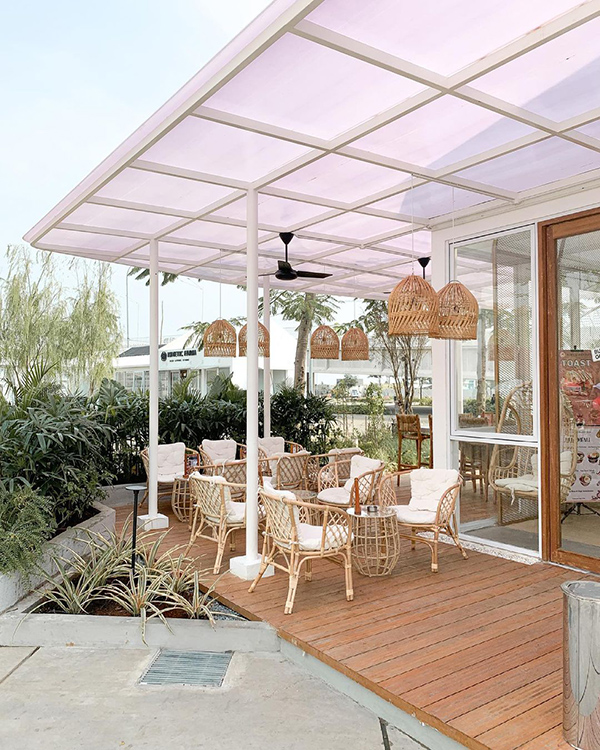 Photo credit: Instagram @stanleyadriann
Tucked away at Urban Farm PIK, Kopi Se-Indonesia has everything a good coffee shop should do, with a varied selection of coffees, teas, pastries, toasts, and many others. Although the place is not the biggest compared to their other branches, the ambiance here can't be sensate anywhere else. It blends in with the relaxed atmosphere, natural light, and surrounding marketplace in nature, just a perfect idea to spend the day.
Urban Farm Extension Unit 12, Golf Island Boulevard, PIK, Jakarta Utara
Open: 07:00 – 23:00 (Every day)
Instagram: @kopiseindonesia
Hibi Café by Cherie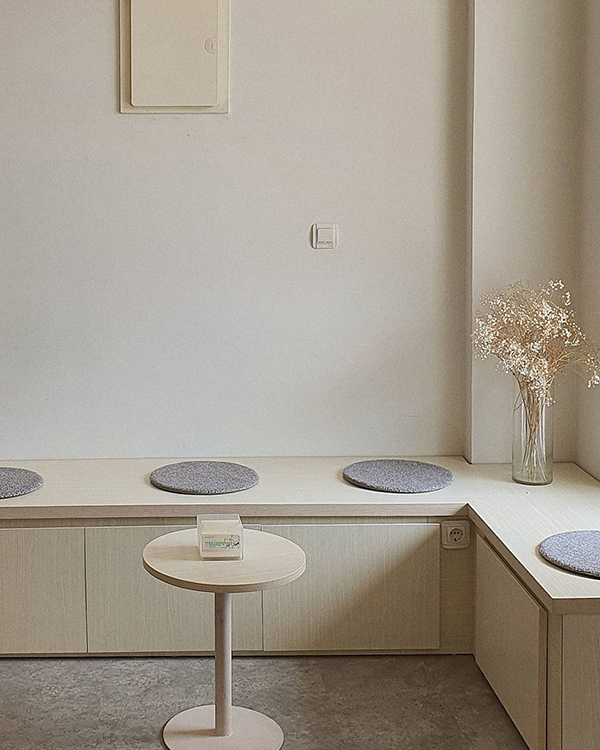 Photo credit: Instagram @hibicafebycherie
Another hidden gem worth your visit, Hibi Café by Cherie looks more like a bag store than a coffee shop. With bare white walls and a simple yet minimalistic approach, this quiet spot is really inviting loners to have a 'me time', especially during weekdays. The drink list has not much to offer, they have Black Coffee, Coffee with Milk, Green Tea Latte, and Iced Coffee Milk Aren worth trying. To satisfy your sweet tooth, their dessert cups like Signature Watermelon Cake will become a perfect pair for any drinks.
Ruko Beach Theme Park, Blok E No. 93
Jl. Pantai Indah Kapuk, Pantai Indah Kapuk, Penjaringan, Jakarta Utara
Open: 10:00 – 18:00 (Monday, Wednesday, Thursday, Friday), 08:00 – 20:00 (Saturday), 09:00 – 18:00 (Sunday), Tuesday closed
Instagram: @hibicafebycherie
Un Bakes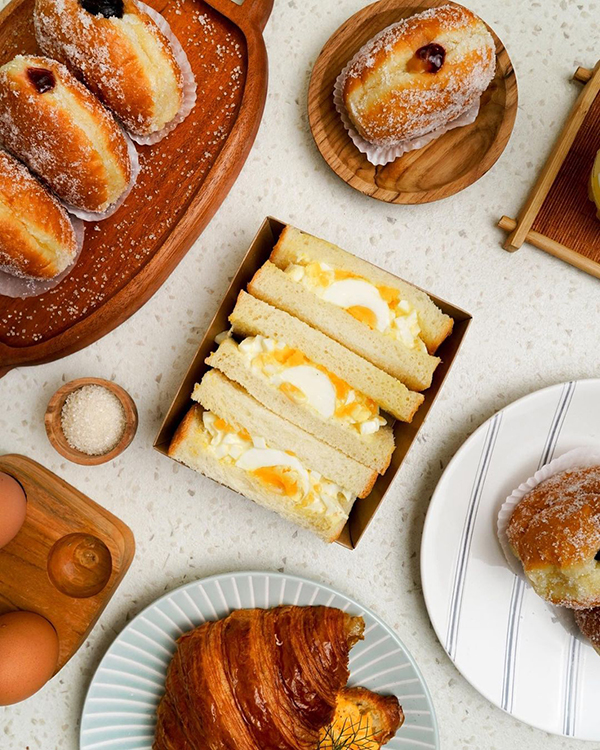 Photo credit: Instagram @unbakes
Un Bakes is here to fulfill your instant craving for something savory and sweet. Think Bomboloni, Ovomaltine Cake, Blackforest Cake, Burnt Cheese Cake, Cookies, and many new monthly creations. For savory, their Egg Sando is to die for and comes up with 3 flavors such as Egg Mayo Sando, Begg Sando, and Tuna Mayo Sando. Another specialty worth trying is Crowich that stands for Croissant Sandwich with Cuban's Fav Croissant, Classic One Croissant, and Egg Truffle Croissant to choose from. This casual eatery with a gem of an outdoor terrace area offers a tropical vibe of Urban Farm PIK, which is yet another reason to go to PIK 2 to escape the bustle of the city.
Urban Farm, Golf Island, PIK, Jakarta Utara
Phone: +62 816 1777 2588
Open: 09:00 – 21:00 (Every day)
Instagram: @unbakes
http://www.unbakes.com/
The Coffee Academics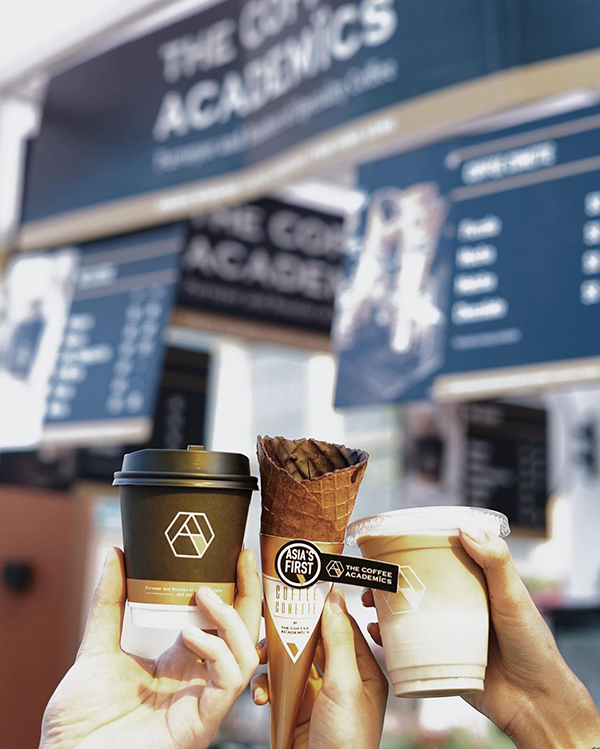 Photo credit: Instagram @thecoffeeacademicsid
Since the concept brought here is just Coffee Conette Pop Up Store, The Coffee Academics here is not as big as their first flagship store at ASHTA District 8 – SCBD outlet. The menu is very limited to just classic coffee and coffee conette. But hey, people still keep flocking around to indulge some good Okinawa and Manuka. Customers also have the option to try their signature coffee conette that comes up with Piccolo, Mocha, Matcha, and Chocolate flavors.
Urban Farm, Golf Island, PIK, Jakarta Utara
Open: 08:00 – 21:00 (Every day)
Instagram: @thecoffeeacademicsid
Toby's Estate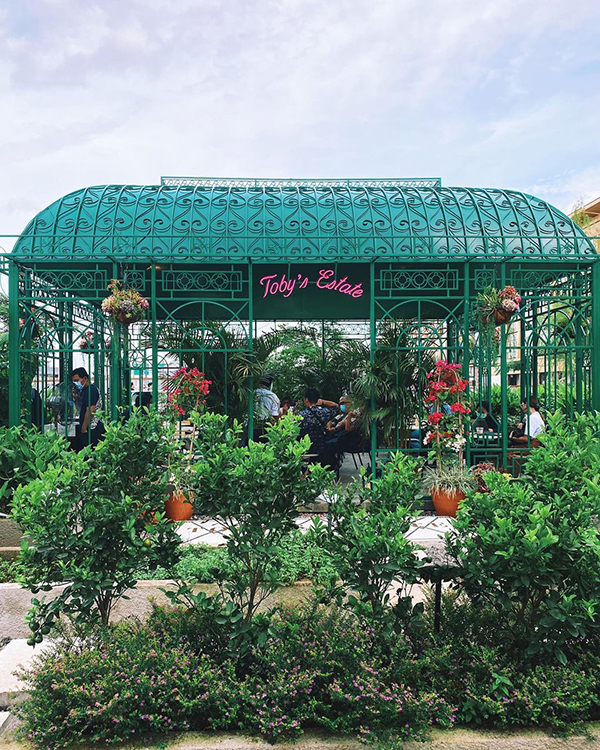 Photo credit: @oppakuliner
What makes Toby's Estate at Urban Farm PIK different to their sister's outlets? Yes, time is running really slow here. Imagine, a garden setting with atmospheric surroundings and the place is dominated by a breezy outdoor terrace area and is adorned by ascending decking staircase for seats. On the other area, you can feel mosaic-tiled room that feels so relaxing while enjoying some good coffee and bites. Take your time and please just enjoy a long list of tantalizing menu like all-day breakfast menu, soup, salad, burger, sandwich, donburi, and even their desserts.
Urban Farm, Golf Island, PIK, Jakarta Utara
Phone: +62 897-7006-555
Open: 08:00 – 21:00 (Every day)
Instagram: @tobysestateid
http://www.tobysestatecoffee.co.id/
Holywings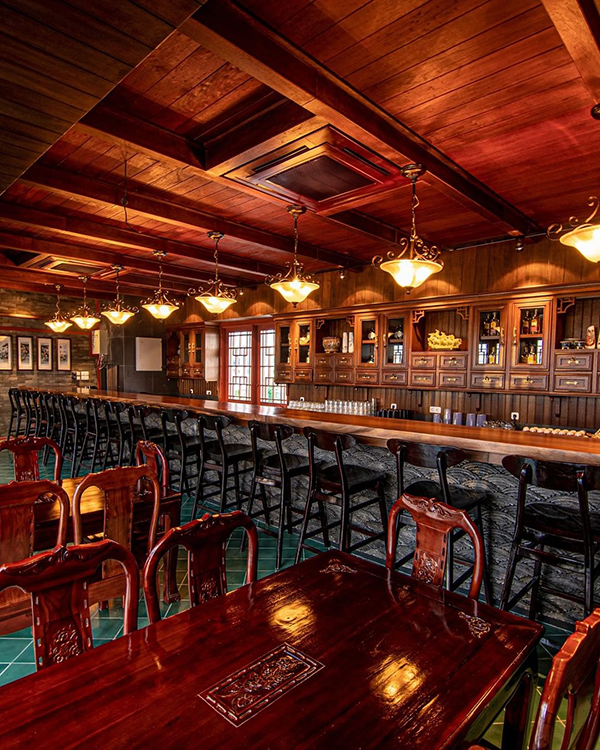 Photo credit: Instagram @holywings24
Holywings definitely came to your rescue if you need a spark to make your nightlife brighter. The good news, there are 3 Holywings available to visit in PIK 2 area. Yes, 3. You choose. In point of fact, they're housing almost next to each other on the same compound around Pantjoran PIK and Rukan Golf Island Boulevard. There are Holywings PIK 24 for the restaurant, Holywings PIK Dragon for the bar, and Holywings Club 8 Tiger for the club. Each of them offers a unique experience and a novel style of nightclub vibe you don't want to miss.
Holywings PIK 24's menu will be inspired by Chinese food such as various shao kao, fried rice, dim sum, noodle, and alcoholic drinks that include bai ju, typical colorless liquor typically from Tang Dynasty (618-907) served in a traditional jug. As for Holywings Dragon and Holywing Club 8 Tiger, they serve most of the drinks ranging from beer, soju, shot, spirit, liqueur, and cocktails. Aside from drinks, bar and club also provide a selection of light bites to chew on.
Holywings PIK 24
Pantjoran PIK Unit A-06, Golf Island, Pantai Indah Kapuk, Penjaringan, Jakarta Utara
Phone: +62 811-1097-168
Open: 16:00 – 02:00 (Sunday – Thursday), 16:00 – 03:00 (Friday – Saturday)
Instagram: @holywings24
https://holywings.com/

Holywings Club 8 Tigers
Rukan Golf Island Boulevard, Golf Island, Pantai Indah Kapuk, Penjaringan, Jakarta Utara
Phone: +62 811-1234-168
Open: 16:00 – 02:00 (Sunday – Thursday), 16:00 – 03:00 (Friday – Saturday)
Instagram: @holywings.club
https://holywings.com/

Holywings Dragon
Rukan Golf Island Boulevard, Golf Island, Pantai Indah Kapuk, Penjaringan, Jakarta Utara
Phone: +62 811-1912-9168
Open: 16:00 – 02:00 (Sunday – Thursday), 16:00 – 03:00 (Friday – Saturday)
Instagram: @holywingsbar
https://holywings.com/