Finding the best place to enjoy pork in Jakarta might seems hard, but the town actually has many famous spots you could visit. No more wrong decisions! From an authentic European restaurant to Jakarta's famous street food, let us guide you through some choices:
1. Paulaner Kempinski Jakarta $$$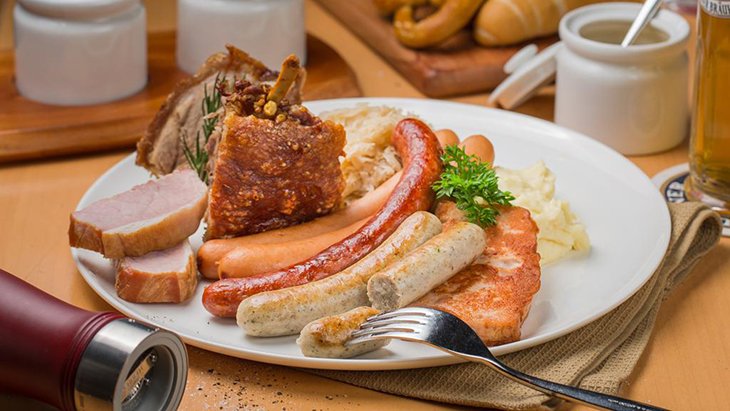 Other than fresh draft beer, Paulaner also serves German specialties that is well represented with the Paulaner Platter which groups almost every meat dish you can think of; pork chop, sausage, meatloaf and crispy pork knuckle served in one plate!
East Mall Grand Indonesia Lantai 2, Jalan M.H. Thamrin No. 1, Jakarta Pusat, DKI Jakarta 10310
Phone: (021) 23583871
Hours: Open daily 11:30 am – 1:00 am
2. Die Stube $$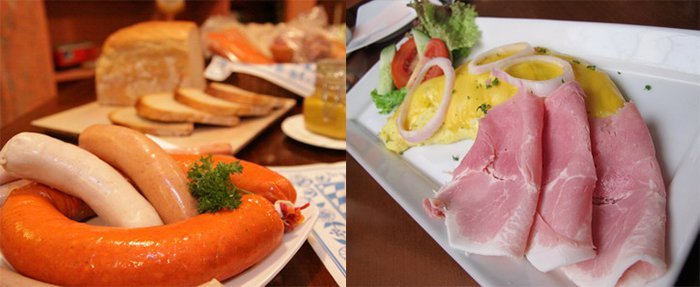 Strategically located in Kemang, Die Stube is one of the oldest restaurant that serve German cuisine. When we talked about German food, we probably think about that fat juicy sausages! And yes, Die Stube serves one of the best homemade sausages in town that keep coming from their kitchen as a favorite customer's choice. Other amazing pork dishes you might want to try is Cured Whole Pork Knuckle, Stuffed Pig Belly, and Suckling Pig.
With various memorabilia, this place is cozy, unpretentious, and feels like home for many expats. In special day, you can also watch live screening European games!
Address: Plaza Bisnis Kemang I, Jl. Kemang Raya 2, Kemang, Jakarta
Phone: 021 71793486
https://www.diestube.co.id
3. Kedai Kenanga $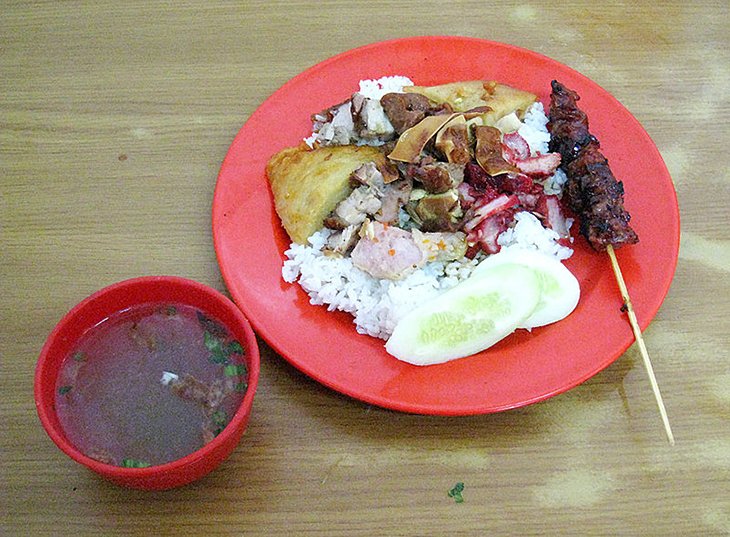 In the same building compound with Kaca Mata, another legendary 'nasi campur' place that's popular for its pork satay, chasiu, roasted pork, gohiong, siewmay, and pig ear!
Grand Wijaya Center, Jl. Wijaya 2, Dharmawangsa, Jakarta Hours: 9am-8pm
Phone: 021 7210404 / 021 7210405
Pondok Indah Plaza 2, Jl. Metro Pondok Indah, Pondok Indah, Jakarta
Phone: +62 21 7696042
4. Ya Udah Bistro $$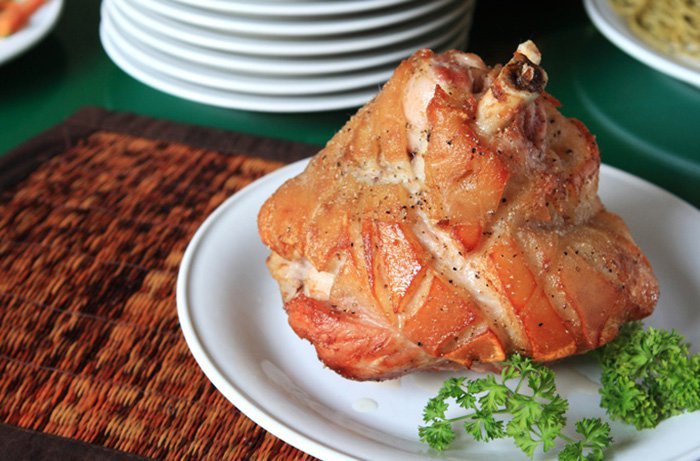 Established in since 2001, wittily named Ya Udah (loosely translated as 'alright' in Indonesian) has been serving great German style food and strong drinks in the popular Menteng area.
Ya Udah Bistro boasts one of the biggest pork knuckles around, weighing approximately 1,5 kilos, directly from the grill, and also their heavenly home-smoked bacon.
Jl. Johar No. 15, Kebon Sirih, Menteng, Daerah Khusus Ibukota Jakarta
Phone:(021) 39090100
Open: 08.00 – 24.00 (Sunday – Thurday) | 08.00 – 02.00 (Friday – Saturday, & holidays)
www.yaudahbistro.com
5. Outback Steakhouse $$
  
Outback is famous for their  a mouthwatering selection of original dishes, from steaks and hamburgers to pasta and salads, with (of course!) a tempting range of appetizers. They don't have the greatest selection of pork items, but their fall of the bone baby back ribs, is to die for! Succulent and saucy, each rack is smoked, grilled to perfection and brushed with their signature BBQ sauce.
Kuningan City, G Floor #28, Jl. Prof. Dr. Satrio Kav. 18 Kuningan, Jakarta
Pondok Indah Mall 1, 1st Floor Unit 153 B, Jakarta (021) 7506771
Ratu Plaza, Lt. G Jl. Jend Sudirman Kav. 9 Jakarta (021) 7252188
Mon – Sun 10:00 – 22:00
Twitter: @OutbackIN
Facebook: @OutbackSteakhouseIN
6. Pokenbir $$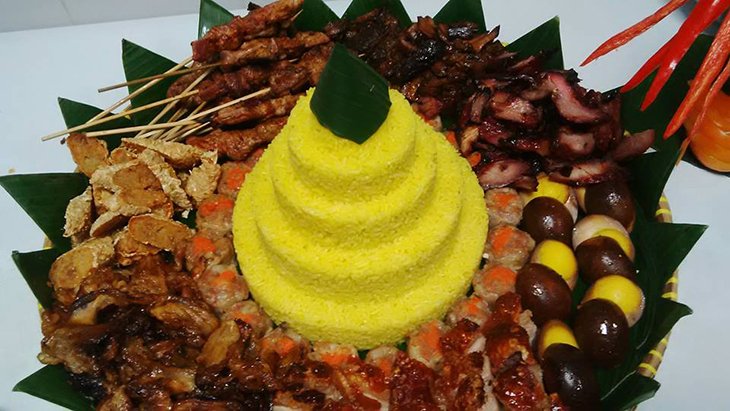 Pokenbir is a hidden gem in Kuningan, serving all kinds of pork dishes, Indonesian, german, to chinese. From pork belly, pork knuckle, nasi campur bali, babi toraja, babi rica, nasi goreng bali, the option is endless. They even have nasi kuning with all kinds of 'babi' on it!
Lippo Kuningan Tower, ground Floor, South Jakarta
Phone:  +62 21 29110145
Facebook: Pokenbir
7. Chung Gi Wa $$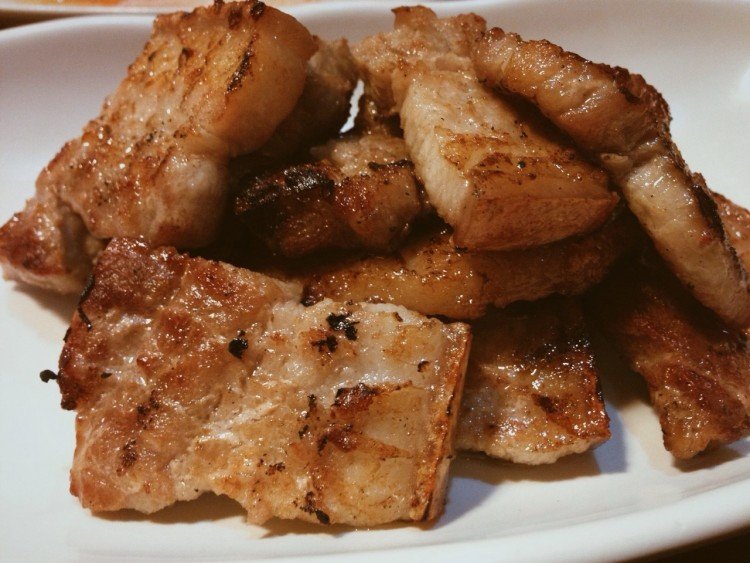 This Korean place is famous for its grilled pork meat, especially its samgyeopsal, a thick fatty slices of pork belly meat. The meat goes together really well with kimchi and other fresh side dishes. Adding to the fun you can have it grilled on the table, or you can avoid the smoke by asking them to cook it in the kitchen. Compared to other Korean restaurant, this place is not too expensive, but deliver smaller portion.
To see full address and contact number please visit Chung Gi Wa's directory 
8. Union PIK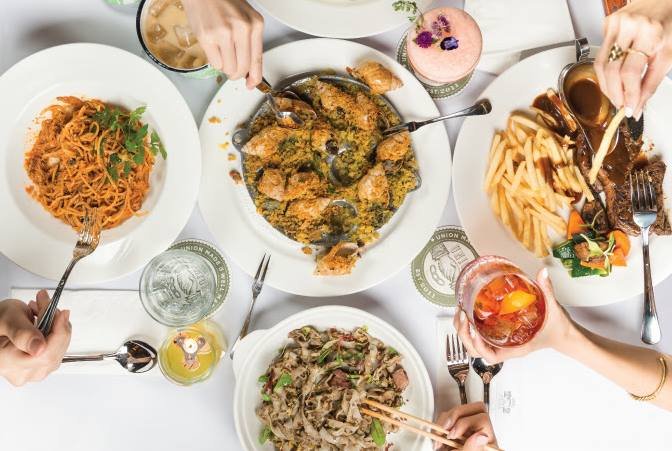 If you're reading this list and you're a big fan of Union, one of the most consistently upheld f&b establishment in Jakarta, you'll rejoice over the fact that their latest outlet in PIK incorporates pork items to their menu. From sticky pork chops, crispy skin pork belly, nasi babi garing (crispy pork belly served with sambal matah and pineapple kimchi), to  bacon lap cheong fried rice, it's gonna be a drool fest!
PIK Avenue Mall, Ground Floor, Pantai Indah Kapuk, North Jakarta
Hours: 11am-2am
Phone: +62 21 22571168
FB: unionpik
9. Nasi Campur Atek $$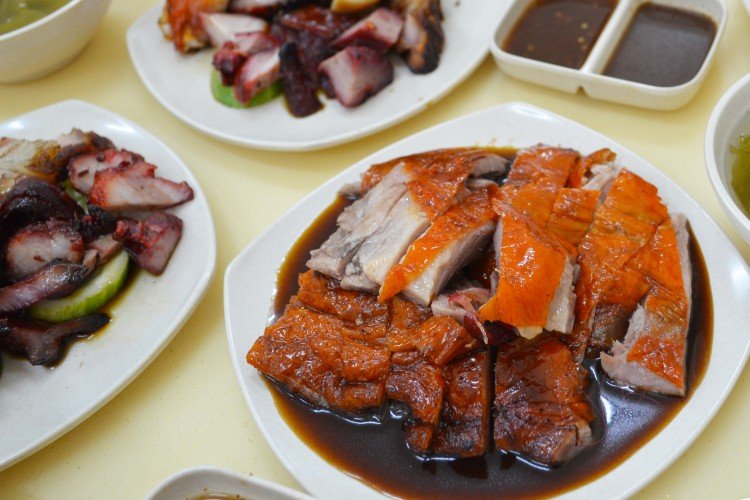 Another contender for best roasted pig in Jakarta, this restaurant is a favorite for many families. The restaurant is quite cozy with installed air conditioners. When visiting, you should order for mix rice with roasted pork, chicken, eggs, and sayur asin soup right away. As you can imagine, the taste is rich and fulfilling. One portion will cost you around IDR 37,000
Address:  Komplek Taman Duta Mas, Blok C 1 B No. 6, Jl. Pangeran Tubagus Angke, Jelambar
Phone: (021) 5649115
Hours: Daily 10 AM – 10 PM
10. Pig Hunter $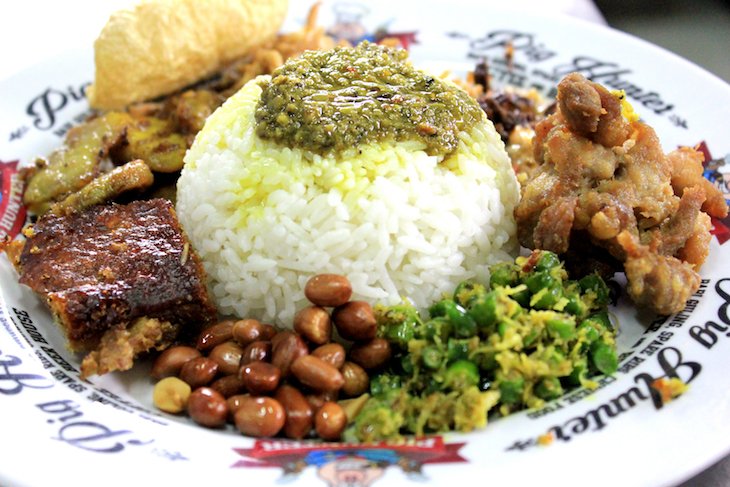 The new restaurant in Sunter is quite unique as it only serves pork dishes. Here you can choose between Indonesian food such as nasi bali, or western food like ribs, and burger. Pig Hunter also has a casual and cozy interior, and so will be perfect for a family eat-out or friends gathering. The place also serves beer and smoking area is available upstairs. It can be quite crowded at night, so prior booking is definetely recommended.
Address:  Jl. Danau Agung Utara, Blok E No. 3A
Phone: +62 21 98737564
Hours: Daily 10:30 AM – 11 PM
IG: @pighunter.id
11. Babi Guling Ko Made $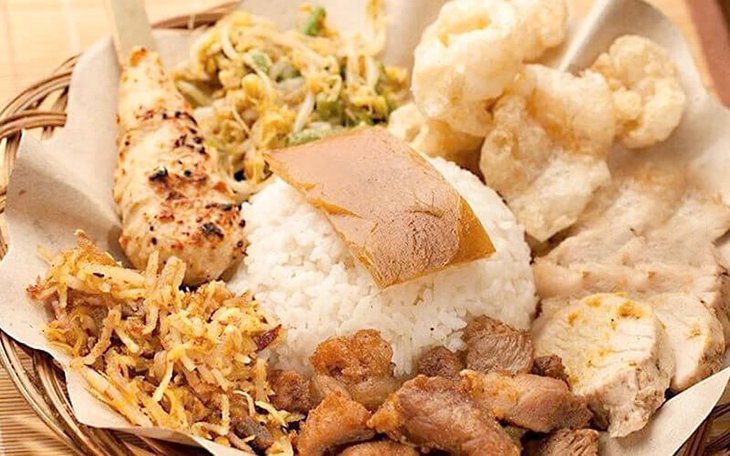 If you miss Bali's legendary Babi Guling, this place is one of the very few authentic Babi Guling rice in Jakarta! The crispy pork skin and their pork satay is a must try on top of their crazy good sambal.
Jl. Boulevard Raya WD2, Kelapa Gading, Jakarta
Phone: 021 4531958
Jl. Pluit Karang Indah Timur, Blok L 9 Timur No. 23, Muara Karang, Jakarta
Phone: 0878 78639089
12. Sports Stube $$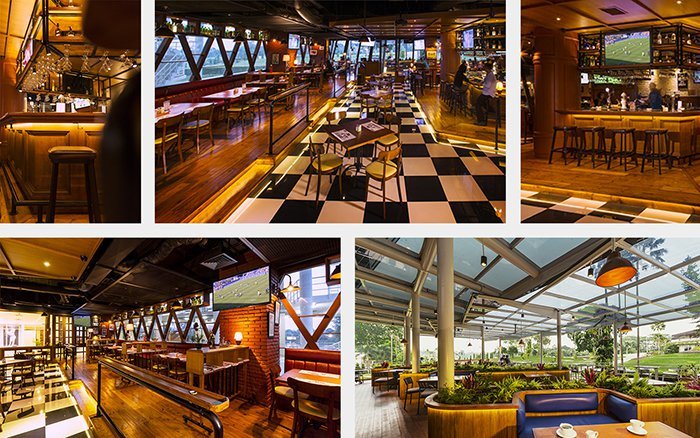 The 'youngest' sister of Die StubeSport Stube offers the same German goodness with Die Stube but with a different view overlooking the Pondok Indah Golf Course. Still serving their champion pork knuckle with a side of roasted potatoes and sauerkraut, and side dishes like sandwiches. Located adjacent to a beautiful golf putting green, this cozy restaurant has an expansive outdoor dining area.
Location: Pondok Indah Golf Gallery Jl. Metro Pondok Indah, South Jakarta
Phone: 021 – 29208530 / 29208531
Facebook: sportstubejakarta
Open: Everyday 11am – 11pm
13. Kaca Mata $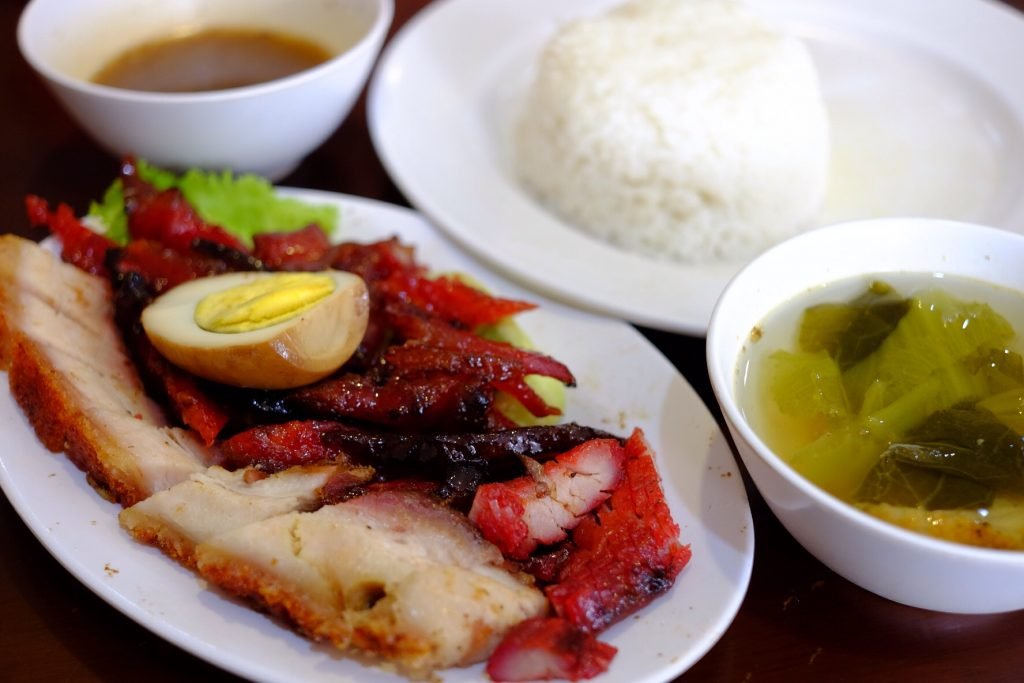 Kaca Mata is with no doubt, the trend setter of honey glazed pork in Jakarta. Now with many branches, their hainam rice is still the number one choice for many locals despite the expensive price. For two people, it will cost you around IDR 150,000. It may seem a lot, especially when you realize how simple the restaurant is, but the delicious taste will pay for it! The best part is, this restaurant is open 24 hours! Which means late night cravings will know where to go.
Address:
Grand Wijaya Center Blok C No. 4, Jalan Darmawangsa (24 hours)
Phone: +62 21 7235228
Jl. Boulevard Raya Blok TT 2 No. 5, Kelapa Gading Jakarta
Phone: 021 4530041