Where are the best breakfast places in Jakarta? Breakfast is said to be the most important meal of the day. We agree, but not only it gives the nutrients we need, we think breakfast is a great mood-setter for the rest of the day. So here we compile the best place to have breakfast in Jakarta!
1. Savior of Pakubuwono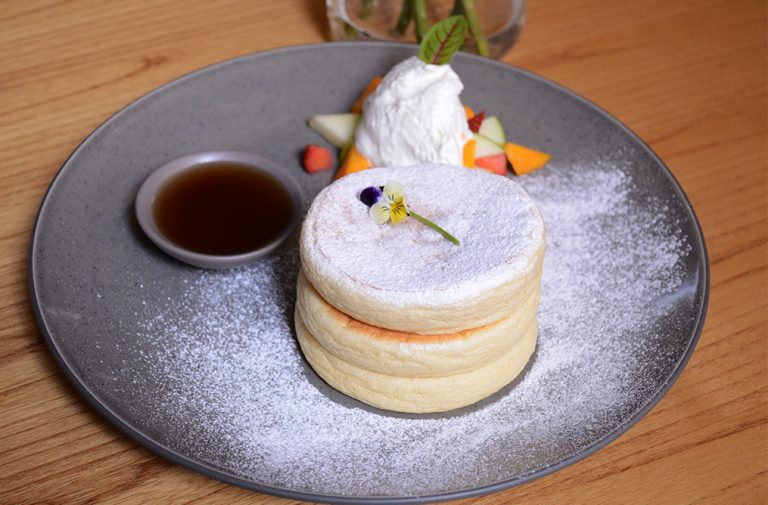 Savior wins the heart of many with its exceptional concept. From its charming unfinished-style interior to elevated homemade food with an Italian touch. This place is also popular for breakfast as it offers a sumptous breakfast meals. Ranging from bread, pancakes, to eggs. Try the place's fluffy pancakes as well as the waffles that taste like home.
Savior of Pakubuwono
Jl. Pakubuwono VI No.51, Kebayoran Baru, Jakarta Selatan
7 am – 12 am (Mon-Thur) | 7 am – 1 am (Fri-Sat)
P. (+6221) 22773351
2. Benedict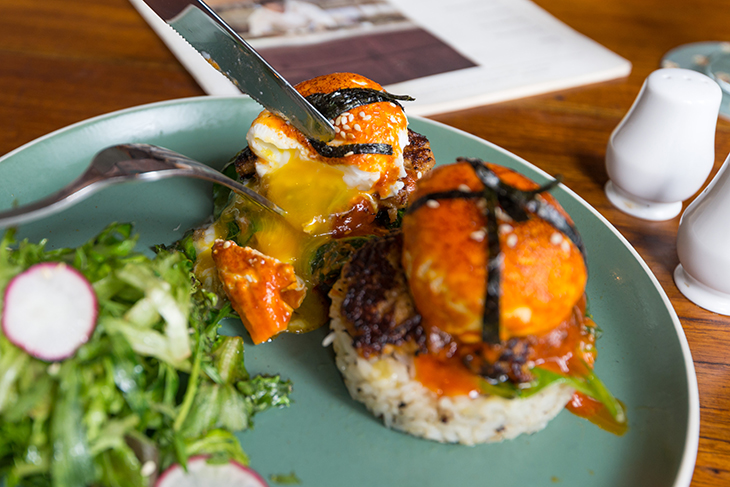 Classic meets modern innovation, breakfast at Benedict is a fun experience you can't find anywhere else. Besides the classic breakfast items like steak & egg, the place also offers some modern variation such as Japanese Benedict and Egg in Jar. You will also be able to find Indonesian all-time favorite chicken porridge which called 'party in a bowl' at Benedict. Don't forget to try their coffee selections as well, they are as innovative as the foods.
Benedict
Pacific Place Mall, 4th Floor, Jl. Jenderal Sudirman, SCBD, Jakarta
Phone: 021 57973742
https://www.facebook.com/benedictjakarta
www.benedictjakarta.com
3. Jakarta Restaurant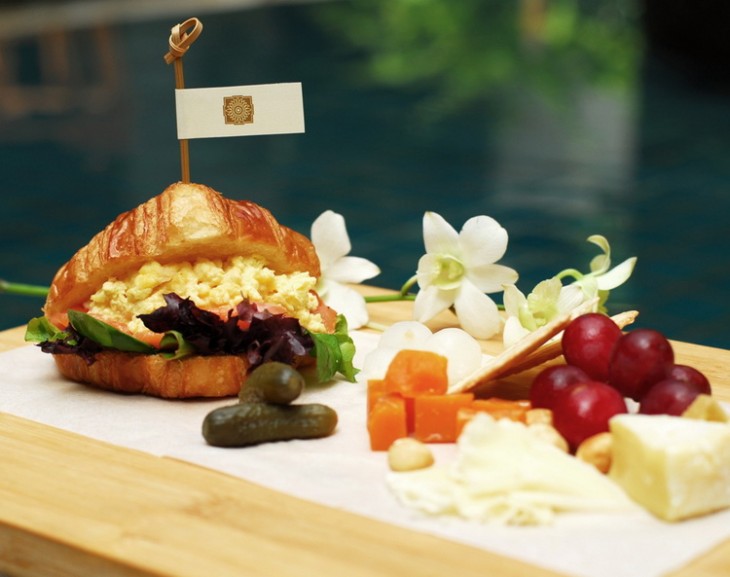 When you have a breakfast meeting with important clients, Jakarta Restaurant at The Dharmawangsa can be your classy pick. Here you will be able to enjoy some favorite dishes ranging from classic bubur ayam, egg benedicts, croissant with salmon and scrambled eggs, and many more with wide selections of buffets. The restaurant itself is full of marvel and surrounded by fresh tropical scene, a great hideaway from the buzzing city life. The breakfast at Jakarta Restaurant is available daily from 6 AM to 10.30 AM.
The Dharmawangsa Jakarta
Jl. Brawijaya Raya No. 26
Kebayoran Baru, Jakarta 12160
(62-21) 7258181
[email protected]
www.the-dharmawangsa.com
4. Maple and Oak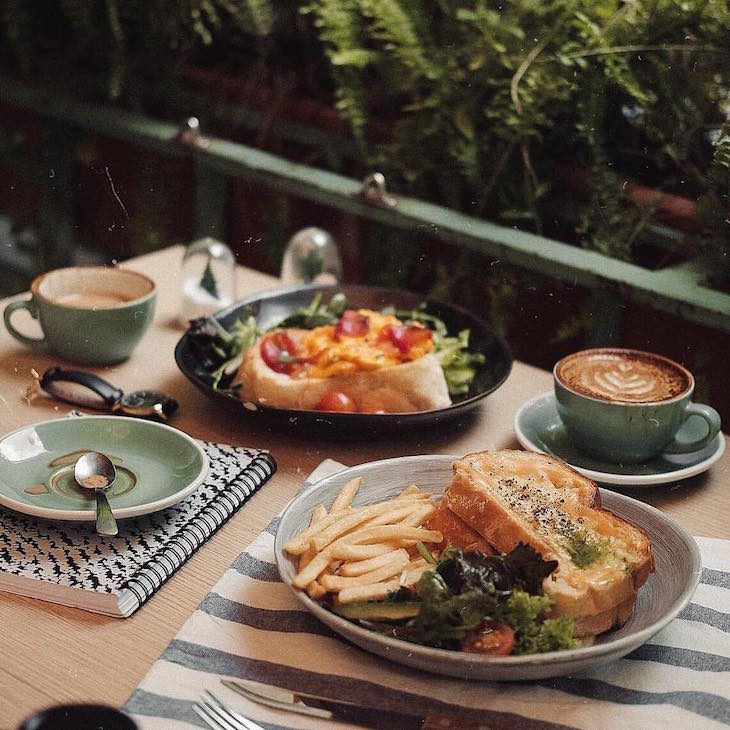 Inspired by the legendary brunch in Melbourne, Maple and Oak serves an all-day brunch menu that is not only healthy but also delicious. The kitchen uses the best and freshest ingredients to create a balanced dish, both in sweet and savory realms. The place is quite small, but often crowded, so you may want to opt for public or online transportation to visit the place.
Hours:
Monday to Saturday 08:00 am – 09:00 pm
Sunday 08:00 am – 08:00 pm
Maple and Oak
Jl. HOS. Cokroaminoto No.91
Jakarta Pusat – 10310
+6221-390-6757
[email protected]
http://mapleandoakjkt.com/
5. Warung Koffie Batavia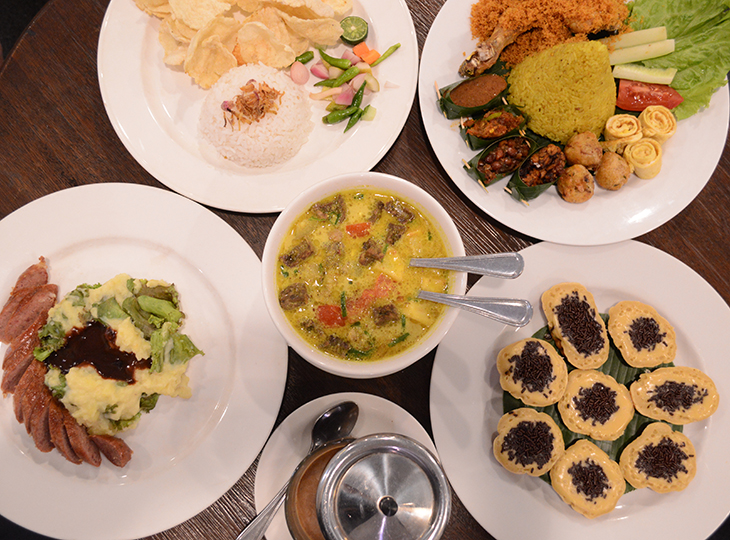 Serving up only its best signature coffees along with a wide array of food, Warung Koffie Batavia a great choice for a breakfast. From small bites to something that can fill up or simply comfort your tummy, the foods can definitely charm you. The space is modern but inspired by the architecture of the Indo-Dutch colonial time, giving you a unique experience. All the foods are also inspired by the same influence. Some of the recommended ones are Koffie Peranakan and Classic Kue Cubit.
Warung Koffie Batavia
West Mall Lt 5. Grand Indonesia
Kebon Melati, Tanah Abang, Jakarta Pusat
Facebook: Warung Koffie Batavia
6. Social House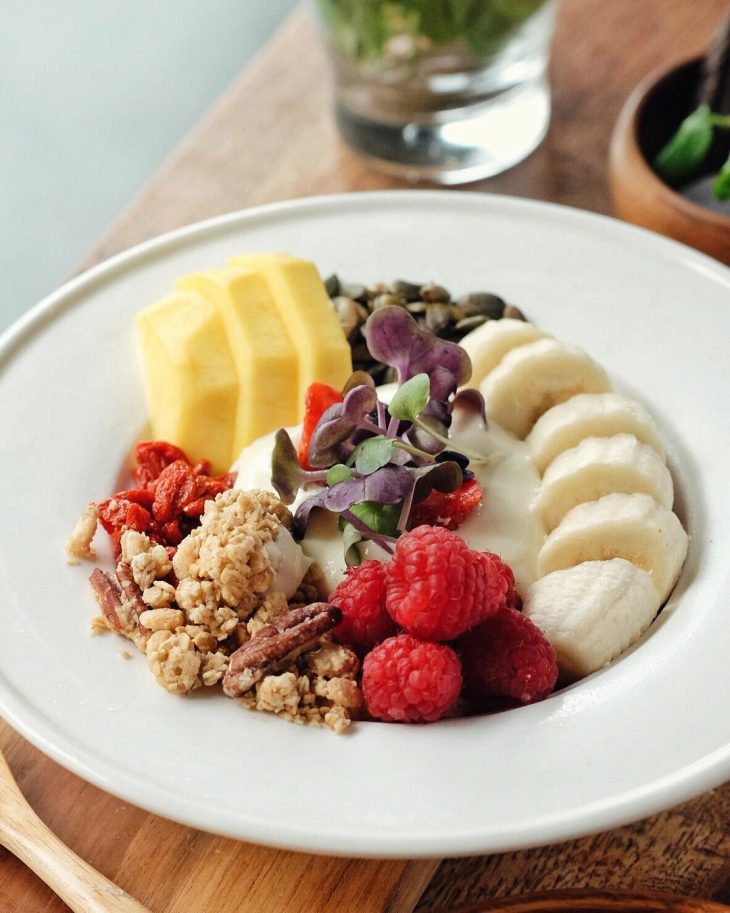 SOCIAL HOUSE, where the exciting concept of restaurant, bar and wine post could be enjoyed all in one place. Surrounded by stunning views and warm alluring design, SOCIAL HOUSE provides a delightful dining experience. Embellished with wooden ornaments and lush greenery, the place exudes warm, yet chic ambiance like no other. From the beginning of the day to late at night, enjoy everything that SOCIAL HOUSE has to offer: breakfast, tapas, fine wine and innovative cocktails at its finest.
Grand Indonesia East Mall Lt. 1, Jl. M.H. Thamrin No.1, Menteng, Jakarta Pusat 10310
Phone: +62 21 2358 1818
Website: https://www.ismaya.com/eat-drink/social-house
7. Six Ounces Coffee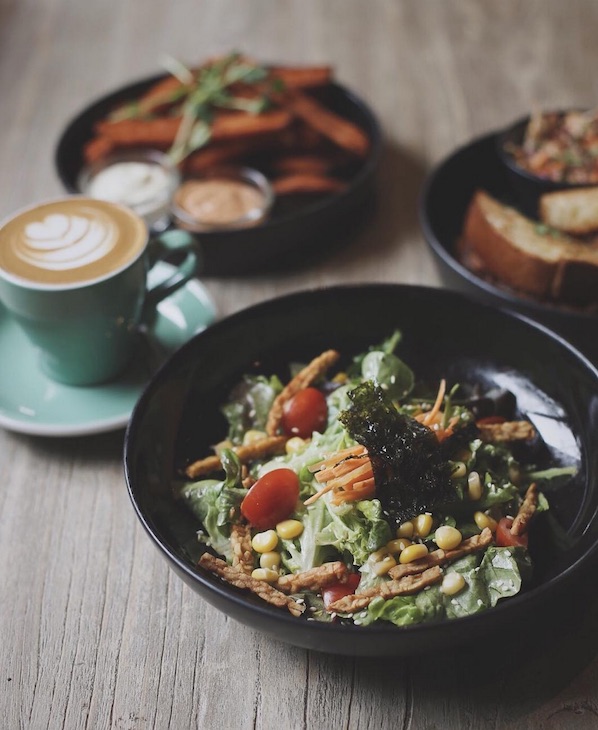 For those who live at North Jakarta, especially Kelapa Gading area, Six Ounces Coffee can be your choice when looking for Western-style breakfast. The place is very comfortable, and the foods are great. There are plenty of choices of benedicts and healthy bowls. Their specialties, however, is their coffee. The barista processes the beans from Giyanti and single-origin from Common Grounds. If you love manual brew coffee, you are also in treats because Six Ounces Coffee has a lot of options.
Hours:
Mon: Closed
Tue – Sunday: 8:30 AM – 9:30 PM
Six Ounces Coffee
Jl. Gading Indah Raya blok NB 2 no 1
0812 9559 2233
[email protected]
https://www.instagram.com/sixounces.coffee/
8. St. Ali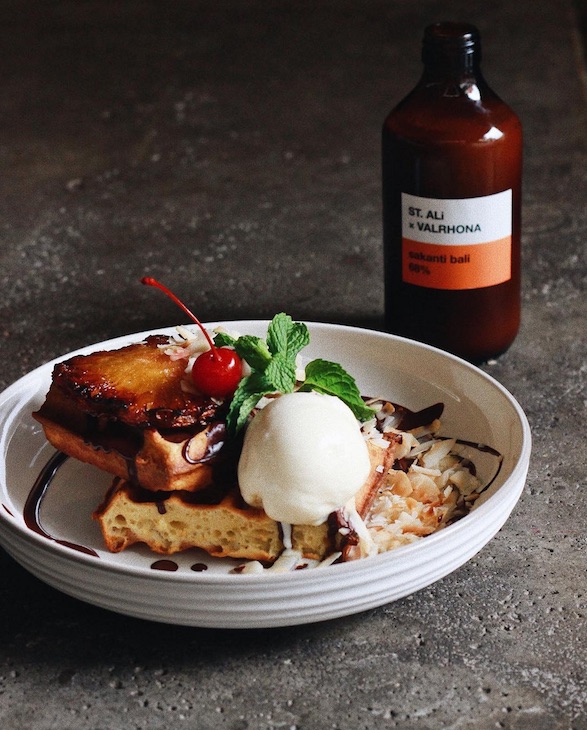 Coming all away from Melbourne, St. Ali is the pioneer when it comes to specialty coffee. Now you can too enjoy their innovative creations with a selection of all-day brunch and breakfast. They are located at Setiabudi Building One and open from 7 AM in the morning! The place itself is very open and welcoming, offering you a nice environment to enjoy the moment. Open early in the morning, the place is perfect for breakfast in Jakarta.
Hours: 7:00am – 8:00pm
St. Ali Jakarta
Setiabudi Building One 2 GF-103A
Jalan Hr.  Rasuna Said Blok Kav. 62, Setiabudi
021 5290 6814
https://www.instagram.com/stali_jkt/?hl=en
9. Sophie Authentique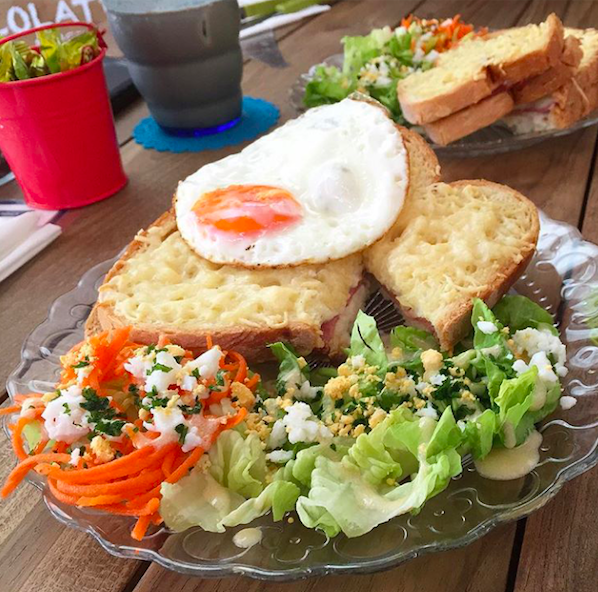 Sometimes all you need is a nice home-made bread. With an authentic recipe from French, the bakery offers some top notch classic pastry and bread, including butter croissants, canele, baguette, and brioche. Visit the place to enjoy them while they are warm, fresh from the oven. The place is humble and homey, so it is great for individuals and family. You can find Sophie Authetique at Kemang, Cipete, Cikajang, Kuningan, and Grand Indonesia.
Hours:
Sunday – Friday: 8 AM – 5 PM
Saturday: 8 AM – 6 PM
Sophie Authentique Kemang
Jl. Kemang Raya No. 55
Kemang – Jakarta Selatan
Tel: 021 22717066
10. Bakoel Koffie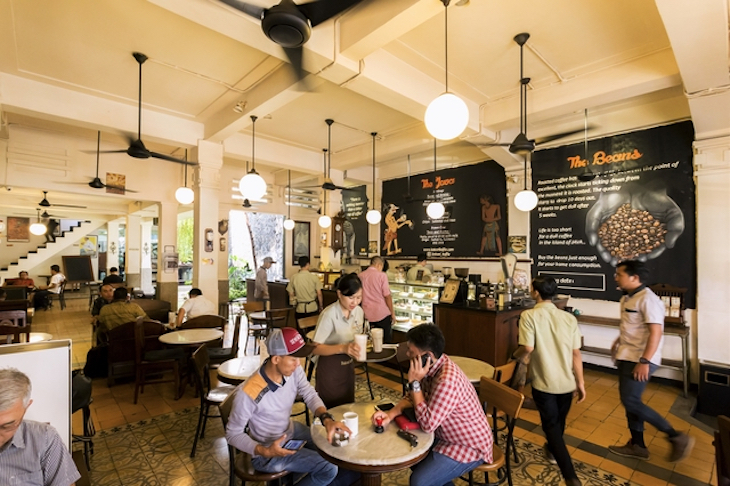 With a long history, Bakoel Koffie is the fourth generation in the coffee roasting family business. It has a mission to continue the heritage of Java roasting and introducing it to the public. You can have a taste of their unique blends in Jakarta at Cikini. What's more, the café occupies the old colonial house, offering you a unique breakfast experience. Besides the coffee, Bakoel Coffee also serves some Indonesian signature dishes and snacks such as Nasi Goreng, Pempek Bangka, Tape Bakar, and many more.
Hours:
Mon: 9 AM – 12 AM | Tue-Sun: 8 AM – 12 AM
Bakoel Koffie Cikini
Jl. Cikini Raya No.25
+62 – 813 5353 5320
021 – 3193660
https://www.bakoelkoffie.com/