For a family-friendly splashing fun, head to one of these waterparks in and around Jakarta area. Please be aware that these parks can be extremely packed, as there hardly any quota for visitors, so visiting on weekdays is highly recommended.
2. Pondok Indah Water Park (The Wave)

Located right next to Pondok Indah Mall, this waterpark is the go to detination for many living in South Jakarta. After a massive renovation, it now offers world class water rides such as the Water Rider, a mini water surfing simulation, the Aqua Play, Wave Pool & Sandy beach, Wizzard Slide, Lazy River, Tube Slide and a 1.000 sqm Olympic Swiming Pool.
Price:
Rp. 100,000 (Mon-Fri) Rp. 150,000 (Weeekends & public holiday)
After 6 pm: Rp. 50.000 (Mon-Thu), Rp 75.000 (Fri-Sun & Public Holidays)
Jl. Metro Pondok Indah, South Jakarta (Next to PIM I & Street Gallery)
Open Daily: 06.00 – 21.00
3. The Jungle Adventure, Bogor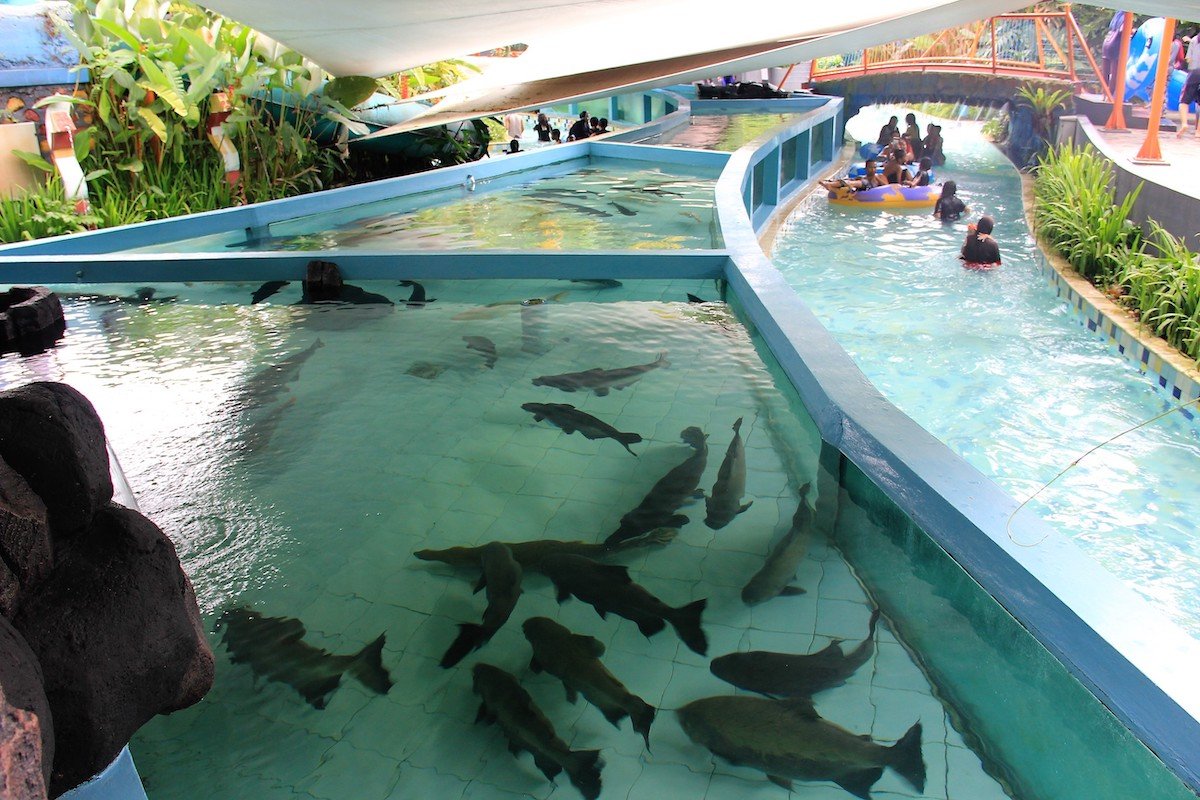 Make a short fun-filled family weekend getaway to Bogor, ans stop by at this popular waterpark: The Jungle Adventure has plenty of attractions for kids such as the kiddy pool, with mini slides and bucket splash. In addition to the many water attractions, The Jungle also features a bird park with exotic Indonesian birds.
Jalan Bogor Nirwana Boulevard Dreded Pahlawan, Perumahan Bogor Nirwana Resident, Bogor
Phone:(0251) 8212666
Open Daily: 9:00 AM – 5:00 PM
https://www.thejungleadventure.com
4. Atlantis Water Adventures, Ancol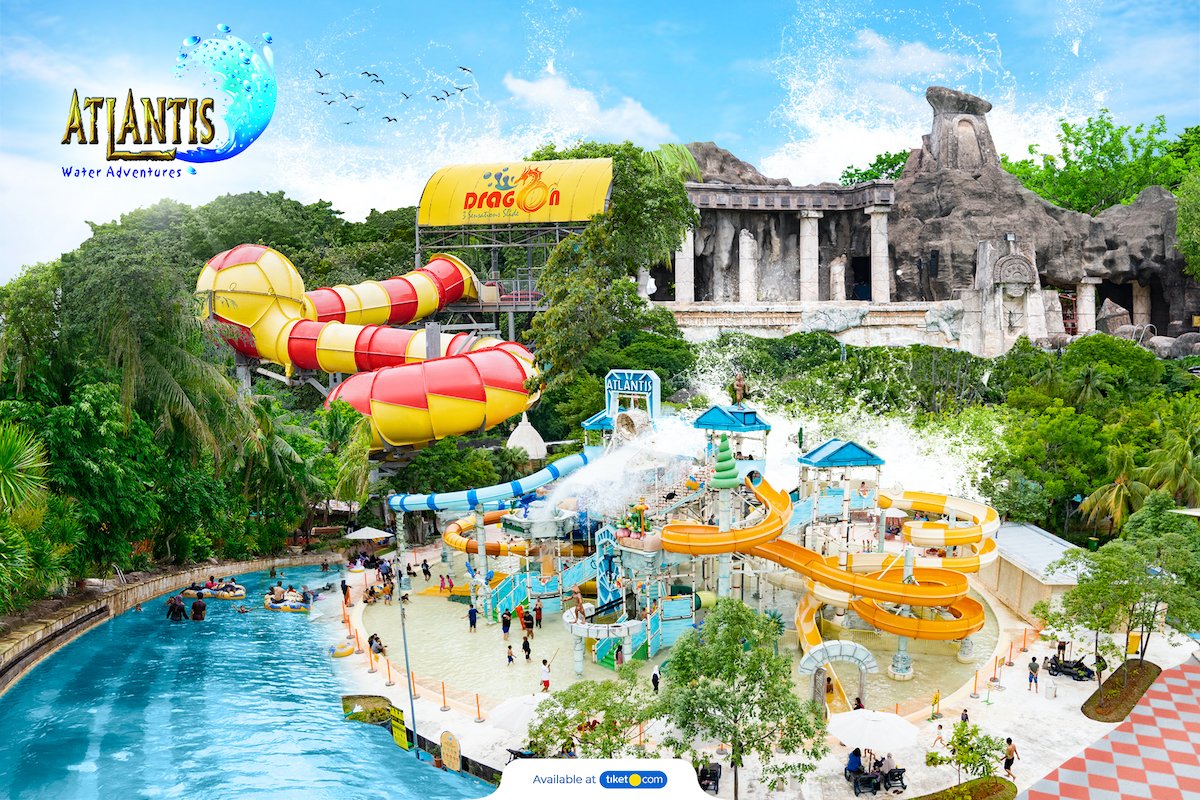 Atlantis Water Adventure (Atlantis) was revitalized from Gelanggang Renang Samudera that established since 1974. Atlantis sits on 5 hectare of land, ready to give you water adventure through 8 major pools: Poseidon, Antila, Plaza Atlas, Aquarius, Octopus, Atlantean, and Kiddy Pool.For events or special occasions, Atlantis also offers a gazebo facility that can be rented for Rp. 250.000.
Price: Rp 175,000
Location:
Ancol Dreamland, Jl. Lodan Timur No.7, North Jakarta
Open Daily: 08:00 – 18:00 (Mon-Fri), 07:00 – 20:00 (weekends & public holiday)
5. Ocean Park Water Adventure, BSD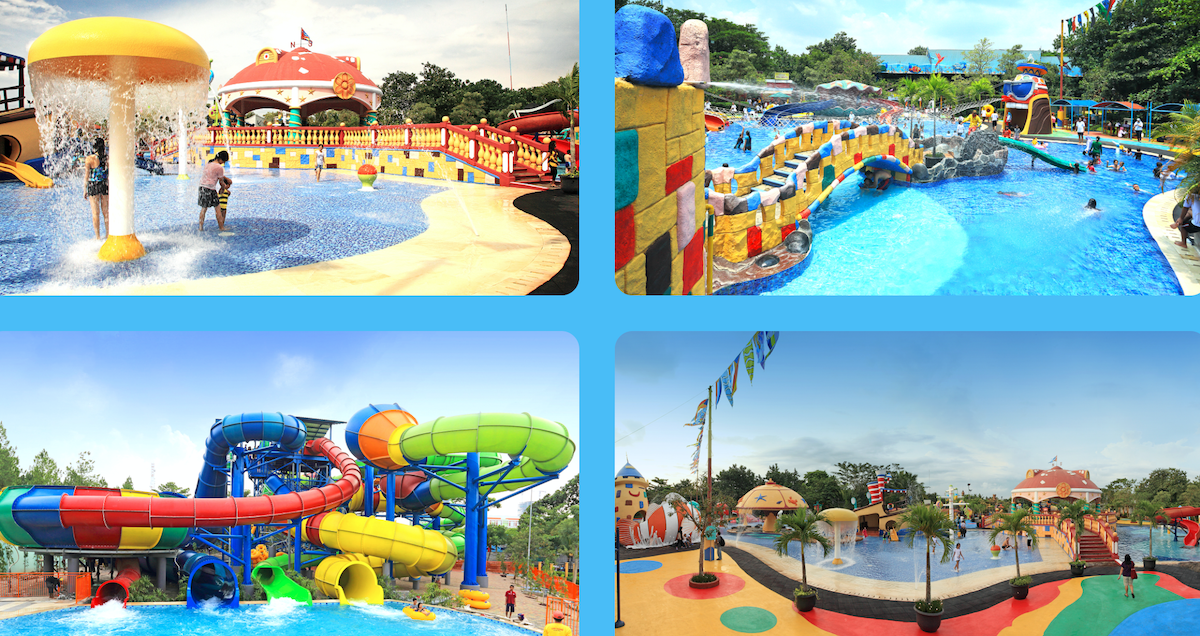 Ocean Park Water Adventure features Splash Town, a water attraction highly popular with kids, pretty much similar with other waterparks, also with wave and current pools. The preferred waterparks for those living around Tangerang area, with a very affordable price.
Price: Rp. 40,000 (Mon-Fri) Rp. 70,000 (weekends & public holiday)
Jl. Pahlawan Seribu, CBD Area, BSD City, Serpong, Banten
Open daily: 11.00-19.00 (Mon-Fri), 08.00-19.00 (weekends & public holiday)
6. Waterworld Krakatau, Cilegon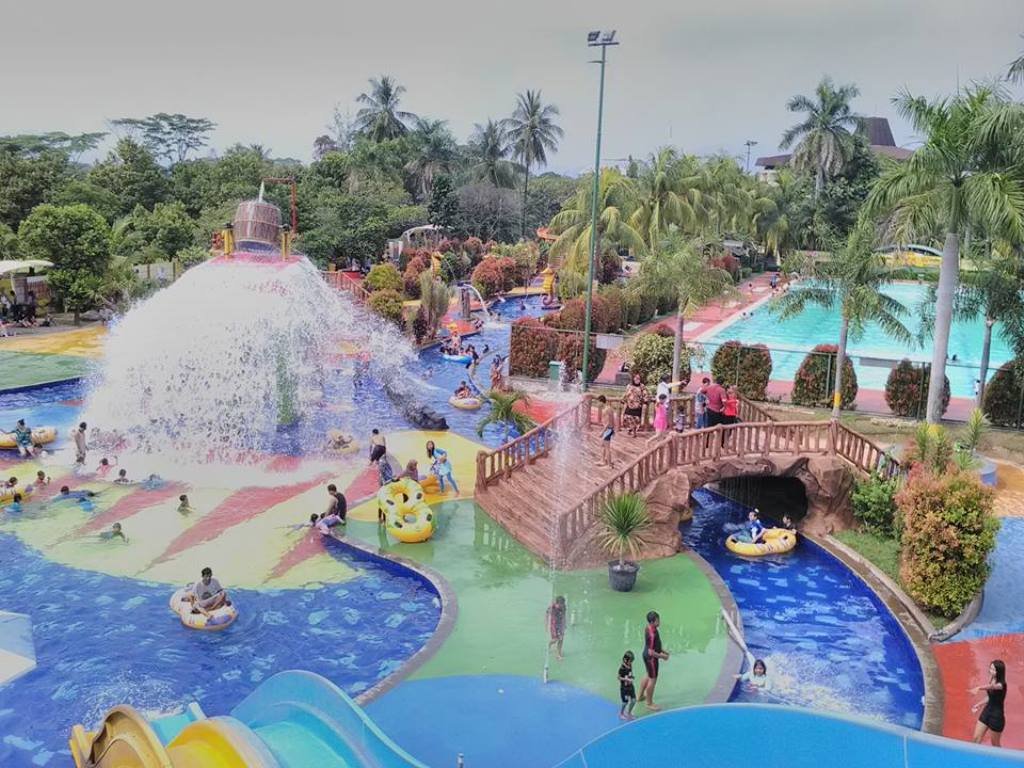 Waterworld Krakatau (was known as Krakatau Country Club) is probably the first Waterpark in Banten Province and has been evolving from a formal Swimming Athletes facility into one of the biggest and comprehensive Water Edutainment Park. A perfect getaway especially for those who wants to take a leisure break to Anyer Beach or nearby. There are lots of water sliding arenas that is specially designed and suitable for kids or adults, stream pools, olympic pool, dry pool, tube slide, family slide, kiddy pool and many more of water attractions, not to mention instagramable sculptures for selfie or wefies.
Price : Weekday : Rp 35.000
Weekend & Public Holiday : Rp 45.000
Children with height below 120 cm : FREE!!*
Address : Jl. KH Yasin Beji No. 6, Cilegon Barat – Banten
Open Daily : 07.00 AM – 05.00 PM