Craving for authentic Italian food while you are in Bali? We got you covered! Wherever you are in the Island, visit the best Italian Restaurants in Bali by area:
Best Italian Restaurants in Jimbaran & Uluwatu
Bella Cucina at InterContinental Bali Resort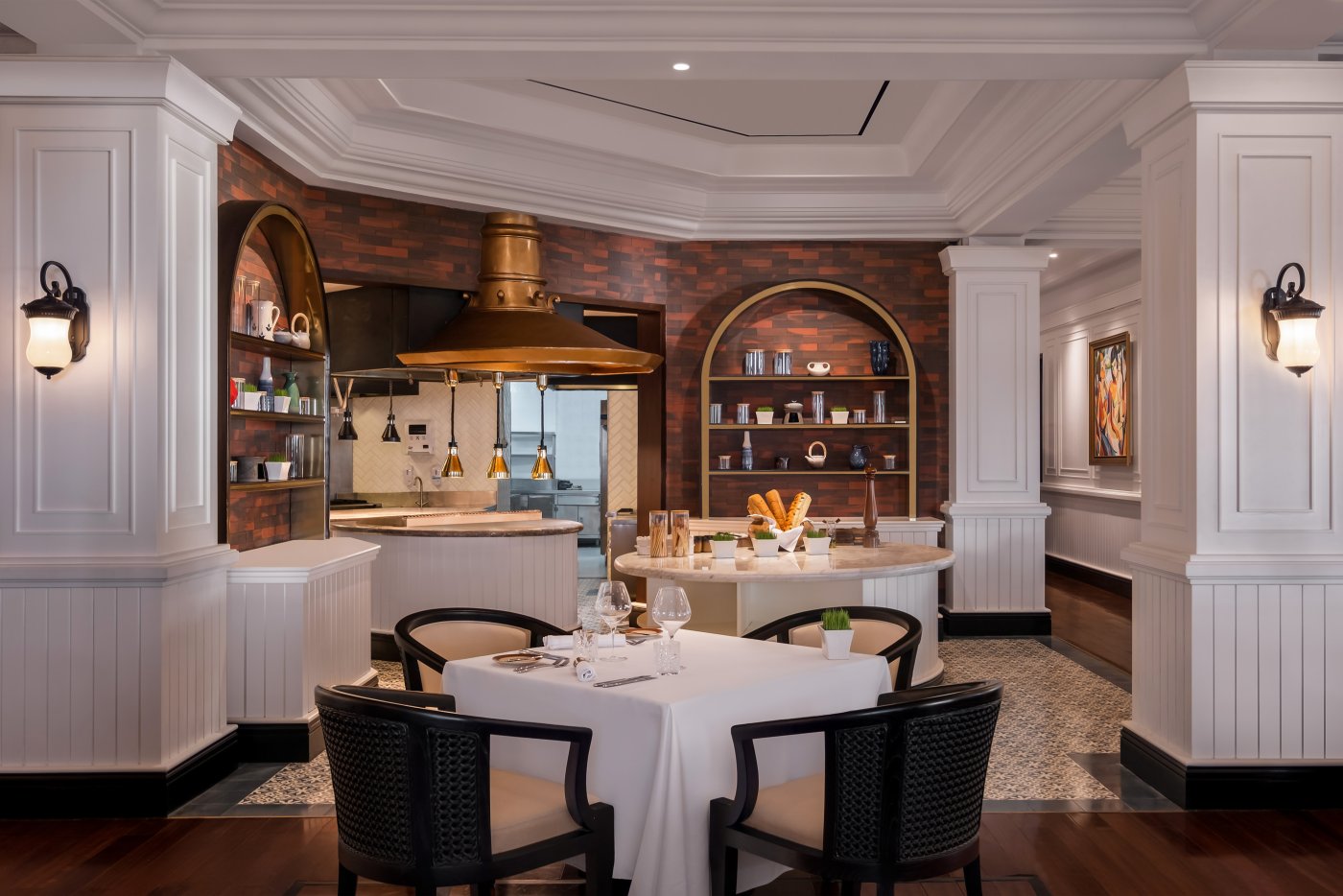 Located inside Intercontinental Bali Resort, Bella Cucina features classic Italian recipes and regional specialties with an innovative twist and modern presentation. The elegant space is open for dinner where you can order from the a la carte menu. Besides the lively indoor area with an open kitchen concept, the restaurant also has a charming outdoor terrace with highlighted tropical gardens, fire beacons, and lanterns.
InterContinental Bali Resort
Jl. Uluwatu 45, Jimbaran
+62 361 701 888
[email protected]
https://www.bali.intercontinental.com/
Sami Sami at Ayana Resort and Spa Bali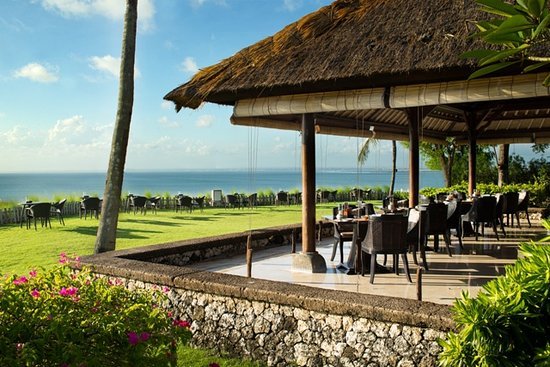 Overlooking the gorgeous ocean view, Sami  Sami is designed to give you the best sunset viewing points. The restaurant specialized in trattoria-style Italian cuisine, where you can enjoy a complete selection of antipasti, sandwiches, wood-fired pizzas, fresh pasta, seafood, and many more.
Ayana Resort and Spa, Bali
Jl. Karang Mas Sejahtera
Jimbaran, Bali 80364, Indonesia
(0361) 702222
[email protected]
Best Italian Restaurants in Nusa Dua
Salsa Verde at Grand Hyatt (temporarily closed)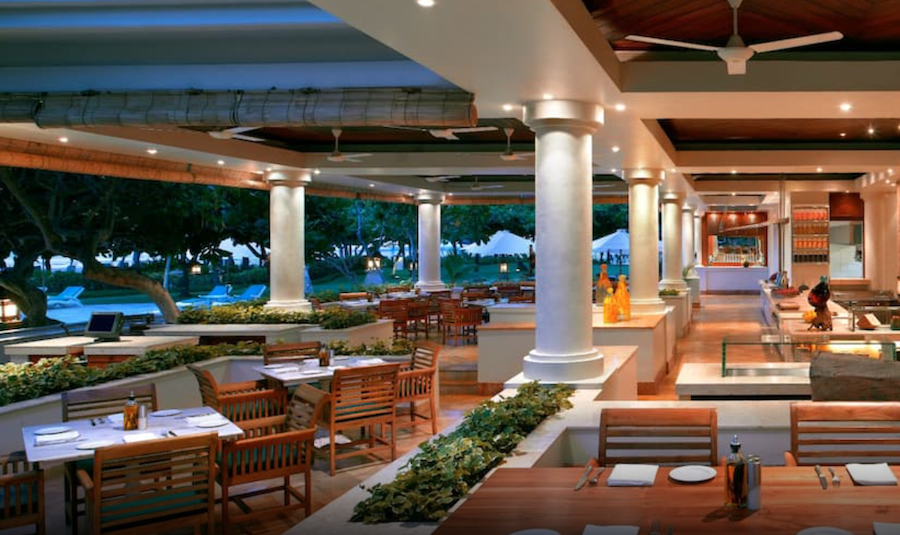 At Salsa Verde, the highlight is Italian food and its amazing sea view. Located next to the pool and beaches, you can make your daily schedule flows easily. What's more, there is live music every evening from 8 pm, where you can request a song from the walking musicians. It is a perfect venue for a romantic dinner. Treat yourself to some Italian magic and la dolce vita with gorgeous Italian cuisine in Salsa Verde, serving an array of seafood, pizzas, pasta, and other Italian favorites.
Hours
Breakfast: 7:00 AM – 11:00 AM
Lunch: 12:00 PM – 6:00 PM
Dinner: 6:00 PM – 11:00 PM
Grand Hyatt Bali
Kawasan Wisata Nusa Dua BTDC, Nusa Dua, Bali
+62 361 77 1234 Ext. 8310
[email protected]
Prego at The Westin Resort Nusa Dua Bali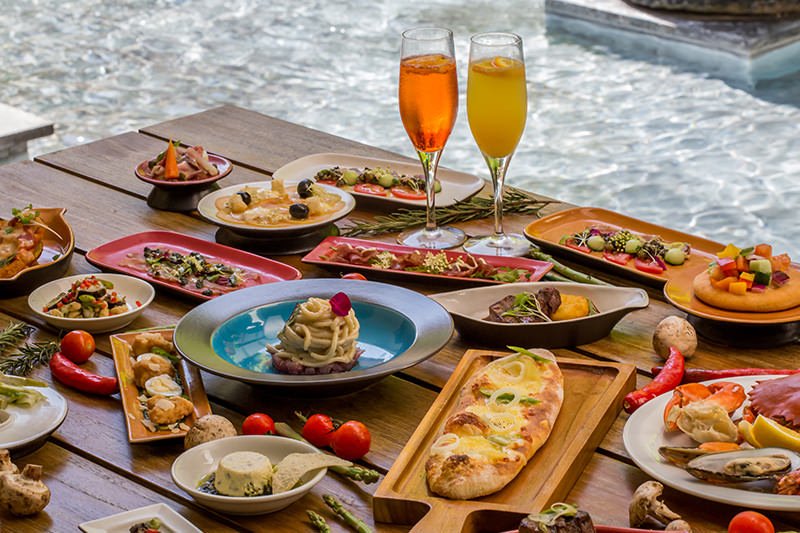 A fun family space to enjoy authentic Italian food in Bali, Prego is filled with colorful décor and yummy aroma of food being cooked in their open kitchen. Besides ala carte menu that includes regional favorites, pizza, and pasta, prego also offers Brunch Adventura every Sunday. The Brunch session features delicious Italian food, lively atmosphere and fun entertainment!
Hours
11:30AM to 11PM,
11:30AM to 3PM (Brunch Adventura on Sundays)
The Westin Resort Nusa Dua Bali
Kawasan Pariwisata Nusa Dua, BTDC Lot N-3, Bali
(62) (361) 771906
[email protected]
http://www.westinnusaduabali.com/
Giorgio Italian Ristorante Pizzeria at Hotel Nikko Bali Benoa Beach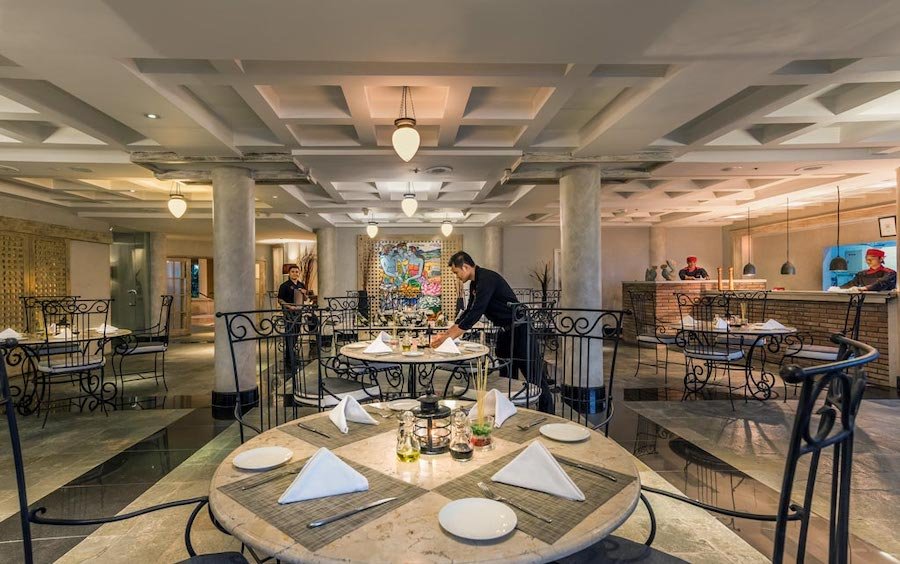 Enjoy the authentic Italian cuisine with fresh ingredients prepared by Giorgio Italian Cuisine at Hotel Nikko Bali Benoa Beach. You may decide to dine "Al Fresco" or inside, both setups will accompany you for a memorable culinary experience. The restaurant is open on Thursday - Tuesday from 12 pm to 10 pm and Wednesday from 12 pm to 3 pm.
Hotel Nikko Bali Benoa Beach
Jalan Pratama 68X Tanjung Benoa Nusa Dua
+62 361 773 577
WhatsApp +62 821 46122818
[email protected]
https://hotelnikkobali-benoabeach.com/
Best Italian Restaurants in Kuta, Legian & Seminyak
La Lucciola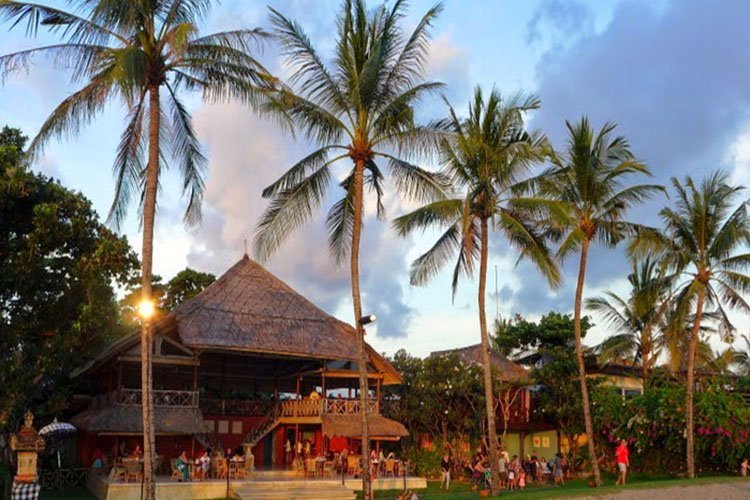 Photo taken by https://www.theyumlist.net/2014/08/la-lucciola-modern-italian-restauran.html
One of the pioneer of Italian restaurants in Bali. Beach-side Italian dining and lounge in Seminyak. Open air seating, featuring brilliant views of the Indian Ocean. On the beach next to the 15th century Petitenget Temple. 
CALL +62 361 730838 Or [email protected] WA +62 819 0102 5999
Jamie Oliver Kitchen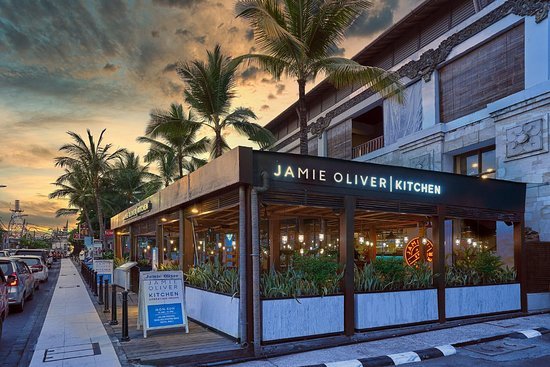 One of the Jamie Oliver's restaurant you cannot miss! Food at Jamie's Italian Kita is all about fantastic, rustic dishes created using tried and tested recipes. Jamie's friend and mentor, Gennaro Contaldo, has added substance to what is now the essence of Jamie Oliver – tradition combined with current, innovative ideas and a Jamie twist. Located just a stone's throw away from the famed Kuta Beach, Jamie's Italian sits in the heart of Bali's prime entertainment and shopping district. The restaurant is open from 12 pm – 11 pm
Jamie Oliver Kitchen
Jl. Pantai Kuta (Before Hard Rock Bali)
+62361 762118
https://www.jamieoliver.com/italian/indonesia/restaurants/bali/
Rosso Vivo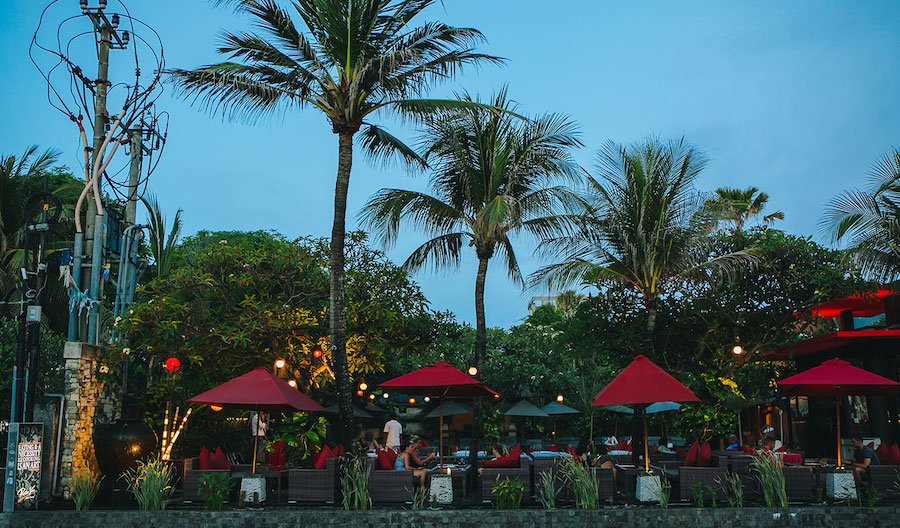 First opened in 1996, now Rosso Vivo has become one of the best Italian Restaurant in Bali. Besides the delicious authentic food, they also serve amazing cocktails and evening entertainment. The restaurant is located strategically across Kuta Beach, malls, and several five-star hotels. With indoor, outdoor, and romantic pool area. It's a perfect venue for celebrating a special occasion.
Breakfast: Mon to Sun 07:30 to 10:30
Lunch: Mon to Sun 11:30 to 16:30
Dinner: Mon to Sun 18:00 to 12:30
Rosso Vivo
Jl. Pantai Kuta
+62 361 334 9090
http://www.rossovivobali.com
Bene Italian Kitchen at Sheraton Bali Kuta Resort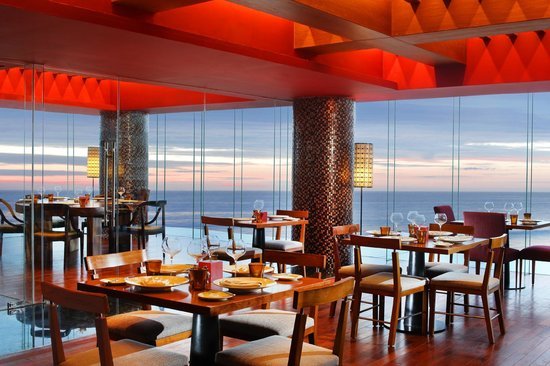 Experience authentic Italian cuisine with a modern twist at Bene Italian Kitchen. The restaurant serves an interesting selection of world-class wines in a beautiful venue. Set against the ocean and Kuta Beach skyline, it is a great fine-dining place with your special someone. Bene Italian Kitchen is located inside Sheraton Bali Kuta Resort.
Bene Italian Kitchen at Sheraton Bali Kuta Resort
Jl. Pantai Kuta
+62 361 846 5555|
[email protected]
https://www.marriott.com/en-us/hotels/dpsks-sheraton-bali-kuta-resort/dining/
Bella Italia Kuta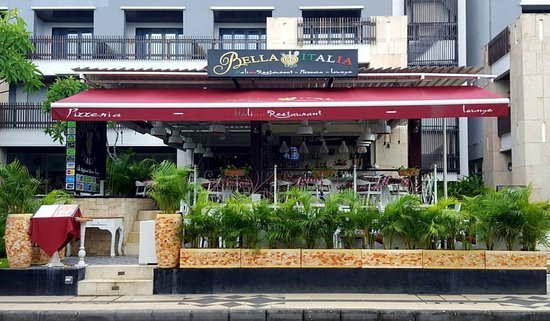 Bella Italia is famous as a friendly and humble Italian Restaurant in Kuta. The place is great for chilling and hanging out with friends. It is located on the side road, across the Kuta Beach, and next to several malls and hotels. Enjoy their signature dish "Bella Italia Risotto" to taste a true flavor of Italy. The place is open from 10 am to 11.30 pm.
Bella Italia Kuta
Jl. Pantai Kuta
[email protected]
https://www.facebook.com/bellaitaliakutabeach/
Settimo Cielo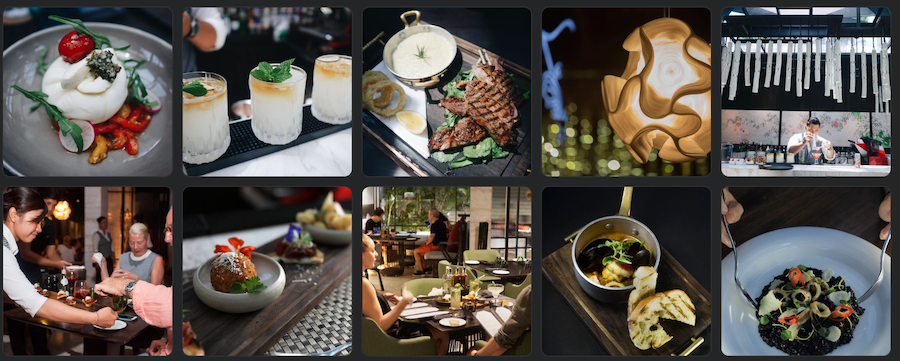 Settimo Cielo means Seventh Heaven. Line-caught fish and organic produce bring the best of land and sea to your plate. It looks beautiful as it is delicious. Enjoy them with a bottle of wine or their hand-crafted cocktail and you will soon see why this place is indeed a seventh heaven. The restaurant is open from 8 AM to 11 PM.
Settimo Cielo
Jl. Pangkung Sari 10X, Seminyak
+62361 474 1117
[email protected]
http://www.settimocielobali.com/
Da Maria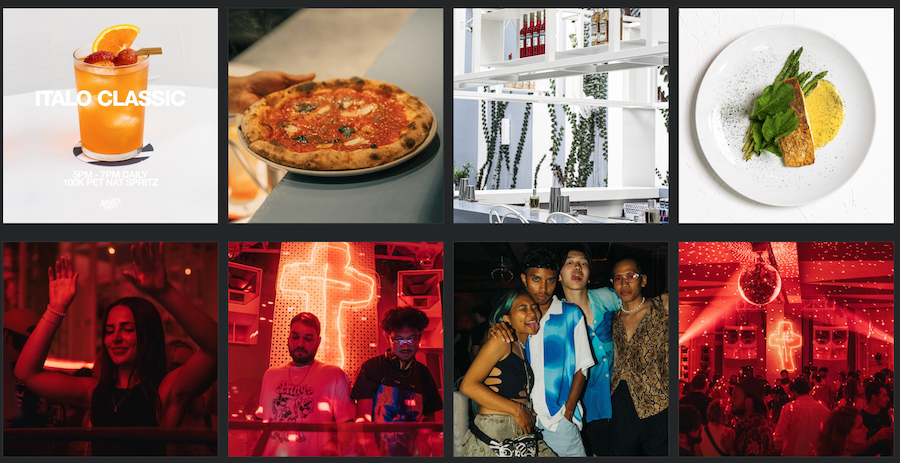 A fun contemporary Italian restaurant in the Osteria style, Da Maria is flocked by young people who want to have fun with their mealtime. The restaurant highlights the diversity of Italian food, wine, music, fashion, and art. Music plays a very important role at Da Maria with the playlist mixed by iconic Sydney DJ and event producer, Kali from Picnic. Live DJ's can be enjoyed every night from 10.30 pm.
Hours:
Lunch: 12:00PM – 3:00PM
Dinner: 5:00PM – 10:30PM
LATE NIGHT PIZZA + BAR FROM 10.30PM
Da Maria
Jl Petitenget No. 170 Badung, Bali
+62 (0) 82237733099
[email protected]
http://damariabali.com
Rustica Restaurants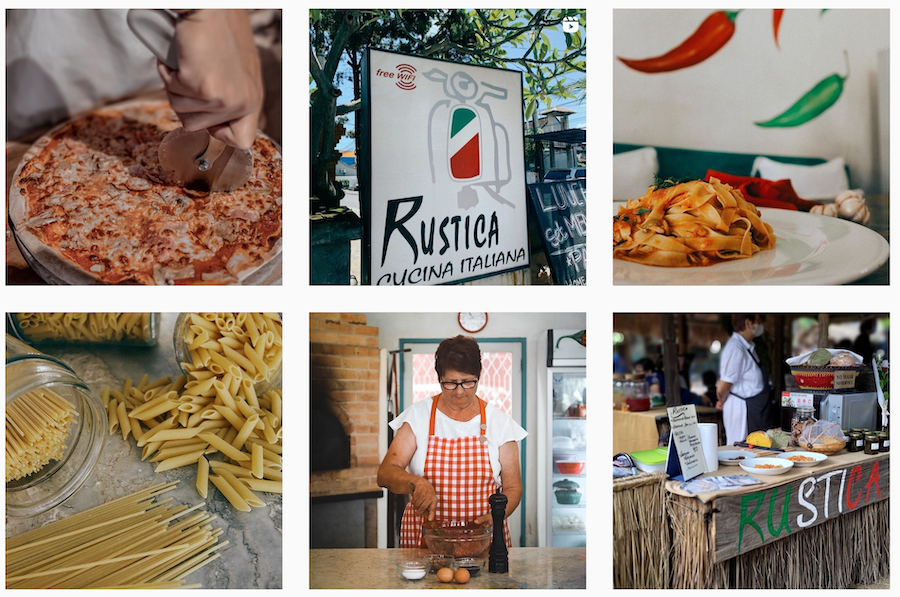 Casual Dining with authentic Italian experience by Mamma Luigina👩🏻‍🍳
🍕Jl Batu Belig 1
📞0361 4737812
📱+62 823-3995-0126
⏰10AM - 11PM
La Vecchia Tana Bali
Italian staples such as pizza, meat dishes & homemade pasta are served at this laid-back eatery.
La Vecchia Tana Bali, Jl. Batu Belig No.88, Kerobokan, North Kuta, Badung Regency, Bali 80361, Badung, Indonesia, 80361. +62 813-3823-9978
CIBO! Italian Cuisine | Dine & Deli

Italian Restaurant, Deli & Gelateria focused on quality, home-style dining food, hand crafted artisan fresh pasta and sauces. Monday to Sunday11.00 AM - 11.00 PM. Jl. Subak Sari No. 8, Tibubeneng, Kuta Utara, Badung, Bali 80361 CALL 081 236 715 490 https://cibobali.com
Best Italian in Sanur
Massimo Il Ristorante Sanur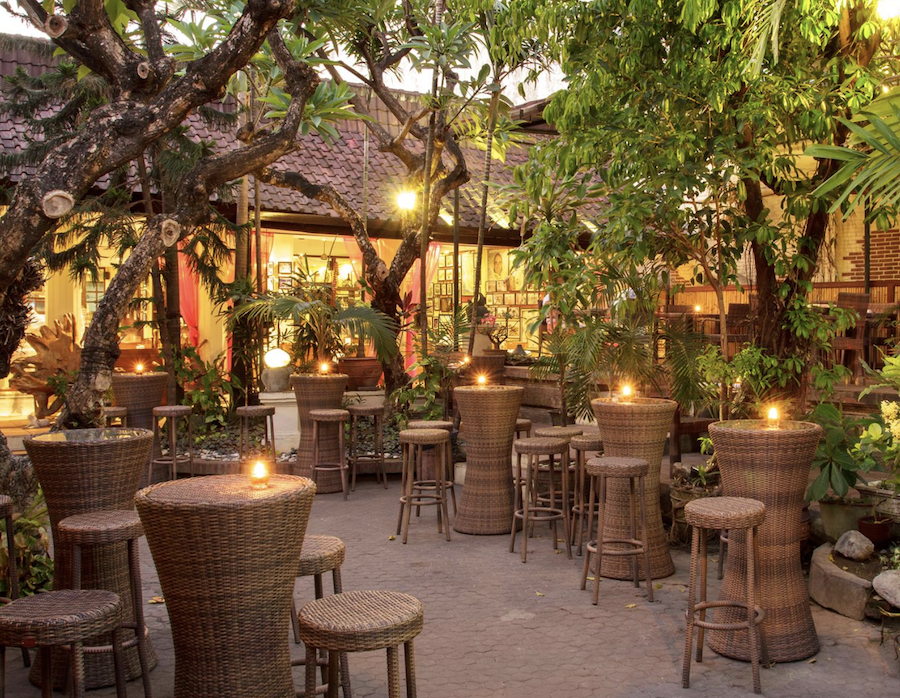 You may notice a long queue in Sanur area where everyone is waiting for their gelato. Besides the famous gelato, Massimo also serves mouthwatering cuisine that inspired by Southern Italy traditional food. The restaurant has a commitment to quality which means no frozen or processed ingredients and no pre-chopped produce. Even the mozzarella is homemade!
Massimo Il Ristorante
Jl. Danau Tamblingan 228, Sanur
0361.288.942
[email protected]
The Village Cucina Italiana Sanur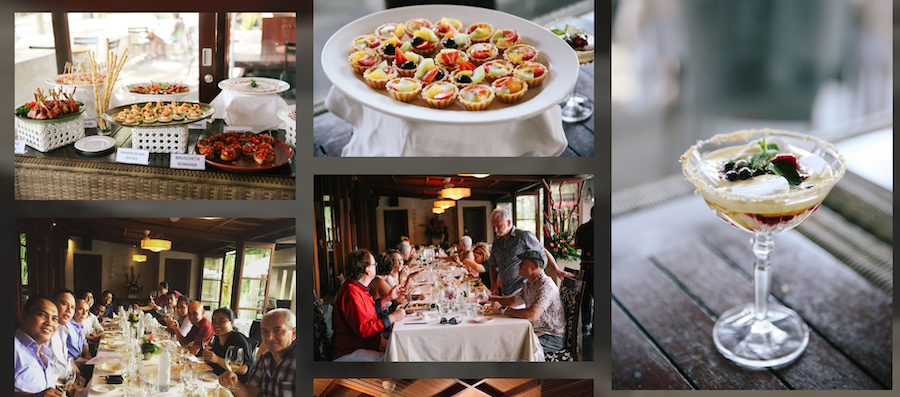 Enjoy a flavorful Italian cuisine in a warm and inviting ambiance of The Village. It serves authentic Italian cuisine with great wine selections. Whether you are a couple or a group, they have many choices of table settings that will suit your needs.
Hours:
Breakfast and Brunch: 8 AM – 4 PM
Dinner: 6 PM – 11 PM
Wine and Bites: 4 PM – 6 PM
The Village
Jl. Danau Tamblingan 47, Sanur – Bali
+62 361 285025
[email protected]
http://thevillage-bali.com
Best Italian Restaurants in Canggu
Bottega Italiana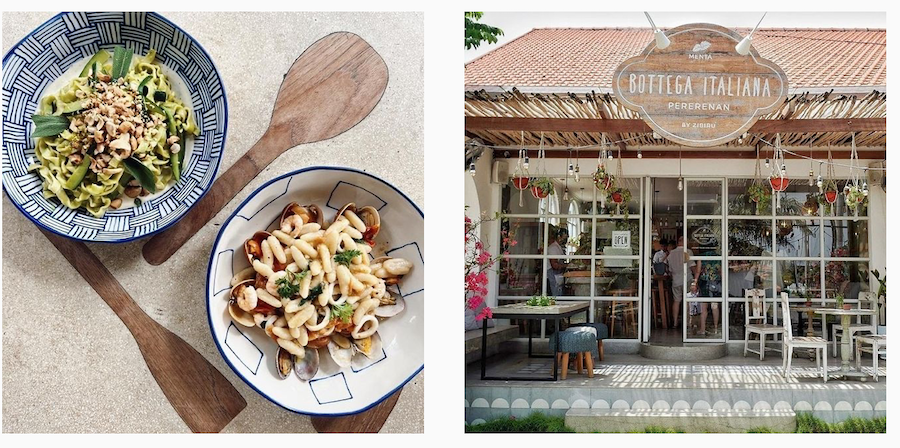 Another restaurant from Zibiru Seminyak, Bottega Italiana is a more relaxing and casual venue where you can enjoy fresh Italian cuisine. The kitchen uses classic recipes and artisanal techniques that have been around for hundreds of years. While the restaurant is simple and charismatic. It has two other locations in Seminyak and Petitenget.
ROSMARINA
Jl Pantai Batu Bolong 77
+62 822 36111011
hours: 8am – 10pm
no reservations accepted, walk-ins only
BASILICO (flagship)
Jl Drupadi 7c
+62 361 733265
hours: 8am – 6pm
closed Sunday
TIMO
Jl Petitenget 777
+62 812 36552505
hours: 9am – 11pm
no reservations accepted, walk-ins only
La Baracca Canggu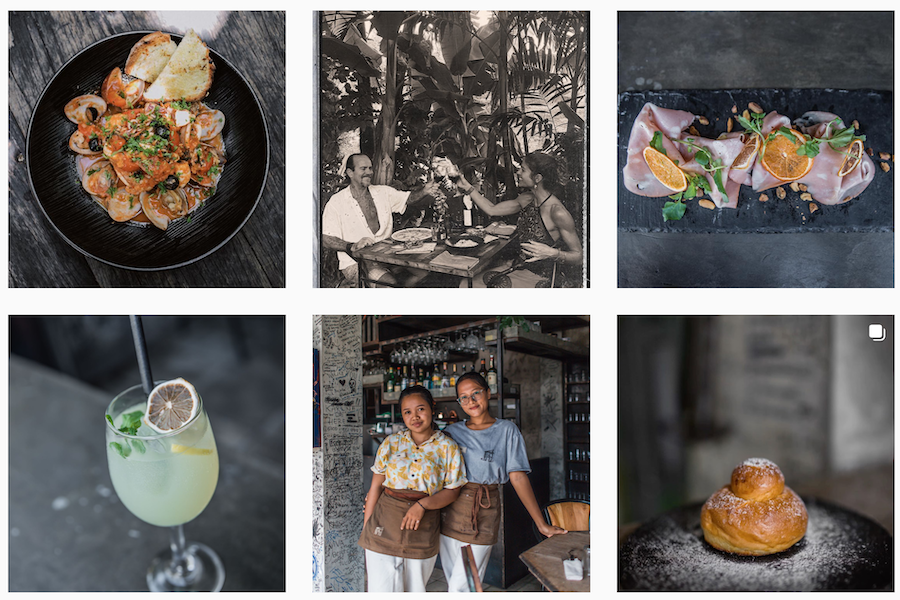 Enjoy Italian cuisine in a rustic and quirky interior. La Baracca's exterior resembles a shed and its interior is friendly and homey. It serves authentic comfort Italian cuisine that infused with the local culture. This is the place to go if you want to have affordable italian cuisine in a casual setting with friends and family. Open hours: 11 am to 23.30 pm
La Baracca Canggu
Jl Tanah Barak
Canggu (echo beach) Bali
+62 (0)361 4715283
[email protected]
http://www.labaraccabali.com/
Best Italian Restaurants in Ubud Bali
Uma Cucina at COMO Uma Ubud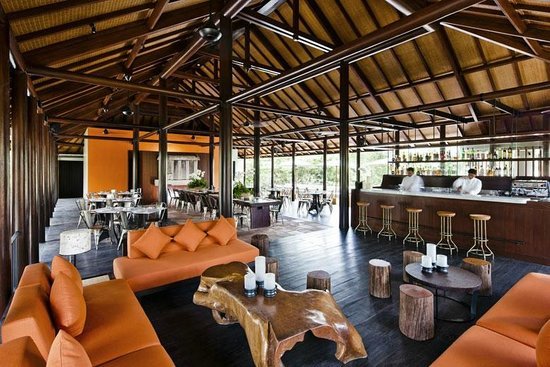 Uma Cucina is an Italian-inspired restaurant and lounge bar at COMO Uma Ubud, Bali. Informal and convivial, with outdoor terraces and a large communal dining table at the heart of the space, Uma Cucina reflects the homely 'kitchen' spirit behind its name ('cucina' means kitchen in Italian). Menus are strong on fresh, locally-sourced produce and the flavors of Italy.
Lunch: 12:00pm – 11:00pm (last order 10:30pm)
Sunday Brunch: 11:30am - 3:30pm
Uma Cucina at COMO Uma Ubud
Jalan Raya Sanggingan No.21, Kedewatan, Ubud
+62 361 972 448
[email protected]
https://www.comohotels.com/bali/como-uma-ubud/dining/uma-cucina
Black Beach Italian Restaurant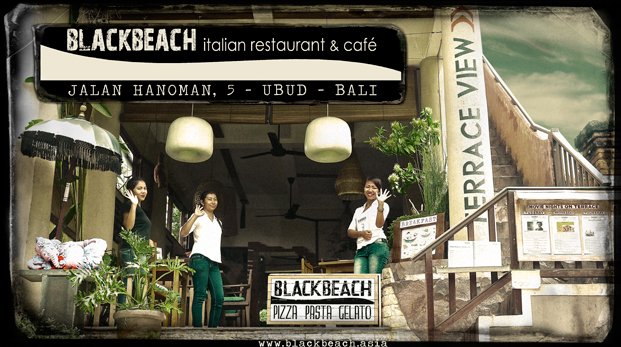 Enjoy authentic and healthy Italian cuisine in a cozy venue at Black Beach. The kitchen team uses a light cooking technique which makes their food tasty, healthy, and balanced. Besides using fresh and organic ingredients, all of the sauces are also homemade. What's more, you can also find favorite Indonesian local dishes thanks to the skill of their Balinese cooks! The place is open from 7 AM to 11 PM.
Black Beach Italian Restaurant
Jl. Hanoman 5, Ubud
(0361) 971353
[email protected]
http://www.blackbeach.asia/